Duran Should Never Again Answer Why He Quit Leonard Rematch
Having watched the ESPN 30 for 30 documentary "No Mas" I was disappointed that nothing new regarding the circumstances surrounding why Roberto Duran resigned during the eighth round of his rematch with Sugar Ray Leonard and relinquished his WBC welterweight title belt was exposed.
However, it was great to see during the show that Duran has lost weight and lives a very comfortable life with his legacy intact. Leonard has aged well and still has the charm and charisma that made him boxing's biggest star during the 1980's. And watching the "No Mas" special brought back memories of just how great and complete both Leonard and Duran were as fighters.
After beating the undefeated Leonard in June of 1980, it was highly publicized that Duran was partying, drinking and eating as if New Year's eve were a three-month holiday. Having defeated the fighter who was the darling of the America media, Roberto was relishing the sweet taste of victory like he never had before. Duran's tenacity during the first Leonard bout was incredible and only rivaled by "Smokin" Joe Frazier's refusal to be denied during his first meeting with the superstar of the 1960's and 1970's, Muhammad Ali.
To Leonard's credit he couldn't handle being defeated and having Duran rub it in his face and sought a rematch as soon as possible. And as it was pointed out during the film, Duran was all about getting more money than Leonard in the rematch, and Ray's money man, Mike Trainer, knew it. So they threw millions at Duran and scheduled the fight quickly knowing that there was no way he could get in phenomenal shape and gain the psychological advantage over Leonard he had the first time.
The rematch took place five months and five days after the first fight. Everybody saw from the onset of the second bout that Leonard wasn't going to be lured into a street fight with Duran this time. He used his foot speed like he never had before and had Duran following and chasing him all over the ring. After seven rounds Leonard was leading on the scorecards 68-66 twice and 67-66. I had it 4-3 Leonard in rounds watching it live that Tuesday night as a 21 year old amateur middleweight golden glove champ fighting out of Philadelphia. It wasn't as if Duran was being taken apart by Leonard after seven rounds and the fight was still yet to be decided. Leonard was having a good eighth round and landed some terrific body shots and counter rights to Roberto's head, not to mention he was at his showboating best. Then with 15 seconds left in the round Duran turned his back and waved Leonard off with his right hand and resigned from the fight, thus handing Leonard an eighth round TKO victory.
The speculation as to why Duran quit during a round in which he didn't appear to be hurt and wasn't being beat up or punched around hasn't quelled in the 33 years since the fight. Yes, immediately after the fight Duran said he had stomach cramps and felt weak. To Leonard's surprise this is something he again endorsed during the documentary with both of them standing face to face in the middle of a ring in Panama. Leonard acted as if he took Duran at his word and later implied that he didn't think Roberto was being truthful regarding why he quit during the fight. And you know what, nobody believed Duran on 11/26/80 and no one believes him today. And that's why Roberto Duran should never again as long as he lives, answer the question why he quit during the second bout versus Sugar Ray Leonard.
Duran is in a no win predicament. There's nothing he can say that anyone would believe. People and especially die-hard fans believe whatever they want to believe and oftentimes facts never cloud their judgment or beliefs. Depending on whom you were rooting for that night or who you are a bigger fan of, that determines what one deems plausible as to the reason for Duran withdrawing from the fight. Depending on what reason makes their man look better drives what many believe.
For instance….
If you're a big fan of Leonard and were rooting for him to win, you want to believe that Ray was handling Roberto so thoroughly that Duran feared he was going to get knocked out and quit so he could deny Leonard a clean victory over him. If you're a Leonard guy that fits your perfect world perfectly. However, if Duran came out and said he quit because he feared Leonard was going to stop him, you wouldn't believe that either. You'd rationalize that by reminding yourself how fearless and tough Duran was and never backed down from anyone.
If you're a big fan of Duran and were rooting for him to win, you rationalize his action due to the fact that Leonard wasn't really fighting him. You tell yourself that Leonard was running around the ring, not boxing, and was more interested in mocking Roberto than actually beating him up. Then you'd justify that by telling yourself that after the first war they had, Leonard didn't want any part of that again. And once Duran figured that out in the eighth round he said, "screw it, if you want to fight like a girl, you can have the title. I'll taint Leonard's victory and kick his ass in our third fight when I'm really in shape." If you're a Duran guy that fits your perfect world perfectly.
Then there's the possibility alleged by a minority that Duran took a dive so there could be a third fight with Leonard. But what if Duran looked Leonard in the eye during the filming of the documentary and said, "Ray, I bet on you to win our second fight, but I couldn't lay down and act as if I were being counted out with you standing over me defiantly looking down, that's why I did what I did." Who'd believe that? Nobody, other than maybe some rabid Duran fans.
The point is, there's nothing that Duran can say, the truth, whatever it may be, or anything else that'll satisfy boxing fans. People/fans will believe what they want to believe as long as it makes their guy look good. Nobody will ever take Duran at his word regardless of how plausible or crazy they think it is. The minds of boxing fans were made up the morning following the fight. They'll never change regardless of what comes out or is said by either Roberto or Ray.
No, we'll never be satisfied with the reason that Duran gives for his abrupt action on the night of November 25th, 1980, so why bother to answer the question again for the millionth time? And if forced to do so, he should say he bet on Leonard as he smiles and walks away. After giving fans over 30 years of the best boxing in most of our lifetimes, Duran doesn't owe the public anything.
POSTSCRIPT: On the night that Sugar Ray Leonard and Roberto Duran met for the second time, I was pulling for Leonard to win heading into the bout. During the first seven rounds I felt Leonard had a slight lead in the fight, but was a little disappointed that he wasn't engaging with Duran more. He damn near fought him to a stand still fighting Roberto's fight the first time. Sure, I was glad that he was winning but inside I was a little disenchanted that Ray didn't try to put some real hurt on Duran. My initial instinct when Duran turned his back and waved Leonard off was, Duran is disgusted that Leonard won't fight him like the warrior he did the first time they fought. And if he's going to hit and move away, he doesn't want to fight, so can have the title.
In my opinion based on no inside knowledge, just my experience of partaking in ring combat, I believe Duran felt that Leonard was running and not trying to fight him. I think Roberto felt that Leonard was more intent on winning the show and making an ass out of him than he was proving he was the better and tougher fighter. Duran felt humiliated during the seventh and eighth rounds and fighters fear being embarrassed more than they do getting knocked out. I believe Duran sensed that with the tactics Leonard was employing, he was never going to pull the fight out and decided to resign instead being further humiliated by Leonard for another seven rounds. Being a fighter who saw himself as a 165 pound Ray Mancini, I almost rationalized at the time why Duran said the hell with it and walked away. It's no fun chasing quick guys around the ring who are mocking you in the process while you can't get a hold of them or hit them cleanly. Duran was frustrated that Leonard wouldn't let him beat him up, not because Leonard was beating him up. So in what was a terrible impulsive reaction, Duran said screw it and bailed, figuring he'd kick Leonard's ass in the rubber match. The problem was that due to Duran making a mockery out of the fight, he was blackballed from getting a third fight with Leonard for nine years.
I'm not sure there's anything Duran could say or reveal that would change my mind. That's why Duran should never address it again because I'm not the only one whose mind most likely can't be changed.
Frank Lotierzo can be contacted at GlovedFist@Gmail.com
Skavynskyi and Bustillos Win on a MarvNation Card in Long Beach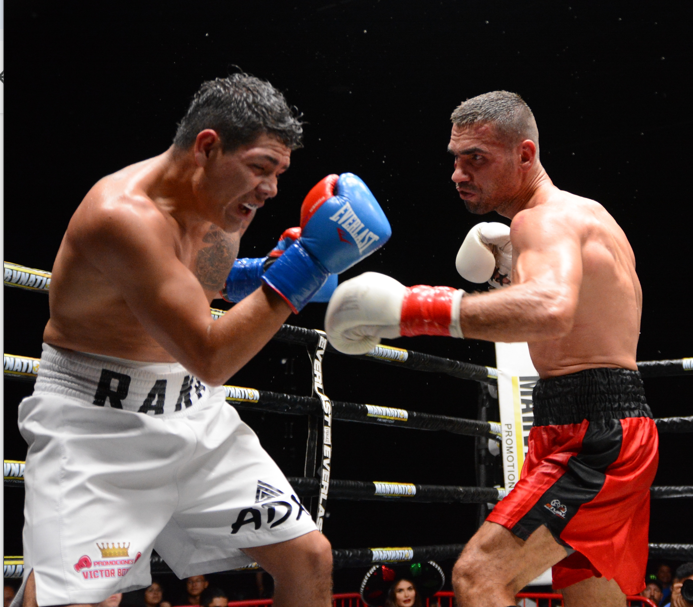 Skavynskyi and Bustillos Win on a MarvNation Card in Long Beach
LONG BEACH, Ca.-A cool autumn night saw welterweights and minimumweights share main events for a MarvNation fight card on Saturday.
Ukraine's Eduard Skavynskyi (15-0, 7 KOs) experienced a tangled mess against the awkward Alejandro Frias (14-10-2) but won by decision after eight rounds in a welterweight contest at the indoor furnace called the Thunder Studios.
It was hot in there for the more than 600 people inside.
Skavynskyi probably never fought someone like Mexico's Frias whose style was the opposite of the Ukrainian's fundamentally sound one-two style. But round after round the rough edges became more familiar.
Neither fighter was ever damaged but all three judges saw Skavynskyi the winner by unanimous decision 79-73 on all three cards. The Ukrainian fighter trains in Ventura.
Bustillo Wins Rematch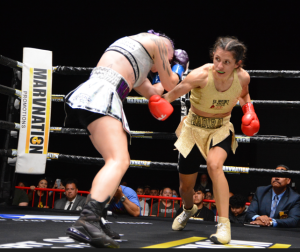 In the female main event Las Vegas' Yadira Bustillos (8-1) stepped into a rematch with Karen Lindenmuth (5-2) and immediately proved the lessons learned from their first encounter.
Bustillos connected solidly with an overhand right and staggered Lindenmuth but never came close to putting the pressure fighter down. Still, Bustillos kept turning the hard rushing Lindenmuth and snapping her head with overhand rights and check left hooks.
Lindenmuth usually overwhelms most opponents with a smothering attack that causes panic. But not against Bustillos who seemed quite comfortable all eight rounds in slipping blows and countering back.
After eight rounds all three judges scored the contest for Bustillos 78-74 and 80-72 twice. Body shots were especially effective for the Las Vegas fighter in the fifth round. Bustillos competes in the same division as IBF/WBO title-holder Yokasta Valle.
Other Bouts
In a middleweight clash, undefeated Victorville's Andrew Buchanan (3-0-1) used effective combination punching to defeat Mexico's Fredy Vargas (2-1-1) after six rounds. Two judges scored it 59-55 and a third 60-54 for Buchanan. No knockdowns were scored.
A super lightweight match saw Sergio Aldana win his pro debut by decision after four rounds versus Gerardo Fuentes (2-9-1).
Photos credit: Al Applerose
To comment on this story in the Fight Forum CLICK HERE
Tedious Fights and a Controversial Draw Smudge the Matchroom Boxing Card in Orlando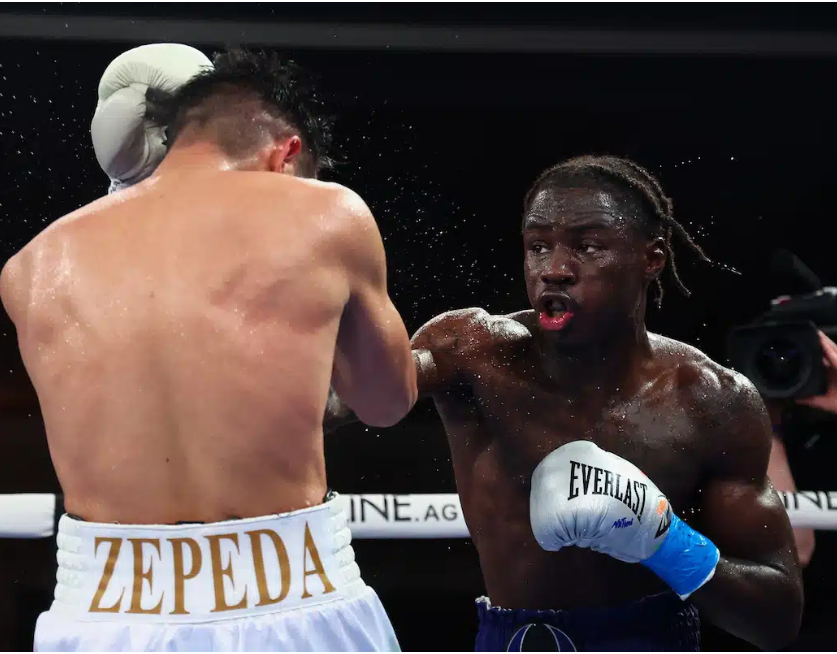 Matchroom Boxing was at the sprawling Royale Caribe Resort Hotel in Orlando, Florida tonight with a card that aired on DAZN. The main event was a ho-hum affair between super lightweights Richardson Hitchins and Jose Zepeda.
SoCal's Zepeda has been in some wars in the past, notably his savage tussle with Ivan Baranchyk, but tonight he brought little to the table and was outclassed by the lanky Hitchins who won all 12 rounds on two of the cards and 11 rounds on the other.  There were no knockdowns, but Zepeda suffered a cut on his forehead in round seven that was deemed to be the product of an accidental head butt and another clash in round ten forced a respite in the action although Hitchins suffered no apparent damage.
It was the sort of fight where each round was pretty much a carbon of the round preceding it. Brooklyn's Hitchins, who improved to 17-0 (7), was content to pepper Zepeda with his jab, and the 34-year-old SoCal southpaw, who brought a 37-3 record, was never able to penetrate his defense and land anything meaningful.
Hitchins signed with Floyd Mayweather Jr's promotional outfit coming out of the amateur ranks and his style is reminiscent in ways of his former mentor. Like Mayweather, he loses very few rounds. In his precious engagement, he pitched a shutout over previously undefeated John Bauza.
Co-Feature
In the co-feature, Conor Benn returned to the ring after an absence of 17 months and won a unanimous decision over Mexico's Rodolfo Orozco. It wasn't a bad showing by Benn who showed decent boxing skills, but more was expected of him after his name had been bandied about so often in the media. Two of the judges had it 99-91 and the other 96-94.
Benn (22-0, 14 KOs) was a late addition to the card although one suspects that promoter Eddie Hearn purposely kept him under wraps until the week of the fight so as not to deflect the spotlight from the other matches on his show. Benn lost a lucrative date with Chris Eubank Jr when he was suspended by the BBBofC when evidence of a banned substance was found in his system and it's understood that Hearn has designs on re-igniting the match-up with an eye on a date in December. For tonight's fight, Benn carried a career-high 153 ½ pounds. Mexico's Orozco, who was making his first appearance in a U.S. ring, declined to 32-4-3.
Other Bouts of Note
The welterweight title fight between WBA/WBC title-holder Jessica McCaskill (15-3-1) and WBO title-holder Sandy Ryan (6-1-1) ended in a draw and the ladies' retain their respective titles. Ryan worked the body effectively and the general feeling was that she got a raw deal, a sentiment shared by the crowd which booed the decision. There was a switch of favorites in the betting with the late money seemingly all on the Englishwoman who at age 30 was the younger boxer by nine years.
The judges had it 96-94 Ryan, 96-95, and a vilified 97-93 for Chicago's McCaskill.
In the opener of the main DAZN stream, Houston middleweight Austin "Ammo" Williams, 27, improved to 15-0 (10) with a 10-round unanimous decision over 39-year-old Toronto veteran Steve Rolls (22-3). All three judges had it 97-93. Rolls has been stopped only once, that by Gennady Golovkin.
Photo credit: Ed Mulholland / Matchroom Boxing
To comment on this story in the Fight Forum CLICK HERE
Zhilei Zhang KOs Joe Joyce; Calls Out Tyson Fury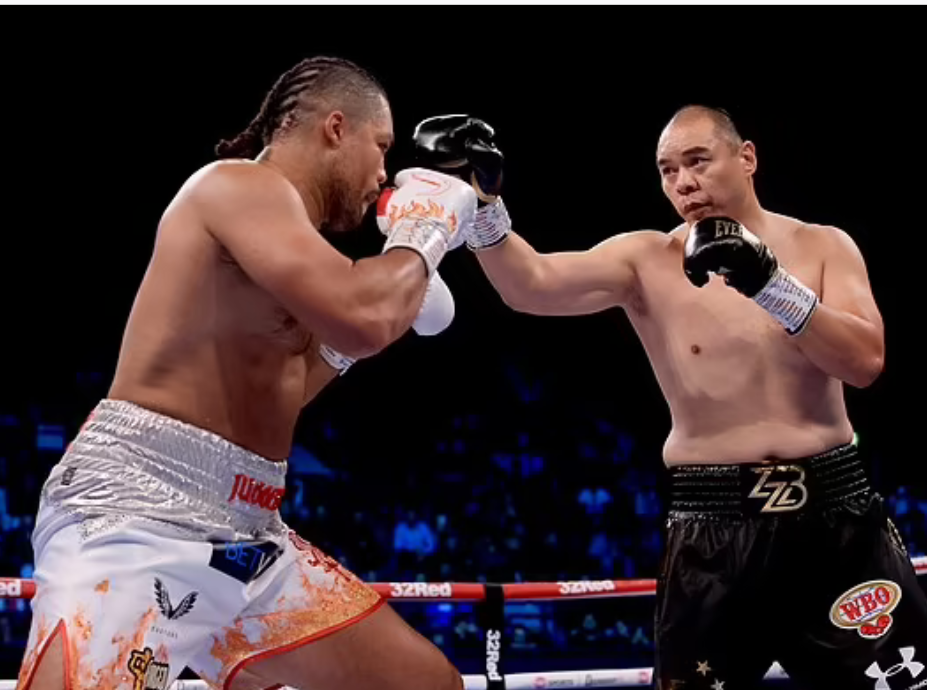 Joe Joyce activated his rematch clause after being stopped in the sixth frame by Zhilei Zhang in their first meeting. In hindsight, he may wish that he hadn't. Tonight at London's Wembley Stadium, Zhang stopped him again and far more conclusively than in their first encounter.
In the first meeting, Zhang, a southpaw, found a steady home for his stiff left jab. Targeting Joyce's right eye, he eventually damaged the optic to where the ring doctor wouldn't let Joyce continue. At the end, the fight was close on the cards and Joyce was confident that he would have pulled away if not for the issue with his eye.
In the rematch tonight, Zhang (26-1-1, 21 KOs) closed the curtain with his right hand. A thunderous right hook on the heels of a straight left pitched Joyce to the canvas where he landed face first. He appeared to beat the count by a whisker, but was seriously dazed and referee Steve Gray properly waived it off. The official time was 3:07 of round three.
Zhang, who lived up to his nickname, "Big Bang," was credited with landing 29 power punches compared with only six for Joyce (15-2) who came in 25 pounds heavier than in their first meeting while still looking properly conditioned. One would be inclined to say that age finally caught with the "Juggernaut" who turned 38 since their last encounter, but Zhang, 40, is actually the older man. In his post-fight interview in the ring, the New Jersey resident, a two-time Olympian for China, when asked who he wanted to fight next, turned to the audience and said, "Do you want to see me shut Tyson Fury up?"
He meant it as a rhetorical question.
Semi-Windup
Light heavyweight Anthony Yarde was matched soft against late sub Jorge Silva, a 40-year-old Portuguese journeyman, and barely broke a sweat while scoring a second-round stoppage. Yarde backed Silva against a corner post and put him on the deck with a short right hand. Silva's body language indicated that he had no interest in continuing and the referee accommodated him. The official time was 2:07 of round two.
A 30-year-old Londoner, Yarde (24-3, 23 KOs) was making his first start since being stopped in eight rounds by Artur Beterbiev in a bout that Yarde was winning on two of the scorecards. Silva, a late replacement for 19-3-1 Ricky Summers, falls to 22-9.
Also
Former leading super middleweight contender Zach Parker (23-1, 17 KOs) returned to the ring in a "shake-off-the-rust" fight against 40-year-old Frenchman Khalid Graidia and performed as expected. Graidia's corner pulled him out after seven one-sided rounds.
In his previous fight, Parker was matched against John Ryder who he was favored to beat. The carrot for the winner was a lucrative date with Canelo Alvarez. Unfortunately for Parker, he suffered a broken hand and was unable to continue after four frames. Tonight, he carried 174 pounds, a hint that he plans to compete as a light heavyweight going forward. Indeed, he has expressed an interest in fighting Anthony Yarde. Graidia declined to 10-13-4.
The Zhang-Joyce and Yarde-Silva fights were live-streamed in the U.S. on ESPN+.
To comment on this story in the Fight Forum CLICK HERE