The Road To Hopkins-Murat, Part 1
I'm not all that much of a traveling man, for a few reasons. Mostly, their names are Annabelle and Juliette. Bella is 6 1/2 and Jules is 3, and I decided early on that I would try and see them a lot, and not be slave to a grind, and give so much of myself to The Man, and miss seeing those precious moments as they grew up, as my father and so many other fathers and parents did, and do. Not to be judgmental at all; with how hard it is to make ends meet, let alone get ahead, I full well understand that many if not most caregivers don't have the luxury of crafting their work-life balance as I have. And to be sure, there has been a sacrifice, financially and, arguably, in career advancement, as a result of my choice. But I do not often regret the choice. I can hustle to make more money and I have enough belief in self to know that I will get to where I want to be on the so-called ladder…
That said, with the girls getting older, I've decided I will make myself more available for travel, and will hop in a car or plane more often to see events in farther flung locations than Manhattan and Brooklyn. Though I do still maintain–sorry George Kimball—that by and large I can communicate to readers more completely what happens in a fight when I cover it off TV, with my DVR as trusty sidekick, than I can on site.
I did the best I could to communicate what went down at Atlantic City, at Boardwalk Hall, on Saturday night, and, off a suggestion from Kelsey McCarson, decided I'd do a travelogue-type piece to give a sense of the journey to and from the Golden Boy/Showtime promotion and the scraps themselves.
Sunday 2 PM ET I'm about to hop into my ride. I booked a Zipcar for the 2 1/2 hour drive from Park Slope, Brooklyn to AC. Know what a Zipcar is? It's a car that you rent, by the hour or day, which you pick up and drop off a various locations. It's like renting a car, but different, in that you are afforded more flexibility of usage. You can book one for as little as two hours, for example. And when you're done with it at 2 AM, or whatever, you can drop it off where you picked it up. They give you a card, which you swipe on a transponder on the car, to lock it or unlock it. Wait, we don't get any sponsor money from Zipcar, why am I digressing in that direction? Anyway, I got into the Honda something-or-other, and head to AC, solo.
I should be fine on time, as the first event scheduled is a presser, featuring Golden Boy boss Richard Schaefer and Showtime boxing boss Stephen Espinoza, promising an announcement of some sort. Will they trot out Adrien Broner and Dec. 14 foe Marcos Maidana? We shall have to see.
3:15 PM The ride is pretty uneventful. I drink a Pepsi enroute, and ponder what will go down. I expect Karo Murat to be underwhelming and think Bernard Hopkins will show more aggression in this bout than we've seen from him of late, because Murat isn't in the same ballpark as recent foes like Tavoris Cloud and Chad Dawson. I've debated on social media if he will indeed gun for a KO as he's promised. Some maintain he won't, but I'm a guy who. for better or worse, pretty much takes people at face value, unless it is otherwise proven to me. Hopkins says he will gun, I believe him.
5:35 PM On the AC Expressway and it smells good! I've been put off by previous occasions in AC, when industrial stench seeps into the cars' ducts, and usually find myself shaking my head at that. How can you expect to lure patrons to your attractions when industrial-strength stench assaults their noses as they get close to the destination? Couldn't the AC powers that be contract with Febreze to figure out a massive-scale de-stenching method?
5:40 PM I am 20 miles under the speed limit as I look at signs to point to which direction Boardwalk Hall is. I forgot the GPS and am using the phone for that purpose, which I don't like to do, as it means taking ones' eyes off the rode. But I make it without incident. Arghh…pet peeves are piling up though. I don't see a sign to direct me to Boardwalk Hall. When I am President, elected in Neveruary, I will mandate SIGNS EVERYWHERE. Assume everyone is a clueless tourist, and put signs everywhere to aid them. End rant. 5:47 I steer the Honda into a parking garage, and am ready to pay a $20 fee. A worker is about to take the bill, when a co-worker, a sharp sort, hears me say I'm media, and tells me there is comp parking for media. I tip my cap to her and thank her for her professionalism. None of my outlets see fit to compensate me for travel expenses so I try to be extra mindful of outlays. (Thus, I saved myself a good $100 by booking a room seven miles from the Boardwalk, at a Best Western. And I'm so happy to report that I donated that $100 to the family of fallen fighter Frankie Leal, so that worked out real well.)
6:05 PM The media room is buzzing a bit, and I say hi to some pals, like Jayson Colon of Fight Images, and his cousin Carlos. We three often hit a diner together after shows at Barclays Center. Carlos cracks me up by answering "the left side of the menu" when I ask him what he's having. Never fails to get me. (He will be uploading videos til 4:30 AM tonight though, and Jayson is heading off to cavort postfight at a Halloween party so we'll reconvene at Barclays, Dec. 7, I guess.)
6:11 PM Top dog Dan Rafael enters, walks by, pats me on the back and says, "All in good fun." He's referencing a little Twitter back and forth we had the week before, about a prospective Mayweather-Hopkins fight. It's all good. Each to his own, I like to say, though I do admit I will, if I haven't had my coffee, or it's late, I will get salty defending my turf, or methods or principles. I confess, the level of certainty in some circles of people saying that Mayweather-Hopkins could NEVER happen leaves me bewildered. This is the boxing business, the unexpected always occurs. Could that fight make money? Damn right. And that is why I'd never be so bold as to summarily dismiss it occurring. Of course, Dan is dialed in, and maybe he knows something I don't, maybe Floyd has told him to his face that it could never happen. If so, hopefully he will share that with all his faithful readers, including me!
6:21 PM I bag a plate and a chicken breast and some salad, and sit next to Harold Lederman of HBO and Tom Casino, the Showtime photog. "I'm with you veterans because, no offense to those younger dudes, but you guys have the best stories!" I tell the sages. Harold regales me with a couple anecdotes, and we three chuckle copiously and then I head to my computer, because Schaefer and Espinoza are about to begin.
6:45 PM Good stuff; Golden Boy scrapped their Nov. 30 show and boiled down the product from three cards, into two super cards. They will run in Brooklyn on Dec. 7, and San Antonio Dec. 14. Espinoza presents the move as a thank you to fans, and social media response is good. Like to see suits responding to the market, as these guys did by taking the Broner-Maidana fight off pay-per-view, and putting it on "regular" Showtime. (I'm jazzed, I admit, for the Dec. 7 card, and am going to snag some tickets, and lure the wife, and some of her pals, to attend the fights. She hasn't yet been to Barclays Center, and that's criminal, as we live a couple minutes from the building.)With word that Beibut Shumenov is on the Dec. 14 card, you have to wonder if Schaefer is holding the Shumie card for Hopkins, if a mega-fight doesn't pan out for B-Hop…or he looks so-so against Murat, and it is determined that it is smarter for him to do his things against B-level fighters, not 'A' guys.
7:30 PM Keith Idec, the NJ writer who is a rock-solid reporter, old school style, shoot the breeze as an undercard fight plays out. Our train of thought is interrupted as the emcee Tattoo, a recent staple of Golden Boy events, sits to Keith's left, and does his thing. He hypes this card, and upcoming events, loudly. He's into it, and is actually dripping sweat from the intensity of effort. It's not my thing, I don't care for the patter, but at least there is effort, at getting current. I always lobby for jugglers and fire eaters performing in ring during down time, but have never had any receptivity on the part of promoters when I bring it up. Come to think of it I may have perked Cedric Kushner's interest a few years back, but nothing came of it.
7:41 PM This hasn't been much reported, but some folks recall that Atlantic City has been an…eventful place for Gabriel Rosado, set to meet Peter Quillin (pictured doing postfight flip, in Tom Casino-Showtime photo), WBO middleweight champ. Rosado was charged with punching a uniformed cop in the face a few hours after notching a TKO5 win on July 15, 2011. A source I won't name tells me that the locals haven't forgotten the incident. Rosado is on a list, and one casino won't let him stay in one of their rooms, allegedly. Is it possible the cop he was accused of striking will be on site, working during his fight? That is the scuttle butt. Boxing, theater of the unexpected…
7:51 PM Argh. I'm annoyed. The internet doesn't work here, for me or anyone, and I hear a press person say that happens here a lot. This is 2013, I grumble on Twitter, no excuse for this. Grumbling on Twitter works; I've grumbled of late about Aetna and Hootsuite and Time Warner, and reps for each reached out to me. No one reaches out to soothe me from Boardwalk Hall, alas. The issue gets resolved before Deontay Wilder's fight, so the story has a happy ending. Props to Lisa Milner and Kelly Swanson, of Swanson Communications, for hustling, staying on it, and making sure the issue was resolved.
9:20 PM We're cracking up. A rooter for Nicolai Firtha, Wilders' foe, keeps yelling, "Big miss!" when Wilder is errant. Hey, you got to find silver lining where and when you can. Firtha proves game but succumbs to the Alabaman, who most people I chat with seem to think looks greener than you'd like to see when contemplating step-up fights. A Twitter follower mentioned Sherman Williams as a good next step. I think that is more appropriate than a Klitschko, Stiverne or Arreola, but I'm not a promoter or manager.
10:32 PM Hmm, not close enough to assess the cut which had the doc stop the Peter Quillin-Gabriel Rosado fight after round nine ended. After, Rosado complained that he wanted to go on, that the fans were robbed as the fight was going into the championship rounds and that Arturo Gatti had been given the benefit of the doubt when much more compromised than Rosado. Good points, all. I try not to second guess docs or refs, but we do have to allow for the understanding that these athletes are a different breed than us, willing to leave pieces of themselves, literal pieces, indeed, in the ring, in the quest for victory, and that must be respected. I'm all for a rematch, as the fighters seemed to be. This makes even more sense since 160 pounds features Sergio Martinez and Gennady Golovkin, who fight under the HBO umbrella, leaving Quillin a lack of potential foes.
11:15 PM Hey, this Murat doesn't stink. He's combative, sturdy, energized, and is using some tactics that Hopkins gets accused of bringing to the table. Guy knows this is a "fight," and is acting accordingly. Hopkins, about five times, does indeed ramp up the pressure, usually after tagging the Iraqi with a solid launch, but he can't end his KO drought. He tries though, and he engages in round nine the zestiest trading he's done in years. Murat actually gets the better of it, arguably, and that sticks in my mind as I ponder a Hopkins-Mayweather fight during the postfight presser. Bernard's quick hands surprised Murat all night, as leads that shouldn't have landed did. But his reaction time looked like that of a "normal" 35 year old, perhaps. Did Floyd see that and did that lead him to increase his open-mindedness to going to 160?
11:55 PM Steve Smoger is getting flak from press for being too chummy with Hopkins, and for shoving Murat back. People wonder if he's too far past his prime. Not sure about that…But I think he might be a victim of social media. He's done the shove-the-underdog thing before, I read one of my clips which noted how he did it inappropriately to Miguel Espino against Kelly Pavlik. But today, actions such as this get velocitized on Twitter, and are more so made a big deal of, because people love to harp on bad stuff. Smoger might want to dial back on the overt displays of chumminess moving forward, I think, it doesn't play well. He has always been a guy to show love, hug guys, kiss them post-fight, on their sweaty skulls, but you have to spread the love, your honor.
12:18 AM They talked heated trash before, but respect was forged in the ring. Quillin and Rosado chat, and hug, and pose for photos together. I whispered to Quillin that I felt for him when hearing that his wife miscarried during his camp. "That's bigger than any of this," I said. We hugged. Got to be human beings…
12:32 AM Hopkins tells us at post-fight presser THIS is why he never takes any fight lightly. Everyone steps up their game to face him. I dare say Murat did. Bernard says he's love to collect all the belts at 175 but politics makes that hard…so he's more than game to carve down to 160, and fight Floyd. Naysayers, stop it. I know "it's absurd."
I was in AC for Hopkins' win over Kelly Pavlik, in 2008, and was struck then by how tight Hopkins seemed to be with Schaefer. They are even closer now! The Swiss banker and the ex penitentiary dude from Philly, go figure. There's a reality show there…
1:06 AM I am going back and forth, foolishly, with some idiot on Twitter. Fern_FNCA tweeted, "Someone please put a stop to @Woodsy1069 and his ridiculous and continued speculation of a BHop vs Floyd fight. It's simply pathetic." I'm @Woodsy1069, for the record. Never heard of this kid, who says he's a "video correspondent." To me, he's a cocky kid who is welcome to tell me this to my face, if he wants to, but instead acts the ultra-confident bigshot on Twitter. Which is OK, usually, but it's been a long day, and the little one got up at 2 AM, and kept me and her mom up, so I'm XL salty. So I get testy…which is a waste of time. I do submit, though, that people, in an effort to make waves, do stir it up these days, just for attention. He got it…But I do take slight offense, as 1) Hopkins brought it up 2) promoter Schaefer said he's consider the fight 3) my readers, judging by the hits, enjoy the topic and 4) I'd point out that I have been doing this awhile and think I have decent judgment of what is "news" and what should be not treated as newsworthy. So for this Twitter tough guy to tell me it's "pathetic"….Shake my head. Whatev. Free country. Free to be a schmuck on Twitter.
1:39 AM I have that annoyance behind me, and now I'm headed off with my pal Mitch Abramson, from the NY Daily News. We're going to meet our pal, Zach Levin, who is chilling with some pals at a local landmark, The Irish Pub. So I'm told, anyway, I don't get out much, and put a cork in the jug back in 1995.
Check back here for Part 2, which will include my chat with boxing super fan Steve Ferrone, who more of you might know as a Heartbreaker, and the drummer in Tom Petty's band.
Follow Woods on Twitter here.
WATCH RELATED VIDEOS ON BOXINGCHANNEL.TV
International Brotherhood of Prizefighters Rankings: Week of September 24, 2023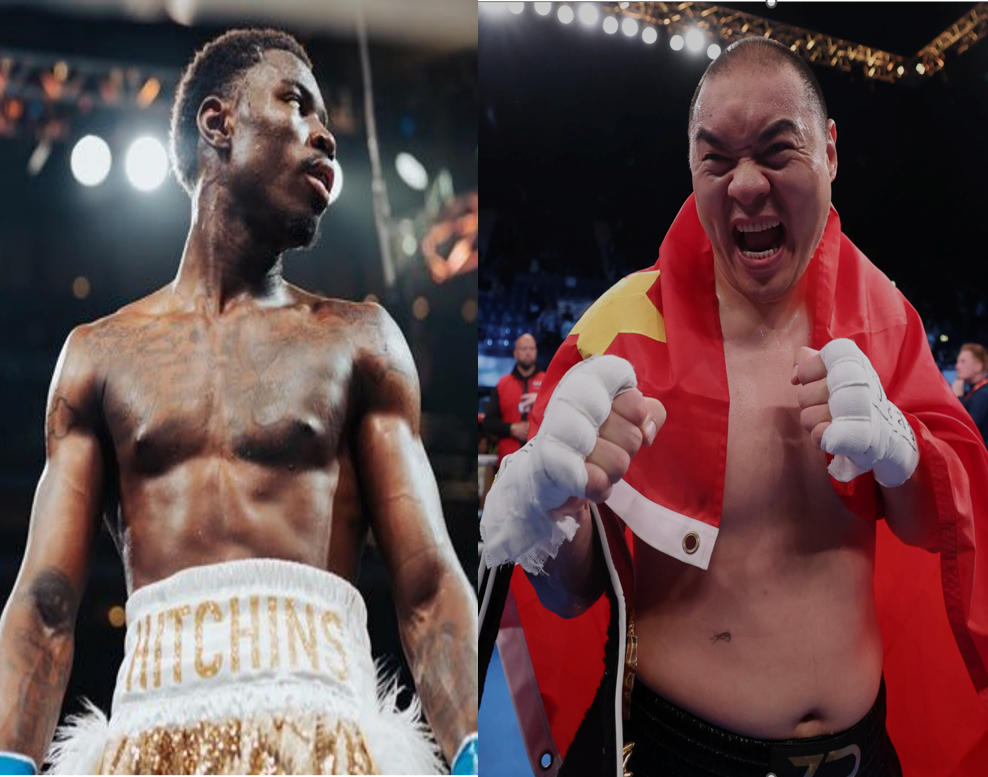 International Brotherhood of Prizefighters Rankings: Week of September 24, 2023

What's in a nickname, you ask?  Zhilei "Big Bang" Zhang exhibited shades of the legendary Brown Bomber, Joe Louis; the exception being he conducts business from the port side.  Zhang's 3rd round stoppage of Joe Joyce sees Joyce exiting the top 10 in the heavyweight division.  Also exiting due to inactivity is Andy Ruiz and Luis Ortiz, who last fought each other on September 4, 2022.  Gaining entries are Daniel Dubois, Dillian White and Derek Chisora, at 8, 9 and 10 respectively.
At 140, Richardson Hitchins earned his asterisk with a one sided decision over Jose Zepeda.  Hitchins enters the top 10 in the 7th slot, while Zepeda falls to 8th.  Zhankosh Turarov drops to 9th in the world and immediately underneath him, rounding out the top 10, is Elvis Rodriguez. Scotland's Josh Taylor gets bumped from the 10th slot.
At 108, World Champion Kenshiro Teraji defended his title with a stoppage of 4th ranked Hekkie Budler in round 9 of a scheduled 12.  Budler drops to 7th, see list for reshuffle.
*Please note that when the fighter's name appears with an asterisk it represents a movement in ranking from the previous week.
105lbs
♛ Vacant
1            Thammanoon Niyomtrong (Knockout CP Freshmart) (Thailand)
2            Panya Pradabsri (Petchmanee CP Freshmart) (Thailand)
3            Oscar Collazo (USA)
4            Ginjiro Shigeoka (Japan)
5            Daniel Valladares (Mexico)
6            Yudai Shigeoka (Japan)
7            Melvin Jerusalem (Philippines)
8            Masataka Taniguchi (Japan)
9            Rene Mark Cuarto (Philippines)
10          Yudai Shigeoka (Philippines)
108lbs
♛ Kenshiro Teraji (Japan)
1            Jonathan Gonzalez (Puerto Rico)
2            Masamichi Yabuki (Japan)
3            Sivenathi Nontshinga (South Africa)
4            Elwin Soto (Mexico)*
5            Regie Suganob (Philippines)*
6            Shokichi Iwata (Japan)*
7            Hekkie Budler (South Africa)*
8            Carlos Canizales (Venezuela)
9            Daniel Matellon (Panama)
10          Miel Fajardo (Philippines)
112lbs
♛ Vacant
1            Sunny Edwards (England)
2            Artem Dalakian (Ukraine)
3            Julio Cesar Martinez (Mexico)
4            Angel Ayala Lardizabal (Mexico)
5            David Jimenez (Costa Rica)
6            Jesse Rodriguez (USA)
7            Ricardo Sandoval (USA)
8            Felix Alvarado (Nicaragua)
9            Seigo Yuri Akui (Japan)
10          Taku Kuwahara (Japan)
115lbs
♛ Juan Francisco Estrada (Mexico)
1            Roman Gonzalez (Nicaragua)
2            Kazuto Ioka (Japan)
3            Fernando Martinez (Argentina)
4            Junto Nakatani (Japan)
5            Srisaket Sor Rungvisai (Thailand)
6            Kosei Tanaka (Japan)
7            Andrew Moloney (Australia)
8            Francisco Rodriguez Jr. (Mexico)
9            Pedro Guevara (Mexico)
10         Donnie Nietes (Philippines)
118lbs
♛ Vacant
1            Emmanuel Rodriguez (Puerto Rico)
2            Alexandro Santiago (Mexico)
3            Jason Moloney (Australia)
4            Vincent Astrolabio (Philippines)
5            Gary Antonio Russell (USA)
6            Takuma Inoue (Japan)
7            Nonito Donaire (Philippines)
8            Ryosuke Nishida (Japan)
9            Keita Kurihara (Japan)
10          Paul Butler (England)
122lbs
♛ Vacant
1            Naoya Inoue (Japan)
2            Marlon Tapales (Philippines)
3            Stephen Fulton (USA)
4            Luis Nery (Mexico)
5            Murodjon Akhmadaliev (Uzbekistan)
6            Sam Goodman (Australia)
7            Azat Hovhannisyan (Armenia)
8            Kevin Gonzalez (Mexico)
9            Ra'eese Aleem (USA)
10          Liam Davies (England)
126lbs
♛ Vacant
1            Luis Alberto Lopez (Mexico)
2            Leigh Wood (England)
3            Brandon Figueroa (USA)
4            Rey Vargas (Mexico)
5            Mauricio Lara (Mexico)
6            Robeisy Ramirez (Cuba)
7            Mark Magsayo (Philippines)
8            Josh Warrington (England)
9            Reiya Abe (Japan)
10          Otabek Kholmatov (Uzbekistan)
130lbs
♛ Vacant
1            Emanuel Navarrete (Mexico)
2            Joe Cordina (Wales)
3            Hector Garcia (Dominican Republic)
4            O'Shaquie Foster (USA)
5            Oscar Valdez (Mexico)
6            Shavkatdzhon Rakhimov (Tajikistan)
7            Otar Eranosyan (Georgia)
8            Lamont Roach (USA)
9            Eduardo Ramirez (Mexico)
10          Kenichi Ogawa (Japan)
135lbs
♛ Devin Haney (USA)
1            Gervonta Davis (USA)
2            Vasily Lomachenko (Ukraine)
3            Isaac Cruz (Mexico)
4            William Zepeda Segura (Mexico)
5            Frank Martin (USA)
6            Shakur Stevenson (USA)
7            Maxi Hughes (England)
8            George Kambosos Jr (Australia)
9            Keyshawn Davis (USA)
10          Raymond Muratalla (USA)
140lbs
♛ Teofimo Lopez (USA)
1            Regis Prograis (USA)
2            Jose Ramirez (USA)
3            Jack Catterall (England)*
4            Subriel Matias (Puerto Rico)*
5            Arnold Barboza Jr. (USA)*
6            Gary Antuanne Russell (USA)*
7            Richardson Hitchins (USA)*
8            Jose Zepeda (USA)*
9            Zhankosh Turarov (Kazakhstan*)
10          Elvis Rodriguez (Dominican Republic)*
147lbs
♛ Terence Crawford (USA)
1            Errol Spence (USA)
2            Jaron Ennis (USA)
3            David Avanesyan (Russia)
4            Cody Crowley (Canada)
5            Alexis Rocha (USA)
6            Rashidi Ellis (USA)
7            Souleymane Cissokho (Senegal)
8            Roiman Villa (Venezuela)
9            Egidijus Kavaliauskas (Lithuania)
10          Shakhram Giyasov (Uzbekistan)
154lbs
♛ Jermell Charlo (USA)
1            Tim Tszyu (Australia)
2            Brian Mendoza (USA)
3            Jesus Alejandro Ramos (USA)
4            Sebastian Fundora (USA)
5            Erickson Lubin (USA)
6            Michel Soro (Ivory Coast)
7            Magomed Kurbanov (Russia)
8            Tony Harrison (USA)
9            Israil Madrimov (Uzbekistan)
10          Bakhram Murtazaliev (Russia)
160lbs
♛ Vacant
1            Gennady Golovkin (Kazakhstan)
2            Carlos Adames (Dominican Republic)
3            Zhanibek Alimkhanuly (Kazakhstan)
4            Chris Eubank Jr. (England)
5            Liam Smith (England)
6            Sergiy Derevyanchenko (Ukraine)*
7            Vincenzo Gualtieri (Germany)
8            Felix Cash (England)
9            Michael Zerafa (Australia)
10          Esquiva Falcao (Brazil)
168lbs
♛ Canelo Alvarez (Mexico)
1            David Benavidez (USA)
2            Caleb Plant (USA)
3            Christian Mbilli (France)
4            David Morrell (Cuba)
5            John Ryder (England)
6            Pavel Silyagin (Russia)
7            Vladimir Shishkin (Russia)
8            Carlos Gongora (Ecuador)
9            Jaime Munguia (Mexico)
10          Demetrius Andrade (USA)
175lbs
♛ Artur Beterbiev (Canada)
1          Dmitry Bivol (Russia)
2          Joshua Buatsi (England)
3          Callum Smith (England)
4          Joe Smith Jr. (USA)
5          Gilberto Ramirez (Mexico)
6          Anthony Yarde (England)
7          Dan Azeez (England)
8          Ali Izmailov (Russia)
9          Michael Eifert (Germany)
10        Igor Mikhalkin (Germany)
200lbs
♛ Jai Opetaia (Australia)
1            Mairis Breidis (Latvia)
2            Chris Billam-Smith (England)
3            Richard Riakporhe (England)
4            Aleksei Papin (Russia)
5            Badou Jack (Sweden)
6            Arsen Goulamirian (France)
7            Lawrence Okolie (England)
8            Yuniel Dorticos (Cuba)
9            Mateusz Masternak (Poland)
10          Ilunga Makabu (So. Africa)
Unlimited
♛ Oleksandr Usyk (Ukraine)
1            Tyson Fury (England)
2            Zhilei Zhang (China)
3            Deontay Wilder (USA)
4            Anthony Joshua (England)
5            Filip Hrgovic (Croatia)
6            Arslanbek Makhmudov (Russia)*
7            Frank Sanchez (Cuba)*
8            Daniel Dubois (England)*
9            Dillian White (England)*
10          Derek Chisora (Zimbabwe)*
To comment on this story in the Fight Forum, CLICK HERE.
Canelo-Charlo Gets All the Ink, but Don't Overlook the Compelling Match-up of Gassiev-Wallin in Turkey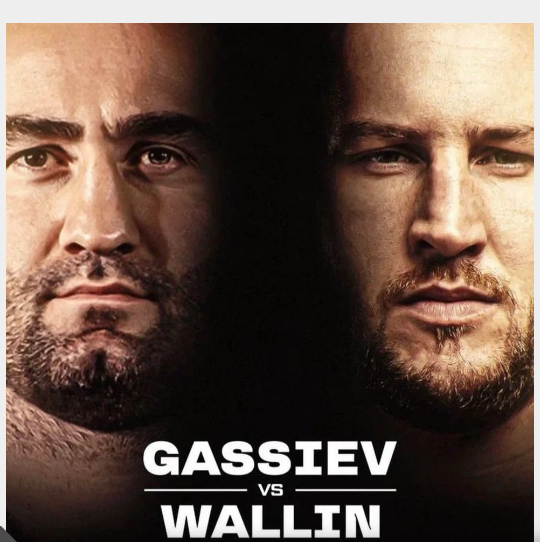 Canelo-Charlo Gets All the Ink, but Don't Overlook the Compelling Match-up of Gassiev-Wallin in Turkey
The eyes of the boxing world will be on Las Vegas this Saturday where Mexican superstar Saul "Canelo" Alvarez risks his four super middleweight title belts against unified 154-pound champion Jermell Charlo. Earlier that day at a luxury resort hotel in the city of Antalya on the Mediterranean coast of Turkey, there's a heavyweight match sitting under the radar that may prove to be the better fight. It's an intriguing match-up between former world cruiserweight title-holder Murat Gassiev and Swedish southpaw Otto Wallin, a bout with significant ramifications for boxing's glamour division.
Gassiev (30-1, 23 KOs) and Wallin (25-1, 14 KOs) have only one loss, but those setbacks came against the top dogs in the division. Gassiev was out-boxed by Oleksandr Usyk back in the days when both were cruiserweights. Wallin gave Tyson Fury a world of trouble before losing a unanimous decision.
Since those fights, both have been treading water.
Gassiev
Gassiev was inactive for 27 months after his match with Usyk while dealing with legal issues and an injury to his left shoulder. He is 4-0 (4 KOs) since returning to the ring while answering the bell for only eight rounds. The only recognizable name among those four victims is German gatekeeper Michael Wallisch. After stopping Wallisch, Gassiev was out of action for another 13 months while reportedly dealing with an arm injury.
A first-round knockout of Carlouse Welch, an obscure 40-something boxer from the U.S. state of Georgia on Aug. 26, 2022, in Belgrade, Serbia, was promoted as a title fight. The sanctioning body was the Eurasian Boxing Parliament (insert your own punchline here). Gassiev followed that up with a second-round knockout of former NFL linebacker Mike Balogun who came in undefeated and was seemingly a legitimate threat to him.
Although he has yet to fight a ranked opponent since leaving the cruiserweight division, Gassiev — a former stablemate of Gennady Golovkin who has been living in Big Bear, California, training under Abel Sanchez – is one of the most respected fighters in the division because he has one-punch knockout power as Balogun and others can well attest. The rub against the Russian-Armenian bruiser is that he is somewhat robotic.
Wallin
Otto Wallin, a 32-year-old southpaw from Sweden who trains in New York under former world lightweight champion Joey Gamache, fought Tyson Fury on Sept. 14, 2019 at the MGM Grand in Las Vegas. There was a general feeling that the Swede would be a stroll in the park for Fury, but to the contrary, he gave the Gypsy King a hard tussle while losing a unanimous decision.
Wallin is 5-0 since that night beginning with victories over Travis Kauffman (KO 5) and Dominic Breazeale (UD 12), but his last three opponents were softer than soft and all three lasted the distance. In order, Wallin won an 8-round decision over Kamil Sokolowski, who was 11-24-2 heading in, won a 10-round decision over ancient Rydell Booker, and won an 8-round decision over Helaman Olguin. His bout with Utah trial horse Olguin was at a banquet hall in Windham, New Hampshire.
It isn't that Wallin has been avoiding the top names in the division; it's the other way around. His promoter Dmitriy Salita reportedly came close to getting Wallin a match with Anthony Joshua whose team had second thoughts about sending Joshua in against another southpaw after back-to-back setbacks to Oleksandr Usyk.
Gassiev vs Wallin is a true crossroads fight. Both are in dire need of a win over a credible opponent. At last look, Gassiev, who figures to have the crowd in his corner, was a 3/1 favorite.
To comment on this story in the Fight Forum CLICK HERE
Skavynskyi and Bustillos Win on a MarvNation Card in Long Beach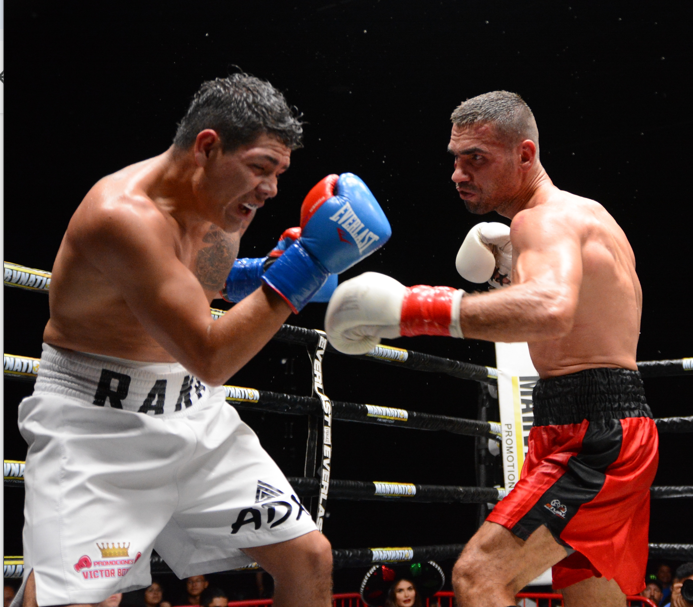 Skavynskyi and Bustillos Win on a MarvNation Card in Long Beach
LONG BEACH, Ca.-A cool autumn night saw welterweights and minimumweights share main events for a MarvNation fight card on Saturday.
Ukraine's Eduard Skavynskyi (15-0, 7 KOs) experienced a tangled mess against the awkward Alejandro Frias (14-10-2) but won by decision after eight rounds in a welterweight contest at the indoor furnace called the Thunder Studios.
It was hot in there for the more than 600 people inside.
Skavynskyi probably never fought someone like Mexico's Frias whose style was the opposite of the Ukrainian's fundamentally sound one-two style. But round after round the rough edges became more familiar.
Neither fighter was ever damaged but all three judges saw Skavynskyi the winner by unanimous decision 79-73 on all three cards. The Ukrainian fighter trains in Ventura.
Bustillo Wins Rematch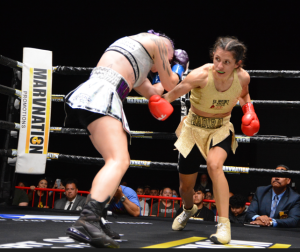 In the female main event Las Vegas' Yadira Bustillos (8-1) stepped into a rematch with Karen Lindenmuth (5-2) and immediately proved the lessons learned from their first encounter.
Bustillos connected solidly with an overhand right and staggered Lindenmuth but never came close to putting the pressure fighter down. Still, Bustillos kept turning the hard rushing Lindenmuth and snapping her head with overhand rights and check left hooks.
Lindenmuth usually overwhelms most opponents with a smothering attack that causes panic. But not against Bustillos who seemed quite comfortable all eight rounds in slipping blows and countering back.
After eight rounds all three judges scored the contest for Bustillos 78-74 and 80-72 twice. Body shots were especially effective for the Las Vegas fighter in the fifth round. Bustillos competes in the same division as IBF/WBO title-holder Yokasta Valle.
Other Bouts
In a middleweight clash, undefeated Victorville's Andrew Buchanan (3-0-1) used effective combination punching to defeat Mexico's Fredy Vargas (2-1-1) after six rounds. Two judges scored it 59-55 and a third 60-54 for Buchanan. No knockdowns were scored.
A super lightweight match saw Sergio Aldana win his pro debut by decision after four rounds versus Gerardo Fuentes (2-9-1).
Photos credit: Al Applerose
To comment on this story in the Fight Forum CLICK HERE