Boxing's 'Cold War' Continues, With Different Combatants
Two press conferences on the same day, in the same town, illustrated just how intense boxing's "Cold War," circa 2013, continues to rage. And there is no sign that the distrust, apprehension and outright hostility that separate the warring factions is going to end with a peace treaty that might or might not be to the mutual benefit of the combatants, but surely would to frustrated fight fans who are continually asked to choose sides.
The first media gathering was held at 6:30 p.m. in a side room at Atlantic City's Boardwalk Hall, a few hours before IBF light heavyweight champion Bernard Hopkins defended his title on a rousing unanimous decision over German challenger Karo Murat, the main event of a Showtime-televised tripleheader. The principals were Stephen Espinoza, executive vice president and general manager of Showtime Sports and Event Programming, and Golden Boy CEO Richard Schaefer (seen in photo courtesy of Jayson Colon/Fight Images). They sat at a rectangular folding table to inform reporters of two big boxing cards that would be televised by Showtime on back-to-back Saturday dates, Dec. 7 and Dec. 14. The first, from the Barclays Center in Brooklyn, N.Y., would be headlined by the all-Brooklyn matchup of Zab Judah and Paulie Malignaggi; the second, from the Alamodome in San Antonio, Texas, is topped by the pairing of WBA welterweight champ Adrien Broner and Argentina's Marcos Maidana. Each card would include four televised bouts, six of which would be for world titles.
"There was a rumor that Showtime was out of money and we had put all our best talent already on pay-per-view and we didn't have anybody meaningful to fight for the rest of the year,"said Espinoza, who described the two cards, on regular Showtime, as an "early holiday gift" for boxing buffs. "I was aware of those rumors and speculation, and I know what the source was."
Not that Espinoza would spoil his and Schaefer's self-congratulatory announcement by mentioning the naysayer's identity, but there was a strong suspicion among the assembled media types was that he is a former member of the late Robert F. Kennedy's Justice Department who once was described as the "master of trickeration" by another promotional arch-rival.
Espinoza joked that the funds to finance the blockbuster cards meant that Showtime had "canceled our Christmas party for the year" and that "we're just happy we could find enough quarters in the couches" to put the cards together at such late dates on the fiscal calendar. He also stressed that the money would come from Showtime's 2013 budget and not mark an early withdrawal from the one for 2014.
Toward the end of the 20-minute session, someone asked Schaefer if it was true that Canelo Alvarez, a Golden Boy and Showtime fighter, would make his first post-Floyd Mayweather Jr. ring appearance against Miguel Cotto, who is with Top Rank and HBO, and if officials from the other side of boxing's widest divide would sit in on any negotiations for such a bout.
"No," Schaefer flatly said of the possibility that his company would offer a tentative olive branch to Bob Arum, with whom he has been embroiled in a nasty, ongoing verbal spat that easily outstrips any rancor that once existed between Arum and Don King. "There's nobody with Top Rank that's going to be sitting in that meeting. If Miguel Cotto wants to fight (on Showtime and against Alvarez), no problem. But it will have to be without Top Rank."
Meanwhile, in the Philippines where Arum was with Filipino national hero Manny Pacquiao, who will take on Brandon Rios on Nov. 23 in Macau, China, a fight which will be televised via HBO Pay-Per-View, was just as disdainful of Schaefer, Golden Boy president (and former Top Rank headliner) Oscar De La Hoya and, presumably, Espinoza for choosing to do business with such presumed low-lifes as the GBP honchos.
"I dislike Schaefer and De La Hoya intensely," Arum said a few days earlier. "God knows King and I, when we were real bitter rivals, we always found time to do big fights together. But I will not forgive these two bums defaming Manny Pacquiao," which Arum said Schaefer had done in telling Filipino reporter Ronnie Nathanielsz that Pacquiao had used performance-enhancing drugs.
Although Schaefer refrained from returning verbal fire at Arum, at least on this occasion, he hasn't always been so shy on the subject of his discontent. During an interview with Boxingscene.com's Rick Reeno, Schaefer depicted Arum as a back-stabber who would resort to any dirty trick to advance his own agenda.
"The Showtime CEO, Les Moonves, was a personal friend of (Arum's)," Schaefer said. "They used to go on vacations together. But Arum is not capable of having relationships. He bleeped his own buddy. Arum brought Pacquiao (to Showtime, for his Nov. 14, 2009, bout with Miguel Cotto) and Showtime did a terrific job. The single biggest pay-per-view of Pacquiao's career was on Showtime. And then (Arum) takes him back to HBO and basically bleeps his own friend. As a result, he became persona non grata on Showtime."
If you an optimistic sort who dares to believe this Hatfields-McCoys feud might be resolved any time soon, listen to what Hopkins said at his postfight press conference after he had dispatched Murat, approximately six hours after Espinoza and Schaefer had told the media about the wonderful events they would be bringing to the public in December.
Asked if he was serious about a possible catch weight fight with Mayweather, which seems highly unlikely, Hopkins said he'd rather gather up the rest of the 175-pound championship belts, as he did in becoming the undisputed middleweight ruler in 2001.
"To be honest with you, I'd rather unify the titles," Hopkins said. "I'd rather be the guy that has all the titles, like I proved in the middleweight division. But there's a Cold War going on, and that Cold War going on is that HBO don't want to do business with my family, and my family is Golden Boy Promotions. I ride and die with people that ride and die with me."
None of the comments being offered suggests that there will be peace in our time insofar as premium-cable boxing is involved. There is no one like President Ronald Reagan, speaking in Berlin on June 12, 1987, and telling his Soviet counterpart, "Mr. Gorbachev, tear down this wall." Two and a half years later, the Berlin Wall did in fact come down. But, hey, that was only international politics. Boxing squabbles frequently are more bitter and enduring than lightweight scraps like capitalism vs. communism, and the Schaefer/Showtime vs. Arum/HBO one increasingly looks like it will go the distance, and then some.
It wasn't always so. When it served their purposes, Arum and King – who, in a moment of inspiration, coined that "master of trickeration" phrase to describe the Top Rank founder — would smile for the cameras, shake hands and pretend to make nice, so long as each made a healthy profit from calling a temporary cease-fire. Just two examples of such uneasy truces were the Sept. 18, 1999, megafight between Arum's De La Hoya (oh, the irony) and King's Felix Trinidad, and the June 9, 2007, bout between Arum's Cotto and King's Zab Judah.
Even more astounding, the June 8, 2002, showdown between WBC/WBO/IBO heavyweight champion Lennox Lewis and former champ Mike Tyson in Memphis, Tenn., was televised by both pay-per-view arms of HBO and Showtime. Lewis, an HBO fighter, stopped Tyson, who was then with Showtime after a long run on HBO, in eight rounds.
So why can't a page or two from days gone by be torn from a dated playbook that suggested that co-existence was possible, as least in theory? Well, there are several reasons. For one, although Arum and King might have loathed each other, their relationship was almost cuddly-warm in comparison to the utter hatred in which Arum and Schaefer hold one another. For another, Showtime seemed at least a bit more willing to bend when it was dealing from a less favorable position, an acknowledgment that HBO had much deeper financial resources and a far more extensive volume of subscribers. But that gap has narrowed considerably during Espinoza's two-year stewardship, and Showtime – in part because of its huge commitment to Mayweather, the sport's biggest and most bankable star – is feisty enough to stand toe-to-toe with HBO, which haughtily still proclaims itself as the "Heart and Soul of Boxing," instead of settling for stick-and-move tactics.
Hopkins might crave the opportunity to gather up those light heavyweight straps that belong to other fighters, but trying to do so in the present climate seemingly is as far-fetched a possibility as Lindsay Lohan becoming a nun. It wouldn't appear be that difficult to pair B-Hop with WBA champ Beibut Shumenov, who is now part of the Golden Boy stable, but WBO champ Sergey Kovalev (who is promoted by Main Events) and WBC titlist Adonis Stevenson (Yvon Michel) have been getting good-paying HBO gigs, and it is reasonable to conclude that HBO Sports boss Ken Hershman – the former boxing head of Showtime, another irony — would let either escape to Showtime to swap punches with Hopkins.
But if Shumenov is the only unification option open to Hopkins, upon further reflection the ageless wonder isn't sure if he wouldn't rather take a more lucrative detour.
"I don't think anybody really knows Shumenov," Hopkins said. "I want a big, super fight. Shumenov is not a super fight."
Too many super fights, or fights that might be perceived as such, remain dreamy notions to the public so long as Schaefer/Showtime and Arum/HBO are entrenched in their determination to withhold their attractions from any interaction with the enemy. Cold War? Oh, yes. Frigid, even. These mine-is-bigger-than-yours battles are won or lost in corporate headquarters, without a single punch being thrown by champions who are obliged to pledge total allegiance to one side or the other.
King, contacted by TSS, actually hesitated to weigh in on this updated version of his legendary staredowns with Arum. Maybe the fact that His Hairness requested time to offer a definitive opinion, instead of firing from the lip, might be the biggest upset of all.
"I'd have to put some thought into that," King said. "It would be tantamount to treachery for me to say something stupid. The game has taken on a different kind of life. Let me think about that and get back to you on that."
But King, being King, did offer a bit of insight before sitting down to more fully assess the situation.
"It all reverts back to the networks," he allowed. "That would be the beginning point of what I say and how I say it, so I have to be careful.
"Ross Greenburg would still be at HBO if it weren't for Bob," King continued, a reference to Greenburg's forced exit as HBO Sports president after Arum took the Pacquiao-Cotto fight to Showtime, much to the dismay of Greenburg's bosses. "Bob still has a lot of influence because he has a superstar (in Pacquiao), so you have to say that he has done his job."
So has Schaefer, for that matter. And part of his and Arum's job descriptions, it would seem, is to denigrate the other as often and as crassly as possible. If Joe Fan gets splattered by some mud in the crossfire, just chalk it up as boxing's new reality, or at least a variation of an old one.
Skavynskyi and Bustillos Win on a MarvNation Card in Long Beach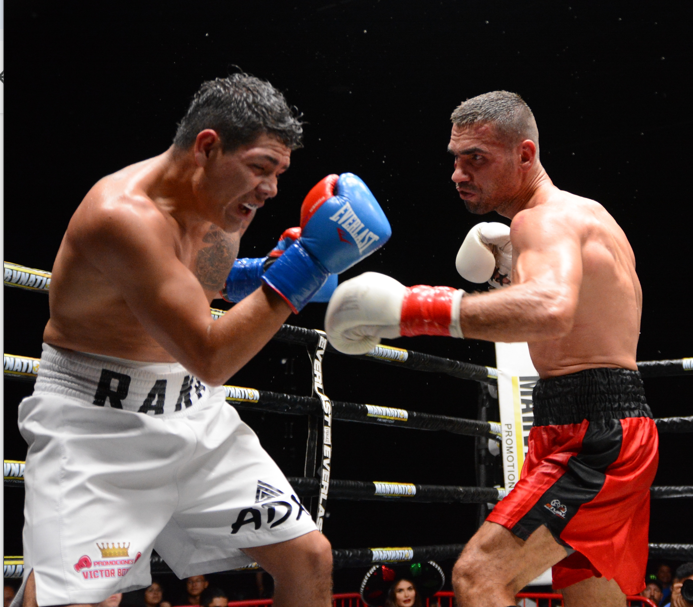 Skavynskyi and Bustillos Win on a MarvNation Card in Long Beach
LONG BEACH, Ca.-A cool autumn night saw welterweights and minimumweights share main events for a MarvNation fight card on Saturday.
Ukraine's Eduard Skavynskyi (15-0, 7 KOs) experienced a tangled mess against the awkward Alejandro Frias (14-10-2) but won by decision after eight rounds in a welterweight contest at the indoor furnace called the Thunder Studios.
It was hot in there for the more than 600 people inside.
Skavynskyi probably never fought someone like Mexico's Frias whose style was the opposite of the Ukrainian's fundamentally sound one-two style. But round after round the rough edges became more familiar.
Neither fighter was ever damaged but all three judges saw Skavynskyi the winner by unanimous decision 79-73 on all three cards. The Ukrainian fighter trains in Ventura.
Bustillo Wins Rematch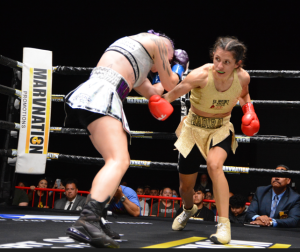 In the female main event Las Vegas' Yadira Bustillos (8-1) stepped into a rematch with Karen Lindenmuth (5-2) and immediately proved the lessons learned from their first encounter.
Bustillos connected solidly with an overhand right and staggered Lindenmuth but never came close to putting the pressure fighter down. Still, Bustillos kept turning the hard rushing Lindenmuth and snapping her head with overhand rights and check left hooks.
Lindenmuth usually overwhelms most opponents with a smothering attack that causes panic. But not against Bustillos who seemed quite comfortable all eight rounds in slipping blows and countering back.
After eight rounds all three judges scored the contest for Bustillos 78-74 and 80-72 twice. Body shots were especially effective for the Las Vegas fighter in the fifth round. Bustillos competes in the same division as IBF/WBO title-holder Yokasta Valle.
Other Bouts
In a middleweight clash, undefeated Victorville's Andrew Buchanan (3-0-1) used effective combination punching to defeat Mexico's Fredy Vargas (2-1-1) after six rounds. Two judges scored it 59-55 and a third 60-54 for Buchanan. No knockdowns were scored.
A super lightweight match saw Sergio Aldana win his pro debut by decision after four rounds versus Gerardo Fuentes (2-9-1).
Photos credit: Al Applerose
To comment on this story in the Fight Forum CLICK HERE
Tedious Fights and a Controversial Draw Smudge the Matchroom Boxing Card in Orlando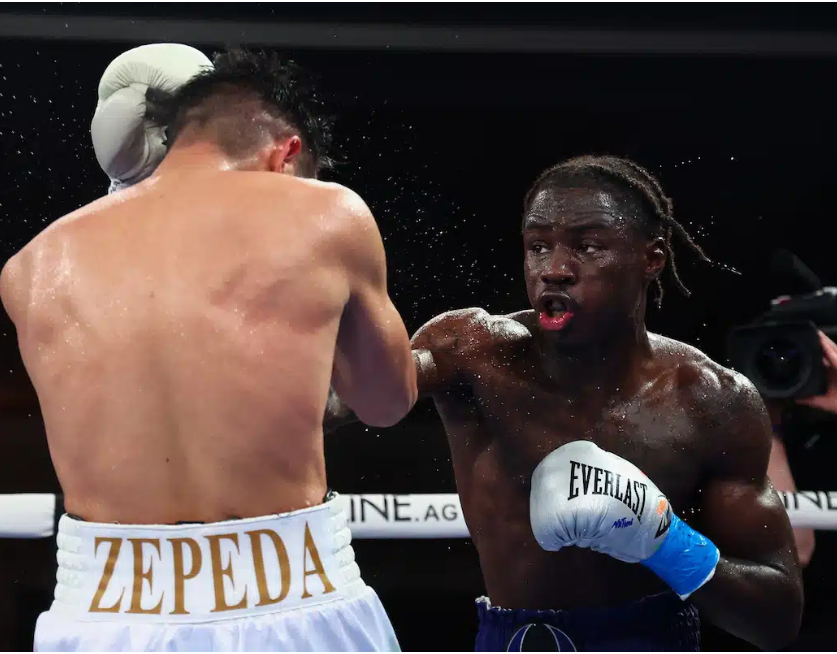 Matchroom Boxing was at the sprawling Royale Caribe Resort Hotel in Orlando, Florida tonight with a card that aired on DAZN. The main event was a ho-hum affair between super lightweights Richardson Hitchins and Jose Zepeda.
SoCal's Zepeda has been in some wars in the past, notably his savage tussle with Ivan Baranchyk, but tonight he brought little to the table and was outclassed by the lanky Hitchins who won all 12 rounds on two of the cards and 11 rounds on the other.  There were no knockdowns, but Zepeda suffered a cut on his forehead in round seven that was deemed to be the product of an accidental head butt and another clash in round ten forced a respite in the action although Hitchins suffered no apparent damage.
It was the sort of fight where each round was pretty much a carbon of the round preceding it. Brooklyn's Hitchins, who improved to 17-0 (7), was content to pepper Zepeda with his jab, and the 34-year-old SoCal southpaw, who brought a 37-3 record, was never able to penetrate his defense and land anything meaningful.
Hitchins signed with Floyd Mayweather Jr's promotional outfit coming out of the amateur ranks and his style is reminiscent in ways of his former mentor. Like Mayweather, he loses very few rounds. In his precious engagement, he pitched a shutout over previously undefeated John Bauza.
Co-Feature
In the co-feature, Conor Benn returned to the ring after an absence of 17 months and won a unanimous decision over Mexico's Rodolfo Orozco. It wasn't a bad showing by Benn who showed decent boxing skills, but more was expected of him after his name had been bandied about so often in the media. Two of the judges had it 99-91 and the other 96-94.
Benn (22-0, 14 KOs) was a late addition to the card although one suspects that promoter Eddie Hearn purposely kept him under wraps until the week of the fight so as not to deflect the spotlight from the other matches on his show. Benn lost a lucrative date with Chris Eubank Jr when he was suspended by the BBBofC when evidence of a banned substance was found in his system and it's understood that Hearn has designs on re-igniting the match-up with an eye on a date in December. For tonight's fight, Benn carried a career-high 153 ½ pounds. Mexico's Orozco, who was making his first appearance in a U.S. ring, declined to 32-4-3.
Other Bouts of Note
The welterweight title fight between WBA/WBC title-holder Jessica McCaskill (15-3-1) and WBO title-holder Sandy Ryan (6-1-1) ended in a draw and the ladies' retain their respective titles. Ryan worked the body effectively and the general feeling was that she got a raw deal, a sentiment shared by the crowd which booed the decision. There was a switch of favorites in the betting with the late money seemingly all on the Englishwoman who at age 30 was the younger boxer by nine years.
The judges had it 96-94 Ryan, 96-95, and a vilified 97-93 for Chicago's McCaskill.
In the opener of the main DAZN stream, Houston middleweight Austin "Ammo" Williams, 27, improved to 15-0 (10) with a 10-round unanimous decision over 39-year-old Toronto veteran Steve Rolls (22-3). All three judges had it 97-93. Rolls has been stopped only once, that by Gennady Golovkin.
Photo credit: Ed Mulholland / Matchroom Boxing
To comment on this story in the Fight Forum CLICK HERE
Zhilei Zhang KOs Joe Joyce; Calls Out Tyson Fury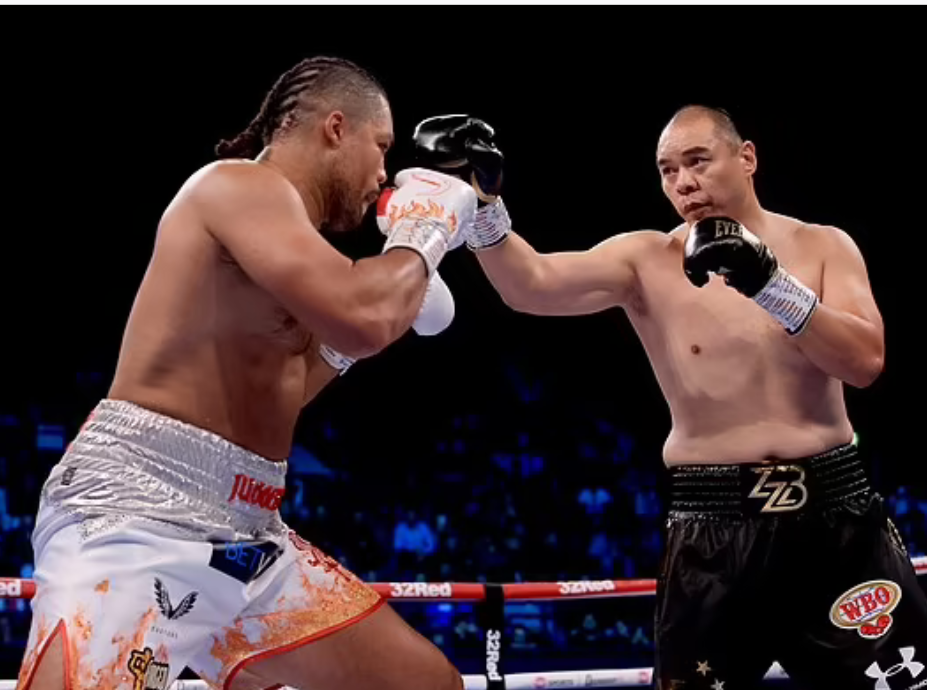 Joe Joyce activated his rematch clause after being stopped in the sixth frame by Zhilei Zhang in their first meeting. In hindsight, he may wish that he hadn't. Tonight at London's Wembley Stadium, Zhang stopped him again and far more conclusively than in their first encounter.
In the first meeting, Zhang, a southpaw, found a steady home for his stiff left jab. Targeting Joyce's right eye, he eventually damaged the optic to where the ring doctor wouldn't let Joyce continue. At the end, the fight was close on the cards and Joyce was confident that he would have pulled away if not for the issue with his eye.
In the rematch tonight, Zhang (26-1-1, 21 KOs) closed the curtain with his right hand. A thunderous right hook on the heels of a straight left pitched Joyce to the canvas where he landed face first. He appeared to beat the count by a whisker, but was seriously dazed and referee Steve Gray properly waived it off. The official time was 3:07 of round three.
Zhang, who lived up to his nickname, "Big Bang," was credited with landing 29 power punches compared with only six for Joyce (15-2) who came in 25 pounds heavier than in their first meeting while still looking properly conditioned. One would be inclined to say that age finally caught with the "Juggernaut" who turned 38 since their last encounter, but Zhang, 40, is actually the older man. In his post-fight interview in the ring, the New Jersey resident, a two-time Olympian for China, when asked who he wanted to fight next, turned to the audience and said, "Do you want to see me shut Tyson Fury up?"
He meant it as a rhetorical question.
Semi-Windup
Light heavyweight Anthony Yarde was matched soft against late sub Jorge Silva, a 40-year-old Portuguese journeyman, and barely broke a sweat while scoring a second-round stoppage. Yarde backed Silva against a corner post and put him on the deck with a short right hand. Silva's body language indicated that he had no interest in continuing and the referee accommodated him. The official time was 2:07 of round two.
A 30-year-old Londoner, Yarde (24-3, 23 KOs) was making his first start since being stopped in eight rounds by Artur Beterbiev in a bout that Yarde was winning on two of the scorecards. Silva, a late replacement for 19-3-1 Ricky Summers, falls to 22-9.
Also
Former leading super middleweight contender Zach Parker (23-1, 17 KOs) returned to the ring in a "shake-off-the-rust" fight against 40-year-old Frenchman Khalid Graidia and performed as expected. Graidia's corner pulled him out after seven one-sided rounds.
In his previous fight, Parker was matched against John Ryder who he was favored to beat. The carrot for the winner was a lucrative date with Canelo Alvarez. Unfortunately for Parker, he suffered a broken hand and was unable to continue after four frames. Tonight, he carried 174 pounds, a hint that he plans to compete as a light heavyweight going forward. Indeed, he has expressed an interest in fighting Anthony Yarde. Graidia declined to 10-13-4.
The Zhang-Joyce and Yarde-Silva fights were live-streamed in the U.S. on ESPN+.
To comment on this story in the Fight Forum CLICK HERE