Sergio Mora Chasing Down Middleweight Champions
When people discuss the most dangerous and feared fighters in the world, they immediately look toward the punchers.
In reality, it's the pure boxers, those hard-to-hit individuals, that are most feared. You won't see the punchers challenge any of them unless it's for mega millions.
Sergio "The Latin Snake" Mora is one of those feared fighters. Despite having very few knockouts, you won't see Sergio Martinez, Peter Quillin or Gennady Golovkin begging the East L.A. middleweight to fight. Mora is a bad word to them.
It's the politics of boxing.
Needing to stay active Mora (24-3-2, 7 Kos) has signed to fight Milton Nunez (26-8-1, 24 Kos), a hard-hitting Colombian known as the "Missile." They'll meet on the Andre Ward undercard at Citizens Business Bank Arena in Ontario, Calif. on Nov. 16.
"I just need to stay busy," said Mora, who still lives in East L.A.
The last time Mora entered the prize ring he faced off with former Golovkin foe Grzegorz Proksa of Poland. After 10 one-sided rounds Mora easily defeated the Polish southpaw.
"Honestly, it was one of my easiest fights," said Mora, whose juking style and unorthodox punches bewilder opponents. "He may have hit me solid only two times the whole fight."
Mora is as slippery as his nickname.
When Mora fought Sugar Shane Mosley it was clear to the Pomona speedster that he couldn't power up and attempt to take out the middleweight. The former lightweight, welterweight and junior middleweight champion is no one's fool. He slipped into counter-punch mode too and fans were upset by the transition. But Mosley wasn't looking to lose. The fight ended in a draw and the television analysts roasted Mora, not Mosley.
But if you ask anyone who has sparred with Mora, they will tell you he's one of the best boxers in the ring. Recently, Mora helped Mosley prepare for the ill-fated fight with Australia's Anthony Mundine. The fight was canceled for lack of funding. But the sparring sessions provided by Mora helped Mosley immensely.
"Maravilla"
When I spoke to WBC middleweight titlist Sergio Martinez he was completely honest with his opinions of the rest of the middleweight division. He felt Julio Cesar Chavez was over-rated and Golovkin was dangerous, but beatable. Upon discussing Mora he was a little more tactful:
"He has a very difficult style," said Martinez. "He should fight Chavez. He would beat him."
Mora wants the world champions like Martinez, Golovkin or Quillin. He doesn't understand why fighters like Curtis Stevens get the call. It's a primary reason that Mora recently signed with Lou DiBella, who has Martinez in his fold.
"Martinez is the one I'm going for. He's coming back in March," said Mora. "I'll spoil everyone's plans."
With the sudden fragility of Martinez a big concern, who knows how much longer the slick-fighting Argentine has remaining as the middleweight world champion. It could be the perfect battle for the left-handed world champion.
Mora has tried to lure Quillin and Golovkin into the ring, but both camps have refused. Quillin works out of the Wild Card and Mora's training camp is 20 miles away. But no offers have come Mora's way. Golovkin's trainers have seen Mora throughout the years. For several years Mora trained at South El Monte where one of Golovkin's co-trainers works.
"They've seen me spar with guys like Antonio Margarito and Nick Martinez," said Mora, adding that as a 16-year-old he sparred with then world champion Terry Norris and was kicked out after one day.
In reality, Mora prefers to meet Martinez.
"The reason I signed with Lou is he has the best fighter in my division. He said 'you're at the age when he (Martinez) made his splash. Five years later he's the best fighter in the world," Mora recounted DiBella's conversation. "I've never taken a physical beating. Lou knows what I can do as a middleweight."
Despite not having a blockbuster punch, an exceptional boxer can get in the ring with anyone.
"Look at Paul Malignaggi, everyone said Adrien Broner would run right over him," said Mora. "Instead, Malignaggi gave him a boxing lesson. I felt Paulie beat him but that's another discussion."
So Mora faces Nunez on the Ward undercard next week. He's biding time until his chance finally comes.
"Right now the wrong guys are getting title shots. All it takes is for one of these guys to take a stand," said Mora of the current middleweight world titlists. "Once they give me a shot in the ring I can show if I'm right or wrong. That's where I'm at right now."
The Return of Wednesday Boxing Evokes Memories of a Golden Era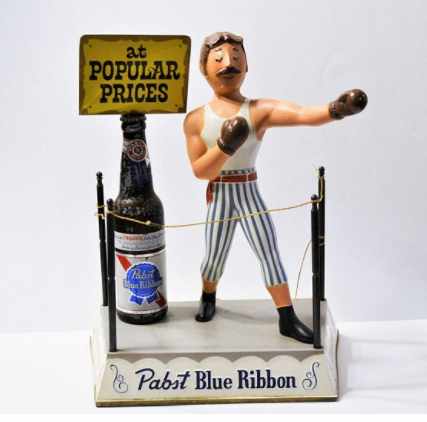 There's a Wednesday card on the boxing docket this week. The card, which features several undefeated up-and-comers of the sort usually found on Showtime's developmental series, "ShoBox: The New Generation," will play out at the Microsoft Theater in Los Angeles and air on Fox Sports 1.
Not to be out-done, "ShoBox" is returning. The long-running series, which suspended operations in March in obeisance to COVID-19 restrictions, returns on Oct. 7 with a show emanating from Connecticut's Mohegan Sun Casino. The contestants in the main go of the four-fight card, Charles Conwell and Wendy Toussaint, have identical 12-0 records.
It just so happens that Oct. 7 is also a Wednesday. And these upcoming Wednesday shows transported this reporter back to his boyhood when boxing was a fixture on radio and television on Wednesday nights. The Wednesday series sponsored by Pabst Blue Ribbon beer ran from 1950 to 1960, airing the first five years on CBS and then on ABC.
Fights were all over the TV dial during the 1950s, not that there was much competition. The Big Three — NBC, CBS, and ABC — ruled the airwaves with DuMont a very distant fourth and cable television well off into the future. (For a time, the short-lived DuMont network aired boxing shows on Mondays.)
When televisions first came out, they were a big-ticket item. In 1948, RCA's cheapest model sold for $395. That's the equivalent of $10,400 today. By 1954, the cost of the least expensive model had declined to $189 and it came in a bigger box, with a 17-inch screen compared with the 13-inch screen that was standard six years earlier.
With the cost of the coveted contraption beyond the means of many wage earners, saloonkeepers cashed in. Boxing fans flocked to the neighborhood tavern to get their boxing fix. The saloonkeeper could write off his television sets on his taxes as a business expense.
Those were the days, and I date myself, when every town had a TV repair shop and the repairman, like the family doctor, made house calls.
The Wednesday Night Fights were a spin-off of the Friday Night Fights on NBC. The matchmaker for both series (through 1958) was the International Boxing Club which was headquartered at Madison Square Garden. The president of the IBC was James D. Norris (who would come to be seen as a puppet for mobster Frankie Carbo, but that's a story for another day).
James D. Norris inherited a vast fortune from his father, Canadian businessman James E. Norris. The elder Norris was a big wheel in the sport of hockey and had a financial interest in the arenas that housed NHL teams in Chicago, Detroit, and St. Louis. He made these arenas available to his son and the Wednesday fight cards moved around, unlike the Friday fights which were pinned to Madison Square Garden.
Both series would eventually venture out at times into virgin territory, but the Wednesday series was the trailblazer. The first nationally televised boxing show from the West Coast was a Wednesday affair. Jimmy Carter defended his world lightweight title against LA fan favorite Art Aragon, the original Golden Boy, at the Olympic Auditorium on Nov. 14, 1951. Aragon had upset Carter in a non-title fight 11 weeks earlier, but Carter took him to school in the rematch, winning a lopsided decision.
The Friday boxing series, which took the name "Gillette Cavalcade of Sports," would come to be more fondly remembered, but once the TV became a living room staple, which happened fast, the Wednesday series drew higher ratings. This was predictable as more folks stayed home on Wednesday nights than on Friday nights. And although the Friday series had a larger budget, some of the most important fights of the era were staged on Wednesdays.
One of the highlights of the 1951 season was Ezzard Charles' world heavyweight title defense against Jersey Joe Walcott at Pittsburgh's Forbes Field. It was Walcott's fifth crack at the title and he was considered ancient at age 37, but he avenged his two previous losses to Charles with a thunderous one-punch knockout.
Carmen Basilio appeared in The Ring magazine Fight of the Year in five consecutive years (1955-1959). The first two — his second meeting with Tony DeMarco and his second meeting with Johnny Saxton – were televised on a Wednesday.
Although he would be quickly forgotten, the Wednesday series brought Bob Satterfield a cult following because of his unpredictability. He certainly left an impression on octogenarian boxing writer Ted Sares who recently named Satterfield his all-time favorite fighter.
To conjure up a portrait of Satterfield, think Deontay Wilder and then fix Wilder with a glass jaw. Satterfield, whose best weight was about 182 pounds, was a murderous puncher, but during his career he was stopped 13 times.
LA's Clarence Henry and Pittsburgh's Bob Baker were ranked #3 in the heavyweight division when they ventured to Chicago to tangle with Satterfield, Henry in 1952 and Baker the following year. Henry knocked out Satterfield in the opening round. Satterfield hit the canvas so hard, said a ringside reporter, the resin dust flew up.
The Satterfield-Baker fight would also end in the opening round. Baker out-weighed Satterfield by 34 pounds, but Satterfield flattened him. Later on, in a non-Wednesday fight, Satterfield knocked out Cleveland "Big Cat" Williams in the third round. Williams, 33-1 heading in, was the larger man by 25 pounds.
One bet on or against Bob Satterfield at one's own peril.
The Wednesday Night Fights had a nice run before the series was cancelled and supplanted in its time slot by "The Naked City," a critically acclaimed police drama series. Perhaps the return of boxing on Wednesdays augurs well for another mid-week boxing series, but we won't hold our breath.
Check out more boxing news on video at the Boxing Channel 
To comment on this story in the Fight Forum CLICK HERE
Erickson Lubin Wins, But Misplaced His Hammer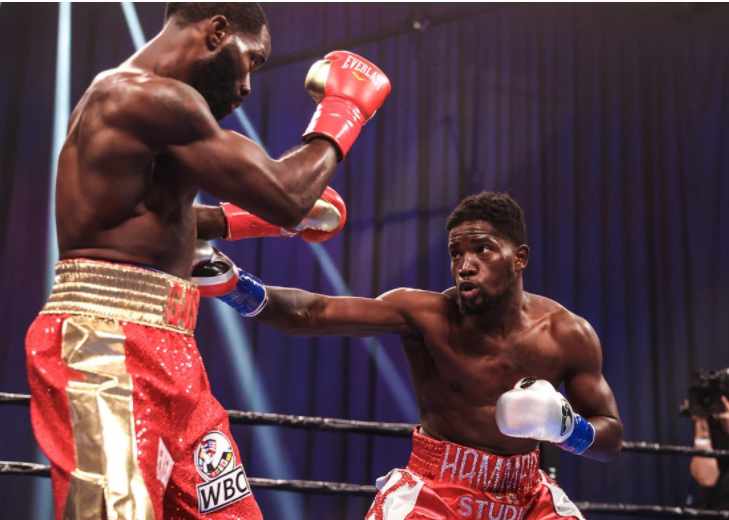 Erickson Lubin misplaced the hammer but found a way to victory over Terrell Gausha by unanimous decision in a slow-developing WBC super welterweight eliminator on Saturday.
Lubin (23-1, 16 KOs), a southpaw slugger, was unable to lower the boom on Gausha (21-2-1, 10 KOs) at the Mohegan Sun Casino in Uncasville, Conn. But he did enough in a tactical battle that only activated into a real fight in the later rounds.
Back and forth the two super welterweights mostly feinted and fired blows at each other's guard. Few managed to pierce for scoring blows and those that landed were mostly to the body.
"It was a chess match. I respected what he had, he was trying to counter what I had. My trainer was telling me to be cautious and not get hit with anything stupid," said Lubin, whose trainer is the respected Kevin Cunningham.
Gausha, 33, was the more accurate puncher but fired less than Lubin. Though he seemingly scored more often with counter rights, the scarcity of his blows allowed Lubin to control the pace of the fight.
It wasn't until the mid-rounds that Gausha stepped into a slightly quicker pace. In the 10th, a short right connected and wobbled Lubin who covered up.
"I knew I had hurt him, but he was able to recover," said Gausha, 24, who tried to finish off the hurt fighter but was unable to land another scoring blow.
"I'm in shape and I was able to recuperate," Lubin revealed.
It was still unclear who was winning the fight. In the 12th and final round Lubin stepped up the pace and connected with a crisp right hook that clearly snapped the head of Gausha. But he fought his way out of the dangerous corner.
After 12 rounds all three judges scored it for Lubin 115-113, 116-112, 118-110.
"Gausha is a tough competitor, he's at the top for a reason," said Lubin. "I feel I beat one of the top 154s and I'm going to keep doing that."
Gausha was classy in defeat.
"I take my hat off to Erickson Lubin. He was the better man tonight," said Gausha.
Lubin now awaits the winner between Jermell Charlo and Jeison Rosario who fight each other next week for the WBC, WBA and IBF super welterweight titles. Showtime will provide the title match on pay-per-view.
Featherweights
Former IBO featherweight titlist Tug Nyambayar (12-1, 9 KOs) floored Cobia Breedy (15-1) twice in the first two rounds but struggled the rest of the way to win by split decision. One judge scored it 115-113 for Breedy and two others for Mongolia's Nyambayar 114-112 and 114-113.
Nyambayar knocked down Breedy with a counter right cross in the first round and then floored him with four rights and a left hook in the second. After that, Breedy was the busier fighter and no one was able to take control.
"Boxing is boxing. It was a tough fight," said Nyambayar.
Welterweights
In a solid match Philadelphia's Jaron Ennis (26-0, 24 KOs) was able to find out exactly where he stands against real competition and stopped the unstoppable Juan Carlos Abreu (23-6-1, 21 KOs) in the sixth round by technical knockout in their welterweight showdown.
More than just a knockout win, Ennis discovered that he can indeed take a punch from an elite level puncher.
Nobody questioned whether Ennis had boxing skills or athleticism and power, but nobody knew if he could take a punch. They discovered it as Abreu was able to connect in the fourth and fifth rounds. The Dominican fighter pulled out his tricks and connected several times with sneaky rights and lefts. Ennis remained standing.
Abreu was looking to trade bombs with Ennis in the fifth and sixth round and paid the price in getting delivered to the canvas with a pretty right counter uppercut. He survived. But in the sixth a slew of punches along the ropes sent him down again. He beat the count again but during a fierce exchange he was floored a final time at 1:06 of the sixth round. It was the first time Abreu had ever been stopped.
"I feel I put on a wonderful show and got the knockout," said Ennis. "I feel I showed the division I am here."
Check out more boxing news on video at the Boxing Channel 
To comment on this story in the Fight Forum CLICK HERE
Fast Results from the MGM Bubble: Pedraza Outclasses Molina Plus Undercard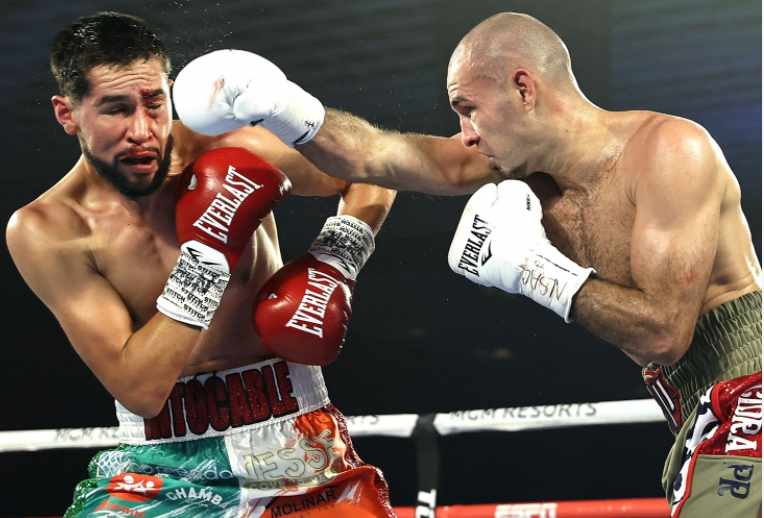 The featured bout on tonight's card at the MGM Bubble was a match between 2008 Olympians. It was a competitive match on paper, but Jose Pedraza turned in one of the better performances of his career while turning away Javier Molina who just wasn't in Pedraza's league tonight. The fight went the full 10 with the judges voting for the Boricua by scores of 99-91 and 98-92 twice. A former two-division belt-holder who looked very comfortable in his second start at 140, Pedraza boosted his record to 28-3. Molina, who had won five straight coming in, falls to 22-3.
Pedraza was manhandled by Gervonta Davis in 2017, outclassed by Vasyl Lomachenko in 2018, and upset by Jose Zepeda last year, but showed tonight that he still has plenty of mileage left on his odometer. Josh Taylor and Jose Carlos Ramirez each own two pieces of the 140-pound title, but Pedraza seems to have found a new gear at age 31 and is nipping at their heels. However, Pedraza also hankers to renew acquaintances with Zepeda and that will likely come first.
In the 10-round heavyweight co-feature, Efe Ajagba's higher workrate carried him to a 10-round unanimous decision over Jonathan Rice. The scores were 98-92 and 99-91 twice.
Ajagba, the Houston-based Nigerian making his first start under the Top Rank banner, advanced his record to 14-0 (11) but was underwhelming. Rice, the terror of Tijuana taxi drivers, fell to 13-6-1 and solidified his reputation as a useful gatekeeper.
Robeisy Ramirez, a two-time Olympic gold medalist for Cuba who now resides in the Miami area, improved to 5-1 with a unanimous 8-round decision over Puerto Rico's Felix Caraballo (13-3-2). Both appeared on the inaugural MGM Bubble card with Caraballo, fighting for the first time in the U.S., suffering a sixth-round stoppage at the hands of Shakur Stevenson. Tonight's uneventful fight saw Ramirez on cruise control as he won by scores of 79-73 and 80-72 twice.
San Bernardino junior middleweight Leo Ruiz improved to 8-0 with a 6-round unanimous decision over Cancun's Rodrigo Solis (4-5-1). Both fighters had a point deducted in round five; Ruiz, 21, for low blows and Solis for spitting out his mouthpiece. The scores were 58-54 and 59-53 twice.
In a fight that wasn't on the original schedule, Houston super middleweight Christian Montano improved to 10-0 (7) with a 6-round unanimous decision over St. Louis' Ryan Adams (7-4-1). A three-time national amateur champion, Montano, who is of Columbian descent, had knocked out seven of his previous opponents in the opening round. He looked poorly conditioned tonight but yet won every round on two of the scorecards.
Lightweight Bryan Lua, who hails from the town of Madera in central California's agricultural belt, returned to the ring after a 27-month absence and scored a one-punch knockout over Chile's Luis Norambuena. A left hook did the damage, bringing the bout to a sudden conclusion at the 2:27 mark of round two. Lua, (6-0, 3 KOs) won two of three over Ryan Garcia as an amateur. It was a quick turnaround for Norambuena (4-7-1) who lost a 4-round decision in this ring last week.
The first two bouts on the card showcased the newest members of Top Rank's "Kiddie Corps." Kasir Goldston and Jahi Tucker, 17-year-old welterweights, launched their pro careers on a winning note.
Goldston, a southpaw from Albany, NY, opened the show with a 4-round unanimous decision over Wisconsin's Isaiah Varnell (3-3). The scores were 40-36 and 39-37 twice.
Tucker, who trains in the same Long Island town that spawned Buddy McGirt, put away Alabama's Deandre Anderson (1-2) in the opening round. Anderson came out winging, but the precocious Tucker picked him apart. Referee Robert Hoyle stepped in and stopping the mismatch at the 2:56 mark. As an amateur, Tucker was ranked #1 at 138 pounds while still a sophomore in high school.
Photo credit: Mikey Williams for Top Rank
Check out more boxing news on video at the Boxing Channel 
To comment on this story in the Fight Forum CLICK HERE