RINGSIDE REPORT from Top Rank/HBO Show in Texas
CORPUS CHRISTI—Mikey Garcia  (33-0, 28 KOs) rose to the occasion, after an early knockdown, to score an impressive KO win over tough guy Rocky Martinez (27-2-2, 16 KOs) for the WBO junior lightweight title. The bout took place at the American Bank Center in Corpus Christi, Texas and was broadcast live as the main event of an HBO tripleheader. Garcia wore purple trunks while Martinez came to the ring adorned in the red, white and blue of the Puerto Rican flag.
Picture above courtesy Rachel McCarson, wife of correspondent Kelsey McCarson.
Garcia started coldly efficient. While Martinez employed a jab, cross combination at a distance, Garcia meant to close the distance with shorter punches. The first was largely a feeling out round. The second was more of the same, though the pace picked up a bit by way of Garcia closing the distance between the two competitors. The action was at a lull until Martinez let lose a thunderous right that sent Garcia straight to his rump. Garcia sat in protest a bit after the knockdown. It appeared to ringsiders the fighter either didn't know what happened, or he believed a slip could be caused by a flush right hand. Regardless, he rose to his feet to continue and made it out of the round unscathed.
"That happens in boxing," said Garcia afterwards. "He caught me with a good right hand."
Both men's heads were snapped back in Round 3. Martinez landed a stiff one-two, but Garcia backed him up hard after with a powerful jab. When he landed another one a bit later, he seemed fueled by the success of it. Next, Garcia sent that very same hard jab along with a straight left hand behind it. The force of the blows were mighty.
Garcia's gloves were battering rams in Round 4. Martinez did his best to keep away from harm, but Garcia's blows were just too strong. Martinez jabbed his way out of danger at times, but could couldn't get out of the way of Garcia's rights and lefts. Martinez is a pro's pro though, so he was able to stay in the fight with hard rights followed with ducking motions to stay in the fight.
Round 5 was similar. Garcia landed the telling blows but Martinez worked hard to stay in contention. Garcia stunned Martinez towards the end of the round. In Round 6, Garcia started landing his left hook. The punch put Martinez off balance and allowed Garcia to open up more penetrating combinations. He stunned Martinez and had him in the corner. Martinez fought out of it but was soon eating even more shots than before. Martinez banged his gloves together in a show of bravery. Garcia responded by banging his own gloves against Martinez's head and torso until the bell sounded. The mercy was but momentary.
Two overhand rights wobbled Martinez in Round 7. He gamely fought on, but Garcia was teeing off now. Ever the precise puncher, Garcia didn't push the issue. He waited patiently for his opportunities to make his opponent pay, then took what was there. Martinez backed Garcia up a bit with a right, but another overhand power shot by Garcia shook Martinez yet again before the round was complete.
Round 8 was the end of things for Martinez. Garcia landed two overhand rights to stun his opponent, then followed it up with a devastating left hook to end it. Martinez made it to his knees but no further. Referee Laurence Cole counted the fallen fighter out at :56 of Round 8. The winning punch was beautifully set up and frightfully delivered by the winner, Garcia.
"He was pretty hurt by that one," said Martinez of the body blow. "I knew it was a good shot."
With a new title belt in tow, Garcia said he was ready to fight whoever Top Rank put in front of him next. When asked specifically about former Cuban amateur star Yuriorkis Gamboa as a possible opponent, Garcia said he was ready and willing to oblige.
"Why not?" said Garcia. "Let's do it."
Donaire Drops Darchinyan Again in Rematch
In the co-main event, Nonito Donaire (32-2, 21 KOs) defeated Vic Darchinyan (39-6-1, 28 KOs) by TKO in Round 9. The rematch of Donaire's 5-round knockout victory over Darchinyan six years prior turned into a fierce test of wills. This was not the same Vic Darchinyan from back then. This time, the bout was wildly competitive.
Donaire said after the fight he thought Darchinyan broke his cheek early. Speaking to Max Kellerman, Donaire said it helped him decide whether or not he truly wanted to be a fighter.
"Is this it for me?" Donaire asked himself midway through the bout. It wasn't, though Donaire said it was hard for him to be as patient with the proceedings as his corner wanted.
"I wanted to fight," said Donaire. "My corner kept telling me to box, box and be smart…but I wanted to fight."
The two set a measured pace in the first. Each man fought mostly from the outside. Donaire's straight right hand was the main weapon of the set, with Darchinyan working patiently behind a stuttered jab. Darchinyan, a southpaw, did partially land a looping overhand left right before the bell.
Donaire was more aggressive in Round 2. He came out fast with a jab, setting up right hands and left hooks. Darchinyan appeared bothered by the speed of Donaire's punches. Donaire stumbled Darchinyan a bit with a right hand but was soon sent reeling back himself by a powerful counter left. Darchinyan was pleased with his newfound trick, and landed another one before the round ended.
Donaire came out in the third a bit more passive than before. Darchinyan's left hand was finding a home. Darchinyan's confidence seemed to grow with each passing moment.
Darchinyan landed his left hand in the third. Donaire was aptly trying to jab the danger away, but Darchinyan met the move with guts and guile. Darchinyan landed another left, then seemed to stun Donaire on the ropes with another one. The two men traded flush shots at the end of the round. Donaire's left hook landed twice, and Darchinyan responded in kind. The two had to be separated as shots continued to be fired after the bell.
Donaire started finding his mark in Round 4. Moving around the ring on his toes, Donaire was able to put Darchinyan where he wanted. Donaire landed a left hook to the body during an early exchange that seemed to catch Darchinyan by surprise. Jabs and crosses were sent to Darchinyan a good bit, but it did not deter the aggressive Armenian. With ten seconds left in the round, Darchinyan landed a hard left that stunned Donaire in the corner. Darchinyan was a raging bull. He let loose a fury of punches until the end of the round.
Round 5 was invigorating for Darchinyan. He was the stalker now. He rose first from his corner in anticipation, and came out the hunter. Donaire circled but Darchinyan stayed on him, patiently aggressive. Hard lefts moved Donaire around the ring, if not landing then just bothering him enough to move his feet to get away from the action. Donaire landed a nice left hook towards the end of the round. Darchinyan responded with aggression but Donaire's blows were the cleaner.
Donaire's counters made their mark in Round 6. Darchinyan was mostly unsuccessful save for a tackle he employed when the two men collided mid-ring. Donaire landed on his back with Darchinyan atop him. Referee Lawrence Cole stood both up, cleaned the men's gloves and the action resumed.
More of the same in Round 7. The men were largely inactive, but each had done enough damage in previous rounds to make opponent wary. If the term "high-speed chess" that's used to sometimes describe fights is something that actually exists, this fight was it. Both men were moving fast and thinking faster.
In Round 8, the measured pace exploded after Donaire landed several telling blows. Darchinyan stumbled and Donaire attacked. It was time for the left hook, which landed flush, hard and with concussive force. Darchinyan went face down, his body slumped over atop the bottom rope. The brave warrior got to his feet but was visibly hurt. He stumbled around the ring a bit, but gave a brave enough face to Referee Cole to continue. Darchinyan was down seconds later after a stumble that was ruled a slip. Donaire then landed a right hand. The two traded sloppy flurries before Darchinyan found himself backed once again into one corner, then another. Darchinyan was hurt badly now. Donaire threw the kitchen sink at him until Cole wisely waved the bout off at 2:06 of the Round 9.
Darchinyan wanted to continue but wasn't overly upset about the stoppage. He admitted Donaire caught him with a good punch.
"That's just the way it goes," said Darchinyan, who promised before the bout he'd retire Donaire.
Demetrius Andrade Scores Impressive Win Over Martirosyan
In the first televised bout of the evening, junior middleweight Demetrius Andrade (19-0, 13 KOs) overcame a Round 1 knockdown to defeat Vanes Martirosyan (33-0-1, 21 KOs) by split decision. Judges at ringside scored the bout 114-113, 117-110 and 112-115.
Andrade's ring walk music indicated he'd be the "king of the ring" tonight. It proved to be true. The bout was scheduled for 12 rounds for the vacant WBO light middleweight title. Andrade wore blue trunks trimmed in black. Martirosyan wore red.
Round 1 opened with both men trying to set the pace they wanted. Martirosyan wanted to set traps in order to come forward with aggressive counterpunches. Andrade, a southpaw, preferred staying behind a long and fast jab. Andrade landed a sneaky left hand early, but Martirosyan erased the scoring blow with a counter left hook of his own that sent Andrade down to the floor. Andrade made it up though and kept Martirosyan at bay with movement until the bell sounded.
Andrade reestablished his jab in Round 2. The lanky slickster used it to keep Martirosyan mostly at bay, and followed it up on occasion with his overhand left. Still, Martirosyan got the better of the exchanges the times he made his way under Andrade's jab.
In Round 3, Martirosyan came out with fire. The stalker used short steps to enter into the fray. When there, he let loose hard hooks and quick one-twos. Andrade tried to counter with shortening up his jab, but Martirosyan was starting to slip and parry it now with more authority.
Good work from long range did Andrade well in Round 4. His left hand lead was landing but Martirosyan didn't seem bothered by it. It was now all about timing. Martirosyan's mind was working. He wanted to time Andrade's left hand in order to land a fight-ender of his own, but couldn't quite solve the puzzle.
Sweat and spit flew from both men in Round 5. Andrade landed his jabs and crosses. Martirosyan stepped through them at times to land sharper blows of his own. Where that failed, he sent hard hooks to the Andrade's body. Both men upped the ante a bit at the end of the round. Each sent hard shots in succession, but Martirosyan's were straighter and landed more forcefully. At times, it appeared as if Andrade was just flailing wildly at his Armenian opponent.
Martirosyan seemed to tire in Round 6, and Andrade seized on it like a lion. Hard lefts from Andrade cracked Martirosyan's head back like a jack-in-the-box. Once, twice, then three times. Now the speedster was sure of his target, and it showed. Andrade wasn't wild now. He was an accomplished boxer using precision, speed and accuracy. Martirosyan made show of it but Andrade was taking over now, and the stark contrast was punctuated by a looping left hand from Andrade that smacked Martirosyan before the bell rang.
Andrade found new confidence in his jab in Round 7, and his head movement was now giving Martirosyan trouble. Andrade's jab and hooking front hand made it difficult for Martirosyan to set his feet and fire. Still, the tough slugger landed with force on occasion, and he threw his punches with vigor. The pattern played itself over in rounds 8 and 9. Andrade's speed was just too much for the tiring Martirosyan.
Andrade's quality came out in Round 10. He was in control of the action from start to finish. His long jab was a paintbrush, Martirosyan's face was the canvas. Straight lefts and right hooks kept the hard-puncher at a distance, and dips and dives made up for the rest when Martirosyan tried to make the action.
Martirosyan seemed in slow motion in Round 11. Andrade's hands seemed faster than ever. He did just enough to keep Martirosyan at the end of his punches, and shimmied his shoulders at times to show that it was easy for him.
If Andrade believed he had the fight in the bag, he didn't show in Round 12. He pressed the action using the same tools he used the entire night: jabs, crosses and right hooks. Martirosyan  was just too slow to land anything in return when he tried, and Andrade wasn't letting off the gas.
Top Rank Prospects Alex Saucedo and Oscar Valdez Remain Undefeated
Two of Top Rank's best young prospects were on display on Saturday night as part of the untelevised portion of the undercard. Both remain undefeated.
Welterweight prospect Alex Saucedo (11-0, 8 KOs) defeated Steven Hall (6-5, 6 KOs) by TKO in Round 3.
Hall was game, but Saucedo's hands were too fast, too strong and too easily able to find their mark right from the opening bell. Hall's head was snapped back in succession in Round 1 by willful jabs and sharp combinations. The pattern continued throughout the six minute and eleven second fight.
Hall crumbled against the ropes and down to his back at the end of Round 2, but made it back to his feet before the count could reach 10. Saucedo landed another brutal hook shortly thereafter but couldn't follow it up enough to get Hall out before the bell sounded.
Round 3 began with an even more brutal hook from Saucedo. Hall crumbled backwards to the corner from the force of it. Saucedo wisely followed it up with hooks and crosses in rapid-fire succession before the referee halted the bout at 11 seconds of the round.
Featherweight prospect and former Mexican amateur star Oscar Valdez (8-0, 7 KOs) scored a Round 5 knockout over Jesus Lule Raya (6-7, 1 KO). Raya was the type who looked in trouble before he even entered the ring. But he gave it his all when the bell sounded.
It wasn't enough.
Valdez was patient in Round 1. He stayed out of range, but moved in here and there enough to land punishing left hooks to the body. He augmented the approach with more lateral movement than he probably needed, but he looked crisp and fluid doing it. He was in command.
Round 2 began with more vigor. Raya came forward as if he believed he could win. But Valdez responded with more aggression of his own, much of it sharp jabs. Still, the left hook to the body landed enough times to take the round.
In the third, Valdez stayed in the pocket more. His left hook was now setting up right crosses and lefts to the temple. Raya did his best to keep pace. There was lots of action with neither man relenting.
Round 4 was similar though Raya was content to stay a bit more at a distance this time, possibly in response to catching all those hooks to his torso.
Valdez became the stalker in Round 5. He worked in behind a stiff jab to send hooks downstairs and crosses up the chimney. The end came after Valdez found a home for his overhand right. Then another and another. He landed several of them in succession, the last of which was the knockout punch, a hard left uppercut to the chin.
A count was not needed. Raya was out as 2:48 of the round.
Erickson Lubin Wins, But Misplaced His Hammer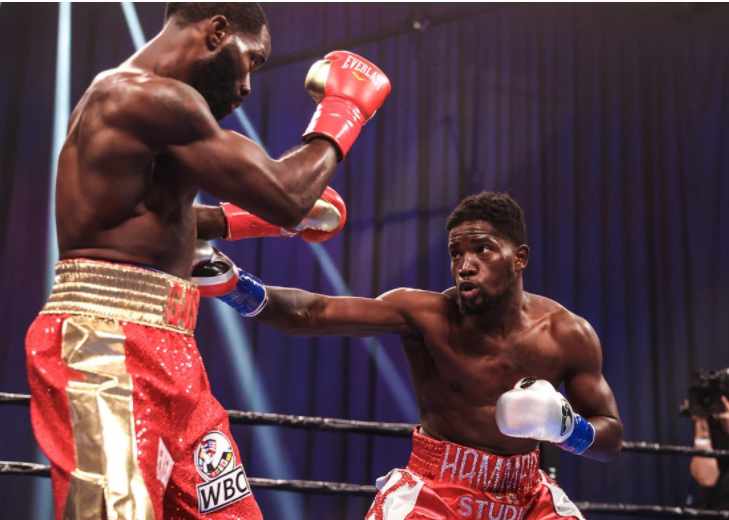 Erickson Lubin misplaced the hammer but found a way to victory over Terrell Gausha by unanimous decision in a slow-developing WBC super welterweight eliminator on Saturday.
Lubin (23-1, 16 KOs), a southpaw slugger, was unable to lower the boom on Gausha (21-2-1, 10 KOs) at the Mohegan Sun Casino in Uncasville, Conn. But he did enough in a tactical battle that only activated into a real fight in the later rounds.
Back and forth the two super welterweights mostly feinted and fired blows at each other's guard. Few managed to pierce for scoring blows and those that landed were mostly to the body.
"It was a chess match. I respected what he had, he was trying to counter what I had. My trainer was telling me to be cautious and not get hit with anything stupid," said Lubin, whose trainer is the respected Kevin Cunningham.
Gausha, 33, was the more accurate puncher but fired less than Lubin. Though he seemingly scored more often with counter rights, the scarcity of his blows allowed Lubin to control the pace of the fight.
It wasn't until the mid-rounds that Gausha stepped into a slightly quicker pace. In the 10th, a short right connected and wobbled Lubin who covered up.
"I knew I had hurt him, but he was able to recover," said Gausha, 24, who tried to finish off the hurt fighter but was unable to land another scoring blow.
"I'm in shape and I was able to recuperate," Lubin revealed.
It was still unclear who was winning the fight. In the 12th and final round Lubin stepped up the pace and connected with a crisp right hook that clearly snapped the head of Gausha. But he fought his way out of the dangerous corner.
After 12 rounds all three judges scored it for Lubin 115-113, 116-112, 118-110.
"Gausha is a tough competitor, he's at the top for a reason," said Lubin. "I feel I beat one of the top 154s and I'm going to keep doing that."
Gausha was classy in defeat.
"I take my hat off to Erickson Lubin. He was the better man tonight," said Gausha.
Lubin now awaits the winner between Jermell Charlo and Jeison Rosario who fight each other next week for the WBC, WBA and IBF super welterweight titles. Showtime will provide the title match on pay-per-view.
Featherweights
Former IBO featherweight titlist Tug Nyambayar (12-1, 9 KOs) floored Cobia Breedy (15-1) twice in the first two rounds but struggled the rest of the way to win by split decision. One judge scored it 115-113 for Breedy and two others for Mongolia's Nyambayar 114-112 and 114-113.
Nyambayar knocked down Breedy with a counter right cross in the first round and then floored him with four rights and a left hook in the second. After that, Breedy was the busier fighter and no one was able to take control.
"Boxing is boxing. It was a tough fight," said Nyambayar.
Welterweights
In a solid match Philadelphia's Jaron Ennis (26-0, 24 KOs) was able to find out exactly where he stands against real competition and stopped the unstoppable Juan Carlos Abreu (23-6-1, 21 KOs) in the sixth round by technical knockout in their welterweight showdown.
More than just a knockout win, Ennis discovered that he can indeed take a punch from an elite level puncher.
Nobody questioned whether Ennis had boxing skills or athleticism and power, but nobody knew if he could take a punch. They discovered it as Abreu was able to connect in the fourth and fifth rounds. The Dominican fighter pulled out his tricks and connected several times with sneaky rights and lefts. Ennis remained standing.
Abreu was looking to trade bombs with Ennis in the fifth and sixth round and paid the price in getting delivered to the canvas with a pretty right counter uppercut. He survived. But in the sixth a slew of punches along the ropes sent him down again. He beat the count again but during a fierce exchange he was floored a final time at 1:06 of the sixth round. It was the first time Abreu had ever been stopped.
"I feel I put on a wonderful show and got the knockout," said Ennis. "I feel I showed the division I am here."
Check out more boxing news on video at the Boxing Channel 
To comment on this story in the Fight Forum CLICK HERE
Fast Results from the MGM Bubble: Pedraza Outclasses Molina Plus Undercard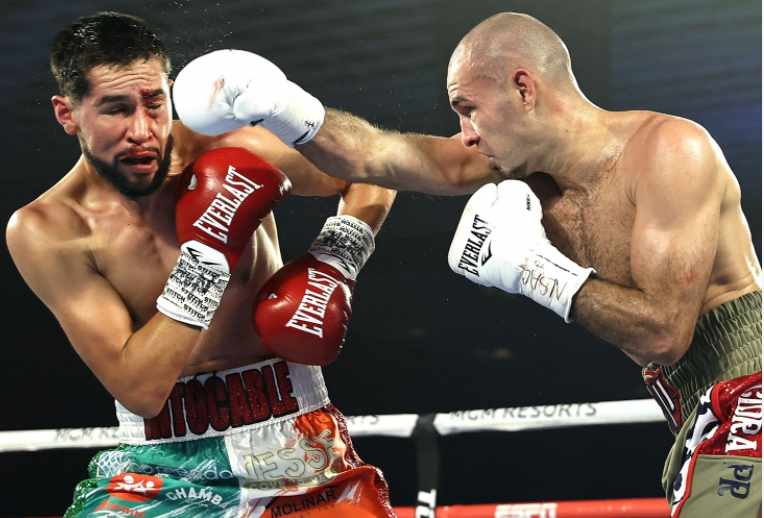 The featured bout on tonight's card at the MGM Bubble was a match between 2008 Olympians. It was a competitive match on paper, but Jose Pedraza turned in one of the better performances of his career while turning away Javier Molina who just wasn't in Pedraza's league tonight. The fight went the full 10 with the judges voting for the Boricua by scores of 99-91 and 98-92 twice. A former two-division belt-holder who looked very comfortable in his second start at 140, Pedraza boosted his record to 28-3. Molina, who had won five straight coming in, falls to 22-3.
Pedraza was manhandled by Gervonta Davis in 2017, outclassed by Vasyl Lomachenko in 2018, and upset by Jose Zepeda last year, but showed tonight that he still has plenty of mileage left on his odometer. Josh Taylor and Jose Carlos Ramirez each own two pieces of the 140-pound title, but Pedraza seems to have found a new gear at age 31 and is nipping at their heels. However, Pedraza also hankers to renew acquaintances with Zepeda and that will likely come first.
In the 10-round heavyweight co-feature, Efe Ajagba's higher workrate carried him to a 10-round unanimous decision over Jonathan Rice. The scores were 98-92 and 99-91 twice.
Ajagba, the Houston-based Nigerian making his first start under the Top Rank banner, advanced his record to 14-0 (11) but was underwhelming. Rice, the terror of Tijuana taxi drivers, fell to 13-6-1 and solidified his reputation as a useful gatekeeper.
Robeisy Ramirez, a two-time Olympic gold medalist for Cuba who now resides in the Miami area, improved to 5-1 with a unanimous 8-round decision over Puerto Rico's Felix Caraballo (13-3-2). Both appeared on the inaugural MGM Bubble card with Caraballo, fighting for the first time in the U.S., suffering a sixth-round stoppage at the hands of Shakur Stevenson. Tonight's uneventful fight saw Ramirez on cruise control as he won by scores of 79-73 and 80-72 twice.
San Bernardino junior middleweight Leo Ruiz improved to 8-0 with a 6-round unanimous decision over Cancun's Rodrigo Solis (4-5-1). Both fighters had a point deducted in round five; Ruiz, 21, for low blows and Solis for spitting out his mouthpiece. The scores were 58-54 and 59-53 twice.
In a fight that wasn't on the original schedule, Houston super middleweight Christian Montano improved to 10-0 (7) with a 6-round unanimous decision over St. Louis' Ryan Adams (7-4-1). A three-time national amateur champion, Montano, who is of Columbian descent, had knocked out seven of his previous opponents in the opening round. He looked poorly conditioned tonight but yet won every round on two of the scorecards.
Lightweight Bryan Lua, who hails from the town of Madera in central California's agricultural belt, returned to the ring after a 27-month absence and scored a one-punch knockout over Chile's Luis Norambuena. A left hook did the damage, bringing the bout to a sudden conclusion at the 2:27 mark of round two. Lua, (6-0, 3 KOs) won two of three over Ryan Garcia as an amateur. It was a quick turnaround for Norambuena (4-7-1) who lost a 4-round decision in this ring last week.
The first two bouts on the card showcased the newest members of Top Rank's "Kiddie Corps." Kasir Goldston and Jahi Tucker, 17-year-old welterweights, launched their pro careers on a winning note.
Goldston, a southpaw from Albany, NY, opened the show with a 4-round unanimous decision over Wisconsin's Isaiah Varnell (3-3). The scores were 40-36 and 39-37 twice.
Tucker, who trains in the same Long Island town that spawned Buddy McGirt, put away Alabama's Deandre Anderson (1-2) in the opening round. Anderson came out winging, but the precocious Tucker picked him apart. Referee Robert Hoyle stepped in and stopping the mismatch at the 2:56 mark. As an amateur, Tucker was ranked #1 at 138 pounds while still a sophomore in high school.
Photo credit: Mikey Williams for Top Rank
Check out more boxing news on video at the Boxing Channel 
To comment on this story in the Fight Forum CLICK HERE
Avila Perspective, Chap. 105: Angry Welterweights and More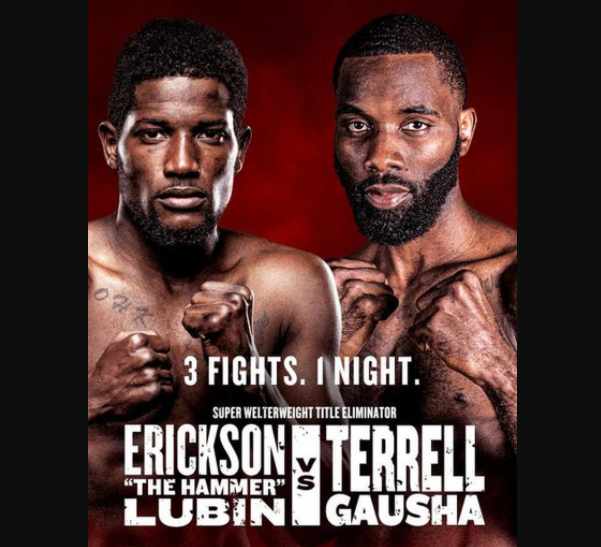 Those welterweights don't play.
One welterweight just got out of jail and wants to take out his angry frustrations in the boxing ring.
"One of us is getting knocked out. If it gets to where I'm behind on points, I'm just going to come forward and try to take him out, even if I end up getting knocked out," said Juan Carlos Abreu. ""If he stands and fights, it's better for me. That's what I want."
Standing in front of Abreu (23-5-1) will be one of the top welterweights in America, Philadelphia's Jaron Ennis (25-0, 23 KOs). This is could be Ennis' first true test against an experienced foe on Saturday Sept. 19, at Mohegan Sun Casino in Uncasville, Conn. Showtime will televise the Premier Boxing Champions card.
Ennis, 23, has been breezing easily since first jumping in the prize ring in April 2016. So far, the competition has been unable to cope with the athleticism he possesses. Will Abreu be the first to pose a problem?
"Whatever he brings, we are going to be ready. I'm going to go out there, do my thing, be smart, have my fun, and get that stoppage at the end of the night," said Ennis, whose last opponent Bakhtiyar Eyubov was eliminated in four rounds in January. "You can't just go in there and go for the knockout. That's how you get tired and lose your cool or even get hit with punches that you shouldn't be getting hit with."
Abreu hopes he loses his cool.
"If he stands and fights, it's better for me. That's what I want. I really want one of us to get knocked out," says Abreu of the Dominican Republic who was purportedly jailed for street fighting.
This welterweight matchup is the precursor to the WBC super welterweight eliminator between Terrell Gausha (21-1-1, 10 KOs) and Erickson Lubin (22-1, 16 KOs).
Gausha and Lubin both have lost once in their pro careers and need a win to get another crack at a world title.
Gausha lost a decision to Erislandy Lara three years ago. Lubin was stopped in one round by Jermell Charlo three years ago. Both realize the nature of the beast.
"I think Gausha has some problems with southpaws, but I'm not focused on that. I'm focused on my game plan and coming out victorious Saturday night," said Lubin, 24, a southpaw called "the Hammer" for a reason.
Gausha is originally from Cleveland, Ohio but trains in Southern California and has fought four elite southpaws in his career. He believes one more is not a problem.
"This will be my fourth southpaw in a row. So, I'm more comfortable and familiar this time around," said Gausha, 33, a former US Olympian who trains with Manny Robles Jr. "The guys before me, they all fought each other. Sugar Ray Leonard, Marvin Hagler, Roberto Duran. They all fought each other. To be the best, you have to beat the best. And you can see that the fights I take, even after a long layoff, they are tough fights."
Top Rank
Also, on Saturday Sept. 19, heavyweights and super lightweights lead a Top Rank card featuring some interesting bouts that will be shown on ESPN+.
Newly acquired Efe Ajagba (13-0,11 KOs) meets Jonnie Rice (13-5-1) in a 10-round heavyweight clash. It's Nigeria's Ajagba's second fight this year. Though still a little raw he shows immense potential and great natural strength.
Rice fights out of Bones Adams' Gym in Las Vegas and has some power. He built up his record on heavyweights in Tijuana boxing rings but has some pop. He's a sizeable heavyweight and good measuring stick for Ajagba.
The main event is a doozy.
Puerto Rico's Jose "The Sniper" Pedraza (27-3, 13 KOs) meets Southern California's Javier Molina (22-2, 9 KOs) in a 10-round super lightweight bout at the MGM Grand Bubble in Las Vegas.
This should be good.
Pedraza, 31, is a former WBO lightweight world titlist who lost in his first defense to Vasyl Lomachenko. Nothing bad about that. He defeated Mexico's Raymundo Beltran for the belt and has shown a penchant for showing up big when you least expect it.
Molina, 30, is a 2008 US Olympian and a member of the fighting Molina family. His brother Oscar was a member of Mexico's 2012 Olympic team. His other brother Carlos fought for the world title against Amir Khan. Though Javier Molina has never shown great power, he can truly fight.  His last win came against Amir Imam this past February.
Pending Lightweight Clash
Speaking of the lightweight division, is anyone else as excited as me about the looming showdown between the remarkable Vasyl Lomachenko and impressive Teofimo Lopez coming in less than a month?
Lomachenko, 32, the Ukrainian stylist known as "Hi Tech," has that incredible footwork and ability to control distance. He's a master of frustrating opponents and imposing his style of darting in and out of danger. But as good as he is, he can't sell tickets. Only hardcore fans appreciate his peerless boxing skills.
Lopez, 23, hails from Brooklyn and has that ex-factor you can't teach. He's pizzazz and panache with a punch. That combination of flair and power excites fans and seemingly makes him a natural gate attraction. But in spite of his electric abilities, he's facing a master boxer. Is he ready?
Top Rank is known for having a team of matchmakers headed by boxing wizard Bruce Trampler. It makes me wonder why they are pitting these two against each other?
The probable answer: neither sells out an arena alone. May the best man win.
A friend of mine from East L.A., who formerly boxed and comes from a boxing family, shared his knowledge and opinion on the matchup. He has an interesting take.
"His footwork is incredible," said George Rodriguez about Lomachenko. "Don't get me wrong, Teofimo is an incredible talent, but Lomachenko has that footwork."
Any way you look at it, the winner of this clash clearly bumps up his own image.
Lomachenko (14-1, 10 KOs) versus Lopez (15-0, 12 KOs) at the MGM Grand Bubble in Las Vegas on October 17. Mark down that date. It will be televised on ESPN.
Check out more boxing news on video at the Boxing Channel 
To comment on this story in the Fight Forum CLICK HERE