Pacquiao Must Deal With the Mother of All Distractions
For a lot of people – too many, probably – the worst natural disasters are viewed with a certain sense of detachment. Maybe that's because it's difficult for the less compassionate among us to wrap their minds around the sudden deaths of thousands, or even tens of thousands, of other human beings because the scope of it all is just too unimaginable to grasp. Maybe it's because it's difficult for individuals numbed by a succession of such events to feel much sympathy for deceased strangers in a different part of their own country, much less in some far-off land.
Tragedy is often a matter of perspective. We feel the pain most acutely when it is personal, when that especially destructive earthquake, hurricane or flood affects us and ours, when the death of a loved one, or the sudden loss of all of his or her earthly possessions, is more keenly felt that the televised sight of collapsed buildings and rows of stacked bodies elsewhere.
If someone is fortunate enough never to have felt the capricious wrath of nature's fury, it perhaps is possible to remain at least somewhat unmoved by such catastrophes as the Indian Ocean earthquake and tsunami of Dec. 26, 2004 (death toll: 230,000); Hurricane Katrina (U.S. landfall on Aug. 29, 2005, with a death toll of 1,833, mostly in Louisiana and Mississippi, and property damage estimated at $81 billion); the Haiti earthquake of Jan. 12, 2010 (death toll: anywhere from 100,000 to 316,000, depending upon which figure you choose to believe); the Japan earthquake of March 11, 2011 (death toll: 15,883), and Superstorm Sandy (death toll: 286, and property damage of $65 billion in the U.S.).
In relation to the terrible toll exacted by some of the aforementioned weather-related disasters, Typhoon Haiyan, which struck the northern Philippines on Nov. 7, was, in boxing terms, almost qualifies as a flash knockdown. The death toll currently stands around 5,000, but could climb higher when the bodies of many of the missing persons presumed to be dead are found and added to the list. Hundreds of thousands of survivors, fortunate to still be alive, were left homeless, hungry and desperate.
Against this backdrop of national misery, the Philippines' greatest sports hero, former eight-weight-class world champion Manny Pacquiao (54-5-2, 38 KOs), heads into this weekend's scheduled 12-rounder with Brandon Rios (31-1-1, 22 KOs) in Macao, China – first bell rings Saturday night in the United States, in late morning on Sunday China time – facing the mother of all distractions. Pacquiao, one of 289 members of the Philippine congress who someday hopes to run for his homeland's presidency, not only must try to affirm his continued relevancy as a boxer following back-to-back defeats to Timothy Bradley and Juan Manuel Marquez, but he shoulders the potentially crushing responsibility of providing his countrymen a glimmer of hope, with an especially impressive victory, that all again can be right in their world.
It is a fine line that Pacquiao, who trained for the Rios fight in his hometown of General Santos City, 466 miles from the area hardest-hit by Typhoon Haiyan, must tread. There will be those who will say he should have immediately broken off training, traveled to the devastated areas of the Philippine archipelago and provided whatever assistance he could to the more bereft of the country's 98 million citizens, a vast majority of whom have come to regard him as the most visible embodiment of their own national pride. Others will say, with justification, that Typhoon Haiyan struck too close to the date of the fight, that Pacquiao – who turns 35 on Dec. 17 – had no choice but to continue with his preparations to vanquish the dangerous Rios because to do otherwise would have an even more debilitating effect on an already reeling populace.
"I really want to visit the area and personally do what I can to help our countrymen who have suffered so much in this terrible tragedy," Pacquiao said in a prepared statement. "But I am deep in training for this crucial fight, so I regret that I cannot go."
Pacquiao's adviser, Canadian Michael Koncz, told the Associated Press in a telephone interview last week that Pacquiao intended to personally view the wreckage and talk to displaced orphans of the storm on the morning of Nov. 24, hopefully as the bearer of glad tidings.
But Freddie Roach, Pacquiao's trainer, realizes that even a return to dominance by his fighter – who has hinted at retirement if he loses for the third time in succession – can't be a panacea for all the hardships Filipinos are enduring, and will continue to face in the weeks and months ahead.
"That's probably small comfort to people going without food and water," Roach said of the effects a Pacquiao triumph would have on a half-million souls now deprived of many of life's basic necessities.
Top Rank, Pacquiao's promotional company, isn't glossing over what Typhoon Haiyan has wrought upon a poor but proud nation. Standard boxing considerations don't really apply to this fight, as noted by several legendary fighters who took part in what Top Rank billed as the "greatest teleconference in boxing history."
"If there is anyone that has the ability to come back, both physically and psychologically, it's Manny Pacquiao," said Sugar Ray Leonard, who was joined on the conference call with the media by Roberto Duran, George Foreman, Ray "Boom Boom" Mancini, Marco Antonio Barrera, Timothy Bradley and Mike Alvarado. "I'm picking Manny because he is Manny Pacquiao. He can – and he will have to – black out everything and have tunnel vision going into the ring against Brandon Rios."
Foreman said he "was distracted" by a cut he incurred in sparring, which led to a delay of several weeks in the staging of his "Rumble in the Jungle" showdown with Muhammad Ali in Kinshasa, Zaire, and "that's why I lost." The fact that nearly all Zaireans were so demonstrably for Ali might have had something to do with it, too.
But Foreman also claims to have risen above other distractions, which come more frequently than the public sometimes realizes. "Just before I fought Michael Moorer there was a big, tragic flood right here in the Houston area and I had to wade through waist-deep water to rescue my family," Big George recalled. "There were many deaths. But when it came time to put on the boxing trunks, it all disappeared."
Barrera, who twice was defeated by Pacquiao (an 11th-round TKO in 2003, a 12-round, unanimous decision in 2007), even went so far as to mathematically calculate the mental effect Typhoon Haiyan might have on "Pac-Man."
"Distractions can play a big deal for many in Manny's situation," Barrera said. "If you train 100 percent, distractions could take away 40 percent of all the work that you put in. Manny has to concentrate on one thing, and that's boxing. He does have responsibilities with the typhoon and everything, which makes it harder, but he can't separate himself from being a boxer. If he tries to be a politician and a boxer at the same time, he's going to be in trouble."
Much of the speculation being bandied about by observers and pundits is just that, but there are at least a couple of boxing writers who can keenly relate to the particulars of what Pacquiao is feeling, albeit on a much lesser public scale. Hurricanes and typhoons are indiscriminate victimizers, cutting across all social and economic distinctions.
For me, a native of New Orleans with numerous family members and friends still living in the city and area, the gut punch was delivered when Hurricane Katrina slammed into the Gulf Coast, with entire neighborhoods in my old hometown washed or blown away. For a time, Katrina transformed the heavily damaged Superdome into a refugee camp and international symbol of misery and despair.
The floodwaters covered the home of the youngest of my three brothers-in-law to its roof; it later was determined to be unsalvageable and bulldozed. But the worst of it was when another brother-in-law, who was living with my wife and me in suburban Philadelphia, suffered a stroke the night Katrina struck, the coverage of which he had watched all day, in shock, on TV. Rushed to a nearby hospital, he soon lapsed into a coma and died a week later. To this day, I remain convinced Katrina played at least a part in his too-early demise, at 47. And if all that weren't enough, my elderly mother, whom we had brought north to live with us several months prior to the hurricane, was scheduled to undergo cancer surgery the day after Katrina, on Aug. 30. She never left the hospital following the operation and died on Oct. 20.
For months, it was a struggle for me to perform even the simplest daily functions. I probably was clinically depressed, and there was no joy or satisfaction in my covering boxing matches and other sports for my employer, the Philadelphia Daily News. In comparison to life-and-death issues, what does it really matter who wins or loses a prizefight or a ballgame? But, fortunately, I eventually found my way back to who and what I had been before.
A similar story is told by my friend and successor as president of the Boxing Writers Association of America, Jack Hirsch, whose Rockaway Park, N.Y., home was flooded by seven feet of water during Superstorm Sandy.
"One of the local mailmen I knew drowned in his basement," said Jack, whose property losses included such treasured boxing memorabilia as gloves signed by Willie Pep, Kid Gavilan and Archie Moore. "And he wasn't the only one. The water came in with a quick surge and some people couldn't get out.
"We evacuated early, but we took a big hit. In the weeks after the storm, I would go back to the house very early in the morning to try to clean up as best I could. The neighborhood was just empty. It was like civilization had yet to start again. What few people were around didn't have electricity, and food was hard to get. We were eating a lot of what I called space food (prepackaged RTEs, or "ready-to-eat" meals).
"Believe me, I did not want to talk or even think about boxing during that time. The hurricane was still too fresh in everyone's minds. Out of necessity, though, I had to snap out of it because five weeks later, we had our BWAA East Coast business meeting. It was either step down or step up. I had to force myself to put my game face back on."
Jack said it probably is impossible to gauge what effect Typhoon Haiyan will have on Pacquiao until fight night, when he, too, will have to step down or step up at the moment of truth. "Who knows?" Jack asked, rhetorically. "It could motive him more. It could be an insurmountable distraction. Everyone deals with these things differently."
The closest sports analogy I can come up with, of an individual or a team having endured what Pacquiao has and rising above it, is the New Orleans Saints-Philadelphia Eagles playoff game on Jan. 13, 2007, in the Superdome, just 16 months after Katrina had dealt a near-death blow to the city of my birth. The Saints had gone 3-13 in the 2005 season, playing "home" games in Baton Rouge, La., and San Antonio, Texas, but somehow had rebounded to go 10-6 and reach the postseason thanks in large part to the magical passing arm of the team's prized free-agent acquisition, Drew Brees. This is how I described it:
This game is about so much more than which team takes another step toward Super Bowl XLI. It is about hope and survival, and humanity's refusal to be beaten into submission.
If the residents of New Orleans can fight back from near-ruination to something approaching normalcy, so, too, can the people of the Philippines. It's no wonder they have so latched onto Pacquiao, a devout Roman Catholic whose given first name – Emmanuel – means, appropriately given the situation, "God is with us" in Hebrew. The country's chosen one was so poor as a child that the family dog became dinner when an already sparse food supply ran out. But it isn't just that Pacquiao, a multimillionaire, has busted free of the shackles of poverty that makes him such an inspirational figure and role model. He could have become even wealthier by moving to the United States to decrease his tax liabilities and increase his endorsement opportunities, but he chose not to do so because he is first, last and always a native son.
In the April 2010 issue of GQ, Pacquiao was described by one former Philippine congressman as the country's "most important source of social welfare." It is reasonable to presume that a significant chunk of his eight-figure purse for the Rios fight will go to typhoon relief efforts because, well, he always has funneled much of his financial good fortune back into the nation that spawned him.
It is not out of the question that some of that well-intentioned money will even go toward improved barriers against the typhoons that visit the Philippines all too regularly. But no man – not even Pacquiao – can erect walls high enough to keep the worst storms totally out. We all exist within the parameters of human fragility, as Haiyan again demonstrated.
"If mountain ranges and oceans can be overcome," Gen. George S. Patton, played by Academy Award winner George C. Scott, says in the great 1970 war movie, Patton, "anything made by man can be overcome."
NEWS FLASH: Leon Spinks Hospitalized; Reportedly Fighting for His Life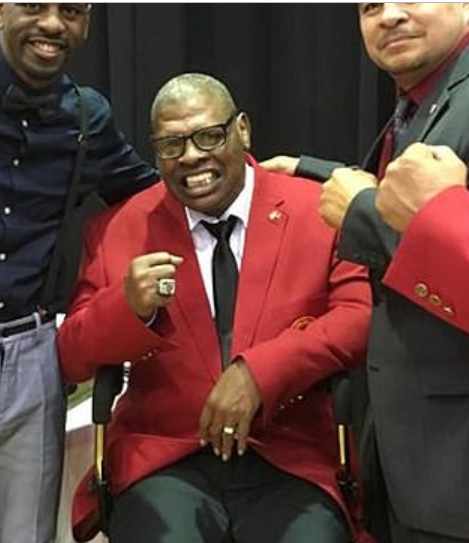 The gossip site TMZ is reporting that Leon Spinks is hospitalized in Las Vegas and is fighting for his life. TMZ acquired this information from Spinks' wife Brenda Glur Spinks after spying her social media post. "It's been a tough year for us," she wrote. "Leon has endured a lot of medical problems. I'm reaching to ask that you pray for my Beautiful Husband Leon. So that he may overcome the obstacles that crossed his path."
Her sentiment was echoed by Leon's son Leon Spinks III who posted this message on his facebook page: "My Dad isn't doing so good now and his wife Brenda Glur Spinks and I ask that u pray that he weather's this storm. My dad is all I have left and I really appreciate it if yall let God know that he is not in this battle alone."
A gold medal winner at the 1976 Olympics, Spinks, 66, is best remembered for upsetting Muhammad Ali in 1978 to win the world heavyweight title. He lost the title back to Ali in his next fight.
This is a developing story. As new details emerge, we will share them with you.
To comment on this story in The Fight Forum CLICK HERE
Crawford-Kavaliauskas is the Main Go, but 'The Takeover' is the Stronger Allurement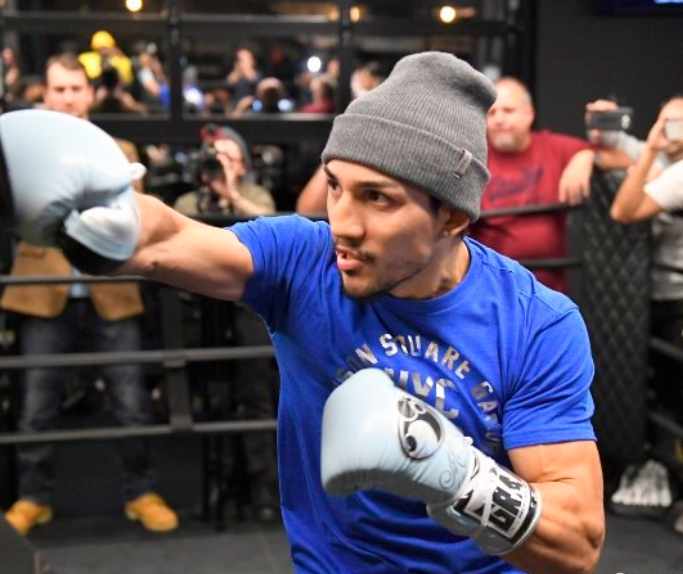 Crawford-Kavaliauskas is the Main Go, but 'The Takeover' is the Stronger Allurement
Terence Crawford puts his undefeated record and his WBO welterweight title on the line Saturday when he opposes Egidijus Kavaliauskas at Madison Square Garden on ESPN. Kavaliauskas is no slouch. The two-time Olympian for Lithuania is also undefeated (21-0-1, 17 KOs), but Crawford is so highly regarded that he is a massive favorite.
If one were arranging the bouts according to the degree of intrigue, using the odds as the barometer, Crawford vs Kavaliauskas wouldn't sit atop the marquee. That honor would go the IBF lightweight title fight between Richard Commey and Teofimo Lopez. Moreover, it's a fair guess that if this fight were to fall out (perish the thought) it would result in more refunds than if Crawford were a late scratch.
The challenger, Lopez, is favored, currently in the vicinity of 9/4, but this is a price that usually translates into a very competitive fight and the stakes are high. The winner will almost assuredly advance to a rich engagement with Vasiliy Lomachenko who holds the other three meaningful 135-pound title belts
Commey (29-2, 26 KOs) won the IBF lightweight title – it was conveniently vacant – with a second-round stoppage of Russia's Isa Chaniev and stopped Raymundo Beltran in eight rounds in his first title defense. Commey dominated both fights, scoring seven knockdowns in all, but the Russian was a sad excuse for a world title challenger and Beltran, although a solid pro, was past his prime at age 38.
Commey's two losses came in back-to-back fights in 2016 and both were by split decision. He lost to Robert Easter Jr in Reading, Pennsylvania, and then, eight weeks later, was upended by Denis Shafikov before a tiny crowd at an actual boxing gym in Moscow.
There was nothing controversial about those losses, but in both instances Commey was in hostile territory. Toledo's Easter brought a large delegation of fans to Reading and Shafikov was fighting on his home turf. The crowd on Saturday will almost assuredly be skewed against Commey again, but it won't be as pronounced. Commey, born and raised in Ghana, has a home in the Bronx. Lopez was born in Brooklyn, a bond that his Brooklyn-born promoter Bob Arum likes to emphasize, but grew up in Davie, Florida.
Teofimo
At age 22, Teofimo Lopez (14-0, 11 KOs) is almost 10 years younger than Richard Commey. A year ago, at this very venue, he scored his most memorable triumph, a highlight-reel, 44-second, one-punch knockout of Mason Menard that was named the TSS Knockout of the Year. He has won three fights in the interim, most recently a 12-round decision over Masayoshi Nakatani.
Teofimo won comfortably on the scorecards, but his performance left much to be desired. The Japanese was a tall, rangy fighter. In Richard Commey, he is meeting a man of similar height. Both are listed at five-foot-eight.
Lopez has developed a large following in a short time and his in-ring heroics are only part of the story. He's quite the showman. After each win he adds an exclamation point with a celebratory back-flip and outside the ring his brash persona has enhanced his notoriety.
When a fighter has a common surname, it helps to have a unique first name. The reality is that Lopez would not have built his brand as fast if his first name had been, say, Miguel, or Carlos, or Juan. And he had the foresight to supplement his unique first name with a unique nickname: The Takeover.
The nickname, says Lopez, doesn't just refer to taking over a specific weight division (he'll move up to 140 before the year 2020 is over) but, rather, taking over the whole sport in the sense of becoming boxing's biggest pay-per-view attraction. Early into his pro career, he began calling out Lomachenko.
Teofimo's biggest cheerleader is his Honduras-born father and trainer of the same name and the elder Lopez has even more hubris than his son. "My son is too strong for Lomachenko….he would walk through anything that Lomechenko throws at him," Teofimo Sr. told veteran boxing writer Bill Tibbs prior to his son's match with Mason Menard. "Liston, he has God-given gifts and he's simply the best out there. (My son) has the best parts of Tyson, Sugar Ray Leonard, GGG, Floyd, Andre Ward, all the best of them in him."
The Lopez that defeated Nakatani would not have defeated Vasiliy Lomachenko. And there are those that think he won't beat Richard Commey unless he brings his "A' game. It's an interesting fight.
—–
The main fights on Saturday's Top Rank boxing card will air on ESPN's flagship station. The boxing card, which opens with the rematch between Michael Conlan and Vladimir Nikitin, follows the show in which the Heisman Trophy is presented to LSU quarterback Joe Burrow. The Heisman telecast will begin at 8 pm EST.
The same situation prevailed last year when Top Rank's Madison Square Garden card was headlined by the fight between Vasiliy Lomachenko and Jose Pedraza. To the consternation of diehard boxing fans, the Heisman presentation show ran late. Don't be surprised if it happens again.
Photo credit: Stacy Verbeek
Check out more boxing news on video at The Boxing Channel 
To comment on this story in The Fight Forum CLICK HERE
Will U.S. Olympic Boxers Fare Better in Tokyo Thanks to Yesterday's Ruling?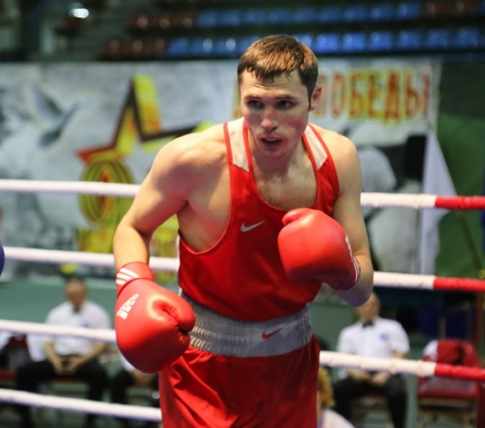 The road to the medal round for U.S. boxers at the forthcoming Tokyo Olympics just got easier. But maybe not.
"Russia Banned From The Tokyo Olympics" screamed yesterday's headline, but reading between the lines there's more to the story. A more carefully worded headline would have read "Russian Olympic Athletes in Limbo."
We have been down this road before. WADA, the World Anti-Doping Agency, recommended banning Russia from the 2016 Summer Olympics in Rio de Janeiro. The agency accused Russian authorities of a massive cover-up that erased hundreds of positive test samples.
WADA then did something of an about-face and decided to evaluate each case individually. Ultimately, 278 Russian athletes were approved to compete in Rio; 111 were denied. All 11 Russian boxers who survived the various qualifying events made the cut.
This new ban (which will be appealed) also emanates from WADA which alleges that the Russian authorities continued the massive cover-up using the "disappearance methodology." But, if upheld, it's a more severe penalty in that it bans Russia from major international sporting events for the next four years. That would include the World Cup, the biggest sporting event in the world by far. The next edition of the World Cup is slated for 2022 in Qatar.
"There's still…the possibility of clean athletes to compete in the Games," Svetlana Romashina, a five-time Olympic gold medalist in synchronized swimming, told Moscow correspondent Andrew Roth of The Guardian. "I believe the punishment of clean athletes to be unacceptable," continued Romashina. "We have done nothing wrong."
The reality, as it now stands, is that Russian boxers and other Russian athletes, if deemed clean, will be able to compete in Tokyo, just not under the Russian banner. As is common in some wrestling tournaments, their affiliation will be "unattached." And Russian President Vladimir Putin, who is a big fan of amateur boxing and other combat sports, won't be there. The ban prohibits Russian officials from attending major international sporting events if their team has been expelled.
—–
Historically, the U.S. Olympic Boxing Team has excelled in the Summer Games. But that's yesterday's news. In the last three Olympics, U.S. male boxers won only three medals, one silver and two bronze. By contrast, during the same period, Russian boxers walked off with 10 medals including three gold.
The prognosis for the 2020 U.S. team looked dim once again when the U.S. contingent earned only one medal (a silver by lightweight Keyshawn Davis) at the recent AIBA men's World Championships in Ekaterinburg, Russia. The host team garnered four medals, including three gold. If one conjoined the Russian squad with former Soviet Union satellites Uzbekistan and Kazakhstan, the count grows to seven gold medals (of a possible eight) and 15 medals overall.
Russia's gold medalists at the World Championships were welterweight Andrey Zamkovoy (pictured), middleweight Gleb Bakshi, and heavyweight Muslim Gadzhimagomedov. Zamkovoy and the heavyweight (who will badly need a new name if he ever turns pro) are outstanding amateurs and may have been favored to win their divisions in Tokyo.
Zamkovoy, 32, represented Russia in the 2012 and 2016 Games and medaled in 2012 where he defeated Errol Spence Jr en route to the semi-finals. The heavyweight (a cruiserweight by pro standards) is an ever-improving, 22-year-old, six-foot-four southpaw who has already amassed an amateur record of 60-5.
The competition for the U.S. team at overseas tournaments has gotten a lot tougher in the last two decades as several Eastern European countries have become more like Cuba, investing state resources into their amateur boxing programs with an eye to building a powerhouse. Perhaps the WADA edict will aid the U.S. boxing team in shaking the doldrums in 2020, but that assumption seems premature.
Check out more boxing news on video at The Boxing Channel 
To comment on this story in The Fight Forum CLICK HERE