MACAU MAYHEM Freddie Roach Scuffles With Alex Ariza, Who Kicks Roach
UPDATE 3 Wednesday 1:45 ET: In fact, this video clip, at about the 2:55 mark, makes it sound like Roach uses the words "effing Jew emeffer," which is a more heated version of what he recalled to Osuna.
So, there is much debate raging on social media about what slurs are OK to say, and what aren't. I think it's fair to say that referring to someone as a "Mexican" or "Jew" in polite conversation is not impolitic. But when you refer to someone as a "Mexican" or "Jew" during a heated verbal altercation, the context changes, and the intent of the deliverer can be construed differently, and the ability of the tag to hurt becomes potentially pronounced. Using the word "f—-t," as Ariza seemed to, that word gets slung around carelessly, and often without the user understanding how that usually cutting description of a homosexual person can be interpreted by someone quite negatively, and rightly so. That word-said-aloud doesn't have much if any place in most or any vocabularies, I dare say, if one doesn't want to risk offending someone.
A couple other points to maybe be considered. Many get into a tizzy when a public figure uses a verboten or out to be more verboten word in a fit of pique. Conternation ensues, accusations are raised, self righteous outcries result. What if that same heated reaction were to be summoned at societal ills that go far beyond mere hurting with words?  Instances of genocide and fomenting genocide like this occur daily and many if not most, including myself, usually turn a bling eye. And how many of us getting all self righteously bent out of shape use the odd slur every now and again. Let ye without sin…Hey, I'm not calling for anyone to be let off the hook, but maybe speaking to perspective here. I think we can at least add this point of view into the conversation, which, by the way, is a useful one to have. Thank the heavens for the Twitter and YouTube; how else are the masses going to be introduced to the semi-destructive power of language used flippantly?
UPDATE 2 Wednesday 12 noon ET: I hadn't heard anyone referring to anyone as a "Jew" or making any sort of remark that could be construed as anti-Semitic, as has been alleged, so I put it out to Twitter. Thanks to Twitter Follower "Marc" I was pointed to an interview of Freddie Roach, post-fracas, by ESPN's Bernard Osuna. Roach gives his account of the gym scrap, which he says started because Team Rios overstayed their time in the gym, and, in fact, cops to referring to videographer Elie Seckback, who has a website and is a virtually continuous presence in Brandon Rios' trainer Robert Garcia's CA gym by his faith, the Jewish faith.
"I said something about 'the Jewish kid' because that's all I know him as," Roach explained, saying that Seckbach had previously been to his Wild Card Gym, and had talked about his faith. "I don't know your name, I just know you as 'the Jewish kid,' Roach said he told Seckbach,  when recounting what he said after Seckbach called him out for being "racist." In fact, this video clip, at about the 2:55 mark, makes it sound like Roach uses the words "effing Jew emeffer," which is a more heated version of what he recalled to Osuna.
(And by the way, there is much debate raging on social media about what slurs are OK to say, and what aren't. I think it's fair to say that referring to someone as a "Mexican" or "Jew" in polite conversation is not impolitic. But when you refer to someone as a "Mexican" or "Jew" during a heated verbal altercation, the context changes, and the intent of the deliverer can be construed differently, and the ability of the tag to hurt becomes potentially pronounced. Using the word "f—-t," as Ariza seemed to, that word gets slung around carelessly, and often without the user understanding how that cutting description of a homosexual person can be interpreted by someone quite negatively, and rightly so. That word-said-aloud doesn't have much if any place in most or any vocabularies, I dare say, if one doesn't want to risk offending someone.)
Roach became visibly emotional when telling Osuna that that he talked to his girlfriend after the fracas, and she was upset. "There's chaos, I don't need Manny coming into it," he said. "But everything's fine, I can't wait to get this fight going, they're digging a hole, but that's OK."
Roach was asked about pressing charges, and he said Top Rank's Brad Jacobs advised him that could endanger the fight, and he won't go that route, because that's not his style anyway. He said he was miffed because Ariza "suckered" him and he wished he could have retaliated, and it is best that Ariza "ran." He didn't seem to care for Ariza making light of his Parkinson's symptoms but made light of it when telling Osuna that he suggested Rios make Parkinson's cracks instead, because he is more adept at it than Ariza is.
Also, check out this Boxing Channel video in which Roach and Pacquiao discusses the fracas. Roach in this video with Marcos Villegas said the fracas hasn't affacted Pacquiao and, in fact, they chuckled about it. Roach also said he thinks he will see a nasty Pacman, one who craves a KO. "Manny is as good as I've ever seen him," the trainer said. Manny said he's handling all stresses well, including the fracas, and the typhoon, and advisor Michael Koncz' health scare.
Still, Roach isn't exiting this situation smelling all rosy. People are taking sides on this deal, and being quite vehement about it, too.
UPDATE 1 Late, Late Tuesday Night: Another version of the video, shot and posted by Elie Seckbach, is of better quality. Seckbach is a regular at Robert Garcia's gym and is seen by most as being a virtual member of Team Rios, basically. In this version, you can see Roach saying the gym is his, and Garcia standing his ground. Roach refers to Garcia as a "piece of s–t" and Garcia says he's not that, and holds his cool. "Throw me out, throw me out, make me leave," yells Roach, as some of Garcia's crew hurks insults at him and tells him to scram. You can hear someone making animalistic noises, as if perhaps they are trying to make light of Roach's speech, compromised by his Parkinson's. Soon after, Ariza delivers a kick at Roach, and at least two people step between him and Roach. Then, Roach addresses Rios assistant trainer Donald Leary (seen above cocking his fist, face contorted in fury, in Chris Farina-Top Rank photo) who is telling him to get out, and calls him, as I heard it, a "Mexican emeffer," which Garcia and some others react to, declaring that Roach has made an ethnic slur. Ariza then uses a derogatory word beginning with the letter F in the direction of a Roach cohort, a version of a word which got Alec Baldwin in hot water while he was beefing with a paparazzo last week.
Garcia then says he's always respected Roach but not now. "Now, it's personal," he yells at Roach, who is being hustled towards an exit. Then and chuckles Garcia smiles while Ariza continues to yell at Roach, challenges him to a fight, and mocks his speech. "Uh uh uh uh sp-sp-spit it out," Ariza says.
In a post-beef assessment, in a SecondsOut YouTube, Ariza said Freddie's move was "juvenile," and that he thinks Roach wanted to "kick something off." He said he felt Roach was being aggressive toward him. "He was going to hit Robert," Ariza said, and cocked his fist at him, and that's why he kicked him. He didn't regret the kick, he said.
It appears that Rios, bless him, never lost his step while on the elliptical glider. Smartest guy in the room…
——————————————————————————————————————————
The principals aren't supposed to face off till Sunday (Saturday in the US)  Macao, but some undercard action got cooking today, when Manny Pacquiao's trainer Freddie Roach and ex right-hand man Alex Ariza got into a scuffle in the gym at the hotel, during changeover time.
Word is Roach entered the gym, and wanted Garcia and Rios and company to exit, as he believed their allotted time was up. Words were exchanged. Ariza, formerly Roach's go to guy while he was Pacquiao's strength and conditioning coach, who was booted by Roach for overstepping his boundaries, yelled at Roach. Pacquiao and Rios are not in the frame at any point, for the record.
"Roach, get the eff out of here," someone is heard to yell in this YouTube video off Rappler.com. "This isn't the Wild Card, b—h,"  is also hurled at Roach. "You don't run this effin place," Freddie is told. The then advanced toward Ariza, while insults are being hurled at him, and Ariza throws a front kick with his right leg at the 53-year-old Roach. A security guard attempts to intercede, and more jawing ensues. Ariza, with someone standing in front of him, blocking the route to Roach, is aggressive and seems to want to up the ante.
Robert Garcia is seen yapping, but basically doesn't move from his spot, sitting on the ring apron. One can hear a voice that seems to be Roach calling for Ariza to be arrested, for assaulting him. The audio is off track, so it is hard to decipher exactly who is saying what. A reference to someone using ethnic epithets is made, but again, it is unclear where that accusation comes from.
Follow Woods on Twitter.
A Halloween-Inspired Homage to Bernard Hopkins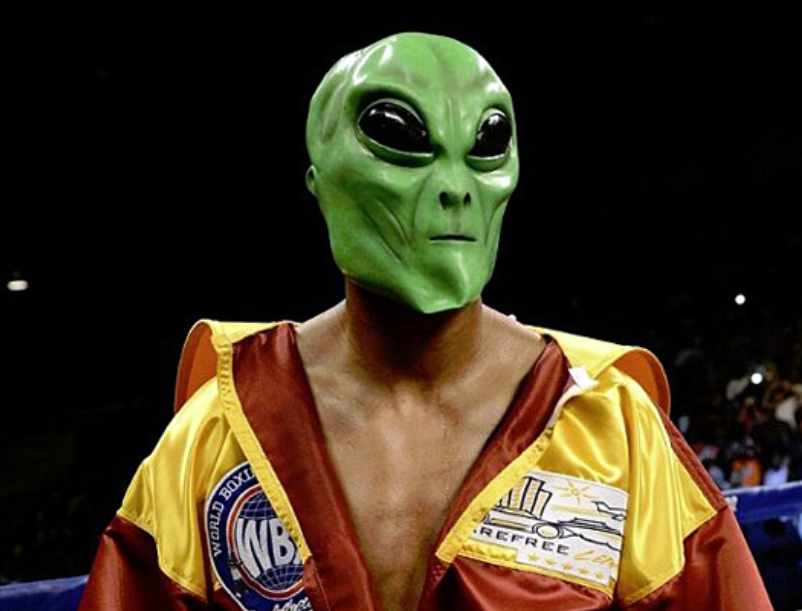 A Halloween-Inspired Homage to Bernard Hopkins
A TSS CLASSIC — It is that time of year. The late-October autumn air on the East Coast is crisp and cool, and throughout America kids are looking forward to trick-or-treat. Go into any neighborhood and you'll see jack-o-lantern faces carved into pumpkins, ghosts fashioned out of old bedsheets hanging from tree branches, cardboard witches taped to front doors.
Only two of Bernard "The Executioner" Hopkins' 55 professional bouts have taken place in October, but in a very real sense this is his special time, too. Why? Because he is boxing's equivalent of Michael Myers, the impossible-to-kill night stalker of all those "Halloween" movies, the bogeyman who offed an inordinately high number of unsuspecting teenagers and routinely transformed Jamie Lee Curtis into a screaming, quivering mass of terrified victimhood.
Saturday night, in that haunted mausoleum known as Boardwalk Hall where he has done some of his best work, boxing's ageless hobgoblin again came out of the shadows to spoil someone else's party. This time it was the much-younger Kelly Pavlik –OK, so he isn't exactly a teenager–who was executed. And that grimacing older fellow playing the role of Jamie Lee Curtis was Top Rank founder Bob Arum, who didn't shriek out loud but looked like he just had swallowed a whole mess of something foul-tasting. Hopkins' ridiculously easy, 12-round unanimous decision over Pavlik hadn't followed the predicted script that called for him to finally be battered senseless and forever dragged from his bully pulpit.
"At least (Pavlik) gets to keep his titles," a glum Arum said of Pavlik's retention of his WBC and WBO middleweight belts that were not on the line in the 170-pound catchweight bout.
When will they ever learn? Arum has been bewitched, bothered and bewildered by Hopkins before. A few years ago, when Arum still had some promotional dibs on his once-favorite cash cow, Oscar De La Hoya, he promoted a Las Vegas doubleheader in which the Golden Boy and Hopkins were featured in separate bouts. The idea was that De La Hoya would remain loyal, Hopkins would also join the Top Rank fold and everyone would profit nicely from the arrangement. But De La Hoya formed his own company, took Hopkins with him and Arum, who can hold a grudge with the best of them, was left to simmer longer than Grandma's home-made soup.
Of course, Hopkins has had that effect of any number of exasperated promoters who have tried to make him toe their company line. This guy not only marches to the tune of his own drummer, he has his own percussion section. Butch Lewis can't string together five or six words, when speaking about Hopkins,  that do not include at least one expletive. Try as he might, even Don King never could bring B-Hop to heel. Lou DiBella still bristles when he thinks about what he believes to be Hopkins' acts of betrayal. And Dan Goossen regards his brief but stormy association with Hopkins as something along the lines of a Greek tragedy.
"My biggest disappointment in boxing," Goossen has often said of the pitched battles he waged with his most recalcitrant client behind the scenes. This from a guy who worked with Mike Tyson when Leg-Iron Mike was at or past the point of total mental meltdown.
To Hopkins' way of thinking, promoters – well, perhaps not Golden Boy, in which he is a limited partner and, at least for now, on kissy-face terms – represent boxing's power structure, which he claims is hell-bent on making fighters indentured servants with little or no charge over their own destinies. Other than beating up or embarrassing their gloved minions in the ring, there is nothing Hopkins enjoys more than tweaking the noses of those he is convinced have pooled their considerable resources to drive him from the sport.
So there Hopkins was, Michael Myers resurrected for the umpteenth time, chortling over the fact he had again rained on the parade of a perceived enemy. To the Philadelphian's way of thinking, spoiling the undefeated record of Pavlik, Top Rank's current marquee attraction, wasn't just an isolated thundershower drenching Arum's suddenly soggier operation; it was the landfall of a Category 5 hurricane capable of blowing a familiar tormentor right off the map.
"After Oscar beats (Manny) Pacquiao … look, I don't want to wish nothing bad on anybody, but that might be the end of Top Rank," said Hopkins, who might not daydream of such an outcome but clearly would not be despondent were it to come to that.
No wonder the Arums, Lewises, Kings, DiBellas and Goossens probably offer up nightly prayers that their favorite deity, or fate,  humbles Hopkins, or at least makes him grow old fast. Hasn't this codger been on the verge of retirement now since, what, the first Clinton Administration?
"A few years ago we were here (at Boardwalk Hall) with our jaws on the floor, marveling at Bernard's performance against Antonio Tarver," said Mark Taffet, the HBO Pay Per View chief. "We had a beautiful retirement party for Bernard. I still have the big banner on our 11th floor at HBO. We made a beautiful framed photograph of that fight. But here we go again.
"I think I'll ask Bernard for the $48 (cost of) the frame. I mean, where does he go now? I can't believe anything this guy does. He continues to amaze us."
Truth be told, Hopkins is the most accomplished fortysomething fighter the world has ever seen, and the competition for that designation isn't even close. OK, so George Foreman flattened Michael Moorer to win the heavyweight championship for the second time at 45, unquestionably an inspiring feat, but Big George had lost every round until he delivered the takeout shot in Round 10, and he took terrible beatings in post-40 matchups with Alex Stewart and Axel Schulz, even though he won dubious decisions in those bouts. Archie Moore, the "Old Mongoose," was the light heavyweight champ well into his 40s, but a French-Canadian fisherman with rudimentary skills, Yvon Durelle, knocked him down four times, including three in the first round, in their Dec. 10, 1958, first meeting in Montreal. Hopkins has been on the canvas exactly twice in his entire career, both of those coming in his Dec. 17, 1994, matchup with Ecuodorean Segundo Mercado, in Quito, Ecuador, for the vacant IBF middleweight crown. Even those flash knockdowns probably owed more to the thin air in Quito, which is 9,350 feet above sea level, and the fact Hopkins arrived there only four days before the fight, not nearly enough time to get acclimated to the altitude, than to the power in Mercado's punches. Nonetheless, Hopkins salvaged a draw and he battered Mercado en route to a seventh-round TKO 4½ months later, in Landover, Md.
Almost from the time he broke through to the throne room Hopkins has busied himself making enemies, which might seem counterproductive until you examine those emotions which fuel his internal fire.
Hopkins is one of those athletes who seems happiest when he's unhappy, like tennis' John McEnroe. He doesn't get mad, he gets even. Even the slightest provocation can get Hopkins stoked, and nothing lights that particular fire like the notion he is being dismissed, disrespected or disenfranchised.
Take his Sept. 29, 2001, battle with Felix Trinidad for the undisputed middleweight championship of the world. Everybody remembers how Hopkins twice grabbed and threw down the Puerto Rican flag at open-to-the-public press conferences, but the key to his finest performance ever, or at least until the dismantling of Pavlik, was Hopkins' controlled rage at discovering that his own promoter, King, had had the Sugar Ray Robinson Trophy pre-engraved with the name of Trinidad, another King client, on it.
Like fellow paranoids Richard M. Nixon and Bobby Knight, Hopkins reads and listens to every negative thing anyone has written or said about him. He has compiled an enemies list, at least in his mind, and it pleases him greatly when those who would draw pleasure from his toppling are again left red-faced and embarrassed.
"They say Bernard is old," Hopkins said at the postfight press conference early Sunday morning. "Yes, I am. They say Bernard is finished. They ain't saying that now.
"I'm tired, man. I'm tired of proving myself to the same naysayers. Don't y'all know you motivate me? I mean, what do I got to do, kill somebody? I'm the most underrated fighter when it comes to defense, when it comes to offense, when it comes to my heart. That's why I always fight like I have to prove something."
From a technical standpoint, Pavlik – who went off as a 5-1 favorite – probably was toast once Hopkins, who studies film as if he were Roger Ebert, detected that the Youngstown, Ohio, fighter's big right hand was neutralized whenever he had to throw his payoff punch across his body. That's why B-Hop continually moved to his right. But for emotional purposes, his victory might have been assured when one Internet writer beseeched Pavlik to "do boxing a favor" and "forever free him" and other dissidents of the torture of watching Hopkins, a defensive genius, make good fighters look bad.
Trash talker supreme that he may be, nothing inspires Hopkins like being on the receiving end of a really mean-spirited insult.
So, what if nine of his last 10 bouts have gone the distance, the exception being his ninth-round knockout of De La Hoya on Sept. 18, 2004? Hopkins is allowed to evolve, just as a strikeout pitcher has to resort to guile as he loses steam off his fastball. What we get nowadays is more a recital of chamber music than a KISS concert, but that does not detract from the fact he still produces classic material. Asked what it was that Pavlik found troubling about Hopkins' unorthodox style, Pavlik's trainer, Jack Loew, said, "Kelly had trouble adjusting to everything."
If Hopkins has his way – and, gee, doesn't it seem as if that happens quite a bit at this late stage of the game – then another aging legend, Roy Jones Jr., will find a way to win his Nov. 8 fight with Joe Calzaghe in Madison Square Garden, paving the way for a rematch of Jones-Hopkins I, which took place way back in May 22, 1993? Jones won that fight, for the vacant IBF middleweight championship, by close but unanimous decision.
"I'd like to fight Roy Jones again before I die," Hopkins said.
Might be a long time coming. After all, everyone knows that you can't eradicate the common cockroach, Michael Myers and Bernard Hopkins.
EDITOR'S NOTE: This story originally ran on Oct. 20, 2008, under the title "Halloween's Early for Hobgoblin Hopkins." The two Bernards – Hopkins and Fernandez – will be formally inducted into the International Boxing Hall of Fame next year with the class of 2020. Fernandez joins TSS classmate Thomas Hauser in the "Observer" category.
Check out more boxing news on video at the Boxing Channel 
To comment on this story in the Fight Forum CLICK HERE
Avila Perspective, Chap 111: Munguia, Tank and The Monster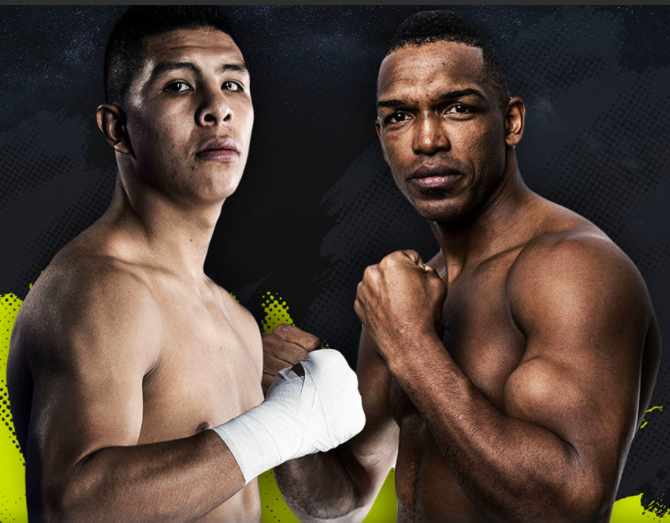 Avila Perspective, Chap 111: Munguia, Tank and The Monster
Here come some more hardcore fights.
As the end of the year approaches contracts must be honored. That's a good thing for fight fans even during a pandemic.
Golden Boy Promotions brings a loaded fight card led by Mexican swing-from-the-heels fighter Jaime Munguia (35-0, 28 KOs) moving into the middleweight division against Tureano Johnson (21-2-1, 15 KOs) at Fantasy Springs Casino in Indio, California. DAZN will stream the Friday night fight card on Oct. 30.
Munguia (pictured opposite Johnson) just recently turned 24 years old; a couple of weeks ago. The former super welterweight world titlist out of Tijuana grew out of the division and now is mentored by boxing great Erik "El Terrible" Morales. No more swinging at anything that moves. Now it's technical savagery.
Johnson, 36, hasn't fought in over a year but in that last fight he knocked off Ireland's undefeated Jason Quigley. That was not supposed to happen. The Bahamian native only has two losses and those were stoppages in the last round by Sergiy Derevyanchenko and Curtis Stevens. He has the technique, but does he have the chin?
Another savage battle involves welterweights.
New England's Rashidi "Speedy" Ellis (22-0, 14 KOs) faces Orange County's Alexis Rocha (16-0, 10 KOs) a hard-hitting southpaw in a showdown set for 12 rounds. Will it go that long?
Both have power and I doubt the fight goes beyond seven rounds. Both have ended fights in the opening rounds before. If someone blinks at the wrong time it could be over quickly.
Others on the card including super featherweight contender Lamont Roach and super middleweight prospect Bektemir Melikuziev. Also, female contenders Sulem Urbina and Marlen Esparza square off. Opening bout begins at 5 p.m. Pacific Time.
Crazy Saturday
A Matchroom Boxing fight card stemming from England showcases a Southern California-based world champion Oleksandr Usyk (17-0, 13 KOs) meeting Dereck Chisora (32-9, 23 KOs) in the heavyweight main event.
Usyk, now 33, just recently conquered the cruiserweight division and was undisputed world champion and now deigns to move up in weight where the money is much better fighting the big boys. He's a speedy Ukrainian southpaw who uses plenty of movement and has shocking power when he sets his feet.
Chisora, 36, has fought all of the top European heavyweights including another Ukrainian heavyweight named Vitali Klitschko. Though it hasn't always been violets and roses for Chisora, he does pack a wallop and if he catches Usyk it could be all over. But his feet are made of stone and he will have problems moving in rhythm with the fleet-footed Usyk.
A co-main event features lightweight contenders Lee Selby (28-2, 9 KOs) pitted against George Kambosos Jr. (18-0, 10 KOs) in a Great Britain versus Australia battle.
Two female bouts with extra power are also on the card as Savannah Marshall (8-0) battles Hannah Rankin (9-4) for the vacant WBO middleweight title; and Amy Timlin (4-0) meets Carly Skelly (3-0) in a battle of undefeated super bantamweights.
The fight card will be streamed on DAZN at 11 a.m. Pacific Time.
Showtime
World champions collide with three-division world champion Leo Santa Cruz daring to move up yet another weight division and challenge the ultimate danger in super featherweight and lightweight world titlist Gervonta "Tank" Davis for his titles.
Danger is written all over this Showtime pay-per-view card on Saturday Oct. 31.
Davis (23-0, 22 KOs) has yet to be truly challenged by anyone. Santa Cruz (37-1-1, 19 KOs) has always been a risk taker and could be going way over his limit against Tank.
"I'm facing the best fighter in the division. If you want to be the best, you have to beat the best. I have to go against the best fighter," said Santa Cruz. "I wanted to challenge myself. I know this is a dangerous fight for me, but I want to test myself."
If Santa Cruz is still standing after 12 rounds then a big salute to him. Davis won't allow that to happen. He's not a guy who looks to win by decision. Tank looks to knock opponents unconscious so he can take pictures of them asleep.
"I don't think I have to knock him out, I just have to go out there and be great. Forget everything else, I just have to go out there and show everyone that I'm the top guy in the boxing world. That's my main goal," said Davis.
Right.
It's not the only good fight on the card.
Mario Barrios (25-0, 16 KOs) defends the WBA super lightweight title against Ryan Karl (18-2) in the co-main event.
Also, on the same card Regis Prograis (24-1, 20 KOs) meets Juan Heraldez (16-0-1, 10KOs) in a super lightweight matchup. Whoever wins will probably meet Barrios for his title soon after. That's if Barrios beats Karl.
It's a boxing card that could see the end of the line for one or two of the fighters.
Monster and Mayer
Japan's Naoya Inoue (19-0, 16 KOs) defends the WBA and IBF bantamweight world titles against Australia's Jason Moloney (21-1, 18 KOs) at the MGM Grand Bubble in Las Vegas on Saturday October 31. It will be his Las Vegas debut and will be televised on ESPN+.
Inoue will be a big favorite and how can you blame odds makers when Moloney's only loss was to Emmanuel Rodriguez who was blown out by the Monster?
But you never know.
"There are a lot of expectations, and I want to meet those expectations. I take those big expectations, and I use them as motivation and power to keep getting better with every fight," said Inoue.
Inoue's last fight nearly a year ago was an epic clash against Nonito Donaire in a classic battle that saw both deliver bombs and take them in a 12-round fight that ended in a close but unanimous victory for the Japanese star.
Boy was it close.
Until the 11th round it was nip and tuck as Donaire proved why he is destined to be a surefire Hall of Fame inductee when he retires.
Both punished each other and during their confrontation it was evident that Inoue does indeed have a solid chin. One big question will be if Inoue took too much punishment and can he handle a rough customer like Moloney.
"Every fighter should want to fight the best. That's why we're in this sport. My dream and my goal is to be the best bantamweight in the world, and the only way to make that happen is to beat Inoue," said Moloney.
It should be an interesting match.
Also, female American Olympian Mikaela Mayer (13-0) challenges Poland's Ewa Brodnicka (19-0) for the WBO super featherweight world title. Expect no quarter given by Mayer who has been gunning for a title challenge for the past two years with most of the titleholders in Europe ignoring her.
Brodnicka expects a tough fight.
"I have a lot of things against me. But I'm ready. I don't care if she says that she doesn't respect me. She makes a lot of mistakes, and I'm going to take advantage of all of them," Brodnicka said.
Mayer is not in a good mood.
"I have been calling out the champs for a while. It's been something I feel like I've been ready for a few fights, but now in hindsight looking back, I think everything worked out perfectly. Like Bob Arum said, I've had some really great fights, and I've really been able to settle in to my pro style. I'm more ready than ever to take on these world champions. I feel like I'm the best in this division," said Mayer.
Sunday
A Sunday afternoon boxing card by Thompson Boxing Promotions takes place at the Omega Products International in Corona, CA but will not include fans.
Undefeated lightweights Mike Sanchez (6-0-1, 2 KOs) faces Israel Mercado (8-0, 7 KOs) in the main event on Sunday Nov. 1. It will stream on Thompson Boxing Promotions web page and also on its Facebook page beginning at 4 p.m. PT.
Go to this link to watch the fight card: www.thompsonboxing.com
Check out more boxing news on video at the Boxing Channel 
To comment on this story in the Fight Forum CLICK HERE
Usyk vs. Chisora Sets the Table for a Strong Night of Boxing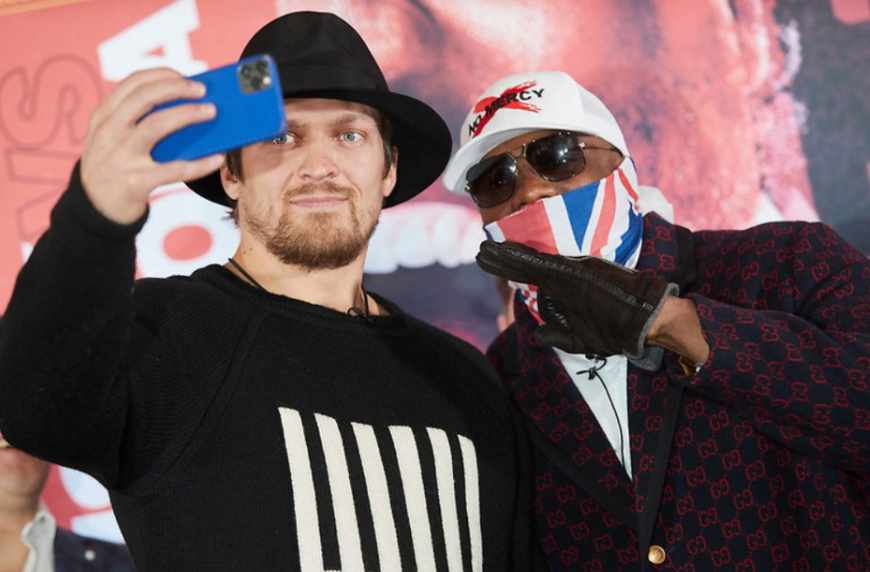 It's been largely lost in the ragout, at least on this side of the pond, but Saturday's busy fight docket includes the return of Oleksandr Usyk, the former Olympic gold medalist who left the cruiserweight ranks as a legitimate four-belt champion. The 33-year-old Usyk (17-0, 13 KOs), opposes tough but erratic Dereck Chisora, a 36-year old Londoner by way of Zimbabwe. Chisora (32-9, 23 KOs), has won five of his last six, the setback occurring in his second encounter with arch-rival Dillian Whyte.
Usyk vs. Chisora, a Matchroom promotion, will play out at Wembley Arena with no fans in attendance. The Ukrainian southpaw is ranked among the top three heavyweight contenders by all four major sanctioning bodies although he has fought only once as a heavyweight, turning away under-trained late sub Chazz Witherspoon who was all in after seven frames. Usyk weighed 215 for that contest and is expected to come in about 230 for Chisora.
Usyk, who has anglicized his first name to Alexander on his English-language twitter feed, is a big favorite, but this is a tricky fight for him. The consensus 2018 Fighter of the Year, Usyk has fought only twice since unifying the cruiserweight title with a lopsided decision over Murat Gassiev in July of that year and 55 weeks have elapsed since his last start. If he needs the early rounds to shake off ring rust, he could find himself clawing out of a hole, and sometimes the hole is too deep as Usyk's stablemate Vasiliy Lomachenko can attest. Moreover, Usyk has yet to face a naturally bigger man who can bang as hard as "Del Boy."
The Usyk-Chisora card will air in North America on DAZN with the main event ring walks anticipated about 6 pm ET.
The tiff is hitched to an interesting undercard. Once-beaten Welshman Lee Selby, briefly the IBF featherweight champion, tangles with Australia's undefeated (18-0) George Kambosos Jr. Savannah Marshall, who saddled Claressa Shields with her only amateur loss, meets former Shields opponent Hannah Rankin with a vacant world middleweight title at stake, Belfast's Tommy McCarthy opposes Belgium's Bilal Laggoune for a domestic cruiserweight title, and then there's the heavyweight fight attracting buzz between popular Yorkshireman David Allen and Christopher Lovejoy.
The buzz surrounds the mysterious 36-year-old Lovejoy who is 19-0 as a pro with all but two of those KOs coming in the opening round.
All of Lovejoy's fights were staged in Tijuana. Only one of his opponents brought a winning record. For a certain stripe of fighter, Tijuana is the equivalent of a feed lot, a place where livestock go to get fattened up before they are sent off to the slaughterhouse. David Allen is limited, but the most likely scenario in this fight is that it ends with Lovejoy sitting on his stool.
Check out more boxing news on video at the Boxing Channel 
To comment on this post in the Fight Forum CLICK HERE