Sergey Kovalev Nominated as New "Baddest Man on the Planet"
ATLANTIC CITY, N.J. – Evil Empire? What Evil Empire?
Not only are the Russians coming, they're already here. This might come as a surprise to those who remember then-President Ronald Reagan's description of the "Red Menace" that Americans had to be prepared to combat, but the Russkies are increasingly popular in the United States and Canada … just about everywere, in fact, where fight fans attach higher importance to a boxer's excitement quotient than his originating country.
WBO light heavyweight champion Sergey "Krusher" Kovalev (23-0-1, 21 KOs) met with the media here Saturday afternoon, a few hours before the HBO-televised tripleheader headlined by a title defense by WBA/WBO super bantamweight champion Guillermo Rigondeaux against Joseph Agbeko, and he stood as living proof that, well, the Cold War – at least in the ring – has thawed considerably.
A little more than a year ago, the now-30-year-old Kovalev was a free agent whose manager, Egis Klimas, was pitching his guy to any American promoter who would listen. Most of them said thanks, but no thanks.
And now? Kovalev, if not the very hottest property in the fight game, is raising his personal heat index with each spectacular knockout. On Nov. 30, he needed less than a minute into round two to bomb out challenger Ismayl Sillakh in Le Colisee de Quebec in Quebec City. The other 175-pound titlist fighting that night, WBC champ Adonis "Superman" Stevenson (23-1, 20 KOs), didn't work quite that quickly, taking Tony Bellew into the sixth round before taking out the Englishman.
Amazing, isn't it, that the fight everyone now wants to see is something hardly anyone knew they would want to see 17 months ago, when Kovalev was a virtual unknown, at least on this side of the Atlantic Ocean.
Clearly, power-punching guys are easy sells. If there is anything that seems absolutely certain, it is that a slugfest between Kovalev and Stevenson, if and when it occurs, will not go the distance.
Until that happens, we will have to settle for the standard war of words. Stevenson has said his preference is that his next opponent be nearly-49-year-old Bernard Hopkins (54-6-2, 32 KOs), the IBF light heavyweight champ, or England's Carl Froch (32-2, 23 KOs), who would be moving up from super middleweight.
"They don't seem too interested (in fighting Kovalev just yet)," Main Events president Kathy Duva, Kovalev's American promoter, said of her inquiries to Stevenson's promoter, Yvon Michel. "I spoke to Yvon a couple of days before the fights in Quebec. But once Sergey's fight was over, I tried to speak to him again and I couldn't get him to talk to me. I kind of took that as a sign that he has other plans for Stevenson."
Klimas said he thinks he knows the reason why Team Stevenson is looking elsewhere.
"For Stevenson, we are changing Sergey's nickname. He's not going to be `Krusher' Kovalev. He is going to be `Kryptonite' Kovalev. Kryptonite brings down Superman, yes?"
Entering the last few weeks of 2013, both Kovalev – a resident of Fort Lauderdale, Fla., by way of his native Chelyabinsk, Russia — and Stevenson, a native of Port-au-Prince, Haiti, who now calls Longueuli, Quebec, home, are strong candidates for Fighter of the Year. Each has been exceptionally busy for world-class fighters, logging four bouts apiece, totaling eight KOs between them.
"It's not just that Sergey wins; it's the way he wins," Duva said of the new lead pony in her promotional stable. "It's just so compelling. You can't look away. And Stevenson is like that, too.
"Everybody wants to see that fight. I can't believe that if you saw the two of them fight separately last week, you wouldn't want to see them fight each other. But who knows when it will happen, or even if it will happen. That fight might be worth more later, I don't know. My fear is that we have captured lightning in a bottle and if we don't make that fight soon, it might not ever happen."
To understand just how far and how fast Kovalev has come, you have to go back at least to June 2012 or, if you really want to be precise, to late 1989, when the first wave of fighters from the old Soviet Union came to America to the kind of hostility generally reserved for hated enemies of Our Way of Life.
A California-based promoter, Lou Falcigno, brought over the first wave of Russian fighters – lightweight Sergei Artemiev, middleweight Viktor Egorov and heavyweight Yuri Vaulin — to the U.S. in December 1989. Their ring appearances in this country were greeted with chants of "USA! USA!" and undisguised animosity.
Vaulin (as a cruiserweight) and Artemiev, who was forced to retire after suffering a brain bleed in his final fight against Carl Griffith, each fought and lost in bids for USBA championships, but they never came close to making the sort of impact here and around the world that Kovalev, junior welterweight Ruslan Provodnikov (Siberia) and middleweight Gennady Golovkin (Kazakhstan) are making now.
"Five years ago, when we started with Tomasz Adamek (of Poland), we were told that an Eastern European could never be successful in America," Duva said. "That's one of the reasons you never saw anyone from that part of the world fight on HBO, or hardly ever. If one of those guys did fight here, it was as the opponent. They weren't the one being built up.
"Now the perception has changed dramatically. It's not about your ethnicity; it's about how much excitement you generate. If you're exciting – and Sergey is definitely exciting – none of that other stuff matters. We live in a different world now."
Kovalev, for sure, didn't get any big build-up. He was being offered around by Klimas, whose entreaties were mostly met with disinterest.
"Egis had literally brought Sergey to every promoter in the United States and been turned down," Duva recalled. "He met with us one day and said, `I have this light heavyweight. All I ask you is to put him in a fight, with anybody you want. If you don't like when it's done, we won't bother you again.'"
Duva figured, what the hell. She put Kovalev in against an opponent, Darnell Boone, he'd struggled with nearly two years earlier in winning an eight-round split decision. This time, Kovalev destroyed Boone in two rounds.
"We don't often see Russell (veteran promoter J Russell Peltz, who serves as matchmaker for NBC SportsNet's fight series) get excited, but he came tearing across the arena, ran up to me and said, `Who is that guy? He's amazing!'"
With each emphatic knockout registered by Kovalev, Provodnikov and Golovkin, another brick gets chipped out of what remains of the wall that once separated these United States from the erstwhile Evil Empire.
"Sergey appeals to everybody," Duva said. "He transcends nationality. He's so warm, so approachable. He's not anything like Ivan Drago (the remorseless Soviet heavyweight portrayed by Dolph Lundgren in 1985's Rocky IV). Until the bell rings, that is. Then he becomes Drago."
We now open our arms to the Dragos, just as we opened them to homegrown fighters and those from other countries that bring some needed buzz to a sport that cherishes punching power regardless of what flag the big hitter is flying.
"At the postfight press conference after one of his fights, a reporter asked a question about what Sergey had said to the guy after he knocked him down. He said, `What did you want him to do at that point? Did you want (the referee to step in and end) the fight? Sergey said, `No, I wanted him to get up so I could hit him again.'
"Roberto Duran was like that. Mike Tyson was like that. There are few guys who you could call the baddest man on the planet. I can't think of anyone since Tyson that you could give that moniker to, but Sergey just might be that guy."
Emerging Heavyweights: Three to Watch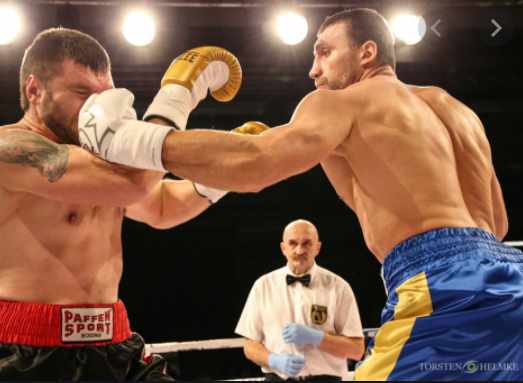 Victor Faust (Viktor Vykhryst), a 6'6" 232-pound Ukrainian heavyweight (and long-time amateur) is a product of the great amateur program in the Ukraine–one that has produced the likes of the Klitschko brothers, Oleksandr Usyk, Vasily Lomachenko, and more recently Sergiy Derevyanchenko.
At first glance, his amateur record does not appear stellar, but a closer review indicates several SD's or MD's.
Earlier this month, on Sept. 20, he scored a frightening one punch KO when he fought the more experienced Gabriel Enguema (10-9) in the Ukrainian city of Dnipro. It was his third KO victory in three professional fights—all in 2020. The end came as a result of a Doctor Steelhammer-like perfect straight right to knock the Spaniard out cold. It brought back memories of Wladimir's KO of Calvin Brock in 2006. Faust displayed skills, size, a solid chin, and power in dispatching his opponent.
"…Soon everyone will …see how skillful he is. He's the complete package and will compete in massive fights sooner rather than later." Erol Ceylan (Faust's German promoter)
Oh yes, Faust beat Romanian Mihai Nistor in the amateurs and the talented Nistor in turn halted Anthony Joshua in the amateurs back in 2011. (Nistor also went 1-2 with Filip Hrgovic and lost to Tony Yoka in 2012.) Of course, one must be circumspect when using logic in boxing. Now that Nistor has turned pro, he will be worth following as his style is very much Tysonesque.
There are others who have—at a minimum– the same potential as Faust.
Tony Yoka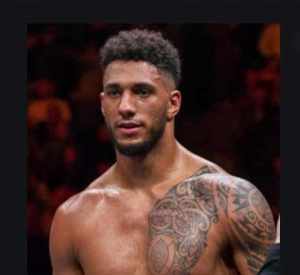 Hard-hitting Frenchman 6'7" Tony Yoka (8-0) has beaten far better opposition than Faust and has a far better amateur record. In fact, he beat Filip Hrgovic and Joe Joyce in the 2016 Rio Games on the way to a Gold Medal. Recently, he dismantled veteran and fellow Frenchman Johan Duhaupas, a fringe contender with some notable notches on his belt. The end came in the first round by virtue of a crunching right uppercut.
Yoka perhaps could be slotted above Faust at this point.; he just might be the best of the new guys on the block. However, there are some dicey anti-doping issues that have tainted his reputation, though they do seem to be mostly resolved at this point.
Arslanbek Makhmudov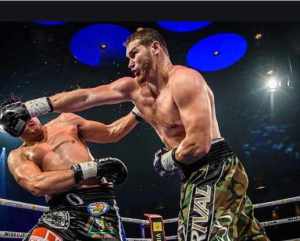 This Russian "Lion," 6'5 ½", 260 pounds with an imposing muscular frame, is still another hungry prospect ready to break into the next tier. Nicknamed the "Lion," — he also has been called "Predator" and "Beast — he is 10-0 (10 KOs).
He now lives and fights out of Montreal. The holder of two regional titles, he stopped a shot Samuel Peter in one round this past December.
"I'm confident that with my team, Eye of the Tiger Promotions and Golden Boy Promotions, I will reach my goal of becoming heavyweight champion of the world," —Makhmudov.
This all said, The Lion needs some work on his technical skills as size can only go so far.
Makhmudov's next opponent is Canadian heavyweight Dillon "Big Country" Carman (14-5) whose claim to fame is that he KOd comebacking Donovan Ruddock in 2015 in Toronto. This one will end differently for "Big Country."
Others
Arguably, classy Americans Stephan Shaw (13-0), and Jared Anderson (6-0 with four KOs in the first round) could be added to the above. Filip Hrgovic and Efe Ajagba, both 6'6", have already moved up.
A good yardstick is 6'5" American Jonathan Rice who lost a 10-round bout to Ajagba, was TKO'd in the seventh round Makhmudov, lost a 6-round decision to Tony Yoka, and a lost 6-round decision to Shaw.
Have I missed any?
Ted Sares can be reached at tedsares@roadrunner.com of on Facebook.
Check out more boxing news on video at the Boxing Channel 
To comment on this story in the Fight Forum CLICK HERE
Jermell Charlo Unifies Super Welterweights Via Solar Plexus Punch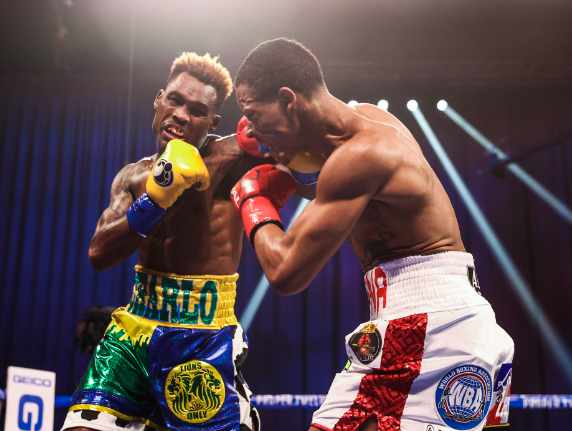 WBC super welterweight titlist Jermell Charlo knocked out IBF and WBA titlist Jeison Rosario with a knockout punch delivered to the solar plexus on Saturday to add two more belts to his collection.
"I'm definitely bringing home the straps," said Charlo.
Shades of Bob Fitzsimmons.
Back in 1897, Fitzsimmons used the same solar plexus punch to dethrone Gentleman James Corbett for the heavyweight title in Carson City, Nevada.
In another casino city Charlo (34-1, 18 KOs) floored Dominican Republic's Rosario (20-2-1, 14 KOs) three times at the Mohegan Sun Casino in Uncasville, Conn. He and his brother co-headlined a heavy duty pay-per-view card with no fans in attendance on the Premier Boxing Champions card.
Charlo jumped on Rosario quickly in the first round when he charged and clipped him with a left hook to the temple. Down went the two-belt champion for the count. But he got up seemingly unfazed.
For the next several rounds Rosario was the aggressor and put the pressure on Charlo who was content to allow the Dominican to fire away. Occasionally the Houston fighter jabbed but allowed Rosario to pound up and down with both fists.
After allowing Rosario to get comfortable with his attack, suddenly Charlo stopped moving and connected with a short crisp counter left hook and right cross in the sixth round. Down went Rosario again and he got up before the count of 10.
Charlo said it was part of the game plan.
"I'm growing and I realize that the knockout will just come," he said.
Charlo was in control with a patient style and allowed Rosario to come forward. But the Dominican was more cautious in the seventh.
In the eighth round Charlo jabbed to the head and then jabbed hard to Rosario's stomach. The Dominican fighter dropped down on his seat as if felled by a gun shot. He could not get up and convulsed while on the floor. The referee Harvey Dock counted him out at 21 seconds of round eight.
"That jab that got to him must have landed in a vital point," said Charlo after the fight. "I hope he recovers and bounces back."
Charlo now has three of the four major super welterweight world titles.
WBC Super Bantamweight Title
Luis Nery (31-0, 24 KOs) captured the WBC super bantamweight title by unanimous decision over fellow Mexican Aaron Alameda (25-1, 13 KOs) in a battle between southpaws. The war between border town fighters was intense.
Nery, a former bantamweight world titlist, moved up a weight division and found Alameda to be a slick southpaw with an outstanding jab. At first the Tijuana fighter was a little puzzled how to attack but found his groove in the fourth round.
But Alameda, who fights out of Nogales, Mexico, began using combinations and finding success.  A crafty counter left uppercut caught Nery charging in a few times, but he managed to walk through them.
In the final two rounds Nery picked up the action and increased the pressure against the slick fighting Alameda, He forced the Nogales fighter to fight defensively and that proved enough to give the last two rounds for Nery and the victory by unanimous decision. The scores were 115-113, 116-112 and 118-110 for Nery who now holds the WBC super bantamweight world title. He formerly held the WBC bantamweight title.
Roman Wins
Danny "Baby-Faced Assassin" Roman (28-3-1, 10 KOs) managed to rally from behind and defeat Juan Carlos Payano (21-4, 9 KOs) in a battle between former world champions in a nontitle super bantamweight clash. It wasn't easy.
Once again Roman fought a talented southpaw and in this fight Payano, a former bantamweight titlist, moved up in weight and kept Roman off balance for the first half of the fight. The jab and movement by the Dominican fighter seemed to keep Roman out of sync.
Roman, who fights out of Los Angeles, used a constant body attack to wear down the 35-year-old Payano and it paid off in the second half. Then the former unified world champion Roman began to pinpoint more blows to the body and head. With seconds left in the 12th and final round, a left hook delivered Payano down and through the ropes. Sadly, the referee missed the knockdown. It didn't matter as all three judges scored it identical at 116-112 for Roman after 12 rounds.
"I made some adjustments and picked up the pace and got the win," said Roman who formerly held the WBA and IBF super bantamweight world titles.
Photo credit: Amanda Westcott / SHOWTIME
Check out more boxing news on video at the Boxing Channel 
To comment on this story in the Fight Forum CLICK HERE
Jermall Charlo UD 12 Derevyanchenko; Figueroa and Casimero Also Triumphant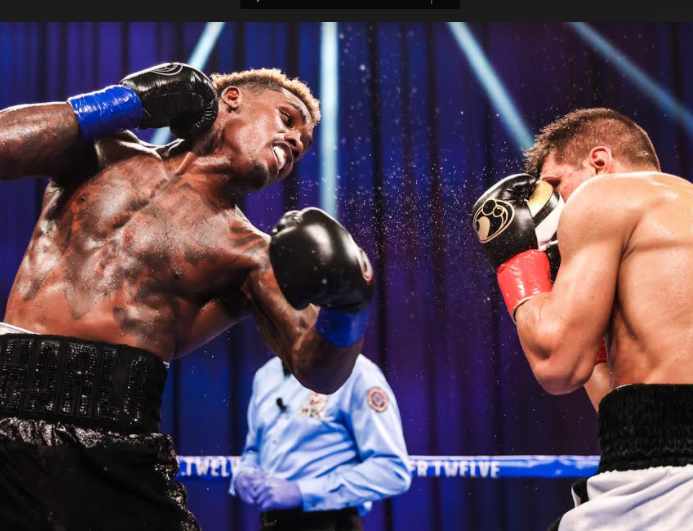 Jermall Charlo UD 12 Derevyanchenko; Figueroa and Casimero Also Triumphant
The Mohegan Sun Casino in Uncasville, Connecticut, was the site of the first pay-per-view boxing event in the United States since the Fury-Wilder rematch on Feb. 22. There were six fights in all, five of which were title fights and the other a title-eliminator. They were divided into two tiers but bundled into a package that cost approximately a dollar a round with a facile intermission tossed in at no extra charge.
The headline attraction of the first "three-pack" – and the most anticipated fight of the evening – found WBC world middleweight champion Jermall Charlo defending his title against Sergiy Derevyanchenko. The Ukrainian gave Gennady Golovkin a hard tussle when they fought in November of last year at Madison Square Garden – GGG won a unanimous decision but the scores were tight and many thought Derevyanchenko deserved the decision – and the expectation was that tonight's match would also be very competitive.  But it really wasn't although the rugged Derevyanchenko rarely took a backward step.
The fight went the distance and there were no knockdowns, but Charlo buckled his knees at the end of round three and Derevyanchenko ended the fight with cuts above both eyes. The judges had it 118-110, 117-111, and 116-112.
With Canelo Alvarez apparently headed to 168 and GGG showing his age at 38, one can make a strong case that the undefeated 30-year-old Jermall Charlo (31-0, 22 KOs) is now the top middleweight in the world. Derevyanchenko, who was 23-1 in the semi-pro World Series of Boxing before turning pro, saw his pro record decline to 13-3 with all three losses in middleweight title fights.
—
The middle fight of the first tier was a lusty encounter between Mexican-American super bantamweights Brandon Figueroa and Damien Vazquez. Figueroa, one of two fighting brothers from the Mexican border town of Weslaco, Texas, was a huge favorite over Vazquez, a Colorado native who moved to Las Vegas as a freshman in high school and had fought extensively in Mexico where he made his pro debut at age 16. But Vazquez, the nephew of former three-time world super bantamweight title-holder Israel Vazquez, came to fight and gave a good effort until the fight turned lopsidedly against him.
In the middle rounds, Figueroa's high-pressure attack began to wear Vazquez down. Vazquez had a few good moments in rounds six and eight, but when his right eye began swelling from the cut above it, he was fighting an uphill battle. He took a lot of punishment before referee Gary Rosato halted it at the 1:18 mark of round 10.
Figueroa, 23, successfully defended his WBA 122-pound title while improving his record to 21-0-1 with his 16th KO. Vazquez declined to 15-2-1.
—
The lid-lifter was a WBO bantamweight title defense by John Riel Casimero with Duke Micah in the opposite corner. Micah, from Accra, Ghana, came in undefeated at 24-0, but Casimero had faced a far stronger schedule and was a substantial favorite.
A Filipino who was been training in Las Vegas under Bones Adams, Casimero took Micah out in the third round. The Brooklyn-based Micah was somewhat busier in the opening frame, but the tide turned quickly in favor of the Filipino. Casimero hurt Micah with a left hook in round two and went for the kill. He wasn't able to finish him, but Micah was on a short leash and referee Steve Willis was quick to step in when Casimero resumed his attack after the break. The official time was 0:54.
Casimero (30-4, 21 KOs) was defending the title he won last November with a third-round knockout of favored Zolani Tete in Birmingham, England. He was slated to fight this past April in Las Vegas against Naoya Inoue, but that fight evaporated as a result of the coronavirus. After the bout, Casimero called out Inoue (and others): "I'm the real monster," he said. "Naoya Inoue is scared of me. You're next. I would have knocked out anyone today. If Inoue doesn't fight me, then I'll fight Guillermo Rigondeaux, Luis Nery, or any of the top fighters."
Check back shortly for David Avila's summaries of the remaining fights.
Photo credit: Amanda Westcott / SHOWTIME
Check out more boxing news on video at the Boxing Channel 
To comment on this story in the Fight Forum CLICK HERE