Each year during the holiday season, I publish a "top forty" list of what I consider to be the best books on boxing. That list, updated to accommodate recently published titles, follows. Taken together, they offer a compelling look at the sweet science from bare-knuckle days to the present. Some of these books are now out of print. But with the proliferation of online services like Abebooks.com and Amazon.com, all of them can be found.
Beyond Glory by David Margolick (Alfred A. Knopf) — This book focuses on the two fights between Joe Louis and Max Schmeling. In the process, it recreates the racial climate of the 1930s, puts the fighters in historical perspective, and conveys the incredible importance of their ring encounters. Margolick shows in dramatic fashion how Louis stirred passions and revived interest in boxing long before he beat James Braddock to become heavyweight champion. He captures the demeaning racial stereotyping of The Brown Bomber by the establishment press (including those who were seeking to be kind). And he documents in painstaking fashion, contrary to future revisionism, the degree to which Schmeling took part in various Nazi propaganda activities and supported Hitler after defeating Louis in 1936.
John L. Sullivan and His America by Michael Isenberg (University of Illinois Press) Isenberg mined the mother lode of Sullivan material and crafted a work that's superb in explaining the fighter as a social phenomenon and placing him in the context of his times. More recently, Christopher Klein has put together a meticulously researched and engaging read in Strong Boy: The Life and Times of John L. Sullivan (Lyons Press).
Sound and Fury by Dave Kindred (Free Press): The lives of Muhammad Ali and Howard Cosell intertwined. Kindred explores the ugly underside of Ali's early adherence to Nation of Islam doctrine and provides an intimate look at The Greatest in his declining years. He also paints a revealing portrait of Howard Cosell, turning the broadcast commentator from caricature and bluster into flesh and blood.
America on the Ropes by Wayne Rozen (Casey Press) — This might be the best coffee-table photo book ever devoted to a single fight. Jack Johnson is still a vibrant figure in American history, but James Jeffries has been largely forgotten except as an appendage to Papa Jack. This book gives both men their due and, in so doing, restores Jeffries' life and lustre. The photographs are extraordinary and arranged perfectly with the text.
Heroes Without A Country by Donald McRae (Ecco Press) — This is a beautifully written book about Joe Louis and Jesse Owens, two icons who changed America. McRae makes old stories seem fresh and new, and his exhaustive research brings new material to light. He is also the author of Dark Trade, a look at the modern boxing scene.
The Sweet Science by A. J. Liebling (Penguin) — Eighteen articles from the 1950s and early '60s by the legendary dean of boxing writers. Liebling set the standard to which others aspire. A collection of his later articles has been published under the title A Neutral Corner.
The Hardest Game by Hugh McIlvanney (Contemporary Books) — McIlvanney is the British equivalent of Liebling. He's not just a boxing writer. He's a writer who writes very well, among other things, about boxing.
Rocky Marciano by Russell Sullivan (University of Illinois Press) — An honest penetrating look at Marciano in the context of his times, as a person and as a fighter. What's particularly interesting is how often the unbeaten Marciano verged on defeat and his questionable ring tactics.
Cinderella Man by Jeremy Schaap (Houghton Mifflin Company) — Schaap does a fine job chronicling the rise of James Braddock to the heavyweight championship at the height of The Great Depression. He also succeeds particularly well in painting a wonderful portrait of Max Baer and explaining just how important the heavyweight title was seventy years ago.
Sweet William by Andrew O'Toole (University of Illinois Press) — A solid biography of light-heavyweight great Billy Conn. The two Louis-Conn fights are the highlight of O'Toole's work, but he also does a nice job of recounting the endless dysfunctional family struggles that plagued Conn throughout his life and the boxer's sad decline into pugilistic dementia.
In the Ring with Bob Fitzsimmons by Adam Pollack (Win by KO Publications) – Pollack has also authored biographies of John L. Sullivan, James Corbett, James Jeffries, Marvin Hart, Tommy Burns, and Jack Johnson. The books are heavily researched and rely almost exclusively on primary sources. Serious students of boxing will enjoy them.
The Last Great Fight by Joe Layden (St. Martin's Press) – This book is primarily about James "Buster" Douglas's historic upset of Mike Tyson. The saga of Iron Mike has gotten old, but Layden brings new material and fresh insights into the relationships among Douglas, his father (Billy Douglas), manager John Johnson, and co-trainers J. D. McCauley and John Russell. He also gives a particularly good account of the fight itself and how Douglas overcame the fear that paralyzed many of Tyson's opponents.
The Killings of Stanley Ketchel by James Carlos Blake (William Morrow & Company) — The life of Stanley Ketchel written as pulp fiction. Blake plays fast and loose with the truth and mixes fact with fantasy in this historical novel. But he writes well and weaves a good tale about boxing and the underside of America at the dawn of the twentieth century.
Ringside: A Treasury of Boxing Reportage and Sparring With Hemingway by Budd Schulberg (Ivan R. Dee, Inc.) — If Schulberg had never written another sentence, he'd have a place in boxing history for the words, "I could of been a contender." These collections of his articles cover seventy years of boxing lore. You might also take a look at Schulberg's novel The Harder They Fall.
The Fireside Book of Boxing, edited by W. C. Heinz (Simon & Schuster) — One of the best collections of boxing writing between the covers of a single book. This has been reissued in an updated form by Sport Classic Books. But the original 1961 hardcover has a special feel with unique artwork. Heinz also wrote a very good novel entitled The Professional.
One Punch from the Promised Land by John Florio and Ouisie Shapiro (Lyons Press) – The authors do a good job of recounting the saga of Leon and Michael Spinks. The world of abject poverty that they came from is recreated in detail and with feeling. The writing flows nicely, Leon's erratic personality is explored, and the big fights are well-told.
Unforgivable Blackness: The Rise and Fall of Jack Johnson by Geoffrey C. Ward (Alfred A. Knopf) — This is the companion volume to the PBS documentary by Ken Burns. It's well-written, meticulously researched, and the standard against which future Johnson biographies will be judged. Jack Johnson: Rebel Sojourner by Theresa Runstedtler (University of California Press), which focuses on the international reaction to Johnson, is a nice supplement.
Jack Dempsey by Randy Roberts (Grove Press) – Three decades after it was first published, this work remains the most reliable source of information about the Manassa Mauler. Roberts is also the author of Papa Jack: Jack Johnson and the Era of White Hopes (Free Press), another fine biography of the most controversial champion in boxing history, and Joe Louis: Hard Times Man (Yale University Press), a valuable addition to the literature on Louis.
Champion: Joe Louis, Black Hero In White America by Chris Mead (Charles Scribner's Sons) — At the time it was written, this was the most thorough of the Joe Louis biographies. Mead's work serves as a reminder of why the Brown Bomber was so important.
Black Is Best: The Riddle of Cassius Clay by Jack Olsen (G. P. Putnam's Sons) — This is an old one; vintage 1967. But it's a great look at the young Muhammad Ali.
Muhammad Ali: The Making of An Icon by Michael Ezra (Temple University Press) – Ezra explores the changing perception of Ali as a moral force with primary emphasis on the commercial interests that have swirled around him over the past fifty years. The end result is a work of scholarship that breaks new ground. In a similar vein, Redemption Song: Muhammad Ali and the Spirit of the Sixties by Mike Marqusee (Verso Books) looks at Ali through a decidedly left-wing political lens.
At The Fights: American Writers on Boxing compiled by George Kimball and John Schulian (Library of America) – This collection has fifty pieces representing what its overseers call "the very best writing about the fights." More selections from the first half of the twentieth century would have been welcome. Be that as it may, At The Fights belongs in the honors class of boxing anthologies.
Schulian is also the author of Writers' Fighters, an anthology of his own best work.
In This Corner by Peter Heller (Da Capo Press) — One of boxing's first oral histories, chronicling the lives of forty-two world champions.
The Big Fight by Sugar Ray Leonard with Michael Arkush (Viking) — There's a growing belief among those who seriously study boxing that Sugar Ray Leonard is the best fighter of the past fifty years. Two themes run throughout The Big Fight. The first centers on Leonard's illustrious ring exploits. The second details a life spiraling out of control in a haze of fame, alcohol, and drugs. The book is an interesting passageway into the mind of a great fighter.
Only In America: The Life and Crimes of Don King by Jack Newfield (William Morrow & Company) — Give the devil his due. Don King is one of the smartest, most charismatic, hardest-working men on the planet. Jack Newfield recorded the good and the bad, mostly the bad, in exhaustive detail.
Fear & Fire: The Inside Story of Mike Tyson by Jose Torres (Warner Books) — In 1989, when Tyson was at his peak and beginning to publicly unravel, there was a spate of books about the young champion. This was the best of them. More recently, Tyson has had his say in Undisputed Truth (Blue Rider Press), a compelling memoir written with Larry Sloman.
Rope Burns by F. X. Toole (Ecco Press) — Six short stories, the first five of which are very good. The author is at his best when he describes the behind-the-scenes maneuvering that infests boxing. The book was re-released under the title Million Dollar Baby to take advantage of tie-in movie publicity.
Ghosts of Manila by Mark Kram (Harper Collins) — Whether or not you agree with Kram's thesis, which seeks to elevate Joe Frazier and diminish Muhammad Ali, this work is an interesting read.
The Prizefighter and the Playwright by Jay Tunney (Firefly Books) is a son's tribute to his father. Jay Tunney writes nicely and understands boxing. This book details the former heavyweight champion's ring career, marriage, and relationship with Nobel-prize-winning playwright George Bernard Shaw.
The Greatest Boxing Stories Ever Told edited by Jeff Silverman (Lyons Press) — This is a pretty good mix of fact and fiction from Jack London and Sir Arthur Conan Doyle to Jimmy Cannon and Frank Deford. Classic Boxing Stories edited by Paul D. Staudohar (Skyhorse Publishing) is an expanded version of a similar book published previously by Chicago Review Press and is also a good read.
Ray Arcel by Donald Dewey (McFarland and Company) – The image of Ray Arcel that exists today is that of a sage old trainer who knew the science of boxing and was a gentleman. Dewey explores Arcel's life in detail and has an appreciation of boxing and boxing history. The writing is a bit ponderous at times, but the book is intelligent and insightful.
Four Kings by George Kimball (McBooks Press) – Kimball recounts the epic nine battles contested among Sugar Ray Leonard, Marvin Hagler, Thomas Hearns, and Roberto Duran between 1980 and 1989. It was a special time for boxing fans and more special for those who, like Kimball, experienced the drama firsthand from the inside.
The Lion and the Eagle by Iain Manson (SportsBooks Ltd) — A dramatic recreation of the historic 1860 fight between the English champion, Tom Sayers, and his American challenger, John C. Heenan. Manson sets the scene on both sides of the Atlantic. In reconstructing the life of each fighter, he gives readers a full sense of time and place. For more on the same encounter, The Great Prize Fight by Alan Lloyd (Coward, McCann & Geoghegan) is an excellent read.
Sweet Thunder: The Life and Times of Sugar Ray Robinson by Wil Haygood (Alfred A. Knopf) – This is the first biography to fully explain Robinson's legacy in the ring and his importance out of it. Haygood researches thoroughly and writes well, placing Sugar Ray in the context of Harlem and America in the 1940s and '50s. The six wars between Robinson and Jake LaMotta are particularly well told.
Shelby's Folly by Jason Kelly (University of Nebraska Press) – Jack Dempsey vs. Tommy Gibbons is the only championship bout that's remembered more for the site than the fight itself. Shelby, Montana, was one of the most improbable and ill-considered venues ever to host a major championship fight. Kelly explains who, what, how, when, and why.
At The Fights: Inside the World of Professional Boxing by Howard Schatz (Sports Illustrated Books) – Monet captured the essence of water lilies better than a photograph. The same can be said of Schatz's computer-styled images of boxers. Light and shadow are distorted to show movement. The images convey strength and power, motion and emotion. It's a monumental book in more ways than one, printed on heavy glossy 14-by-11-inch stock with faithful photographic reproductions and splendid production values.
Liston and Ali by Bob Mee (Mainstream Publishing) – There are hundreds of books about Muhammad Ali, but very little good writing about Sonny Liston. This is very good writing about Liston, who is portrayed as a full flesh-and-blood figure rather than a cardboard cutout from the past.
James J. Corbett by Armond Fields (McFarland and Company) – Corbett was onstage for thirty-nine of his sixty-six years and worked hard to develop his craft as a performer. This book is as much about Corbett the actor as it is about Corbett the fighter. Fields also offers readers an engaging look at the San Francisco that Corbett grew up in as well as Corbett's personal life.
The Longest Fight by William Gildae (Farrar Straus and Giroux) – Joe Gans receded long ago into a seldom-visited corner of boxing history. This book is keyed to the historic first fight between Gans and Battling Nelson, which took place in Goldfield, Nevada, in 1906. Gildae brings Gans to life, crafting a sense of time and place that will enhance any reader's appreciation his subject.
The Good Son: The Life of Ray "Boom Boom" Mancini by Mark Kriegel (Free Press) – Kriegel is a good researcher and a good writer. The Good Son treats Ray Mancini with respect but acknowledges his flaws. It also conveys an admirable understanding of the sport and business of boxing. This isn't just a book about Mancini. It's a look into a fighter's soul.
Editor's Note: Thomas Hauser has authored twenty-four books about boxing that are excellent reading during the holiday season and every other time of year: Muhammad Ali: His Life and Times, Waiting for Carver Boyd, Mark Twain Remembers, The Black Lights, Boxing Is, An Unforgiving Sport, The Boxing Scene, The Greatest Sport of All, The Lost Legacy of Muhammad Ali, Knockout, I Don't Believe It But I Know It's True, Chaos, Corruption, Courage, Glory, Muhammad Ali: Memories, Muhammad Ali: In Perspective, A Beautiful Sickness, A Year At The Fights, The View From Ringside, Brutal Artistry, Muhammad Ali & Company, The Legend of Muhammad Ali, BOX: The Face of Boxing, Winks and Daggers,And the New, and Straight Writes and Jabs.
Thomas Hauser can be reached by email at thauser@rcn.com. His most recent book (And the New: An Inside Look at Another Year in Boxing) was just published by the University of Arkansas Press.
Hank Aaron and Muhammad Ali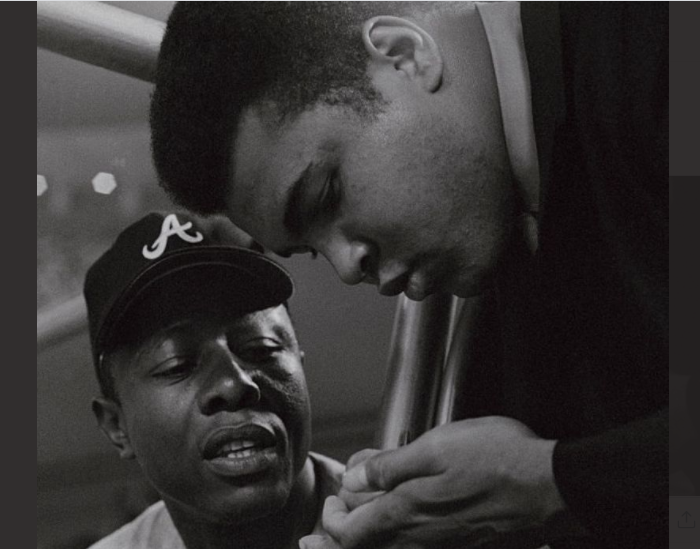 Hank Aaron, one of the greatest players in baseball history, died today (January 22) at age 86.
Aaron is best known for breaking Babe Ruth's mark of 714 career home runs. He finished his sojourn through baseball with 755 homers, a record that stood until 2007 when it was eclipsed by Barry Bonds. He still holds the MLB career records for most RBIs, most total bases, and most extra base hits while ranking third on the list for most hits and most games played and fourth in runs scored. He was a thoughtful gracious man who inspired a generation.
Decades ago, I was conducting research for the book that would become Muhammad Ali: His Life and Times. As part of this process, I interviewed many great athletes. Some, like Jim Brown, had played an important role in Ali's life. Others had interacted with Muhammad in a less significant manner. The people I spoke with included sports legends like Bill Russell, Kareem Abdul-Jabbar, Wilt Chamberlain, Ted Williams, Mickey Mantle, and Reggie Jackson. On September 5, 1989, I was privileged to talk with Aaron.
Aaron had broken Babe Ruth's record in 1974, the year that Ali dethroned George Foreman to reclaim the heavyweight championship of the world. The thoughts that Aaron shared with me – one great athlete talking about another – follow:
"I was born in Mobile, Alabama, in 1934. I came up with the Braves when I was twenty. And coming from Mobile, I was very shy. I wasn't satisfied with the way things were, but I felt like I had to do something special in baseball in order to get people to listen to me. By the time Ali came along, things were a little different but not that much. My first awareness of him was when he won the gold medal. And I saw greatness stamped all over him. How great, I didn't know. But I was impressed by his ability and his confidence.
"Being a gifted athlete, being one of the best in the world at what you do, is a great feeling. But sometimes it's kind of eerie because you wonder why you're blessed with so much ability. I'd go up to the plate to face a pitcher and I'd know that, before the night was over, I was going to hit one out of the ballpark. I felt that, and I'm sure Ali felt the same way. That no matter who he got in the ring with, he was better and he'd figure them out. He had all kinds of confidence. And I was the same way. The only thing that scared me was, when I was approaching Babe Ruth's record, I got a lot of threatening letters. I'm sure Ali went through the same thing with letters from people who didn't want him to be heavyweight champion. Most of that stuff is nothing but cranks. But one of them might be for real, and you never know which one.
"I don't think there'll ever be another fighter like Muhammad Ali. I'm not putting anybody else down. Maybe someone could have beaten Ali in his prime, but I'm not concerned about that. There's just no one who could possibly be as beautiful in the ring as he was. For a guy to be that big and move the way he did; it was like music, poetry, no question about it. And for what he did outside the ring, Ali will always be remembered. When you start talking about sports, when you start talking about history; you can't do it unless you mention Ali. Children in this country should be taught forever how he stood by his convictions and lived his life. He's someone that black people, white people, people all across the country whatever their color, can be proud of. I know, I'm glad I had the opportunity to live in his time and bear witness to what he accomplished. God gave Ali the gift, and Ali used it right."
I remember very clearly reading to Ali what Hank Aaron had said about him. And Muhammad responded, "Hank Aaron said that about me? I'm honored."
Thomas Hauser's email address is thomashauserwriter@gmail.com. His most recent book – Staredown: Another Year Inside Boxing – was published by the University of Arkansas Press. In 2004, the Boxing Writers Association of America honored Hauser with the Nat Fleischer Award for career excellence in boxing journalism. In 2019, Hauser was selected for induction into the International Boxing Hall of Fame.
Check out more boxing news on video at the Boxing Channel 
To comment on this story in the Fight Forum CLICK HERE
The Ups and Downs of Hall of Fame Boxing Writer Jack Fiske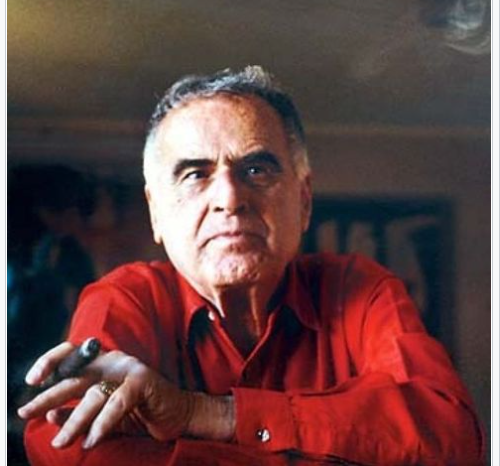 Hall of Fame boxing writer Jack Fiske passed away 15 years ago this coming Sunday, Jan. 24, 2006. Fiske was 88 years old.
Fiske was one of the last of the breed, a full-time boxing writer for a major metropolitan daily. They don't make them like that anymore.
In his final years as a journalist, however, Fiske no longer worked for the San Francisco Chronicle, his longtime employer. To read his stuff required a subscription to a newsletter. And the newsletter, in common with Fiske, had become a dinosaur in a world where the only constant is change. It went belly-up several weeks before Fiske passed away.
Born in New York City in 1917, Jack Fiske attended the University of Alabama where he covered the school's boxing team for the school newspaper. The star of the team, Fiske was fond of recollecting, was a fiery bantamweight, George Wallace. America would come to know Wallace as the fiery segregationist who served four terms as Governor of Alabama and was a failed U.S. presidential candidate.
After graduation, Fiske worked for a paper in Virginia and two small papers in the Bay Area before latching on with the Chronicle. In addition to covering the fights as a ringside reporter, Fiske authored a twice-weekly feature called "Punching The Bag" that circulated widely among hard-core fans and industry insiders.
Fiske had to be on his toes because for much of his tenure at the paper the arch-rival San Francisco Examiner had a fine full-time boxing man of their own, Eddie Muller, whose son of the same name hosts "Noir Alley" on Turner Classic Movies.
"Punching The Bag" was jam-packed with information and editorial content. Fiske had little tolerance for inept ring officials and regulators who owed their cushy jobs to political connections. First-time promoters, the lifeblood of the sport, were assured of positive ink. But once a promoter became established, he had to earn his props by making competitive matches.
During Fiske's early days with the Chronicle, the top sports in terms of newspaper coverage were baseball, horseracing, and boxing, and the Bay Area was a beehive of boxing activity. In 1955, there were 73 boxing shows in San Francisco, Oakland, and nearby Richmond. The biggest shows were usually held at the Cow Palace. Ten title fights were staged here beginning with Ezzard Charles' 1949 world heavyweight title defense against local fan favorite Pat Valentino.
One can guess where this is heading. Bit by bit, the Bay Area boxing scene became fallow. In the eyes of the Chronicle higher-ups, Fiske came to be seen as superfluous. In 1992, the paper let him go. "Punching The Bag" died after an amazing 43-year run.
Fiske hastened his demise as a newspaperman by his disinclination to become more versatile. He never wanted to cover any sport other than boxing. His attraction to the sweet science was manifested in his vast collection of boxing memorabilia which dominated every room of his home.
In 1994, Fiske was persuaded to resurrect his column for "Professional Boxing Update" and its sister publication, "Flash." These were 12-page newsletters cranked out by a fellow from Capitola, CA, named Virgil Thrasher, a big boxing buff with a second sideline as a blues harmonica player.
At their peak, Thrasher's newsletters had 6000 subscribers, 10 percent overseas. Circulation-wise, this was a big comedown for Fiske, but he was too professional to approach his assignments half-heartedly. Although he held a grudge against his former employer, his bitterness surfaced only once.
When the Chronicle made no mention of the passing of World War II era lightweight champion Ike Williams, Fiske carped that the sports department was run by clowns more attuned to women's volleyball than to matters of significance.
"Professional Boxing Update" and "Flash" were modest endeavors, but the contributors were first-rate, most especially during the mid-1990s. Jack Fiske was then in good form, as was acerbic Las Vegas oddsmaker Herb Lambeck, a peerless boxing pricemaker. In those days, no one was better at dissecting a forthcoming fight than lead writer Graham Houston, himself a Future Hall of Famer. Houston, who was the North American correspondent for several British publications, stayed on with Thrasher's newsletters until the very end.
For some subscribers, these publications functioned mostly as tip sheets. When the opinions of Houston and Lambeck dovetailed, one could wager with a high degree of confidence.
Within four years of joining PBU/Flash, Jack Fiske's health began to fail and he was unable to meet his deadlines. To ease Fiske's slide to infirmity, Thrasher took to reprinting some of his old Chronicle columns.
When Virgil Thrasher launched his newsletters in 1985, he stole readers from established magazines by delivering information in a timelier fashion. Ironically, he became a victim of the same force. A new generation of fight fans, weaned on the internet, demanded updates quicker than the mailman could bring.
It would have been nice if Thrasher had continued on for a few more weeks, thereby affording readers a tribute to Jack Fiske on the occasion of his passing. But at least Fiske wasn't entirely forgotten.
In 2003, at age 85, Fiske was ushered into the International Boxing Hall of Fame. As is the custom when an inductee passes away, the flag atop the Canastota shrine was lowered to half-staff when news arrived of his passing.
Check out more boxing news on video at the Boxing Channel 
To comment on this story in the Fight Forum CLICK HERE
Michael Coffie vs. Darmani Rock Smacks of Joe Joyce vs. Daniel Dubois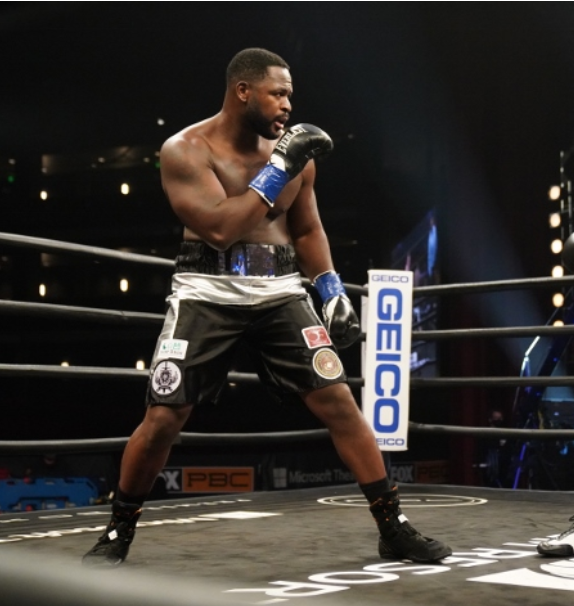 Although it wasn't a world title fight, the match between Joe Joyce and Daniel Dubois which took place in London on the Saturday after Thanksgiving, attracted a lot of buzz. Only one heavyweight bout in 2020 was more eagerly anticipated, that being the rematch in February between Tyson Fury and Deontay Wilder.
Joyce vs. Dubois was that rare pairing of two undefeated heavyweights who were roughly at the same stage of their career. Dubois was 15-0 (14 KOs) heading in; Joyce was 11-0 (10).
And that brings us to the crossroads fight on Jan. 30 at the LA Shrine Expo between Darmani Rock (17-0, 12 KOs) and Michael Coffie (11-0, 8 KOs). Unlike Joyce vs. Dubois, this is not a well-marinated showdown, but yet there are some parallels, most notably it's a match between unbeaten heavyweights in which the victor will undoubtedly make a big jump in public esteem and the loser, more than likely, will be pushed back into the shadows.
There was a big age gap in the Joyce-Dubois fight. The 35-year-old Joyce was the older man by 12 years. Likewise, Rock vs. Coffie features a young old-timer vs. an opponent who is merely young.
Michael Coffie, 34, came to boxing late after serving eight years in the Marine Corps. He entered the New York City Golden Gloves tournament on a whim and with virtually no formal training and yet he succeeded in reaching the finals.
When Coffie (pictured)  turned pro, his manager was none other than Randy Gordon, the former chairman of the New York State Athletic Commission who has kept his hand in boxing as a journalist and radio personality, co-hosting a boxing-themed talk show on Sirius FM with Gerry Cooney. Gordon knows more than a little about heavyweights, having been involved with Bonecrusher Smith who was briefly (very briefly) the WBA world heavyweight champion.
"(Bonecrusher) was not anywhere near the fighter that Mike is," Gordon told Hall of Fame boxing writer Bernard Fernandez on the occasion of Coffie's pro debut in Bethlehem, Pennsylvania. On that night, Coffie needed only 61 seconds to dismiss his opponent, ending the contest with a short right hand. The sacrificial lamb, wrote Fernandez, "went down like an anvil dropped in the ocean."
In his most recent fight, on Nov. 7, Coffie was matched against Minnesota veteran Joey Abell, a noted spoiler. Abell would have been a good measuring rod for assessing Coffie's progress, but unfortunately the bout was over almost before it started. Early in the second round, Abell suffered a biceps injury while throwing a punch and couldn't continue.
The "A" side in this fight, however, isn't Coffie but the other guy. Darmani Rock, 24, had an outstanding amateur career, winning several important tournaments including the 2014 Youth World Championships in Sofia, Bulgaria. Rock was upset in the finals of the 2016 Olympic Trials and then turned pro, signing with Roc Nation, the deep pockets sports management company founded by Jay-Z.
Questions have been raised, however, about Rock's dedication. He weighed 278 pounds in his last fight, 30 pounds more than in his pro debut. (Coffie's fighting weight also hovers around 270 and he is the same approximate height – both are listed at 6'5" — but Coffie has always been big.)  Moreover, Rock has been inactive for 15 months and may have trouble shaking off the rust.
Darmani Rock hails from Philadelphia; Michael Coffie from Brooklyn, more fodder for the tub-thumpers. Philadelphia was the stomping grounds of Smokin' Joe Frazier. The City of Brotherly Love has arguably produced more good prizefighters per capita than any city in the country. Brooklyn spawned Mike Tyson, Riddick Bowe, and Shannon Briggs, all of whom bubbled out of gritty Brownsville which also happens to be the neighborhood where Michael Coffie spent much of his youth until he was spirited away to a less threatening environment by foster parents.
I don't want to get carried away with the Joyce-Dubois analogy. Joe Joyce had a stronger amateur pedigree than Darmani Rock. Daniel Dubois had a spectacular run leading up to his match with Joyce including a one-sided triumph over well-regarded Nathan Gorman. Moreover, neither Joyce nor Dubois had ever fought an opponent with a losing record. The same can't be said of Coffie and Rock who have built their records on the backs of the usual suspects. Darmani Rock's last two opponents were both 42 years old.
Moreover, Coffie vs. Rock isn't the main attraction on the PBC card. Top billing goes to Caleb Plant's 168-pound title defense against Caleb Truax.
As we recall, the Joyce-Dubois fight produced a major upset. Dubois was understood to be faster on his feet and more heavy-handed – considered more likely to turn the tide with a single punch – but youth was not served on that night at the historic Church House in Westminster. Joyce methodically peppered Dubois with his jab which caused a big lump to develop over Dubois's left eye. The eye eventually shut completely and the fight ended in the 10th round with Dubois taking a knee and allowing himself to be counted out. Joyce's victory elevated him to #2 in the WBO rankings, a notch below Oleksandr Usyk who is potentially his next opponent.
One doesn't know what will transpire when Coffie fights Rock, but as Michael Buffer would say, "someone's 'O' will have to go." Fights of this nature are inherently intriguing and that goes double when the combatants are heavyweights.
Check out more boxing news on video at the Boxing Channel 
To comment on this story in the Fight Forum CLICK HERE