Gordon Marino has written, "You can't get into boxing without an ego. But you have to keep an eye on it."
Self-control has never been 24-year-old Adrien Broner's strong point. Much of his life has been a study in excess.
This summer, Broner sat for a video that showed him half-dressed while purportedly defecating into a toilet in Popeye's and then wiping himself with United States currency. The video was posted on YouTube with the title "Adrien Broner takes a s–t in Popeye's." Four days later, it had close to 50,000 hits. The posted comments were not favorable: "Lowlife scum . . . What a effing idiot . . . Retarded . . . Cancer to society . . . Disgusting a—–e . . . His kids are doomed . . . Keep up the good role modeling, Broner."
Undeterred, Broner posted a sex video in October. This one showed him having intercourse with two women and no condom. On-line comments from viewers indicated that Adrien has more of a future as a fighter than as an X-rated film star.
The circus is fun. But sooner or later, most kids outgrow it. There's a line between being your own man and doing things that are self-destructive.
"I was young once too," trainer Don Turner (who has worked with fighters like Larry Holmes and Evander Holyfield) says. "That's no excuse. Everybody was young once. You make choices."
Earlier this year, Broner was being hyped as "the future of boxing." And he'd come to believe the hype that was accompanying his ring success.
"Boxing is hit and don't get hit," Adrien told the media. "It's not, hit, okay, now you hit me. I don't care if I come out my whole career without getting touched. I'm not in it to go in there and let someone beat up my face. That's not how you do it. Stay slick."
But Broner was hitting and not getting hit against lesser fighters. And as Don Turner notes, "You have to be on the receiving end sometimes to know what this game is about. You have to be tested, so you learn how to pass the tests."
Then, in June, Broner challenged Paulie Malignaggi for the WBA 147-pound title and emerged with a split-decision triumph. But the bloom was off the rose. Malignaggi exposed some of Adrien's limitations: the wide spread of his feet that inhibits movement, his vulnerability to attack, the inability to transition seamlessly from defense to offense.
But Paulie didn't have the firepower to finish the job. Adrien upped his record to 27-and-0. That set the stage for the December 14th match-up between Broner and Marcos Maidana.
Maidana is a volume puncher who gives one hundred percent every time out. His record was 34-and-3 with 30 knockouts. But he'd barely survived a shopworn Erik Morales and struggled in victories over Victor Ortiz, Jesus Soto-Karass, and Josesito Lopez. His idea of defense is sitting on his stool between rounds.
Broner was a 3-to-1 betting favorite. However, in most of Adrien's previous fights, in addition to his skills, he'd enjoyed a size and strength advantage over his opponent. That wouldn't be the case against Maidana.
Thus, Jimmy Tobin wrote, "Maidana has the power to put Broner's lights out and the toughness to take second and third helpings of whatever leather he is served. Maidana also boasts the puncher's resolve, that stubborn arrogance that concedes damage to reciprocate it exponentially. He will not temper his aggression simply because he is punished for it and he has crawled off the deck to practically invade two other prematurely-anointed superstars [Victor Ortiz and Amir Khan]. He is never an easy out."
Boxer versus puncher is one type of classic match-up in boxing. Another is fighters who quit (e.g. Mike Tyson and Andrew Golota) versus fighters who don't (e.g. Arturo Gatti). Everyone knew that Maidana wouldn't quit. The jury was out on Broner.
It was an exciting action fight.
Adrien views himself as a master craftsman. Marcos is a simple brickmaker, but he makes a lot of bricks and was in attack mode all night.
Ten seconds into round one, Maidana tagged Broner with a left hook that propelled Adrien into the ropes. Suddenly Broner had a bad case of the wobbles, and Marcos was all over him. Later in the round, Adrien spun out of the corner and thrust his hips against Maidana's rear end, simulating anal intercourse. Showtime (the network that prides itself on the mini-series Masters of Sex) chose not to replay the moment in the sixty seconds between rounds. More significantly, referee Laurence Cole let it pass, which was a prelude to his losing control of the fight. Broner led with his head, raked his gloves across Maidana's face, and used his forearms and elbows as offensive weapons throughout the bout. Marcos went low often enough that it was also an issue.
Meanwhile, twenty-five seconds into round two, Broner was floored by a left hook, the first time in his pro career that he'd been on the canvas. He rose on shaky legs and took a pounding.
That set the pattern for bout. Maidana was relentless, winging punches from all angles with both hands and keeping the pressure on all night. Broner is accustomed to pot-shotting opponents who can't hurt him. Here, Maidana exchanged because he wanted to, and Broner traded blows when he had no choice. Often, Adrien held on like he and Marcos were slow-dancing.
Simon and Garfunkel sang, "I'd rather be a hammer than a nail,"  and Broner was the nail to Maidana's hammer. Marcos beat the confidence out of him and exposed one more flaw: Adrien's inability to make adjustments during a fight.
Midway through round eight, a left hook up top put Broner on the canvas for the second time. He rose; Maidana came in for the kill; Adrien clinched; and Marcos headbutted him. Broner thought about the situation for a moment. Then, looking very much like a drowning man who has just seen a life preserver bobbing in the water, he gave a thespian performance that saw him sink to the canvas (carefully, so as to break his fall with his knee) and roll over onto his back while simulating agony. When finally he rose, he refused to answer the referee's query, "Are you all right?" Cole then deducted a point from Maidana for the headbutt and, to Adrien's apparent dismay, decreed that the fight should continue. Lost in the drama was the fact that Broner's performance had earned him an additional seventy seconds to recover from the knockdown.
When it was over, Broner had been outlanded by a 269-to-149 margin that included a 231-to-122 disadvantage in power punches. Adrien's best punch of the night was a cheap-shot left hook to the jaw after the bell ending round eleven. He talked the talk before the bout but didn't walk the walk when it counted. The judges scored the fight 117-109, 116-109, and 115-110 for Maidana.
In some ways, the most disheartening aspect of the evening for Broner was how limited his ring skills (as opposed to his natural physical gifts) looked. Maidana has limitations. Last year, Devon Alexander won ten out of ten rounds against him and made Marcos look like an amateur by simply moving and jabbing.
Broner left the ring immediately after the bout and refused to give an on-air interview. Later that evening, he told Barry Tompkins, "I'm still young, fly, and flashy. We're going to live tomorrow like we won the fight. I'm still going to party. My first party is going to be on Tuesday in Cincinnati. If you want me in your club. I will be in your club. We're gonna have fun."
That's part of the problem.
Broner is a good fighter with potential that has not yet been fully developed. The question is, where does he go from here? Does he work to get better, or does he go back to fighting less challenging opponents and leave it at that?
Thomas Hauser can be reached by email at thauser@rcn.com. His most recent book (Straight Writes and Jabs: An Inside Look at Another Year in Boxing) has just been published by the University of Arkansas Press.
WATCH RELATED VIDEOS ON BOXINGCHANNEL.TV
Avila Perspective, Chap. 86: Heavyweight Impact, Thompson Boxing and More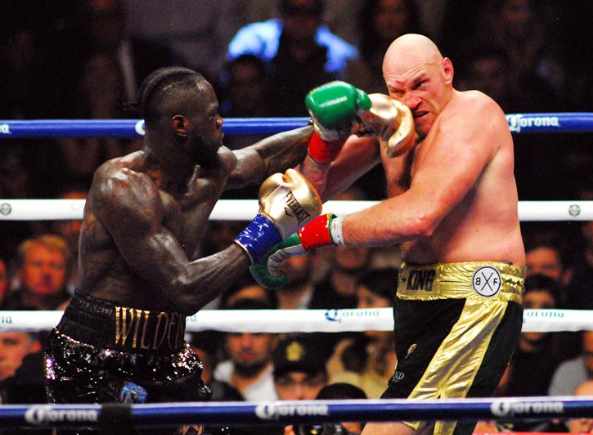 Avila Perspective, Chap. 86: Heavyweight Impact, Thompson Boxing and More
Any time Yanks fight Brits, expect a battle of epic proportions, but when you add rival networks, well now it's getting downright nasty.
When undefeated WBC heavyweight titlist Deontay Wilder (42-0-1, 41 KOs) steps in to face lineal champion face Tyson Fury (29-0-1, 20 KOs) on Saturday Feb. 22, at the MGM Grand in Las Vegas, it pits not only PBC versus Top Rank, but FOX versus ESPN pay-per-views.
These are all good things.
Aside from bragging rights for the winner's side, the absolute winners could be boxing fans especially those waiting for other potential fights between PBC and Top Rank. This heavyweight clash could be the foot-in-the-door needed for boxing.
Think: welterweight showdowns between Top Rank's Terence Crawford and PBC's Errol Spence Jr. as a follow up. There are many other potential matchups.
All this could be the next step after this repeat heavyweight showdown.
Wilder brings his explosiveness against Fury's tactical and incredible agility for this return match. Can they match their first encounter?
Back in December 2018, in Los Angeles, the two heavyweights boxed and slugged their way to history with the best heavyweight world championship fight of the 21st century, even topping 2003's Lennox Lewis versus Vitali Klitschko that also took place in Los Angeles.
Great heavyweight battles are not as common as one would think. They don't throw as many blows as welterweights and usually they are as slow as glaciers. They can lull you to sleep with their slowness.
"I'm the hardest hitting heavyweight of all time," said Wilder when in Los Angeles.
Wilder and Fury mesmerized the public with their clash of styles especially after the tall Brit with the clever lines was dropped in the ninth and 12th rounds. How he got up to fight remains a mystery to me and many others.
"He put me down twice and here I am," said Fury who twice beat the count after knockdowns in their first encounter at the Staples Center.
Very few heavyweight title fights can equal Fury-Wilder's first meeting.
Memorable Heavyweight Battles of the Past
Here are a few heavyweight world title fights I saw that I actually think measure up:
Riddick Bowe versus Evander Holyfield 2 in Las Vegas on November 6, 1993.
Larry Holmes versus Ken Norton in Las Vegas on June 9, 1978.
Muhammad Ali versus Joe Frazier 3 in Quezon City, Philippines Oct. 1, 1975.
Wilder and Fury 2 should be similar to their first encounter but expect the fight to end in less than 12 rounds. They know each other's tendencies, strengths, and definitely know each other's weaknesses. Expect a knockout but it remains to be seen who gets the knockout.
Yes, we know Wilder has the power but does he have the chin?
This time Fury will be willing to test Wilder's chin with a full-out attack and that should come early in the fight. This fight should not go past five rounds. Either Wilder goes down and out or Fury goes to sleep. Someone's not beating the count.
I truly don't know who wins this rematch.
20th Anniversary for Thompson
It doesn't seem that long ago that I attended Thompson Boxing Promotion's first boxing event at the very same Doubletree Hotel in Ontario, California back on March 5, 2001. Carlos "El Elegante" Bojorquez was the headliner on that card and the super welterweight fight ended in a technical draw due to a clash of heads opening a cut on Bojorquez.
That was the first Thompson Boxing card and here we are on Friday February 21, 2020 with the Orange County-based company showcasing another gem in Ruben Torres.
One thing about Thompson Boxing they know how to discover talent and have a string of world champions and contenders in its 20 years of existence. Torres could be the next. They still have Danny Roman who recently lost the WBA and IBF super bantamweight titles by a narrow decision. But regaining a world title remains a reality.
Torres (11-0, 9 KOs) faces Gabino Cota (19-10-2, 17 KOs) in an eight-round lightweight clash that will probably not go the distance.
I've seen all of Torres' fights and through this three-year journey the 5'11" tall lightweight has been honed into a precision fighting machine by trainer Danny Zamora in Santa Fe Springs, California.
Zamora rarely gets credit for his ability to develop boxers into world class prizefighters but he has an extensive history of success. From Yonnhy Perez to Torres the Santa Fe Springs trainer has quietly produced multiple elite pugilists for just as long as Thompson Boxing has existed. Catch his act.
Doors open at 6:30 p.m. For tickets or information call (714) 935-0900.
Ryan's World
It's been nearly one week since Ryan "The Flash" Garcia knocked out Francisco Fonseca in the first round of their regional title fight at the Honda Center in Anaheim. If you haven't seen the highlight, go ahead and take a look. The entire fight lasted only 1:20 and it seemed shorter.
Garcia was not fighting a low caliber fighter. Let's get that straight. Fonseca gave both Tevin Farmer and Gervonta Davis a difficult time. He couldn't do the same against Garcia.
Fonseca has a lot of talent and a good chin. In fact, the day after losing to Tank Davis by illegal blows behind the head, the fighter who lived in Costa Rica visited my home in Southern California and seemed more than healthy despite the fouls committed against him and allowed by the referee and Nevada State Athletic Commission. Though Fonseca's team took their complaint to the Commission – with extensive footage showing the hits behind the head – the loss was not overturned.
Over the years I've seen Garcia fight both as an amateur and professional and it was obvious to me and almost every major promoter in America that he has talent. All were interested in signing Garcia once he turned 18.
Well, Golden Boy signed him and here he is on the precipice of a world title challenge. It's not a surprise to those in the boxing game. It's only a surprise to those that truly don't know prizefighting. This kid is for real.
Oxnard
On open workout for the public will be held by Diego Magdaleno at La Colonia Gym in Oxnard, California on Friday, Feb. 21. The workout begins at 5 p.m. and equipment will be donated to the boxing club by Shannon Torres Gilman.
Magdaleno, a lightweight contender who scored a big win on national television last weekend on the Plant-Feigenbutz card, is the older brother of former world champion Jessie Magdaleno. He is also training and managing former female world champion, Crystal Morales, who is scheduled to fight on March 27 in Aguascalientes, Mexico.
Fights to Watch
Fri. 8 p.m. Thompsonboxing.com – Ruben Torres (11-0) vs Gabino Cota (19-10-2).
Fri. 11:30 p.m. Telemundo – Saul Juarez (25-10-2) vs Jonathan Gonzalez (22-3-1).
Sat. 6 p.m. FOX or ESPN pay-per-view – Deontay Wilder (42-0-1) vs Tyson Fury (29-0-1); Emanuel Navarrete (30-1) vs Jeo Santisima (19-2); Charles Martin (27-2-1) vs Gerald Washington (20-3-1); Javier Molina (21-2) vs. Amir Imam (22-2).
Photo credit: Al Applerose
Check out more boxing news on video at The Boxing Channel 
To comment on this story in The Fight Forum CLICK HERE
Wilder, Fury Both Believe Providence is on Their Side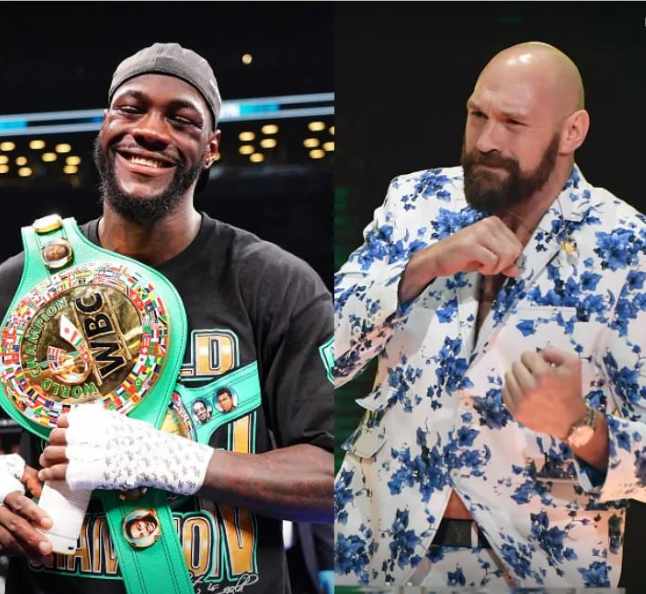 Wilder, Fury Both Believe Providence is on Their Side
You hear it more and more frequently at the conclusion of significant sporting events, including boxing matches. The winner or key-play maker for the victors thanks God for His supposed intervention, thus giving the impression that the Almighty, like many humans who pray that their wagers pay off, plays favorites on the field or in the ring, perhaps even to the point of running a celestial bookie operation.
Remember how it was when Joe Louis knocked out Adolf Hitler's favorite heavyweight, Max Schmeling, in the first round of their June 22, 1938, rematch at Yankee Stadium? Millions of Americans considered it an affirmation of Divine Intervention, of Star-Spangled good conquering the pure evil of all that the Nazis represented, and never mind that Schmeling found Der Fuhrer as repugnant as did Louis and his vast legion of admirers.
Nowadays, choosing whom to support in a major fight, emotionally and financially, is not always so cut-and-dried. Some will plunk their money down on someone representing their country or home region, more pragmatic types are apt to follow their heads instead of their hearts. But the bedrock principle of gambling still most often applies: when in doubt, root for whichever individual or team will yield a profit rather than a loss.
Given that Saturday night's megafight between WBC heavyweight champion Deontay Wilder (42-0-1, 41 KOs) and lineal titlist Tyson Fury (29-0-1, 20 KOs) is about as close as it ever gets to being a 50/50 proposition (Wilder is favored by the narrowest of margins), many of those backing their play with big bucks might have to confess that they're doing so with fingers crossed and fervent prayers offered to a deity that may or may not have determined the outcome beforehand.
But there are two individuals who profess to be absolutely certain of a favorable outcome at Las Vegas' MGM Grand, and not just for reasons that are presumably based in fact or logic. Wilder, the pulverizing puncher from Tuscaloosa, Ala., has offered his opinion that God indeed has blessed his cause, much as it was widely believed nearly 82 years ago that the king of heaven wanted Louis (also a native Alabaman, for those who take note of such things) to whack out Schmeling. But a different certainty is being offered by Fury, the gigantic "Gypsy King" from the United Kingdom who also claims he has it on good authority that it is his destiny to emerge triumphant.
Wilder, who had an audience with Pope Francis in the Vatican in December, at which time he was named the papal Ambassador for Sport, said he has been aware since childhood of the plan God supposedly has for him.
"I've always had power," he said. "I always tell the story of how my grandmother said I was anointed by God, that God is trying to use me for things. It's just all about living, coming into this world and finding your purpose in life. I think I found one of my purposes in life, and of course that's whupping ass and taking names. And I do that very well.
"I've just been blessed tremendously. It's one of the things I can't describe how it transpired. When you have a calling in life, it's just that. I just have a calling all my life. I'm showing the world who I am and what I am."
Fury doesn't exactly identify God as the reason he will win. His explanation vaguely hints at Tarot cards and tea leaves, but he's just as convinced that a mighty wave of predetermination will carry him to his inevitable success on fight night. He claims that it is his seemingly miraculous recovery from an emphatic 12th-round knockdown by Wilder in their first meeting, on Dec. 1, 2018, in Los Angeles, that has cloaked him in virtual invincibility.
"I didn't know I was knocked down," he said of the second of the two times he was dropped by Wilder. "It wasn't a flash knockdown, like in round nine. It was like a knockout. I watched it on tape. He hit me with a right hand and when I was on my way down he hit me with a left hook. It should have been bye-bye. I remember opening my eyes after around four seconds. I thought, `Get up!' I just jumped up. And then Wilder rushes in and hits me with another massive left hook right on the temple. But it was like I was bullet-proof. It was a more damaging shot than the one that buried me. But it wasn't meant to be. It wasn't Wilder's time (to win). It wasn't my time to lose.
"I come from a long line of gypsies going back thousands of years. I'm the latest king of our tribe, our people, whatever you want to call them. I believe it's written in the stars. I don't believe all the hard work, all the dedication, have that much to do with it. You have to do that as well, but some things that have happened to me in my life now make me 100% believe it's written in the stars."
(One has to wonder how Fury's public pronouncement that frequent cunnilingus has helped strengthen his jaw was received by his wife and mother of the couple's five children, the most outrageous such comment since Livingstone Bramble bragged that, counter to standard boxing protocol, he engaged in sexual activity with his wife multiple times a night right up to the day of his bouts.)
For fight fans hesitant to buy into the notion, proffered by either principal, that a higher power has a vested interest in what takes place inside the ropes in this much-anticipated do-over, standard factors are likely to ultimately prove the difference. Can Wilder's superior power get him home should he find the mark with that devastating right hand? Will Fury's more polished boxing skills flummox his bigger-hitting foe all the way to the final bell and a nod on points? Or will Fury keep his word that he will take the fight straight to Wilder in the center of the ring, a radical shift in strategy possibly orchestrated by his new trainer, Javan "Sugar" Hill?
Check out more boxing news on video at The Boxing Channel 
To comment on this story in The Fight Forum CLICK HERE
Wilder – Fury Predictions & Analyses from the TSS Panel of Writers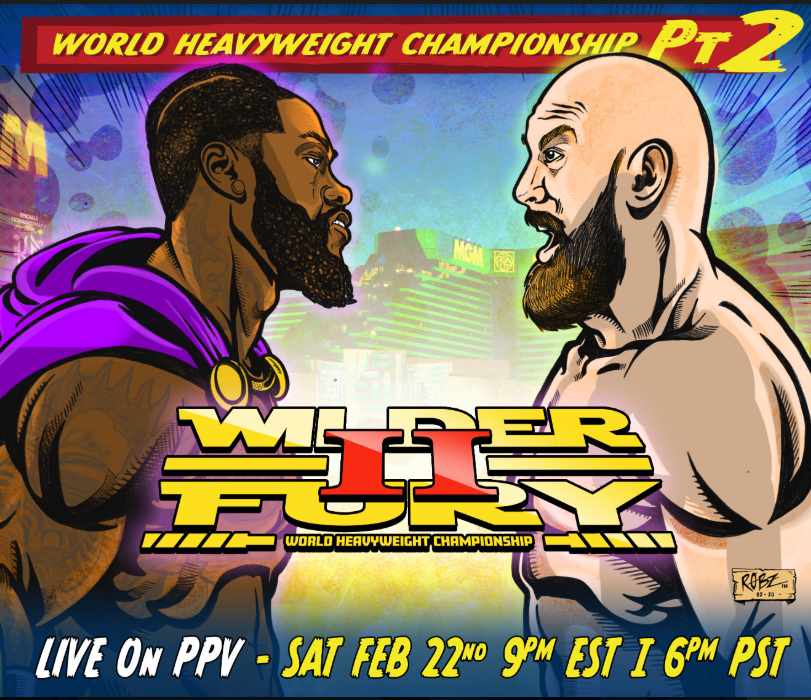 Whenever there is a big fight with a high level of intrigue, we survey members of our writing community to get their thoughts. In terms of pre-fight intrigue, Saturday's rematch in Las Vegas between fellow unbeatens Deontay Wilder (42-0-1, 41 KOs) and Tyson Fury (29-0-1, 20 KOs) ranks among the top heavyweight title fights of all time.
As is our usual custom, we are listing our panelists alphabetically. The graphic is by Colorado comic book cover artist ROB AYALA whose work has attracted a lot of buzz. Ayala's specialty is combat sports. Check out more of his very cool work at his web site fight posium.
MATT ANDRZEJEWSKI — In the first fight, my prediction was that Fury would easily out-box Wilder. I am sticking to my guns with the same prediction for the second fight. I know Fury is making a lot of noise about knocking out Wilder but I think this is more psychological than anything else. Fury will box cautiously behind the jab, pick his spots to counter and focus very carefully on his defense. He is not going to go for the knockout and will turn this into an even more tactical affair than the first fight. But he will be more successful this time and coast to a wide unanimous decision victory.
BERNARD FERNANDEZ — Fury is saying he's going to meet Wilder in the center of the ring and take him out in two rounds. I'm guessing that's a ruse, so I don't put much stock in it. But even if the big Brit elects to outbox Wilder over 12 rounds, which he is capable of doing, that means he has to avoid getting clocked with a huge right hand for 12 rounds. Gotta go with the home run hitter here. Wilder by KO or stoppage in eight rounds.
JEFFREY FREEMAN — Tyson Fury and Deontay Wilder are equally charged with restoring much needed prestige to the heavyweight division in America. It's a long slow slog. As a result, the powers caring about this have to be careful not to give away what they can sell. That's why the first Wilder-Fury fight was called a draw. Neither fighter can afford a loss on their undefeated record and Bob Arum won't be giving paying fans an actual result in exchange for their hard earned PPV dollars. Not yet anyway. So, it's going to happen again! Wilder-Fury II ends in another draw but don't worry, you can pay for the trilogy rubber-match "tie breaker" spectacular soon enough!
ARNE LANG – We performed this exercise before the first-Wilder Fury fight. No one was more bullish on Wilder than me. Properly chastened, I am going to pass the buck this time. Here are the observations of a long-time friend who resides on the Isle of Man and is known for having a sharp opinion: "Fury was cut badly in his last fight and will be very cautious, having tasted Wilder's power. Training at Kronk isn't the same without Manny Steward there. Fury has had multiple distractions and I don't regard him as a world class puncher. DW has 36 minutes to land the one punch that will turn the tide."
KELSEY McCARSON — Can you imagine what Deontay Wilder might feel on fight night? Across the ring from him will again be Tyson Fury, the same fighter who ate Wilder's best punch and got back up on his feet. The only other time Wilder didn't score a knockout was when he faced Bermane Stiverne in 2015. But Wilder broke his right hand in that fight, so he could explain that mystery away until he got the rematch with Stiverne two years later and ended up folding him in half in the first round like a lawn chair. But neither of Wilder's hands were broken against Fury. Worse for the 34-year-old American is that Fury outboxed him for the majority of the fight. I like Fury to win the rematch by decision. Wilder will overcommit on his punches, and Fury will box his ears off for the clear victory.
MATT McGRAIN — Predicting a Tyson Fury fight is rather like predicting the weather. Even with all the pertinent information on hand it's impossible to know exactly what will occur. Fury has been running less but reportedly sparring more; he has spoken openly of targeting 270lbs for the weigh-in; he has a new trainer who may or may not be motivating him; he has looked consistently bored and disinterested at more recent pressers; he has spoken openly of the crushing depression that envelopes him every Sunday. So, we might get an overweight, disinterested, under-motivated Fury on Saturday night. And he still might win. Put me down for Fury on points, but the right answer is, 'nobody knows'.
SEAN NAM — Tyson Fury's body may be as taut as its ever been, but his mind is in free-floating mode these days. Between hinting at an early retirement and opening up about certain sexual proclivities, Fury seems to have one foot perpetually out of the ring. In fact, ever since he linked up with Top Rank, it has been one big, gaudy publicity tour after another for the Manchester man. A stint with the WWE, the publication of his autobiography (as though his legacy in the ring had already been set in stone), and repeated desires to fight in an MMA crossover bout give the impression that Fury may not be as dialed-in for the most important fight of his life. Not to mention, Fury inexplicably canned his former trainer, Ben Davison. Meanwhile, Deontay Wilder, he of the thunderous right-hand fame, has been quiet as a church mouse. Wilder TKO9.
TED SARES –  An in-shape Fury schools Wilder in the early to mid rounds with focus and discipline, but then Wilder's right connects and a stunned Fury backs off. Wilder then presses the action and KOs the giant in the next round – maybe the 9th or 10th – with a windmill shot (left or right) or a paralyzing straight ala Breazeale. We know Fury can go down. We know he can get up. But so also do Wilder and Mark Breland.
PHIL WOOLEVER – Wilder's KO percentage gives him the coin-flip edge (Fury better remember what happened to Stiverne) but I have no clear idea what might happen where I see another draw just as likely as a decision either way. What intrigues me most are the over/under bet propositions listed around the 11th (take the under) and the possibility of this rematch joining a list of outrageous circumstances like the long count, ear bite or paraglider.
Check out more boxing news on video at The Boxing Channel 
To comment on this story in The Fight Forum CLICK HERE