THE TSS Q 'n A: Referee Kenny Bayless
Referees in sports are there to protect the athletes and a byproduct of that objective is that sometimes the quest to protect the participants disappoints the fans. You might not like it and they don't do it intentionally, but it's the referee's job to, especially in boxing, protect the fighters from themselves.
If a boxing referee thinks we have seen enough of a fight, then we've seen enough. The concept to stop a fight is simple but the process can be complicated. There are levels to this game, as they say. And there are levels to the art of refereeing. Referees are caretakers of boxing, present to protect what is in the best interest of the fighters' health and life longevity.
My conversation with Las Vegas-based referee Kenny Bayless teaches us about the referee instincts. "It's a trigger in us, " Kenny Bayless told me about the moment when deciding a fight should be halted. "If we see that he has had enough and that trigger goes off, you just don't pull back from it."
Bayless went to school in the Bay Area at Cal State Hayward and moved to Vegas in 1972 to teach health and physical education, not to referee.
Today, he is one of the most respected referees in boxing. Fighters are supposed to protect themselves at all time. But he explains how referees are there at times to protect the fighters from themselves, or their egos. And when referees draw attention to themself, make a sound, deduct points or God forbid stop a fight before the bloodthirsty mob is satisfied, then they become the bad guy, the focus of fans' ire.Bayless tells how he got started in the referee profession, explains the art of movement and verbal command, and enlightens us about ways to read a fighters' body language in the ring. Bayless also discusses some of the most memorable fights he was involved in, including Floyd Mayweather/Shane Mosley, Amir Khan/Danny Garcia, and Manny Pacquiao/Juan Manuel Marquez IV.
Ray Markarian: What made you want to become a referee?
Kenny Bayless: It's interesting because I was actually recruited to come to Vegas because they were lacking African-American teachers in the area. But I learned real fast that there were not many African-Americans in the area of sports in Las Vegas. You see Ray, I grew up in the Bay Area where we have the Oakland Raiders, the 49ers, the Giants, and Oakland Athletics. When I moved to Vegas they had no professional sports. The only sports teams to follow in Vegas were the UNLV Runnin Rebels and boxing.
RM: So, you went to Vegas to become a teacher? But how did you become involved in boxing?
KB: Well, I went to many boxing events but it wasn't until I went to the Muhammad Ali (versus Jerry Quarry) fight at the Las Vegas Convention Center in 1972. That's what kind of intrigued me to say hey, I want to get more involved. So, I got involved in the amateur program as a judge. And, I continued to go to the Golden Gloves. And my brother Kermit was going to the Golden Gloves with me at the time. So basically what I would do is, I would judge the amateur fights, but when I went to the professional shows, I would score the professional shows and compare it to the professional judges to see how well I did.
RM: That's smart.
KB: Then, one of the judges that I was comparing my notes with said, 'You're in pretty good shape, why don't become a referee?'
RM: OK.
KB: My first response was no, but then I just gave it a try.
RM: Right.
KB: So, I started watching referees a little bit more when I went to the shows. Richard Steele happened to come to town from Southern California. I asked him to show me the art of refereeing. He took me down to one of the local amateur gyms and I started working out with him and some of the amateur fighters. And that's how I got started.
RM: I see. So, what were some of things that you would look for in referees? What makes a good referee?
KB: Well, movement is one of the most important things. There has to be a lot of movement. Every once in a while you'll see a referee get in the way of the fighters but they get out of the way quick because the movement is always consistent. You can't stay in a particular spot. You can slow it down or speed it up but the referee is always moving. That's one of the things I would focus on. And the next thing is verbal command. Referees have to verbally command what they expect a fighter to do, especially if there are any fouls during a course of a fight.
RM: I always notice your eyes in a fight. You make great eye contact. And you seem to talk with your eyes to the fighters. You always look the fighters directly in their eyes to make a point. Is that something you've trained on?
KB: Well, I am very explicit. And it's amazing that you ask that question Ray because I like to express myself to the fighters. I want to let them know that this is the real deal. I want to let them know if I am giving them a soft warning or a hard warning. I don't want the problem to continue to happen because it could be a situation where I start deducting points. And, there have been some photos taken of my eyes that look funny. I can laugh about it now, but when I look at the pictures, the look I am giving is very explicit. And I hope the fighters understand that I want to correct any problem and I don't want it to continue.
RM: I hear you. So, how much different is it to watch a fight from the outside of the ring than it is from the inside?
KB: It's a big difference. As a spectator you see things at certain angles. Your viewpoint depends on the movement of the fighters.
RM: Yeah.
KB: For referees, it's often said that we have the best seat in the house because we can move to see what's going on. We don't sit in one place. We move to see. So, watching the fight inside the ring is completely different. The fans don't get to move like we get to move.
RM: That's true.
KB: So, it is important for me to get in the right position so I can make the right call. Our movement is the key factor. There might be a time or two where we might get out of position, that's just being human, but 99% of time we're right there seeing everything.
RM: So, if you're not moving you're not doing your job. Is that fair to say?
KB: Well, movement works to our favor. See, I'm a former track athlete. I used to run the 400. So, I take a lot of pride in my reaction and my ability to move around the ring because it helps me be in position at the right time and it plays to my advantage. And I always make note of that to the referees coming up, I work out just like the fighters work out.
RM: Really?
KB: Yes. I get on the treadmill and do leg presses to be the best at what I do in the ring. I want to be just as fit for what I do as the fighters are for what they do.
RM: Do you care personally about the fighters when you referee a fight?
KB: Oh, by all means. This is a combat sport and safety is my number one priority. And concussions are a big issue. At the seminar I recently went to in California we learned how to pick up signals for concussions and serious injury. The boxing fan is there to get entertained. And when we have to stop a fight before the fans are thrilled enough then the referee becomes the bad guy.
RM: The fans always want more action and the referee protects the fighters.
KB: Yes. And sometimes we stop a fight before reaching the crescendo that the fans want.
RM: What are some of the things you look for when a fighter is in trouble?
KB: Well, you look at body chemistry. When a fighter is sitting down on his punches before, he might be pushing his punches now. We also look at his eyes. The fighter's eyes can become very glassy and it is hard for anyone else to see that if they are not in the ring. We as referees really get a chance to observe a fighter in between rounds. We have the option to get into his corner and ask a question or two, look at his body chemistry, also look at how he responds to us and to his trainer. We can also ask the fight doctor to take a look.
RM: What kind of questions do you ask the fighters in the corners?
KB: Well, sometimes before I get to the corner, the fight doctor is there before me asking questions and examining the fighter. And the doctor will step back and give me an assessment before the bell rings for the next round. The doctor will say something like 'Hey, keep a close eye on this guy. He might be taking a little too much.' Or he might just say 'The fighter is OK.' So, before that bell rings I already know what I am focused on.
RM: OK. Here is a question. How do you know when to stop a fight? Let's say the fighter is in trouble and in the middle of the round and there is no way out, how do you know when to stop it?
KB: Well, if I get the opportunity between the round to talk to the fighter, if the fighter is just taking too many shots, I go to his corner and say 'Look, I'm going to protect you. If you want to continue fighting, you're going to have to show me something.' So, if he comes out and takes more punishment, I am going to stop the fight. But if he comes out and shows some defense and boxing ability I will let it go. But we have to always stick to safety first.
RM: So, is there any fight that you worked in the past that still bothers you today? Is there any fight that you maybe stopped too soon or let it go too long?
KB: No. That has never gone through my mind. See, I have been involved in fights where fighters have passed. And you never want to be in a situation where you are questioning yourself.
RM: OK.
KB: And I would rather stop a fight sooner than later.
RM: I hear you.
KB: As a matter of fact, I have been involved in three fights* where a fighter has passed. And each circumstance was different. But I have no regret that I let it go too long because I stopped it when I felt the fighter had enough. Unfortunately there were other circumstances that were involved such as the cerebral hematoma and the fighter has passed.
RM: Yeah.
KB: But no. To answer your question, I have never gone back and thought that I should have stopped a fight sooner. It's a trigger in us, Ray. If we see that he has had enough and that trigger goes off, you just don't pull back from it.
RM: Yeah. Well, it is really unfortunate that you were involved in such traumatic fights. But it must have taken you a long time to perfect the instinct to stop a fight.
KB: Yes. What a lot of people don't know is that I feel like the third man in the ring every time I watch a fight on television. I put myself in the situation. So, when certain things are happening when I watch a fight on TV, I officiate it from home. And nine times out of ten, if that referee is on his A game, we will almost come to the same conclusion at the same time.
RM: OK.
KB: We continually train ourselves. And I don't just do it for boxing. When I watch a football game and see pass interference, I am trying to call it. I want to make sure I am sharp in what I see. Because in boxing, we don't have the luxury of calling timeout and looking at a replay. In boxing, we have to call it how we say it.
RM: Yep.
KB: So, we have to train our eyes for what we see. Now, is it possibly for us to miss something here and there? Well, sure it is. We are only human. But I want to be 99% right. It's just about training our eyes to what we see. So when we see it we call it.
RM: Right… Two big fights that stand out to me that you did recently are Mayweather/Mosley and Amir Khan/Danny Garcia. Can you tell me about round 2 of Mayweather/Mosley? What did you think when Mayweather got in trouble?
KB: Well, I'll tell you, when Mosley caught Mayweather with a good shot, I think it was a right hand, he followed it up with a second right hand.
RM: Yeah.
KB: When I saw it that early in the fight I was like 'Oh, boy.' I was not expecting that. You know, I thought the action was going to pick up in the middle rounds. I was just thinking about their style of fighting. But when Mosley hurt Mayweather my first response was 'Oh boy, it is picking up a lot sooner than what I thought.' But then Mayweather took control of the fight from that point.
RM: So, you didn't have any feelings about stopping the fight?
KB: No. The thought never even crossed my mind. Although Mayweather was hurt, he grabbed and held, but his eyes were still clear and he recovered very fast.
RM: OK. Then what about Khan/Garcia? Amir Khan said he was OK. But you still stopped it.
KB: That was a situation where the referee has to protect the fighter.
RM: Yeah.
KB: Amir Khan got up from the first knockdown in a bad situation. And like you said, I asked him if he was OK and if he can continue and he said yes. And, it was towards the end of the round so I was giving him the opportunity to finish the round. So, now he gets a minute rest. But then he goes back out and goes down again. I give him another opportunity. And then he goes down again. So, then after the third knockdown I was just looking at his movement and he just didn't have it. He just didn't. He could have went down maybe four or five more times but there was just no point in letting it go. The punches were accumulating. So for his safety I just stopped the fight.
RM: OK. I respect your opinion. And I think you did the right thing.
KB: Thank you.
RM: Hey, what did you think of Tony Weeks' decision to stop the Canelo/Angulo fight?
KB: "I agree with Tony's decision to stop the fight. I think it was a good decision. Safety is always the first and most important concern. Angulo was taking a lot of shots. And sometimes we have to protect the fighters from themselves. I went to a referee seminar about six weeks ago with Jack Reiss and Big John McCarthy and we were discussing how fighters get concussions while they are still fighting. Most people don't realize that fighters can also get concussions standing up. No matter what, most of the fighters are going to fight through it because they have heart. But that is part of the reason why we have doctors in each corner. So, to answer your question, I do agree with Tony's decision to stop the fight.
RM: What is your favorite type of fight to watch?
KB: Well, I tell people that boxers are entertaining us. They are showing how well their skills match up against their opponent. I don't like to get into who my favorite fighter is. I don't root for one side or another because of my position. I don't have a favorite fighter or a favorite type of fight. I just want both fighters to enter the ring and exit the ring under their own power.
RM: What is the best fight you've refereed?
KB: Shucks, there's been a lot Ray. The third Barrera and Morales was a good one.
RM: Oh, that was a good one.
KB: It was a war of a fight. I did Miguel Cotto and Antonio Margarito.
RM: Oh, you did the first one?
KB: I did the first one. It was a war. Mayweather/De la Hoya was a good highly competitive fight. That's what people want. When Pacquiao fought Morales. When Pacquiao fought Cotto. When Pacquiao fought Marquez, I did the second fight and the fourth fight. And both of those fights were incredible. In the fourth fight, Marquez knocked Pacquiao down in the third round and Pacquiao knocked Marquez down in the fifth round.
RM: Right.
KB: At the end of the fifth round it was one of the scenarios that I explained to you earlier. I go over to Marquez's corner and the fight doctor is looking at Marquez because it appeared he had a broken nose and he was bleeding out of both nostrils. He had a really good working out from Pacquiao. So, I am waiting to see what the doctor says and he tells me to let the fight continue. Then the next round, Marquez knocks Pacquiao out cold.
RM: Yep. That's crazy.
KB: That was a good fight. So, I have been in my share. I can tell you that.
RM: You just reminded me of the Floyd Mayweather/Victor Ortiz fight. When Joe Cortez looked away from the action for a second and Mayweather clocked Ortiz. Can you give me your opinion on that?
KB: Yep. We talk about that fight at the referee seminars. There was not really much that Joe Cortez can do. You know, before the start of each fight we tell the fighters to protect yourself at all times. And when Ortiz intentionally head-butted Mayweather, Joe Cortez stopped it. Then Ortiz apologized immediately. And then Joe was putting Mayweather in the neutral corner and Victor Ortiz went over and apologized to him a third time. So, after Joe put Ortiz in the neutral corner and deducted a point he apologized a fourth time. Well, how many more times are you going to apologize? Then when the action began, and Mayweather understanding the rules that you have to protect yourself at all times said hey, if you don't protect yourself, here we go. Again, there was not a lot Joe could do in that situation. Yeah, it is sad the fight ended that way but there was nothing Joe could do about it.
RM: Well, I appreciate your time Kenny. Is there anything else you would like to get off your chest?
KB: Well, the boxing judges take a pretty hard hit when they score a fight. The sports announcers make comments about how there could possibly be a fix. Personally I don't think they should be hard on the judges because anybody can have a bad day at the office. When people say the fight is fixed it taints the sport. People start making accusations that officials are paid under the table and it's very far from the truth.
RM: Thanks for letting me know. It is refreshing to hear that from an official.
KB: Well Ray, we officials love our sport. We do everything we can to be fair for our sport. Taking money under the table is outrageous as far as I'm concerned. I want the fans to know that we are not on the take. You know, I am a big 49ers fan and I didn't like some of the calls that went against the 49ers in the NFC Championship game. Like I said, I have made mistakes before. It does not mean I am on the take. I just made a mistake just like any human being can make.
*=1st fight — 9/26/1997 James Crayton vs. Johnny Montantes at Orleans Hotel in Las Vegas, NV: The Minnesotan Montantes passed away two days later. He was 28 years old. His record was 28-4 with 22 KOs.
2nd fight — 06/22/2002 Fernando Montiel vs. Pedro Alcazar at MGM Grand in Las Vegas for the WBO super flyweight title: The Panamanian Alcazar passed away two days later. He was 26 years old. His record was 25-1 with 14 KOs.
3rd fight — 07/01/2005 Martin Sanchez vs. Rustam Nugaev at Orleans Hotel, Las Vegas, NV: The Mexican Sanchez passed away the following day. He was 26 years old. His record was 13-8 with 10 KOs.
You can email Ray at Raymond.Markarian@yahoo.com or follow him on Twitter here @raymarkarian
International Brotherhood of Prizefighters Rankings: Week of September 24, 2023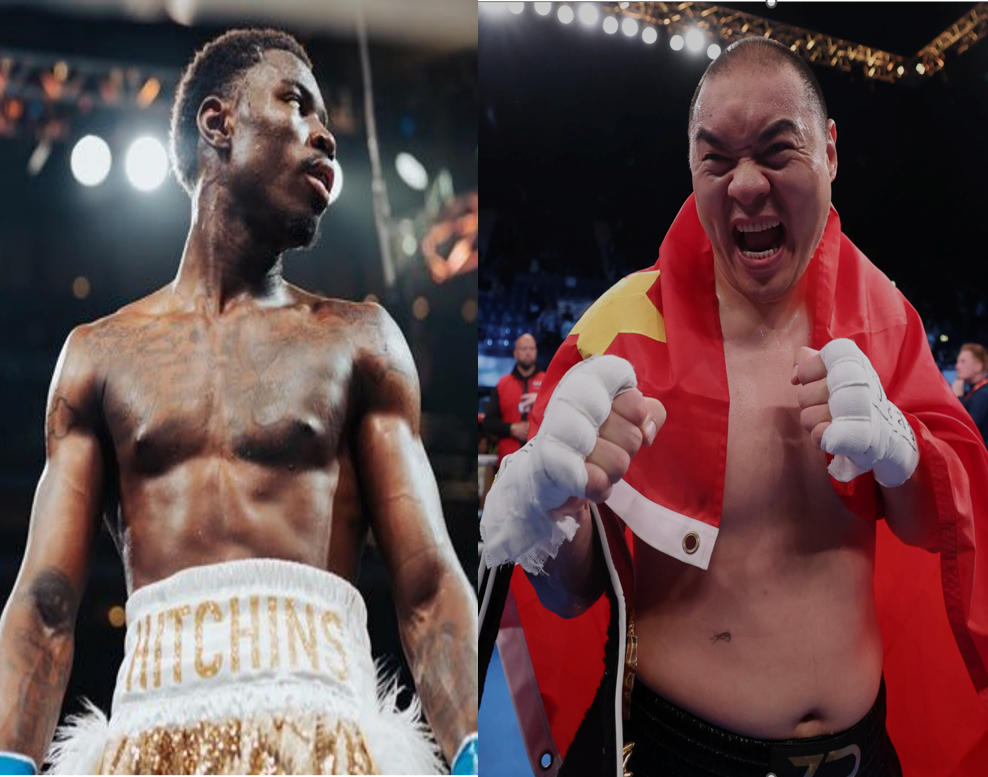 International Brotherhood of Prizefighters Rankings: Week of September 24, 2023

What's in a nickname, you ask?  Zhilei "Big Bang" Zhang exhibited shades of the legendary Brown Bomber, Joe Louis; the exception being he conducts business from the port side.  Zhang's 3rd round stoppage of Joe Joyce sees Joyce exiting the top 10 in the heavyweight division.  Also exiting due to inactivity is Andy Ruiz and Luis Ortiz, who last fought each other on September 4, 2022.  Gaining entries are Daniel Dubois, Dillian White and Derek Chisora, at 8, 9 and 10 respectively.
At 140, Richardson Hitchins earned his asterisk with a one sided decision over Jose Zepada.  Hitchins enters the top 10 in the 7th slot, while Zepeda falls to 8th.  Zhankosh Turarov drops to 9th in the world and immediately underneath him, rounding out the top 10, is Elvis Rodriguez. Scotland's Josh Taylor gets bumped from the 10th slot.
At 108, World Champion Kenshiro Teraji defended his title with a stoppage of 4th ranked Hekkie Budler in round 9 of a scheduled 12.  Budler drops to 7th, see list for reshuffle.
*Please note that when the fighter's name appears with an asterisk it represents a movement in ranking from the previous week.
105lbs
♛ Vacant
1            Thammanoon Niyomtrong (Knockout CP Freshmart) (Thailand)
2            Panya Pradabsri (Petchmanee CP Freshmart) (Thailand)
3            Oscar Collazo (USA)
4            Ginjiro Shigeoka (Japan)
5            Daniel Valladares (Mexico)
6            Yudai Shigeoka (Japan)
7            Melvin Jerusalem (Philippines)
8            Masataka Taniguchi (Japan)
9            Rene Mark Cuarto (Philippines)
10          Yudai Shigeoka (Philippines)
108lbs
♛ Kenshiro Teraji (Japan)
1            Jonathan Gonzalez (Puerto Rico)
2            Masamichi Yabuki (Japan)
3            Sivenathi Nontshinga (South Africa)
4            Elwin Soto (Mexico)*
5            Regie Suganob (Philippines)*
6            Shokichi Iwata (Japan)*
7            Hekkie Budler (South Africa)*
8            Carlos Canizales (Venezuela)
9            Daniel Matellon (Panama)
10          Miel Fajardo (Philippines)
112lbs
♛ Vacant
1            Sunny Edwards (England)
2            Artem Dalakian (Ukraine)
3            Julio Cesar Martinez (Mexico)
4            Angel Ayala Lardizabal (Mexico)
5            David Jimenez (Costa Rica)
6            Jesse Rodriguez (USA)
7            Ricardo Sandoval (USA)
8            Felix Alvarado (Nicaragua)
9            Seigo Yuri Akui (Japan)
10          Taku Kuwahara (Japan)
115lbs
♛ Juan Francisco Estrada (Mexico)
1            Roman Gonzalez (Nicaragua)
2            Kazuto Ioka (Japan)
3            Fernando Martinez (Argentina)
4            Junto Nakatani (Japan)
5            Srisaket Sor Rungvisai (Thailand)
6            Kosei Tanaka (Japan)
7            Andrew Moloney (Australia)
8            Francisco Rodriguez Jr. (Mexico)
9            Pedro Guevara (Mexico)
10         Donnie Nietes (Philippines)
118lbs
♛ Vacant
1            Emmanuel Rodriguez (Puerto Rico)
2            Alexandro Santiago (Mexico)
3            Jason Moloney (Australia)
4            Vincent Astrolabio (Philippines)
5            Gary Antonio Russell (USA)
6            Takuma Inoue (Japan)
7            Nonito Donaire (Philippines)
8            Ryosuke Nishida (Japan)
9            Keita Kurihara (Japan)
10          Paul Butler (England)
122lbs
♛ Vacant
1            Naoya Inoue (Japan)
2            Marlon Tapales (Philippines)
3            Stephen Fulton (USA)
4            Luis Nery (Mexico)
5            Murodjon Akhmadaliev (Uzbekistan)
6            Sam Goodman (Australia)
7            Azat Hovhannisyan (Armenia)
8            Kevin Gonzalez (Mexico)
9            Ra'eese Aleem (USA)
10          Liam Davies (England)
126lbs
♛ Vacant
1            Luis Alberto Lopez (Mexico)
2            Leigh Wood (England)
3            Brandon Figueroa (USA)
4            Rey Vargas (Mexico)
5            Mauricio Lara (Mexico)
6            Robeisy Ramirez (Cuba)
7            Mark Magsayo (Philippines)
8            Josh Warrington (England)
9            Reiya Abe (Japan)
10          Otabek Kholmatov (Uzbekistan)
130lbs
♛ Vacant
1            Emanuel Navarrete (Mexico)
2            Joe Cordina (Wales)
3            Hector Garcia (Dominican Republic)
4            O'Shaquie Foster (USA)
5            Oscar Valdez (Mexico)
6            Shavkatdzhon Rakhimov (Tajikistan)
7            Otar Eranosyan (Georgia)
8            Lamont Roach (USA)
9            Eduardo Ramirez (Mexico)
10          Kenichi Ogawa (Japan)
135lbs
♛ Devin Haney (USA)
1            Gervonta Davis (USA)
2            Vasily Lomachenko (Ukraine)
3            Isaac Cruz (Mexico)
4            William Zepeda Segura (Mexico)
5            Frank Martin (USA)
6            Shakur Stevenson (USA)
7            Maxi Hughes (England)
8            George Kambosos Jr (Australia)
9            Keyshawn Davis (USA)
10          Raymond Muratalla (USA)
140lbs
♛ Teofimo Lopez (USA)
1            Regis Prograis (USA)
2            Jose Ramirez (USA)
3            Jack Catterall (England)*
4            Subriel Matias (Puerto Rico)*
5            Arnold Barboza Jr. (USA)*
6            Gary Antuanne Russell (USA)*
7            Richardson Hitchins (USA)*
8            Jose Zepeda (USA)*
9            Zhankosh Turarov (Kazakhstan*)
10          Elvis Rodriguez (Dominican Republic)*
147lbs
♛ Terence Crawford (USA)
1            Errol Spence (USA)
2            Jaron Ennis (USA)
3            David Avanesyan (Russia)
4            Cody Crowley (Canada)
5            Alexis Rocha (USA)
6            Rashidi Ellis (USA)
7            Souleymane Cissokho (Senegal)
8            Roiman Villa (Venezuela)
9            Egidijus Kavaliauskas (Lithuania)
10          Shakhram Giyasov (Uzbekistan)
154lbs
♛ Jermell Charlo (USA)
1            Tim Tszyu (Australia)
2            Brian Mendoza (USA)
3            Jesus Alejandro Ramos (USA)
4            Sebastian Fundora (USA)
5            Erickson Lubin (USA)
6            Michel Soro (Ivory Coast)
7            Magomed Kurbanov (Russia)
8            Tony Harrison (USA)
9            Israil Madrimov (Uzbekistan)
10          Bakhram Murtazaliev (Russia)
160lbs
♛ Vacant
1            Gennady Golovkin (Kazakhstan)
2            Carlos Adames (Dominican Republic)
3            Zhanibek Alimkhanuly (Kazakhstan)
4            Chris Eubank Jr. (England)
5            Liam Smith (England)
6            Sergiy Derevyanchenko (Ukraine)*
7            Vincenzo Gualtieri (Germany)
8            Felix Cash (England)
9            Michael Zerafa (Australia)
10          Esquiva Falcao (Brazil)
168lbs
♛ Canelo Alvarez (Mexico)
1            David Benavidez (USA)
2            Caleb Plant (USA)
3            Christian Mbilli (France)
4            David Morrell (Cuba)
5            John Ryder (England)
6            Pavel Silyagin (Russia)
7            Vladimir Shishkin (Russia)
8            Carlos Gongora (Ecuador)
9            Jaime Munguia (Mexico)
10          Demetrius Andrade (USA)
175lbs
♛ Artur Beterbiev (Canada)
1          Dmitry Bivol (Russia)
2          Joshua Buatsi (England)
3          Callum Smith (England)
4          Joe Smith Jr. (USA)
5          Gilberto Ramirez (Mexico)
6          Anthony Yarde (England)
7          Dan Azeez (England)
8          Ali Izmailov (Russia)
9          Michael Eifert (Germany)
10        Igor Mikhalkin (Germany)
200lbs
♛ Jai Opetaia (Australia)
1            Mairis Breidis (Latvia)
2            Chris Billam-Smith (England)
3            Richard Riakporhe (England)
4            Aleksei Papin (Russia)
5            Badou Jack (Sweden)
6            Arsen Goulamirian (France)
7            Lawrence Okolie (England)
8            Yuniel Dorticos (Cuba)
9            Mateusz Masternak (Poland)
10          Ilunga Makabu (So. Africa)
Unlimited
♛ Oleksandr Usyk (Ukraine)
1            Tyson Fury (England)
2            Zhilei Zhang (China)
3            Deontay Wilder (USA)
4            Anthony Joshua (England)
5            Filip Hrgovic (Croatia)
6            Arslanbek Makhmudov (Russia)*
7            Frank Sanchez (Cuba)*
8            Daniel Dubois (England)*
9            Dillian White (England)*
10          Derek Chisora (Zimbabwe)*
To comment on this story in the Fight Forum, CLICK HERE.
Canelo-Charlo Gets All the Ink, but Don't Overlook the Compelling Match-up of Gassiev-Wallin in Turkey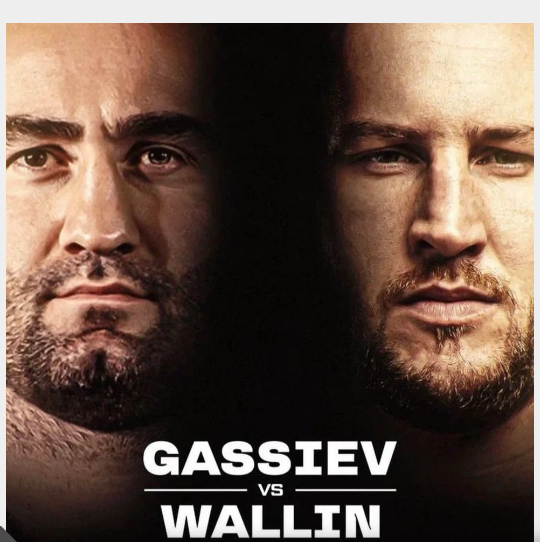 Canelo-Charlo Gets All the Ink, but Don't Overlook the Compelling Match-up of Gassiev-Wallin in Turkey
The eyes of the boxing world will be on Las Vegas this Saturday where Mexican superstar Saul "Canelo" Alvarez risks his four super middleweight title belts against unified 154-pound champion Jermell Charlo. Earlier that day at a luxury resort hotel in the city of Antalya on the Mediterranean coast of Turkey, there's a heavyweight match sitting under the radar that may prove to be the better fight. It's an intriguing match-up between former world cruiserweight title-holder Murat Gassiev and Swedish southpaw Otto Wallin, a bout with significant ramifications for boxing's glamour division.
Gassiev (30-1, 23 KOs) and Wallin (25-1, 14 KOs) have only one loss, but those setbacks came against the top dogs in the division. Gassiev was out-boxed by Oleksandr Usyk back in the days when both were cruiserweights. Wallin gave Tyson Fury a world of trouble before losing a unanimous decision.
Since those fights, both have been treading water.
Gassiev
Gassiev was inactive for 27 months after his match with Usyk while dealing with legal issues and an injury to his left shoulder. He is 4-0 (4 KOs) since returning to the ring while answering the bell for only eight rounds. The only recognizable name among those four victims is German gatekeeper Michael Wallisch. After stopping Wallisch, Gassiev was out of action for another 13 months while reportedly dealing with an arm injury.
A first-round knockout of Carlouse Welch, an obscure 40-something boxer from the U.S. state of Georgia on Aug. 26, 2022, in Belgrade, Serbia, was promoted as a title fight. The sanctioning body was the Eurasian Boxing Parliament (insert your own punchline here). Gassiev followed that up with a second-round knockout of former NFL linebacker Mike Balogun who came in undefeated and was seemingly a legitimate threat to him.
Although he has yet to fight a ranked opponent since leaving the cruiserweight division, Gassiev — a former stablemate of Gennady Golovkin who has been living in Big Bear, California, training under Abel Sanchez – is one of the most respected fighters in the division because he has one-punch knockout power as Balogun and others can well attest. The rub against the Russian-Armenian bruiser is that he is somewhat robotic.
Wallin
Otto Wallin, a 32-year-old southpaw from Sweden who trains in New York under former world lightweight champion Joey Gamache, fought Tyson Fury on Sept. 14, 2019 at the MGM Grand in Las Vegas. There was a general feeling that the Swede would be a stroll in the park for Fury, but to the contrary, he gave the Gypsy King a hard tussle while losing a unanimous decision.
Wallin is 5-0 since that night beginning with victories over Travis Kauffman (KO 5) and Dominic Breazeale (UD 12), but his last three opponents were softer than soft and all three lasted the distance. In order, Wallin won an 8-round decision over Kamil Sokolowski, who was 11-24-2 heading in, won a 10-round decision over ancient Rydell Booker, and won an 8-round decision over Helaman Olguin. His bout with Utah trial horse Olguin was at a banquet hall in Windham, New Hampshire.
It isn't that Wallin has been avoiding the top names in the division; it's the other way around. His promoter Dmitriy Salita reportedly came close to getting Wallin a match with Anthony Joshua whose team had second thoughts about sending Joshua in against another southpaw after back-to-back setbacks to Oleksandr Usyk.
Gassiev vs Wallin is a true crossroads fight. Both are in dire need of a win over a credible opponent. At last look, Gassiev, who figures to have the crowd in his corner, was a 3/1 favorite.
To comment on this story in the Fight Forum CLICK HERE
Skavynskyi and Bustillos Win on a MarvNation Card in Long Beach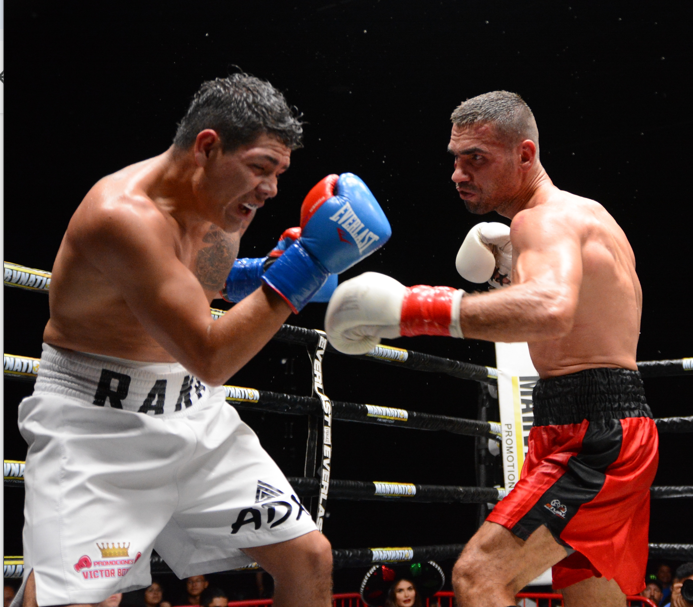 Skavynskyi and Bustillos Win on a MarvNation Card in Long Beach
LONG BEACH, Ca.-A cool autumn night saw welterweights and minimumweights share main events for a MarvNation fight card on Saturday.
Ukraine's Eduard Skavynskyi (15-0, 7 KOs) experienced a tangled mess against the awkward Alejandro Frias (14-10-2) but won by decision after eight rounds in a welterweight contest at the indoor furnace called the Thunder Studios.
It was hot in there for the more than 600 people inside.
Skavynskyi probably never fought someone like Mexico's Frias whose style was the opposite of the Ukrainian's fundamentally sound one-two style. But round after round the rough edges became more familiar.
Neither fighter was ever damaged but all three judges saw Skavynskyi the winner by unanimous decision 79-73 on all three cards. The Ukrainian fighter trains in Ventura.
Bustillo Wins Rematch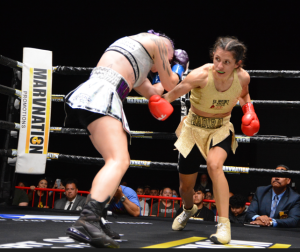 In the female main event Las Vegas' Yadira Bustillos (8-1) stepped into a rematch with Karen Lindenmuth (5-2) and immediately proved the lessons learned from their first encounter.
Bustillos connected solidly with an overhand right and staggered Lindenmuth but never came close to putting the pressure fighter down. Still, Bustillos kept turning the hard rushing Lindenmuth and snapping her head with overhand rights and check left hooks.
Lindenmuth usually overwhelms most opponents with a smothering attack that causes panic. But not against Bustillos who seemed quite comfortable all eight rounds in slipping blows and countering back.
After eight rounds all three judges scored the contest for Bustillos 78-74 and 80-72 twice. Body shots were especially effective for the Las Vegas fighter in the fifth round. Bustillos competes in the same division as IBF/WBO title-holder Yokasta Valle.
Other Bouts
In a middleweight clash, undefeated Victorville's Andrew Buchanan (3-0-1) used effective combination punching to defeat Mexico's Fredy Vargas (2-1-1) after six rounds. Two judges scored it 59-55 and a third 60-54 for Buchanan. No knockdowns were scored.
A super lightweight match saw Sergio Aldana win his pro debut by decision after four rounds versus Gerardo Fuentes (2-9-1).
Photos credit: Al Applerose
To comment on this story in the Fight Forum CLICK HERE