The Decision In The Last Fight Is A Blessing In Disguise For Pacquiao This Time
Sometimes a great fighter can lose a fight, or a decision can go against him that most everyone felt that he won…and it can be a blessing in disguise.
That was exactly the case on March 8, 1971, when "Smokin" Joe Frazier beat Muhammad Ali conclusively via a 15-round unanimous decision in the "Fight Of The Century" when both were undefeated with the undisputed heavyweight title on the line.
The March 15th edition of Sports Illustrated had on its cover a picture of Ali falling to the canvas in the 15th round, with the caption "End Of The Ali Legend."
And to this day it can be said with impunity that Ali, the most important boxer who has yet lived, actually lost the biggest and most widely anticipated sporting event, not fight, in history.
At the time many Ali fans were in tears and depressed immediately after Frazier defeated him. Yet, as history would unfold and now all these years looking back, the best thing to ever happen to Ali in the ring is that Joe Frazier beat him fair and square when they met the first time. Had Ali beaten Frazier by unanimous decision he may not be considered the greatest heavyweight ever as he is today, by many. Frazier's defeat of Ali solidified Joe as an all-time great fighter and gave Ali something to prove since he really never had to overcome adversity before. However, before Ali got a chance to settle the score with Frazier, young George Foreman knocked Joe out for the undisputed title in two rounds. Foreman beating Frazier, who recently beat Ali, propelled him to the top of the food chain and provided Ali with two legitimate greats who stood in his way, two fighters that he would have to eventually defeat if he ever were to gain the title again.
As we saw Ali came back and beat Frazier in their rematch and then knocked out the undefeated Foreman nine months later to become only the second fighter in history to lose and regain the undisputed heavyweight title. After making three defenses of the title Ali stopped Frazier in their rubber match, "The Thrilla In Manila," to retain the title. In short it's Ali's victories over Frazier and Foreman that are a monumental reason why he's the icon and legend he is today. So remember, had he defeated Frazier the first time that wouldn't have been possible and we probably would've never found out that Foreman was one of the greats as well. In essence, Ali losing the "Fight Of The Century" was really the best thing that ever happened to him. Today, the Sport Illustrated cover would show the same picture of Ali going down with the caption "Beginning Of The Ali Legend."
Almost exactly 22 months ago to the day former WBO welterweight title holder Manny Pacquiao 55-5-2 (38) lost his title via a 12-round split decision to Timothy Bradley 31-0 (12). When the decision was announced favoring Bradley, Pacquiao and the boxing world were stunned. Virtually everyone who saw the fight live or on PPV-TV saw Pacquiao as the overwhelming winner. Even Bradley said he had to go home and watch the tape to see if he won. Since the decision in their first fight was rendered that's all we've heard discussed regarding these two fighters.
Everybody has been in an uproar over what so many perceive as an unjust decision and view the winner of the fight as the loser, and the loser as the winner. Well, it just so happens that the decision that went against Pacquiao against Bradley in their first fight just may be the best thing that he has going for him when they meet in a rematch this coming Saturday night.
The stories surrounding Pacquiao since the fight, which only started after the decision was read, have been focused on what he needs to do to win this time and how he must re-discover his aggression and so-called eye of the tiger that he carried to the ring when he stopped Oscar De La Hoya, Ricky Hatton and Miguel Cotto in consecutive fights circa 2008/2009. But that's a little misleading… because if Manny really did handle Bradley the first time, which he did, then why does he have to practically reinvent himself this time? Really, he doesn't.The last time they fought Manny was aggressive, but Bradley's hand and foot-speed along with his unorthodoxy stymied Pacquiao a little bit. But as we saw, it wasn't enough so that Bradley actually bettered him. What it did was basically help Bradley extend the fight and it forced Pacquiao to rush him, sometimes carelessly, which afforded a couple easy openings and counters for Bradley. However, this time that won't be enough to carry Bradley to the decision and he and his trainer Joel Diaz know it.
Because of the decision in the last fight it's Bradley who has to change and be better this time, not so much Pacquiao. In the rematch Saturday night Bradley has to try and win two fights in one and must prove that he really did deserve the decision in the first one. I've seen where so many, including myself, are picking Pacquiao to win this time because we feel that the bout will go the distance. Subconsciously, we believe that as long as the fight is relatively competitive and close, Pacquiao will get the makeup call, the decision, because he's still the star and the draw in the fight. Plus, it makes for better business.. and if Manny wins the dream of a faux Super Fight with Floyd Mayweather lives on.
And guess what? Team Bradley is very cognizant of this too.
Since getting the decision over Pacquiao, Bradley has faced and legitimately beaten a beast named Ruslan Provodnikov and the other active boxing professor aside from Mayweather, Juan Manuel Marquez. There's no way in the world that Bradley and his brain trust want to waste three consecutive big wins because they were tentative and didn't do enough to convince the judges again that Timothy beat Manny. No, Bradley wants to put Pacquiao behind him and start campaigning for Mayweather. Bradley knows that the sentiment with the judges this time is going to lead them to look for every reason in the world to give the fight to Pacquiao if it comes down to a decision. Which means he's really going to have to make a statement against Pacquiao in this fight. But how does he do that? He survived the last fight a lot because he kept it from becoming a war and an all out fight. This time Bradley will have to land as many memorable shots as Pacquiao and he may actually have to beat him up a little, something he didn't do the last time. Well, Bradley cannot do that by simply trying to box and pick his spots. He'll have to at different times during the bout take a chance and try to stand his ground against Manny and win the exchange with an exclamation point. And guess what, if Bradley fights like that and with a mindset that he really has to win it beyond a doubt this time, that works to Pacquiao's advantage in a big way.
The best thing for Pacquiao would be to have in front of him is a Bradley who is willing to fight and trade, and not box. And say Bradley tries to fight Pacquiao straight up a few times during the fight and realizes it's too risky and dangerous and reverts back to moving and boxing and only looking to react after he's sure it's safe. You know what, he'll look like he's running and trying to avoid fighting. Is there even a morsel of a doubt as to how that will look to the judges and fans? Of course not, and Pacquiao will have to get the decision.
Let's play it from the other end and say Bradley actually engages with Pacquiao and does better this time than he did in their last fight, but still loses the decision. Then he'll say afterwards that "he did better this time and should've won." So as you can see the decision that went against Pacquiao the last time is the biggest thing he has going for him this time because Bradley is a victim of it and his hand is actually forced strategically in a way that it wasn't the first time. No, it won't hurt Pacquiao if he can fight with the urgency he used to have when he was knocking everybody out. But it's obvious that he's not the same fighter in 2014 that he was in 2009 and that tireless non-stop punching machine is gone forever. However, he may not have to be quite the supernova he was then because Bradley has to bring it a little more himself this time and he knows that. And that serves Pacquiao really well for the rematch.
The decision that went against Pacquiao the last time he fought Bradley will be a big plus for him on Saturday night, April 12, 2014, both in how the fight unfolds strategically in the ring and how it's scored by the officials.
Frank Lotierzo can be contacted at GlovedFist@Gmail.com.
What Next for Gabriel Rosado?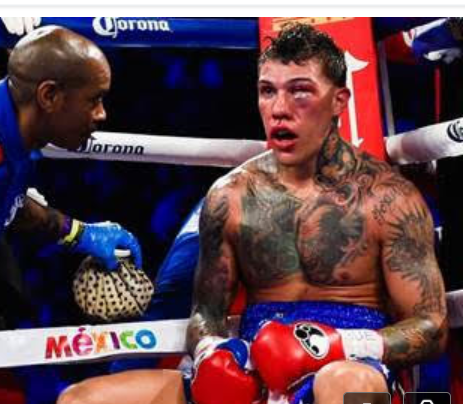 Bektemir Melikuziev, Freddie Roach, Edgar Berlanga, and Jaime Munguia are names that, one way or another, figured into Gabe Rosado's stunning KO last Saturday night in El Paso. It overshadowed the impressive showing by Noaya "Monster" Inoue later that night in Las Vegas.
Rosado (26-13-1) is a well-documented bleeder and just might start spurting during the walk-in, but he is never, ever in a dull fight. The tougher-than-tough Philadelphian won Top Gore honors for his blood and guts TKO loss to Canadian middleweight star David Lemieux in 2014. The year before, he bled aplenty in his game but losing effort against Gennady Golovkin.
This time against Melikuziev, the unbeaten Uzbek, the fight ended in round three when the 35-year-old underdog beat the Eastern Euro fighter to the punch during an exchange of rights with Gabe's landing first and sending the former amateur star into dreamland. The force of the blow was amplified by the younger and faster man coming forward with caution to the wind. And this time, there was no bloodletting.
The knockout should be a contender for KO of the Year. In fact, it was reminiscent of Juan Manuel Marquez's explosive knockout of Manny Pacquiao in their final match.
Once again, Rosado (who is now trained by Freddie Roach) has revived his career and can count on at least one last decent payday. While many think Jaime Munguia would be a solid next fight, the thinking here is that Rosado could get carved up by the undefeated Tijuana veteran who has won 30 of his 37 fights by KO. Munguia is just too good.
The Catch 22
Rosado is an all-action fighter but scar tissue and his propensity to bleed is his worst enemy. It has cost him in the past. For such an offensive-minded fighter as Gabe, he is trapped in a terrible catch-22. If he can get the lead early and the bleeding is stemmed within reasonable limits, he can be a force, but not against the likes of Munguia.
If not Munguia, then who?  Here is one suggestion: How about "The Chosen One," Edgar Berlanga (17-0) whose first round KO streak recently came to an end. Brooklyn vs. Philadelphia would be a nice added touch –not to mention the Puerto Rican factor. Could Rosado expose Berlanga as someone without enough experience, aka rounds? Would Gabe show that Berlanga is more Tyson Brunson that Edwin Valero?
Let's make it happen!
Ted Sares enjoys researching and writing about boxing. He also competes as a powerlifter in the Master-class. He can be reached at  tedsares@roadrunner.com
Check out more boxing news on video at the Boxing Channel
To comment on this story in the Fight Forum CLICK HERE
Fast Results from Las Vegas: Inoue Demolishes Dasmarinas; Mayer UD Farias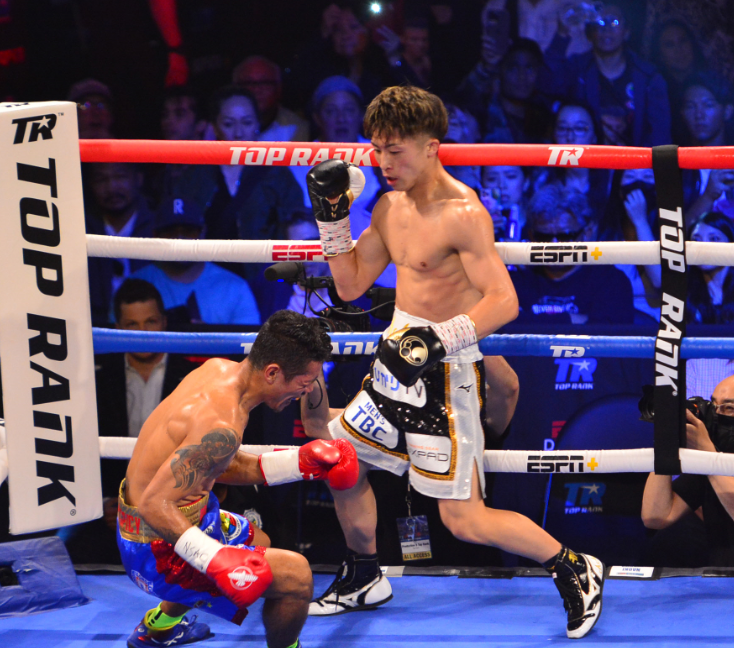 Fast Results from Las Vegas: Inoue Demolishes Dasmarinas; Mayer UD  Farias
LAS VEGAS — Top Rank was at the Virgin Hotels in Las Vegas on Saturday, June 19, for the second of their three June shows. In the headliner, WBA/IBF world bantamweight champion Naoya "Monster" Inoue lived up to his nickname with a vicious third round stoppage of Filipino import Michael Dasmarinas.
Inoue (21-0, 18 KOs) had his opponent fighting off his back foot from the opening bell. He knocked down Dasmarinas in the second with a left hook to the liver and twice more in the third round before referee Russell Mora waived it off. The official time was 2:45.
Dasmarinas brought a 30-2-1 record and hadn't lost since 2014. But he was no match for the "Monster" who looks younger than his 28 years. Those body shots landed with a thud that could be heard in the far reaches of the arena. This kid is really good.
Mikaela Mayer continues to improve as she showed tonight in the first defense of her WBO world super featherweight title. Mayer 15-0 (5) turned away Argentina's Erica Farias (26-5) with a 10-round unanimous decision in a fight that was frankly rather monotonous.
Mayer won by scores of 97-93 and 98-92 twice. Farias, who landed the best punch of the fight, didn't have the taller Mayer's physical equipment but yet landed the best punch of the fight. Her only setbacks have come on the road against elite opponents—Cecilia Braekhus, Delfine Person, Jessica McCaskill (twice) and now Mikaela Mayer.
The opener on the ESPN portion of the show was a lusty 10-round welterweight affair between Ghana native Isaac Dogboe and Glendale, California's Adam Lopez. Dogboe, whose only losses came at the hands of Emanuel Navarette in world title fights, improved to 22-2 by dint of a majority decision that could have easily gone the other way. Dave Moretti had it a draw but was overruled (97-93 and 96-94).
Lopez, one of two fighting sons of the late Hector Lopez, an Olympic silver medalist, did his best work late, particularly in the eighth round. With the loss, his record declines to 15-3.
Other Bouts
Monterrey, Mexico super lightweight Lindolfo Delgado, a 2016 Olympian, was extended the distance for the first time in his career but won a wide 8-round decision over Guadalajara's Salvador Briceno
Delgado won by scores of 80-72 and 79-73 twice while advancing his record to 12-0. Delgado's best round was the eighth, but Briceno (17-7) weathered the storm. Briceno is 5-6 in his last 11, but has been matched tough. The six fighters to beat him, including Delgado, were a combined 78-3 at the time that he fought them.
Vista, California lightweight Eric Puente has yet to score a KO but he is undefeated in six starts after winning a unanimous decision over Mexico's Antonio Meza (7-6). Puente, who is trained by Robert Garcia, knocked Meza down early into the fight with a sweeping left and was the aggressor throughout. The judges had it 57-56 and 58-55 twice.
Puerto Rican super lightweight Omar Rosario improved to 4-0 (2) with a fourth-round stoppage of Reno, Nevada's Wilfred "JJ" Moreno (3-1) The official time was 0:47.
Photo credit: Al Applerose
To comment on this story in the Fight Forum CLICK HERE
Munguia and Rosado Win by Stoppage in El Paso; Rosado in a Spectacular Fashion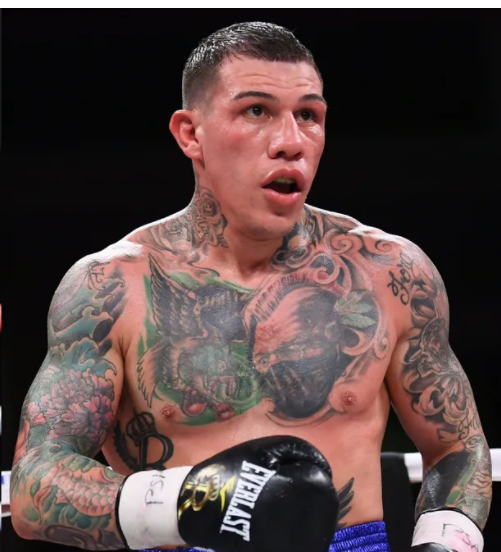 Munguia and Rosado Win by Stoppage in El Paso, Rosado in a Spectacular Fashion
Golden Boy Promotions and their broadcasting partner DAZN were at the Don Haskins Center on the campus of the University of Texas at El Paso today for a rare afternoon card. The honchos at GBP didn't want to go head-to-head with competing shows on ESPN, Showtime, and Triller, the latter of which fell out when headliner Teofimo Lopez tested positive for Covid-19.
There were 10 fights scheduled with the four main fights going first and the undercard bouts bundled into the posterior.
The main event was a 12-round middleweight contest between Tijuana's Jaime Munguia (37-0, 30 KOs), the former WBO 154-pound title-holder, and Poland's Kamil Szeremeta (21-2) who was stepping in for countryman Maciej Sulecki who pulled out of this fight twice. The Pole was making his first start since getting bushwacked by Gennadiy Golovkin in a bout on which he was on the deck four times before his corner pulled him out.
His corner stopped this fight as well, the end coming at the conclusion of the sixth frame. After a feeling-out round, Munguia, who is trained by his Tijuana homey Erik Morales, stepped it up. Knowing that Szeremeta was a light puncher, he had no worry about anything coming back at him. There were no knockdowns, but the fight turned progressively more one-sided and the stoppage was warranted.
Co-Feature
In the co-feature, slated for 12 in the 168-pound class, 35-year-old Philadelphia warhorse Gabe Rosado (pictured) stole the show with a spectacular one-punch knockout over previously undefeated Bektemir "Bec The Bully" Melikuziev.
A 2012 Olympic silver medalist for Uzbekistan, Melikuziev dominated the first two rounds, knocking down Rosado in the first with a combination of punches. He worked the body effectively for the first two rounds and it appeared that he was too strong for the Philadelphian. But Rosado (26-13, 15 KOs), blasted him out in the third, beating him to the punch with a right hook that landed flush on the Uzbek's jaw.
The referee didn't bother to count. Melikuziev was 7-0 (6) heading in. Jaime Munguia may be next for Rosado.
Other Bouts
In a good-action fight that was marred by questionable scoring, native Texan Marlen Esparza, a bronze medalist at the 2012 London Olympics, wrested the WBO world flyweight title from Mexico's Ibeth Zamora. Esparza (10-1, 1 KO) sprinted out of her corner at the opening bell only to suffer a knockdown before the fight was 90 seconds old. She fought her way back into the fight, winning the match in the eyes of the judges (97-92, 96-93, 95-94) but not in the eyes of the few fans in attendance who booed when the scores were announced.
It was a hard pill to swallow for the 32-year-old Zamora, now 32-7, who had won 17 of her last 18 heading in.
In his best showing to date, 31-year-old welterweight "prospect" Blair "The Flair" Cobbs scored a fifth-round stoppage over 38-year-old Georgia campaigner Brad Solomon. This was a fairly even fight through four rounds, but Solomon was showing signs of fatigue when Cobbs dropped him to his knees with a big left hand, leading the referee to call it off.
Blair the Flair, who has been training with Freddie Roach, improved to 15-0-1 (10). Solomon, who learned to fight in prison, declined to 29-4.
Check out more boxing news on video at the Boxing Channel
To comment on this story in the Fight Forum CLICK HERE