Battle Hymn – Part 9: Gone to Glory
Live not for battles won.
Live not for the-end-of-the-song.
Live in the along.
—Gwendolyn Brooks
Anyone looking for Aaron Wade in the early 1970s could find him at the Anchor Rescue Mission, a storefront church located at 1253 McAllister Street. It was in the Fillmore district, only a few blocks from the flat he rented thirty years before.
Much had changed. Between 1940 and 1970, the black population in San Francisco shot up from 4,846 to 96,078. In 1956, a federally-funded urban renewal project began in the Fillmore that saw large sections of Fillmore Street and McAllister Street declared blighted areas and razed. Thousands of black renters were evicted (they called it the "Negro Removal Project"). Among the leaving were Japanese Americans who had returned to their homes after World War II only to be forced out again. More than a decade later, whole blocks of the Fillmore remained flat and vacant. There were fewer jobs, more displaced people, more crime, and more desperation.
Little Tiger Wade had changed too. The ex-fighter was now known as the Reverend Aaron Wade and instead of knocking guys over, he was lifting them up out of the gutter.
The area was overrun with street people by then—ex-cons, runaways, dead-eyed addicts, winos lying in their own waste—and they needed a lift. Wade didn't see their disease or sin, he saw himself in their eyes. He saw someone else too. The 25th chapter of Matthew's Gospel was ringing in his ears: "I was hungry and you gave me something to eat, I was thirsty and you gave me something to drink, I was a stranger and you invited me in, I needed clothes and you clothed me, I was sick and you looked after me, I was in prison and you came to visit me. For," Christ told him, "whatever you did for one of the least of these, you did for me."
"We feed, clothe and bathe unfortunates," Reverend Wade said. "No questions are asked. All we want is that they listen to what the Lord has to say in guiding them into a better, more peaceful life."
Wade was a pastor at the Anchor Rescue Mission.
The mission operated out of two adjacent storefronts. One served as a chapel, complete with pulpit, piano, and about seventy fold-out chairs. A curtain separated the chapel from a spacious kitchen. The other stored donations of food and clothing and had showering facilities. The mission had no official status as a church and was unaffiliated with any denomination or agency. This allowed its ministers to serve the community without interference. Its acronym, "A.R.M" was meant to signify its purpose as the "arm" of the church.
The ministry was held together by two Baptist ladies. Sister Josephine Drayton often led the service and Sister Evoyne Crook played the grand piano. Volunteers trickled in during the afternoon to help prepare dinner. Brother Daniel Thomas, a Roman Catholic, was among them. He fondly recalled how elaborate and nutritious those dinners were and how they were, on occasion, "miraculously provided at the last minute." There were times that the good sisters would inform the volunteers that they would have to "go to prayer" because there was not enough food for dinner. There was a small room near the kitchen and they would troop in there and kneel down with their arms resting on the cushions of sofas. "Often," he said, "Sr. Crook or Sr. Drayton would just shout out, 'It's done! Praise God! He's answered our prayer.'" At that moment, Brother Daniel said, "the phone would ring and they would find out that some company that supplied catered meals for special occasions had some left over 'chicken cordon blue' and could we have a use for it!"
Before dinner was the evening service, which began at 6:30 and included hymns, testimony, a sermon, and the "Altar call," which was an invitation for anyone to come forward and accept Christ or ask for prayers. It was a strict operation. Anyone who wanted to eat had to be inside before the sermon began because the door was locked right on queue. This caused grumbling among the cranks, but what they got was worth a few Alleluias. On some nights a straggler locked outside would kick the door and curse a blue streak. The staff inside would pray aloud at that: "Just touch that one, O Lord!" "Heal him of the cursing demon!" The sisters were just as strict with the volunteer preachers. The sermon, they told them, could not be less than a half-hour in length. Brother Daniel recalled Sister Crook's warning, "—if you stop short of 30 minutes I fill in for you."
The Anchor Rescue Mission was a special place. After the sisters were notified that Brother Daniel was in a coma after a small airplane he was in crashed in Wisconsin, they immediately gathered everyone together in Jesus's name and then wrote a letter letting him know that they had prayed for him. "Their letter was dated four days after the plane crash," Brother Daniel told me, "and that was exactly the day I came out of the coma!"
Reverend Wade walked to the mission every evening for years. He led the Sunday night service, ran prayer meetings on weekday evenings, and held Bible classes four times a week. He sang those very hymns he ignored years earlier when passing beneath church windows on his way to a good time. I bet he sang them louder than anyone. When there was a problem (and "unruly or dangerous guests were always a problem" recalled one volunteer), I bet Wade kept the peace. When he was finished, he took a bus back to his apartment.
His day-to-day work with the poor over the last decade of his life will never be known—it was done as the best good deeds are always done, quietly and without fanfare. What is known is that he was the happiest man on skid row. "I'm not what I'm supposed to be as a Christian and not even what I'd like to be, but thank God," he said, "I'm not what I used to be."
Early in 1985, Wade complained of pain in his arm. His wife Sallie was concerned enough to call Alan and Harvey and they drove over to his apartment to take him to the hospital, but Wade shrugged it off. His spirits were up. He was on the brink of retiring from his day-job at the Gallo Wine warehouse.
On February 15, he punched out for the last time and went to his locker. His co-workers waited outside to take him to the big send-off they had planned. When the wait became too long, they went back inside to check on him.
Wade was unconscious on the floor. An ambulance was called and he was transported to Kaiser Hospital where he was pronounced dead of a heart attack.
Tributes poured in. "He was one of the best action fighters in the city's long boxing history," said a retired referee who knew him. "He really could punch. He was capable of putting an opponent away with one blow." But it was his secret work with the poor that stood out, and his words echoed in the hearts of his many friends. "Helping others gives me a good feeling," he would always say.
Funeral services were held at the Bay View Bible Church on Mandel Street before his body was shipped to his mother in Peoria, Illinois. There, in the city where the Little Tiger's battle hymn began, another service was held, and he was laid to rest at Springdale Cemetery.
…..
Willie Mae Wade, 88, wasn't alone as she walked to her son's grave on that frosty morning in 1985. She held a memorial in her hand and remembered another walk, decades before, to the train station in Tennessee. She was young then, young and determined to go north to the Promised Land. She thought of things past and things passing. She thought of her children—how they crowded her mind then and now. This one, named for a grandfather born a slave, was special. He touched her soul.
She gazed at the coffin and dabbed her eyes.
The sun blinked behind the trees in shadow and light, like hope striving.
---
Photo: "Late Sunrise" (http://www.notefromlapland.com/2010/11/late-sunrise.html)
San Francisco's Fillmore District by Robert F. Oaks (2005), pp. 89, 113; Chris Carllson in "The Fillmore, Black SF: Unfinished History" at FoundSF.org; Thanks to Brother Daniel Thomas, O.P. for sharing his memories of the Anchor Rescue Mission. San Francisco Examiner, 4/20/74, 2/18, 19/85; Peoria Journal Star, 2/23/85. See also David Hoyt's reminisces in "Back in the City—San Francisco" in The Jesus Revolution.
Special thanks to Alan Roy Wade of San Francisco.
Springs Toledo can be contacted at scalinatella@hotmail.com .
Jake Paul vs Tommy Fury on Feb. 26 in a Potential Pay-Per-View Blockbuster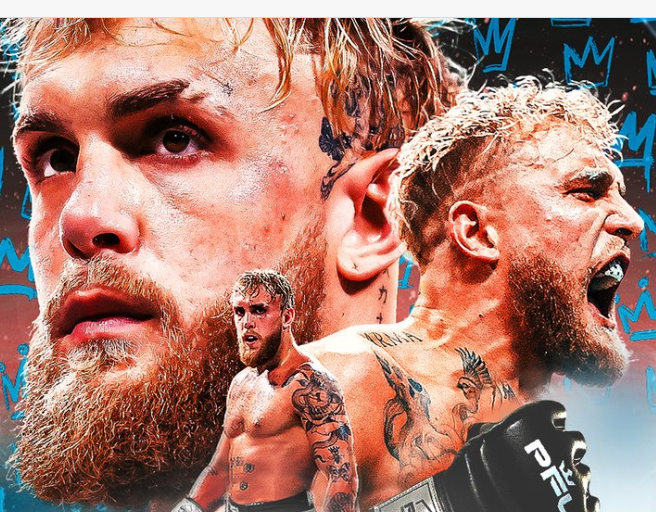 It's now official. The twice-postponed "grudge match" between Jake Paul and Tommy Fury will come to fruition on Sunday, Feb. 26, at Riyadh in the Kingdom of Saudi Arabia. An 8-rounder contested at a catch-weight of 185 pounds, the match and several supporting bouts will air in the U.S. on ESPN+ PPV at a cost of $49.99.
The hook for this promotion – a come-hither that will be hammered home incessantly in the coming weeks – is that Jake Paul will finally touch gloves with a legitimate professional boxer. Paul's previous opponents were a fellow YouTube influencer (AnEsonGib), a retired NBA player (Nate Robinson), and three former MMA champions: Ben Askren, Tyron Woodley, and Anderson Silva. He fought Woodley twice.
Tommy Fury, the half-brother of reigning WBC world heavyweight champion Tyson Fury, made his pro debut in December of 2018 in a four-round bout in his hometown of Manchester. He was two fights into his pro career when he became a contestant on the TV reality show "Love Island." An enormously popular show in Great Britain, especially among the coveted 18-34 demographic, "Love Island" was in its fifth season.
Fury was paired with supermodel Molly-Mae Hague with whom he finished second. They developed a great chemistry, on and off the set, became engaged, and purportedly welcomed a baby girl this week.
What about Tommy Fury the boxer? How legitimate is he?
Fury's record currently stands at 8-0 (4 KOs). His first opponent was a professional loser from Latvia whose current ledger reads 10-113-3. His next six opponents were a combined 4-73-2. Finally, in his last fight, which occurred in April of last year, he met an opponent with a good record, Poland's Daniel Bocianski, who was 10-1. But look closer and one discovers that all but one of Bocianski's 10 triumphs came against opponents with losing records. The exception was a 6-round decision over a fellow Pole whose record currently stands at 18-16-1 and who has been stopped 13 times.
Fury bloodied Bocianski and won a wide 6-round decision, but his performance was underwhelming. "Fury had the Hollywood teeth, tan, and diamante-colored shorts," wrote Chasinga Malata of the London Sun, "leaving only his performance without sheen and sparkle."
There is nothing in Tommy Fury's background, aside from his biological pedigree, to suggest that he has the tools to become a world-class boxer. If he were a member of the Three Stooges, he would be Shemp.
Jake Paul, by contrast, may actually be legit. Those in the know that have watched him train have come away impressed. It says here that Paul isn't moving up in class on Feb. 26; it's the other way around.
In the co-feature, Ilunga Makabu (29-2, 25 KOs) will make the third defense of his WBC world cruiserweight title against Badou Jack (27-3-3, 16 KOs). A Congolese-South African, Makabu is the older brother of heavyweight contender Martin Bakole. Jack, four years older than Makabu at age 39, formerly held world titles at 168 and 175 pounds.
Although Badou Jack was born in Sweden and keeps a home in Las Vegas where he has long been affiliated with the Mayweather Boxing Club, he will have the home field advantage in Saudi Arabia where he has cultivated a loyal following. A devout Muslim, Jack will be making his fourth straight start in the Persian Gulf Region. In his last outing, he outpointed Richard "Popeye" Rivera at Jeddah, winning a 10-round split decision.
To comment on this story in the Fight Forum CLICK HERE
Avila Perspective, Chap. 223: A Lively Weekend in SoCal with Three Fight Cards in Two Days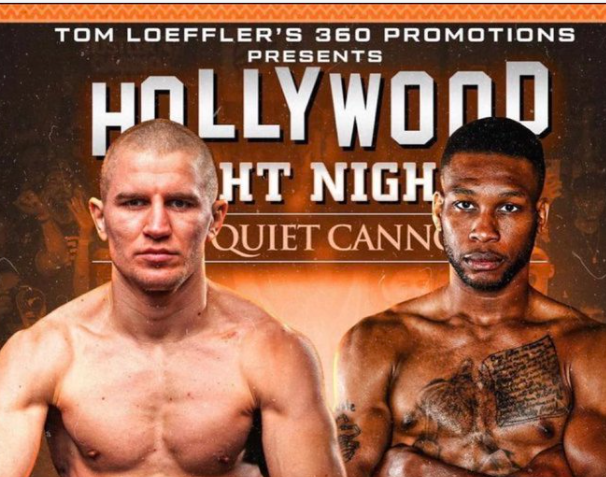 Avila Perspective, Chap. 223: A Lively Weekend in SoCal with Three Fight Cards in Two Days
Big money prizefighting returns to the Los Angeles area with back-to-back shows. First, Serhii Bohachuk heads a 360 Promotions card on Friday and then Alexis Rocha is featured on Saturday in a Golden Boy Promotions production. And on the same day Riverside's Saul Rodriguez fights in his hometown.
Bohachuk, Rocha, and Rodriguez are aggressive big hitters.
Ukraine's Bohachuk seeks to regain footing in the super welterweight division. He was rapidly climbing up the ratings ladder when first he was defeated by Brandon Adams two years ago. And then the invasion of his home country Ukraine stalled him even more.
On Friday Jan. 27, at the Quiet Cannon in Montebello, Calif. Bohachuk (21-1, 21 KOs) meets Nathaniel Gallimore (22-6-1, 17 KOs) in the main event. UFC Fight Pass will stream the 360 Boxing Promotions card.
Few fighters are as well-liked outside of the prize ring as Bohachuk. Always amiable, he's one of the handful of fighters that always smiles. Inside the ring, he's a killer. No one leaves without someone getting knocked out.
Gallimore, 34, is no slouch. He has a knockout win over former world titlist Jeison Rosario and has battled almost all of the top super welterweights. He is a veteran and very crafty.
The Quiet Cannon venue is not very large, but it does have a patio and good food and drink. Most of the crowd ventures from all over Southern California to attend the fights at that venue. It gets packed.
Golden Boy in Inglewood
Welterweight contender Alexis Rocha headlines the Golden Boy Promotions card on Saturday, Jan. 28, at the brand new YouTube Theater in Inglewood, Calif. DAZN will stream the fight card.
Rocha (21-1, 13 KOs) faces George Ashie (33-5-1) in the main event set for 12 rounds. Finally, there is an opponent for the left-handed fighter from Santa Ana. It didn't look like he was going to fight after opponent after opponent fell out for one reason or another.
"You have to be ready for anybody they put in front of you. If it's you or George Ashie, I have to prepare for it. I have to focus on what I can do," said Rocha.
Others on the card include super middleweight Bektemir Melikuziev (10-1) vs Ulises Sierra (17-2-2) set for 10 rounds. Also, good looking lightweight prospect Floyd Schofield (12-0, 10 KOs) meets Alberto Mercado (17-4-1).
Schofield fights out of Austin, Texas and looks like someone to watch.
Doors open at 3 p.m.
Neno Returns in San Bernardino        
Garcia Promotions stages a boxing card on Saturday Jan. 28, at the Club Event Center in San Bernardino. Garcia Promotions is associated with trainer Robert Garcia and family whose training compound is located in nearby Riverside.
A primarily local fight card featuring all fighters from Garcia's gym will be performing.
Headlining is Saul "Neno" Rodriguez out of Riverside, California.
It's been nearly three years since Rodriguez (24-1-1, 18 KOs) last fought and he faces Mexico's Juan Meza Angulo (6-1, 3 KOs) in the co-main event.
At one time Rodriguez was a big fan favorite because of his fast work and knockout ability. Once he got to the top plateau he ran into another knockout puncher in Miguel Angel Gonzalez and lost by stoppage.
Prizefighting is a tricky road. One loss can mean difficulty in finding a big-time promoter or it can mean discovering what you need to do to re-establish your skills. A fighter can go the road of Kermit "The Killer" Cintron and find out other ways to win without a kill-or be-killed style. Or they can travel the road of Marco Antonio Barrera who was knocked out by Junior Jones but adapted a more boxer-puncher style that allowed him to defeat Erik Morales twice and Prince Naseem Hamed.
Rodriguez, 29, still has time to make a good run for a title bid. It all starts on Saturday.
Others on the Garcia Promotions card are fighters who are part of trainer Garcia's stable including Gabriel Muratalla, Leonardo Ruiz, Jose Rodriguez and others.
Doors open at 4 p.m. with amateurs opening the boxing program.
Fights to Watch
Fri. UFC Fight Pass 7 p.m. Serhii Bohachuk (21-1) vs Nathaniel Gallimore (22-6-1).
Sat. ESPN+ 11:30 a.m. Artur Beterbiev (18-0) vs Anthony Yarde (23-2).
Sat. DAZN  5 p.m. Alexis Rocha (21-1) vs George Ashie (33-5-1).
To comment on this story in the Fight Forum CLICK HERE
Artur Beterbiev: "I'd prefer to fight Bivol because he has the one thing I need"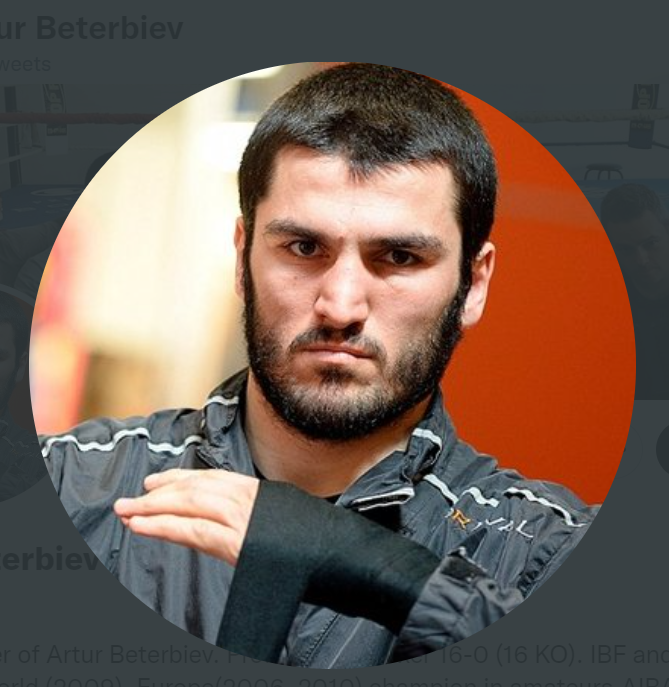 Russian Artur Beterbiev, triple champion of the 175-pound division, is the only current world champion who, thanks to the enormous power he wields in his fists, has won all his fights inside the distance.
Beterbiev has 18 victories by way of chloroform since he debuted as a professional fighter in June 2013 when he anesthetized retired American, Christian Cruz, in the tenth round at the Bell Center in Montreal where Beterbiev currently resides.
Beterbiev, who turned thirty-eight last Saturday, will defend his WBC, IBF, and WBO titles against Brit Anthony "The Beast from the East" Yarde (23-2, 22 KOs) on Saturday, January 28th at the OVO Arena in London.
Beterbiev obtained the WBO belt on June 18th this past year when he defeated American Joe Smith (28-4, 22 KOs) in the second round at Madison Square Garden. This was Smith's second defense of the belt.
Earlier, in November 2017, Beterbiev won the vacant IBF belt after defeating German Enrico Koelling (28-5, 9 KOs) by knockout in the twelfth round in Fresno, California.
Two years later, Beterbiev seized the WBC belt from Ukrainian Oleksandr Gvozdyk (17-1, 14 KOs) in Philadelphia. Three knockdowns in the tenth round forced referee Gary Rosato to stop the lopsided bout with 11 seconds remaining in the round.  Beterbiev maintains that although his intention is to win each fight, in no way does he want to harm his rival and that his greatest wish is for both of them to leave the ring healthy.
Referring to his upcoming matchup, Beterbiev told BoxingScene that "after the fight, I just hope he (Yarde) is okay."
He acknowledged that he does not know much about the British boxer, although he has watched several of his fights: "He's a good fighter, has good experience as a professional and he's a boxer. He's dangerous so I have to prepare for this fight like I always do."
Beterbiev said that his main motivation is to successfully defend the three belts he owns and that is why he will try to be one hundred percent ready and then it will be evident who is the better fighter.
Regarding his knockout streak, Beterbiev emphatically denied that he enjoys knocking out his opponents: "No. There's no pleasure in it. I just hope everything is OK with them. I just want to do good boxing, not hit people."
Beterbiev smiles enigmatically and stares at the horizon when they ask him to what he attributes the strength of his fists to. "I know for sure, 1000 percent, that the secret to my power is somewhere in my boxing gym but I don't know exactly where," he adds. "I don't know which exercise or bag gave me this secret. I don't know where it comes from. I wasn't always like this either, it has come from working every day. But really my dream is to be a good boxer one day."
Aside from the upcoming fight with Yarde, Beterbiev acknowledges in each interview that his goal is to be the undisputed champion of the division, which means facing (and defeating) the undefeated Russian Dmitry Bivol (21-0, 11 KOs), who holds the WBA light heavyweight super championship belt.
"I need Bivol," Beterbiev admits. "I'd prefer to fight Bivol because he has the one thing I need. I hope I fight him in 2023 but the hold-up is not from my side, it's from their side. In the last three years he always says he will fight me next but in this time we've done unification fights against Oleksandr Gvozdyk and Joe Smith. We've done that whereas he has just been talking about it.
Beterbiev recalled that he was with Bivol on the Russian national team where they were amateurs. "I knew him then, but he is younger than me. We haven't talked for 10 years now. He was 75kg back then, too small for me. We were never friends."
Article submitted by Jorge Juan Alvarez in Spanish.
 Please note any adjustments made were for clarification purposes and any errors in translation were unintentional.
To comment on this story in the Fight Forum CLICK HERE