Battle Hymn – Part 9: Gone to Glory
Live not for battles won.
Live not for the-end-of-the-song.
Live in the along.
—Gwendolyn Brooks
Anyone looking for Aaron Wade in the early 1970s could find him at the Anchor Rescue Mission, a storefront church located at 1253 McAllister Street. It was in the Fillmore district, only a few blocks from the flat he rented thirty years before.
Much had changed. Between 1940 and 1970, the black population in San Francisco shot up from 4,846 to 96,078. In 1956, a federally-funded urban renewal project began in the Fillmore that saw large sections of Fillmore Street and McAllister Street declared blighted areas and razed. Thousands of black renters were evicted (they called it the "Negro Removal Project"). Among the leaving were Japanese Americans who had returned to their homes after World War II only to be forced out again. More than a decade later, whole blocks of the Fillmore remained flat and vacant. There were fewer jobs, more displaced people, more crime, and more desperation.
Little Tiger Wade had changed too. The ex-fighter was now known as the Reverend Aaron Wade and instead of knocking guys over, he was lifting them up out of the gutter.
The area was overrun with street people by then—ex-cons, runaways, dead-eyed addicts, winos lying in their own waste—and they needed a lift. Wade didn't see their disease or sin, he saw himself in their eyes. He saw someone else too. The 25th chapter of Matthew's Gospel was ringing in his ears: "I was hungry and you gave me something to eat, I was thirsty and you gave me something to drink, I was a stranger and you invited me in, I needed clothes and you clothed me, I was sick and you looked after me, I was in prison and you came to visit me. For," Christ told him, "whatever you did for one of the least of these, you did for me."
"We feed, clothe and bathe unfortunates," Reverend Wade said. "No questions are asked. All we want is that they listen to what the Lord has to say in guiding them into a better, more peaceful life."
Wade was a pastor at the Anchor Rescue Mission.
The mission operated out of two adjacent storefronts. One served as a chapel, complete with pulpit, piano, and about seventy fold-out chairs. A curtain separated the chapel from a spacious kitchen. The other stored donations of food and clothing and had showering facilities. The mission had no official status as a church and was unaffiliated with any denomination or agency. This allowed its ministers to serve the community without interference. Its acronym, "A.R.M" was meant to signify its purpose as the "arm" of the church.
The ministry was held together by two Baptist ladies. Sister Josephine Drayton often led the service and Sister Evoyne Crook played the grand piano. Volunteers trickled in during the afternoon to help prepare dinner. Brother Daniel Thomas, a Roman Catholic, was among them. He fondly recalled how elaborate and nutritious those dinners were and how they were, on occasion, "miraculously provided at the last minute." There were times that the good sisters would inform the volunteers that they would have to "go to prayer" because there was not enough food for dinner. There was a small room near the kitchen and they would troop in there and kneel down with their arms resting on the cushions of sofas. "Often," he said, "Sr. Crook or Sr. Drayton would just shout out, 'It's done! Praise God! He's answered our prayer.'" At that moment, Brother Daniel said, "the phone would ring and they would find out that some company that supplied catered meals for special occasions had some left over 'chicken cordon blue' and could we have a use for it!"
Before dinner was the evening service, which began at 6:30 and included hymns, testimony, a sermon, and the "Altar call," which was an invitation for anyone to come forward and accept Christ or ask for prayers. It was a strict operation. Anyone who wanted to eat had to be inside before the sermon began because the door was locked right on queue. This caused grumbling among the cranks, but what they got was worth a few Alleluias. On some nights a straggler locked outside would kick the door and curse a blue streak. The staff inside would pray aloud at that: "Just touch that one, O Lord!" "Heal him of the cursing demon!" The sisters were just as strict with the volunteer preachers. The sermon, they told them, could not be less than a half-hour in length. Brother Daniel recalled Sister Crook's warning, "—if you stop short of 30 minutes I fill in for you."
The Anchor Rescue Mission was a special place. After the sisters were notified that Brother Daniel was in a coma after a small airplane he was in crashed in Wisconsin, they immediately gathered everyone together in Jesus's name and then wrote a letter letting him know that they had prayed for him. "Their letter was dated four days after the plane crash," Brother Daniel told me, "and that was exactly the day I came out of the coma!"
Reverend Wade walked to the mission every evening for years. He led the Sunday night service, ran prayer meetings on weekday evenings, and held Bible classes four times a week. He sang those very hymns he ignored years earlier when passing beneath church windows on his way to a good time. I bet he sang them louder than anyone. When there was a problem (and "unruly or dangerous guests were always a problem" recalled one volunteer), I bet Wade kept the peace. When he was finished, he took a bus back to his apartment.
His day-to-day work with the poor over the last decade of his life will never be known—it was done as the best good deeds are always done, quietly and without fanfare. What is known is that he was the happiest man on skid row. "I'm not what I'm supposed to be as a Christian and not even what I'd like to be, but thank God," he said, "I'm not what I used to be."
Early in 1985, Wade complained of pain in his arm. His wife Sallie was concerned enough to call Alan and Harvey and they drove over to his apartment to take him to the hospital, but Wade shrugged it off. His spirits were up. He was on the brink of retiring from his day-job at the Gallo Wine warehouse.
On February 15, he punched out for the last time and went to his locker. His co-workers waited outside to take him to the big send-off they had planned. When the wait became too long, they went back inside to check on him.
Wade was unconscious on the floor. An ambulance was called and he was transported to Kaiser Hospital where he was pronounced dead of a heart attack.
Tributes poured in. "He was one of the best action fighters in the city's long boxing history," said a retired referee who knew him. "He really could punch. He was capable of putting an opponent away with one blow." But it was his secret work with the poor that stood out, and his words echoed in the hearts of his many friends. "Helping others gives me a good feeling," he would always say.
Funeral services were held at the Bay View Bible Church on Mandel Street before his body was shipped to his mother in Peoria, Illinois. There, in the city where the Little Tiger's battle hymn began, another service was held, and he was laid to rest at Springdale Cemetery.
…..
Willie Mae Wade, 88, wasn't alone as she walked to her son's grave on that frosty morning in 1985. She held a memorial in her hand and remembered another walk, decades before, to the train station in Tennessee. She was young then, young and determined to go north to the Promised Land. She thought of things past and things passing. She thought of her children—how they crowded her mind then and now. This one, named for a grandfather born a slave, was special. He touched her soul.
She gazed at the coffin and dabbed her eyes.
The sun blinked behind the trees in shadow and light, like hope striving.
---
Photo: "Late Sunrise" (http://www.notefromlapland.com/2010/11/late-sunrise.html)
San Francisco's Fillmore District by Robert F. Oaks (2005), pp. 89, 113; Chris Carllson in "The Fillmore, Black SF: Unfinished History" at FoundSF.org; Thanks to Brother Daniel Thomas, O.P. for sharing his memories of the Anchor Rescue Mission. San Francisco Examiner, 4/20/74, 2/18, 19/85; Peoria Journal Star, 2/23/85. See also David Hoyt's reminisces in "Back in the City—San Francisco" in The Jesus Revolution.
Special thanks to Alan Roy Wade of San Francisco.
Springs Toledo can be contacted at scalinatella@hotmail.com .
Boxing Exhibitions: Side Show, New Angle, or Something Else? Part Two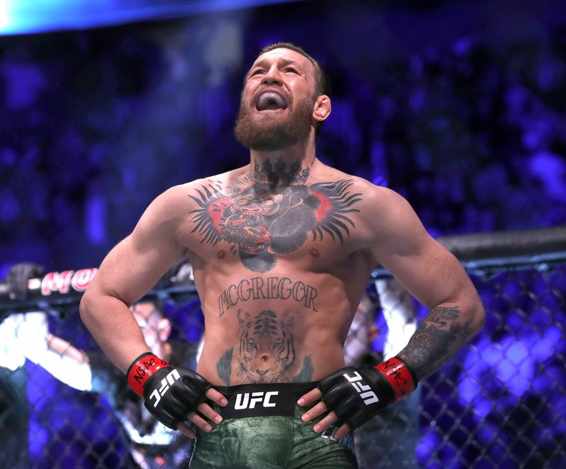 Boxing Exhibitions: Side Show, New Angle, or Something Else? Part Two
YouTuber Jake Paul (2-0) says he wants to fight English YouTuber KSI, and then maybe Ryan Garcia, Conor McGregor, and some of the top UFC fighters (using boxing rules). This comes after his recent coldcocking of former NBA star Nate Robinson.
"There is a long list of opponents that I want, you know Conor McGregor, Dillon Danis. I'm going to knock them both out."– Paul
Jake and his brother Logan are participants in a continuing side show and the more attention they get, the more this freak show will last. In that vein, this writer will no longer mention them except to quote the following from a poster named VashDBasher: "Hopefully these exhibition matches with these retired fighters don't get out of hand. Not to mention these youtubers with single digit fights making more money than a lot of top prospects and contenders. Boxing is turning into a sham with…"
Exhibitions: The Fire Has Been Ignited; Will It Burn?
Jorge Arce and Julio Cesar Chavez, Sr. launched the tour when they faced off in September in Tijuana but it was done under the radar.
The super-hyped and much anticipated Tyson-Jones exhibition is now in the past, but already it appears that many others will take place. After all, this one—though a stylistic stinker– reportedly pulled in close to 1.2 million PPV buys!
"There's a sucker born every minute." – usually attributed to P. T. Barnum
Mike Tyson, coming in at a svelte 220 pounds wants to continue and asserts "my body feels splendid. I want to beat it up some more…I will do it again." If he does, it may well happen in Europe.
Others are coming out of the woodwork sniffing around like dogs smelling Purina chow but the chow in this case is money and plenty of it. Suddenly, the "seniors tour" seems to enjoy the certainty of a Cher's final tour. Ex- fighters like Glen McCrory, Lennox Lewis, Riddick Bowe, Johnny Nelson, Buster Douglas, Shannon Briggs, Erik Morales, Evander Holyfield, Marco António Barrera, and possibly Oscar De La Hoya (in a traditional comeback rather than an exhibition) are all looking to get in on the action.
 "The rumors are true, and I'm going to start sparring in the next few weeks." –De La Hoya
The usually quiet Holyfield in particular has made a lot of noise saying among other things that, "Roy Jones was a good local opponent for Tyson, but a fight with me would be a global event and the only one fight that anyone wants to see is a fight between us. There is absolutely no reason why we shouldn't make it happen…"
But the "Real Deal" also has said he won't fight for less than 25 million which is pretty much tantamount to saying he doesn't want to fight.
Tyson vs. Holyfield III? Don't bet on this one happening.
However, if there is money to be made, Floyd Mayweather Jr will be hovering about like a helicopter perhaps looking to fight Manny Pacquiao in a mega fight, but Manny may be looking to fight everybody's favorite opponent, UFC star Conor McGregor. A real fight involving Floyd against a risky opponent would be of enormous interest, but keeping in mind that one of his mottos has been "my health is my wealth," that is not something to bet on.
Ted Sares can be reached at  tedsares@roadrunner.com
To comment on this story in the Fight Forum CLICK HERE
Errol Spence Jr's Near-Death Experience Has Made Him More Well-Grounded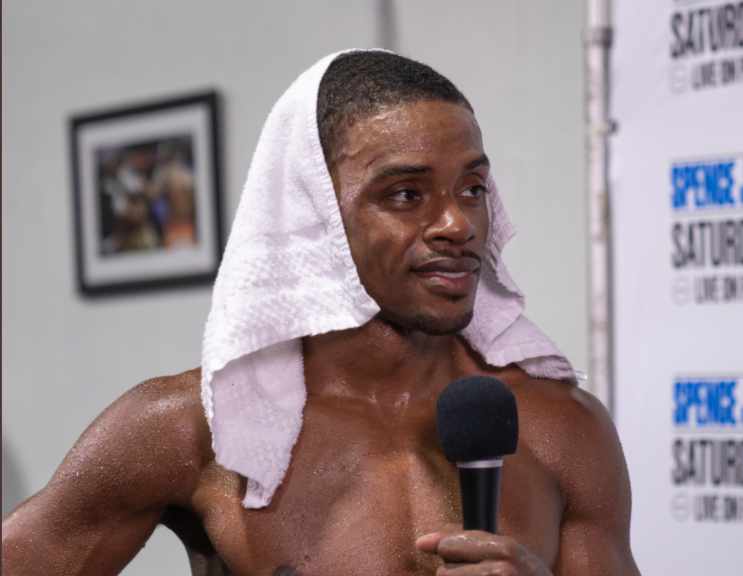 Maybe it's a good thing that Errol Spence Jr. had to learn the hard way that talent, like life, is a perishable commodity. Even so accomplished a world boxing champion as Spence had to discover that harsh reality in the blink of an eye, or however long as it took for his fast-moving sports car to veer out of control and produce a knockdown far more perilous than anything the man known as "The Truth" ever has had to face in the ring, or likely ever will.
The Errol Spence Jr. (26-0, 21 KOs) who puts his IBF and WBC welterweight championships on the line against two-division former titlist Danny "Swift" Garcia (36-2, 21 KOs) Saturday night in AT&T Stadium in Arlington, Texas, could have, and maybe even should have, died in the early morning hours of October 10, 2019, on a virtually open stretch of highway near Interstate 30 in downtown Dallas. Spence's white Ferrari, capable of hitting speeds up to 200 mph, went over the center median and flipped over several times. It seemed miraculous that Spence (who was cited for misdemeanor driving under the influence), who sustained significant injuries, could be ejected from the car yet somehow recover to the point where he could fight another day.
"It's just a miracle for things to turn out like they did," Spence has said. "For anybody to be ejected out of a Ferrari … I mean, it could have been so much worse. I could have lost a leg, an arm. I could have been paralyzed or had brain damage. I could have been killed right then and there. But I didn't have to deal with any of that. I'm just blessed. I'm definitely going to heed this warning. You go through what I did, you definitely don't take things for granted as I once did."
His professional return Saturday night will not only be met with as much public anticipation as is standard for fighters occupying as elite a level as does Spence, but even more so given his career-long 14½-month layoff (his most recent bout was a 12-round split decision over Shawn Porter on September 28, 2019) and questions attendant to how well he has recovered from his near-catastrophic experience. Has the ordeal in any way diminished him physically or psychologically? Was he imprudent in choosing to forego a less-risky tune-up fight for a matchup with the very formidable Garcia, who previously has held the WBC and WBA super lightweight and WBC welterweight belts? Can he demonstrate that he still is as special a fighter as he had been before his car crashed? Or maybe even better?
Not all of the answers will be provided in the Showtime Pay-Per-View main event, but enough will be to ascertain whether Spence can still claim to be the best 147-pound fighter on the planet (as listed in The Ring magazine ratings) or, even if victorious, reveal himself to be at least somewhat damaged goods.
Not that he was prone to preening and chest-thumping before, but, if anything, Spence, although highly confident he will come away with his undefeated record extended, still presents a public posture similar to that of his understated trainer, Derrick James. That is a stark contrast to the bombast for which Garcia's father-trainer, Angel Garcia, is noted, and has even ratcheted up a notch for this fight. Angel has even gone on record as predicting that Danny will stop Spence in seven rounds.
"He's going to go out there and show the world what true champions are made of," Angel said of what he expects from his son, a +340 underdog in contrast to Spence's -450 favoritism. "Danny don't just know how to win, he knows how to kick your ass."
Noting that his date with Spence had already been twice-delayed, the 32-year-old Danny figures all good things come to those who wait, and his patience is about to be rewarded. "Boxing is a sport of timing," he said. "And the time is now. I feel great. I had a tremendous camp and did everything I'm supposed to do. Now it's time to go out there and do what I do best, and win.
"I've been the underdog in many fights. I don't worry about the critics or the media. I know that I'm a great champion, and a great fighter. And that's what I'm going to prove Saturday night."
James, for his part, is only too glad to yield the megaphone to Angel Garcia. He's not about to talk smack about the Garcias because, well, he believes no good can come for those who brag about what they expect to do before they do it.
"I don't make predictions for myself or my guy, but (Angel Garcia) is supposed to believe in himself," James said. "He's supposed to believe in what he thinks his son is going to do. Why wouldn't he? At the same time, we feel the exact same way. I don't go in there saying we are going to get a knockout. I can't predict anything like that. But I can predict that we will be victorious.
"My guy's quiet, I'm quiet. If you believe in yourself, you don't have to talk about it."
Any changes in Spence might not be obvious inside the ropes, but he insists his lifestyle has undergone a radical makeover that can only serve to benefit him in the time he has left at or near the top of a brutal sport that chews up and spits out those who can't appreciate that today's glory can soon become tomorrow's memory.  For one thing, he has traded a Ferrari's massive horsepower for, well, a different sort of horse power.
"I think it did renew my focus and got me back to the thing that got me to the top of the mountain," he said of his reconfigured priorities stemming from the accident. "After a fight I started taking a week off, then two weeks off to a month off. Now I'm grinding hard again. You realize that having this time on earth is a luxury. Being young (Spence was 29 at the time of the crash, and is now 30), you think you're invincible. You think nothing bad can happen to you. But when something does happen to you, you realize that time is important, especially time spent with your family and loved ones.
"That's why I actually moved out of downtown (Dallas), got a ranch with horses, cattle and things like that. I got a pool and I'm outside with my kids. I just had a newborn son."
Still, Spence knows that saying he's as good, or better, than he previously had been is not going to convince any doubting Thomases until he delivers the goods. Danny Garcia, proud and tough, poses the test he needs to pass before any lingering suspicions can be laid to rest.
"I'm a realist," Spence said. "I know people have a lot of questions. Am I still the same? Am I a shadow of myself? Those are questions that need to be answered."
Check out more boxing news on video at the Boxing Channel 
To comment on this story in the Fight Forum CLICK HERE
Dickens and Bolotniks Victorious in Golden Contract Finales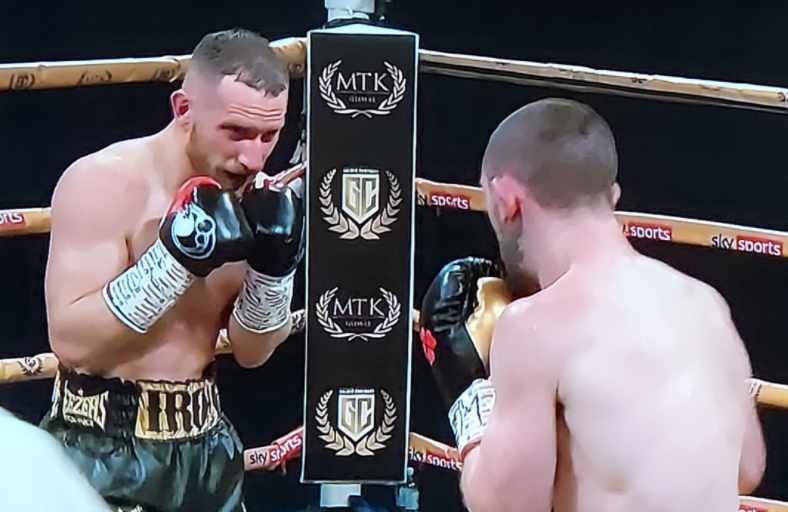 The finals of two Golden Contract tournaments played out tonight at a TV studio in an industrial park in West Yorkshire, England. The 8-man tournaments, organized by the controversial boxing management company MTK Global, were similar in structure to the World Boxing Super Series. The winner of each tournament was promised a two-year five-fight deal with a guaranteed six-figure purse in each of the five fights going forward. The fights were televised in the UK on Sky Sports and in the US on ESPN+ in association with Top Rank.
Both finales were 50/50 fights as measured by the betting odds, a rarity in this sport.
James "Jazza" Dickens, a 29-year-old Liverpudlian, won the 126-pound tournament with a 10-round unanimous decision over former British featherweight champion Ryan Walsh. It was the eighth straight win for Dickens, now 30-3 (11), who was stopped in the second round by Guillermo Rigondeaux during his days as a super bantamweight.
This was a tactical fight, heavy on head feints. It was fairly even through the first four rounds, but Dickens pulled away to win by scores of 98-93, 97-94, and 96-94. One of three fighting brothers, Walsh, 34, falls to 26-3-2. He has never been stopped.
Dickens vs. Walsh was originally scheduled for Sept. 30, but pushed back when Dickens and his trainer tested positive for COVID-19. The Golden Contract 140-pound tournament concluded on that date with Ohara Davies winning a controversial decision over Tyrone McKenna.
Light Heavyweight
The light heavyweight finale, as expected, was an entertaining scrap. Ricards Bolotniks, a late bloomer from Latvia, wore down and ultimately stopped Serge Michel whose corner tossed in the towel with seconds remaining in the 10th and final round.
Bolotniks, 30, has a pedestrian record, now 18-5-1 (8), and is rough around the edges, but he has a winning down-to-earth personality and a lot of grit. He got here with a pair of upsets, most recently over Tyson Fury's cousin Hosea Burton who was 25-1 going in.
Bolotniks knocked Michel into the ropes in round five – it was scored a knockdown — and knocked him down in the 10th with a barrage of punches. He was too strong for Michel (11-2) who represented Germany in the 2016 Olympics.
After the fight, Bolotniks called out Anthony Yarde. A fight between he and Yarde – whose lone defeat came at the hands of Sergey Kovalev in Russia – would almost certainly provide great entertainment.
More
In another fight of note, junior welterweight Harlem Eubank outpointed Daniel "Danny Darko" Egbunike to advance his record to 11-0 (6). The referee scored it 97-94 which was giving Egbunike (6-1) a shade the best of it. Eubank's previous opponents had 212 losses between them, so this was a step-up fight for him despite Egbunike's inexperience.
The 26-year-old Eubank is the nephew of former two-division title-holder Chris Eubank Sr. He is trained by Adam Booth who currently trains Michael Conlan, among others, and formerly trained David Haye, Andy Lee, and George Groves, among others. Egbunike, a 31-year-old Londoner who spent nearly three years in prison on drug charges, was making his first start in 13 months.
Check out more boxing news on video at the Boxing Channel 
To comment on this story in the Fight Forum CLICK HERE