PREDICTION PAGE: Froch Or Groves, Who Do Ya Like?
November 23, 2013: One of the biggest armed robberies the United Kingdom has ever witnessed took place in Manchester.
Nope, it wasn't one of Moss Sides' finest hoodlums holding up a bank in the city centre with a sawn off shotgun after the Police and National Television were both tipped off beforehand by one of the the culprit's cronies. This was armed robbery in an even stronger and purer definition.
The crime was committed by referee Howard Foster in a professional boxing match at the sold out Phones 4u Arena, when he suffered a judgmental panic attack during the 9th round and, in the process, extinguished the dreams of George Groves by flinging his right arm around the neck of the challenger and waving his left to signal the end of the contest.
Make no mistake about it, Carl Froch, the champion, received a glorious gift.
On top of the stunned and disgusted witnesses in attendance, millions watched live on pay-per-view, too.
However, that's all history now.
The two combatants will meet again at Wembley Stadium, London, this Saturday (May 31), in a highly anticipated rematch.
80,000 attendees will, this time, be looking for a satisfying conclusion having materialized itself from a contest as equally entertaining as their first affair. But don't rule out the sequel surpassing the dramatic fistic violence of the previous encounter. You'd need to rewind your memory back 21 years to conjure up a fight with similar captivation, when Nigel Benn squared off against Chris Eubank for the WBC/WBO super middleweight titles at Old Trafford.
If Froch, 36, the WBA/IBF super-middleweight champion, tentative and plain ordinary during the vast majority of the last fight, brings his A game, and Groves, 26, is equally in tune as he was last November, this could be a back and forth tussle of gigantic proportions.
I collected some predictions from fight game experts. Enjoy, and please add your own, in the TSS Forum.
James Ali Bashir, Kronk Gym assistant trainer of world heavyweight champion Wladimir Klitschko: It's a pick 'em fight to me. Froch obviously isn't the fighter he was just three years ago, but mentally I really think he's gonna be the stronger guy. Groves on the other hand feels he had the momentum when the last fight in his mind, and some others, was stopped prematurely. However, I lean towards Froch to win again. This time decisively by unanimous decision or late stoppage, in a great fire fight.
Sean Crose – Boxinginsider.com: This one may well be war. The first fight was terrific and there's real animosity between these two. Here's the thing, though: Groves gave Froch all he had the first time around – and Froch survived. While the stoppage was understandably controversial, it was Froch who had the momentum on his side when the bout abruptly ended. Therefore, as game as Groves is, I see Froch getting to him sooner this time. That's not to say Groves will crumble quickly or that he won't have his moments. I've little doubt he will. Still, I see Froch winning this one decisively sometime between the seventh and ninth rounds.
Aaron Lowinger, TSS: At the top of the sport, boxing can be a chore to a late-career champion like Carl Froch. Except for those two or three nights in the year, it's a grind that can take a mental toll. I think Froch still wants to be at the top, and that right hand in the first round last November woke a sleeping Cobra. He's just in a different class than Groves. I see Froch taking Groves by KO.
Raymond Markarian, TSS: I like Froch to win a unanimous decision. Froch has too much skill and experience for Groves.
Kelsey McCarson, TSS, Bleacher Report: I think the fight will be eerily similar to the first one. Groves will have some raucous success early, but Froch will adjust in the second part of the fight and take over down the stretch. This time, Froch will have to work harder for the knockout win. There will be no controversial stoppage. Froch will legitimately knockout Groves in Round 10.
Colin McMillan, former WBO featherweight champion: Although Carl Froch has been a great warrior of British boxing and fought some of the best fighters in the world, it is time for the changing of the guard. Groves has the superior hand and foot speed, and will be buoyed by the performance he gave last time. A much closer fight, but Groves by decision.
Matt Hamilton, ESNnewsReporting.com: If you look at the first bout I think a hugely overlooked aspect was quite how badly Groves' natural punch resistance faired against Froch's power on the relatively few times he was tagged. He was marked up as early as the third round and retrospectively I think he was looking for a second wind as early as the 5th or 6th round. Groves has only gone 12 rounds twice – against a 400 year old Glenn Johnson and then in what I felt was a clear losing effort against James DeGale – I'm inclined to thus agree with Carl's assertion that Groves isn't (or to my mind, at least, thus far proven himself to be) a 12 round fighter. I don't see the judges (should they be needed) doing Groves any favours, certainly not to the scale of his frankly gifted decision vs. DeGale and I'm am thus left fancying Froch for the win – be it by mid to late round stoppage again or by unanimous decision. Gun to my head, I have it as a Froch KO win in the 10th.
Ben Doughty, TipTV.co.uk: Ever since the rematch was announced, I have been saying that Froch will come from behind and grind George down again, this time without any controversy. I re-watched the first fight last weekend and had a change of heart. Groves can win on points with the major caveat that he has to box smart and not get drawn into a war of attrition. Groves.
Thomas Hauser, TSS, noted author: Froch by knockout.
Blake Hochberger, TSS: Froch by UD, puts his punches together and outworks Groves. Wouldn't feel very comfortable betting on this fight.
Frank Lotierzo, TSS: In their first fight, Groves punched Froch from pillar to post, separating Froch from his confidence round by round. You could see Groves having fun as the fight progressed. Yes, he got buzzed in the 9th round, but Howard Foster had been waiting the whole fight to step in on the hometown boy's behalf if possible; the fight wouldn't have been stopped anywhere else on earth. Groves doesn't have everyone working against him this time. I think he knocks Froch out late.
James Smith, Inthiscornertv.com: My feeling is that we will see a much more focused and prepared Carl Froch this time out, unless he has totally aged out, which I don't think is the case. He will put on more consistent pressure, cut the distance and get another late round stoppage – but this time a legit one. Should be an excellent fight all the way through.
Aaron Tallent, TSS: If a new George Groves goes into the ring with patience, he will come away with a late-round stoppage. If he tries to do too much too fast, he will find himself in trouble. My guess is that he will do the former, making a rubber match inevitable. Groves by KO.
Springs Toledo, TSS, author: Carl Froch's most important asset is his will. His technique is average, his athleticism less than average; it's what's inside that makes him formidable. George Groves is a stylistic foil for Froch -he is fluid, fast, and his slashing shots land too often on Froch's head, which is too often in the line of fire. Groves may pick up where he left off and outpunch Froch over the first half of the fight. If Groves is in condition and can cope with Froch's desperate drives, he will take a decision. If he knows enough to jab and step to his left to better line up his right hand with Froch's chin, he'll land it more often and with more force -if he does that, he may stop Froch. Groves says the left hook will end the fight, but that may be a smart ploy; it's his right that was doing damage. Froch may try storming out to hurt Groves early. He would be well-advised to move his head and step inside of Groves's slashing shots with short, straight ones of his own. If he does that, he may stop Groves or at least take over. This is a tough prediction. I'd go with Groves by UD, but wouldn't rule out a stoppage win.
Chris Wheat, TSS: Froch by close decision. Won't be an easy fight but he will be better prepared and not taking anything for granted.
Phil Woolever, TSS: From television, the stoppage didn't look so terrible to me, although if there was ever a time for a standing 8, this was it. Unless he has slipped dramatically I think Froch stops Groves again, around the same time, but without controversy. Groves may pull it off, but it will be a rare, though not unprecedented, circumstance if two UK fighters achieve an equal, elite level during the same time period.
Lee Wylie, TSS: Froch wins the fight inside the distance. Groves will be dangerous during the first five rounds. If Froch is still around after that, which I think he will be, fatigue will set in and Groves' lack of discipline will begin to rear its ugly head. As talented as Groves is, I don't think he is mentally strong enough to fight his fight for 12 rounds against Carl Froch.
Michael Woods, TSS: Coinflip fight for me. Have the Froch reflexes dimmed more so over the span of the first fight to this one? Did he really look past Groves in the first one, and therefore prepare better this time, and could therefore be a better boxer on fight night? Without much conviction, I'm going with the guy with the reflexes edge, the younger hitter, Groves. But again, with little conviction, to be honest. Froch is a hard man, and doesn't take to even the possibility of losing easily. His desire is a top trait. Coinflip…which I love as a fan.
The Follies of Gervonta Davis: They Gave Him the Key to the City and Now He's in the Slammer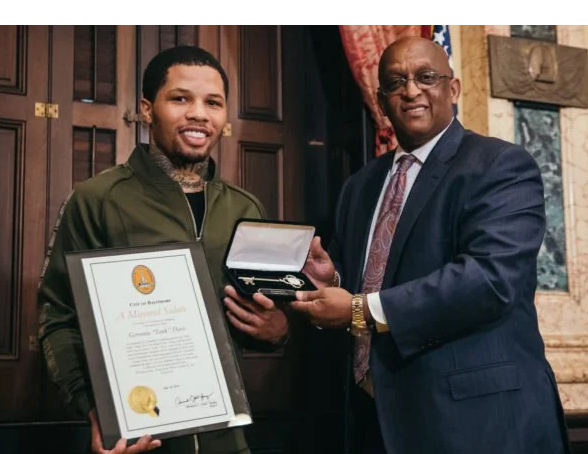 One surmises that Baltimore City Circuit Court judge Althea Handy has a lot of guts. When the 65-year-old jurist rescinded her decision to allow Gervonta "Tank" Davis to serve his 90-day sentence at the home of his trainer Calvin Ford and remanded him to the jailhouse, that undoubtedly didn't sit well with some of the poobahs in Maryland's largest city. After all, it wasn't that long ago that Davis was presented with a key to the city and a parade was held in his honor.
Davis appeared before Judge Handy on May 5. He had already pleaded guilty to each of four counts stemming from a hit-and-run accident that happened shortly before 2 a.m. on the morning of Nov. 5, 2020. After running a red light, Davis crashed his Lamborghini into another vehicle before crashing into the fence of a 7-eleven. The four occupants of the other vehicle, including a pregnant woman, required medical attention. Gervonta and his two passengers fled the scene in another car.
The four charges to which he pled guilty, eschewing a jury trial, included driving on a revoked license. Had Judge Handy thrown the book at him, she could have packed him off to prison for a term of four years and two months. Instead, she sentenced him to 90 days home detention, three years' probation, and 200 hours of community service.
Davis owns a home in tony Broward County in South Florida. If it had been his decision, that's where he would have served his 90 days. But Handy had visions of the boxer lounging by the pool and wouldn't allow it. She insisted that he serve out his sentence in his native Baltimore.
It was agreed that Davis would be confined to the home of his longtime coach Calvin Ford for the duration of his sentence. The head trainer at the Upton Boxing Center in impoverished West Baltimore and the inspiration for the Dennis "Cutty" Wise character in the HBO series "The Wire," Coach Calvin, as he is called, has been a father figure to Gervonta Davis and countless other boys. Gervonta was living with his grandmother after bouncing around between foster homes when he wandered into Upton at the age of seven. The boxer credits his coach with instilling within him the discipline needed to stay off the streets.
There was one small problem. Calvin Ford's home had only one bedroom. It was far too small for the boxer and his entourage.
Davis needed to find a new crash pad. Being the resourceful type, he moved his tack to Baltimore's luxurious Four Seasons Hotel before plunking down a reported $3.4 million on a 5,000-square-foot high-rise penthouse. When informed that the boxer had taken it upon himself to recalibrate his "punishment," Judge Handy said, "not on my watch" or words to this effect, and had the boxer hauled off to the slammer.
—
Gervonta Davis was boxing's youngest American-born world champion when he won his first title in 2017. On July 24, 2019, three days before his homecoming fight with Ricardo Nunez – his fifth 130-pound world title defense – he was presented the keys to the city by then mayor Bernard C. "Jack" Young in a ceremony at City Hall. "Welcome Home….We're so proud of you!", read the proclamation. Later that year, on Oct. 26, the boxer was feted with a parade in his old neighborhood.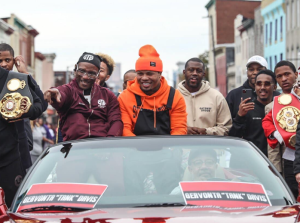 In his most recent bout, a non-title affair contested at the catch-weight of 136 pounds, Davis stopped Ryan Garcia in the seventh round to advance his record to 29-0. The fight played out before an SRO crowd of 20,000-plus at the T-Mobile Arena in Las Vegas. In his four fights prior to that, Davis drew capacity or near-capacity crowds to NBA arenas in Atlanta, Los Angeles, Brooklyn, and Washington, DC. When it comes to putting asses in seats, no other American boxer can match him.
—-
Davis turned pro under Floyd Mayweather Jr's "Money Team" banner. As recounted in a previous story, Mayweather's influence was pervasive. Gervonta came to mimicking Floyd's lifestyle, reflected in what normal people would see as reckless spending, manifested in bling and in his growing collection of rare and expensive automobiles. The parallels are striking and to that list we can now add one more. When Gervonta emerges from his current abode he will have spent almost exactly as many days behind bars as his former promoter. Mayweather was sentenced to 90 days for domestic battery in 2012 and with time off for good behavior was out of jail in two months.
When Davis gets out, will his boxing tools be as sharp as ever? Based on Mayweather's experience, his fans have nothing to worry about.
During Mayweather's incarceration, his lawyer and personal physician submitted a document to the court in hopes of securing an early release. "Jail food and water," it said, "didn't meet Mayweather's dietary needs and lack of exercise space in a cramped cell of fewer than 98 square feet threatened his health and fitness."
Not to worry. Floyd had some of his best moments after he was set free, although it may be worth noting that he stopped knocking people out.
Floyd was 35 years old when he regained his freedom. Gervonta Davis will be 28. There's no reason to think that he won't be as good as ever, but that's assuming that he keeps his nose clean. He doesn't need any more of these kinds of distractions.
To comment on this story in the Fight Forum CLICK HERE
Claressa Shields Defeats Maricela Cornejo in Detroit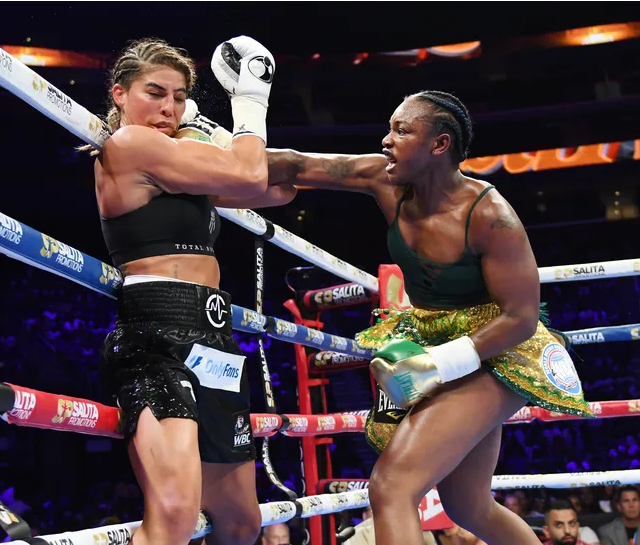 In front of a Detroit crowd familiar with boxing legends, Claressa Shields demonstrated her place among the legends with a start-to-finish win over number one contender Maricela Cornejo to retain her middleweight world championship on Saturday.
"Maricela is just super tough. She was just in shape and knew how to get away from shots," said Shields
More than 10,000 fans entered Little Caesars Arena and witnessed the fight.
Despite last-minute changes in opposition, Shields (14-0, 2 KOs) accepted always strong Cornejo (16-6, 6 KOs) and proved that former Detroit boxing legends such as Sugar Ray Robinson, Joe Louis and Tommy Hearns need to move over.
The champion wasted little time in opening-up with looping overhand rights that barely missed the mark. Cornejo was careful to avoid the bombs. Though few punches landed it was clear that Shields was on the attack.
Cornejo was scheduled to fight another foe and had been preparing in Las Vegas with famed trainer Ismael Salas. She was fully prepared to face anyone, but Shields is not anyone. Her defense was on point but the speed ratio of Shields punches is almost impossible to practice.
Still, Cornejo did enough by connecting with a strong right cross that kept Shields from overwhelming her.
"Just stay smart and not get hit with her big right hand," said Shields about her battle plan against Cornejo who replaced Hanna Gabriels who failed a PED test.
Though Cornejo had two inches height advantage, Shields had faced others that were taller before such as Christina Hammer and Savannah Marshall. Shields adjusted well.
"Height don't matter, power don't matter," Shields said. "It's all about skills and wills and I always have more."
Over the years Shields has carefully added more ammunition to her offensive arsenal and fighting a taller opponent with power has become second nature. Shields kept a perfect distance at all times and made it difficult for Cornejo to time her attacks with a big right cross.
Cornejo jabbed her way trying to close the distance, but Shields agility and reflexes kept the taller fighter from her goal. Shields snapped Cornejo's head back numerous times during the fight, but the Mexican-American fighter from the state of Washington has always shown to have one of the best chins in women's boxing. No one has ever knocked her down.
Shields came close, especially in the seventh round. Cornejo opened the frame with a strong right lead that seemed to awaken the gates. Shields unleashed the blinding combinations that have bewildered every foe she's ever faced since childhood. The speed and fury of the blows forced Cornejo to hold and maneuver out of range. She survived the onslaught but if it had been a three-minute round the fight might have been over. Instead, after the two-minute round expired, Cornejo had survived.
Shields had expended a lot of energy attempting the knockout. It takes a lot of to fire off dozens of blows with blinding speed and accuracy. Most of the eighth round was fought by both at a much slower tempo, until the last 20 seconds when Shields and Cornejo opened up the guns.
After saving energy in the prior round, Shields stunned Cornejo with a strong one-two that snapped the head of the challenger. Shields kept on the attack but in measured tones. Though she won every round it was evident that Cornejo was looking for one big counter shot that could turn the momentum.
It did not happen. Shields kept control of the fight until the very end. After 10 rounds both hugged each other in respect and the judges gave their verdict 100-89, 100-90 twice for Shields who keeps the middleweight world championship.
"I felt great. I won every round like I knew I could," said Shields. "I tried for the KO, but Maricela was tough, had a strong right hand."
For Shields it was her sixth defense of the middleweight championship.
"I thought I looked really, really good," said a very content Shields. "Thank you for coming out."
Other Bouts
Local fighter Ardreal Holmes (14-0) defeated Haiti's Wendy Toussaint (14-2) by technical split decision after the fight was stopped early due to a bad cut following a clash of heads in the super welterweight match.
Toussaint was the aggressor through most of the fight but when a savage cut opened up above his forehead the referee stopped the fight though the ringside physician had given approval to continue.
The fight was stopped at 1:54 of the eighth round and Holmes won 76-75, 77-74, 74-77. The Detroit crowd booed the decision loudly.
A middleweight contest saw Michigan's Joseph Hicks (7-0, 5 KOs) use his height and reach to dominate Atlanta's Antonio Todd (14-8) from the outside. All three judges scored it 80-72 for Hicks.
To comment on this story in the Fight Forum CLICK HERE
Adelaida Ruiz and Fernando Vargas Jr Score KO Wins at Pechanga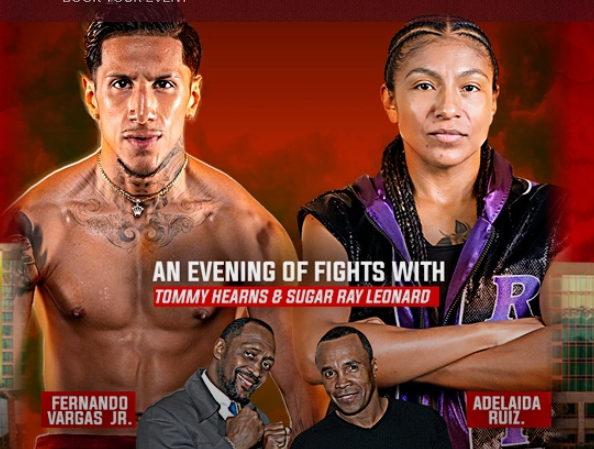 Adelaida Ruiz and Fernando Vargas Jr Score KO Wins at Pechanga
TEMECULA, Ca.-After a long period of fighting out of the country, Adelaida Ruiz returned to Southern California and with her came hundreds of her ardent followers as she won by knockout over Mexico's Maria Cecilia Roman on Friday.
Ruiz (14-0-1, 8 KOs) looked sharp and stepped in with a disciplined attack against Roman (17-8) who fought behind a peek-a-boo style throughout the fight. Ruiz fired away at openings with a measured attack in front of several thousand fans at Pechanga Arena on the MarvNation Promotions card.
Midway through the eight-round match Ruiz increased the tempo of the attack with blistering combinations to the body and head. During one of the combinations Ruiz connected with a left hook to Roman's temple and down she went.
Roman beat the count, but Ruiz never slowed her attack and each round her blows seemed to increase with power, the impact of the punches resonating in the arena. The interim WBC super flyweight titlist, whose title was not at stake, seemed determined to win by knockout.
In the eighth and final round Ruiz staggered Roman with another left hook to the temple and that only sparked more punches from the Southern California fighter. She unloaded her bullet chambers and the referee decided to stop the action at 1:19 of the eighth round.
Other Bouts
Fernando Vargas Jr. (9-0) won the super middleweight contest by knockout when Heber Rondon (20-5) was unable to continue due to a shoulder injury at the end of the second round. Fans were displeased but it was not up to the fans.
Vargas showed patience against the veteran southpaw Rondon who showed some tricks in his bag. But after some exchanges in the second round it was a surprise to everyone in the arena when the referee signaled the fight was over at the end of the second round.
Undefeated Jonathan Lopez (11-0, 7 KOs) of Florida remained unblemished with a unanimous decision win over Mexico's Eduardo Baez (21-5-2, 7 KOs) in a 10-round featherweight fight.
San Bernardino's Lawrence King (13-1,11 KOs) faced veteran Mexican fighter Marco Reyes (37-10) and was able to use his speed and southpaw stance to win almost every round. But he had to work for it.
Reyes was able to avoid most of King's attacks but in the sixth round after absorbing some heavy blows the Mexican fighter was unable to continue and the fight was stopped at the end of the sixth round for a knockout win by King.
In a super welterweight fight, Mario Ramos (11-0, 9 KOs) wore down Jesus Cruz (6-3) for three rounds with his left-handed assault and then lowered the boom with a non-stop barrage of lefts and rights. After nearly two-dozen nearly unanswered blows the referee stopped the battering at 2:09 of the fourth round.
Orlando Salgado (3-2) slugged it out with Squire Redfern (0-1) to win a super welterweight fight by decision after four back and forth rounds. Salgado connected with the bigger blows but never could stop Redfern from rallying round after round. All three judges scored in favor of Salgado.
A heavyweight battle saw Mike Diorio (1-5-1) win his first pro fight in out-punching debuting heavyweight Ian Morgan (0-1) after four rounds. Both fighters tired a bit but Diorio had a better idea of how to score and won by decision.
To comment on this story in the Fight Forum CLICK HERE