Danny Garcia, Danny Jacobs and Lamont Peterson Top Aug. 9 Brooklyn Card
I'm looking forward to boxing being back in Brooklyn, at Barclays Center, on Aug. 9, but I'm not guns 'a blazin' about the card as it stands now, I must admit. I'm never bummed at the prospect of seeing Danny Garcia and Lamont Peterson and Danny Jacobs live…but on paper, their foes don't scream "the best fighting the best."
As usual, when faced with this reaction, I am hopeful that my instinct is erroneous, and the bouts play out in a dramatic fashion. And I will admit, it isn't the rare instance when the makers of the matches are proven to know what they are doing, and the bouts turn out to be better than they appear on paper. Hey, maybe Edgar Santana knows his window to contend is closing and he springs the mad upset. Maybe Fletcher possesses skills and electricity which I haven't picked up on YouTubes. Maybe Salka pulls a Mauricio Herrera and outboxes Garcia. One never knows, until one knows…
UPDATED TUESDAY NIGHT: I reached out to Showtime boxing boss Stephen Espinoza, to give him an opportunity to give some insight on this top of the card. He told me he wanted a Danny Garcia-Lamont Peterson fight, but "couldn't get it." Asked to elaborate, he said it wasn't a money issue, but that promoter Golden Boy couldn't make it happen now. He likened it to how HBO and company couldn't make a Sergey Kovalev-Adonis Stevenson bout without first having to craft interims for each. I noted how that pairing would have been met kindly by fans. "Including by me," he responded.
He said also that he thinks Salka is "slightly better than Gabriel Bracero" because of his wins over Rigo Alvarez, Canelos' bro, despite the judges saying otherwise, and then 18-0 Alexei Collado, in his last outing. Espinoza deems the 35-year-old Santana, a winner of three straight, a "live dog."
And what of Fletcher? "Of the three opponents, Fletcher seems like the biggest question mark," he said.
I checked in with fighter/Showtime analyst Paul Malignaggi to get his assessment. The vet said that usually, summertime cards aren't blockbusters and are often landing strips for lesser known fighters to shine. "I don't think anyone expected last years' July 26 Showtime card to be a blockbuster on paper and it turned out to be possibly the best card of a very solid year on the network."
"I don't expect anyone to show up just to lay down and give the bigger name fighters an easy title defense," he continued.
He called Santana "a solid technical fighter" with some pop. "He can punch, I know, I have sparred him." He also said that Garcia has shown himself to be susceptible to crafty boxers who can stick to a gameplan, and Salka maybe could do that. "He was robbed blind against Canelos' brother and I'm glad to see him rewarded for the performance instead of being robbed and hidden under the rug like so many robbed fighters wind up."
And as for Jacobs' foe, Paulie said he hasn't scouted Fletcher much, but that fight is "a step in the right direction up the ladder" for the Brooklyn boxer. "He's young and improving both physically and mentally."
All in all, Malignaggi says that it is sometimes good for lesser fighters to get a shot, as he did against Miguel Cotto in 2006, as Chris Algieri just did against Ruslan Provodnikov. "Sometimes it's not bad to give lesser known fighters a shot if they have the ability to compete."
Measured stuff from the vet; we shall see how it plays out, right friends?
Here is the release which was sent out for the Golden Boy promotion, portions of which will run on Showtime.
DANNY GARCIA, LAMONT PETERSON AND DANIEL JACOBS TO HEADLINE GOLDEN BOY PROMOTIONS' RETURN TO BROOKLYN'S BARCLAYS CENTERSATURDAY, AUGUST 9 LIVE ON SHOWTIME®
TICKETS GO ON SALE FRIDAY, JUNE 27 AT NOON ET
BROOKLYN (June 24, 2014) – Golden Boy Promotions is back at Barclays Center onSaturday, August 9, with a SHOWTIME CHAMPIONSHIP BOXING® tripleheader featuring the sport's brightest young stars in pivotal world title fights. Boxing on Brooklyn's biggest stage will be Unified Junior Welterweight World Champion Danny "Swift" Garcia who will meet"Lightning" Rod Salka, IBF 140-Pound Titleholder Lamont Peterson who will face New York's Edgar "El Chamaco" Santana and Brooklyn's own Daniel "Miracle Man" Jacobs will challenge Australia's Jarrod "Left Jab" Fletcher for the vacant WBA World Middleweight Championship.
"This is my third fight at Barclays Center, and it feels like a second home to me," said Garcia, the undefeated Philadelphia native. "I'll be ready for Rod Salka, and I'm going to give my Brooklyn fans another great show."
"This is the biggest stage I have fought on in my career, but that doesn't intimidate me," said Salka. "Danny Garcia is beatable, and I'm going to show the world how it's done. My experience has prepared me for this, and I will be ready on August 9."
"I'm really excited about this fight and about making a statement to the boxing world that I'm the true junior welterweight world champion," said Peterson. "I know Danny will be watching me, and I'll be watching him. After August 9, there will be only one fight to make at 140 pounds."
"I want to thank Lamont Peterson and his team for giving me this opportunity. This has been a long time coming for me and I'm just so excited and thankful to finally be getting a crack at the world championship," said Santana. "This is an absolute pleasure for me to get this opportunity, especially since the fight is taking place right here in my hometown of New York. I haven't fought here in a couple of years and I expect to have a ton of people there to support me come August 9."
"This whole comeback has been a dream so far, and what better way to keep it going than with a world title fight in my borough?" said Jacobs, who battled back from a bout with cancer to earn a shot at the WBA championship. "This is the fight I've been waiting for and no one will keep me from that belt."
"I know that the hometown crowd will be in Jacob's corner, but that's fine," said Fletcher. "My goal like Daniel's is to win the WBA Middleweight title – and regardless of where the fight is taking place, I intend on having my hand raised and hearing the ring announcer say 'AND THE NEW WBA Middleweight World Champion Jarrod "Left Jab" Fletcher…!'"
"We are thrilled to be able to bring such a stacked card; this should help answer any and all questions about the future of Golden Boy Promotions – it is brighter than ever," said Oscar De La Hoya, president of Golden Boy Promotions. "Barclays Center and the Brooklyn fans have been great supporters of Golden Boy boxing, and we can't wait to bring them another great show on August 9."
"SHOWTIME continues to deliver the deepest fight cards in boxing," said Stephen Espinoza, Executive Vice President & General Manager, SHOWTIME Sports. "Three world title fights featuring young, dynamic, American champions at the electrifying Barclays Center in Brooklyn is a recipe for great sports television and the standard for SHOWTIME CHAMPIONSHIP BOXING."
"You know it's going to be a great night of boxing when Danny Garcia and Brooklyn's own Danny Jacobs are on the fight card at Barclays Center," said Brett Yormark, CEO of Barclays Center. "Both of these boxers have captivated audiences in their previous fights at Barclays Center and we are delighted that they are returning to Brooklyn's most celebrated ring. Golden Boy is once again delivering great boxing to Barclays Center."
Now in his third year as a world champion, Danny "Swift" Garcia (28-0, 16 KOs) has already made five successful title defenses. He's defeated Amir Khan, Erik Morales, Zab Judah, Lucas Matthysse and Mauricio Herrera. Still just 26-years-old, Garcia's fan base is growing with each bout, which isn't a surprise given his fan-friendly style and willingness to fight all challengers.
Unbeaten in four of his last five fights, with the only loss coming via controversial decision to Ricardo Alvarez last December, Bunola, Pennsylvania's "Lightning" Rod Salka (19-3, 3 KOs) is a skilled boxer who doesn't mind battling it out in the trenches if necessary, making his upcoming bout with Garcia one fight fans won't want to miss. A professional since 2007, the 31-year-old Salka just handed highly touted Alexei Collado his first loss on April 18, and he expects to shock the boxing world once more on August 9.
Washington, D.C.'s Lamont Peterson (32-2-1, 16 KOs) is a gifted boxer-puncher with much heart and talent. Like Garcia, the 30-year-old Peterson is another longtime champion. He has held a version of the 140-pound crown since 2011, defeating the likes of Amir Khan and Kendall Holt. Peterson is coming off an impressive 12-round unanimous decision win over previously unbeaten Dierry Jean in January.
Unbeaten in eight of his last nine bouts, including his last three straight fights, New York City'sEdgar "El Chamaco" Santana (29-4, 20 KOs) was long considered one of the city's top prospects, and now the current NABA champion will get his long-awaited shot at a world championship. Owner of wins over Josesito Lopez, Grover Wiley and Luis Hernandez, the 35-year-old Santana always comes to fight, and he will be bringing it from rounds one through 12 onAugust 9.
Perhaps the most inspirational figure in boxing today, Brooklyn's Daniel "Miracle Man" Jacobs(27-1, 24 KOs) seemed to be a lock for world title honors before cancer threatened his life and kept him out of the ring for 19 months. But when he returned, he picked up where he left off, securing five straight wins, all by knockout. On August 9, boxing's most amazing comeback story could get a new chapter if Jacobs can win a world title at home.
Fighting out of Hervey Bay, Queensland, Australia, 30-year-old Jarrod "Left Jab" Fletcher (18-1, 10 KOs) is a former star amateur who competed in the 2008 Beijing Olympics as the Australian team captain. Turning pro in 2009, Fletcher has won all but one of his 19 pro bouts. Currently on a six-fight winning streak, Fletcher is in the best form of his career as he approaches his first world title shot.
The event is promoted by Golden Boy Promotions and is sponsored by Corona and AT&T. Tickets priced at $250, $125, $75, $50 and $25, plus applicable taxes and service charges go on sale Friday, June 27 at noon ET and are available for purchase at www.barclayscenter.com, www.ticketmaster.com, all Ticketmaster locations, by calling 800-745-3000 and at the American Express Box Office. For group tickets, please call 800-GROUP-BK.
Follow Woods on Twitter. https://twitter.com/Woodsy1069
David Avanesyan: "My Aggressive Style is Going to Give Crawford Problems"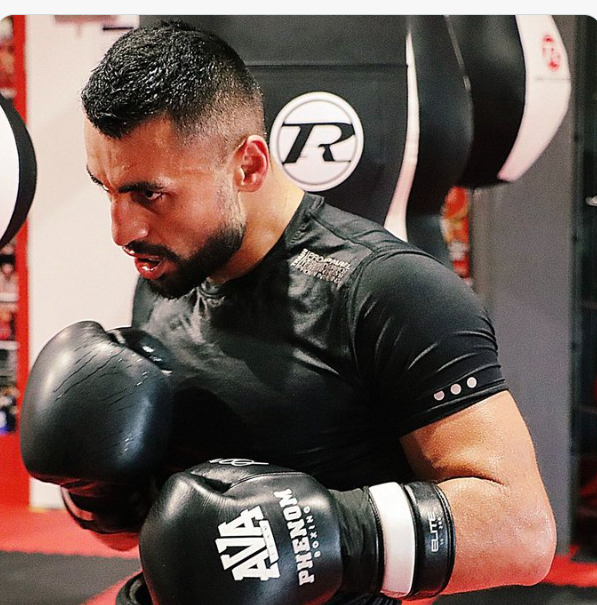 With determination and total confidence in his abilities, Russian David Avanesyan rejects the idea that he will be the "ugly duckling" when he faces Terence Crawford who will be defending his WBO welterweight title for the sixth time this December 10th.
"This is an opportunity of a lifetime for my family and me, one I will not take for granted," Avanesyan said. "I know going in that I'm a huge underdog and no one is giving me a chance, but let me tell you, I'm going to surprise everyone watching. I've had enough time to prepare, so I'll be ready for the southpaw."
Thirty-four-year-old Avanesyan (29-3-1, 17 KOs) was born in Russia but resides in England, where he has been preparing for the momentous matchup against Crawford.
European champion in the welterweight division, Avanesyan has won six straight, all within the distance; the most recent being in the first round against Finnish Oskari Metz (16-1, 6 KOs) in London.
Ranked sixth by the WBO and seventh by the IBF, Avanesyan says he has learned many tricks over the years and is now a completely different and more mature boxer.
"Coming from the amateur ranks, I had to learn how to sit on my punches correctly, which can take a lifetime for some fighters. The bad habits that plagued me early in my career are now fixed. Today I'm a completely different fighter in the ring, and my last six fights have shown my growth when it comes to my power punching. I believe my aggressive style is going to give Crawford problems," said Avanesyan.
Prior to his six-fight winning streak, Avanesyan was knocked out in the eighth round by California-based Lithuanian Egidijus Kavaliauskas in the city of Reno, Nevada where they fought for the NABF belt.
Avanesyan is not misguided as he assesses the enormous task ahead. "There's a reason Terence Crawford is considered the best fighter in boxing, his skill set is amazing, and he knows how to win," stated Avanesyan. "I know my hands are full, but I'm going to do everything I can to become a world champion. I need to stick to the game plan we have in place, and if adjustments need to be made during the fight, I will have to make them."
Although Avanesyan logically praises Crawford's career, the match-up has created a sea of ​​criticism for the undefeated Crawford (38-0, 29 KOs), who is ranked among the best pound for pound fighters. The vast majority of fans wanted to see him face his countryman, the undefeated Errol Spence Jr (28-0, 22 KOs), the current title holder of the other three most prestigious belts: the WBC, WBA and IBF.
But the thirty-five-year-old Crawford from Omaha, Nebraska says that regardless of his results and whatever adversary he faces, he will continue to be blamed by the people who just don't like him.
"Before, I always cared a lot about what the fans say and say about me," stated Crawford. "But the older I got, the more I came to the fact that you can't please everyone. No matter what you do, no matter who you beat and how many fights you won, how many divisions you conquered, there will still be those who will not love you for their own reasons. It seems to me that all the great fighters went through this. All the greats who were before me, and all those who will be after me, it will be the same with everyone."
In his brilliant professional career, Crawford has been world champion in three divisions: lightweight, super lightweight and welterweight.
Six years after his professional boxing debut, Crawford claimed the WBO 135-pound world title by unanimously defeating host Ricky Burns in Glasgow, Scotland.
Thirteen months later, Crawford added the vacant WBO 140-pound title by anesthetizing Thomas Dulorme in the sixth round. Dulorme could not endure Crawford's powerful punch and visited the canvas three times in the fateful sixth round.
Crawford became the undisputed king of the super lightweight division in August 2017, when he chloroformed Namibian Julius Indongo in Lincoln, Nebraska. The African lost the WBA and IBF belts, while Crawford retained the WBC and WBO belts.
In June 2018, Crawford conquered the WBO welterweight belt after putting Australian Jeff Horn (20-3-1, 13 KOs) to sleep in the ninth round at the MGM Grand Casino in Las Vegas.
Thanks to his blazing hand speed, ring savvy, counterpunching skills, as well as his ability to switch from right guard to left guard and back again, Crawford is considered a heavy favorite to take down Avanesyan.
*Note: As of December 2nd:  Crawford  -1600 / Avanesyan  +780
Article submitted by Jorge Juan Alvarez in Spanish.
Please note any adjustments made were for clarification purposes and any errors in translation were unintentional.
To comment on this story in the Fight Forum CLICK HERE
Juan Francisco Estrada Holds Off 'Chocolatito' Again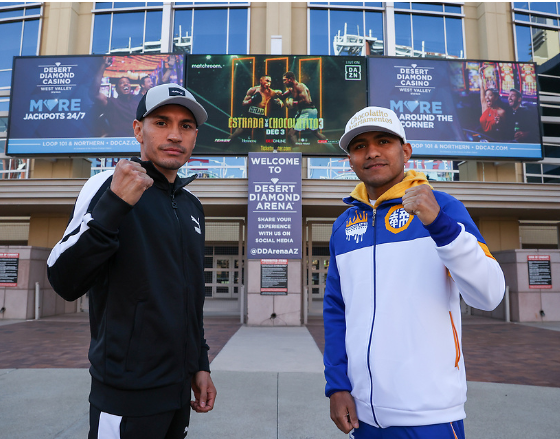 Once again Juan Francisco Estrada jumped out in front early and Roman "Chocolatito" Gonzalez needed time to crank up the engine, but fell too far behind as the Mexican fighter won the vacant WBC flyweight world title on Saturday.
Estrada wins the trilogy 10 years in the making.
Once again Estrada (44-3, 28 KOs) surged ahead early in the fight against Nicaragua's Gonzalez (51-4, 41 KOs) and then navigated toward another win, this time at the Gila River Arena in Glendale, Arizona on the Matchroom Boxing card.
"We had excellent preparation at high altitude and I think we left the fight clear on who won the fight this time," said Estrada about the third encounter.
Ten years ago, the trilogy began in Los Angeles as "Chocolatito" confronted an unknown fighter at the time in Estrada. The two surprised the crowd who expected Gonzalez to destroy yet another Mexican fighter. But it did not happen that night though Chocolatito proved too experienced and battered his way to victory in a light flyweight world title clash.
Then, in March 2021, Estrada finally fought Gonzalez in a rematch and the two engaged in a closely-fought super flyweight world title match. This time Estrada proved slightly better according to the judges and won by split decision in Dallas, Texas.
Few knew what to expect in a third encounter.
At first the coronavirus stalled plans for the trifecta so Chocolatito fought a replacement and dominated. Meanwhile Estrada fought another Mexican and did not look good.
On Saturday, a decade after their first encounter, Estrada looked fluid and accurate in dominating the first six rounds of the fight. Though he did not hurt Gonzalez, he was repeatedly scoring at will.
Gonzalez woke up around the seventh round.
Suddenly the Nicaraguan who was once considered the best fighter Pound for Pound showed up and fired rapid combinations. The spring in his legs suddenly appeared and the energy level was cranked up high after nearly being on idle.
Estrada suddenly found himself against the ropes forced to slip and slide away from Gonzalez's powerful combination punches. A real fight suddenly erupted during the final six rounds.
"All fights are different and all fights are difficult and this was the most difficult one," said Gonzalez, a four-division world champion.
Though neither fighter was ever visibly hurt, Gonzalez's pressure kept Estrada expending too much energy trying to evade the Nicaraguan's traps during the final six rounds.
"He always goes 100 miles an hour," said Estrada of his nemesis.
Estrada used uppercuts and slide steps to maneuver against Gonzalez's hard charges. It seemed to work and allowed the Mexican fighter more room and time to apply counter-measures.
In the final round, those maneuvers allowed Estrada to connect with a hard punch to the body that forced Chocolatito to cover up. It also allowed Estrada to unravel a combination that gave him the last round if needed. After 12 rounds one judge scored it 114-114, while two others saw it 116-112, 115-113 for Estrada who becomes the new WBC super flyweight world titlist.
"We did an excellent fight and I got the victory," said Estrada. "I've always said Chocolatito is a future Hall of Famer."
Gonzalez was gracious in defeat.
"What is important is we gave that good fight to the fans and we came out in good health," Gonzalez said.
There is even talk of a fourth fight.
"As long as they pay well, of course," said Gonzalez.
Other Fights
Julio Cesar Martinez (19-2, 14 KOs) retained the WBC flyweight world title by majority decision over Spain's Samuel Carmona (8-1) in a rather dull affair. Mexico's Martinez chased Carmon all 12 rounds in a fight that saw Carmona slap and run, then hold.
No knockdowns were scored and Martinez won 114-114, 117-111, 116-112.
Diego Pacheco (17-0, 14 KOs) ran over Mexico's Adrian Luna (24-9-2) with three knockdowns in winning by stoppage in the second round of the super middleweight fight. It was no surprise.
The 21-year-old from South Central L.A. once again showed that despite his youth his power seems to be continually increasing as evident in the knockout win.
Now training with Team David Benavidez, the young super middleweight looked sharp, especially with the lead overhand right that floored Luna in the second round. Luna was floored two more times and the fight was wisely stopped by his own corner.
"You put in the hard work then you come in here and shine," said Pacheco. "I joined team Benavidez this year."
Nicaragua's former world titlist Cristofer Rosales (35-6, 21 KOs) won a dog fight over Mexico's Joselito Velasquez (15-1-1, 10 KOs) by unanimous decision after 10 rounds in a flyweight clash.
It was a back-and-forth struggle that saw the taller Rosales take over in the second half of the fight and win by simply out-punching Velasquez and handing the Mexican his first loss as a professional by scores 97-93 three times.
Photo credit: Milena Pizano
To comment on this story in the Fight Forum CLICK HERE
Tyson Fury TKOs Derek Chisora in Round 10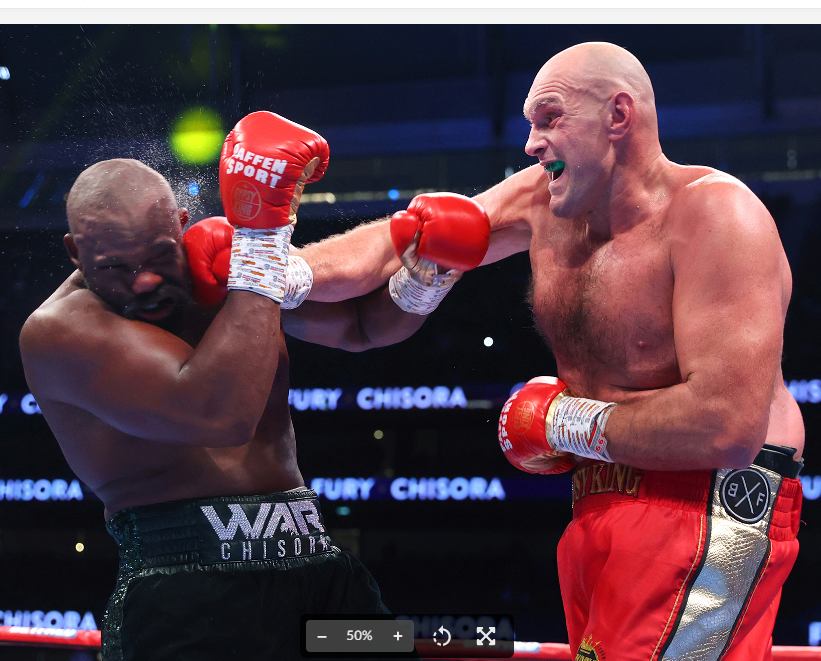 It was a chilly night in London but that didn't deter a near-capacity crowd from turning out at Tottenham Hotspur Stadium to witness the third rumble between Tyson Fury and Derek Chisora. The Gypsy King was heavily favored to retain his WBC and lineal heavyweight title and performed as expected. Indeed, this fight closely resembled their second encounter back in 2014.
In that bout, Chisora absorbed a terrific amount of punishment before his corner pulled him out at the conclusion of the 10th round. Tonight's fight ended nine seconds earlier at the 2:51 mark of round 10 and it was the referee who terminated the match.
When is a heavyweight not a heavyweight? When the man in the opposite corner is substantially bigger. With an 8-inch height advantage and a 15-inch reach advantage, the six-foot-nine Fury was simply too big a mountain to climb for the brave Derek Chisora, a fighter who changed his nickname in mid-career, transitioning from "Dell Boy" to "War."
Fury dominated round two, especially the last minute, a round in which he was credited with landing 18 power punches. The writing was on the wall for Chisora who ate a lot of thudding uppercuts in the ensuing rounds and ended the contest with a badly swollen right eye and a bloody mouth. With the victory, Fury improved his ledger to 32-0-1 with his 24th win inside the distance. The Zimbabwe-born Chisora falls to 33-13.
Oleksandr Usyk and Joe Joyce were in attendance and the Gypsy King addressed both before he left the ring. Calling Usyk "The Rabbit," he indicated that he would fight Usyk next in a true unification fight, but said if there were a snag in negotiations he wouldn't mind trading blows with the Juggernaut, Joe Joyce, who wore down and stopped former heavyweight title-holder Joseph Parker, a former Fury sparring partner, in his most recent engagement. However, Fury also revealed that he had an issue with his right elbow that may require surgery.
Co-Feature
In a heavyweight match that lasted only three rounds but was chock-full of action, Daniel Dubois overcame three knockdowns to retain his secondary WBA heavyweight title he won at the expense Trevor Bryan with a third-round stoppage of upset-minded Kevin Lerena.
In the opening stanza, Johannesburg's Lerena, landed an overhand left on the top of Dubois's head that put the Englishman on the canvas and left him all at sea. He went down twice more before the round was over, the first time of his own volition when he took a knee (reminiscent of his match with Joe Joyce) and the second from a glancing blow.
Dubois, whose legs are spindly for a man of his poundage, had trouble regaining his equilibrium in round two, but Lerena didn't press his advantage. In the next frame, a short right from Dubois penetrated Lerena's guard and down went the South African. Smelling blood, Dubois knocked him down again and was pummeling him against the ropes when the referee interceded just as it appeared that Lerena would be saved by the bell.
It was the fourth straight win for Dubois (19-1, 18 KOs) since his mishap versus Joyce. Lerena, who entered the bout on a 17-fight winning streak, lost for the second time in 30 fights.
Also
In a ho-hum affair, Denis Berinchyk, a 24-year-old Ukrainian, captured the European lightweight title and remained undefeated with a unanimous decision over French-Senagalese warhorse Ivan Mendy. Berinchyk (17-0, 9 KOs) was making his first appearance in London since winning a silver medal at the 2012 Olympics where he was a teammate of Oleksandr Usyk and Vasiliy Lomachenko.
The judges had it 117-112 and 116-112 twice for the Ukrainian. The 37-year-old Mendy, who has answered the bell for 380 rounds, falls to 47-6-1.
Photo credit: Mikey Williams / Top Rank via Getty Images
To comment on this story in the Fight Forum CLICK HERE