Ron Stander Lost To Joe Frazier, Won The Respect of a Region
I called Toddy at 1:30 ET on Friday, and asked her if it was a good time to talk.
"Sure," she answers, "I'll put The Butcher on."
Wait a minute. Before you do, can I ask, Do you always call him The Butcher…or do you call him Ron, or….?
"Usually Ronnie," says the third wife of Ron Stander, not the lady in that 1972 Sports Illustrated story by the writer who tapped the typewriter from upon a high horse, looking down at the boxer blessed with more in the way of willingness and a super-abundance of cajones than pugilism skills galore, "but sometimes I call him Champ in public…or Butcher."
He was "The Bomber" before he was christened "The Council Bluffs Butcher," till someone wised up and thought to themselves that the style of the guy from Council Bluff, just-across-the-river-from-Omaha, was not cut from a similar cloth as The Brown Bomber, but more so of someone accustomed to and not put off by having the blood of another animal on them. Or, for that matter, their own…
While I had Toddy on the line, looking to get more info on the last time a big bout came to Omaha, the last time the pugilism big top rolled into town before TopRank and HBO hauled their caravan topped by the current pride of Omaha Terence Crawford's lightweight title defense against Yuriorkis Gamboa to this location for a Saturday night set of tussles for the amusement of the citizenry, I asked how long she and The Butcher had been together.
"It'll be six years in October," she says, adding that Halloween will be her anniversary.
And, I wonder, is there any irony or symbolism in that date?
"Ron was acting the fool, as usual," with not a hint of an edge, which told me she loves this "fool" immensely. "He said, on Halloween, 'Let's get married today.' October had had sad days for me before, my daughter had died in October and my previous husband, too. So he wanted something nice."
I was getting a different picture of the semi-buffoonish persona portrayed by Mark Kram in SI, in the story titled "The Bluffs Butcher Gets Tenderized," the one which did more than insinuate that Stander was moron for doing what his warrior heart demanded, which was get right in Frazier's face, and look to land a game-changer of an uppercut, and bring Joe Frazier's heavyweight title crowns out of the Civic Auditorium in Omaha, to his residence in Iowa.
This Kram did what so many of them did then, and now, from the safety of the sidelines and the insulation which comes from owning a flak-jacket of snark and condescension, and opined that Stander was better off finding a new job. As if so many of those were and are so easy to come by, as if men unlike him were built different, to test themselves on stages where the stakes were as high as they can get, you could lose real, real bad, and die, or be left brain damaged…and where the payoffs were the sort which could leave a guy able to point to his bank book, and smile, because he knew he could live off the interest.
In third round of the bout which unfolded on March 25 of 1972, by the way, Stander let loose an uppercut which, he'd tell me, was almost that game-changer sort.
He'd planned, with a trainer hired special for this gig by the consortium of dealmakers in a crew called the Cornhuskers Boxing Club, to drill on throwing that uppercut, and looking to land it on a Frazier who'd been into the deepest of waters a little more than one year before, March 8, 1971, at Madison Square Graden in New York City.
Frazier had been been pushed and pulled and mashed more than he'd been accustomed to, having piled up a 31-0 record to that point, when he met the fighter he was still calling Clay. There was no mass movement against Frazier at that time when he followed the win over Ali with a defense of his titles against Terry Daniels, a 28-4-1 boxer, in January of 1972, and while there was agitation to get Smokin' Joe back in against Ali for a rematch, people who knew the fight game knew that a defense against a solid but unspectacular sort, like "The Butcher," rated as high as No. 9 by one sanctioning body, wouldn't be dismissed as a larcenous cash grab.
And if there was yapping, to hell with them, because of course it's infinitely easier to demand a champ glove up in short order against a guy who'd shared a ring in which both men strove for Armageddon of the other.
***
The last remaining member of the Cornhuskers Boxing Club, Tom Lovgren, now 75, was kind enough to offer his recollections of the night Stander, owning a 23-1-1 mark, much of it built up in the two large sized auditoriums in Omaha at the time, the City and the Civic Auditoriums, almost landed that uppercut on swarming Joe.
Lovgren, then living in Ohio, was tasked with finding foes for Stander, who debuted as a pro after showing good form as an amateur, in August 1969. Lovgren, though, got a shock of news when docs told he had multiple sclerosis, so keen to make meaningful moves after that piano fell on his head, he loaded up the wife and four kids, and moved to Omaha, to get closer to the action, to make the most of his 25% interest in the Club, which also featured Stander and manager Dick Noland getting 20%, and another money-man, a finance guy named of Don Moran, owning 20%, with a bunch of smaller players holding 5% stakes.
Back then, Yank Durham was handling most of Fraziers' business, and after Daniels, he thought it wise to get another defense going against a less-than-Godzilla level foe. Durham, Lovgren says, reached out to the Stander crew. Mutual interest was there, but a mutually beneficial financial package wasn't.
"The first contract had Frazier making all the money," Lovgren says. "We eventually got to a sixth contract, and the arrangement was OK."
A Madison Square Garden wasn't going to pony up for a Frazier-Stander fight, and an ABC wasn't going to put up significant enough dough to satisfy Durham and Frazier…but based on Standers' history as a draw in Omaha, they knew they could pack around 10,000 people into the joint, and a shrewd dude who loved making inventive deals named Eddie Einhorn brought his skills to the table. Einhorn, who eventually rose to head up CBS Sports, peddled the fight via his syndication company, TVS Television Network. He improved his leverage by packaging the fight along with the second NBA vs. ABA All-Star game, which took place on May 25, 1972, at Nassau Coliseum on Long Island. Now, there would be enough money, for certain, to satisfy all the parties, and cement the biggest fight promotion in Omaha since forever.
So, now the question was, would Stander, not being ever so fond of the grunt work needed to get the body and mind in prime shape for a 15 round obstacle course of blood and sweat, get into proper condition to give himself even a modest chance at winning?
The Club decided to bring in a guy named Johnny Dunn, who'd impressed them when he'd handled another guy who scrapped in Omaha, to work with Stander, in Boston, away from the pull of the adoring masses in Council Bluffs. Lovgren went along, watched the fridge and Stander's visits to it, and made sure he didn't hit the snooze button on the alarm clock when it was time for AM road work.
"But this is my lot in life," Stander tells me, on Friday afternoon, the day before he will visit the arena to cheer on Omaha's Crawford. "Two weeks before the fight, in Boston I was sparring Mighty Joe Young, from Brooklyn, and he tapped my nose, and broke my nose. You can't stop the fight or postpone it, you get one chance at a chance of a lifetime."
The show but of course had to go on. Stander mostly enjoyed the buildup, and found Frazier to be a decent sort. He got stung by wiseguy media, like the guy with the Boston paper who chatted with him for 30 minutes, and then did a column based on a stupid joke Stander made in the last 30 seconds of the interview. It was like when he was chatting with Kram, of SI, and made a goofball crack about Fraziers' power, and he pretended to hit the deck, using a hotel room bed as the canvas, and Kram wrote that Stander was twitching on the bed, showing him how Frazier was going to knock him out. "Kram was a jerk," Stander says. "I tried to be cute but…I was facetious, on the bed, acting the fool."
Yes, while we are at it, let us give the man the proper forum to stand up for himself and say that for the record, he wasn't miming what he thought would be his imminent landing place come fight night. He saw himself as a guy with a chance, maybe a 10-to-1 underdog, but for certain, no version of a laydown patsy seeking only to make his fall look plausible. No, Stander has faced off with a lightning storm wearing tinfoil cap before, against then 12-1 Earnie Shavers, a couple years before, so he knew Fraziers' power would be of a lesser grade than that. "Shavers, he hit you with a jab and it felt like being hit with a nightstick," he says.
Counting down to fight night, Lovgren admitted to Dunn that he was worried about Standers' chances. He knew they'd make money, probably gross $250,000 with a full auditorium…but could Stander go the distance, go 15, if need be? There'd be no need for that, fightgame lifer Dunn told him.
"It's not going 15," Dunn said. "Frazier gets hits with uppercuts. If Ronnie can nail him with a great one, the fight will be over. And Ronnie, he's got one of the greatest chins around, but he will get cut up. He's not going to get kayoed, but he could be cut so bad, between maybe round eight or ten, they'll have to stop it."
Nearing fight night, Stander had been doing the road work and sticking to a diet to where he'd be weighing around 215 for the weigh in.
Zach Clayton, a friend of Frazier who'd been installed when Frazier agreed to let team Stander pick the judges…as if they'd be needed…if he could pick the ref, stood watch as Stander got a massive hail of cheers as he was announced at 218 pounds. Frazier was 217 ½, with a record of 28-0. Nebraskans and Iowans with those Midwest manners gave him a nice ovation, and then the world heavyweight championship bout was underway.
***
Stander heard the ref say that the three knockdown rule was being waved, and then they got to cracking. Stander in round one landed a right hook right away, and he stood tall and didn't willingly give an inch of ground. Kram called the strategy suicidal, basically, but Stander was what he was. No, not Nureyev, not an ounce of dancer in him. But did he do a little jig in his head when his left hook to the body made Frazier do a hiccup step? The Butcher saw the slip, and pressed, and Omaha lost a lung, propelling their man to get on it.
"If it were in an alley, I'd be the favorite," Stander had told people pre-fight, and heck with that, using the standard Queensberry rules, he won himself the first.
Frazier heard it from the corner after the first, and came out with more steam popping from his ears, his engines gunning for the Stander torso. Yet Stander chugged forward, while eating a larger volume of hooks. The Philly swarmer stood flat footed, winging with both hands, adding jabs and right uppercuts to the mix.
"Wild uppercut, he swung that one from Council Bluffs, Iowa," the blow by blow man Wes Carter said to a Stander miss midway through the second.
Lovgren still sees that launch, plays it in his head, wonders what if the placement was better.
"In the second, Ronnie's uppercut just missed," he says. "I was two inches from becoming a millionaire."
Stander ended the second in Fraziers' face, Joe's back to the ropes, his mind comprehending that he'd have to summon some A grade stuff to get the W here, that 'B' wouldn't suffice.
In the third, the 27-year-old Stander came out strong, but he ate a left, and his nose was cut, on the bridge. It was music to Fraziers' eye…..The Philly boxer bobbed, weaved, ripped those hooks, danced a bit, giddy with the way it was now playing out. Frazier used every allowance, getting space with his left forearm and elbow. A right uppercut snapped Standers' head back, but he kept trying to advance. A right cross landed clean on Frazier, and then a bit later, a left hook sent Joe back a step. But a left uppercut in answer jellied Standers' legs some. Yet, he fired back to end the round.
In the fourth, Standers' offense, and stubborn courage, had the fans retaining optimism. Stander found a home for a right cross, but was Frazier just getting some rest? A cut over Standers' right eye emerged, and the Iowan started clinching more, as blood obscured his vision. Stander went to his corner, intent on continuing, letting it play out how however fate demanded. But a doctor, a man named Jack Lewis, who still lives in Omaha, pulled the plug. The blood had become a blindfold, made it so The Butcher was guessing where Frazier was, and getting confirmation back in the forms of hooks to the right side of his head, and uppercuts lifting up his chin.
Stander calls himself a fool, plays the role of the goofball jester, jokes that with his luck, he'd be lucky enough to score a Floyd Mayweather-type payday, and the next day get felled by lightning. But Stander isn't one. To label him one does a disservice to the man, and to the ferocious pride which fuels a soul when lessers would cave in to severe circumstance and neurologic trauma. Yes, proud, for sure, maybe tipping towards a level which can be seen as excessive to laymen. He still, 42 years later, wants to have it be known why that fight ended.
"Frazier didn't beat me," Stander says. "The doctor stopped it. I was ready to go on more. I would have the whole night. Man, I would have gone outside to fight. I asked Joe, he didn't want to. I was ready to rumble."
He jokes..I think he's joking, he could be more than a bit serious, I don't think it's my place to really ascertain the pride level…that he softened Frazier up, so that George Foreman, watching from ringside in Omaha, could demolish Smokin' Joe.
We talk some more about that shot, about how timing is everything, and he cracks another one, about how Foreman did quite well for himself, sold that grill line for a boatload. "If I sold the grill line, I'd get hit by lightning right after," he cracks.
On a whim, I reached out to Foreman, who is now back in the boxing business, doing fight promotions with all those sons named George. George, you think Stander helped your cause against Frazier, when you met him in Frazier's next contest, in January 1973?
"He really did!" Foreman says. "I got to thank him for it," he says, and delivers a booming Foreman chuckle.
***
It sounds like things are OK for Stander today. That wife, that Darlene who busted his chops mercilessly in the Kram piece, they split up not long after, and he doesn't hold any grudge against her. No, the insults in the story, how he never got himself properly trained for fights, that doesn't rankle Stander. He even tips his cap to the ex, for that famous line of hers, "You don't enter a Volkswagen at Indy unless you know a helluva shortcut." Nope, that line, those smackdowns weren't the last straw, he says. The camel's back was already split near in half…
The 69-year-old will be present to watch this big hullabaloo, and he's hoping HBO will come through with some prize seats so he can see if that kid Crawford (23-0 with 16 KOs; age 26), the one nicknamed "Bud," about as far from fearsome as "The Butcher" you can get, can handle a 23-1 Cuban cutie with an experience edge. The return to these parts can be attributed to 82-year-old promoter Bob Arum who'd been in the boxing years just six years when the Frazier-Stander scrap went down. He told Crawford that he'd endeavor to make it happen that he'd defend his WBO title in front of his people on Omaha, and this wasn't a placation of ego, or anything. No, in this day and age when checks from TV suits has made real-deal grass-roots promoting a rarity, putting 10,000 paying customers into an arena is more than just lunch money. Arum isn't a sort of Warren Buffet of boxing because he does such things on a whim.
Lovgren, too, will attend, he tells me. He scored tix in the third row. Now, will this promotion rival the night Omaha scored the heavyweight championship of the world, back when that meant more than a little something, back when our sport didn't have to defend itself from accusations of imminent demise?
"It's a different era," says the 75-year-old who continued to promote shows in Omaha after the big night, many involving Stander. "HBO will be here. Is it better, or worse, or some of both? Here, there will never be a draw like Stander. Now, the 135 pound champ is from Omaha, and there is pride in that… We had a world champion in Nebraska, in Perry "Kid" Graves, who won the welterweight title in 1914. But with HBO, Stander would have made a lot more money. Now, are we romanticizing it? Could be.
"So, I'm the last guy alive from the Club, and I remember the fight like it was yesterday."
Ah, but that yesterday was so different than today…or was it, is it?
"It is different," Lovgren says. "You have Top Rank here, big money people involved. I had more dreams than money, and Top Rank has more money than dreams." Lovgren pauses, mind drifting back to when he was in his 30s, still thinking that there would likely be a few more shots at the big score on grand stages, more turns to be taken shooting the dice, and a good probability that the fates would one of those times smile, and give you a great roll.
Well, I'm guessing Stander gets hooked up with prime tix, being that a camera crew went to his house and did some shooting. Stander is gracious about the card, and Crawford, noting that the event is a buzzworthy atrraction, but yes, it does lack that certain something, not being a heavyweight tiff. He moved to near Omaha, Ralston is the name of the town, around 1988, and simply loves the caliber of the people there. Him and the missus, who raves about how the fight game people have embraced her, will go to amateur and club shows, and donate some funds from autograph signings to help run those programs. She too has nothing but love for Bud, who is her Facebook friend, and who deserves all points of light from the spotlights trained on him in his moment of possible glory.
Crawford could well get a boxing lesson from a guy who can box a masterpiece in his sleep, but yes, sometimes fights in a somnombulant state, or tonight he could stake build his Wikipedia page to the equal of Stander. Stander, though, is one of those guys who will go to his grave secure in the knowledge he's no one-hit wonder, as far as legacy goes. He used to do bodyguard work for bold-face names, like Liza Minnelli, the Stones, the Eagles. He's thanked by Don, Glen, Joe and the boys on their "Hotel Californa" album, which I dare say will still be decent seller long after people forget who the hell Miley Cyrus was. That era, and Stander's era, the case can be made that they were special, as compared to know, because…well, maybe just to us who were alive then, and there is always that tendency to look backward through the rose-colored binoculars. Or, maybe it pays to poke yourself, and note that yes, we do have that global warming gloom hanging over head…but in '72, the kiddies had to worry that the Soviets would wake them up with a hailstorm of nukes. Shall we call it a tie?
Stander seems to wrestle just a bit with how to treat the issue of those jackpots that didn't pay out..he does come back to the issue of timing a few times, noting that while the back-white angle was used some in the build-up to his fight with Frazier, the same marketing angle helped build the pot not that many years later for a Larry Holmes-Gerry Cooney fight so that both men made $10 million apiece.
"Frazier got $750,000, I got $100,00," Stander says of his single best stab at the mega-bigtime. "I needed a little bit of luck," he says, and it goes without saying that the luck was in the trunk of the Volkswagen that night.
He is mildly philosophical, noting that Frazier was a good cat, and they shared that trait of being workmanlike, not caring for the frills-style, the Ali methods of movement and such. "Nothing fancy, get the job done," he says, which he did to the tune of a 38-21-3 mark, doing his last violent waltz in 1982. Toddy is working on a book on Stander's rich and varied life, and that should be available in about a year, he reports.
***
As for Omaha, I should note for the record that I think there is a perception that this is a one horse town, and the horse is a nag with a limp. They do have marquee stuff going on here, the College World Series was just here, and Stander says, impressing me with his successful insertion of a current pop culture reference, "Bruno Mars was just here."
"But I am looking forward to the fight," he says. "Gamboa is a good fighter, he might surprise us."
Stander did, back in '72; pre-fight, they were saying round one, maybe two, no later than three for Frazier. But the surprise was contained to how well he did in a losing effort; that uppcercut didn't make Lovgren a millionaire, and Stander had to take regular guy jobs to make the ends meet in the decades to follow. But you won't see me going all Kram on the guy. That's because I know Terence Crawford will be a fortunate soul if in 42 years, he is still strolling about the region, and getting the same love from the salt of the earthers as The Butcher does.
Omaha isn't the Big Apple, it isn't blessed with such an evocative tag. You make it there, you may well be tempted to jump ship, see if you can do the same in a bigger market. Yeah, the big stage for the Crawford-Gamboa fight will be set up in a city which is the 42nd largest in the nation. Not long ago, a national magazine ranked Omaha the third best city to live in; but I dare say, because it doesn't have the same number of bells, whistles and collective ego of many of the other 41 cities of a larger stature, it is a damned fine place to come kind of close to shocking the world, and almost putting a dousing on Smokin Joe. I think it's OK for Stander today, I do think he's OK with that uppercut not landing, and still, 42 years later, possessing more dreams than money.
Avila Perspective, Chap. 230: Haney and Lomachenko Hit Hollywood and More Fight News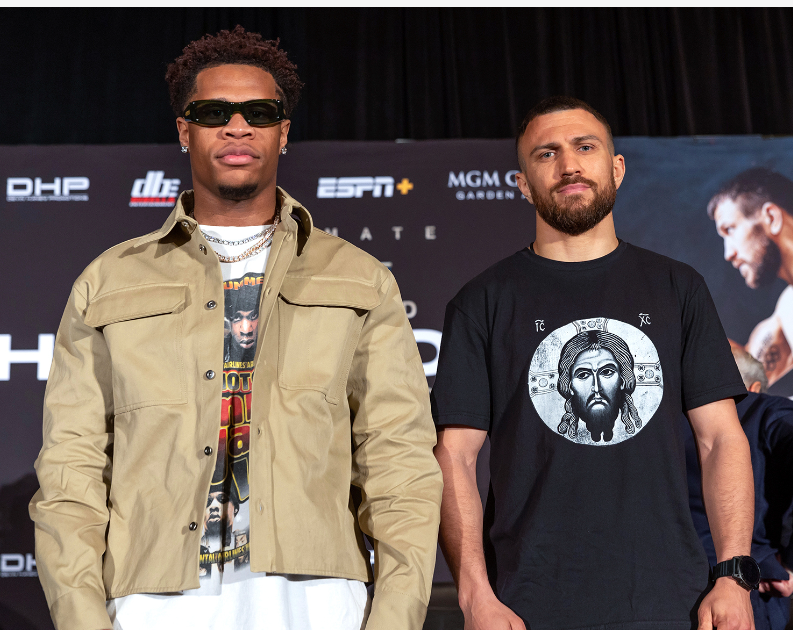 HOLLYWOOD, Ca.-Smack in the middle of glitzy Hollywood, two champions, Vasyl Lomachenko and Devin Haney, arrived to meet the press on Thursday despite another unusual California storm.
Also unusual was the low intensity press conference void of the now cliché verbal cursing and shoving performed to entice fans to buy tickets or pay-per-views.
This prizefight will be for the boxing scientists, the fans that appreciate the subtleties of the sweet science.
Undisputed lightweight world champion Haney (29-0, 15 KOs) will face challenger Lomachenko (17-2, 11 KOs) at the MGM Grand Arena in Las Vegas on May 20. ESPN pay-per-view will televise the Top Rank event.
At the Dolby Theater, the same location where Oscar winner Will Smith slapped comedian Chris Rock live in person without sanctioning, two actual prizefighters showed up to meet the media. Nobody slapped anyone.
There will be punches fired when they meet in two months.
Haney grabbed all the titles at once when he defeated Australia's George Kambosos twice in that fighter's home country. And Kambosos defeated Teofimo Lopez to win those same belts.
"This is a real fight. This is not an influencer fight. This is really for the belts. This is for the gold. This is possibly to determine the best in the world as well," said Haney.
Despite Haney holding all the belts some in the boxing world claim he does not deserve recognition.
Lomachenko, held three versions of the lightweight title after defeating Luke Campbell for the WBO, WBC and WBA lightweight titles, but lost to Teofimo Lopez who held the IBF version and became undisputed by beating Lomachenko. But Lopez lost to Kambosos and Haney beat the Aussie twice to show his superiority.
Both Haney and Lomachenko have elite fighting skills.
"We never know what will happen. We can prepare for one strategy, but in the ring it can all change. Right now, I don't know. I just train hard and prepare. I believe in God and in my team," Lomachenko said.
At age 24 Haney has demanded tough fights and took his team across the border for a couple of years to toughen up against Mexican sluggers who cared not about his impressive amateur career.
He excelled.
Lomachenko was an amateur boxing legend with countless fights and accolades including Olympic gold medals in the 2012 London Games and 2008 Beijing Games.
Lomachenko has always excelled.
Meeting face to face, the American Haney and Ukrainian Lomachenko realize they have no need to slap each other or unleash flammable comments at each other.
It's skill versus skill.
"I've seen hundreds of great matches over the years. But when I see a match like this, it stirs my blood because it is such an interesting fight to watch," said Top Rank's Bob Arum.
Absolutely.
London calling
Former heavyweight champion Anthony Joshua returns to the prize ring to re-establish his claims to the heavyweight title. Standing in the way is American Jermaine Franklin who predicts a knockout win over the British pugilist.
Joshua (24-3, 22 KOs) meets Michigan's Franklin (21-1, 11 KOs) at the O2 Arena in London on Saturday, April 1. DAZN will show the Matchroom Boxing card beginning at 11 a.m. Pacific Time.
Also on the card will be another American fighter, Ammo Williams (13-0, 9 KOs), who signed with Matchroom a few years ago and is ready to step up in class. He meets River Wilson-Bent (14-2-1, 6 KOs) in a middleweight bout.
Top Rank in Oklahoma
Former super bantamweight champion Isaac Dogboe (24-2, 15 KOs) opposes Robeisy Ramirez (11-1, 7 KOs) for the vacant WBO featherweight title on Saturday April 1, in Tulsa, Oklahoma. ESPN will televise the Top Rank card.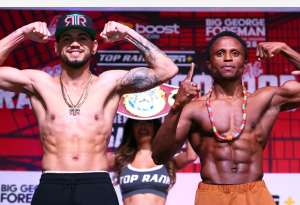 Also, Joet Gonzalez (25-3, 15 KOs) meets Enrique Vivas (22-2, 11 KOs) in a featherweight scrap. Both fighters are based in Southern California.
Tank vs Kingry All Access on Showtime
This Saturday night Showtime will be presenting the "All Access: Davis vs Garcia"   following the replay of last week's Las Vegas fight card that featured David Benavidez and Caleb Plant, plus three other fights. The programming begins at 10:35 p.m. PT.
Fights to Watch
Sat. DAZN 11 a.m. Anthony Joshua (24-3) vs Jermaine Franklin (21-1).
Sat. ESPN+ 4:05 p.m. Isaac Dogboe (24-2) vs Robeisy Ramirez (11-1).
Photo credit: Mikey Williams / Top Rank via Getty Images
To comment on this story in the Fight Forum CLICK HERE
The Latest Adventure of Glenn Azar: An Unconventional Boxing Story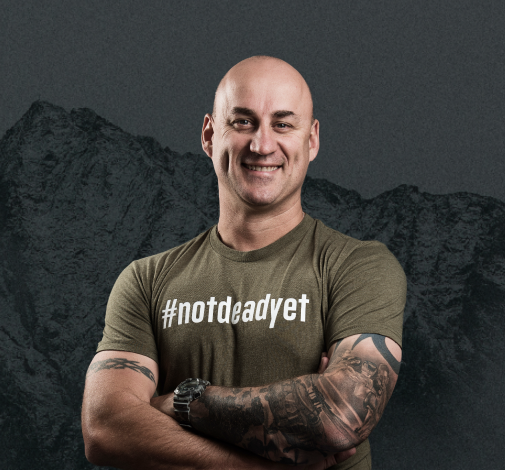 "I have never seen anything like it," said Glenn Azar, a world traveler who at age 51 was visiting Las Vegas for the first time. "There's great depth here and everyone has been so welcoming."
Azar wasn't a conventional tourist. He came here from Australia with a small stable of professional boxers. There's nothing unusual about that. Boxers come to Las Vegas to train from all corners of the world, just as artists that paint pictures once descended on Paris to hone their craft. The main lure for foreign boxers is the city's deep pool of useful sparring partners.
Where Azar deviates from the norm is that the fighters he mentors – Taylah Robertson, Cherneka Johnson, and Deanha "Dee Dee" Hobbs — are female. Brisbane's Robertson, a super flyweight, fights tonight (Thursday, March 30) on a Lee Baxter promotion in Toronto.
Azar spent 17 years in the Australian Army where he specialized in helicopter evacuations and advanced to the rank of lieutenant.
Before he got involved with the trio of boxers that he trains and manages, he turned his thirst for adventure into a successful business, leading intrepid adventure-seekers on long treks across daunting terrain such as New Guinea's Kokoda Track, a rugged 60-mile mountainous trail that can be traversed only on foot.
Azar's daughter Alyssa, now 26, inherited her father's thirst for adventure. At age 19 she became the youngest female to climb Mount Everest and has reached the summit from both the North and South sides.
Taylah Robertson was two fights into her pro career when she approached Azar about managing her. Thus began a new chapter in his life.
Before turning pro, Robertson was a two-time national amateur champion at 112 pounds and represented Australia in tournaments in Bulgaria, Poland, Russia, Turkey, Spain, and New Zealand. She brings a 7-1 record into tonight's assignment in Toronto with the setback coming in her fourth pro bout when she lost a split decision to 28-fight veteran Shannon O'Connell.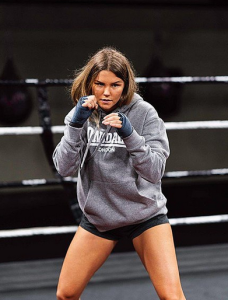 Unlike her coach, Robertson had been in Las Vegas before. Her prior visit was arranged by one of her biggest fans, Australian boxing legend Jeff Fenech, who arranged for her to train with Bones Adams at Adams' gym.
Bones' gym was on Glenn Azar's itinerary, but he and his little ensemble worked out at multiple boxing gyms during their three-week stay. Afternoons were often spent at the DLX gym where Azar arranged for one of boxing's hottest young trainers, Kay Koroma, to provide a helping hand. Koroma played an instrumental role in the amateur career of Claressa Shields and co-trains Mikaela Mayer alongside the venerable Al Mitchell. Taylah Robertson was familiar with Koroma from her amateur days.
Cherneka Johnson
Cherneka "Sugar Neekz" Johnson (15-1, 6 KOs) is the reigning IBF world super bantamweight champion. She makes the third defense of her title on May 20 in Dublin underneath Katie Taylor's homecoming fight with fellow unbeaten Chantelle Cameron. Johnson's opponent, Ellie Scotney, a 25-year-old Londoner, is 6-0 as a pro after a decorated amateur career. On paper it's a 50/50 fight.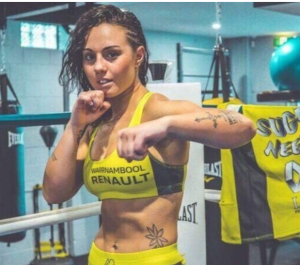 Cherneka spent the first 12 years of her life in her native New Zealand. She is a proud member of the Maori ethnic group and her tattoos pay homage to her culture. Last week, a robust sparring session with WBA world female bantamweight champion Jamie Mitchell attracted a crowd at the Mayweather Boxing Club.
Deanha Hobbs
At age 35, Hobbs is the senior member of Glenn Azar's team. She took up boxing, she says, to learn to defend herself against the schoolyard bullies that picked on her because of her tomboyishness. It's a fairly common thread in the life story of many female athletes in the combat sports communities.
Hobbs sports an 11-2 record and has knocked out six of her opponents. She has won three straight since suffering an eighth-round stoppage in a failed bid for Mary McGee's IBF 140-pound world title. To secure that assignment, which paid peanuts, Hobbs had to move up two weight classes and travel halfway around the world. She fought McGee, a Hoosier, in the Greater Chicago city of Hammond, Indiana.
—
When Taylah Robertson turned pro, one of her listed goals was to become the first female fighter to earn a million dollar purse. Katie Taylor and Amanda Serrano beat her to the punch, but she may yet reach that lofty sphere.
"Women train just as hard as men," says Azar, "and their fights can be just as exciting. I look forward to the day when there is purse parity. It will take time, but because she is only 24 years old, I can envision Taylah getting there before her career is finished."
And if that day should come, Glenn Azar can take a bow.
To comment on this story in the Fight Forum CLICK HERE
He Said, He Said: Who is at Fault for the Collapse of the Fury-Usyk Fight?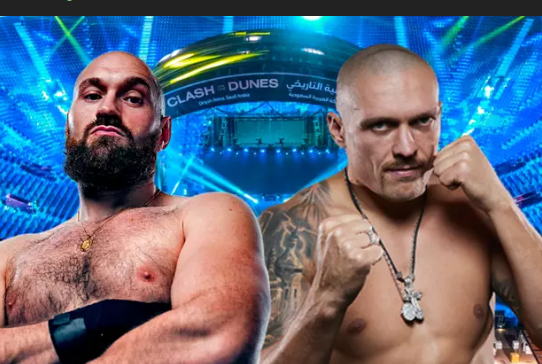 The last undisputed heavyweight champion was Lennox Lewis who held the WBA, WBC, and IBF belts after outpointing Evander Holyfield in their rematch at Las Vegas in November of 1999. (The WBO was around in those days, but didn't have their finger in the pot. The upstart organization, whose first "world heavyweight champion" was Francesco Damiani, had zero credibility among serious fight fans, many of whom still balked at ingesting the IBF.)
Lewis's reign as the undisputed champion lasted only five months. He was stripped of his WBA diadem after bypassing John Ruiz in favor of Michael Grant for his next fight. Ergo, twenty-three years have elapsed since boxing had an undisputed heavyweight champion and a Fury-Usyk fight would have produced the first fully unified heavyweight title-holder in the four-belt era.
There was talk that Tyson Fury and Oleksandr Usyk would meet on Dec. 17 of last year in Saudi Arabia on the day preceding the final game of the World Cup in neighboring Qatar. More recently, there was talk that they would meet at Wembley Stadium in London on April 29.
A week ago, representatives of Tyson Fury and Oleksandr Usyk appeared close to finalizing a deal, but negotiations hit a snag and, for the moment, the fight is dead.
Yesterday (March 27), Yahoo combat sports columnist Kevin Iole posted a story that was harshly critical of the Gypsy King. "The blame for this goes squarely on the broad shoulders of Fury," he wrote.
Iole noted that Team Usyk acquiesced to Fury's demand for 70 percent of the purse, notwithstanding the fact that the Ukrainian held three-fourths of the meaningful belts. Referencing Ali-Frazier I, the "Fight of the Century," Iole noted that this iconic event would have never happened if the larger-than-life Muhammad Ali had attempted to leverage his popularity with "grotesque financial demands." (The purse split was reportedly 50/50.)
Gareth Davies, the most well-known boxing scribe in the UK and something of a celebrity himself, had a somewhat different take. In a widely-circulated television interview, Davies noted that it was actually Team Usyk that pulled the plug. The sticking point, by all accounts, was the percentage splits to be built into a rematch clause.
Davies did not reproach Usyk for walking away from the negotiation table. His remarks were seemingly meant to shelter Fury, his British countryman, from the scathing rhetoric directed at him.
Assuming that the window for rekindling negotiations is shut tight, Oleksandr Usyk is expected to fight England's Daniel Dubois next. Dubois is first in line among Usyk's mandatory opponents. It has also been reported that deep-pocketed investors in the Middle East are interested in pitting Usyk against Deontay Wilder; a most delicious match-up indeed.
Former U.S. college cheerleader Joe Joyce is expected to be Tyson Fury's next opponent assuming that he gets by Zhilei Zhang on April 15. Joyce is a heavy favorite in the match at London's Copper Box arena. However, Matchroom promoter Eddie Hearn still holds out hope of luring Fury into a match with Anthony Joshua. By Hearn's reckoning, this is the biggest fight out there for the Gypsy King; bigger even than Fury-Usyk.
Anthony Joshua returns to the ring this Saturday at the O2 in London with U.S. import Jermaine Franklin in the opposite corner. It will be Joshua's first fight under the tutelage of new head trainer Derrick James.
In the meantime, boxing continues to shoot itself in the foot by failing to produce the fights that fans are most desirous of seeing.
To comment on this story in the Fight Forum CLICK HERE