"JoJo" Diaz Now 10-0, Getting More and More Comfy With Pro Style
He was something of a runt. It's OK to say that now, he's a pro boxer, 10-0 (7 Kos), with a high ceiling. But Joseph "JoJo" Diaz was undersized, and overwhelmed as a wee lad, because the kids, some of those who smelled indecision, and looked to exploit it, to build themselves up, bullied him.
They pushed him, twist his arm, generally take advantage of his lack of size and sweet demeanor, and make his life hell.
Joseph Diaz Sr. finally had a enough. So no, he didn't march to the school and lay into the nasty boys. Instead, he grabbed JoJo and headed to the local boxing gym. Oh, but the story doesn't veer into super happy nice nice territory yet. Guess who was at the gym? The lead bully. JoJo's heart dropped, after it began beating twice as hard.
The lead bully saw JoJo, sidled up to him, sneering, a pure punk.
"Oh, you think you're so tough now," bully said to JoJo. "We'll see how tough you are when you spar me."
JoJo had no clue what he was talking about. The term meant nothing to him. Spar? Joe Sr. stepped in, took his son aside, and explained these particular facts of life. Agree to the sparring session, dad told him. Sparring means boxing, fighting, in a structured situation, with no wins or losses up for grabs. It's fighting to learn how to fight better, he said.
"I was scared," JoJo told me during a Monday phone interview, as he counted down the hours to his Wednesday evening fight, against Ramiro Robles. "I didn't know what to do."
Give us a week, said his dad, who is his head trainer today, as he was back then. And we will be back, the father promised, no doubt tamping down a tiny bit of worry, of uncertainty, of his ability to teach his kid a skill he didn't possess.
Dad hustled home, and hoped on the computer, hunted YouTube for instructional videos, and looked around for "How to Fight" books. Basic knowledge gained, he went about teaching JoJo the basics.
JoJo, who was born in South El Monte and now lives in Downey, CA, was a quick student. One-twos were snapping by day three, and they even drilled on body work.
"I sparred that bully," JoJo recalled. "And I made him bleed and cry. And I fell in love with the sport. I was happy, because now I was able to defend myself."
Oh, and that lead bully? They became buddies, both fighting in amateur tourneys.
Diaz' skill set took him further, to 126 amateur bouts, to a 2011 US National championship, to the 2012 Olympics, where he fought for the US, as a bantamweight.
"The Olympics was a learning experience, and I took it to the pros," he said. The hitter, just 21, and still living in a home with mom, dad, and his older sister, said that he feels acclimatized to the pro style. "I am more relaxed," he said. "I throw nicer shots, I'm sitting down on my shots. I can take my time, keep my composure. In the amateurs, you threw a lot of shots, just to try and rack up points."
Coach Ben Lira is also present to offer points, and that could come in handy on Wednesday, on a Fox Sports 1/Golden Boy show, because he thinks opponent Robles, a 21-year-old with a 12-1-1 record, will be there with his nasty face on. Joseph Sr. has been drilling JoJo to be able to handle pressure from a swarmer or predator or a banger, while also being able to be the hunter if need be. Father and son, JoJo reports, get into the occasional minor spat., but that quickly blows over. Like not long ago in the gym, dad told the boy to take it easy in sparring, so JoJo did, just working on blocking, on picking off shots…and then got asked by dad why he was lollygagging. The barked at each other, and JoJo went out the next round and hurt his sparring partner with a body shot. Dad, who was a truck driver who got hurt on the job, and now trains full-time, and the son got past it, and are tight. "My dad is my best pal," JoJo said. "Whatever he says, I do. I know he's doing it for a reason, because he loves me."
If JoJo, who tells me he's single, married to boxing, is out gallivanting with pals at the mall, or bowling alley, or wherever, dad might tell him to get back on point. "We have bumps here and there, but we never let it get to the point we're arguing at house."
Diaz wants to get a crown at 122, do some defending, and then hit 126, for the record.
He knows it is the wiser choice to try some rafting in the rapids, against rugged Robles types, than to snag a bunch of quickie KOs. "I want to make sure when it is time, I am ready. I don't want to feel like I missed anything," he said. I brought up Gary Russell Jr., and Diaz, while not speaking directly of Russell, agreed that if a fighter is babied, he will pay for that lack of seasoning at some point.
At the Hard Rock in Las Vegas, Diaz, who by the way is still fine with the nickname "JoJo," and isn't putting out the call for a "manlier" nom de guerre, expects Robles to fight hungry, to keep coming forward, to try and break Diaz down. He expects to move, but also stay in the pocket, fight in tight, bang to the body from in close. We can expect him to be elusive, he said. And look to get the sweetest angle, hurl one-twos, and get that KO if the timing is right.
My take: This Diaz is a humble, respectful sort who is more the rule in boxing than the exception. Obviously, his parents did something right with the lad, who seems sweet and sincere. Ah, but he can and will look to take your head off in the ring. Not sure if he can do that to rugged Robles, a stubborn and not untalented scrapper. I see Diaz going to 11-0, via decision.
Serhii Bohachuk in Montebello and More News and Notes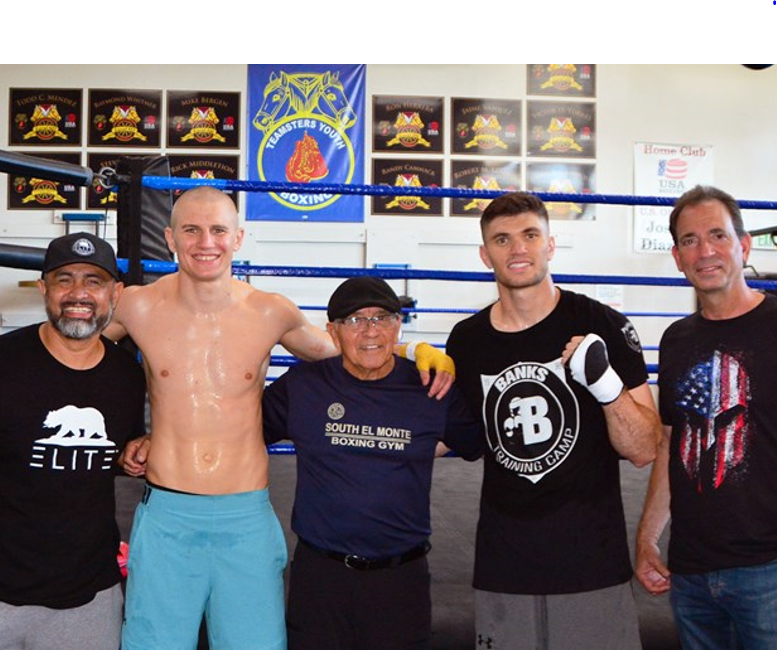 Serhii Bohachuk leads an impressive lineup put together by 360 Promotions and returns to Southern California ready to resume an assault on the super welterweight division.
Asked how he intends to proceed?
"I don't talk, talk, talk," said Bohachuk. "I just show with action."
Bohachuk (19-1, 19 KOs) meets southpaw Raphael Igbokwe (16-2, 7 KOs) in the main event on Thursday Sept. 16, at Quiet Cannon Events Center in Montebello, Calif. UFC Fight Pass will stream the boxing card that begins at 5:30 p.m. PST.
Early in the year Bohachuk, nicknamed "El Flaco," was winning a showdown against Brandon Adams staged in Puerto Rico, when he was caught with a sneaky left hook. The fight was eventually stopped and the amiable Ukrainian fighter suffered his first loss.
But he's back.
He scored a knockout win in July and now seems poised to make a run at the top, starting with Houston's Igbokwe. For Bohachuk, 26, losing a fight actually could make world champions more inclined to accept a match with him. Who wanted to face a fighter with every win coming via knockout? Bohachuk just needs to continue winning.
Another contender looking to rebound is Ali Akhmedov (16-1, 12 KOs) who lost a bid for the IBO super middleweight world title to Carlos Gongora last December. No shame losing to the world champion from Ecuador.
Kazakhstan's Akhmedov sits in the same situation as Bohachuk in that a loss actually makes him more alluring for a world champion to accept. Losing a fight did not hurt contenders like Sullivan Barrera or Sergey Kovalev.
Akhmedov, 26, meets Peru's David Zegarra (34-5, 21 KOs) in an eight-round bout in the semi-main event. It should be interesting.
Rounding out the rest of the heavy duty card will be undefeated Adrian Corona (7-0) fighting undefeated Danny Robles (7-0-1) in a super featherweight six round bout. Also, undefeated female lightweights Elvina White (5-0) and Chelsey Anderson (3-0) clash in a four-round bout.
A special amateur feature pits national champion Chantel Navarro against Daniela Rojas for a special title to open the show that encompasses a total of eight pro bouts. Doors open at 4:30 p.m.
Previously 360 Promotions staged its boxing cards at the Avalon Theater in Hollywood, but they outgrew that venue. The Quiet Cannon venue in Montebello had been used for a couple of decades for boxing quite successfully. Now, 360 Promotions has picked up the gauntlet to provide boxing to that area in one of the best venues in Southern California.
For tickets and information go to: https://hollywoodfightnights.festivalsetup.com/ or to @360 Promotions on Instagram.
Coming Soon
Aside from Tyson Fury and Deontay Wilder meeting on Oct. 9, at the T-Mobile Arena in Las Vegas, several other shows are coming down the pike.
Oct. 15, at the Pechanga Arena in San Diego, Calif. a Top Rank show brings WBO featherweight titlist Emanuel Navarrete (34-1, 29 KOs) of Mexico defending against Southern California's Joet Gonzalez (24-1, 14 KOs). Also on the same card, San Diego's Giovani Santillan meets Angel Ruiz
Las Vegas
Two weeks apart, two of the top Pound for Pound fighters in the world invade Las Vegas for their piece of the boxing pie.
Saul "Canelo" Alvarez (56-1-2, 38 KOs) shoves in all his multiple world titles against Caleb Plant (21-0, 12 KOs) and his IBF super middleweight belt in an attempt to claim the undisputed super middleweight world championship on Saturday Nov. 6, at the MGM Grand in Las Vegas. Canelo has three of the four belts not including those he took at light heavyweight. It doesn't seem like a fair trade but the Mexican redhead doesn't care. Plant is a right-handed version of Billy Joe Saunders and will use the exact same method of attack.
Terence Crawford (37-0, 28 KOs) defends the WBO welterweight title against Shawn Porter (31-3-1, 17 KOs) on Nov. 20, at the Mandalay Bay Resort and Casino in Las Vegas. The Nebraska welterweight finally gets an opportunity to prove he's at the top of the welterweight rung when he meets Porter. It's a very good chance to compare how Crawford stands against Errol Spence Jr. who barely defeated Porter a couple of years ago in Los Angeles.
Fights to Watch
Thurs. UFC Fight Pass 7 p.m. Serhii Bohachuk (19-1) vs Raphael Igbokwe (16-2).
Sat. Fox S1 4 p.m. Jose Valenzuela (9-0) vs Denier Berrio (22-3-1), Rajon Chance (5-0) vs Elon De Jesus (3-0).
Pictured left to right: trainer Manny Robles, Serhii Bohachuk, assistant trainer Ben Lira, Ali Akhmedov, promoter Tom Loeffler. Photo credit: Al Applerose
Check out more boxing news on video at the Boxing Channel
To comment on this story in the Fight Forum CLICK HERE
40 Years Ago This Week: Sugar Ray Leonard TKOs Thomas Hearns in an Instant Classic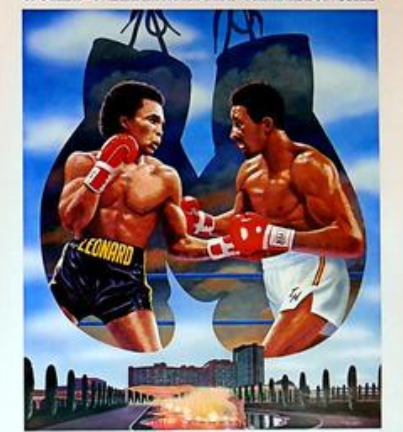 Whoever coined the phrase that "you can't please 'em all" might have been referring to someone like Doug Blackburn, one of the rare dissenters in assessing what he had seen during the classic welterweight unification showdown of Sugar Ray Leonard and Thomas Hearns on Sept. 16, 1981, in the outdoor stadium at Las Vegas' Caesars Palace.
Writing for the Town Talk in that noted boxing hotbed of Alexandria, La., Blackburn, who saw the fight at a closed-circuit venue, wrote a column in which he offered his opinion that the matchup of two great champions in their prime "like many heavily-hyped, much anticipated meetings, failed to live up to prefight expectations. Despite Sugar Ray's dramatic rally, neither man can be too satisfied with the way he fought."
Yeah, well, there are still people here and there who insist that the Earth is flat and the sun revolves around the moon. But for most fight fans fortunate enough to have witnessed Leonard-Hearns I – there would be a too-long-delayed rematch, on June 12, 1989, which ended in a desultory split draw that many thought should have gone Hearns' way – the classic original, in which Leonard, trailing on all three scorecards, staged a dramatic rally to win on a 14th-round stoppage, is a gold standard for what such megafights are supposed to be, but frequently aren't.
Think not? In the 40 years since Leonard and Hearns made ring magic, similarly stratospheric hopes were tied to the Sept. 18, 1999, unification bout between undefeated welterweight titlists Oscar De La Hoya and Felix Trinidad, which was not exactly a thrillfest when measured against Leonard-Hearns I. The outcome was tinged in controversy, true, but only because De La Hoya, mistakenly thinking he was too far ahead on points to lose on the scorecards, coasted the last three rounds and was stunned when Tito was awarded a majority-decision victory. There would be no rematch.
In a financial sense, the May 2, 2015, pairing of celebrated welterweight champs Floyd Mayweather Jr. and Manny Pacquiao obliterated all revenue records with an overall take of $600 million, far outdistancing the then-high-water mark of $50 million-plus nearly 34 years earlier for Leonard-Hearns I, when the technology for milking every available dollar from fights of that scope was still comparatively primitive. But Mayweather, an indisputably great fighter whose strengths are pinpoint counterpunching and impenetrable defense, was content to craft another workmanlike performance in handily outpointing "PacMan," who claimed he was hindered by a shoulder injury. Both fighters greatly enriched themselves, but the fight, which was generally conceded to be four to five years past its optimal date, did little to satisfy most fans' craving for the kind of two-way action that was promised but not delivered.
Leonard-Hearns I, on the other hand, had more than its share of exclamation-point moments, for each fighter, the most obvious being the finishing flurry in which Leonard, his left eye badly swollen and increasingly aware that the victory he had presumed would be his was becoming less and less likely, seized command in the 14th round with, depending on whose count you choose to believe, 23, 25 or 28 unanswered blows. It was left to referee Davey Pearl to rescue the dazed and defenseless Hearns after an elapsed time of 1 minute, 45 seconds.
At the post-fight press conference, Leonard, his ugly, purplish left eye and puffy cheekbone hidden behind oversized dark glasses, explained why and how he had been able to mine a vein of toughness many had presumed the 1976 Olympic gold medalist lacked.
"I was afraid of the right hand of his until the very end," Leonard admitted of Hearns' vaunted power. "He dropped some real bombs on me, and I knew he had another one left.
"I pulled this one out by reaching down into my guts, into my heart. I knew I was behind. I knew I had to keep the pressure up. There wasn't anything I could do but find out what was inside me."
Sometimes, the beauty of boxing is most illustrated by the unsightly. Leonard, whose inner iron had been glimpsed most notably in his close, unanimous-decision loss to Roberto Duran on June 20, 1980, in Montreal, demonstrated to any remaining doubters that he was so much more than the possessor of a dazzling smile, matinee-idol looks and a glib way in expressing himself.
John Schulian, the outstanding sports columnist for the Chicago Sun-Times, described Leonard's come-from-behind surge thusly:
After all those miles and all those smiles, Sugar Ray Leonard wasn't pretty any more. He was a one-eyed man in an ugly fight that had nothing to do with the glitz and glamor that have been his calling card. There had been a time when he could have avoided this grim marathon, a time in the sixth and seventh rounds when he could have added Thomas Hearns to his list of victims. But the moment had passed and Hearns had escaped, and now Leonard, his handsome face a scowling bruise, was struggling for survival.
And this, from the New York Daily News' Mike Lupica:
Away from the ring he fools you with the con man's smile and the smooth patter and the slick attitudes about his own high finance …This is Ray Charles Leonard, child of hype, maker of millions, the 25-year-old man who will soon be the richest fighter in the history of the game. And that is why he fools you when he steps out of Dun and Bradstreet and into a pair of boxing trunks and becomes Sugar Ray Leonard. Boxing will never seem hard enough, dirty enough, bloody enough for Sugar Ray Leonard. Only in special moments will we see the man's steel, and heart, and extraordinary ability to bang and grapple when a fight is on the line. Only when someone tries to take his title away from him will we realize there is a hoodlum inside the tuxedo.
To the winner go the spoils, or at least that is what usually happens. While Leonard added another layer to his burgeoning reputation as a special fighter, a historically significant fighter, the vanquished Hearns – not known as a fount of nifty sound bites and attention-grabbing quotes – might have gained nearly as much in defeat as had the triumphant Leonard. It had been generally conceded going in that, were the fight to end in the early rounds, it would be Hearns who would have his hand raised. If enough rounds tolled by, perhaps all the way to the conclusion of the scheduled 15, the momentum would necessarily shift to Leonard (30-1 with 21 KOs entering the bout), widely seen as a less devastating puncher than Hearns (32-0, 30 KOs) but also as a more polished stylist and executor of strategical options. That scenario was repeated so often during the run-up to the bout that it almost came to be accepted as incontrovertible fact.
Team Leonard, for the most part, rolled with the notion that Hearns was a human robot whose Plan A was to land that pulverizing overhand right, as early as possible and as often as necessary. His Plan B would be … well, there really wasn't one, if Leonard and his crafty trainer, Angelo Dundee, were to be believed.
"This is the first time in my career I've had visions of a fight," Leonard said a few days before he would get the opportunity to implement his imagination. "I see thousands and thousands of people. I see Hearns missing and being aggravated and frustrated. I see me raising my hands. I've had this dream, this vision, for over two months. It just has to come true.
"I've said Hearns fights one way and can't fight no other way. I heard he might try to box me. I wish he would try. Hearns is a puncher. With that reach of his, well, he's a freak, really. He comes straight at you. He doesn't need to think."
And if the "Motor City Cobra" did find that he might need to think?
"He'll blow a fuse."
Added Dundee: "Hearns might be 6-foot-2, (actually 6'1") but he spreads his legs and that will bring him eyeball-to-eyeball with Leonard. He tries to sucker you by carrying the left real low like Bobby Foster used to do, and then he rears back and nails you with the right. But Leonard isn't going to fall for any of those traps. It will be interesting to see what happens to Hearns if he sees he can't take Leonard out in a few rounds. Will he panic and punch himself out like Foreman did against Ali?"
Like Ali, Leonard was a master of mind games meant to mentally discombobulate an opponent if possible. But Hearns' manager-trainer, Emanuel Steward, had worked with Hearns since he was 12, and he insisted that Leonard's taunts and posturing would have no effect on his guy.
"Both (Wilfredo) Benitez and Duran took a lot out of Leonard, physically and mentally," Steward suggested. "I know that after the Benitez fight Leonard was mentally exhausted. Besides, now that he has made all those millions from all those fights, he no longer has that burning ambition. The fire is gone out of him."
Perhaps the most prescient prefight comment came from Ferdie Pacheco, Muhammad Ali's longtime personal physician, who insisted that Hearns was hardly the one-trick pony described by Leonard. Pacheco predicted that Hearns' 78-inch reach, unusually long for a welterweight, would help Hearns control the flow of the fight until the proper moment presented itself for him to deliver a put-away right.
"Leonard will have to pay an awful toll to travel down that 78-inch speedway," Pacheco said. "Thomas will control him with his long, hard jab, and somewhere along the way Leonard will move into a right hand he won't see. It will be like a fuse going off in his brain. All the lights will go out."
Truth be told, Steward's fight plan did indeed call for heavy usage of Hearns' jab, the presumed key which would serve to open the door to Leonard's chin for that concussive right. And even if a terminating detonation of the right never occurred, what exactly would be wrong if Hearns confounded all the prefight conjecture by outboxing Leonard over the long haul? He'd still come away as the unified 147-pound champion, adding Leonard's WBC and The Ring magazine straps to his own WBA strap. It was the same conservative mindset De La Hoya had in putting as much distance between himself and the dangerous Trinidad in those final three rounds 18 years later, with one difference – De La Hoya's lead was not as wide as Hearns'. Leonard had won only four of the 13 completed rounds on two judges' cards at the time Pearl waved the fight off, and five of 13 on the third judge's tally.
But in the 14th round Hearns – who had overcome shaky rounds in the sixth and seventh to again gain the upper hand — chose to engage Leonard in another in-tight exchange, and got popped with a hard left hook that instantly shifted momentum. Leonard tore into Hearns with a renewed sense of purpose, and it wasn't long before Pearl stepped in.
"It was kind of silly," Duke Durden of the Nevada State Athletic Commission said. "All Hearns had to do was either stay away, or grab and hold Leonard – spit in his eye, or anything – the rest of the way, and the fight was his."
Although he never could hope to match Leonard as a media darling, in losing his first bout as a professional Hearns demonstrated that he had ample charisma of his own, and a willingness to go for broke where it counted, inside the ropes, stamping his future fights moving as must-see events. Now 62, he is as fondly remembered for losing his epic, throw-caution-to-the-wind three-round war with Marvelous Marvin Hagler on April 15, 1985, as for his spectacular, second-round stoppage of Roberto Duran on June 15, 1984.
Given all that they had shared, and the place each holds in the other's legacy, it should not come as a surprise that Leonard was Hearns' presenter when his former arch-rival was inducted into the Boxing Hall of Fame in Las Vegas in Aug. 2017.
"We're friends now," Leonard said in introducing Hearns. "Tommy had the whole package. He was a freak of nature with his height, with his reach, with his power, with his speed."
FACTS ABOUT LEONARD-HEARNS I
*Main Events president Dan Duva served as lead promoter, another building block in the march toward big-time status for the New Jersey-based company, which was founded in 1979 as a mom-and-pop operation. Main Events took another major leap forward following the 1984 Los Angeles Olympics when it signed U.S. Olympians Evander Holyfield, Pernell Whitaker, Meldrick Taylor, Mark Breland and Tyrell Biggs.
*Leonard opened as a 2-to-1 favorite, but by fight time enough money had come in on Hearns that he went off as a 13-10 wagering choice.
*At a Leonard workout in Vegas, Muhammad Ali was asked who he liked in the fight. "I pick Leonard 'cause he's just like me, fast and pretty. He'll dance circles around Hearns," Ali replied. Then, at a Hearns workout an hour later, Ali said the Detroit scrapper "is awesome, man. Tommy Hearns is sooo big to be a welterweight. He should knock out Sugar Ray."
*Celebrity quote of fight week came from Charo: "I think the beeg one – Hearns – will cuchi-cuchi Sugar to sleep."
*The live attendance at Caesars Palace was 24,083, with 1,100 credentialed media members.
*Hearns' best quote during fight week: "Everybody talks about how great a boxer Ray Leonard is, especially Ray Leonard."
*Because of the television lights, the temperature in the ring at the time the main event started was right at 100 degrees.
*According to Emanuel Steward, preliminary negotiations for a rematch began on Sept. 21, five days after the fight. Hearns-Leonard II, however, did not take place until June 12, 1989, nearly eight years later.
Editor's Note: Bernard Fernandez, named to the International Boxing Hall of Fame in the Observer category with the class of 2020, was the recipient of numerous awards for writing excellence during his 28-year career as a sportswriter for the Philadelphia Daily News. Fernandez's first book, "Championship Rounds," a compendium of previously published material, was released in May of last year. The sequel, "Championship Rounds, Vol. 2," with a foreword by Jim Lampley, arrives this fall. The book can be ordered through Amazon.com, in hard or soft cover, and other book-selling websites and outlets.
Check out more boxing news on video at the Boxing Channel
To comment on this story in the Fight Forum CLICK HERE
The Hauser Report: Oscar Valdez, Phentermine, and the Larger Issue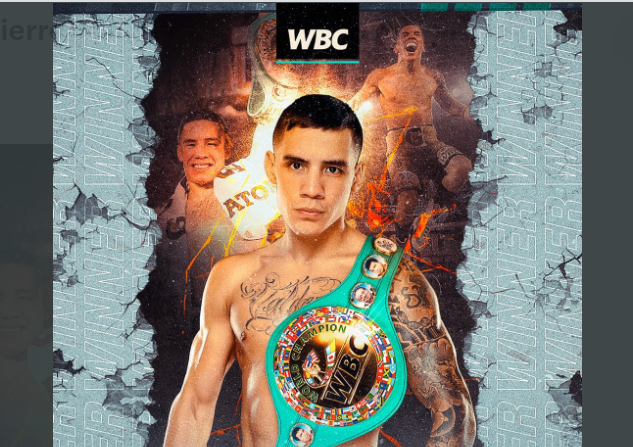 On September 10, Oscar Valdez successfully defended his WBC super-featherweight title with a twelve-round decision over Robson Conceicao in a bout contested under the auspices of the Pascua Yaqui Tribe in Tucson, Arizona.
That's the short version of what happened. The long version is more complicated.
After their fight was signed, Valdez and Conceicao enrolled in the Voluntary Anti-Doping Association (VADA) drug-testing program. Top Rank, which promotes both fighters, forwarded their paperwork to VADA and contracted to pay for the VADA testing. This was in addition to the fighters' mandatory participation in the World Boxing Council Clean Boxing Program (CBP).
In late-August, a urine sample taken by VADA from Valdez tested positive for phentermine – a prescription medication used as a stimulant and appetite suppressant. The use of phentermine is classified by VADA as prohibited at all times.
VADA does not adjudicate performance enhancing drug matters. It tests fighters and reports its findings to contractually mandated parties. In this instance, after receiving the test result, VADA notified Top Rank, the World Boxing Council, and the Pascua Yaqui Tribe commission of the adverse finding.
Athletes rarely say, "I was using a PED and you caught me." Valdez didn't either. "What I can say," he told Mark Kriegel of ESPN, "is that I'm a hundred-percent clean fighter. I don't know how that got into my body."
Patrick English (the attorney who represents Valdez) voiced the view that herbal tea, innocently ingested, was the most likely source of the phentermine and that various supplements Valdez took during training are being tested for any hint of contamination. He further noted that only a trace amount of phentermine was found in Valdez's system and that all other blood and urine samples taken from Valdez by VADA tested negative.
Those arguments aren't persuasive. Victor Conte (the nutrition and conditioning guru whose involvement with PEDs decades ago is a matter of record) states, "There is no connection between any herbal tea and phentermine in terms of molecular structure. No tea has ever been reported as being contaminated with phentermine. Ever in history. If you google 'herbal tea phentermine,' a company called their product by this name as a marketing ploy. But there's not a shred of credible evidence I'm aware of to support the notion that phentermine is present in herbal tea. There has never been a positive test associated with any herbal tea. There is zero connection between herbal tea and phentermine."
Conte also makes the point that, in today's world of micro-dosing, drugs quickly leave a fighter's system. All a negative test result means is that a fighter was clean on a particular day.
But Valdez had an ace in the hole. For purposes of drug testing, athletes are considered either "in competition" or "out of competition." In competition begins at 11:59 PM on the night before an event.
When fighters enroll in VADA, they're told that VADA has one prohibited list and that it doesn't distinguish between in competition and out of competition drug use. Thus, VADA classifies phentermine as a prohibited substance at all times.
But – and this is a big but – while phentermine is banned in competition under the World Anti-Doping Agency code, its use out of competition is not prohibited by WADA.
Adjudication of Valdez's case was left to the Pascua Yaqui Tribe Athletic Commission (which had jurisdiction over the fight) and the World Boxing Council (whose title belt was at stake). There was one hearing overseen jointly by both organizations. The tribal commission opted to follow the WADA standard and allowed the fight to proceed without punishment of any kind. The WBC's position was a bit more complicated because the WBC Clean Boxing Program is, in theory, guided by VADA standards and the use of phentermine – even out of competition – is a violation of the CBP.
However, WBC president Mauricio Sulaiman found a way around this inconvenience, declaring, "This substance [phentermine] does not give you any competitive advantage. It is the equivalent of having three energy drinks." Sulaiman also noted that only a trace amount of phentermine was found in Valdez's system.
The WBC then ruled that it would officially sanction Valdez-Conceicao as a title fight. But at the same time, it placed Valdez on probation for twelve months. In addition, Valdez was ordered to take part in and pay for several unspecified educational programs, undergo an unspecified number of random drug tests, and make a minimum of six personal appearances as a WBC Ambassador to promote and educate others with regard to principles consistent with clean boxing.
The WBC ruling ruffled a lot of feathers. Victor Conte is among its foremost critics.
"I've given phentermine to athletes in the past," Conte says. "I know what it does. It's a powerful central nervous system stimulant and one of the most effective PEDs a boxer can use. It increases heart rate and enables the heart to pump more oxygen to muscle tissue which delays the onset of fatigue and helps increase speed, strength, and stamina. It also suppresses appetite and burns calories to help with weight loss. And its use can lead to serious heart problems. Athletes in other sports are suspended for using phentermine. A player in the NBA [Lindsey Hunter] was suspended after he tested positive for phentermine. Jockeys in horse racing are suspended if they use phentermine to cut weight."
Why does WADA allow for the use of phentermine out of competition if it has the performance-enhancing and dangerous qualities that Conte says it does?
"Let's get real about this," Conte answers. "First, WADA's protocols were put in place with an eye toward protecting sponsorship dollars. Too many adverse test results are bad for business. And second, WADA's protocols aren't designed for boxers. If a stimulant is on the banned list on fight night and you acknowledge that it enhances performance, why would it be legal in training camp? Does this mean that someone can use all the phentermine they want up until the day of a fight? That would be dangerous and allowing it to happen would be negligent."
"When Oscar Valdez signed up for VADA testing," Conte continues, "he agreed to follow VADA's protocols, which include not using phentermine in or out of competition. The WBC didn't want to lose its sanctioning fee. The tribal commission didn't want to lose the money that would come in from Valdez-Conceicao and future fights. It's as simple as that."
In 2018, Billy Joe Saunders tested positive for the stimulant Oxilofrine, which (like phentermine) is allowed by WADA "out of competition" but is on VADA's prohibited list at all times. Saunders claimed that the Oxilofrine came from a nasal spray. The Massachusetts State Athletic Commission denied him a license to box and his planned WBO title defense against Demetrius Andrade was cancelled.
"It is the classic case of rules in one place count for nothing in another," Boxing News editor Matt Christie writes. "The problem lies with a complete lack of uniformity across the governing and sanctioning bodies. Even more problematic is that the sanctioning bodies appear to pick and choose what rules suit them on a particular day."
Christie is right. There are too many variables. Is there PED testing for a given fight? Which tests? Which commission has jurisdiction over the fight. Who's administering the tests? Is a sanctioning body involved? To cite one example of an absurd situation, human growth hormone and EPO are still not on the New York State Athletic Commission's list of banned substances.
In so far as phentermine is concerned, California State Athletic Commission executive director Andy Foster says, "The California State Athletic Commission views the use of phentermine out of competition in the same way as the World Anti-Doping Agency. Phentermine is not a banned substance out of competition by WADA, so it is not banned by the CSAC either."
Nevada State Athletic Commission executive director Bob Bennett says that Nevada also adheres to the WADA list.
Does this mean that Tyson Fury, Deontay Wilder, Canelo Alvarez and Caleb Plant can use all the phentermine they want prior to their upcoming fights in Las Vegas as long as it isn't in their system on the day of the fight?
"Not exactly," Bennett answers. "Phentermine is a prescription drug so, if a fighter uses phentermine, he must declare its use on a pre-fight form and answer questions as to where he got the prescription and why he's taking it."
I don't know what Oscar Valdez did and didn't do. I do know that most of the moneyed interests in boxing couldn't care less about protecting the health and safety of fighters except to the extent that they're protecting their own financial interests. Clean fighters have to stand up and take control on this issue. As part of their effort, they should demand one national standard.
As Andre Ward stated during ESPN's coverage of Valdez-Conceicao, "We can't keep moving the goal posts."
Thomas Hauser's email address is thomashauserwriter@gmail.com. His next book – Broken Dreams: Another Year Inside Boxing – will be published this autumn by the University of Arkansas Press. In 2004, the Boxing Writers Association of America honored Hauser with the Nat Fleischer Award for career excellence in boxing journalism. In 2019, he was selected for boxing's highest honor – induction into the International Boxing Hall of Fame.
Check out more boxing news on video at the Boxing Channel
To comment on this story in the Fight Forum CLICK HERE