COMMISSIONER'S CORNER: Talking Judges For Canelo-Lara, Toledo's Majesty, More
This Saturday is an all-important Jr. Middleweight showdown in Las Vegas between Saul "Canelo" Alvarez and Erislandy Lara. There has been so much talk about this fight going to a decision and that Alvarez—being promoter Golden Boy's top attraction—will win if this fight goes to the scorecards. I don't buy it.
Sure, many of the worst decisions in boxing history—or in the the 40 years, anyway—have taken place in Sin City. Well, when you have more title fights than anywhere else, you are bound to have the most controversial endings…and scores…and judges who differ.
Let's try to understand—and believe—that judges don't see every round exactly the same. Especially close rounds. Especially competitive rounds. Especially two-sided rounds. At the end of a competitive, closely-contested round, two of the three judges will score the round in favor of "Fighter A." The other judge will score it for "Fighter B." In a close fight, just one of those rounds, coupled with an even round, can mean a swing the other way in the official tabulation.
Judges can be found in two categories: Competent and Honest. Some judges are highly-competent. Some are not. Most are honest. Some are not. In my years as head of the New York State Athletic Commission, I licensed and worked with some highly-competent officials, among them Julie Lederman, Steve Weisfeld, Don Ackerman, Billy Costello, Ron McNair and Melvina Lathan. It was a no-brainer for me to hand them the bigger, more lucrative and visible fights. There were also judges whose work almost scared me. I always felt they guessed at close rounds. Their body of work usually had them constantly on the short end of a split decision. To them, I never assigned highly-visible fights and important fights. In other matches, I always teamed them with two of my "A" judges, knowing at least two of them will get the score correct. Of course, if they were THAT bad, I retired their judging license.
While I did find competence, incompetence and honesty, the one thing I never found was dishonesty in any official—be it a judge or a referee. Had I uncovered such a dishonest official, I would have publically excoriated him/her.
On Saturday night, fight fans don't have to worry about who Bob Bennett, the new Executive Director of the Nevada State Athletic Commission, has assigned to work the Canelo Alvarez-Erislandy Lara fight. They are all well-known veterans with sterling resumes. The referee is Robert Byrd. The judges are Jerry Roth (Nevada), Dave Moretti (Nevada) and Levi Martinez (New Mexico). As far as Bob Bennett is concerned, no Nevada official will dare do anything except follow the rules. Mr. Bennett is a retired former Special Prosecutor for the FBI.
So, on Saturday, sit back and enjoy the fight card (if you have elected to buy the PPV showing). If Alvarez-Lara goes the distance, know that the decision—even though it may not be one you agree with, is an honest one.
***
OVER/UNDER: Golden Boy's Oscar de la Hoya said he believes the Alvarez-Lara PPV telecast will surpass 1 million. What's the betting line here? I say 750,000. Will it go over that number or fall short of that number? I say it falls short. This is a fight which belongs of free TV.
AROUND THE RING: You know him as the color analyst on the fights seen on the NBC Sports Network, the man alongside veteran blow-by-blow announcer Kenny Rice. His name is BJ Flores, and he is a Top 10-rated professional cruiserweight who lives in Arizona. Flores' has been fighting as a pro since 2003. In November, 2010, Flores took a 24-0 record to Australia, where he faced Danny Green for the IBO Cruiserweight Title. After 12 rounds, Green was awarded a unanimous decision. Following that fight, Flores fought twice in 2011 and twice more in 2012, winning all four fights. Then, concentrating on his announcing career, Flores was inactive in 2013. Always in the gym, even when on the road, Flores returned to action last May 10, stopping Adam Collins in the first round on the undercard to Bermane Stiverne's KO 6 of Cris Arreola at USC's Galen Center. He returned to action a little over one month later, winning an eight-round decision against Anthony Smith in Las Vegas. His fight was part of a card which featured some of the best young fighters in the world, including light heavyweight Marcus Browne, welterweight Errol Spence and heavyweight Gerald Washington. There is now talk of Flores taking his 30-1-1 record and challenging 42-year-old WBA Cruiserweight Champion Guillermo Jones. GJ vs BJ…Former light heavyweight champ Eddie Mustafa Muhammad is recovering nicely from back surgery and is up and around his home and gym in Las Vegas…Danny Jacobs is training hard in Easton, PA for his August 9 fight for the vacant WBA Middleweight Title against Australia's Jarrod "Left Jab" Fletcher. Jacobs' main sparring partner for the bout, which will take place at the Barclay's Center, is hard-hitting Brooklyn middleweight Curtis Stevens. For the past few weeks, Jacobs has been having training sessions behind closed doors. No visitors or media. Except one: Larry Holmes. Why only the former heavyweight champ? "He owns the town," Jacobs says with a laugh…Speaking of training, both Gennady Golovkin and Daniel Geale have been looking tremendous in their respective training camps as they head towards their July 26 showdown at Madison Square Garden. A heavyweight matchup on the GGG-Geale undercard is one the boxing world has its eyes on. The fight is between Bryant Jennings and Mike Perez. The two unbeatens will face each other over 12 rounds. Jennings who is 18-0, is coming off an impressive 10th round stoppage of previously unbeaten Artur Spilka in January. Also that month, Perez, who is 20-0, was just two months off his brutal victory over Magomed Abdusalamov, labored his way to a majority decision over Carlos Takam. Reports say both fighters are in prime condition, but a source in the Perez camp says he frequently goes into trance-like lapses during sparring sessions, as if his head is somewhere else, something he never did before in his previous 20 fights. Ya' gotta' just wonder which Perez will show up on the night of the fight…Bob Arum has offered Chris Algieri $1 million to face Manny Pacquiao this Fall in Macau, China. Our Radam calls it an early Thanksgiving Turkey for Pacquiao. Hmm. In reality, it could be an early Christmas present for Algieri.
STILL DREAMING: He was once among the most feared punchers in the sport. He was also a world champion. He is Jeff "Left Hook" Lacy, the former super middleweight champ. He took his world title and a 22-0–1 record into a bout against Joe Calzaghe in 2006 and dropped a one-sided decision to the future Hall-of-Famer. Over the next four years he went 4-3, losing to Jermain Taylor, Roy Jones and clubfighter Dhafir Smith. Following the loss to Smith, Lacy hung up the gloves. As we well know, boxing retirements are usually temporary. Lacy's lasted three years. He returned with a third-round knockout win last November over Martin Verdin. Now, Lacy has moved to light heavyweight and says he is better than ever and seeks a shot at one of the light heavyweight titles. On Thursday night in Miami, he faced Cuban transplant Umberto Savigne, who is 12-1. Although I was afraid for Jeff Lacy, feeling he has taken too much punishment for his 37 years, Savigne, while hard-hitting (he has nine stoppages in his 12 wins), was dropped and almost beaten by Dhafir Smith, the same Dhafir Smith who thoroughly outboxed Lacy in 2010. Should Lacy have won, perhaps landing one of his vaunted hooks on the questionable chin of Savigne, he'd have been looking for a big name next. Instead, there will be pressure to exit the sport. He was smashed by Savigne (TKO2).
CALLING OUT THE OPPOSITION: Unbeaten female fighter Shelly "Shallito's Way" Vincent has called out Heather Hardy. Both are unbeaten and both are attracting lots of media attention. Hardy, 11-0, is out of New York, while Vincent is from two-and-a-half hours North, from Groton, CT. Hardy fights in her hometown, while Vincent, 12-0, has found a home at the Foxwoods Casino. Last week, after winning a decision at Foxwoods, Vincent was a guest on my SiriusXM show. She held nothing back as she called out Hardy.
"I'll fight her in Foxwoods, I'll fight her in New York," said Hardy. "But I know she'll never leave the New York area to fight. Me, I don't care. I just want a ring and Hardy in it." Asked if she'd be worried about the "hometown decision," Hardy said, "not at all." The she added, "That's because the judges won't be needed. All we'll need is a ref to count over her horizontal body!"
We're waiting for an answer from Hardy.
While Vincent tempered her remarks about Hardy, heavyweight contender Tyson Fury held nothing back about both Wladimir Klitschko and Deontay Wilder, while a guest on my show. "Wladimir is a —-y," said Fury. He fights nobodies and then grabs them and holds them. He is the world clinching champion! I will knock him out, because I have no fear of him. As for Deontay Wilder, it looks to the public like he can punch. But who is he hitting? Stiffs! Bums! Nobodies! He's also a —-y. I will knock him out easier than I will knock out Klitschko."
When told of Fury's remarks, Wilder said, "He gets tapped and he goes down. I am going to more than tap him. I am going to knock him out cold. He talks big, but if a contract to fight me ever gets put in front of him, he will cry like a b—h not to sign it. He is 99% mouth, 1% fighter."
***
LATE RESULTS: Jr. Middleweightveteran Alfonso Gomez kept his career alive with a decision against Ed Paredes in Las Vegas. Fighting in the main event on FoxSports1, Gomez kept Paredes off-balance all-night long and coasted to a comfortable unanimous 10-round decision. The cards were 99-92, 98-92 and 96-93. Gomez was so impressive and so full of fight, that despite being dropped in the fourth and sixth rounds, he stormed back in both of those rounds to pull a 10-10 round in one of them and lose the other only by a 10-9 score on the card of judge Dave Moretti. Gomez is now 24-6-2 (14), while Paredes dropped to 35-4-1 (23)…On the undercard, 2012 U.S. Olympian Joseph Diaz Jr. went to 11-0 (7), taking a 10-round unanimous verdict over tough Ramiro Robles. Diaz' victory upped the Olympic Teams' overall record to 90-0.
***
HOOKED ON THIS BOOK: Author Springs Toledo is brilliant. Change that. He is an absolute genius. He is Rembrandt with the written word. In "The Gods of War," a collection of his boxing essays, Toledo begins by tying together the ends of "fifteen degrees of separation and no less than 10 International Boxing Hall of Famers connecting (Harry) Greb's fist to my face." That's right. Toledo sparred with a man who fought a man who fought a man…who fought the legendary Harry Greb. Right away, you feel his love for boxing. From one of my closest friends, Alexis Arguello, to Henry Armstrong, Sugar Ray Robinson, Harry Greb, Ezzard Charles, Roberto Duran, Charley Burley, Rocky Marciano and more, Toledo will make you smile. He'll make you laugh. He may even make you shed a tear, as I did, when I read his essay about Arguello. There are also four short, wonderful essays on the vastly-talented and just-as misunderstood Charles "Sonny" Liston entitled, "The Liston Chronicles." Toledo even has a list of the top 30 fighters of the Modern Era. I call it the "Toledo Thirty." Published by Tora Book Publishing, this book belongs in your den or study, prominently displayed in your "Favorites" section. Bert Sugar once told me, "At its best, there is nothing like boxing journalism." Springs Toledo's "The Gods of War" is indeed boxing journalism at its very best. FYI—Springs Toledo will be a guest on my SiriusXM show next Monday at 7:15pm (ET). If you have SiriusXM, check out his interview on channel 92.
***
Pound-for-Pound: You've got under Sunday at 11:59 pm to get your PxP list of current fighters to me, so we can finally have our own official listing. If you're holding off and waiting until you see the result of Alvarez-Lara, I understand, but with so many of you turning in your ballots already, even a super-impressive showing by either one will affect this first listing. Next month's, perhaps, but not this one. So, if you haven't done so yet, send me your list of the top 10 fighters in the world. All I need are the Top 10. Other vote-getters who do not make the Top 10 will be given mention.
Avila Perspective, Chap. 115: Macho, Freddie and More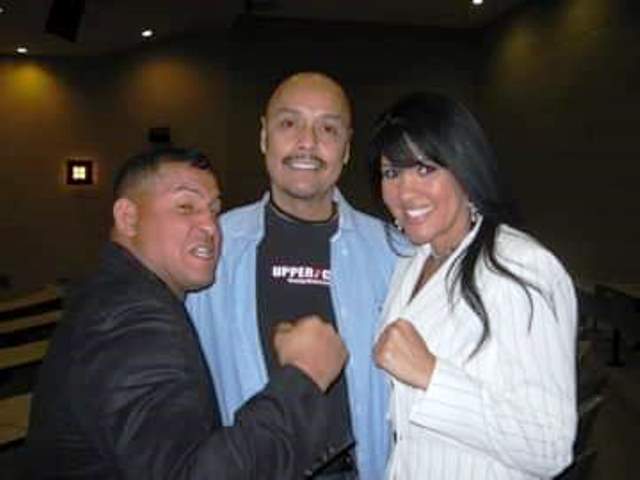 "Macho."
That single word is how Hector Camacho presented himself when introduced. It was the only word needed for the three-division world champion from Puerto Rico who was raised in Harlem, New York.
The first time I met Camacho was in a dark and packed Las Vegas nightclub in the MGM where he was a guest of Oscar De La Hoya back in March 2001. Though it was difficult to see, when Camacho was introduced, I could see the large gold medallion with the word "Macho" in letters six inches high.
Showtime network will be presenting a documentary called "Macho: The Hector Camacho Story" on Friday, December 4 at 9 p.m. on Showtime. It sparks memories of how a fighter in the lower weight classes grabbed the attention of the boxing world.
Camacho was more than flash or words, he was an electrifying boxer who stood out in the 1980s, an era dominated by the "Four Kings" Marvin Hagler, Tommy Hearns, Roberto Duran and Sugar Ray Leonard. Oh, and also a guy named Mike Tyson.
The fast-talking Camacho was a phenomenal fighter who swept aside opponents with his blinding speed and shocking power. It was against Los Angeles-based fighters like Refugio Rojas and Louie Loy that I first read about his exploits. Both were knocked out.
A third Southern California fighter John "Huero" Montes was thought to be the one to give Camacho a real challenge. The fight was televised to a national audience in February 1983. At the time I was watching it on a tiny black and white television and at 1:13 into the first round Camacho unleashed one of those lethal uppercuts and Montes was out-for-the-count.
Camacho arrived that day.
From that point on few could withstand the speedy southpaw's blinding charges. Six months later he stopped Mexico's Bazooka Limon to win the vacant super featherweight title.
One fighter who heard the final bell was Freddie Roach who could take a punch and knew a thing or two about fighting southpaws.
"I liked fighting southpaws," said Roach via telephone. "My dad taught me early to keep my foot on the outside and lead with right hands."
Roach had never lost to a southpaw. The winner that day between Camacho and Roach in Sacramento, on December 1985, was supposedly going to fight Puerto Rico's heavy-handed Edwin Rosario.
Using his surefire method of fighting southpaws, Roach managed a knockdown of Camacho with the help of his foot. But it was not enough.
"He was very difficult. Lot of people raved about how fast his speed was. You didn't really realize until you got into the ring with him," said Roach. "I wasn't the slowest, but wasn't the fastest. I just couldn't keep up."
Despite using roughhouse tactics against the lefty speedster, Roach said that Camacho invited him to dinner after the fight.
That pretty much explains Camacho, a talented and big-hearted guy.
Last Stages
The last time I ran into Camacho was at the Pechanga Resort and Casino when he and Mia St. John were about to fight on the same boxing card in 2009. He was much heavier but still able to defeat middleweights.
How good was Camacho?
He defeated two of the Four Kings when he beat Roberto Duran twice and stopped Sugar Ray Leonard by knockout when they fought in 1997. Yes, Leonard was 41 and had not fought in six years, but this was Sugar Ray Leonard.
"I didn't think he would ever beat Leonard," said Roach.
Neither did Leonard.
"I just felt that I was a bigger man. I was smarter, stronger, all those things, but the first time he threw a punch, it was like, Pow! And I said, 'Wow, that hurt,'" said Leonard about their encounter. "I tried the best I could to just go the distance. When he was at his best, he was a thing of beauty."
What I remember after Camacho beat Leonard was how sincerely apologetic he was after the victory. He could talk the talk and walk the walk but inside he remained the kid from Harlem who was given extraordinary talent. And he was humbled by it.
Roach remembers their dinner together after their fight.
"That night he took me out to dinner with his friends and said you fought a good fight," said Roach adding that Camacho was a very likeable guy. "I saw him along the way in his career."
Roach, who would later train another astoundingly fast southpaw named Manny Pacquiao, said he never fought anyone again as talented as Camacho.
"You hear rumors of drug problems and training problems. But when he fought me, he was in for 10 and I tried every trick in the book but it didn't work. He was in a higher class than I was," Roach said. "He was one of the best fighters in the world."
Don't miss this Showtime documentary next week.
Jacobs and Rosado
Speaking of Roach, the famous trainer will be working the corner of Gabe Rosado (25-12-1, 14 KOs) when he meets Daniel Jacobs (36-3, 30 KOs) on Friday, Nov. 27, at the Seminole Hard Rock Hotel and Casino in Florida. DAZN will stream the Matchroom Boxing card.
It's Philly versus Brooklyn.
Rosado has long proven to be a real professional who keeps adding elements to his fight game. Paired with Roach he has further developed under the guidance of the Southern California-based trainer. Plus, Rosado can plain fight.
Jacobs, a former world champion, has proven to be an elite middleweight and looks just as comfortable as a super middleweight.
Expect the kind of prize fight they used to show in the Golden Age of boxing in the 1950s when you had guys like Johnny Saxton fighting Denny Moyer. It should be that kind of battle of wits and skill. I'm looking forward to it.
Photo: Hector Camacho, David Avila, and Mia St. John. Photo credit: Al Applerose
Check out more boxing news on video at the Boxing Channel 
To comment on this story in the Fight Forum CLICK HERE
Muhammad Ali Biographer Jonathan Eig Talks About His Book and the Icon Who Inspired It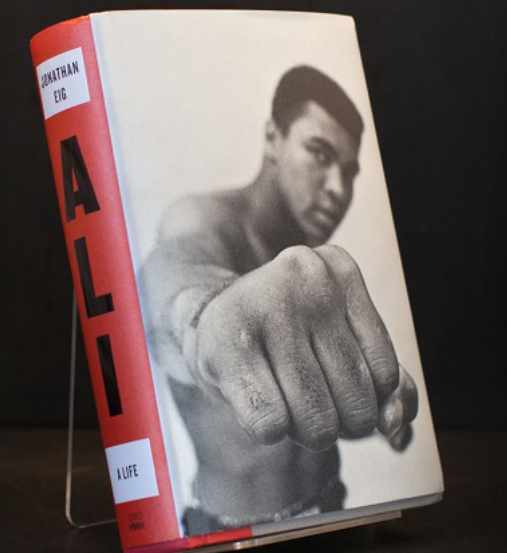 Given the breadth and depth of Muhammad Ali's 74 years, it isn't very easy to capture the complete essence of the man.
Dozens of books have been written about the three-time heavyweight champion including Jonathan Eig's 2017 biography, "Ali: A Life."
Born in Louisville, Kentucky on January 17, 1942 as Cassius Marcellus Clay, he would one day be known around the globe as a world-class boxer, civil rights advocate, philanthropist and cultural icon.
Like so many others, the Brooklyn, New York-born Eig became intrigued by Ali.
"I loved Ali as a child. He fascinated me. He was outspoken, radical, yet so very loveable," he said. "And, of course, he could fight! I was astonished to realize, around 2012, that there was no complete biography of Ali, even though he was probably the most famous man of the 20th century."
Eig, currently at work on a major offering about the life of Dr. Martin Luther King, Jr., added: "I had read lots of Ali books, including [David] Remnick's "King Of The World: Muhammad Ali And The Rise Of An American Hero," and [Thomas] Hauser's "Muhammad Ali: His Life And Times," and [Norman] Mailer's "The Fight" – but those were not complete biographies," he pointed out. "By 2012, enough time had gone by to put Ali in historical perspective. Also, there were plenty of people still alive to tell the story. I did more than 500 interviews, including all three of Ali's living wives. I wanted to write a book that would treat Ali as more than a boxer. I wanted to write a book that would show the good and the bad. I wanted to write a big book worthy of an epic life, a book that danced and jabbed half as beautifully as Ali."
Given Eig's exhaustive research, what previously unknown tidbits about Ali did he come across?
"I learned thousands of new things. I think even hardcore Ali fans will find new information on almost every page," said the former Wall Street Journal reporter and 1986 Northwestern University graduate. "I discovered things Ali himself didn't know. I discovered Ali's grandfather was a convicted murderer, for example. Ali didn't know that! I read Ali's FBI files, as well as those of Herbert Muhammad, Malcolm X and Elijah Muhammad. I interviewed Ali's childhood friends. I found MRIs of Ali's brain. I counted the punches from all of his fights. I measured how those punches affected his speaking rate. Ali's wives also confided in me things I never knew. I spent four years working on this book, and every day delivered revelations."
Over the years, Ali, who posted a 56-5 ring record with 37 knockouts, seemed to mellow with time which helped ingratiate him to an even wider audience. How was this possible?
"People change. They grow. It's hard to stay radical as you get older and richer," said Eig, who has written five books including three that deal with sports. "The late Stanley Crouch had a great line about Ali. He said young Ali was a grizzly bear. Ali in the '70s was a circus bear. Ali in his later years was a teddy bear. We all loved the teddy bear. We wanted to hug him and love him. But it was the grizzly bear who we should remember first. It was the grizzly bear who shook up the world."
Sports Illustrated writer Mark Kram covered nearly the entirety of Ali's career which spanned 1960 through 1981 and included a three-year period, 1967 until 1970 when he wasn't allowed to box after being convicted of draft evasion because he refused induction into the armed forces.
In Kram's book, "Ghosts Of Manila," the author asserts Ali was essentially a pawn of the Black Muslims.
What's Eig's take?
"I love Kram's book, but I think it's dangerous to question anyone's religious faith," he said. "Ali was a true believer. The Nation of Islam took advantage of him at times. But does that mean he was a pawn? I don't think so. He knew what he was doing. He made his own choices. One might argue that the NOI did more for Ali than Ali did for them."
Ali wasn't perfect and that included his fondness for women. As a Muslim, how did he hurdle this?
"He didn't reconcile it – except to acknowledge that humans are human, they are flawed," Eig said. "The thing I love about Ali is that he said he was the greatest, but he never said he was perfect. He talked to his wives about his weakness. He even talked to reporters about his flaws – his weakness for women, his disdain for training, his poor handling of money. He knew who he was and he never tried to be anything else."
Eig, who has also penned "Luckiest Man: The Life And Death Of Lou Gehrig," and "Opening Day: The Story Of Jackie Robinson's First Season," went on: "We're all complicated, right? Ali was no more complicated than you or me, but he let the whole world see his complications – his racial pride and his racist behavior toward [Joe] Frazier, his love of women and his cruelty to his wives, his generosity with his money and his stupidity with money," he said. "I don't think Ali was different, just more open, more willing to let us see everything."
Ali's battles with Frazier, George Foreman and Ken Norton are legendary, but his two fights against Sonny Liston are filled with question marks, such as were they fixed?
Ali claimed the title on February 25, 1964 in Miami Beach when Liston failed to answer the bell for the seventh round and then faced Liston 15 months later in Lewiston, Maine, where he knocked out the challenger in the opening frame.
In Eig's mind, were these two bouts on the level? "My hunch is that the first fight was legit. Liston quit when he knew he couldn't win," Eig said. "The second fight is more suspicious. Liston's flop was pathetic. Bad acting! But I don't think we'll ever know for sure. As an aside, Liston's wife said Sonny had diarrhea before the fight, which might have given him one more reason to throw it."
Still, Ali in his prime was a sight to behold. "Ali before the exile, in my opinion, was the most beautiful boxer of all time. His combination of speed and power and ferocity was thrilling, elegant, frightening and marvelous," Eig said. "Was he the greatest heavyweight of all time? Maybe, maybe not. Was he the most breathtaking? To me, yes."
Early in Ali's career his braggadocio was off-putting to many. But much of it was showmanship.
"One of the Greatest" doesn't sound as good, does it? If we're only discussing his action in the ring, Ali was one of the greatest," Eig said. "But that's like saying Louis Armstrong was one of the greatest trumpet players without considering his voice, his charm, his improvisational skills, his smile. In and out of the ring, Ali was the greatest in my book."
For so many, Ali was many things. What traits in the man does Eig admire? "I love his fearlessness, his honesty, his insatiable appetite for people," he said. "He was so very loving. But he could also be narcissistic. He wanted everyone to love him, but he wasn't always sensitive to the feelings of others – including his wives and children. He turned his back on friends like Malcolm X and Joe Frazier when it served his purposes."
While Ali could be polarizing, he had his legion of supporters including Howard Cosell, Jerry Izenberg, Robert Lipsyte, Larry Merchant and Jack Newfield.
"You could add Mailer, [George] Plimpton, and so many others to that list," Eig noted. "Those men were lucky enough to spend time with young Ali and to bask in the great warmth of his sun. He was great to reporters. He was the best story they ever covered. And unlike most celebrities, he really paid attention to them."
Eig continued: "I only met him once, six months before he died, and I envy those reporters who got to know him and got to see him at his best. I think those who knew and loved Ali became his disciples," he pointed out. "Ali's friend Gene Kilroy told me over and over that he thought Ali was like Jesus, that people would be studying his words and drawing inspiration from his life for centuries to come. That's the feeling he gave to those with whom he spent time."
Ali was a boxer, but so much more. How does Eig see him? "I think Ali will be remembered as one of America's great revolutionary heroes – one whose courage went far beyond sports. Like Jackie Robinson, like Martin Luther King, like the abolitionists and suffragettes, he loved America but refused to accept its shortfalls," he said. "He fought to make his country live up to the promises contained in the Declaration of Independence. He will also be remembered as an important world figure, one who united Africans, Americans and Asians, one who helped Americans better understand Islam and helped people of Islamic faith around the world better understand America."
In Ali's last quarter century, he was almost universally loved. This is a far cry from being labeled a draft dodger.
"Ali was always a spiritual man, but in his later years I believe he clarified and deepened his spirituality," Eig said. "He became more focused and more thoughtful."
When Eig turned in his manuscript, what was his immediate thought? "I wanted to take it back. I didn't want to be done," he said. "I had so much fun writing this book I wanted to work on it for the rest of my life. I knew I would never find anything more fun to work on."
Check out more boxing news on video at the Boxing Channel 
To comment on this story in the Fight Forum CLICK HERE
The Peculiar Career of Marcos Geraldo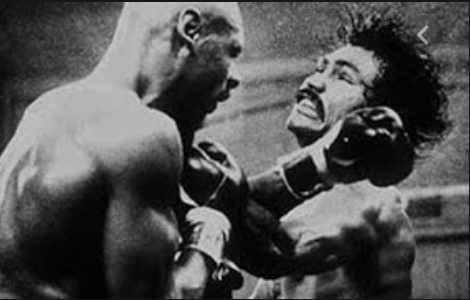 If you play word association with retired boxer Marcos Geraldo, you might come up with "chinny," or "easy work." But if you did, you would be wrong.
This extremely active Mexican boxer fought out of Baja California but was a staple in Nevada and Southern California and was 38-12 before he ventured outside these regions
Many saw Geraldo as easy work because of the 21 KOs he suffered but what they missed was the fact he had 50 KOs of his own and that made him an ultra-exciting type of fighter–and it guaranteed him plenty of marquee events. If you didn't get Marcos, he was likely to get you. That translated to bringing in fans. He also was an active fighter and fought, for example, 12 times in 1972 alone. He also toiled 25 times at the Silver Slipper in Las Vegas—yes, 25 times—and he went 21-4!
Along the way, Geraldo (who at various times was the middleweight and light heavyweight champion of Mexico) did battle with four Hall of Famers — Sugar Ray Leonard, Marvin Hagler, Thomas Hearns, and Virgil Hill — several world champions, and numerous title contenders. (Michael Nunn, another stiff opponent, could someday become a member of the Hall as well.)
As his career progressed, the level of his opposition became stiffer. Listed in the order of appearance, these are the records of some of his opponents at the time that he fought them: Peter Cobblah (48-46-5), Angel Robinson Garcia (138-80-21), Armando Muniz (32-6-1), George Cooper (49-4-3), Sugar Ray Leonard (21-0), John LoCicero (15-3), Marvin Hagler (48-2-2), Caveman Lee (13-2), Thomas Hearns (33-1), Fred Hutchings (20-1), Ron Wilson (71-33-7), Prince Mama Muhammad (29-1-1), Michael Nunn (7-0), Tony Willis (9-0), Chris Reid (14-0-1), Virgil Hill (16-0), Jesus Gallardo (16-1), Antoine Byrd (6-1-1).
Whew!
In 1979, Geraldo went the distance with Sugar Ray Leonard which surprised boxing buffs though Ray had previously been extended by others.
The following year he gave Marvelous Marvin Hagler all he could handle while losing a unanimous but close decision in a surprisingly tough thriller.
Hagler (May 1980)
Hagler pressed the action in-close but surprisingly was met with strong counterpunching. Both did plenty of shoe shining. First Hagler; then Geraldo. It was tit for tat and the fans roared their approval. What won the fight for Hagler was his stamina and harder punching which enabled him to tire the tough Mexican, but he never managed to break him down.
The scoring was Duane Ford 97-93, Art Lurie 97-94, and Chuck Minker 97-95.
The fans at Caesars Palace in Las Vegas gave both fighters a standing ovation as they raised each other's arm up in a marvelous (no pun intended) show of mutual respect. The media framed it it as a "great" fight. It defined "fan–friendly."
Geraldo had stopped Bomber John LoCicero before the Hagler fight, but was KOd in round one by both Caveman Lee and Thomas Hearns subsequent to Hagler. And then he was stopped much later by Michael Nunn and Virgil Hill.
His final slate was 71-28-1 — 100 bouts put him in rarefied company. Also, seven of those 21 KO losses came in his last eight fights.
After a very close review of his career, the word association that could more appropriately fit might be "incongruity," or "action, or "resilient," or even "peculiar."
Sadly, he was always one big win away from entering the top tier.
Ted Sares can be reached at tedsares@roadrunner.com
Check out more boxing news on video at the Boxing Channel 
To comment on this story in the Fight Forum CLICK HERE