COMMISSIONER'S CORNER: Talking Judges For Canelo-Lara, Toledo's Majesty, More
This Saturday is an all-important Jr. Middleweight showdown in Las Vegas between Saul "Canelo" Alvarez and Erislandy Lara. There has been so much talk about this fight going to a decision and that Alvarez—being promoter Golden Boy's top attraction—will win if this fight goes to the scorecards. I don't buy it.
Sure, many of the worst decisions in boxing history—or in the the 40 years, anyway—have taken place in Sin City. Well, when you have more title fights than anywhere else, you are bound to have the most controversial endings…and scores…and judges who differ.
Let's try to understand—and believe—that judges don't see every round exactly the same. Especially close rounds. Especially competitive rounds. Especially two-sided rounds. At the end of a competitive, closely-contested round, two of the three judges will score the round in favor of "Fighter A." The other judge will score it for "Fighter B." In a close fight, just one of those rounds, coupled with an even round, can mean a swing the other way in the official tabulation.
Judges can be found in two categories: Competent and Honest. Some judges are highly-competent. Some are not. Most are honest. Some are not. In my years as head of the New York State Athletic Commission, I licensed and worked with some highly-competent officials, among them Julie Lederman, Steve Weisfeld, Don Ackerman, Billy Costello, Ron McNair and Melvina Lathan. It was a no-brainer for me to hand them the bigger, more lucrative and visible fights. There were also judges whose work almost scared me. I always felt they guessed at close rounds. Their body of work usually had them constantly on the short end of a split decision. To them, I never assigned highly-visible fights and important fights. In other matches, I always teamed them with two of my "A" judges, knowing at least two of them will get the score correct. Of course, if they were THAT bad, I retired their judging license.
While I did find competence, incompetence and honesty, the one thing I never found was dishonesty in any official—be it a judge or a referee. Had I uncovered such a dishonest official, I would have publically excoriated him/her.
On Saturday night, fight fans don't have to worry about who Bob Bennett, the new Executive Director of the Nevada State Athletic Commission, has assigned to work the Canelo Alvarez-Erislandy Lara fight. They are all well-known veterans with sterling resumes. The referee is Robert Byrd. The judges are Jerry Roth (Nevada), Dave Moretti (Nevada) and Levi Martinez (New Mexico). As far as Bob Bennett is concerned, no Nevada official will dare do anything except follow the rules. Mr. Bennett is a retired former Special Prosecutor for the FBI.
So, on Saturday, sit back and enjoy the fight card (if you have elected to buy the PPV showing). If Alvarez-Lara goes the distance, know that the decision—even though it may not be one you agree with, is an honest one.
***
OVER/UNDER: Golden Boy's Oscar de la Hoya said he believes the Alvarez-Lara PPV telecast will surpass 1 million. What's the betting line here? I say 750,000. Will it go over that number or fall short of that number? I say it falls short. This is a fight which belongs of free TV.
AROUND THE RING: You know him as the color analyst on the fights seen on the NBC Sports Network, the man alongside veteran blow-by-blow announcer Kenny Rice. His name is BJ Flores, and he is a Top 10-rated professional cruiserweight who lives in Arizona. Flores' has been fighting as a pro since 2003. In November, 2010, Flores took a 24-0 record to Australia, where he faced Danny Green for the IBO Cruiserweight Title. After 12 rounds, Green was awarded a unanimous decision. Following that fight, Flores fought twice in 2011 and twice more in 2012, winning all four fights. Then, concentrating on his announcing career, Flores was inactive in 2013. Always in the gym, even when on the road, Flores returned to action last May 10, stopping Adam Collins in the first round on the undercard to Bermane Stiverne's KO 6 of Cris Arreola at USC's Galen Center. He returned to action a little over one month later, winning an eight-round decision against Anthony Smith in Las Vegas. His fight was part of a card which featured some of the best young fighters in the world, including light heavyweight Marcus Browne, welterweight Errol Spence and heavyweight Gerald Washington. There is now talk of Flores taking his 30-1-1 record and challenging 42-year-old WBA Cruiserweight Champion Guillermo Jones. GJ vs BJ…Former light heavyweight champ Eddie Mustafa Muhammad is recovering nicely from back surgery and is up and around his home and gym in Las Vegas…Danny Jacobs is training hard in Easton, PA for his August 9 fight for the vacant WBA Middleweight Title against Australia's Jarrod "Left Jab" Fletcher. Jacobs' main sparring partner for the bout, which will take place at the Barclay's Center, is hard-hitting Brooklyn middleweight Curtis Stevens. For the past few weeks, Jacobs has been having training sessions behind closed doors. No visitors or media. Except one: Larry Holmes. Why only the former heavyweight champ? "He owns the town," Jacobs says with a laugh…Speaking of training, both Gennady Golovkin and Daniel Geale have been looking tremendous in their respective training camps as they head towards their July 26 showdown at Madison Square Garden. A heavyweight matchup on the GGG-Geale undercard is one the boxing world has its eyes on. The fight is between Bryant Jennings and Mike Perez. The two unbeatens will face each other over 12 rounds. Jennings who is 18-0, is coming off an impressive 10th round stoppage of previously unbeaten Artur Spilka in January. Also that month, Perez, who is 20-0, was just two months off his brutal victory over Magomed Abdusalamov, labored his way to a majority decision over Carlos Takam. Reports say both fighters are in prime condition, but a source in the Perez camp says he frequently goes into trance-like lapses during sparring sessions, as if his head is somewhere else, something he never did before in his previous 20 fights. Ya' gotta' just wonder which Perez will show up on the night of the fight…Bob Arum has offered Chris Algieri $1 million to face Manny Pacquiao this Fall in Macau, China. Our Radam calls it an early Thanksgiving Turkey for Pacquiao. Hmm. In reality, it could be an early Christmas present for Algieri.
STILL DREAMING: He was once among the most feared punchers in the sport. He was also a world champion. He is Jeff "Left Hook" Lacy, the former super middleweight champ. He took his world title and a 22-0–1 record into a bout against Joe Calzaghe in 2006 and dropped a one-sided decision to the future Hall-of-Famer. Over the next four years he went 4-3, losing to Jermain Taylor, Roy Jones and clubfighter Dhafir Smith. Following the loss to Smith, Lacy hung up the gloves. As we well know, boxing retirements are usually temporary. Lacy's lasted three years. He returned with a third-round knockout win last November over Martin Verdin. Now, Lacy has moved to light heavyweight and says he is better than ever and seeks a shot at one of the light heavyweight titles. On Thursday night in Miami, he faced Cuban transplant Umberto Savigne, who is 12-1. Although I was afraid for Jeff Lacy, feeling he has taken too much punishment for his 37 years, Savigne, while hard-hitting (he has nine stoppages in his 12 wins), was dropped and almost beaten by Dhafir Smith, the same Dhafir Smith who thoroughly outboxed Lacy in 2010. Should Lacy have won, perhaps landing one of his vaunted hooks on the questionable chin of Savigne, he'd have been looking for a big name next. Instead, there will be pressure to exit the sport. He was smashed by Savigne (TKO2).
CALLING OUT THE OPPOSITION: Unbeaten female fighter Shelly "Shallito's Way" Vincent has called out Heather Hardy. Both are unbeaten and both are attracting lots of media attention. Hardy, 11-0, is out of New York, while Vincent is from two-and-a-half hours North, from Groton, CT. Hardy fights in her hometown, while Vincent, 12-0, has found a home at the Foxwoods Casino. Last week, after winning a decision at Foxwoods, Vincent was a guest on my SiriusXM show. She held nothing back as she called out Hardy.
"I'll fight her in Foxwoods, I'll fight her in New York," said Hardy. "But I know she'll never leave the New York area to fight. Me, I don't care. I just want a ring and Hardy in it." Asked if she'd be worried about the "hometown decision," Hardy said, "not at all." The she added, "That's because the judges won't be needed. All we'll need is a ref to count over her horizontal body!"
We're waiting for an answer from Hardy.
While Vincent tempered her remarks about Hardy, heavyweight contender Tyson Fury held nothing back about both Wladimir Klitschko and Deontay Wilder, while a guest on my show. "Wladimir is a —-y," said Fury. He fights nobodies and then grabs them and holds them. He is the world clinching champion! I will knock him out, because I have no fear of him. As for Deontay Wilder, it looks to the public like he can punch. But who is he hitting? Stiffs! Bums! Nobodies! He's also a —-y. I will knock him out easier than I will knock out Klitschko."
When told of Fury's remarks, Wilder said, "He gets tapped and he goes down. I am going to more than tap him. I am going to knock him out cold. He talks big, but if a contract to fight me ever gets put in front of him, he will cry like a b—h not to sign it. He is 99% mouth, 1% fighter."
***
LATE RESULTS: Jr. Middleweightveteran Alfonso Gomez kept his career alive with a decision against Ed Paredes in Las Vegas. Fighting in the main event on FoxSports1, Gomez kept Paredes off-balance all-night long and coasted to a comfortable unanimous 10-round decision. The cards were 99-92, 98-92 and 96-93. Gomez was so impressive and so full of fight, that despite being dropped in the fourth and sixth rounds, he stormed back in both of those rounds to pull a 10-10 round in one of them and lose the other only by a 10-9 score on the card of judge Dave Moretti. Gomez is now 24-6-2 (14), while Paredes dropped to 35-4-1 (23)…On the undercard, 2012 U.S. Olympian Joseph Diaz Jr. went to 11-0 (7), taking a 10-round unanimous verdict over tough Ramiro Robles. Diaz' victory upped the Olympic Teams' overall record to 90-0.
***
HOOKED ON THIS BOOK: Author Springs Toledo is brilliant. Change that. He is an absolute genius. He is Rembrandt with the written word. In "The Gods of War," a collection of his boxing essays, Toledo begins by tying together the ends of "fifteen degrees of separation and no less than 10 International Boxing Hall of Famers connecting (Harry) Greb's fist to my face." That's right. Toledo sparred with a man who fought a man who fought a man…who fought the legendary Harry Greb. Right away, you feel his love for boxing. From one of my closest friends, Alexis Arguello, to Henry Armstrong, Sugar Ray Robinson, Harry Greb, Ezzard Charles, Roberto Duran, Charley Burley, Rocky Marciano and more, Toledo will make you smile. He'll make you laugh. He may even make you shed a tear, as I did, when I read his essay about Arguello. There are also four short, wonderful essays on the vastly-talented and just-as misunderstood Charles "Sonny" Liston entitled, "The Liston Chronicles." Toledo even has a list of the top 30 fighters of the Modern Era. I call it the "Toledo Thirty." Published by Tora Book Publishing, this book belongs in your den or study, prominently displayed in your "Favorites" section. Bert Sugar once told me, "At its best, there is nothing like boxing journalism." Springs Toledo's "The Gods of War" is indeed boxing journalism at its very best. FYI—Springs Toledo will be a guest on my SiriusXM show next Monday at 7:15pm (ET). If you have SiriusXM, check out his interview on channel 92.
***
Pound-for-Pound: You've got under Sunday at 11:59 pm to get your PxP list of current fighters to me, so we can finally have our own official listing. If you're holding off and waiting until you see the result of Alvarez-Lara, I understand, but with so many of you turning in your ballots already, even a super-impressive showing by either one will affect this first listing. Next month's, perhaps, but not this one. So, if you haven't done so yet, send me your list of the top 10 fighters in the world. All I need are the Top 10. Other vote-getters who do not make the Top 10 will be given mention.
Remembering Oscar 'Shotgun' Albarado (1948-2021)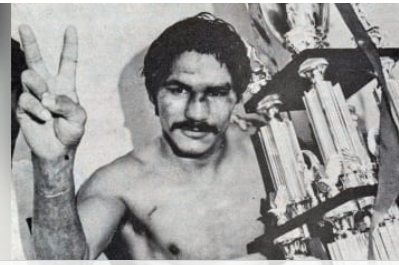 Former world junior middleweight champion Oscar "Shotgun" Albarado passed away on Feb. 17 at age 72 in a nursing home in his hometown of Uvalde, Texas. Albarado's death didn't go unnoticed in the town that he put on the sporting map, but news out of Uvalde appears to travel to the outside world by Pony Express. There's been no notice of it in the boxing press; even the authoritative boxrec has yet to acknowledge his passing. This isn't uncommon. A boxer has a high probability of dying in obscurity, even if he had a large fan base during his heyday.
The folks in Uvalde had a big shindig to honor Albarado after he won the title; a barbecue at the fairgrounds. "All Texas and especially the city of Uvalde share pride in your accomplishments," read a proclamation from the Governor of Texas, Dolph Briscoe.
The date was June 20, 1974. Sixteen days earlier, Albarado had wrested the 154-pound title from Koichi Wajima in Tokyo. Down two points on two of the scorecards through the 14 completed rounds, Albarado took the bout out of the judges hands, knocking Wajima down three times and out in the final stanza.
It was a long road to Tokyo. An eight-year pro, Oscar had at least 55 pro fights under his belt when he was granted a crack at the title. As he was scaling the ladder with occasional missteps, he became a fan favorite at the Olympic Auditorium, the shrine of Mexican-American boxing in L.A. But we are getting ahead of ourselves.
Albarado's parents were migrant farm workers. They spent a portion of each year picking sugar beets in Minnesota. The kids went along with them. Albarado was purportedly six years old when he first worked in the fields.
He was 17 years old when he had his first documented fight, a 4-rounder in San Antonio, but there are some reports that say he was fighting in Mexico when he was as young as 15.
Albarado became a local attraction in South Texas and then spread his wings, moving to Los Angeles where there was better sparring and boxers of Mexican extraction were a more highly-valued commodity. He was backed by LA fight functionary Harry Kabakoff, a wheeler-dealer who knew all the right people. A colorful character, Kabakoff, born Melville Himmelfarb (don't ask) had struck it big with bantamweight Jesus "Little Poison" Pimentel, a boxer he discovered while living in Mexicali.
Billed as the Uvalde Shotgun and eventually as just Shotgun Albarado, Oscar had his first fight at the Olympic on Jan. 9, 1969, and four more fights there in the next three months. He lost the last of the five and with it his undefeated record to Hedgemon Lewis who out-pointed him in a 10-round fight. There was no shame in losing to Hedgemon, an Eddie Futch fighter who went on to become a world title-holder.
Albarado was back at the Olympic before the year was out. All told, he had 17 fights at the fabled South Grand Street arena, going 13-3-1. His other losses came at the hands of Ernie "Indian Red" Lopez (L UD 10) and Dino Del Cid.
Del Cid, dressed with a 29-8-2 record, was a Puerto Rican from the streets of New York or a Filipino, depending on which LA newspaper one chose to read. Apprised that Albarado was a slow starter, he came out slugging. A punch behind the ear knocked Albarado woozy and the ref stepped in and stopped it. It was all over in 81 seconds.
Oscar demanded a rematch and was accommodated. Six weeks later, he avenged the setback in grand style, decking Del Cid three times in the opening stanza and knocking him down for the count in the following round with his "shotgun," his signature left hook.
As the house fighter, Albarado got the benefit of the doubt when he fought Thurman Durden in January of 1973. The decision that went his way struck many as a bit of a gift. But the same thing had happened to him in an earlier fight when he opposed fast-rising welterweight contender Armando Muniz.
As popular as Alvarado was at the Olympic, his pull paled beside that of young Muniz. Born in Mexico but a resident of Los Angeles from the age of six, Muniz attended UCLA on a wrestling scholarship before finishing his studies at a commuter school and had represented the United States in the 1968 Olympics while serving in the Army.
Muniz vs. Alvarado was a doozy. We know that without seeing the fight as we have the empirical evidence in the form of the description of the scene at the final bell; appreciative fans showered the ring with coins. The verdict, a draw, met with the approval of the folks in the cheap seats, but ringside reporters were of the opinion that "Shotgun" was wronged. The LA Times correspondent had it 7-2-1 for the Texan.
Oscar had two more fights after avenging his loss to Del Cid before heading off to Tokyo to meet the heavily-favored Wajima who was making the seventh defense of his 154-pound title. Two more trips to Tokyo would follow in quick succession.
Albarado made the first defense of his newly-acquired belt against Ryu Sorimachi. He stopped him in the seventh round, putting him down three times before the match was halted. Three-and-a-half months later, he gave the belt back to Wajima, losing a close but unanimous decision in their rematch.
Oscar quit the sport at this juncture, returning to Uvalde. He was in good shape financially. He had used his earnings from his Olympic Auditorium fights to open a gas station. With the Tokyo money, he expanded his holdings by purchasing a laundromat.
This would be a nice place to wrap up this story. Former Austin American-Statesman sportswriter Jack Cowan, a Uvalde native, recalled that when Oscar opened his service station, he gave his new customers an autographed photo of himself in a boxing pose inscribed with the words "Oscar Albarado: The Next World Champion." He would make that dream become a reality, defying the odds, while breaking the cycle of poverty in his family. Boxing was the steppingstone to a better life for him and his children.
But ending the story right here would be disingenuous. This is boxing, after all, and when the life story of a prominent boxer comes fully into a focus, a feel-good story usually takes a wrong turn.
Oscar got the itch to fight again. Sixty-seven months after walking away from boxing, he resumed his career with predictable results. He was only 34 when he returned to the ring, but he was a shell of his former self, an old 34.
Albarado was knocked out in five of his last seven fights before leaving the sport for good with a record of 57-13-1 (43 KOs). He made his final appearance in Denmark, the adopted home of double-tough Ayub Kalule who whacked him out in the second round.
Albarado's obituary in the Uvalde paper was uncharacteristically blunt. "He suffered from pugilistic dementia," it said, "caused by repeated concussive and sub-concussive blows."
There was no sugar-coating there, no Parkinson's to obfuscate the truth.
If he had known the fate that awaited him, would he have still chosen the life of a prizefighter? That's not for us to say, but author Tris Dixon, while researching his new book, interviewed a bunch of neurologically damaged fighters and almost to a man they said they would do it all over again.
Albarado had four children, three sons and a daughter. When he was elected to the West Coast Boxing Hall of Fame in 2017, he was too decrepit to travel, but all four of his children — Oscar Jr, Emmanuel, Jacob, and Angela — made the trip to North Hollywood to accept the award on his behalf.
The kids were proud of their old man, a feeling that did not dissipate as he became incapacitated. If boxing was helpful in tightening the bond, then it's a fair guess the Uvalde Shotgun had no regrets.
Check out more boxing news on video at the Boxing Channel
To comment on this story in the Fight Forum CLICK HERE
Brandon Figueroa KOs Nery and Danny Roman Wins Too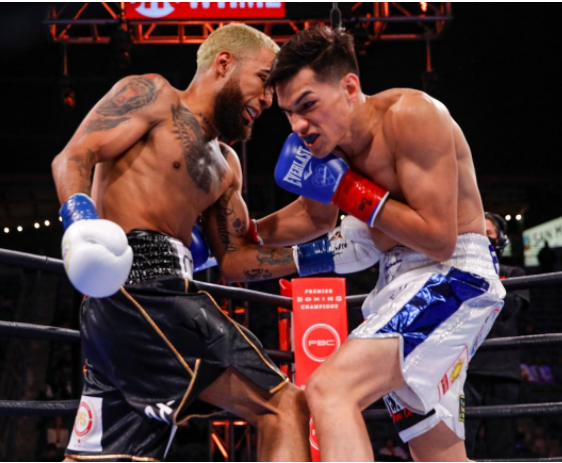 LOS ANGELES-Brandon Figueroa took the air out of Mexico's Luis Nery to win by knockout and unify the WBA and WBC super bantamweight titles on Saturday. It was a belly buster that did the job.
Texan Figueroa (22-0-1, 17 KOs) set out to prove that Tijuana's two-division world champion Nery (31-1, 24 KOs) could not endure a toe-to-toe battle with the bigger guys and he proved it before several thousand fans at the Dignity Health Sports Park.
It was a back-and-forth battle that saw Nery attack the body and head while Figueroa focused on winging big blows from a distance and in close. Many of the rounds were extremely close to score.
When Nery was able to battle from a distance and dive inside, he seemed the much more athletic between the two champions. But Figueroa just seemed stronger and unfazed by any of the Mexican fighter's blows.
Though Figueroa absorbed a lot of punishment, he never seemed in trouble. When Nery connected with a several combinations in the fifth round by landing five-punch and three-punch combinations, it looked like he was taking control.
He did not.
Figueroa opened the sixth round with two left hook blasts that reminded Nery that the taller Texan had a punch. When Nery tried to rally with his own blasts, Figueroa slipped under back-to-back left hooks. It seemed to change the tide.
"I knew he was getting tired," said Figueroa. "He was trying to box me."
In the seventh round Figueroa was able to connect with a left hook and followed up with a lead right. Nery countered with a three-punch combination that was met with Figueroa countering with a three-punch combination to the head and body. Then both fighters exchanged inside and Figueroa connected with a right to the chest and a left uppercut to the solar plexus and down went Nery.
Nery could not beat referee Tom Taylor's count and was counted out at 2:18 of the seventh round.
Figueroa is now the WBC and WBA super bantamweight unified champion.
"It feels amazing," said Figueroa. "I know everyone doubted me."
Roman Wins Super Bantam Eliminator
Los Angeles-based Danny Roman (29-3-1, 10 KOs) battered Mexico's Ricardo Espinoza (25-4, 21 KOs) to win convincingly by unanimous decision after 10 rounds in a super bantamweight fight.
After a slow start Roman began to out-maneuver the heavy-punching Espinoza and found openings for left uppercuts. Boy did he find openings.
"I concentrated on finding my distance," said Roman.
Roman snapped Espinoza's head back so many times it seemed that the Mexican fighter would not be able to last the full 10 rounds. But like most Mexican fighters he would not quit.
Espinoza tried every move in his catalogue but nothing worked against the superb technique used by Roman, who formerly held the IBF and WBA super bantamweight world titles. It was a perfect example of technical prowess defeating raw power.
The uppercut was the chosen weapon of choice and Roman exhibited how to throw it from various positions and angles. It landed perfectly every time as if targeted by a laser. Espinoza never could avoid the uppercut.
During the last three rounds Espinoza's face was bloody and battered while Roman looked as if he were merely sparring. The end seemed near but the fighter from Tijuana battled until the final bell.
"I thought he was going to go down," said Roman. "But he had a big heart."
All three judges scored it for Roman at 97-93 and 98-92 twice.
"It's a step closer to getting back my titles," said Roman who lost the titles to Murodjon Akhmadaliev a year ago by split decision. "I'm here to fight the best."
Martinez Beats Burgos
Sacramento's Xavier Martinez (16-0, 11 KOs) discovered that Tijuana's Juan Carlos Burgos (34-5-2, 21 KOs) still has plenty of fight remaining and showed it with a gutsy 10 rounds of back-and-forth battering. Still, Martinez won by unanimous decision though every round was competitive.
Boy was it competitive.
Martinez, 23, had a 10-year advantage in youth but was unable to convince Burgos. Every round saw savage combinations connect by each fighter, but the judges all felt that the Sacramento fighter was superior. All three scored it 99-91 for Martinez. The crowd booed the decision.
"I was landing the cleaner shots," said Martinez. "He's a tough competitor."
Other Results
A super lightweight match saw Jose Valenzuela (8-0) knock out Nelson Hampton (7-4) in the first round.
Gabriela Fundora (1-0) won her pro debut by unanimous decision over Jazmin Valverde (2-2) in a four round flyweight match. Fundora is the sister of super welterweight contender Sebastian Fundora.
A lightweight bout was won by Justin Cardona (5-0) by first round knockout of James De Herrera (4-7).
Check out more boxing news on video at the Boxing Channel
To comment on this story in the Fight Forum CLICK HERE
Buatsi Flattens Dos Santos in Manchester; Charr KOs Fraudulent Lovejoy in Cologne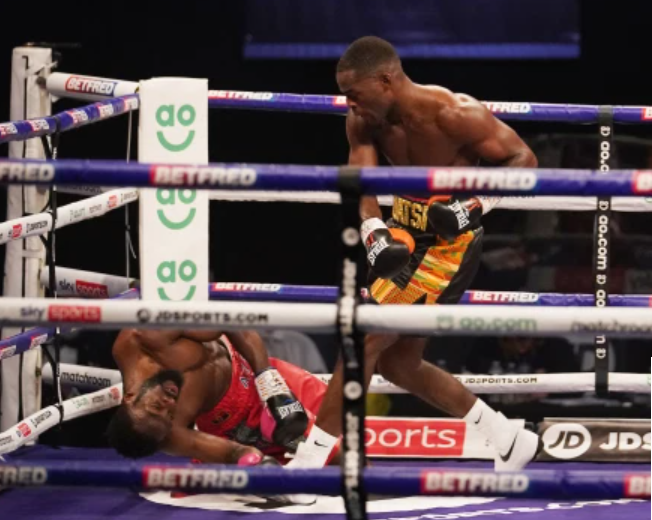 In a Knockout of the Year candidate, rising light heavyweight contender Joshua Buatsi (14-0, 12 KOs) leveled Daniel Blenda Dos Santos, an unheralded Frenchman, in the fourth round, closing the show with a pulverizing right hand – and for good measure, touching him with another right as he fell. A 2016 Olympic bronze medalist for England, the Ghana-born Buatsi trained for two months in the California Bay Area under his new trainer Virgil Hunter and his American sojourn paid dividends.
Dos Santos, who found his way to boxing after serving three-and-a-half years in prison, was undefeated (15-0, 8 KOs) coming in, but hadn't fought beyond six rounds. He was knocked down earlier in the fight with a chopping right hand. There were less than 20 seconds remaining in the fourth when Buatsi put Dos Santos to sleep, and to his credit he did not celebrate but consoled his distraught victim.
Other Bouts
In a shocker, 31-year-old southpaw Jason Cunningham improved to 29-6 (6) with a unanimous decision over Gamal Yafai (18-2) who was making the first defense of the European bantamweight title that he won in Milan.
Cunningham had Yafai on the canvas three times — knocking him down with left hands in the second, fourth and sixth rounds — but Yafai, the younger brother of former 115-pound world title-holder Kal Yafai — wasn't deterred and kept coming forward. In the end, however, Cunningham's lead was too big for Yafai to overcome. The judges had it 115-110 and 114-111 x2 for the southpaw who was a consensus 10/1 underdog.
Super middleweight Lerrone Richards breezed to a lopsided 12-round decision over Italian veteran Giovanni DeCarolis to snatch a vacant European title. Trained by Dave Coldwell, who previously handled Tony Bellew, Richards was content to rack up points and the one-dimensional DeCarolis, who was making his first start in 23 months, had no way to stop him.
The judges had it 120-108 and 119-109 twice. The London-born Richards, whose family roots are in Ghana, improved to 15-0 (3). This may have been the last rodeo for the 36-year-old DeCarolis who fell to 28-10-1.
Belfast's Tommy McCarthy (18-2, 9 KOs) was fed a softie for his first defense of his European cruiserweight title in the form of 36-year-old Romanian Alexandru Jur who brought a 19-4 record but had defeated only four men with winning records. Except for a few brief moments, Jur showed little inclination to mix it up. McCarthy put Jur down with a body punch in round four and finished him off two rounds later with another body punch. The official time was 2:09.
McCarthy, who is of Irish and Jamaican descent, moves on to a date with fellow Brit Chris Billam-Smith. Jur lost for the fourth time in his last six starts.
Cologne
Credit Christopher Lovejoy for having the gumption to defy Don King who threatened legal action if Lovejoy went ahead with his match today with WBA "champion in recess" Mahmoud (Manuel) Charr. But the 37-year-old Lovejoy, who arrived in Germany all by himself, traveled a long way to destroy whatever credibility he may have had. Fighting off the grid, he had rung up 19 fast knockouts in 19 fights against 19 presumptive Tijuana taxi drivers.
Carrying 306 ½-pounds, the six-foot-five Lovejoy lasted less than two full rounds against Charr who was making his first ring appearance in 42 months. Lovejoy was counted out after being dropped with a volley of punches in the second round.
Photo credit: Mark Robinson / Matchroom
Check out more boxing news on video at the Boxing Channel
To comment on this story in the Fight Forum CLICK HERE