What If Muhammad Ali Had Fought Wilt Chamberlain?
Every great athlete in a sport other than boxing believes – or at least wants to believe – that, given enough time to prepare, he could successfully transfer his skills to the ring. That's why every big-time boxing match has a glut of baseball, football and basketball stars in the premium seats, in addition to the usual coterie of Hollywood types.
It's not surprising, really. We all like to think we can readily channel our inner tough guy if necessary. And who can blame a Jim Brown or a Herschel Walker for having the delusion that they might have become heavyweight champions of the world, if only they had taken up the sweet science at an early age instead of football. Brown, arguably the best running back and the best lacrosse player ever, even snagged the role of a former heavyweight champ in "Mars Attacks!," which had a scene of him flattening a succession of alien invaders in that most appropriate of boxing settings, Las Vegas.
But let the record reflect that even the most accomplished of athletes fail or at least underperform when they attempt to make the difficult crossover into boxing. Probably the most notable of the wannabes was Charlie Powell, who spent seven years in the NFL as a wide receiver for the San Francisco 49ers and Oakland Raiders, but who also was the world's No. 2-rated heavyweight contender at one point in the late 1950s. And if anyone dares to mention Powell in the same breath with, say, Mark Gastineau or Ed "Too Tall" Jones, please lie down with a cold compress on your forehead until you return to your senses.
But what if "The Greatest" – Muhammad Ali – had found himself staring across the ring at a 7-foot-1, 275-pound giant who very well might be the most dominant athlete in the history of American team sports? A giant who demonstrated, time and again, that his abilities were so transcendent, so remarkable, that he could have been a nearly unstoppable force in almost any sweaty endeavor he would have taken up?
That athlete is the late Wilt Chamberlain, and we are fast approaching the anniversary date of what might have been the most intriguing oddity bout ever staged. Had Chamberlain not reneged on a verbal agreement to fight Ali by extending his contract with the Los Angeles Lakers for a significant pay hike, Ali-Wilt would have taken place on July 26, 1971 in the Houston Astrodome.
Sonny Hill, who played on the same basketball team as Chamberlain at Overbrook High School in Philadelphia and is the founder of the Sonny Hill League in his hometown, is the foremost keeper of the flame for all things Wilt. But even Hill has his doubts as to the legitimacy of the supposed pairing of Ali and his good friend, who somehow packaged Nikolay Valuev's immense size as well as the breathtaking versatility of an Olympic decathlete.
"Was it a publicity stunt?" Hill wonders, reflecting back on the fuss made over the rumored bout between a couple of loud and proud superstars. "I'm not sure that it wasn't. It just seems to me that there wasn't a real affinity on Ali's part or Dippy's part (Chamberlain always preferred his "Big Dipper" nickname to "Wilt the Stilt") to have a real boxing match.
"I'm not so sure that even a great athlete like Wilt, with limited training as a boxer, could have gone into such a bout and been competitive with someone like Muhammad Ali, who undoubtedly is one of the greatest fighters of all time. Ali was at the height of his career then.
"But if Wilt had had a full year to get ready? I don't know. It would have been interesting."
Hill is more certain of where Chamberlain, who was 63 when he died of congestive heart failure on Oct. 12, 1999, ranks as a basketball player. He said the debate as to who is the greatest of all time, Michael Jordan or LeBron James, is specious because any such discussion should begin and end with Wilt. Chamberlain, Hill noted, holds NBA records that almost certain will never be broken: 100 points in a game, 55 rebounds in a game (against Bill Russell!), a 50.4 scoring average for an entire season, 118 career games of 50 or more points, a .727 field-goal percentage for a season.
Although Chamberlain still holds or shares 62 NBA records, that figure would be even higher had blocked shots not become an official league statistic until the 1973-74 season, the year after Wilt retired. Harvey Pollak, a longtime statistician of the Philadelphia 76ers as well as for the NBA as an entity, kept track of blocks back in the day and he swears there was a night when Wilt blocked 28 shots against the Detroit Pistons. Chamberlain's vertical leap measured out at 46 to 48 inches, and he once threw down a dunk at KU on a rim raised to 12 feet.
You want stamina, which is essential in boxing? With overtimes, Chamberlain averaged 48.5 minutes for a season, an amazing feat given that NBA games consist of four 12-minute quarters. He also averaged 45.8 minutes per game over his 14-year career. Oh, and in all that time he never once fouled out.
You want strength? Hill said Wilt was demonstrably stronger than two burly guys with whom you might be familiar – Shaquille O'Neal and the Terminator himself, Arnold Schwarzenegger. Hill said a long-retired Wilt went head-to-head with the young Shaq in a pickup game and still was able to do whatever he pleased.
"Wilt moved Shaq around like he was a rag doll," Hill said.
And Schwarzenegger?
"Arnold, who was a world-class weightlifter and bodybuilder, was making the movie "Conan the Barbarian" with Wilt," Hill continued. "When he wasn't shooting his scenes, Arnold would work out with weights, and I mean really heavy weights. One day he was straining with the bar and Wilt walked over, almost casually lifted it three or four times, and set it down. Arnold did not work out with weights again the entire time Wilt was around. Wilt had ungodly strength."
But Chamberlain wasn't just a marvel at hoops. He was a high jumper at the University of Kansas, a conference champion using the old-fashioned straddle roll, and he'd routinely outsprint the Jayhawks' quarter-milers in practice, just for fun. He was an exceptional volleyball player, too, and the Kansas City Chiefs even inquired about any interest he might have in football, thinking he would be unstoppable as a tight end going after passes lobbed high. Several NBA teams – the Cleveland Cavaliers, New Jersey Nets, New York Knicks and Sixers – all tried to lure Chamberlain out of retirement when he was in his late 40s, convinced that even an aging and diminished Wilt was better than many of the younger big men then patrolling the paint.
So it really should come as no surprise that the notion of an Ali-Wilt fight, as improbable as it may have seemed, gained traction in the spring of 1971. Cus D'Amato, who had trained world champions Floyd Patterson and Jose Torres, and who later launched the career of future champ Mike Tyson, expressed interest in preparing Chamberlain for a fight with Ali, although circumstances dictated that Wilt would have had only about three months to get ready. Bob Arum would have been the promoter.
In "Muhammad Ali: His Life and Times," Arum told author Thomas Hauser of the far-fetched idea that didn't seem so far-fetched to some of the principals.
"In 1971 before the (first Joe) Frazier fight, I heard that Wilt Chamberlain wanted to fight Ali," Arum said. "So I went to Herbert (Muhammad, Ali's manager), and we agreed that, whatever the merits of the fight, the gate would be tremendous. Then I went to see Wilt, and he told me his greatest dream was to fight for the heavyweight championship of the world. And we signed a contract. But then Ali lost to Frazier, and Herbert came to me and said, `There's no championship to fight for. What do we do now?'
"Well, we thought about it. And you have to understand, people pay millions of dollars to publicists and advertising agencies to promote themselves the way that Ali was instinctively able to. Even after he lost to Frazier – and later, when he lost to (Ken) Norton and (Leon) Spinks – he still overshadowed them all. So I told Herbert, `Let's do the fight anyway.'"
Chamberlain's interest was piqued, to be sure. He was always about doing things on a large scale, and he might have been the only athlete on the planet with an ego as colossal as Ali's. If he was to box, the process wasn't going to be a gradual build-up starting against hand-picked opponents in four-rounders.
"From the time I entered sports, guys tried to get me to become a fighter," he said. "Ask any boxing manager, if they had to pick an athlete from another sport to develop who they would choose, and they'll say a basketball player. That's because of some very basic things basketball players have – size, speed, quickness and hand-eye coordination. And I always thought that if I had to fight somebody, it would be Ali for two reasons.
"No. 1, he was the greatest of his era. And two, he was a kind person, so if it turned out that I was in over my head, he wouldn't take cruel advantage of it, where some other fighters might try to hurt me if I was vulnerable.
"I was offered more money than I'd ever gotten (as a basketball player). It would have been a scheduled 10-round fight and I honestly believe I had a chance. I thought a man as great at his job as Ali was might take me lightly. I could see that happening … Against Ali, I thought I could acquit myself reasonably well. Ali would be coming in blind; he'd have no idea what he was facing, whereas I'd know what to expect. And of course, I had God-given strength and athletic ability.
"If I'd been an oddsmaker, I'd have made Muhammad a 10-to-1 favorite. But I truly believed there was a chance for me to throw one punch and take Ali out."
So why didn't it happen? Arum, now 82 and recovering from knee-replacement surgery, was not available for comment, but in Hauser's book he said Chamberlain's very large feet got cold at an Astrodome press conference to announce the bout.
"I said, `Ali, shut your mouth. Let's get him signed to the contract before you start riding him.' Ali told me not to worry. Then Chamberlain comes in, and Ali shouts `Timber!' Chamberlain turns white, goes into the next room with his lawyer, comes out and says he's not fighting.
"I think Ali intimidated him; that's all it was. At the moment of truth, Wilt realized that fighting Ali was a totally ridiculous concept."
Perhaps Arum was correct. Perhaps no athlete, not even Wilt Chamberlain, could come into boxing on short notice and expect to take down one of the greatest heavyweights ever, maybe even the very best to ever lace up a pair of gloves. Then again, Arum had been down that path before.
Chamberlain, you see, isn't the only other non-boxer endowed with such incredible physical ability that a lot of people believed he could return to action deep into middle age. Jim Brown, who won eight NFL rushing titles in his nine seasons with the Cleveland Browns, had been retired for 17 years when he appeared on the cover of the Dec. 12, 1983, issue of Sports Illustrated, wearing a Los Angeles Raiders uniform. The headline read "Jim Brown: Are you serious? A comeback at 47? Hey! You're just what the boring NFL needs!"
Arum, interestingly, had introduced Brown to Ali after Brown's final NFL season, in 1965. Arum began promoting boxing matches in 1966, at which point Brown asked the new president of Top Rank if he could arrange a title bout between himself and Ali.
Ali met with Brown at Hyde Park in London, where the champ asked the 6-2, 230-pound football legend to try to hit him, as hard as he could. A perplexed Brown then fired a succession of roundhouse shots for about 30 seconds, all of which Ali easy evaded, while occasionally landing stinging, open-palm slaps.
"Ali kept slapping him in the face, not hard, but hard enough and often enough to make the point that as great an athlete as Jim was, he'd have no change in the ring against Ali," Arum is quoted as saying in Hauser's book.
Bottom line: Boxing is not like any other sport. Just as there are great boxers who would be utter failures at football, basketball and baseball, so, too are there great athletes in those sports who would fare better trying to pole-vault across the Grand Canyon than stepping inside the ropes against an elite fighter.
ESPN released its totally arbitrary list of the Top 100 athletes of the 20th century in 1999. Ali got the No. 3 slot, behind only Jordan and Babe Ruth, with some of other boxers listed being Sugar Ray Robinson (No. 24) and Jack Dempsey (52). Chamberlain came in at No. 13, which Hill said is ridiculously low whatever the rating criteria.
Comparing apples to oranges is always an iffy proposition. As superb as Ruth was as a baseball player, can anyone imagine him challenging his contemporary, Dempsey, for the heavyweight championship of the world? It would be as absurd as Dempsey picking up a bat and competing against Ruth in home-run derby.
All that being said, the feeling lingers that Wilt Chamberlain is the one non-boxer who might have held a winning lottery ticket against Ali, or against quite a few pretty good heavyweights, if he could have just landed the right punch at the right time. Yeah, the Big Dipper was that exceptional.
If the fight had come off, we'd probably still be talking about it today. As matter of fact, that's just what I'm doing now.
The Return of Wednesday Boxing Evokes Memories of a Golden Era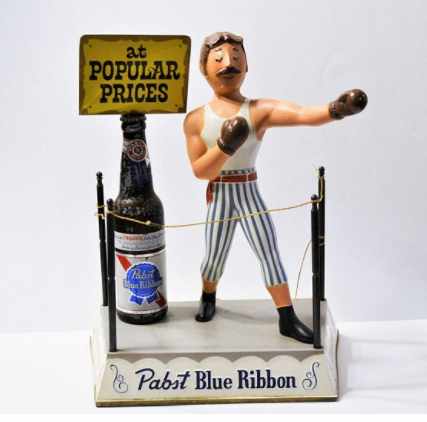 There's a Wednesday card on the boxing docket this week. The card, which features several undefeated up-and-comers of the sort usually found on Showtime's developmental series, "ShoBox: The New Generation," will play out at the Nokia Theater in Los Angeles and air on Fox Sports 1.
Not to be out-done, "ShoBox" is returning. The long-running series, which suspended operations in March in obeisance to COVID-19 restrictions, returns on Oct. 7 with a show emanating from Connecticut's Mohegan Sun Casino. The contestants in the main go of the four-fight card, Charles Conwell and Wendy Toussaint, have identical 12-0 records.
It just so happens that Oct. 7 is also a Wednesday. And these upcoming Wednesday shows transported this reporter back to his boyhood when boxing was a fixture on radio and television on Wednesday nights. The Wednesday series sponsored by Pabst Blue Ribbon beer ran from 1950 to 1960, airing the first five years on CBS and then on ABC.
Fights were all over the TV dial during the 1950s, not that there was much competition. The Big Three — NBC, CBS, and ABC — ruled the airwaves with DuMont a very distant fourth and cable television well off into the future. (For a time, the short-lived DuMont network aired boxing shows on Mondays.)
When televisions first came out, they were a big-ticket item. In 1948, RCA's cheapest model sold for $395. That's the equivalent of $10,400 today. By 1954, the cost of the least expensive model had declined to $189 and it came in a bigger box, with a 17-inch screen compared with the 13-inch screen that was standard six years earlier.
With the cost of the coveted contraption beyond the means of many wage earners, saloonkeepers cashed in. Boxing fans flocked to the neighborhood tavern to get their boxing fix. The saloonkeeper could write off his television sets on his taxes as a business expense.
Those were the days, and I date myself, when every town had a TV repair shop and the repairman, like the family doctor, made house calls.
The Wednesday Night Fights were a spin-off of the Friday Night Fights on NBC. The matchmaker for both series (through 1958) was the International Boxing Club which was headquartered at Madison Square Garden. The president of the IBC was James D. Norris (who would come to be seen as a puppet for mobster Frankie Carbo, but that's a story for another day).
James D. Norris inherited a vast fortune from his father, Canadian businessman James E. Norris. The elder Norris was a big wheel in the sport of hockey and had a financial interest in the arenas that housed NHL teams in Chicago, Detroit, and St. Louis. He made these arenas available to his son and the Wednesday fight cards moved around, unlike the Friday fights which were pinned to Madison Square Garden.
Both series would eventually venture out at times into virgin territory, but the Wednesday series was the trailblazer. The first nationally televised boxing show from the West Coast was a Wednesday affair. Jimmy Carter defended his world lightweight title against LA fan favorite Art Aragon, the original Golden Boy, at the Olympic Auditorium on Nov. 14, 1951. Aragon had upset Carter in a non-title fight 11 weeks earlier, but Carter took him to school in the rematch, winning a lopsided decision.
The Friday boxing series, which took the name "Gillette Cavalcade of Sports," would come to be more fondly remembered, but once the TV became a living room staple, which happened fast, the Wednesday series drew higher ratings. This was predictable as more folks stayed home on Wednesday nights than on Friday nights. And although the Friday series had a larger budget, some of the most important fights of the era were staged on Wednesdays.
One of the highlights of the 1951 season was Ezzard Charles' world heavyweight title defense against Jersey Joe Walcott at Pittsburgh's Forbes Field. It was Walcott's fifth crack at the title and he was considered ancient at age 37, but he avenged his two previous losses to Charles with a thunderous one-punch knockout.
Carmen Basilio appeared in The Ring magazine Fight of the Year in five consecutive years (1955-1959). The first two — his second meeting with Tony DeMarco and his second meeting with Johnny Saxton – were televised on a Wednesday.
Although he would be quickly forgotten, the Wednesday series brought Bob Satterfield a cult following because of his unpredictability. He certainly left an impression on octogenarian boxing writer Ted Sares who recently named Satterfield his all-time favorite fighter.
To conjure up a portrait of Satterfield, think Deontay Wilder and then fix Wilder with a glass jaw. Satterfield, whose best weight was about 182 pounds, was a murderous puncher, but during his career he was stopped 13 times.
LA's Clarence Henry and Pittsburgh's Bob Baker were ranked #3 in the heavyweight division when they ventured to Chicago to tangle with Satterfield, Henry in 1952 and Baker the following year. Henry knocked out Satterfield in the opening round. Satterfield hit the canvas so hard, said a ringside reporter, the resin dust flew up.
The Satterfield-Baker fight would also end in the opening round. Baker out-weighed Satterfield by 34 pounds, but Satterfield flattened him. Later on, in a non-Wednesday fight, Satterfield knocked out Cleveland "Big Cat" Williams in the third round. Williams, 33-1 heading in, was the larger man by 25 pounds.
One bet on or against Bob Satterfield at one's own peril.
The Wednesday Night Fights had a nice run before the series was cancelled and supplanted in its time slot by "The Naked City," a critically acclaimed police drama series. Perhaps the return of boxing on Wednesdays augurs well for another mid-week boxing series, but we won't hold our breath.
Check out more boxing news on video at the Boxing Channel 
To comment on this story in the Fight Forum CLICK HERE
Erickson Lubin Wins, But Misplaced His Hammer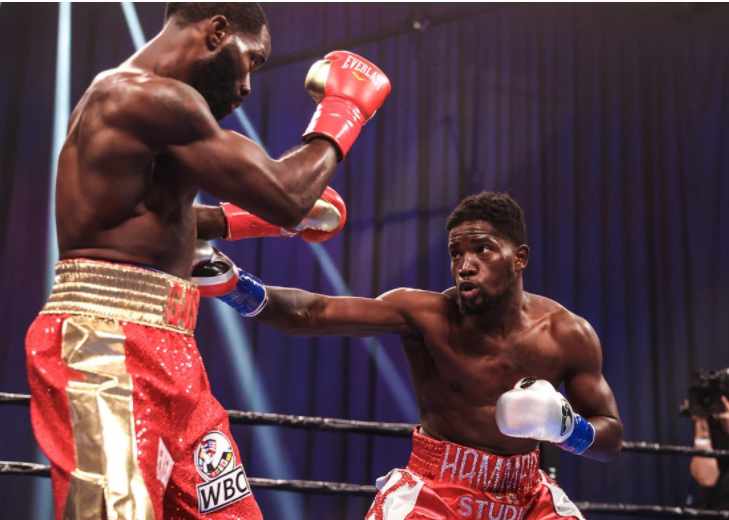 Erickson Lubin misplaced the hammer but found a way to victory over Terrell Gausha by unanimous decision in a slow-developing WBC super welterweight eliminator on Saturday.
Lubin (23-1, 16 KOs), a southpaw slugger, was unable to lower the boom on Gausha (21-2-1, 10 KOs) at the Mohegan Sun Casino in Uncasville, Conn. But he did enough in a tactical battle that only activated into a real fight in the later rounds.
Back and forth the two super welterweights mostly feinted and fired blows at each other's guard. Few managed to pierce for scoring blows and those that landed were mostly to the body.
"It was a chess match. I respected what he had, he was trying to counter what I had. My trainer was telling me to be cautious and not get hit with anything stupid," said Lubin, whose trainer is the respected Kevin Cunningham.
Gausha, 33, was the more accurate puncher but fired less than Lubin. Though he seemingly scored more often with counter rights, the scarcity of his blows allowed Lubin to control the pace of the fight.
It wasn't until the mid-rounds that Gausha stepped into a slightly quicker pace. In the 10th, a short right connected and wobbled Lubin who covered up.
"I knew I had hurt him, but he was able to recover," said Gausha, 24, who tried to finish off the hurt fighter but was unable to land another scoring blow.
"I'm in shape and I was able to recuperate," Lubin revealed.
It was still unclear who was winning the fight. In the 12th and final round Lubin stepped up the pace and connected with a crisp right hook that clearly snapped the head of Gausha. But he fought his way out of the dangerous corner.
After 12 rounds all three judges scored it for Lubin 115-113, 116-112, 118-110.
"Gausha is a tough competitor, he's at the top for a reason," said Lubin. "I feel I beat one of the top 154s and I'm going to keep doing that."
Gausha was classy in defeat.
"I take my hat off to Erickson Lubin. He was the better man tonight," said Gausha.
Lubin now awaits the winner between Jermell Charlo and Jeison Rosario who fight each other next week for the WBC, WBA and IBF super welterweight titles. Showtime will provide the title match on pay-per-view.
Featherweights
Former IBO featherweight titlist Tug Nyambayar (12-1, 9 KOs) floored Cobia Breedy (15-1) twice in the first two rounds but struggled the rest of the way to win by split decision. One judge scored it 115-113 for Breedy and two others for Mongolia's Nyambayar 114-112 and 114-113.
Nyambayar knocked down Breedy with a counter right cross in the first round and then floored him with four rights and a left hook in the second. After that, Breedy was the busier fighter and no one was able to take control.
"Boxing is boxing. It was a tough fight," said Nyambayar.
Welterweights
In a solid match Philadelphia's Jaron Ennis (26-0, 24 KOs) was able to find out exactly where he stands against real competition and stopped the unstoppable Juan Carlos Abreu (23-6-1, 21 KOs) in the sixth round by technical knockout in their welterweight showdown.
More than just a knockout win, Ennis discovered that he can indeed take a punch from an elite level puncher.
Nobody questioned whether Ennis had boxing skills or athleticism and power, but nobody knew if he could take a punch. They discovered it as Abreu was able to connect in the fourth and fifth rounds. The Dominican fighter pulled out his tricks and connected several times with sneaky rights and lefts. Ennis remained standing.
Abreu was looking to trade bombs with Ennis in the fifth and sixth round and paid the price in getting delivered to the canvas with a pretty right counter uppercut. He survived. But in the sixth a slew of punches along the ropes sent him down again. He beat the count again but during a fierce exchange he was floored a final time at 1:06 of the sixth round. It was the first time Abreu had ever been stopped.
"I feel I put on a wonderful show and got the knockout," said Ennis. "I feel I showed the division I am here."
Check out more boxing news on video at the Boxing Channel 
To comment on this story in the Fight Forum CLICK HERE
Fast Results from the MGM Bubble: Pedraza Outclasses Molina Plus Undercard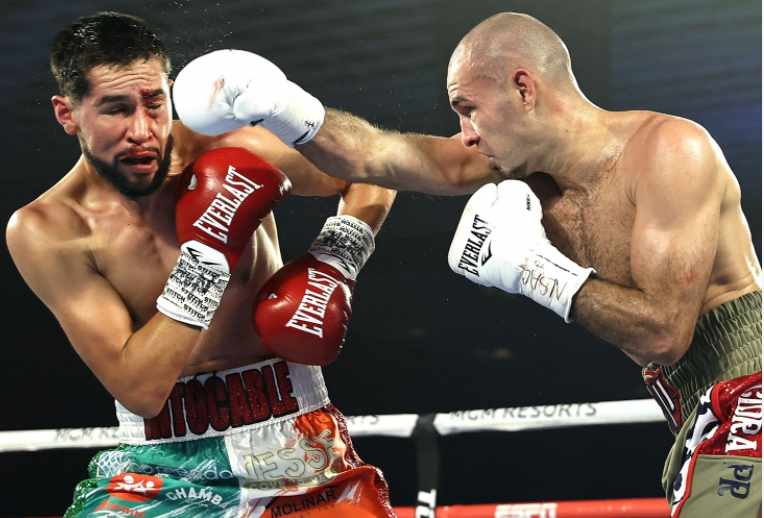 The featured bout on tonight's card at the MGM Bubble was a match between 2008 Olympians. It was a competitive match on paper, but Jose Pedraza turned in one of the better performances of his career while turning away Javier Molina who just wasn't in Pedraza's league tonight. The fight went the full 10 with the judges voting for the Boricua by scores of 99-91 and 98-92 twice. A former two-division belt-holder who looked very comfortable in his second start at 140, Pedraza boosted his record to 28-3. Molina, who had won five straight coming in, falls to 22-3.
Pedraza was manhandled by Gervonta Davis in 2017, outclassed by Vasyl Lomachenko in 2018, and upset by Jose Zepeda last year, but showed tonight that he still has plenty of mileage left on his odometer. Josh Taylor and Jose Carlos Ramirez each own two pieces of the 140-pound title, but Pedraza seems to have found a new gear at age 31 and is nipping at their heels. However, Pedraza also hankers to renew acquaintances with Zepeda and that will likely come first.
In the 10-round heavyweight co-feature, Efe Ajagba's higher workrate carried him to a 10-round unanimous decision over Jonathan Rice. The scores were 98-92 and 99-91 twice.
Ajagba, the Houston-based Nigerian making his first start under the Top Rank banner, advanced his record to 14-0 (11) but was underwhelming. Rice, the terror of Tijuana taxi drivers, fell to 13-6-1 and solidified his reputation as a useful gatekeeper.
Robeisy Ramirez, a two-time Olympic gold medalist for Cuba who now resides in the Miami area, improved to 5-1 with a unanimous 8-round decision over Puerto Rico's Felix Caraballo (13-3-2). Both appeared on the inaugural MGM Bubble card with Caraballo, fighting for the first time in the U.S., suffering a sixth-round stoppage at the hands of Shakur Stevenson. Tonight's uneventful fight saw Ramirez on cruise control as he won by scores of 79-73 and 80-72 twice.
San Bernardino junior middleweight Leo Ruiz improved to 8-0 with a 6-round unanimous decision over Cancun's Rodrigo Solis (4-5-1). Both fighters had a point deducted in round five; Ruiz, 21, for low blows and Solis for spitting out his mouthpiece. The scores were 58-54 and 59-53 twice.
In a fight that wasn't on the original schedule, Houston super middleweight Christian Montano improved to 10-0 (7) with a 6-round unanimous decision over St. Louis' Ryan Adams (7-4-1). A three-time national amateur champion, Montano, who is of Columbian descent, had knocked out seven of his previous opponents in the opening round. He looked poorly conditioned tonight but yet won every round on two of the scorecards.
Lightweight Bryan Lua, who hails from the town of Madera in central California's agricultural belt, returned to the ring after a 27-month absence and scored a one-punch knockout over Chile's Luis Norambuena. A left hook did the damage, bringing the bout to a sudden conclusion at the 2:27 mark of round two. Lua, (6-0, 3 KOs) won two of three over Ryan Garcia as an amateur. It was a quick turnaround for Norambuena (4-7-1) who lost a 4-round decision in this ring last week.
The first two bouts on the card showcased the newest members of Top Rank's "Kiddie Corps." Kasir Goldston and Jahi Tucker, 17-year-old welterweights, launched their pro careers on a winning note.
Goldston, a southpaw from Albany, NY, opened the show with a 4-round unanimous decision over Wisconsin's Isaiah Varnell (3-3). The scores were 40-36 and 39-37 twice.
Tucker, who trains in the same Long Island town that spawned Buddy McGirt, put away Alabama's Deandre Anderson (1-2) in the opening round. Anderson came out winging, but the precocious Tucker picked him apart. Referee Robert Hoyle stepped in and stopping the mismatch at the 2:56 mark. As an amateur, Tucker was ranked #1 at 138 pounds while still a sophomore in high school.
Photo credit: Mikey Williams for Top Rank
Check out more boxing news on video at the Boxing Channel 
To comment on this story in the Fight Forum CLICK HERE