On July 26 at Madison Square Garden, Gennady Golovkin took another step on what he hopes will be a march toward greatness when he knocked out Daniel Geale in the third round.
The 32-year-old Golovkin, a native of Kazakhstan, has risen dramatically in the public consciousness since knocking out Gregorz Proksa in a September 1, 2012, bout on HBO. There were 685,000 "real time" viewers for that fight. In three succeeding fghts, real time viewership rose to 813,000 (for Golovkin vs. Gabriel Rosado), 1.1 million (vs. Matthew Macklin) and 1.4 million (vs. Curtis Stevens).
Prior to entering the ring against Geale, Golovkin's ring ledger showed 29 wins in 29 fights with 26 knockouts. The last time an opponent went the distance with him was six years and eighteen fights ago. He's the most impressive of the WBA's many middleweight champions.
Geale, a 33-year-old Australian and former IBF beltholder, came into the fight with a 30-and-2 record, including 16 knockouts. The two losses were by split decision against Darren Barker and Anthony Mundine. Geale had never been knocked out, but he'd never beaten an elite fighter either. In fact, he'd never fought one.
Golovkin's life has been shadowed by tragedy. Two of his brothers were killed in military combat (in 1990 and 1994). More recently, on February 18 of this year, his father died of a sudden heart attack. The pain of that experience was very much on Gennady's face when he answered questions about his father's death at a June 7 kick-off press conference for Golovkin-Geale in New York.
"This is life," Gennady said. "I understand. It is hard, but I must go on."
Golovkin was a 10-to-1 favorite to beat Geale. They had met in the ring as amateurs at the 2001 East Asian Games with Gennady winning a clear-cut decision. But what they'd done as pros was far more relevant.
Geale is a competent fighter. Golovkin looks like a great one.
Abel Sanchez (Golovkin's trainer) put matters in perspective when he observed, "Prior to the fights, Gennady's opponents are respectful but they're not scared. Then the fight starts, they get hit, and things change. They stop thinking about winning and start thinking about surviving. Gennady hurts his opponents. Geale is used to going twelve rounds, but he's not used to going twelve rounds against Gennady."
"This is boxing," Golovkin cautioned. "I am not super-hero. I am good fighter, but the opponent doesn't just lie down. You have to work to knock him out, and that cannot always happen."
That said, it was taken for granted by most people in boxing that Golovkin would beat Geale. The issue was, "How decisively and how dramatically would it happen?"
Golovkin-Geale marked the second fight card in seven weeks in the main arena at Madison Square Garden. The attendance was announced as 8,572. But there were ticket discounts and some freebies thrown in to get to that number.
The first three fights of the evening were pathetic mismatches.
Julian Rodriguez knocked out Yankton Southern in 43 seconds. To put that achievement in perspective, Southern had also been knocked out previously in one round by Chris Hill (who has won 4 of 32 fights).
Next, Dusty Hernandez-Harrison ran his record to 23-and-0 by decisioning Wilfredo Acuna (80-72 times three on the judges' scorecards). Acuna has lost 8 of his last 9 fights (with the win coming against an opponent who has an 0-and-7 record and been knocked out seven times).
Then cruiserweight Ola Afolabi (199 pounds) battered Anthony Caputo Smith, who was knocked out ten months go by Seanie Monaghan at 175 pounds. The bloody slaughter was stopped by the ring doctor after the third round (21 seconds longer than it took Monaghan to do the job last year).
That was followed by Bryant Jennings vs. Mike Perez. Jennings-Perez was an "eliminator" to determine who will be the mandatory challenger for the winner of the still-unscheduled bogus WBC "world championship" bout between Bermane Stiverne and Deontay Wilder (which may or may not actually happen).
At the final pre-fight press conference on July 23, Jennings told the media, "Come Saturday night, you're definitely going to see the two best heavyweights in the world."
Today's heavyweights are bad, but not that bad.
Jennings is a limited fighter, but at least he looks the part. Perez came into the ring looking like he'd spent the early part of the month competing in the Nathan's 4th of July Hot Dog Eating Contest and, after eating 110 hot dogs in thirty minutes, celebrating by drinking a gallon of beer.
It was a sloppy, inartful fight that lasted for twelve stultifying rounds. Perez tired noticeably from the fourth round on. Late in the final stanza, referee Harvey Dock deducted a point from him for intentionally hitting on the break. The deduction was appropriate given the fact that the foul was blatant and Perez had fought a chippy fight throughout the evening. In the end, that point was determinative of the outcome. Jennings won a split decision by a 115-112, 114-113, 113-114 margin.
Then it was time for Golovkin-Geale.
"Golovkin's opponents," Hamilton Nolan has written, "are generally regarded in the same way that visitors to a pet store regard the mice being lowered into a snake's cage at feeding time."
There's an inexorable quality to the way Gennady fights. He's a pressure fighter, who cuts off the ring well and manages to control the distance between himself and his opponent. Every move is purposeful.
Geale tried to fight aggressively and get off first, but it was to no avail. Twenty seconds into round two, an accumulation of punches punctuated by a glancing right hand high on the head deposited him on the canvas. By the end of the round, his face and body language had the look of a beaten fighter.
In round three, the loss became official. With thirty seconds left in the stanza, Geale landed a straight right hand. Golovkin took it and returned fire instantaneously with a straight right of his own that landed smack in the center of Daniel's face and put him flat on his back. Geale rose, but his head was spinning and he had a bad case of the wobbles. With Daniel's wholehearted concurrence, referee Mike Ortega stopped the fight.
Given the idiocy of the world sanctioning bodies, the term "champion" has been sadly devalued in recent years. Golovkin is now the WBA "super world middleweight champion." But as of this writing, the WBA has the following similarly-titled "world champions":
WBA super world super-middleweight champion = Andre Ward
WBA unified world super-middleweight champion = Carl Froch
WBA interim world super-middleweight champion = Stanyslav Kashtanov
WBA interim world middleweight champion = Dmitriy Chudinov
In addition, the WBA "world middleweight championship" will be contested between Jarrod Fletcher and Danny Jacobs on August 9.
So forget lineal, super-duper, and all the other ridiculous belts. Miguel Cotto might have a claim on some mythical championship by virtue of his recent victory over Sergio Martinez. But ask ten experts who would win a fight between Golovkin and Cotto, and the likeliood is that all ten would pick Gennady.
Careers in boxing should be advanced by the best fighting the best. But that's not how things work now in the sweet science. At present, Golovkin is the true middleweight champion. Any middleweight who takes issue with that proposition should fight him.
Gennady is a relatively small middleweight. He comes into training camp at just under 170 pounds. Making weight is easy for him. If the money is right, he'll fight anyone from 154 to 168 pounds. That would put Floyd Mayweather, Canelo Alvarez, and Cotto at the top of his wish-list. But it's unlikely that those three will go near him. Andre Ward, Carl Froch, and Julio Cesar Chavez Jr are the big names at 168. But Froch has already said "no" to the idea of a Golovkin fight, and neither Ward nor Chavez seems anxious for the test. Look for the other middleweight beltholders (like Peter Quillin) to also avoid him.
Golovkin isn't unbeatable. There's no such thing as a perfect fighter. Every fighter is limited in one way or another. But it will take a great fighter to beat Gennady at the level he's fighting at now. And as long as the other top fighters from 154 to 168 pounds avoid him, they should rate behind him. Indeed, one can argue that, right now, Golovkin is the #1 pound-for-pound fighter in the world.
If Floyd Mayweather disputes that notion, let him fight Gennady at 154 pounds.
Trust me; Floyd won't.
Thomas Hauser can be reached by email at thauser@rcn.com. His most recent book (Reflections: Conversations, Essays, and Other Writings) was published by the University of Arkansas Press.
Alexis Rocha KOs Brave but Overmatched George Ashie on DAZN.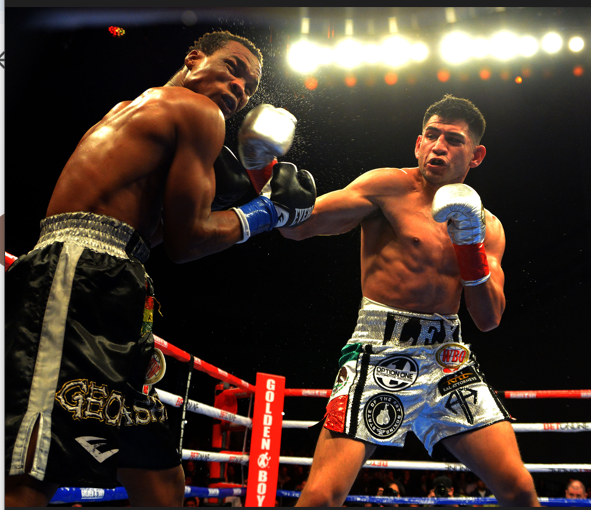 Golden Boy Promotions' potted their first offering of 2023 at the recently opened YouTube Theater, a 6,000-seat venue situated inside the stadium built to house LA's two NFL franchises. The main event was a scheduled 12-round welterweight match between Alexis Rocha, a southpaw from nearby Santa Ana and George Ashie, a 38-year-old Ghanaian making his U.S. debut. Ashie was a late substitute for Anthony Young who reportedly suffered a nose injury in training. The match and supporting bouts were live-streamed on DAZN.
Ashie, who was fighting above his normal weight class and carried a career-high 146 pounds, was brave but out-gunned. Rocha knocked him down in the third frame with a right hook and hurt him several more times as the fight progressed although Ashie never stopped trying. In round six, an accidental clash of heads left Rocha with a nasty cut on his left eyebrow. He fought with more urgency after this incident and knocked Ashie out cold in the next round. The official time was 2:08 of round seven.
It was the fifth straight win for Rocha who improved his ledger to 22-1 (14 KOs). After the bout, he expressed an interest in fighting Terence Crawford. Ashie fell to 33-6-1 (25).
Other Bouts of Note
Floyd "Austin Kid" Schofield, a precocious 20-year-old lightweight, had Albert Mercado on the canvas in the second round but was unable to put him away despite hurting him multiple times and went 10 rounds for the first time in his young career.
Schofield, the 2022 TSS Prospect of the Year, improved to 13-0 (11), winning 100-89 on all three cards. Mercado, a 35-year-old Connecticut-born Puerto Rican, declined to 17-5-1 but retained his distinction of having never stopped.
Super middleweight Bektemir Melikuziev, a 2016 Olympic silver medalist for Uzbekistan who lives and trains in Indio, California, overpowered San Diego's Ulises Sierra who was on the deck twice from body punches before the fight was waived off at the 2:59 mark of round three. It was the fourth straight victory for Melikuziev (11-1, 9 KOs) after suffering a stunning one-punch knockout at the hands of seemingly shopworn Gabriel Rosado with whom he is pursuing a rematch. Sierra was 17-2-2 heading in with eight of his wins coming in Mexico.
In a match framed as a WBO minimumweight title eliminator, Oscar Collazo (6-0, 4 KOs) scored an impressive fifth-round stoppage of Yudel Reyes. Collazo knocked Reyes down twice in the fifth round, the second with a vicious right hand that put Reyes down so hard that the referee didn't bother to count. The official time was 2:59 of round five.
In theory, Collazo's next fight will come against the Filipino Melvin Jerusalem who won the title earlier this month with a second-round stoppage of Masataka Taniguchi in Osaka. Reyes, a 26-year-old Mexican making his U.S. debut, declined to 15-2.
Photo credit: Al Applerose
Artur Beterbiev TKOs Anthony Yarde in a London Firefight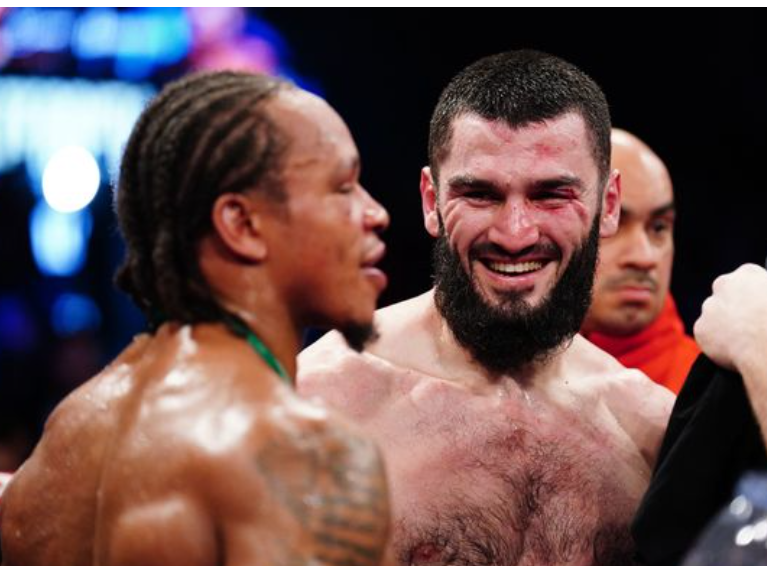 The presumption, echoed by ESPN boxing commentator Bernardo Osuna, was that tonight's bout at Wembley Arena in London between Artur Beterbiev and Anthony Yarde would be explosive and entertaining for as long as it lasted. That proved to be true and when the smoke cleared, Beterbiev, the rugged Montreal-based Russian had retained his three light heavyweight title belts and had added another knockout to his ledger, his nineteenth as a pro in as many opportunities.
Both men landed hard shots during the fight and both were marked up at the finish. Yarde had a cut under his right eye and Beterbiev had a cut on his left eyelid.
A chopping right hand from Beterbiev late in the first minute of the eighth round marked the beginning of the end for Yarde, the muscular 31-year-old Londoner who entered the contest sporting a record of 23-2 with 22 knockouts. The punch sent him reeling backward toward his corner where he landed on his knees. He beat the count, but turned toward his corner rather than referee Steve Gray.
Gray let the bout continue, but Beterbiev pressed his advantage and after a few more unanswered punches Yarde's trainer Tunde Ajayi stepped up on the ring apron and summoned Gray to stop it. The official time was 2:01 of round eight.
Beterbiev hasn't lost since losing a decision to amateur nemesis Oleksandr Usyk in the quarter finals of the 2012 London Olympics. At age 38, he shows no signs of slowing down.
In his post-fight interview, the self-effacing Russian said, "I hope some day I will be a good boxer," and acknowledged that he would welcome a unification fight with fellow Russian Dmitry Bivol, the WBA title-holder.
WBA Title Fight
In a bout that was in theory the co-feature but went off during the earlier portion of the ESPN+ livestream, Artem Dalakian (21-0, 15 KOs) retained his WBA world flyweight title with a unanimous and somewhat controversial 12-round unanimous decision over Costa Rica's David Jimenez (12-1). The judges had it 116-112 and 115-113 twice.
An Azerbaijan-born Ukrainian, Dalakian was making the sixth defense of the title he won in 2018 with a 12-round decision over Brian Viloria in Los Angeles in his lone previous appearance at a venue in the English-speaking world. His five title defenses were in Kiev. Jimenez was coming off a 12-round majority decision over Ricardo Sandoval in what ranked as one of the bigger upsets of 2021.
A Split for the Itauma Brothers
Promoter Frank Warren's newest signee, 18-year-old heavyweight Moses Itauma, made a big splash in his pro debut, blasting out Czechoslovakia's Marcel Bode (2-2) in 23 seconds. Moses and his older brother Karol Itauma are sons of a British citizen of Nigerian ancestry and a Slovakian mother.
In a shocking upset, Ezequiel Osvaldo Maderna, a 36-year-old Argentine who had lost six of his previous eight fights, forged a fifth-round stoppage of well-touted Karol Itauma who was 9-0 (7 KOs) as a pro coming in. Itauma ate numerous straight right hands before a straight right hand knocked him down for the count. The official time was 1:04 of round five. Maderna improved to 29-10 (11).
Also
The Frankham cousins, super welterweight Joshua and super featherweight Charles, improved their ledgers to 7-0 with 6-round shutouts over their respective opponents. The cousins are grandsons of John "Gypsy Johnny" Frankham, a former British light heavyweight champion.
Jake Paul vs Tommy Fury on Feb. 26 in a Potential Pay-Per-View Blockbuster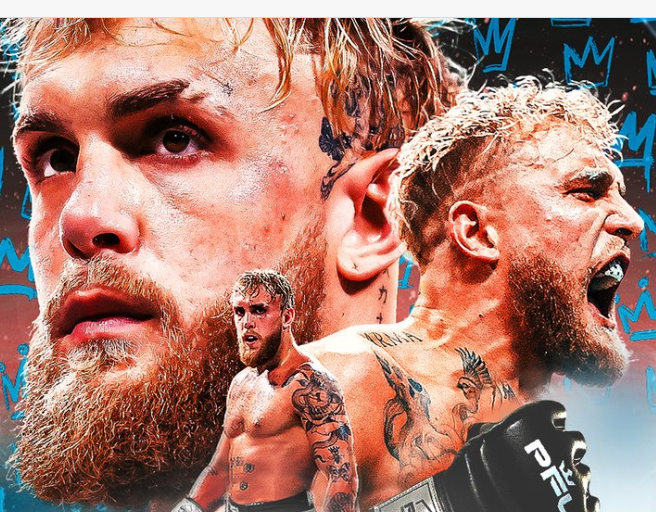 It's now official. The twice-postponed "grudge match" between Jake Paul and Tommy Fury will come to fruition on Sunday, Feb. 26, at Riyadh in the Kingdom of Saudi Arabia. An 8-rounder contested at a catch-weight of 185 pounds, the match and several supporting bouts will air in the U.S. on ESPN+ PPV at a cost of $49.99.
The hook for this promotion – a come-hither that will be hammered home incessantly in the coming weeks – is that Jake Paul will finally touch gloves with a legitimate professional boxer. Paul's previous opponents were a fellow YouTube influencer (AnEsonGib), a retired NBA player (Nate Robinson), and three former MMA champions: Ben Askren, Tyron Woodley, and Anderson Silva. He fought Woodley twice.
Tommy Fury, the half-brother of reigning WBC world heavyweight champion Tyson Fury, made his pro debut in December of 2018 in a four-round bout in his hometown of Manchester. He was two fights into his pro career when he became a contestant on the TV reality show "Love Island." An enormously popular show in Great Britain, especially among the coveted 18-34 demographic, "Love Island" was in its fifth season.
Fury was paired with supermodel Molly-Mae Hague with whom he finished second. They developed a great chemistry, on and off the set, became engaged, and purportedly welcomed a baby girl this week.
What about Tommy Fury the boxer? How legitimate is he?
Fury's record currently stands at 8-0 (4 KOs). His first opponent was a professional loser from Latvia whose current ledger reads 10-113-3. His next six opponents were a combined 4-73-2. Finally, in his last fight, which occurred in April of last year, he met an opponent with a good record, Poland's Daniel Bocianski, who was 10-1. But look closer and one discovers that all but one of Bocianski's 10 triumphs came against opponents with losing records. The exception was a 6-round decision over a fellow Pole whose record currently stands at 18-16-1 and who has been stopped 13 times.
Fury bloodied Bocianski and won a wide 6-round decision, but his performance was underwhelming. "Fury had the Hollywood teeth, tan, and diamante-colored shorts," wrote Chasinga Malata of the London Sun, "leaving only his performance without sheen and sparkle."
There is nothing in Tommy Fury's background, aside from his biological pedigree, to suggest that he has the tools to become a world-class boxer. If he were a member of the Three Stooges, he would be Shemp.
Jake Paul, by contrast, may actually be legit. Those in the know that have watched him train have come away impressed. It says here that Paul isn't moving up in class on Feb. 26; it's the other way around.
In the co-feature, Ilunga Makabu (29-2, 25 KOs) will make the third defense of his WBC world cruiserweight title against Badou Jack (27-3-3, 16 KOs). A Congolese-South African, Makabu is the older brother of heavyweight contender Martin Bakole. Jack, four years older than Makabu at age 39, formerly held world titles at 168 and 175 pounds.
Although Badou Jack was born in Sweden and keeps a home in Las Vegas where he has long been affiliated with the Mayweather Boxing Club, he will have the home field advantage in Saudi Arabia where he has cultivated a loyal following. A devout Muslim, Jack will be making his fourth straight start in the Persian Gulf Region. In his last outing, he outpointed Richard "Popeye" Rivera at Jeddah, winning a 10-round split decision.
To comment on this story in the Fight Forum CLICK HERE