COMMISSIONER'S CORNER: A Tale of Two Divisions
There is a lot more separating the heavyweight division from the middleweight division than some 40 pounds. It's called talent.
On paper, Saturday night's bash at Madison Square Garden should have been one of the sport's biggest nights of the year. On paper, the heavyweight matchup between undefeated heavyweights Bryant Jennings (18-0) and Mike Perez (20-0-1), looked to be a phenomenal one. On paper, the matchup in a middleweight title fight between WBO champ Gennady Golovkin and former IBF champ Daniel Geale also looked to be a splendid matchup. Only the middleweight fight turned out to be a thriller, albeit a short one.
Going into Saturday night and on paper, both of the above fights looked like "Can't miss" events. But fights take place in the ring, not on paper.
The Jennings-Perez match was supposed to be part of the rejuvenation of the heavyweight division. That same day, 3,300 miles away, in England, another heavyweight match was supposed to begin the rejuvenation: Tyson Fury vs Dereck Chisora II.
Then came last Monday. Chisora allegedly broke a hand during his last sparring session. We say "allegedly" because we were never shown an x-ray with his name on the film of the break. Bad break for Chisora. Bad break for the heavyweight division.
Some news of salvation of sorts for the heavyweight division followed. Alexander Ustinov–all 6′ 8½" and 305 pounds of him, along with his 29-1 (21 KO's) record, would step in to replace Chisora.
All looked good until a day before the fight, when Tyson Fury's uncle and former trainer–Hughie–was rushed to the hospital in serious condition. With that on his mind, Tyson pulled out of the fight.
While the heavyweight division still had lost a Tyson Fury fight, it was still getting the Jennings-Perez bout. It was a scheduled 12-rounder and billed as a title eliminator. The loser would go home, lick his wounds and regroup. The winner would go home and party. His next fight would be a promised title shot. Against who? Wladimir Klitschko? Bermane Stiverne? Klitschko, the IBF/WBA/WBO/IBO Heavyweight Champion is in heavy training for a September 6 defense against Bulgaria's Kubrat Pulev. Stiverne is closing in on announcing a late Fall date for a defense against 31-0 (31) Deontay Wilder.
Mike Perez is the same Mike Perez who faced Magomed Abdusalamov last November 2 in New York's Madison Square Garden. This was Perez' second outing since that tragic night, a night which has left Abdusalamov with brain damage and in a Westchester, New York, rehab center. A few months after the fight, Perez fought to a draw against Carlos Takam. He looked listless in the fight. It often happens to fighters coming off tragic endings in their prior bout. Sometimes, the fire never rekindles in their fighting spirit. It was wondered if it would rekindle in Perez. It doesn't look that way. He was 20 pounds above his prime fighting weight and wore the weight around his middle.
Still, fans anticipated a slugfest between the two unbeaten, Jennings and Perez. The only problem is, neither heavyweight came to act like a heavyweight. Neither man was willing to throw punches with, as Mike Tyson used to say, "Bad Intentions." Jennings and Perez were more desirous to hold, maul, head butt, move and pose than they were to fight like heavyweights, the biggest, strongest, hardest-hitting men in our sport. Jennings-Perez was this years' "Wladimir Klitschko-Alexander Povetkin fight…12 rounds of little action. Klitschko-Povetkin made Mike Tyson-Bonecrusher Smith–another clinch-filled heavyweight 12-rounder–look like a slugfest. During the course of the bout, the crowd—an announced 8,572—was so quiet and still that they looked like a watercolor painting. A cheer went up when ring announcer Michael Buffer's voice boomed over the MSG P.A. system, "THIS is the 12th and final round."
In that final round, referee Harvey Dock took a point away from Perez for continuing to punch after his command of "Stop!" The one-point loss was crucial to the outcome of the fight. Judge Tom Schreck had it 114-113 for Perez. Judge Joe Pasquale had it 115-112 for Jennings. Judge Glenn Feldman had it 114-113 for Jennings, but it would have been 114-114 on his card without the point deduction, making the fight a draw instead of a split decision win for Jennings.
Don't blame Dock for taking a point from Perez as the reason for Perez losing, however. Perez lost because his fire is gone, perhaps and probably extinguished forever.
Following the forgettable heavyweight match came the middleweight title fight and a view of the rapidly-growing-to-legendary-status Gennady "GGG" Golovkin.
I had no doubt GGG would win, but not this fast, not this easily, not this impressively. I thought he'd be tested–even a little bit–by Geale, a world class fighter.
GGG is in a league by himself. With every outing, against every world-class talent he is put in with, you will see it more and more.
On Friday, I spoke to our esteemed Editor, Michael Woods, following the official weigh-in. He noted that, for the first time, GGG was not his usual, jovial self. There was no joking with reporters. There was no posing for the cameras. There was no warm handshake for Geale–just a look of a stone-faced killer.
"Could Golovkin be feeling some nervousness?" I asked Woodsy.
"You never know what's going through a man's mind," said our Editor. "But I will say this–I have never seen this side of him before. Maybe because, as a pro, Triple G is facing one of his toughest opponents."
Once the bell rang, you would have never known it.
GGG toyed with Geale. He measured him from the start, felt his power and felt his strength. HE sized up his speed and timing. It didn't take long.
The fight was over 10 minutes and 47 seconds after the opening bell (and that includes the rest periods after the first and second rounds). The undefeated GGG had notched his 30th victory, his 27th knockout, his 17th consecutive knockout and his 11th defense of his WBA Middleweight Championship. In a sport where championships are handed out like hors' doeuvres at a wedding, GGG's title is one which truly means something.
The power-packed 3rd round TKO–which left Geale standing like a drunk outside Madison Square Garden at 3:00 a.m.–also sent the 8,572 fans in attendance out of The Garden talking glowingly about the performance they had just seen.
"This Triple GGG is for (expletive) real," said a fan who had spent $400 for a ringside seat. "I had to be close. I wanted to feel the power, which I've been told you can, if you're close enough," said the fan. "So I got close enough."
So, did he feel the power?
"I absolutely did!" he said. "I absolutely did! The guy is incredible!"
Another fan felt the same way about Golovkin.
"He is the best champion in boxing, bar none!" said the fan as he departed The Garden with a few friends. "Bar none!"
The fans just may be right.
On September 1, 2012, we–the North American boxing fans–got our first look at Golovkin. I had known about him and had seen some videos on him, so was somewhat prepared for what to expect. My friend Charlie Fitch was selected to be the referee for Golovkin's U.S. debut on HBO. His opponent was rugged Gregorz Proksa, from Poland, who brought a 29-1 record into the fight and a reputation as an iron-jawed slugger who had never been dropped. Charlie and I spoke about the fight, which was held at the Turning Stone Casino in Verona, New York. He said he knew about the toughness of Proksa and the high skill level of GGG. He said he was ready for anything. He was. He handled GGG's five-round, one-sided shellacking and breakdown of Proksa magnificently, finally waving things off in the fifth round.
Afterwards, Fitch told me, "Maybe it's too early to say this, but I have a feeling I just reffed a guy who is going to go down in history as a great fighter."
It wasn't too early, Charlie. GGG is indeed a great fighter. The best from him is still yet to come…and it will. Golovkin, who has said he will fight from super welterweight (154 lbs.) to super middleweight (168 lbs.), now has some of boxing's mega-fights to talk about. How about GGG against Carl Froch? Julio Cesar Chavez? Peter Quillin? Then, of course, are fights bigger than any boxing has seen in years: GGG v Andre Ward…against Miguel Cotto…and against Floyd Mayweather Jr.
Against Mayweather or Cotto, let's just select Yankee Stadium as the venue. The place will be sold out. Configured for boxing, the capacity would be around 60,000.
So, it was GGG on Saturday night who sent 'em home happy and talking of greatness and of how GGG owned the middleweight division.
Maybe GGG can become a heavyweight. Heaven knows that division could use some lifting up–especially after Saturday.
So, instead of getting two great heavyweight fights on Saturday, we got none. Instead of getting three great fights on the same night–two in New York and one in England–we got one great performance in New York and none in England.
That great performance came from a great fighter–a middleweight named Gennady. He has left us with so many possibilities that it's mind-boggling.
The heavyweight division left us with nothing.
There may be 40 pounds between the middleweight and heavyweight divisions, but it seems like they are 40 years away.
Forty light years!
                                                                                ***
As I mentioned, don't blame referee Harvey Dock for causing Mike Perez to lose to Bryant Jennings. What you guys don't see is the elaborate pre-fight instructions given to each fighter in his dressing room by the referee. The ref goes over EVERYTHING. At the start of the fight, all you hear, when the fighters are brought to mid-ring, is the ref say, "Gentlemen, we went over the rules in the dressing. I expect you to obey them." He may add a little something here or there, have the fighters touch gloves (which they do not have to do), send them back to their respective corners, get into the center of the ring, look at one fighter, turn and look at the other fighter, then look at the timekeeper and give the signal to ring the bell. He does NOT have to drop warning upon warning on them in order to take a point away. I hate to see a point taken away in the last round, but I felt the deduction was warranted. Both men knew the rules. Both men understood the rules. Then, why did Perez fall into that 12th round clinch, drive the top of his head into Jenning's face, and punch witth his southpaw left as ref Dock repeatedly was yelling "STOP!"
I know. You're gonna' tell me Perez didn't hear the command. Let me say that I heard it at ringside…and because I have spent much of my career wearing headsets, I don't have the sharpest hearing in the world. If I heard it, Perez heard it. Then why did he head-butt Jennings? Why did he punch with the left after the command–which Dock said a few times–jarring Jenning's mouthpiece loose? Perez didn't lose the fight there. He lost it by his right jab-left cross-head butt and hold tactics throughout the fight. Harvey Dock is a damn good ref. He did a good job in a rough, physical fight. Perez didn't need anybody's help in losing the fight. He did that by himself. We can only hope he rests, searches his soul for some answers, perhaps talks to a guy like Ray Mancini, who lived through his own boxing nightmare, then either continues his boxing career with passion or moves onto another line of work with much success.
***
Lots of celebs were on hand at MSG on Saturday. Included were actors Tony Danza, Andy Karl and Margo Seibert. Karl and Seibert play the roles of Rocky Balboa and Adrian in the Broadway hit, "Rocky the Musical"…Promoter Lou DiBella has been filming a role in an upcoming movie…Prayers to former cruiserweight champion & now heavyweight contender Steve Cunningham and his wife, Livvy, as they await word–which can come at any moment–on a heart transplant operation for their daughter, Kennedy, who is 9. Kennedy was born with a condition called HLHS, which basically is a malfunctioning left ventricle. She has already undergone two heart surgery operations and now awaits a transplant. When the call comes from the hospital in Pittsburgh that a heart has been found, the Cunninghams have four hours to get Kennedy to the hospital and into surgery. They must then live in Pittsburgh for at least six months, the expected time Kennedy will be in the hospital and in follow-up care. Anyone wishing to make a donation–nothing is too big or too small–can do so by going on the internet to HeartbyFaith.com. Please help young Kennedy in any way you can.
***
BOOK NOOK: I just got "Friday Night Fighter," the biography of Gaspar "Indio" Ortega, whose son, Mike, is currently one of the world's top referees. Written Troy Rondinone, the book follows post-WWII boxing on TV, the "Gillette Friday Night Fights" and Ortega, who made so many appearances on those cards that his name was on the lips of every American who watched the show. Published by University of Illinois Press, you can find it in bookstores and at amazon.com. It's a great read and tells us a lot about a great action fighter and a great family man–Gaspar Ortega.
***
Got a surprise call the other day from one of the most colorful characters in the history of boxing—Bruce "The Mouse" Strauss. Strauss served as an opponent for many promoters. His willingness to fight virtually anybody on a moment's notice saved a show. His record was 77-53-6, but you can probably add on 20 more fights under assumed names. He fought in main events and undercards, against world-class fighters, future champions and local heros. He was as close to a WWE character as boxing has ever had. One time, he was stopped in Alabama. Three nights later, he was in a ring in Indiana. A reporter, who had been at the Alabama card, was also at the card in Indiana.
"Hey, weren't you in Alabama the other night?" asked the reporter.
"No!" said Strauss. "I'm the Mouse. You saw my twin brother, Moose."
The reporter bought it.
Mouse is doing great in his hometown of Omaha, Nebraska, and wants everyone to know he's proud of localite Terence Crawford.
                                                                                 ***
Good luck to Sonya Lamonakis, the friendly voice on the phone at Gleason's Gym in Brooklyn, New York, as she'll be fighting Carlette Ewell in the Caribbean this Saturday for the vacant IBO Female Heavyweight Title. The two fought to a draw two years ago in New York…Ring 8 had its yearly Summer BBQ in Glen Cove, L.I., The food was terrific and so was the turnout. Ring 8 is the largest Veteran Boxer's Association in the world….David Berlin looks to be doing a great job in his new position as Executive Director of the New York State Athletic Commission. But have smiles been replaced by frowns. From press row, one of the writers turned and said to me, "Hey, Commish, look at that row of New York State Athletic Commission staffers. They don't look too happy." One glance at them showed him to be correct. Some looked almost sad. Some looked angry. Some looked indifferent. None looked happy. Smile, guys! It's a fun job! Been there, done that!
David Avanesyan: "My Aggressive Style is Going to Give Crawford Problems"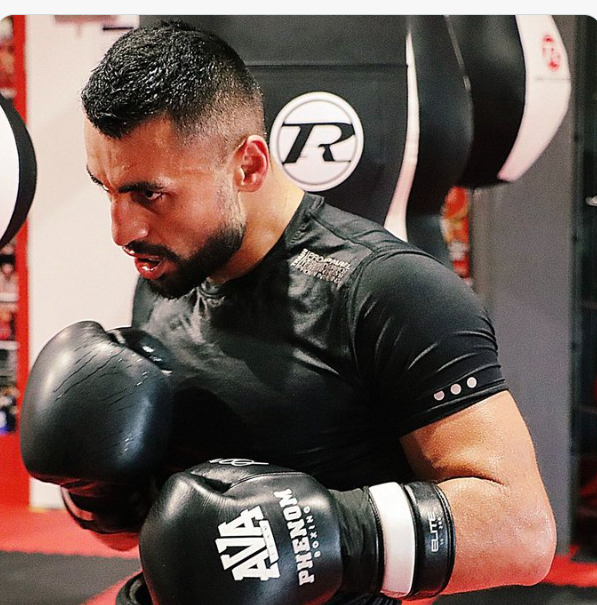 With determination and total confidence in his abilities, Russian David Avanesyan rejects the idea that he will be the "ugly duckling" when he faces Terence Crawford who will be defending his WBO welterweight title for the sixth time this December 10th.
"This is an opportunity of a lifetime for my family and me, one I will not take for granted," Avanesyan said. "I know going in that I'm a huge underdog and no one is giving me a chance, but let me tell you, I'm going to surprise everyone watching. I've had enough time to prepare, so I'll be ready for the southpaw."
Thirty-four-year-old Avanesyan (29-3-1, 17 KOs) was born in Russia but resides in England, where he has been preparing for the momentous matchup against Crawford.
European champion in the welterweight division, Avanesyan has won six straight, all within the distance; the most recent being in the first round against Finnish Oskari Metz (16-1, 6 KOs) in London.
Ranked sixth by the WBO and seventh by the IBF, Avanesyan says he has learned many tricks over the years and is now a completely different and more mature boxer.
"Coming from the amateur ranks, I had to learn how to sit on my punches correctly, which can take a lifetime for some fighters. The bad habits that plagued me early in my career are now fixed. Today I'm a completely different fighter in the ring, and my last six fights have shown my growth when it comes to my power punching. I believe my aggressive style is going to give Crawford problems," said Avanesyan.
Prior to his six-fight winning streak, Avanesyan was knocked out in the eighth round by California-based Lithuanian Egidijus Kavaliauskas in the city of Reno, Nevada where they fought for the NABF belt.
Avanesyan is not misguided as he assesses the enormous task ahead. "There's a reason Terence Crawford is considered the best fighter in boxing, his skill set is amazing, and he knows how to win," stated Avanesyan. "I know my hands are full, but I'm going to do everything I can to become a world champion. I need to stick to the game plan we have in place, and if adjustments need to be made during the fight, I will have to make them."
Although Avanesyan logically praises Crawford's career, the match-up has created a sea of ​​criticism for the undefeated Crawford (38-0, 29 KOs), who is ranked among the best pound for pound fighters. The vast majority of fans wanted to see him face his countryman, the undefeated Errol Spence Jr (28-0, 22 KOs), the current title holder of the other three most prestigious belts: the WBC, WBA and IBF.
But the thirty-five-year-old Crawford from Omaha, Nebraska says that regardless of his results and whatever adversary he faces, he will continue to be blamed by the people who just don't like him.
"Before, I always cared a lot about what the fans say and say about me," stated Crawford. "But the older I got, the more I came to the fact that you can't please everyone. No matter what you do, no matter who you beat and how many fights you won, how many divisions you conquered, there will still be those who will not love you for their own reasons. It seems to me that all the great fighters went through this. All the greats who were before me, and all those who will be after me, it will be the same with everyone."
In his brilliant professional career, Crawford has been world champion in three divisions: lightweight, super lightweight and welterweight.
Six years after his professional boxing debut, Crawford claimed the WBO 135-pound world title by unanimously defeating host Ricky Burns in Glasgow, Scotland.
Thirteen months later, Crawford added the vacant WBO 140-pound title by anesthetizing Thomas Dulorme in the sixth round. Dulorme could not endure Crawford's powerful punch and visited the canvas three times in the fateful sixth round.
Crawford became the undisputed king of the super lightweight division in August 2017, when he chloroformed Namibian Julius Indongo in Lincoln, Nebraska. The African lost the WBA and IBF belts, while Crawford retained the WBC and WBO belts.
In June 2018, Crawford conquered the WBO welterweight belt after putting Australian Jeff Horn (20-3-1, 13 KOs) to sleep in the ninth round at the MGM Grand Casino in Las Vegas.
Thanks to his blazing hand speed, ring savvy, counterpunching skills, as well as his ability to switch from right guard to left guard and back again, Crawford is considered a heavy favorite to take down Avanesyan.
*Note: As of December 2nd:  Crawford  -1600 / Avanesyan  +780
Article submitted by Jorge Juan Alvarez in Spanish.
Please note any adjustments made were for clarification purposes and any errors in translation were unintentional.
To comment on this story in the Fight Forum CLICK HERE
Juan Francisco Estrada Holds Off 'Chocolatito' Again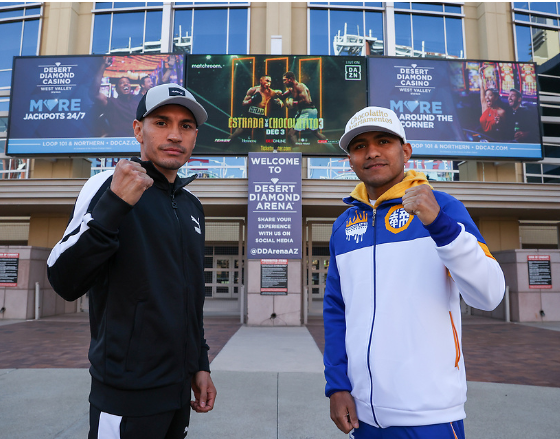 Once again Juan Francisco Estrada jumped out in front early and Roman "Chocolatito" Gonzalez needed time to crank up the engine, but fell too far behind as the Mexican fighter won the vacant WBC flyweight world title on Saturday.
Estrada wins the trilogy 10 years in the making.
Once again Estrada (44-3, 28 KOs) surged ahead early in the fight against Nicaragua's Gonzalez (51-4, 41 KOs) and then navigated toward another win, this time at the Gila River Arena in Glendale, Arizona on the Matchroom Boxing card.
"We had excellent preparation at high altitude and I think we left the fight clear on who won the fight this time," said Estrada about the third encounter.
Ten years ago, the trilogy began in Los Angeles as "Chocolatito" confronted an unknown fighter at the time in Estrada. The two surprised the crowd who expected Gonzalez to destroy yet another Mexican fighter. But it did not happen that night though Chocolatito proved too experienced and battered his way to victory in a light flyweight world title clash.
Then, in March 2021, Estrada finally fought Gonzalez in a rematch and the two engaged in a closely-fought super flyweight world title match. This time Estrada proved slightly better according to the judges and won by split decision in Dallas, Texas.
Few knew what to expect in a third encounter.
At first the coronavirus stalled plans for the trifecta so Chocolatito fought a replacement and dominated. Meanwhile Estrada fought another Mexican and did not look good.
On Saturday, a decade after their first encounter, Estrada looked fluid and accurate in dominating the first six rounds of the fight. Though he did not hurt Gonzalez, he was repeatedly scoring at will.
Gonzalez woke up around the seventh round.
Suddenly the Nicaraguan who was once considered the best fighter Pound for Pound showed up and fired rapid combinations. The spring in his legs suddenly appeared and the energy level was cranked up high after nearly being on idle.
Estrada suddenly found himself against the ropes forced to slip and slide away from Gonzalez's powerful combination punches. A real fight suddenly erupted during the final six rounds.
"All fights are different and all fights are difficult and this was the most difficult one," said Gonzalez, a four-division world champion.
Though neither fighter was ever visibly hurt, Gonzalez's pressure kept Estrada expending too much energy trying to evade the Nicaraguan's traps during the final six rounds.
"He always goes 100 miles an hour," said Estrada of his nemesis.
Estrada used uppercuts and slide steps to maneuver against Gonzalez's hard charges. It seemed to work and allowed the Mexican fighter more room and time to apply counter-measures.
In the final round, those maneuvers allowed Estrada to connect with a hard punch to the body that forced Chocolatito to cover up. It also allowed Estrada to unravel a combination that gave him the last round if needed. After 12 rounds one judge scored it 114-114, while two others saw it 116-112, 115-113 for Estrada who becomes the new WBC super flyweight world titlist.
"We did an excellent fight and I got the victory," said Estrada. "I've always said Chocolatito is a future Hall of Famer."
Gonzalez was gracious in defeat.
"What is important is we gave that good fight to the fans and we came out in good health," Gonzalez said.
There is even talk of a fourth fight.
"As long as they pay well, of course," said Gonzalez.
Other Fights
Julio Cesar Martinez (19-2, 14 KOs) retained the WBC flyweight world title by majority decision over Spain's Samuel Carmona (8-1) in a rather dull affair. Mexico's Martinez chased Carmon all 12 rounds in a fight that saw Carmona slap and run, then hold.
No knockdowns were scored and Martinez won 114-114, 117-111, 116-112.
Diego Pacheco (17-0, 14 KOs) ran over Mexico's Adrian Luna (24-9-2) with three knockdowns in winning by stoppage in the second round of the super middleweight fight. It was no surprise.
The 21-year-old from South Central L.A. once again showed that despite his youth his power seems to be continually increasing as evident in the knockout win.
Now training with Team David Benavidez, the young super middleweight looked sharp, especially with the lead overhand right that floored Luna in the second round. Luna was floored two more times and the fight was wisely stopped by his own corner.
"You put in the hard work then you come in here and shine," said Pacheco. "I joined team Benavidez this year."
Nicaragua's former world titlist Cristofer Rosales (35-6, 21 KOs) won a dog fight over Mexico's Joselito Velasquez (15-1-1, 10 KOs) by unanimous decision after 10 rounds in a flyweight clash.
It was a back-and-forth struggle that saw the taller Rosales take over in the second half of the fight and win by simply out-punching Velasquez and handing the Mexican his first loss as a professional by scores 97-93 three times.
Photo credit: Milena Pizano
To comment on this story in the Fight Forum CLICK HERE
Tyson Fury TKOs Derek Chisora in Round 10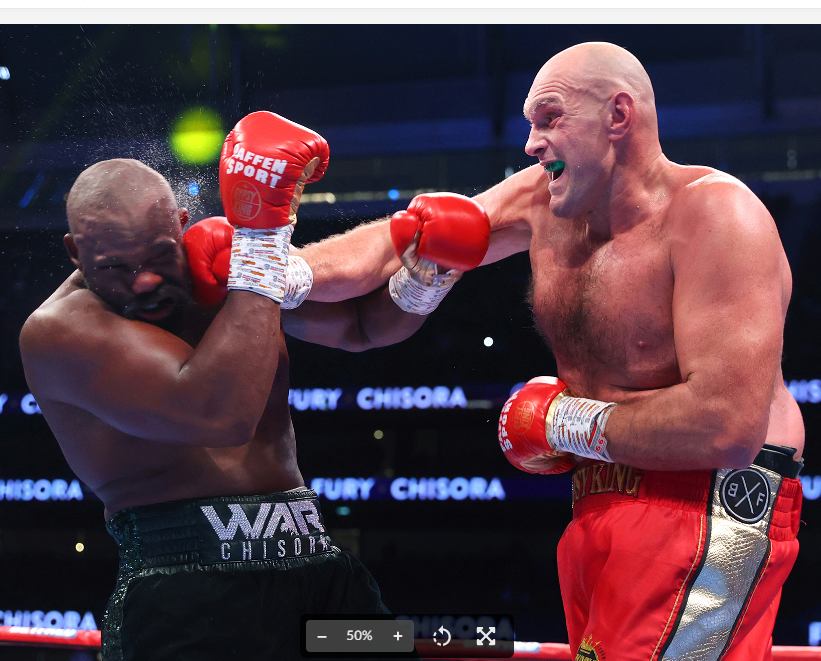 It was a chilly night in London but that didn't deter a near-capacity crowd from turning out at Tottenham Hotspur Stadium to witness the third rumble between Tyson Fury and Derek Chisora. The Gypsy King was heavily favored to retain his WBC and lineal heavyweight title and performed as expected. Indeed, this fight closely resembled their second encounter back in 2014.
In that bout, Chisora absorbed a terrific amount of punishment before his corner pulled him out at the conclusion of the 10th round. Tonight's fight ended nine seconds earlier at the 2:51 mark of round 10 and it was the referee who terminated the match.
When is a heavyweight not a heavyweight? When the man in the opposite corner is substantially bigger. With an 8-inch height advantage and a 15-inch reach advantage, the six-foot-nine Fury was simply too big a mountain to climb for the brave Derek Chisora, a fighter who changed his nickname in mid-career, transitioning from "Dell Boy" to "War."
Fury dominated round two, especially the last minute, a round in which he was credited with landing 18 power punches. The writing was on the wall for Chisora who ate a lot of thudding uppercuts in the ensuing rounds and ended the contest with a badly swollen right eye and a bloody mouth. With the victory, Fury improved his ledger to 32-0-1 with his 24th win inside the distance. The Zimbabwe-born Chisora falls to 33-13.
Oleksandr Usyk and Joe Joyce were in attendance and the Gypsy King addressed both before he left the ring. Calling Usyk "The Rabbit," he indicated that he would fight Usyk next in a true unification fight, but said if there were a snag in negotiations he wouldn't mind trading blows with the Juggernaut, Joe Joyce, who wore down and stopped former heavyweight title-holder Joseph Parker, a former Fury sparring partner, in his most recent engagement. However, Fury also revealed that he had an issue with his right elbow that may require surgery.
Co-Feature
In a heavyweight match that lasted only three rounds but was chock-full of action, Daniel Dubois overcame three knockdowns to retain his secondary WBA heavyweight title he won at the expense Trevor Bryan with a third-round stoppage of upset-minded Kevin Lerena.
In the opening stanza, Johannesburg's Lerena, landed an overhand left on the top of Dubois's head that put the Englishman on the canvas and left him all at sea. He went down twice more before the round was over, the first time of his own volition when he took a knee (reminiscent of his match with Joe Joyce) and the second from a glancing blow.
Dubois, whose legs are spindly for a man of his poundage, had trouble regaining his equilibrium in round two, but Lerena didn't press his advantage. In the next frame, a short right from Dubois penetrated Lerena's guard and down went the South African. Smelling blood, Dubois knocked him down again and was pummeling him against the ropes when the referee interceded just as it appeared that Lerena would be saved by the bell.
It was the fourth straight win for Dubois (19-1, 18 KOs) since his mishap versus Joyce. Lerena, who entered the bout on a 17-fight winning streak, lost for the second time in 30 fights.
Also
In a ho-hum affair, Denis Berinchyk, a 24-year-old Ukrainian, captured the European lightweight title and remained undefeated with a unanimous decision over French-Senagalese warhorse Ivan Mendy. Berinchyk (17-0, 9 KOs) was making his first appearance in London since winning a silver medal at the 2012 Olympics where he was a teammate of Oleksandr Usyk and Vasiliy Lomachenko.
The judges had it 117-112 and 116-112 twice for the Ukrainian. The 37-year-old Mendy, who has answered the bell for 380 rounds, falls to 47-6-1.
Photo credit: Mikey Williams / Top Rank via Getty Images
To comment on this story in the Fight Forum CLICK HERE