INTO THE MIND OF A REF Jack Reiss On The Hows and Whys of Being the Third Man In the Ring
If you always wanted to know what it takes to become a successful boxing referee or official and didn't know where to start then you might want to read Jack Reiss' story. Reiss is a former amateur boxer turned professional referee. Before that, he was a fireman in the Los Angeles Fire Department for 31 years, 19 years as a supervisor, until he turned professional referee in 1998.
When you follow Reiss' story you will find a guy that has an undying passion for boxing, and as it turns out, has become one of the most respected referees in the sport today. And Reiss explains that he gained that esteem the hard way. Reiss thinks it's his experience as a fighter that makes him a good official, and that his almost religious-like preparation has helped him earn respect from fighters inside of the ring.
Referees can't hesitate on their instincts. That's what makes them who they are. When they see it, they call it. And there is a discipline behind their approach. Reiss explains that every referee acquired those instincts in a different way.
He says that every referee needs to know what it feels like to take a punch because in a fight, there is more than what meets the eye. He says every referee had to pay his or her dues one way or another. But some had to pay their share more than others. Reiss tells me he resents the fakers in his profession. He calls them "posers," officials that got "into the game for political reasons" or because they are "somebody's important nephew."
In a candid discussion about the science behind "the sweet science" and the politics (for lack of a better term) surrounding the fights, Reiss practically preaches to us about his tricks to the trade. He describes his approach inside the dressing room with fighters and talks about the controversial Canelo/Lara decision., tells us his theory on taking points, and explains why there are so many "poser" officials that do not have the respect of fighters in the sport of boxing.
RM: Let's just start off by telling me how you became a referee.
JR: Well, I did some amateur fighting in kickboxing and boxing. And I have been involved in boxing since I was a little kid. I have a picture of my father standing at the beach in 1929, yoked at about 160 pounds in a boxing stance. So you know, it's been in my family for years. So, I did it as an amateur and refereeing is something I always thought about doing. So, I finally called the Nevada State Athletic Commission because that was the only one I had ever heard of from watching the big fights on TV, you know.
RM: Yeah.
JR: So, I spoke to Marc Ratner and he said, "You could become a referee but why don't you call the California Athletic Commission?" So, I said, "OK. Mr. Ratner thanks"…. So, I didn't know. You know what I'm saying, Ray? So, I called the California Athletic Commission and hounded them for about a year and a half. I just kept on them. And they allowed me to be a part of this program in 1998, a three-year program. It was a class, followed by a professional referee probationary period. Professional referees Pat Russell, Lou Filippo, Larry Rozadilla and Marty Denkin taught the class. We also had many other refs and pro fighters as guest speakers. The first year was all classroom instruction and working in the ring with guys sparring. The second year was one fight a month as a ref or a judge. The third year we signed an agreement to allow us to do four rounds on a regular basis. But if you did anything that was egregious then they could let you go with no recourse.
RM: I see. Sounds legit.
JR: Yeah. The class started with about 90 people. It was filled with a nepotistic type atmosphere. There were a lot of sons, daughters, bankers, friends, and relatives of some of the existing referees. I didn't know anybody, you know. But eight or nine of us passed the course as a ref, judge, or both.
RM: OK. So, tell me about the difference in mindset from when you started to the present day. How much have you changed since the first fight that you refereed?
JR: Oh my God, my first referee experience was my like my first sexual experience… It was over before I knew it. And I had to ask someone else how I did.
RM OK…
JR: In my initial refereeing experiences it was more about – How did I do? Did I do a good job? Did I do the right thing? – Now, at this stage of the game, on a regular basis, I look to my peers, guys I trust, and ask about what I could do different or better. What alternatives did I have in the situation I was in? It is not a matter of right or wrong. I am just always trying to improve. My goal is to do what is best for boxing, and to do what is best and fair for the fighters.
RM: OK. So, you are trying to be the perfect referee.
JR: Yeah. It is impossible to be perfect. But I try to do the best I can in each venture. You know what I mean?
RM: Yeah. I get it.
JR: It is the only way to grow. I have to be honest with you, Ray. There are a lot of posers, man. There are a lot of referees out there that are just posers. There are a lot of referees and judges that got into this game because they are somebody's important nephew, if that makes sense to you.
RM: Yeah.
JR: They got into the game for political reasons or something.
RM: Yeah.
JR: They don't know boxing. They don't know combative sports. They have never been punched in the face in their entire life. How could you have compassion for a guy taking a beating if you have never taken a beating? You have to know how it is to dish it out and take it.
RM: I hear you.
JR: But I always try to constantly improve to be the best I could be. And if you are not trying to be the best you can be as a referee then you are falling backwards. You are getting complacent. It is sort of like a doctor in a sense…. And, I am not comparing myself to a doctor.
RM: Oh, course not.
JR: But a doctor has to keep up with the latest medical breakthroughs and the latest tests and things that are going on. In that sense, as a referee, you have to constantly watch fights and constantly question yourself, "What would I do if that was me? What alternatives would I have in that particular situation?" And ultimately, you have to know what is fair for the fighters and boxing.
RM: It seems like from our short conversation so far, that you want to do what is best for boxing.
JR: Yeah. And what is right for the fighters.
RM: Right. OK. So, you were talking about these posers. What do you think boxing fans think about them? How do you explain the posers to boxing fans? We see referees or judges that don't look like they have been in a fight all of the time.
JR: Well, I explain it sincerely just like I explained it to you. Not everybody got there (became a referee or judge) taking the correct path. Some of these guys really don't belong. Unfortunately we are adequated in the sense that officials don't have a national commission or a worldwide commission that writes the rules and has the standards. In the NBA, NFL, or any other professional league, you can't be a ref without going through their system.
RM: Good point.
JR: They tell you what is right and wrong. But more importantly, you are under their scrutiny, and you are EVALUATED Ray, you are EVALUATED, on a regular basis. In boxing, we have 50 states with 50 commissions. All the other countries in this world have their own commissions. Luckily, in California we have a wonderful commission that understands combative sports. But some states still have commissioners that are political appointees and they have no clue about combative sports. So if you go in the ring and screw up, they just say, "Oh, you were pretty good. That was good." Nobody is correcting you. Fortunately in California we have a checks and balances system. But all over the world and throughout the United States, it is not like that.
RM: I see.
JR: And I will tell you another thing, check this out. In California we do 200 fights a year in MMA and boxing. In other places if they do 20 shows a year that is a lot. Those referees and judges aren't getting a quarter of the experience we are getting. They have to do something to keep the officials sharp and learn.
RM: That just brought the Canelo/Lara fight to my attention. One judge from New Mexico scored the fight 117-111 for Canelo. There aren't many big fights in New Mexico.
JR: Was it Levi Martinez?
RM: Yeah.
JR: Let me tell you about Levi. Levi is literally one of the most premier judges in the world. He is a WBA, WBO, and IBF judge. If you look up his name on Boxrec.com you will see over 100-world title fights as well the local shows he does around the area. His reputation precedes him but that is not always true with other people.
RM: So do you think these appointees or posers that you were referring to have the best interest of boxing in their hearts?
JR: I want to think that they do. But how can I know, Ray? We are fortunate here in California to have an outstanding mix of people in the commission. Our executive officer is an ex-fighter in MMA and boxing, and we have a neurosurgeon on the commission as well. What more can you ask for?
RM: I see. So, what makes a great official in your opinion?
JR: Someone who has absolute integrity, someone who cannot be bought, or bribed at all. Someone who understands the scope of what's going on in front of him… I'll give you a great example. The other day a rookie referee was refereeing this fight. It was the first round of the fight; there hasn't been a lot of action. A fighter gets dropped and gets up on shaky legs. The referee stops the fight and said, "He was going to get hurt." So I tried to explain to this official that you can't just say, "He's going to get hurt." These guys get paid to get hurt..
RM: That's true.
JR: This is their livelihood, Ray.
RM: Yeah…
JR: The only way you can protect them is to not allow them to fight. Our job is to protect them from unnecessary harm. And I explained that she might have done more damage by stopping the fight that way. And she goes "what do you mean?" I go, 'look at the big picture. There's more than just what is in front of you that's at stake. Every fighter has earned the right to get a second look. On another note, if this fighter was an old fighter making a comeback and you stop that fight too quick, that fighter is thinking, "Oh, that referee screwed me. I am going to keep fighting. I have to prove to the world that I still got it." Whereas, if you let a fight go to its natural conclusion, then that fighter knows he is done. There is no controversy, it is the best thing for boxing, and he will gracefully retire without maybe the next fight where he might get killed.
RM: I hear you.
JR: So there is a bigger picture you have to look at. You have to take a lot in. Never sacrifice the safety of a fighter. But there is more than just what's in front of you at stake. If you stop a fight on HBO in the first round when a guy has a full gas tank, you will never work again. The fans come to see a fight. Does that make sense? You have to evaluate everything.
RM: So, it's sort of a political job in a way… Or is that taking it too far?
JR: No. It's not political. There's just more to stopping a fight due to safety. Some refs say, "Oh, he was going to get hurt." I think that's a cop-out.
RM: OK.
JR: You have to have intelligent verbiage backed up by factual information of body language to stop a fight. You can't just say, "He was done." When I stop a fight, I can give you definite reasons why I stop a fight. In fact, I have my own criteria.
RM: Like what?
JR: If the fighter is a 50% capacity and he hasn't taken too much punishment, I am going to give him one shot to continue to see how he responds to that knockdown, even if he's on shaky legs. These guys have amazing recuperative power. The lights might go out for a second, but then the lights are flickering when they get back on their feet. So, if they have the ability to intelligently defend themselves, they are getting one shot from me. How they respond will determine the fight from that point on.
RM: So, to become a great official, you have to understand the science behind what it takes to stop a fight.
JR: Thank you very much. You said everything I was trying to say in one freaking sentence and it took me three paragraphs.
RM: Well, thanks. But you're the expert.
JR: Well, that's why they call it the sweet science, Ray. It really is a science. That's why we can talk like this.
RM: Yep. That's true.
JR: But you have to understand, the great fighters always find a way to continue. The great officials always look at the bigger picture. The most paramount thing on an official's mind is fighter's safety. You never want to violate that. But we also have a responsibility to our sport, to do what's best for the sport of boxing.
RM: OK. Then let me know, what makes you different from any other referee?
JR: I don't know the answer to that question. I don't know how the other referees think or train. But I can tell you that I feel like I am blessed to be a part of this sport. Just like you are. We're blessed to be a part of a professional sport and I take the responsibility seriously. I constantly, constantly, train. I constantly try to better myself. I have a routine that I have followed since I started. I get myself in the zone before I step in the ring. I go to the gym and I move around with the fighters. And I have a book that I created, and it's been 16 years already where I go over situation after situation after situation in my head to review. When I step in that ring, I have to be ready from the first second of the first round. You know, what's my warm-up? A boxer warms up in the dressing room right?
RM: Yeah.
JR: I have to be mentally warmed up for the first second of the first round so I don't miss something and I don't overreact. So, I can't tell you what makes me different. But I have an exuberant amount of passion for what I do. And I have a tremendous amount of respect and admiration for these warriors. And I have a tremendous amount of respect and love for our sport.
RM: Do you prepare for a big fight differently than you would for a small show?
JR: Yes. In a small show I might not know who is fighting until I get there. For a big show, they might give you an assignment a month out. So I get an opportunity to review the fights I have done with them and go through a more stringent routine. I go to YouTube to watch tapes. Look at styles. Look at weights. See where they've been. Are they coming up from a different weight? How did they do in their last five fights? Things like that, it's a different preparation than a club show. But it's a same manner in the respect that I have this routine that I go through to get in the zone for the first second of the first round. I can just do more research if it's a big fight. It's very important to know their natural weight. Some guys move up in weight and have no power. I want to know how they did in their last five fights. Are they moving up in weight? Have they won in the weight class they are going in to? Some guys that move up in weight got no power.
RM: Why is it important to know whether a fighter has lost or won his last few fights?
JR: Well, fighters get old overnight. And that is usually a good indication of what's going on in their life. I look at the timespan between fights. If you have a guy that lost his last four fights I am thinking that his career has hit a skid. I want to know what he has done different to prepare for this fight. His career might come to an end. Why is he losing? Has he taken too many punches? Has he gone up in weight or down in weight? What are the contributing factors to why he lost? These are just more tools in my tool chest to help me accomplish "fighter safety" if that makes sense.
RM: No. That makes sense. But I am just playing devils advocate. Let's say that I am fighter that lost my last three fights. – If I know a referee had your mindset, maybe I am thinking that the referee wants to stop the fight early, you know. How do you feel about that idea?
JR: That's a great question and you are going to laugh when I give you the answer. I would love to have you come in the room with me when I give pre-fight instructions. I get a lot of good information. And more importantly, I get a baseline at where they are at mentally. I like to hear them talk. I want to see them move. I like to watch them walk in the dressing room and I like to watch them walk to the ring. I am trying to find out their normal senses. If you have a fighter that lost his last few fights, I like to ask, "How's it going? How are you feeling?" They are always the first ones to cough up and give me the information that I am looking for.
RM: Yeah.
JR: Fighters usually fess up and tell you about the problems. They'll say something like, "Oh, I know I lost my last few fights." Or, "I had a bad shoulder last time. I'm ready now."
RM: So, you use pre-fight information as a tool to help you referee a fight.
JR: Yeah. Well, none of it is a game stopper. I just use it as tools in my tool chest. Remember, you have to consider a lot more than what is in front of you. Something I know might save that guys life. What if a guy broke his right hand two fights ago, and tells me in the pre-fight that his hand is fine now. If he stops using his broken hand in the fight, I will know what's going on. You know what I'm saying?
RM: Yeah. I hear you.
JR: That is the kind of information I use to help me make a decision. If I saw that, I would go to the doctor and tell him to check the right hand. It helps soften the blow if we need to stop a fight and it helps us protect the fighters.
RM: See, now I would never know that unless I talked to a referee. That's important to know.
JR: Yeah. It's important to know a fighter's recent history, Ray. I want to get as much information as I can.
RM: OK. Talk to me about the art of neutrality. You used to be a fighter, so you know what they go through. How do you stay neutral as a referee?
JR: It's very simple. And this is another reason why I feel that people have no business being a ref or a judge if they have never been punched in the face. I remember when I was training for fights. I was a 19-year-old kid, staying away from family and friends for months at a time. Fighters just want a fair and impartial referee.
RM: That reminds me of the Andre Ward/Edwin Rodriguez fight when you gave each fighter a two-point deduction for fouling. How did that all play out in your head?
JR: Remember when I was telling you how I prepare for fights?
RM: Yeah.
JR: In my books, I had that particular situation planned since 2002. I thought about the Holyfield/Tyson II situation when Tyson bit Holyfield's ear. I thought what would happen to me if I had to guys so unruly? How would I try to maintain control?
RM: Yeah.
JR: So, Rodriguez was initiating a lot of that dirty stuff and Ward was retaliating… First, I verbally tried to correct them. I went to the corners and emphatically implored them to be professionals. That didn't work. And then, in about the fourth round, Rodriguez got Ward in a guillotine. He tried to choke him out. He lifted Ward. And he was walking backwards, choking Ward. I was saying, "stop." And Rodriguez wasn't stopping. So Ward took matters into his own hands, and threw a punch over the top or two. Then I jumped in, and I think I got punched in the face.
RM: Right.
JR: So, I called time. Their adrenaline was spiraling out of control. My intent was to calm them down, and let this all pass so the fight will settle into something that resembles a professional boxing match.
RM: OK.
JR: I'll give you an analogy. I was a fireman for 31 years. And I went on domestic violence assignments all of the time. If you have two cops go to a house and there is a lot of screaming. A lady is standing there with a pot in her hand and her husband is standing there with a black eye, he has a big welt on his head. They are cursing each other out, screaming. What do the cops do?
RM: They separate them…
JR: Yeah. They (cops) separate them. They take the husband outside. They tell him to calm down so they could hear the story. They hear both sides, let them vent, and then they say, "Well, you assaulted him and he assaulted you. Do you want to go to jail?" Guess what, everything straightens out. So, in that fight, I called time. I separated them, and said if this continues, I'm fining both of them. Once you hit their pocket book, they check. They start to pay attention. You know what I mean?
RM: Yeah.
JR: Obviously they settled down and it was a great fight the rest of the way.
RM: Yeah. OK. So…
JR: Let me ask you a question.
RM: Sure.
JR: Can a guy that never fought before understand this stuff? Can he even consider it? Can a guy that is somebody's important nephew, who never had a fight in his life, become a good ref or judge? Can that guy understand competitive, combative, sports?
RM: I don't think so, man. I think you're going to need some sort of street cred.
JR: Yeah. You gotta have some kind of cred.
RM: Yeah. And do you think fighters understand the difference? Do fighters know when they are in the ring with a referee that has never gotten in a fight?
JR: Are you kidding me? Absolutely.
RM: OK.
JR: I mean, a guy like Bernard Hopkins will take advantage of you. If you are on the right side of him he is holding with his left hand. If you are on the left side he is holding with his right. All of the fighters are survivors' man. This is a fight. They are moving, grabbing, and pulling until you correct them. These guys are smart. This ain't tennis. These guys are hitting each other. They are going to do what they can to win, and it ain't always going to be pretty.
RM: Now, I'm just curious. When Rodriguez had Ward in a guillotine and Ward defended himself. How come you didn't just deduct a point from Rodriguez for the guillotine choke? I'm sure situations like that arise from time to time. But sometimes I see fouls, and referees just let them go without a warning.
JR: I deducted points for unsportsmanlike conduct from both fighters. I deducted points from Rodriguez for not letting go and Ward retaliating, and all the fouls prior to that. I will give you my theory on taking points. The fans don't pay to see me take points and change the course of fight. They pay to see a fight come to a natural conclusion.
RM: True.
JR: This is not tennis. Take basketball for example, it is a non-contact sport, right?
RM: Yeah.
JR: But people that run the NBA know that there is going to be contact when you have seven-foot tall, 250-pound men jumping for a little ball. So they give them each five times to make contact before anything bad is going to happen.
RM: Right.
JR: Now transfer that over to boxing. We have highly trained athletes coming into the ring full of adrenaline, sometimes they hate each other, and there's emotion on top of adrenaline. I got to tell you, the first few rounds aren't going to be pretty. I try to use my people skills to calm them down and correct without taking points. The only caveat to that is if there is an intentional foul.
RM: That's an interesting comparison. Thanks a bunch for your time, Jack. Is there anything else that you want the boxing world to know?
JR: I just want to say thank you for giving me the opportunity to even speak to you. It is not very often that we get to tell our side, our trials and tribulations, and talk about the challenges we face as officials. I appreciate it. I just want to give you one last parting thought.
RM: OK.
JR: As a referee in any other professional sport, there is a team of people looking at different angles. And when they are not sure, they call time, get in the huddle and make a decision. A referee in boxing and MMA has to get it right on the spot, and it's right now. You can't call timeout because someone has the advantage. If you call timeout, that person loses their advantage.
RM: Yeah.
JR: So, it is a very challenging position. And I hope the fans and writers understand.
RM: Definitely. Do you feel like referees get treated unfairly?
JR: Oh totally unfair. But when I checked the warranty on Jack Reiss, it doesn't say anything about fairness. Nothing on my birth certificate says life is going to be easy or fair. That's just the way life is. It's unfair dude.
You can email Ray at Raymond.Markarian@yahoo.com or follow him on Twitter at @raymarkarian
Jaron Ennis KOs Sergey Lipinets and Other Results from the Mohegan Sun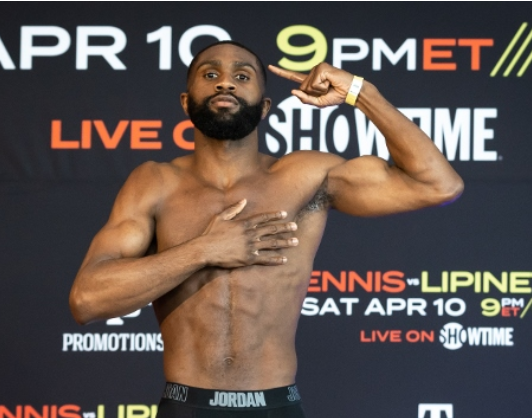 Philly is on the up. Again.
Jaron "Boots" Ennis kicked his stature into another gear with an impressive knockout of former world champion Sergey Lipinets on Saturday.
"It's on the up now for bigger and better fights," said Ennis.
Those Philly fighters know how to do it.
Before a small audience Philadelphia's Ennis (27-0, 25 KOs) showed that he's ready for the elite level class by dominating the always tough Lipinets (16-2-1, 12 KOs) at Mohegan Sun Casino in Uncasville, Conn.
Is there any other American welter looking for action?
Ennis walked into the arena with all of the physical advantages, but experience can be a tricky matter in the fight game. Lipinets was ready to provide the lesson.
For the first two rounds Ennis used his superior reach, height and speed to keep the former super lightweight world titlist from entering his domain. The Philly fighter wacked at the Russian fighter's body and head while taking minimal return fire.
Lipinets finally found his way inside and both fighters traded big blows. A wicked right uppercut by Ennis connected and Lipinets bounced a right cross on the Philly fighter. Both absorbed the big blows with little effect.
Still, Ennis was winning all of the rounds and Lipinets realized that maintaining the status quo was not doing him any good. He increased his attack and slipped on Ennis foot and went down. It was incorrectly ruled a knockdown by the referee but it was the least of the Russian fighter's problems.
Both fighters attacked the body but Lipinets shot one far below the belt and the fight was stopped for a moment. Lipinets was warned. Both went into attack inside and it seemed to be Lipinets best round. He seemed to find his way back into a groove.
"I saw he wasn't as skilled on the inside as I was so that's when I started getting a little closer," Ennis said.
Ennis may have realized that Lipinets had a good round and he wasn't about to allow another. As the two fighters re-engaged in their war inside, Ennis connected with a right hook to the chin and a left uppercut finished the job. Down went Lipinets and referee Arthur Mercante waved off the fight at 2:11 of the sixth round without a count.
"We worked on a lot of power shots and a lot of speed. That's what we did," said Ennis. "Everything is all natural."
The impressive knockout of Lipinets proved that Ennis has more than enough ability to hang with the best welterweights around.
"Maybe one of the guys will want to fight me. Who knows?", said Ennis.
Other Bouts
IBF super flyweight titlist Jerwin Ancajas (33-1-2, 22 KOs) floored Mexico's Jonathan Rodriquez (22-2, 16 KOs) and hammered out a win by unanimous decision. But it wasn't an easy fight. It never is when you put the Philippines versus Mexico.
Ancajas needed the win to keep his name handy for a possible match in the now heated super flyweight division that features Juan Francisco Estrada, Roman Gonzalez, and Carlos Cuadras.
A battle between welterweight contenders saw Eimantis Stanionis (13-0) power his way to a unanimous decision win after 12 rounds versus Thomas Dulorme (25-5-1).
Check out more boxing news on video at the Boxing Channel
To comment on this story in the Fight Forum CLICK HERE
Fast Results from Tulsa: Joe Smith Jr Nips Vlasov, Wins WBO Title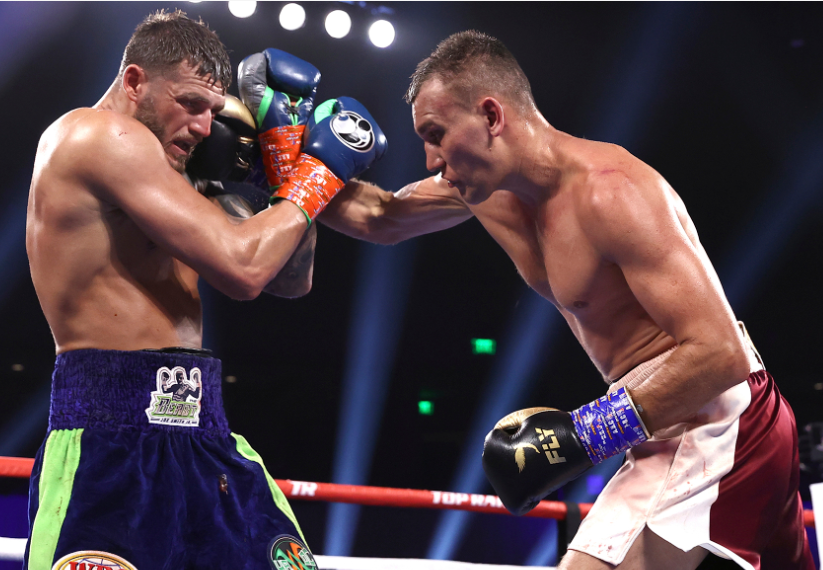 Joe Smith Jr had to dig down deep to upend Russian veteran Maxim Vlasov, but pulled the fight out of the fire with a late rally to capture the vacant WBO light heavyweight title before a sold-out crowd of 500 masked-up fight fans at Tulsa's Osage Casino. Smith prevailed by a majority decision. One of the judges had it a draw (114-114), but he was overruled by his cohorts who each turned in tallies of 115-113.
Smith, the quintessential blue-collar fighter, suffered a cut above his left eye in the first round and it troubled him throughout. Vlasov fought a smart fight, out-working the more one-dimensional Smith in most of the rounds, but a cut inside his mouth and Smith's body punches eventually took their toll. Smith had a strong seventh round but Vlasov recaptured the lead only to let it slip away in a good action fight. There were no knockdowns, but Vlasov went down in the 11th from a punch that landed behind his head, an illegal punch, hence no knockdown.
Smith Jr improved to 27-3 and earned a date with WBC/IBF champion Artur Beterbiev. Vlasov, whose effort commanded a rematch that won't happen — at least not any time soon — falls to 45-4. All four of the Russian's losses have come on U.S. soil, two right here in Tulsa where Vlasov was out-pointed by future world title challenger Isaac Chilemba way back in 2011.
—
The were nine bouts in all the card, the majority of which were intended to showcase up-and-coming heavyweights. The result was a predictable slew of quick stoppages, resulting in plenty of dead time between bouts.
The match between Efe Ajagba and Brian Howard was packaged as the co-feature. Ajagba had been less than impressive in some of his recent starts, but tonight the 6-foot-6 former Olympian for Nigeria scored a devastating one-punch knockout to restore whatever luster he may have lost. The lightning bolt came at the 1:29 mark of round three. Howard was unconscious before he hit the canvas. Ajagba advanced to 15-0 with his 12th knockout. Howard declined to 15-5.
Other Bouts
In the last of the seven preliminary fights on ESPN's subscription channel, Jared Anderson improved to 9-0 (9) with a second-round stoppage of West Virginia southpaw Jeremiah Karpency. The gifted 21-year-old Anderson, from Toledo, Ohio, scored two knockdowns with hard body shots before the bout was halted after only 38 seconds of the second round. The grossly overmatched Karpency was 16-2-1 heading in.
Local fan favorite Trey Lippe Morrison advanced his record to 17-0 with his 17th knockout, stopping 36-year-old Alabama journeyman Jason Bergman (27-20-2) in the third frame. Bergman came to fight and actually scored a knockdown in the opening round that the ref erroneously called a push. Fighting with his back against the ropes, Bergman landed a left that knocked Morrison off his pins.
It was a quirky knockout, coming at the 1:27 mark of round three when Bergman rolled his ankle while throwing an errant punch. He fell to the canvas in obvious pain and the bout was stopped. Bergman had lost seven of his last nine coming in, but was meeting an undefeated opponent for the fifth straight time.
Tulsa native Jeremiah Milton (3-0, 3 KOs) had a successful homecoming, bombing out Mississippi's Jayvone Dafney in the first round. An overhand right by Milton left Dafney out on his feet with his back pinned against the ropes. Milton, realizing that his opponent was seriously hurt, held back, waiting for the referee to intervene. The time was 1:19.
In the ESPN+ opener, Philadelphia's Sonny Conto (7-0, 6 KOs) returned after a 15-month absence and dismissed paunchy Waldo Cortes in the opening round. Conto put Cortes (6-4) down for the 10-count with a perfectly placed right hand. The official time was 1:41.
Photo credit: Mikey Williams / Top Rank via Getty Images
Check out more boxing news on video at the Boxing Channel
To comment on this story in the Fight Forum CLICK HERE
Conor Benn Embarrasses His Detractors, Demolishes Vargas in 80 Seconds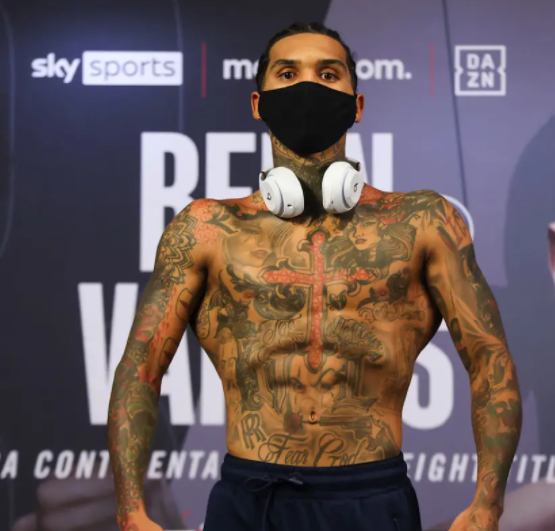 Conor Benn fought Samuel Vargas in London today (Saturday, April 10). Although Benn was a solid favorite, he was stepping up in class. Vargas, a 31-year-old Canadian via Columbia, brought a 31-6-2 record. He had been in with the likes of Errol Spence Jr and Danny Garcia and had extended Amir Khan 12 rounds on Khan's turf in Manchester.
Vargas's best days were behind him , but the prevailing sentiment was that he would make it interesting, likely taking the fight into the late rounds and perhaps lasting the distance. So much for prevailing sentiment. Benn walked right through him. Vargas couldn't cope with Benn's superior speed. He was being battered against the ropes and offering nothing in return when referee Michael Alexander stepped in and waived it off. It was all over in 80 seconds. Benn improved to 18-0 with his 12th win inside the distance.
Benn, 24, is the son of Nigel Benn, a former two-division world champion who was one of England's most celebrated fighters. Conor had a brief amateur career in Australia before turning pro at age 19 in London, the city of his birth. While his record is unblemished, it would be incorrect to say that he passed every test as he was climbing the ladder. His first fight with Cedric Peynaud, a marginally skilled Frenchman, has haunted him.
Benn was knocked down twice in the opening round, but scored two knockdowns of his own late in the 6-round fight and was awarded the decision. Peynaud brought a 5-4-3 record and to say that Conor's performance was underwhelming would be an understatement. At the finish, his right eye was badly swollen.
Scott Gilfoid offered up the most damning criticism: "To say that Benn looked poor tonight is being kind. He was absolutely horrible….The flaws that I saw in Benn's game tonight are ones that likely won't go away anytime soon….His performance has to be viewed as a warning sign that he's not destined to go far in the sport like his famous father."
Benn and Peynaud fought on Dec. 13, 2017. This was Benn's 12th pro fight. He had one more bout under his belt before he and the Frenchman had another go at it. The rematch, scheduled for 10 rounds, took place on July 28, 2018, on a show headlined by the heavyweight match between Dillian Whyte and Joseph Parker.
Benn knocked Peynaud down three times but couldn't finish him. However, the outcome was never in doubt. He won by scores of 98-90 and 98-91 twice.
Trevor McIntyre, a stablemate of the aforementioned Scott Gilfoid (rumor has it that Gilfoid and McIntyre are the same person, and that both are aliases of the owner of the web site where their bylines appear) conceded that Benn showed improvement, but was otherwise unimpressed: "(He) still looked like someone that would be blown away by a halfway decent journeyman fighter….Benn's defense was leaky, his hand speed slow, and his movements looked uncoordinated throughout."
Benn's most recent fight before tonight came against Sebastian Formella, a sturdy but feather-fisted German who was coming off a 12-round defeat to Shawn Porter, a bout in which he showed great heart but won nary a round. Benn won lopsidedly. The scorecards read 100-91, 99-91, and 98-92.
The mysterious Barry Holbrook, whose byline appears at the same web site as Gilfoid and McIntyre, acknowledged that Benn proved some of his doubters wrong, but wrote that "a top welterweight like Errol Spence, Keith Thurman, Danny Garcia, Terence Crawford, or Vergil Ortiz Jr would have knocked him out. If they didn't score a knockout, they would have battered him to the point where the referee would have needed to stop it."
The respected British scribe Ron Lewis offered a different take: "(Conor) looked a completely changed fighter from the wild youngster of his early professional career, switching well from head to body, being patient, and picking his spots well." Lewis did not speculate how Benn would have fared against some of the division's top guns, but certainly hinted that Nigel's son could become a factor in what is currently a very strong welterweight division.
As today's showing proved, Mr. Lewis is a more perceptive observer than his counterpart(s) at the web site where Benn has been repeatedly 'dissed. Nigel's son has made enormous strides in the last few years. He's also an interesting character. Having spent much of his formative years living on the Spanish island of Majorca, he's fluent in Spanish which is always a useful attribute from a marketing standpoint. But as for how good he is, let's not jump to conclusions, mindful that Samuel Vargas was on the wrong side of the curve, having lost three of his last five heading in.
The question doesn't yet have a definitive answer, but tonight in London, Conor Benn was very good, very very good.
Check out more boxing news on video at the Boxing Channel
To comment on this story in the Fight Forum CLICK HERE