Floyd Mayweather and Ray Rice
Floyd Mayweather fought a rematch on Saturday night against Marcos Maidana at the MGM Grand in Las Vegas. Pre-fight tracking suggests that pay-per-view buys were disappointing and, once again, Showtime will lose millions of dollars on a Mayweather event.
But the ring action and pay-per-view numbers aren't the most important story surrounding Mayweather-Maidana II. Their first fight was contested on May 3, 2014 (four days after Floyd's foot-in-mouth comments regarding the racist remarks made by Los Angeles Clippers owner Donald Sterling) (http://bit.ly/YLxmqn). Mayweather-Maidana II was intertwined with another important social issue: violence against women.
Over the years, Mayweather has had significant issues with women and the criminal justice system. In 2002, he pled guilty to two counts of domestic violence. In 2004, he was found guilty on two counts of misdemeanor battery for assaulting two women in a Las Vegas night club. Then, on December 21, 2011, again in Las Vegas, Judge Melissa Saragosa sentenced Mayweather to ninety days in the Clark County Detention Center after he pled guilty to a battery domestic violence charge involving Josie Harris (the mother of three of his children) and no contest to two charges of harassment. According to the indictment, the battery domestic violence involved grabbing Harris by the hair, throwing her to the floor, striking her with his fist, and twisting her arm in front of two of the children. The harassment included threatening to kill Harris and her then-boyfriend or make her and the boyfriend "disappear." Mayweather served 63 days of his ninety-day sentence after receiving 27 days off for good behavior.
More recently, on September 4 of this year, Shantel Jackson (Mayweather's former fiancée) filed suit against him in California, claiming that Floyd assaulted her shortly after his release from prison. The suit includes causes of action for assault, battery, false imprisonment, harassment, defamation, and the infliction of emotional distress. Jackson reminds some observers of Robin Givens. Her attorney is the equally likable Gloria Allred.
One of the many troubling aspects of Mayweather's conduct is the manner in which the powers that be have responded to it.
The Nevada State Athletic Commission didn't suspend Mayweather's license after he pled guilty to battery domestic violence. Judge Saragosa delayed the start of Floyd's jail term so he could fight Miguel Cotto on May 5, 2012. Golden Boy continued to promote his fights. And World Boxing Council president Jose Sulaiman declared, "Beating a lady is highly critical [but] it is not a major sin or crime."
HBO (which was televising Mayweather's fights on HBO-PPV at the time) aired a special in which Michael Eric Dyson (a professor at Georgetown University) interviewed Floyd and compared him with Muhammad Ali, Jim Brown, and Kareem Abdul-Jabbar as an oppressed black athlete that the system was trying to silence. The comparison with Brown seemed like the most appropriate of the three, given the fact that (despite an impressive record of community service and his status as possibly the greatest football player of all time), Brown once had the unfortunate habit of being physically abusive toward woman and, in one instance, threw a woman off a hotel balcony. But that awkward circumstance went unmentioned, as did the two previous Mayweather convictions involving violence against women.
"Martin Luther King went to jail," Mayweather told Dyson. "Malcolm X went to jail. Am I guilty? Absolutely not. I took a plea. Sometimes they put us in a no-win situation to where you don't have no choice but to take a plea. I didn't want to bring my children to court."
Dyson then segued to the idea that there was a "racially-based resentment" against Mayweather and declared, "I think about Jay-Z on Ninety-Nine Problems, when he goes – the cop asks him a question, and he says – 'Are you mad at me because I'm young, rich, and I'm famous and I'm black. Do you got a problem with that?'"
It's hard to escape the conclusion that Dyson's interview with Mayweather is another piece of the puzzle in the ongoing cycle of domestic violence against women, particularly in the African-American community. And in the interest of equal time, it should be noted that Showtime (Mayweather's current home) has also been derelict in its response to Floyd's conduct toward women.
That brings us to former Baltimore Ravens running back Ray Rice.
As the world knows, Rice was arrested on February 15 of this year (and later indicted for third-degree aggravated assault) after punching his fiancée (now his wife) and knocking her unconscious in an elevator at the Revel Hotel and Casino in Atlantic City. Rice agreed to enter a pre-trial intervention program (which, if satisfactorily completed, would lead to dismissal of the criminal charges against him). On July 24, he was suspended for two games by National Football League commissioner Roger Goodell, who seemed intent on brushing the incident aside. Thereafter, Goodell was widely criticized for the leniency of the punishment. On August 28, he admitted that his response to the occurrence had been inadequate and announced that, henceforth, acts of domestic violence or sexual assault by NFL players or any other league personnel would be met by a six-game suspension with a second offense calling for a minimum suspension of one year.
Then, on September 8, TMZ posted a surveillance-camera video of the punch. Videos do more than confirm that an incident occurred. They have the potential to imprint the gruesome nature of a violent act on the consciousness of the nation. The public was already aware that Rice had punched his fiancée in an elevator. The video made it "real" and ignited a firestorm of outrage. That same day, Rice's contract was terminated by the Ravens and Goodell announced that Rice had been suspended by the NFL for a minimum of one year.
Then Mayweather had his say. On September 9, Floyd met with reporters after his "grand arrival" at the MGM Grand and was asked about Rice.
"I'm not here to say anything negative about him," Mayweather answered. "Things happen. You live and you learn. No one is perfect." Floyd also voiced the opinion, "They had said that they suspended him for two games. Whether they seen the tape or not, I truly believe that a person should stick to their word. If you tell me you're going to do something, do what you say you're going to do."
"Have you seen the video?" a reporter asked.
"Oh, yeah. I seen the video."
"It's kind of disturbing," the reporter pressed.
"I think there's a lot worse things that go on in other people's households also," Mayweather responded. "It's just not caught on video."
"I wish Ray Rice nothing but the best," Mayweather continued. "I know he's probably going through a lot right now because football is his passion. Football is his love. It's no different from me being in the fight game. If they told me, 'Floyd, you got the biggest deal in sports history' and a couple of months later they say, 'Your deal is taken away from you.' Oh, man. It's not really just the money; it's the love for the sport."
Then, further referencing his own history, Mayweather declared, "With my situation, no bumps, no bruises, no nothing. With O.J. and Nicole, you seen pictures. With Chris Brown and Rihanna, you seen pictures. With Ochocinco and Evelyn, you seen pictures. You guys have yet to see any pictures of a battered woman; a woman that claims she was kicked and beat [by me]."
Mayweather's comments elicited a strong response.
"It's impossible to hear that and not feel sick to your stomach," Greg Bishop of Sports Illustrated wrote. "The implication is enormous: Other men beat their wives worse, so what's a woman in an elevator knocked out cold. Mayweather will fight in another casino this weekend. The MGM Grand will host the proceedings. It's Mayweather plastered on the side of the hotel, his likeness stretching for dozens of stories above a sign that reads 'Home of the Champion.' Showtime Pay-Per-View will televise the bout. Hundreds of millions of dollars will be pocketed. It would be shocking if the same network and casino executives who opened their arms to Mayweather – and the money his fights produce – have not condemned Rice this week. Everybody has. But there's an obvious double-standard involved here, and one highlighted by Mayweather himself, in the one part of his comments that rang true. In Rice's case, there is a video. In most cases of domestic violence, there is not. The tangible evidence, the way anyone with a television or Internet connection can see Rice load up, swing his left fist, and crumple the woman he wanted to and did marry to the floor, somehow made it more real to the public. But it's not more real. It's just more visible, more visceral."
On September 9, reacting the outrage over his comments (and possibly, their potential to turn off would-be pay-per-view buyers), Mayweather issued a non-apologetic apology.
"If I offended anyone, I apologize," Mayweather said. "I didn't mean to offend anyone, and I apologize to the NFL and anyone else that got offended."
Maybe boxing fans should be thankful that Floyd didn't wear a Ray Rice jersey into the ring on Saturday night.
To repeat what I've written in the past: Somewhere in the United States tonight, a young man who thinks that Floyd Mayweather is a role model will beat up a woman. Maybe she'll walk away with nothing more than bruises and emotional scars. Maybe he'll kill her.
                                                                     * * *
And a note on the fight —
Floyd Mayweather showed once again in his rematch against Marcos Maidana that he's a very good fighter.
Maidana is not what Lennox Lewis used to refer to "a pugilistic specialist." He's a brawling straight-ahead fighter who, two years ago, was outboxed for ten out of ten rounds by Devon Alexander. Paulie Malignaggi once observed, "You learn in the first six months in the gym what you need to beat Maidana. After that, it's just a matter of practicing till you get it right."
In Mayweather-Maidana I, Marcos fought with passion. This time, he fought like a man who was showing up for a paycheck.
Mayweather is physically stronger than Maidana and far more skilled. On Saturday night, he kept the action in the center of the ring, controlling both distance and tempo. Also, Floyd knows how to take care of himself on the inside. He holds. He's rough. He uses his forearms and elbows well. And he's a fifteen-round fighter, who tires less than his opponent as a fight goes on. Marcos seemed to tire early on Saturday night.
The only real drama came in round eight when Mayweather pushed Maidana's head down in a clinch, jammed his glove into Marcos's face, and then complained to referee Kenny Bayless that Maidana bit his glove. Two rounds later, Bayless took a point away from Marcos for using his forearm to push Floyd to the canvas in a clinch. That made the judges' final tally 116-111, 116-111, 115-112 in Floyd's favor (which was generous to Maidana).
In a post-fight interview, Jim Gray pressed Mayweather about fighting Manny Pacquiao in his next outing. Perhaps that reflected the unhappiness of Les Moonves (president and CEO of CBS Corporation, which owns Showtime) with another multi-million-dollar loss on a Mayweather fight.
Mayweather told Gray that he's open to the possibility. But for years, Floyd has found reasons not to fight Pacquiao. Most likely, he will continue to do so.
Here, the thoughts of Sugar Ray Leonard are instructive.
"Highly anticipated fights are what made boxing what it was," Leonard told Steve Kim earlier this year. "When these fights don't take place, no question, it bothers me. I could not see myself not fighting Tommy Hearns. I could not see myself not fighting Roberto Duran."
Leonard, it should be noted, came out of retirement to fight Marvin Hagler.
Meanwhile, Mayweather says all the time that he's his own boss. Virtually every fighter wants to face him because of the money involved, so Floyd can make any fight he wants happen. That's why the onus is on him if there's no Mayweather vs. Pacquiao at 147 pounds and no Mayweather vs. Gennady Golovkin at 154.
Floyd is building his legend on YouTube and Twitter. The real greats of boxing – fighters like Joe Louis, Muhammad Ali, and the two Sugar Rays (Robinson and Leonard) – fought the toughest available opposition and built their legend in the ring.
Thomas Hauser can be reached by email at thauser@rcn.com. His most recent book (Reflections: Conversations, Essays, and Other Writings) was published by the University of Arkansas Press.
Michael Coffie vs. Darmani Rock Smacks of Joe Joyce vs. Daniel Dubois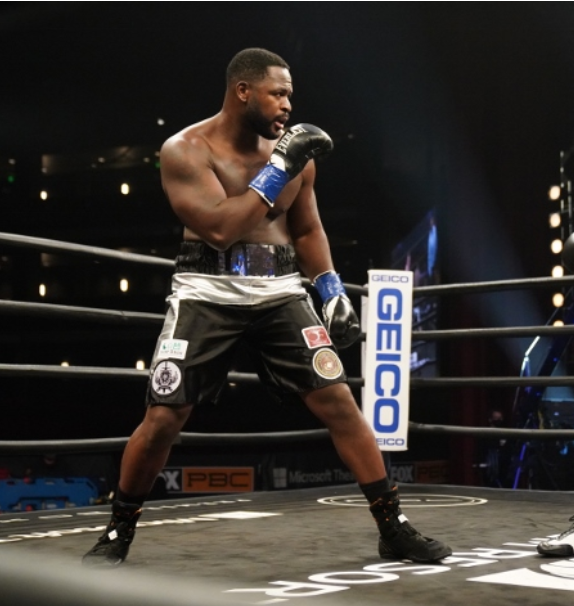 Although it wasn't a world title fight, the match between Joe Joyce and Daniel Dubois which took place in London on the Saturday after Thanksgiving, attracted a lot of buzz. Only one heavyweight bout in 2020 was more eagerly anticipated, that being the rematch in February between Tyson Fury and Deontay Wilder.
Joyce vs. Dubois was that rare pairing of two undefeated heavyweights who were roughly at the same stage of their career. Dubois was 15-0 (14 KOs) heading in; Joyce was 11-0 (10).
And that brings us to the crossroads fight on Jan. 30 at the LA Shrine Expo between Darmani Rock (17-0, 12 KOs) and Michael Coffie (11-0, 8 KOs). Unlike Joyce vs. Dubois, this is not a well-marinated showdown, but yet there are some parallels, most notably it's a match between unbeaten heavyweights in which the victor will undoubtedly make a big jump in public esteem and the loser, more than likely, will be pushed back into the shadows.
There was a big age gap in the Joyce-Dubois fight. The 35-year-old Joyce was the older man by 12 years. Likewise, Rock vs. Coffie features a young old-timer vs. an opponent who is merely young.
Michael Coffie, 34, came to boxing late after serving eight years in the Marine Corps. He entered the New York City Golden Gloves tournament on a whim and with virtually no formal training and yet he succeeded in reaching the finals.
When Coffie (pictured)  turned pro, his manager was none other than Randy Gordon, the former chairman of the New York State Athletic Commission who has kept his hand in boxing as a journalist and radio personality, co-hosting a boxing-themed talk show on Sirius FM with Gerry Cooney. Gordon knows more than a little about heavyweights, having been involved with Bonecrusher Smith who was briefly (very briefly) the WBA world heavyweight champion.
"(Bonecrusher) was not anywhere near the fighter that Mike is," Gordon told Hall of Fame boxing writer Bernard Fernandez on the occasion of Coffie's pro debut in Bethlehem, Pennsylvania. On that night, Coffie needed only 61 seconds to dismiss his opponent, ending the contest with a short right hand. The sacrificial lamb, wrote Fernandez, "went down like an anvil dropped in the ocean."
In his most recent fight, on Nov. 7, Coffie was matched against Minnesota veteran Joey Abell, a noted spoiler. Abell would have been a good measuring rod for assessing Coffie's progress, but unfortunately the bout was over almost before it started. Early in the second round, Abell suffered a biceps injury while throwing a punch and couldn't continue.
The "A" side in this fight, however, isn't Coffie but the other guy. Darmani Rock, 24, had an outstanding amateur career, winning several important tournaments including the 2014 Youth World Championships in Sofia, Bulgaria. Rock was upset in the finals of the 2016 Olympic Trials and then turned pro, signing with Roc Nation, the deep pockets sports management company founded by Jay-Z.
Questions have been raised, however, about Rock's dedication. He weighed 278 pounds in his last fight, 30 pounds more than in his pro debut. (Coffie's fighting weight also hovers around 270 and he is the same approximate height – both are listed at 6'5" — but Coffie has always been big.)  Moreover, Rock has been inactive for 15 months and may have trouble shaking off the rust.
Darmani Rock hails from Philadelphia; Michael Coffie from Brooklyn, more fodder for the tub-thumpers. Philadelphia was the stomping grounds of Smokin' Joe Frazier. The City of Brotherly Love has arguably produced more good prizefighters per capita than any city in the country. Brooklyn spawned Mike Tyson, Riddick Bowe, and Shannon Briggs, all of whom bubbled out of gritty Brownsville which also happens to be the neighborhood where Michael Coffie spent much of his youth until he was spirited away to a less threatening environment by foster parents.
I don't want to get carried away with the Joyce-Dubois analogy. Joe Joyce had a stronger amateur pedigree than Darmani Rock. Daniel Dubois had a spectacular run leading up to his match with Joyce including a one-sided triumph over well-regarded Nathan Gorman. Moreover, neither Joyce nor Dubois had ever fought an opponent with a losing record. The same can't be said of Coffie and Rock who have built their records on the backs of the usual suspects. Darmani Rock's last two opponents were both 42 years old.
Moreover, Coffie vs. Rock isn't the main attraction on the PBC card. Top billing goes to Caleb Plant's 168-pound title defense against Caleb Truax.
As we recall, the Joyce-Dubois fight produced a major upset. Dubois was understood to be faster on his feet and more heavy-handed – considered more likely to turn the tide with a single punch – but youth was not served on that night at the historic Church House in Westminster. Joyce methodically peppered Dubois with his jab which caused a big lump to develop over Dubois's left eye. The eye eventually shut completely and the fight ended in the 10th round with Dubois taking a knee and allowing himself to be counted out. Joyce's victory elevated him to #2 in the WBO rankings, a notch below Oleksandr Usyk who is potentially his next opponent.
One doesn't know what will transpire when Coffie fights Rock, but as Michael Buffer would say, "someone's 'O' will have to go." Fights of this nature are inherently intriguing and that goes double when the combatants are heavyweights.
Check out more boxing news on video at the Boxing Channel 
To comment on this story in the Fight Forum CLICK HERE
"One Night in Miami": Film Review by Thomas Hauser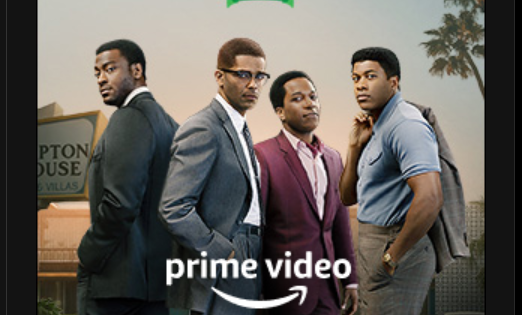 On February 25, 1964, Cassius Marcellus Clay Jr. defeated Charles "Sonny" Liston in Miami Beach over the course of six remarkable rounds to claim the heavyweight championship of the world. Late that night, the new champion found himself in a room at Hampton House (a black hotel in segregated Miami) with Malcolm X, several other followers of Nation of Islam leader Elijah Muhammad, and football great Jim Brown. Soul singer Sam Cooke (a friend of Clay's) had been at the fight, but there's no historical record of his being in the hotel room with the others at that time.
One Night in Miami is built around imagining what transpired in that room amongst Malcolm X, Cassius Clay, Jim Brown, and Sam Cooke. Directed by Regina King from a screenplay by Kemp Powers, it's available on Amazon Prime.
The film fits into the genre known as historical fiction. Dramatic license was taken. Viewers should understand that, at times, it's allegorical rather than an accurate factual recounting. The larger question is whether the film is impressionistically honest. The answer is "yes."
One Night in Miami begins with the 1963 fight between Clay and Henry Cooper in London. It then segues to Cooke being treated rudely by an all-white audience at the Copacabana, followed by Jim Brown (the greatest running back in National Football League history) being reminded by a patronizing southern gentleman that he's just a "n—–." Next, we see Malcolm as the Nation of Islam's most charismatic spokesman, after which the scene shifts to Liston-Clay I.
Thirty-four minutes into the film, the drama moves to Hampton House.
Malcolm X, Cassius Clay, Jim Brown, and Sam Cooke were prominent in different ways. Each was young, black, and famous. But Malcolm was a social and religious figure of considerable intellect while the other three were known as entertainers.
The dialogue between the four men is light at first and then turns serious.
Malcolm is played by Kingsley Ben-Adir. On what should have been one of the greatest nights of his life, his world is slipping away. His deadly rupture with Elijah Muhammad is almost complete. Soon, Clay will abandon him. Ben-Adir comes across as a bit weaker and more tentative than one might expect, although Malcolm's intellect is evident in his performance.
It's hard to imagine anyone playing Cassius Clay well except the young Muhammad Ali. But Eli Goree bears a resemblance to Clay and is pretty good in the role.
Jim Brown was an intimidating physical presence. Aldis Hodge lacks this physicality but his performance is solid.
Leslie Odom Jr, who plays Sam Cooke, has star quality. He's the only one of the four major actors who has the charisma and presence of the man he's portraying. But as a result, Cooke has a stronger on-screen persona than Malcolm. That's a problem as tensions between the two men boil over.
Toward the end of the film, Malcolm reveals that he intends to leave the Nation of Islam because of differences with Elijah Muhammad and will found a new organization.
"Who's gonna be in this new organization?" Clay asks.
"I think lots of people will follow me over," Malcolm answers. "Especially if you come with me."
Clay, of course, didn't follow Malcolm. He sided with Elijah Muhammad. One year later, he and Jim Brown were the only participants from the hotel room gathering as portrayed in the film who were still alive. Sam Cooke was shot to death in a California motel on December 11, 1964. On February 21, 1965, Malcolm was assassinated at the Audubon Ballroom in Harlem.
One Night in Miami cautions us that our icons are flesh and blood human beings with strengths and flaws. In its best moments, the film is a powerful reminder that the issues of self-respect, black empowerment, and racial equality are timeless.
Pictured left to right: Aldis Hodge (Jim Brown), Kingsley Ben-Adir (Malcolm X) Leslie Odom Jr (Sam Cooke) Eli Goree (Cassius Clay)
Thomas Hauser's email address is thomashauserwriter@gmail.com. His most recent book – Staredown: Another Year Inside Boxing – was published by the University of Arkansas Press. In 2004, the Boxing Writers Association of America honored Hauser with the Nat Fleischer Award for career excellence in boxing journalism. In 2019, he was selected for induction into the International Boxing Hall of Fame.
Check out more boxing news on video at the Boxing Channel 
To comment on this story in the Fight Forum CLICK HERE
Crossover star Holly Holm Adds New Dimensions to Claressa Shields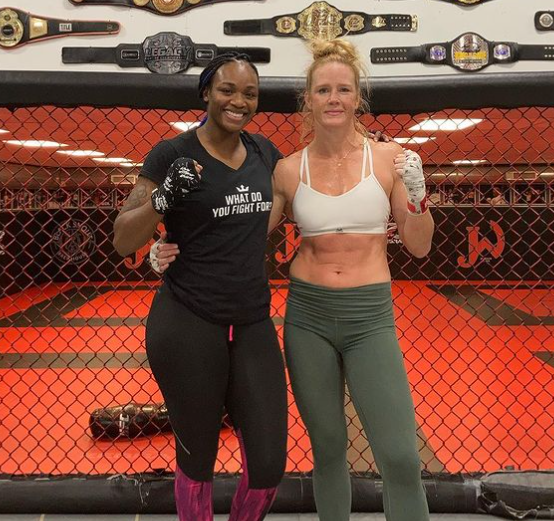 She laughs about it now, but back then it wasn't all that funny.
Boxing champion Holly Holm was competing in her first professional MMA fight, and all her years of training inside the ropes as a world champion boxer had just taken over her entire body.
Holm had kicked her opponent down to the ground, so she did what any well-schooled boxer would do. She pivoted away from her fallen prey and headed over to the neutral corner.
All of that was wrong.
"What are you doing?" her coach yelled from cageside. "Finish her!"
It was Holm's first big mistake in moving over from boxing to MMA, but she was lucky that night. It turned out that Holm's opponent was finished whether she had run over there or not, so it was a lesson she could learn without much consequence.
But the instruction of that moment stands true today, so it's just one of the many things Holm has shared with 25-year-old boxing champion Claressa Shields as the two-time Olympic gold medalist attempts to follow in her footsteps.
"I was thinking yeah, that will definitely happen to me!" Shields said.
After Shields signed a three-year promotional deal in December with the Professional Fighters League (PFL), the first thing Shields needed to do was look for the right gym.
Shields found that place at Jackson Wink MMA Academy in Albuquerque, New Mexico, one of the most famous MMA gyms in the country, and the one most recognized among the masses as the home gym of former UFC women's bantamweight champion Holm and pound-for-pound king Jon Jones.
Holm remains the only fighter (male or female) to have won legit world championships in both boxing and MMA, and Shields said Holm welcomed her to Jackson Wink with open arms.
"She's been super great and very nice to me. We both come from the same background…and she actually turned out to be a world champion [in MMA], actually turned out to be really good," Shields said.
But Holm's funny story about her first MMA fight is something that points to just how large a hill Shields has decided to climb.
Whereas pop culture has just recently started to realize the power of habits through the work of writers such as Charles Duhigg and James Clear, it's something professional fighters have known for a long time now.
"Oh, you're going to have a habit of this because you used to box."
That's something Holm tells Shields almost every time they work together, and there are just so many examples.
In fact, just watching the 25-year-old boxing champion trying to learn to do all these new things in a different way is exhausting.
That Shields practically lives inside the gym for weeks at a time so she can train four or five times a day for all the kinds of things she never had to worry about before as a professional boxer is a testament to her seriousness and her courage.
But perhaps the most amazing part of the entire story is that Shields still plans on boxing.
While Holm won world championships in both sports, she achieved those things separately. Meanwhile, Shields said she wants to do the same thing Holm did but at the same time.
So, while I'm standing there with her inside an MMA cage in New Mexico, Shields is plotting fights in both sports. On one hand, she's talking to me about a title unification bout in boxing against Marie-Eve Dicaire. On the other, she's talking about future superfights in MMA against the likes of UFC champ Amanda Nunes.
"I'm trying to separate the two," Shields said specifically about her training that day but she might as well have been talking about her whole life right about now.
It's arguably the most amazing storyline right now in combat sports.
Shields started boxing when she was just 11 years old. She earned her first gold medal at the Olympics at 17 and her second four years later.
Today, Shields is a three-division world champion, and she says she's not nearly finished adding to her growing number of boxing belts.
But all those years and all those successes have built so many habits. Ducking and slipping is great for boxing, but both become considerable detriments to defense when you suddenly have to worry about things like knees and kicks.
And what about wrestling and jiu-jitsu?
But all that stuff together is exactly what makes Shields' epic decision to dare to be great at both sports at the same time so amazing in the first place.
Look, Shields might never accomplish the same amazing feat Holm did when she shocked Ronda Rousey in 2015 for the UFC women's bantamweight championship.
But she's aiming to eclipse that incredible mark anyway, and with Holm and many others offering Shields ideas about what she needs to think about as she climbs up the steepest hill she can find, she'll definitely have her best chance at doing it.
Kelsey McCarson covers combat sports for Bleacher Report and Heavy.
Check out more boxing news on video at the Boxing Channel 
To comment on this story in the Fight Forum CLICK HERE