Floyd Mayweather and Ray Rice
Floyd Mayweather fought a rematch on Saturday night against Marcos Maidana at the MGM Grand in Las Vegas. Pre-fight tracking suggests that pay-per-view buys were disappointing and, once again, Showtime will lose millions of dollars on a Mayweather event.
But the ring action and pay-per-view numbers aren't the most important story surrounding Mayweather-Maidana II. Their first fight was contested on May 3, 2014 (four days after Floyd's foot-in-mouth comments regarding the racist remarks made by Los Angeles Clippers owner Donald Sterling) (http://bit.ly/YLxmqn). Mayweather-Maidana II was intertwined with another important social issue: violence against women.
Over the years, Mayweather has had significant issues with women and the criminal justice system. In 2002, he pled guilty to two counts of domestic violence. In 2004, he was found guilty on two counts of misdemeanor battery for assaulting two women in a Las Vegas night club. Then, on December 21, 2011, again in Las Vegas, Judge Melissa Saragosa sentenced Mayweather to ninety days in the Clark County Detention Center after he pled guilty to a battery domestic violence charge involving Josie Harris (the mother of three of his children) and no contest to two charges of harassment. According to the indictment, the battery domestic violence involved grabbing Harris by the hair, throwing her to the floor, striking her with his fist, and twisting her arm in front of two of the children. The harassment included threatening to kill Harris and her then-boyfriend or make her and the boyfriend "disappear." Mayweather served 63 days of his ninety-day sentence after receiving 27 days off for good behavior.
More recently, on September 4 of this year, Shantel Jackson (Mayweather's former fiancée) filed suit against him in California, claiming that Floyd assaulted her shortly after his release from prison. The suit includes causes of action for assault, battery, false imprisonment, harassment, defamation, and the infliction of emotional distress. Jackson reminds some observers of Robin Givens. Her attorney is the equally likable Gloria Allred.
One of the many troubling aspects of Mayweather's conduct is the manner in which the powers that be have responded to it.
The Nevada State Athletic Commission didn't suspend Mayweather's license after he pled guilty to battery domestic violence. Judge Saragosa delayed the start of Floyd's jail term so he could fight Miguel Cotto on May 5, 2012. Golden Boy continued to promote his fights. And World Boxing Council president Jose Sulaiman declared, "Beating a lady is highly critical [but] it is not a major sin or crime."
HBO (which was televising Mayweather's fights on HBO-PPV at the time) aired a special in which Michael Eric Dyson (a professor at Georgetown University) interviewed Floyd and compared him with Muhammad Ali, Jim Brown, and Kareem Abdul-Jabbar as an oppressed black athlete that the system was trying to silence. The comparison with Brown seemed like the most appropriate of the three, given the fact that (despite an impressive record of community service and his status as possibly the greatest football player of all time), Brown once had the unfortunate habit of being physically abusive toward woman and, in one instance, threw a woman off a hotel balcony. But that awkward circumstance went unmentioned, as did the two previous Mayweather convictions involving violence against women.
"Martin Luther King went to jail," Mayweather told Dyson. "Malcolm X went to jail. Am I guilty? Absolutely not. I took a plea. Sometimes they put us in a no-win situation to where you don't have no choice but to take a plea. I didn't want to bring my children to court."
Dyson then segued to the idea that there was a "racially-based resentment" against Mayweather and declared, "I think about Jay-Z on Ninety-Nine Problems, when he goes – the cop asks him a question, and he says – 'Are you mad at me because I'm young, rich, and I'm famous and I'm black. Do you got a problem with that?'"
It's hard to escape the conclusion that Dyson's interview with Mayweather is another piece of the puzzle in the ongoing cycle of domestic violence against women, particularly in the African-American community. And in the interest of equal time, it should be noted that Showtime (Mayweather's current home) has also been derelict in its response to Floyd's conduct toward women.
That brings us to former Baltimore Ravens running back Ray Rice.
As the world knows, Rice was arrested on February 15 of this year (and later indicted for third-degree aggravated assault) after punching his fiancée (now his wife) and knocking her unconscious in an elevator at the Revel Hotel and Casino in Atlantic City. Rice agreed to enter a pre-trial intervention program (which, if satisfactorily completed, would lead to dismissal of the criminal charges against him). On July 24, he was suspended for two games by National Football League commissioner Roger Goodell, who seemed intent on brushing the incident aside. Thereafter, Goodell was widely criticized for the leniency of the punishment. On August 28, he admitted that his response to the occurrence had been inadequate and announced that, henceforth, acts of domestic violence or sexual assault by NFL players or any other league personnel would be met by a six-game suspension with a second offense calling for a minimum suspension of one year.
Then, on September 8, TMZ posted a surveillance-camera video of the punch. Videos do more than confirm that an incident occurred. They have the potential to imprint the gruesome nature of a violent act on the consciousness of the nation. The public was already aware that Rice had punched his fiancée in an elevator. The video made it "real" and ignited a firestorm of outrage. That same day, Rice's contract was terminated by the Ravens and Goodell announced that Rice had been suspended by the NFL for a minimum of one year.
Then Mayweather had his say. On September 9, Floyd met with reporters after his "grand arrival" at the MGM Grand and was asked about Rice.
"I'm not here to say anything negative about him," Mayweather answered. "Things happen. You live and you learn. No one is perfect." Floyd also voiced the opinion, "They had said that they suspended him for two games. Whether they seen the tape or not, I truly believe that a person should stick to their word. If you tell me you're going to do something, do what you say you're going to do."
"Have you seen the video?" a reporter asked.
"Oh, yeah. I seen the video."
"It's kind of disturbing," the reporter pressed.
"I think there's a lot worse things that go on in other people's households also," Mayweather responded. "It's just not caught on video."
"I wish Ray Rice nothing but the best," Mayweather continued. "I know he's probably going through a lot right now because football is his passion. Football is his love. It's no different from me being in the fight game. If they told me, 'Floyd, you got the biggest deal in sports history' and a couple of months later they say, 'Your deal is taken away from you.' Oh, man. It's not really just the money; it's the love for the sport."
Then, further referencing his own history, Mayweather declared, "With my situation, no bumps, no bruises, no nothing. With O.J. and Nicole, you seen pictures. With Chris Brown and Rihanna, you seen pictures. With Ochocinco and Evelyn, you seen pictures. You guys have yet to see any pictures of a battered woman; a woman that claims she was kicked and beat [by me]."
Mayweather's comments elicited a strong response.
"It's impossible to hear that and not feel sick to your stomach," Greg Bishop of Sports Illustrated wrote. "The implication is enormous: Other men beat their wives worse, so what's a woman in an elevator knocked out cold. Mayweather will fight in another casino this weekend. The MGM Grand will host the proceedings. It's Mayweather plastered on the side of the hotel, his likeness stretching for dozens of stories above a sign that reads 'Home of the Champion.' Showtime Pay-Per-View will televise the bout. Hundreds of millions of dollars will be pocketed. It would be shocking if the same network and casino executives who opened their arms to Mayweather – and the money his fights produce – have not condemned Rice this week. Everybody has. But there's an obvious double-standard involved here, and one highlighted by Mayweather himself, in the one part of his comments that rang true. In Rice's case, there is a video. In most cases of domestic violence, there is not. The tangible evidence, the way anyone with a television or Internet connection can see Rice load up, swing his left fist, and crumple the woman he wanted to and did marry to the floor, somehow made it more real to the public. But it's not more real. It's just more visible, more visceral."
On September 9, reacting the outrage over his comments (and possibly, their potential to turn off would-be pay-per-view buyers), Mayweather issued a non-apologetic apology.
"If I offended anyone, I apologize," Mayweather said. "I didn't mean to offend anyone, and I apologize to the NFL and anyone else that got offended."
Maybe boxing fans should be thankful that Floyd didn't wear a Ray Rice jersey into the ring on Saturday night.
To repeat what I've written in the past: Somewhere in the United States tonight, a young man who thinks that Floyd Mayweather is a role model will beat up a woman. Maybe she'll walk away with nothing more than bruises and emotional scars. Maybe he'll kill her.
                                                                     * * *
And a note on the fight —
Floyd Mayweather showed once again in his rematch against Marcos Maidana that he's a very good fighter.
Maidana is not what Lennox Lewis used to refer to "a pugilistic specialist." He's a brawling straight-ahead fighter who, two years ago, was outboxed for ten out of ten rounds by Devon Alexander. Paulie Malignaggi once observed, "You learn in the first six months in the gym what you need to beat Maidana. After that, it's just a matter of practicing till you get it right."
In Mayweather-Maidana I, Marcos fought with passion. This time, he fought like a man who was showing up for a paycheck.
Mayweather is physically stronger than Maidana and far more skilled. On Saturday night, he kept the action in the center of the ring, controlling both distance and tempo. Also, Floyd knows how to take care of himself on the inside. He holds. He's rough. He uses his forearms and elbows well. And he's a fifteen-round fighter, who tires less than his opponent as a fight goes on. Marcos seemed to tire early on Saturday night.
The only real drama came in round eight when Mayweather pushed Maidana's head down in a clinch, jammed his glove into Marcos's face, and then complained to referee Kenny Bayless that Maidana bit his glove. Two rounds later, Bayless took a point away from Marcos for using his forearm to push Floyd to the canvas in a clinch. That made the judges' final tally 116-111, 116-111, 115-112 in Floyd's favor (which was generous to Maidana).
In a post-fight interview, Jim Gray pressed Mayweather about fighting Manny Pacquiao in his next outing. Perhaps that reflected the unhappiness of Les Moonves (president and CEO of CBS Corporation, which owns Showtime) with another multi-million-dollar loss on a Mayweather fight.
Mayweather told Gray that he's open to the possibility. But for years, Floyd has found reasons not to fight Pacquiao. Most likely, he will continue to do so.
Here, the thoughts of Sugar Ray Leonard are instructive.
"Highly anticipated fights are what made boxing what it was," Leonard told Steve Kim earlier this year. "When these fights don't take place, no question, it bothers me. I could not see myself not fighting Tommy Hearns. I could not see myself not fighting Roberto Duran."
Leonard, it should be noted, came out of retirement to fight Marvin Hagler.
Meanwhile, Mayweather says all the time that he's his own boss. Virtually every fighter wants to face him because of the money involved, so Floyd can make any fight he wants happen. That's why the onus is on him if there's no Mayweather vs. Pacquiao at 147 pounds and no Mayweather vs. Gennady Golovkin at 154.
Floyd is building his legend on YouTube and Twitter. The real greats of boxing – fighters like Joe Louis, Muhammad Ali, and the two Sugar Rays (Robinson and Leonard) – fought the toughest available opposition and built their legend in the ring.
Thomas Hauser can be reached by email at thauser@rcn.com. His most recent book (Reflections: Conversations, Essays, and Other Writings) was published by the University of Arkansas Press.
Canelo Alvarez Returns to Form; Proves Too Strong for Jermell Charlo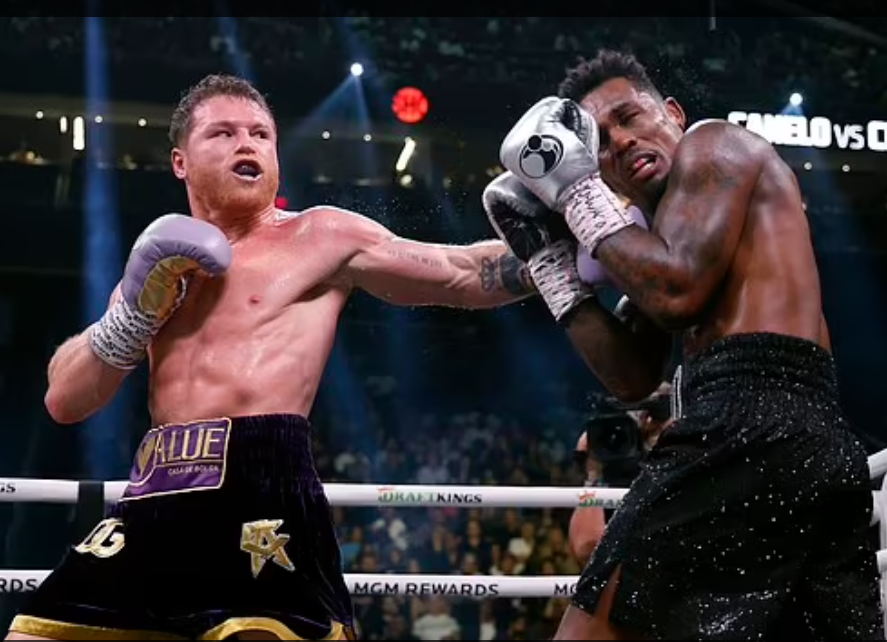 Daring to be great does not guarantee success.
Mexico's Saul "Canelo" Alvarez powered his way past fellow undisputed but lighter world champion Jermell Charlo for a unanimous decision in front of a pro-Mexican crowd who cheered every attack by their champion on Saturday.
The difference in weight proved daunting.
A seemingly refreshed Alvarez (60-2-2, 39 KOs) returned to form in soundly defeating Houston's Charlo (35-2-1, 19 KOs) who fired back like the champion he is at the T-Mobile Arena. More than 60 percent of the crowd seemed overwhelmingly pro-Canelo.
It was Canelo's night and he was not going to disappoint.
Though his recent performances had been subpar, the real Canelo showed up looking sharp from the opening bell. He was not underestimating Charlo, a fellow pound-for-pound fighter according to many boxing publications.
After a tenuous opening round the fight slipped into its real rhythm in the second round as the taller and more slippery moving fighter decided to engage. While inside the range of fire, Charlo opened up with jabs and a crisp left hook. Canelo stalked the taller fighter and connected twice with combinations to the head and body. Neither fighter was hurt. Charlo showcased a fast triple jab. But when he tried to clinch, he was tossed away like a dangling tree branch by the stronger Alvarez.
It was a telling moment.
"I'm a strong fighter all the time. Nobody can beat Canelo," said Alvarez.
In the third round Alvarez fired three rapid jabs and a right to the body that left the crowd in a collective exasperation. A right uppercut by Charlo connected and he was met by Canelo attacking the body viciously. Charlo held on twice.
It became apparent that Charlo could not handle Alvarez's power and strength inside the pocket. And whenever he clinched he was met by powerful left hook shots to the body and a right to the head.
Charlo showed a very good chin and resilience despite getting pounded occasionally by the Mexican redhead's body attack. It's why he was undisputed super welterweight champion.
The fighter from Houston was gambling that he could match wits against boxing's biggest draw. He was gambling that Alvarez's recent performances were proof that he was ready to be toppled. And Charlo was not going to shy away from the fire.
The lanky Texas fighter showed brilliant speed and solid defense to go along with his championship heart. In the seventh round. Canelo pressured Charlo against the ropes with three jabs and a quick right to the forehead, followed by a right uppercut to Charlo's chin. After a few seconds Charlo dropped to a knee for the count. He survived.
"We worked on that. He's a great fighter and knows how to work in the ring," said Alvarez.
For the remainder of the match, Alvarez remained in stalking mode and Charlo looking to counter with left hooks and an occasional right uppercut. Nothing seemed to work for Charlo who was hoping the rise from 154-pounds to 168-pounds would not prove a problem. It was.
After 12 rounds all three judges scored in favor of Alvarez 119-108, 118-109 twice. He retains the undisputed super middleweight world championship. Charlo will go back down to super welterweight where he reigned supreme.
"I wasn't me tonight. This is boxing. Sometimes you win, sometimes you lose," said Charlo who was knocked down for only the second time in his career. "Truthfully, you can tell the difference in the weight."
Alvarez hugged Charlo after the fight and told him he respected the gamble Charlo accepted in moving up.
"I love boxing so f——g much. Boxing is my life," said Alvarez.
Other Bouts
In a battle between reluctant contenders, Erickson Lubin captured the win by unanimous decision over Arizona's Jesus Ramos to maintain his place in line for a world title match.
"I stuck to the game plan. We came back with the victory tonight," said Lubin.
"I was in control of the fight. I'm one of the top dogs in the division."
Both super welterweights seemed hesitant to open up with any semblance of combinations. Lubin countered while Ramos worked the body with jabs. After 12 low-key rounds Lubin was declared the winner by scores of 115-113, 116-112, 117-111.
Ramos was surprised but never really formed an all-out attack.
"I was trying to show different dimensions to my game," Ramos said. "Maybe a little bit more pressure."
Mario Barrios (28-2, 18 Ks) put it all together and defeated Yordenis Ugas (27-6, 12 KOs) in a battle between ex-world champions. That left jab and left hook did all the work in picking apart Cuba's excellent fighter Ugas.
"I just concentrated on my jab," Barrios said.
Knockdowns by Barrios in the second and twelfth round proved emphatically the difference between the two former champions.
"All the work I put in paid off. Early on he hurt me with a right liver shot," said Barrios who trained in Las Vegas with Bob Santos. "I knew he was coming with it. I was prepared."
A counter left hook dropped Ugas twice.
Arizona's Elijah Garcia (16-0, 13 KOs) out-slugged Mexico's Armando Resendiz (14-2, 10 KOs) in a spirited middleweight battle and stopped the fighter in the eighth round. The 20-year-old southpaw from Phoenix connected with a powerful right hook that Resendiz did not see and that ended the regional title fight at 1:23 of the eighth round.
"He was 100 percent my toughest opponent," said Garcia.
To comment on this story in the Fight Forum CLICK HERE
Undercard Results from the Canelo-Charlo Card in Las Vegas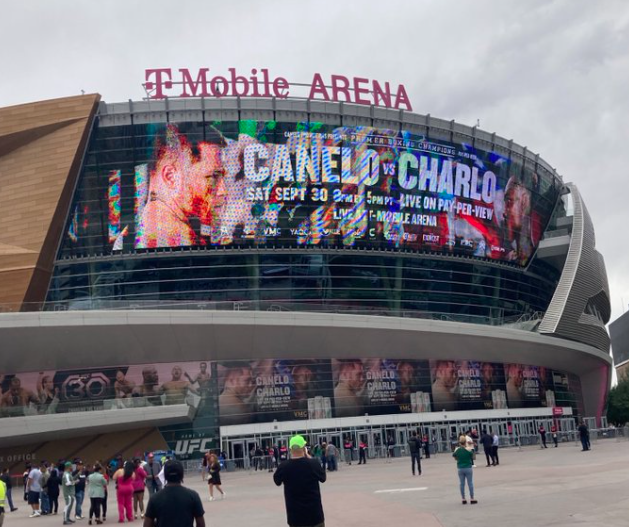 Undercard Results from the Canelo-Charlo Card in Las Vegas
In a heavyweight battle slated for 10, Frank Sanchez (23-0, 16 KOs) stopped LA trial horse Scott Alexander (17-6-2) after four frames. Alexander's corner attempted to stop it in the waning seconds of the fourth, but the referee did not see it and the bell rang before the fight was waived off.
Alexander had one big moment. In the opening round, he rocked Sanchez with a short right hand. But from there, it was all Sanchez in a rather messy fight.
A Miami-based Cuban defector, Frank Sanchez came in ranked #3 by the WBO, #4 by the WBC, and #5 by the IBF. His best win came in this building, a comfortable decision over Efe Ajagba in October of 2021. Alexander also fought here. In his previous visit to the T-Mobile, he was knocked out in the opening round by Zhilei Zhang.
Former WBO light heavyweight champion Oleksandr Gvozdyk, in his third fight back since ending his retirement, improved to 20-0 (16) with a second-round stoppage of 38-year-old Brazilian Isaac Rodrigues (28-5). Gvozdyk, 36, left the sport after getting beat up by Artur Beterbiev, but got the itch and is pursuing a fight with Dmitry Bivol.
In an 8-round middleweight fight, 2012 U.S. Olympian Terrell Gausha (24-3-1) won a majority decision over Keandre Leatherwood (23-9-1). The judges had it 76-76 and 78-74 twice. Once a highly regarded prospect, Gausha is spinning his wheels. Leatherwood, from Tuscaloosa, Alabama, had been stopped four times.
Guadalajara super lightweight Gabriel Gollaz Valenzuela advanced to 28-3-1 (17 KOs) with a sixth-round stoppage of overmatched Colombia import Yves Gabriel Solano (15-3).  This was redemption of sorts for Valenzuela who lost an unpopular 12-round decision to Montana Love in his last outing inside these walls.
Kazakh super middleweight Bek Nuramaganbat (11-0) continued his fast ascent of the 168-pound ladder with a third-round stoppage of Bola Osundairo. A 30-year-old Chicago-based Nigerian, Osundairo was a 2021 USA National Champion at 178 pounds.
A four-round middleweight contest between Abilikhan Amankul (4-0-1, 4 KOs) and Joeshon James (7-0-2, 4 KOs) ended in a draw. Although he didn't win, Sacramento's James continued to exceed expectations. In previous contests he KOed previously undefeated Richard Brewart and fought to a draw with Top Rank signee Javier Martinez. Amankul, a 26-year-old Kazakh, lost a split decision to eventual gold medal winner Hebert Conceicao in the Tokyo Olympics.
To comment on this story in the Fight Forum CLICK HERE
—
David Avila is ringside. Check back later for his report of the Canelo-Charlo fight and the main supporting bouts.
Opetaia Demolishes Thompson in London; Wallin Upsets Gassiev in Turkey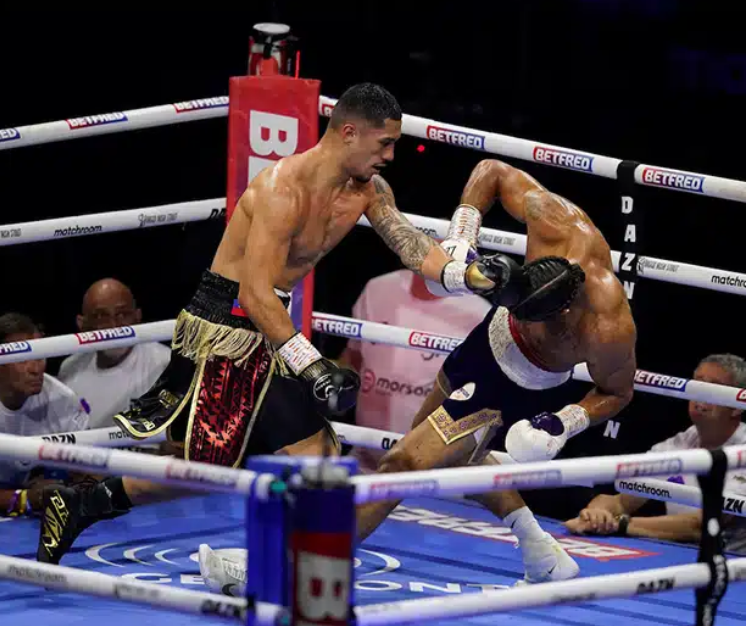 In his first defense of his IBF cruiserweight title, Australian southpaw Jai Opetaia demolished overmatched Jordan Thompson in the featured bout of a Matchroom card at London's Wembley Arena. Opetaia (23-0, 18 KOs) overwhelmed Thompson (15-1) from the opening gun and had the six-foot-six Mancunian on the canvas twice before the match was waived off at the 20-second mark of round four.
An Olympian at the age of 16, Opetaia won the title 15 months ago with a unanimous decision over longtime title-holder Mairis Briedis. Noting that Opetaia broke his jaw in two places early in that contest, prominent Australian sporting journalist Simon Smale called it "one of the bravest, gutsiest, victories in Australian boxing history."
Following that fight, Opetaia had to eat through a straw for several months. Hence, there were questions about whether his jaw would hold up and whether he would show ring rust in his first title defense. But the towering Thompson, whose nickname is Troublesome, although game, proved to be no trouble whatsoever for Opetaia who would be favored to beat any cruiserweight in the world, no matter the locale.
Opetaia may return to England for his next fight which would be a unification match with Bournemouth's 18-1 Chris Billam-Smith who captured the WBO version of the 200-pound title in May with a surprisingly one-sided decision over favored Lawrence Okolie. The other cruiserweight title-holders are the well-traveled Badou Jack (WBC) and the French-Armenian boxer Arsen Goulamirian (WBA).
Four female fights were on the undercard including two 10-rounders, both of which were won by the "A side" Englishwomen.
In her first title defense, Ellie Scotney, a 25-year-old Londoner, retained her IBF world super bantamweight title and improved to 8-0 at the expense of 37-year-old Argentine veteran Laura Soledad Griffa (20-9). In a rather monotonous fight, Scotney won every round on two of the scorecards and nine rounds on the other.
Rhiannon Dixon, a 29-year-old southpaw, had a surprisingly easy time with Norwegian veteran Katharina Thanderz, a former world title challenger. Dixon (9-0) won every round on all three cards. Thanderz, who trains in Spain, declined to 16-2.
Wallin-Gassiev
In a 12-round heavyweight fight in Antalya, Turkey, Swedish southpaw Otto Wallin (26-1, 14 KOs) won a split decision over Murat Gassiev (30-2). This was a dull fight. Owing to various issues, Gassiev had answered the bell for only eight rounds in the previous seven years and his vaunted power had deserted him. True, he landed the harder punches, but Wallin, who kept pecking away with his jab, was far busier and won the fight on volume alone. Two of the judges had it 115-113 for the Swede who is 6-0 since going 12 rounds with Tyson Fury. The other judge scored it for Gassiev by a bizarre 117-111.
Opetaia-Thompson photo credit: Mark Robinson / Matchroom
To comment on this story in the Fight Forum CLICK HERE