Can Hopkins Do Unto Kovalev What He Did To Pavlik?
There is nothing wrong with being a one-trick pony, if that trick is truly unique and so exceptional that other ponies being put on public display can't hope to duplicate it. If that were the case, people would continue to flock to see the pony do its very special thing, even if they had seen it done before because, well, greatness in a limited sense is still greatness. No one ever complained because the magnificent racehorse, Secretariat, wasn't required to rear up on his hind legs and dance to calliope music, like a circus animal. The Triple Crown champion's only requirement was to run very fast and cross the finish line ahead of his pursuers, which he did with astounding regularity.
Oct. 18 marks the six-year anniversary of old warhorse Bernard Hopkins' thorough thrashing of a frisky colt named Kelly Pavlik. A couple of weeks from now, on Nov. 8 – and at the same venue, Atlantic City's Boardwalk Hall – Hopkins, even longer past the age when elite prizefighters, in a manner of speaking, should have been put out to pasture, goes to the post once more against another much-younger opponent, Sergey Kovalev, whose charge-forward, big-banging style has been likened to that of … Kelly Pavlik.
Pavlik, a 5-1 favorite who was exposed as much too limited a thoroughbred by the cagey Hopkins, stands as Exhibit A – OK, maybe more as Exhibit B, C or even D – of the kind of knockout-dependent slugger who made the mistake of believing that the geezer in the other corner was on his last legs, lacking the will or endurance to stay the course. Can the same result be in the offing when Hopkins, who turns 50 on Jan. 15, again steps into the starting gate against a younger, supposedly devastating puncher who, like Pavlik, figures to go off as roughly a 3-1 oddsmaker's choice?
Spanish philosopher/poet George Santayana once observed that "those who do not learn from history are doomed to repeat it," which is true enough given certain circumstances. But there is another saying that also has been proven correct time and again, and that is that nothing lasts forever. Maybe not even Bernard Hopkins, whose history of disassembling fighters whose singular trick, even if they are spectacularly good at performing it, may be about to be put to the ultimate test.
As the countdown continues to Hopkins-Kovalev – the HBO-televised showdown is for the further unification of the light heavyweight championship, with B-Hop (55-6-2, 32 KOs) putting his IBF and WBA 175-pound titles on the line against the WBO belt held by the 31-year-old Kovalev (25-0-1, 32 KOs) – the questions that have yet to be answered are simple. Will past form be an indicator of what the immediate future holds, or will there be a variation of the familiar plot? For whatever it's worth, Hopkins and Kovalev are spicing things up a bit by suggesting that there might even be a bit of role reversal when the opening bell rings, with Hopkins boldly trying for his first win inside the distance since he stopped Oscar De La Hoya in nine rounds on Sept. 18, 2004 – that's a stretch of 16 bouts, if you include his no-contest pairing with Chad Dawson on Oct. 15, 2011 – while Kovalev, who has won his last nine fights by knockout, and last 13 if you don't count his two-round technical draw with Grover Young on Aug. 27, 2011, tries to outbox the boxing master.
"That would be eye-opening to a lot of people," Hopkins said, teasingly, when asked if he might somehow alter the script by putting "Krusher" Kovalev down and out. "I'm in a knockout drought. But I did break a knockdown drought in my last fight (a one-sided points nod over then-WBA champ Beibut Shumenov on April 19).
"If I see an opening, I'm gonna attack. When I go in that ring, I use all my alphabetical skills, from A to Z, and systematically give a boxing lesson. Remember, I get paid the same whether it goes one or 12 rounds. But if a guy looks like he can be had, I'm gonna get him."
Kovalev, whose boxing skills might actually be underrated because he so seldom has had to call upon any skill other than his ability to batter opponents into unconsciousness or abject submission, isn't going the Kelly Pavlik route by predicting he will become the first fighter to take out Hopkins before the fight goes to the scorecards.
"I think nothing," Kovalev said when asked if he thought he'd make short work of Hopkins, as he has of so many recent rivals. "Just go to the ring and do my work, my job, as usual. Is boxing. How many rounds will we fight? When you go to the ring, anything can happen. Like I say, is boxing. Every punch is dangerous, for each of us.
"Really, I would like to show to people my boxing. Is not interesting, quick kills. Is interesting to me what I can do against big master boxer."
But words are easier to fling around than scoring blows, and the likelihood is that this very intriguing matchup will hew closely to the established strategies that almost everyone expects the combatants to follow. You don't enter plow horses in the Kentucky Derby, and you don't ask Secretariat to pull a beer wagon as if he were a Clydesdale.
Prior Hopkins' impressive unanimous decision over Winky Wright, another defensive genius best known for his penchant for hitting and not getting hit much in return, ESPN2 boxing analyst Teddy Atlas said it is crazy to think a leopard can change its spots on a whim because it suddenly decides it likes stripes better.
"They have styles that obviously work for them," Atlas said of the mirror images Hopkins and Wright presumably projected. "Those styles call for them to cover up, to counter, to stay out of danger whenever possible, to take what the other guy gives them and not necessarily force the issue. Those are qualities that have made them highly productive. Do they care about changing to make the fight more fan-friendly? I don't think they do. They're at a point in their careers where their priorities are pretty much established. They are who they are. Their styles, I think, are an extension of their mentality. If you have a guy who thinks carefully, he's going to box carefully. If you have a guy who thinks aggressively, he's going to fight that way."
Which brings us back to the parallels between what happened in Hopkins-Pavlik and what might happen in Hopkins-Kovalev, unless Hopkins has ceded too much ground to the inevitable ravages of Father Time, and/or Kovalev is a much improved version of Pavlik, whose favoritism the night he got schooled by B-Hop owed largely to the fact he had twice defeated Jermain Taylor, who had twice defeated Hopkins.
Another interesting sidelight to this figurative do-over is the presence of former WBA middleweight champion John David Jackson in Kovalev's corner as chief second. Jackson, who was stopped in seven rounds by then-IBF middleweight titlist Hopkins on April 19, 1997, is a former assistant trainer of B-Hop who was part of the ageless wonder's team the night he put so much distance between himself and Pavlik that the Philadelphian won by margins of 119-106, 118-108 and 117-109 on the official scorecards. You'd have to figure that if anyone knows the secret of solving the puzzle that is Hopkins, it would be Jackson. But then JD-Jax knows that some puzzles are forever puzzling.
"Bernard is a smart fighter," Jackson said before Hopkins' April 19, 2008, bout with Welsh southpaw Joe Calzaghe, who put enough of the jigsaw pieces together to win a close and somewhat controversial split decision. "He's taken street smarts and made it work very well. He wears people down physically, and psychologically."
The guess here is that Pavlik made the mistake of figuring that Hopkins, at 43, was too old and used-up to pose too much of a threat to a hot, young (then 26) and ascending star such as himself. His prefight confidence was such that he boasted he would "do boxing a favor" and "forever free" the world of the drudgery of watching B-Hop make good fighters look bad.
But Hopkins, who uses every tool at his disposal to motivate himself to give maximum effort every time out, was inspired by a pledge he had made to a partially blind, pain-wracked 18-year-old Hopkins fan named Shaun Negler, who died of brain cancer just five days after his hero had dominated Pavlik. Which begs another question: Just what is the emotional string within himself that Hopkins will try to pull against Kovalev, who has refrained from making the sort of derogatory remarks about his aged opponent that Pavlik and others have uttered and then been forced to retract. To this point, he has given Hopkins perhaps too much respect, at least in his public pronouncements.
"He is `Alien,'" a smiling Kovalev said of Hopkins, a reference to the recently adopted nickname Hopkins has assumed in place of the discarded "Executioner." "He is not 49 like regular man."
Forget about veiled suggestions that Kovalev will try to match Hopkins subtle trick for subtle trick, slick move for slick move. He is 18-plus years younger, he packs much the heavier artillery, he is the future (you can bet that the brass at HBO are hoping so) while Hopkin is a glorious relic of the past, his golden era relentlessly dipping toward its sunset. It will be up to Fort Lauderdale, Fla.-based Russian to go to a place that Kelly Pavlik was unable to reach, or even approach, a destination other relative one-trick ponies such as Felix Trinidad and Antonio Tarver thought they had a map to when they agreed to enter the labyrinth of pitfalls where B-Hop awaits.
Hopkins doesn't expect Kovalev to "show people my boxing"; he no doubt is anticipating that the WBO champ will mostly try to make history becoming the first fighter to knock him out, or at least to beat him bloody, and he is relying on his own past performance charts to demonstrate that no one-trick pony can successfully hang with so varied and adaptable a trickster such as he.
"Kelly Pavlik is the perfect opponent for me because he comes forward, he comes to fight and he wants to knock me out," Hopkins said prior to that particular date with destiny. "But he's going to find it difficult, and it's going to change the fight. I guarantee, it's going to change the fight. Tito (Trinidad) tried to walk me down. Tito had one bullet in the chamber and that was a left hook. If Kelly Pavlik thinks he's going to beat Bernard Hopkins because he has a big right hand, he's a damn fool.
"You've got an offensive guy and you've got a defensive guy. That's the perfect match. You've got a guy that comes forward and you've got a guy that specializes in guys coming forward so he can let them punch, so he can counterpunch. That's my game. This will be a fight where the Mack truck is coming, and can Bernard Hopkins crash the Mack truck? I say I will flatten the tires, the Mack truck will slow up and then it will conk out."
But if Hopkins' expectation of the outcome against Pavlik was indeed fulfilled, remember what else he has said as the sands in his professional hourglass began to very slowly empty. He was "only" 43 when he was asked before the Pavlik fight if he expected to continue to fighting until, oh, 48.
"No," he insisted. "Reflexes are very important. To be able to move from left to right at the drop of a dime is very important. The first thing that goes on a fighter is his knees, then his reflexes. At 48 years old, I'll be a sitting duck and I'll be embarrassing my long list of achievements and my legacy."
No fighter can have it both ways, even against a fairly predictable one-trick pony. Even if Kovalev has but one trick, it is a mighty good one and besides, he'll be double-teaming Hopkins with that unseen but very real ally, the thief of reflexes. Father Time eventually calls on all fighters who stay too long at the fair, but to date Hopkins hasn't answered the insistent knocking at his door. Maybe he really is impervious to the natural laws of diminishing returns.
Regardless of how this fight ends, though, there is a strong possibility that the winner is apt to be named Fighter of the Year because, well, just because. Kovalev will be the sport's hottest growth property if he wins emphatically against a living legend, and a victorious Hopkins would continue to be its forever-blooming evergreen, with a chance to add a companion FOY award to the one he captured for 2001 when he dominated the great Felix Trinidad. He knew what he was getting into when he agreed to swap shots with Kovalev, and he did so eagerly.
"I was supposed to be done 15 years ago," he said. "Fifteen from 49 leaves you what, 37? Thirty-four? OK, I never passed math.
"When this fight's over and I've given another loss to an undefeated fighter … man, I love fighting guys with undefeated records. I love it when that fighter no longer can be called a virgin. He's been had. I have a history of taking guys 0's away."
The guess here is that among those with an especially strong interest in the outcome will be Kelly Pavlik, who was never quite the same after his date with Hopkins, and who might or might not be coming out of retirement at some point. When you have been there and haven't done that, there is always the nagging question of what you might have done differently, as well as wonder who the guy might be that comes along and does what you weren't able to when it counted most.
Weekend Boxing Recap: The Mikey Garcia Stunner and More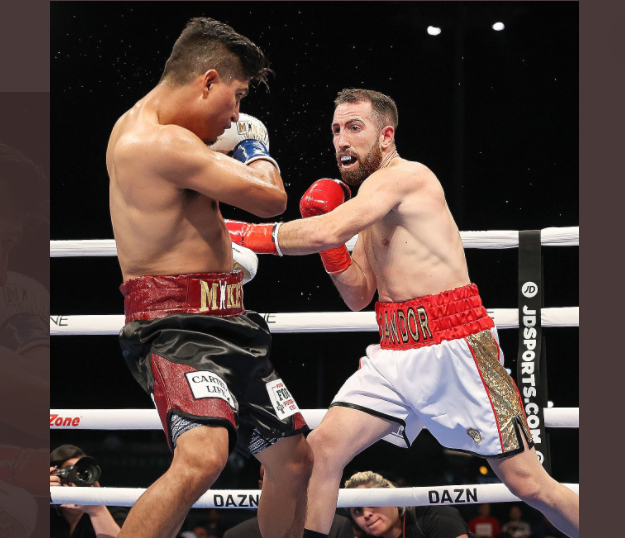 Weekend Boxing Recap: The Mikey Garcia Stunner and More
Boxing was all over the map on the third Saturday of October with many of the shows pulled together on short notice as promoters took advantage of relaxed COVID constraints to return to business as usual. When the smoke cleared, a monster upset in Fresno overshadowed the other events.
Mikey Garcia, a shoo-in to make the Hall of Fame, was on the wrong side of it. Spain's Sandor Martin, in his USA debut, won a well-deserved decision over Garcia at a Triple-A baseball park in Fresno.
Garcia, a former four-division belt-holder, was 40-1 coming in with his only loss coming at the hands of Errol Spence. Martin, a 28-year-old southpaw, brought a nice record with him from Europe (38-2) but with only 13 wins coming by way of stoppage it was plain that he wasn't a heavy hitter. His only chance was to out-box Garcia and that seemed far-fetched.
But Martin did exactly that, counter-punching effectively to win a 10-round majority decision. Two judges had it 97-93 with the third turning in a 95-95 tally.
Neither Garcia nor Martin were natural welterweights. The bout was fought at a catch-weight of 145 pounds. After the bout, the Spaniard indicated a preference for dropping back to 140 where enticing opportunities await.
There was another upset, albeit a much milder one, in the co-feature where Puerto Rico's Jonathan Gonzalez improved to 25-3-1 (14) while shearing the WBO world flyweight title from the shoulders of Mexicali's Elwin Soto (19-2).
Soto was making his fourth defense of the title and rode into the match with a 17-fight winning streak. Gonzalez, a southpaw, had formerly fought for the WBO world flyweight title, getting stopped in seven rounds by Kosei Tanaka in Nagoya, Japan.
One of the judges favored Soto 116-112, but he was properly out-voted by his colleagues who had it 116-112 the other way.
Riga, Latvia
The first major fight on Saturday took place in Riga, Latvia, where hometown hero Mairis Briedis successfully defended his IBF cruiserweight title with a third-round stoppage of Germany's Artur Mann who was on the deck three times before the match was halted at the 1:54 mark.
Briedis (28-1, 20 KOs) was making his first start since dismantling KO artist Yuniel Dorticos in the finals of season two of the World Boxing Super Series cruiserweight tournament. He scored the first of his three knockdowns in the waning seconds of round two when he deposited Mann (17-2) on the canvas with a straight right hand.
Although boosters of fast-rising WBO champ Lawrence Okolie would disagree, the Latvian is widely regarded as the best cruiserweight in the world. His only setback came when he lost a narrow decision to current WBA/IBF/WBO heavyweight champ Oleksandr Usyk in this ring in January of 2018. Now 36 years old, Briedis has yet to appear in a main event outside Europe. That's undoubtedly about to change and a rematch with Usyk is well within the realm of possibility.
Newcastle, England
Chris Eubank Jr, whose fight two weeks ago in London with late sub Anati Muratov was cancelled at the 11th hour when Muratov failed his medical exam, was added to this Matchroom card and his bout with Wanik Awdijan became the de facto main event. A 26-year-old German, born in Armenia, Awdijan was 28-1 and had won 21 straight (against very limited opposition), but he was no match for Eubank Jr who broke him down with body shots, likely breaking his ribs and forcing him to quit on his stool after five frames.
Eubank Jr, 32, improved to 31-2 (23) His only defeats came at the hands of former world title-holder George Groves and BJ Saunders. He dedicated this fight to his late brother Sebastian Eubank who died in July while swimming in the Persian Gulf.
In other bouts, Hughie Fury, the cousin of Tyson Fury, stayed relevant in the heavyweight division with a stoppage of well-traveled German Christian Hammer and Savannah Marshall successfully defended her WBO world middleweight title with a second-round TKO of Lolita Muzeya.
Akin to Eubank-Awdijan, the Fury-Hammer fight also ended with the loser bowing out after five frames. A biceps injury allegedly caused Hammer to say "no mas," but Fury, in what was arguably his career-best performance, was well ahead on the cards.
The Marshall-Muzeya fight was a battle of unbeatens, but Muzeya's 16-0 record was suspicious as the Zambian had never fought outside the continent of Africa. She came out blazing, but Marshall, who improved to 11-0 (9) had her number and retained her title.
Brooklyn
In the featured bout of a TrillerVerz show at Barclays Center, Long Island's Cletus Seldin, the Hebrew Hammer, knocked out William Silva in the seventh round. It was the fifth-straight win for the 35-year-old Seldin, a junior welterweight who was making his first start in 20 months.
Silva, a 34-year-old Brazilian who fights out of Florida, brought a 28-3 record. His previous losses had come at the hands of Felix Verdejo, Teofimo Lopez, and Arnold Barboza Jr. Seldin improved to 26-1 (22 KOs).
In other bouts, junior welterweight Petros Ananyan, a Brooklyn-based Armenian, improved to 16-2-2 (7) with a 10-round majority decision over local fighter Daniel Gonzalez (20-3-1) and Will Madera of Albany, NY, scored a mild upset when he stopped Jamshidbek Najmitdinov who was pulled out after five rounds with an apparent shoulder injury.
Najmitdinov, from Uzbekistan, was making his U.S. debut but he brought a 17-1 record blemished only by former world title-holder Viktor Postol. Madera improved to 17-1-3.
Photo credit: Ed Mulholand / Matchroom
Check out more boxing news on video at the Boxing Channel
To comment on this story in the Fight Forum CLICK HERE
Emanuel Navarrete Retains WBO Featherweight Title in a San Diego Firefight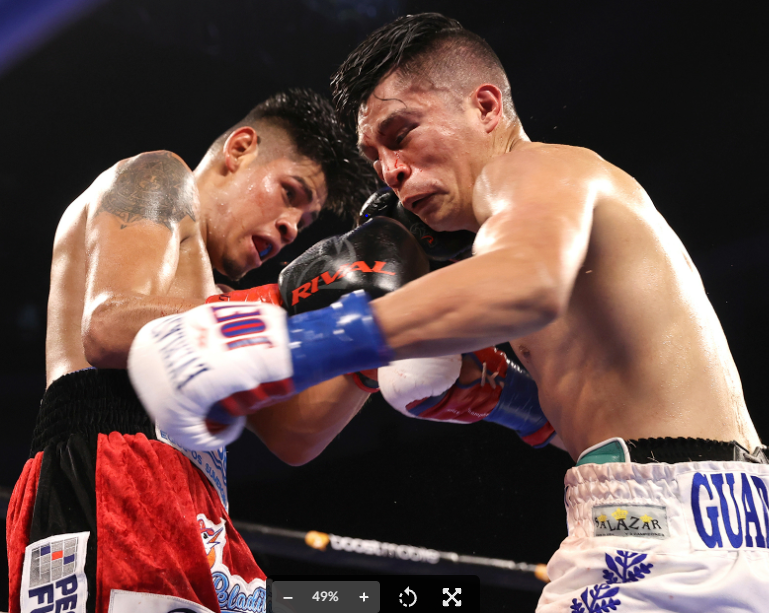 SAN DIEGO-WBO featherweight titlist Emanuel Navarrete won by unanimous decision over Joet Gonzalez in a slugfest that had fans cheering nonstop on Friday night. Fans were mesmerized by the savagery.
More than 2,000 fans saw Mexico City's Navarrete (35-1, 29 KOs) and Southern California's Gonzalez (24-2, 14 KOs) bounce brutal shots off each other for 12 successive rounds at Pechanga Sports Arena.
Both Navarrete and Gonzalez were about equal in height with the champion maybe a slight taller, but not by much. As soon as the first bell rang the two featherweights opened up in furious fashion.
Gonzalez was making his second attempt to grab a world title. His first attempt fell short a year ago. He was eager to atone for the defeat by clobbering Navarrete. Body shots were the weapon of choice.
The Mexican fighter Navarrete was accustomed to battling shorter fighters, this time the two were equal in size and in fury. Blows were flying in bunches and by the third round Gonzalez suffered a cut on his right cheek.
At several points Navarrete would connect with a solid blow and eagerly seek to finish the fight. Each time it happened Gonzalez would fight back even more furiously and beat back the champions attacks.
Gonzalez also connected with big shots and moved in for the kill only find Navarrete take a stand and fire back. Neither was able to truly gain a significant edge. After 12 rounds of nonstop action the decision was given to the judges. One scored it 118-110, two others saw it 116-112 all for Navarrete.
Fans were pleased by the decision and even more pleased by the breath-taking action they had witnessed.
Welterweights
Local fighter Giovani Santillan (28-0, 15 KOs) remained undefeated by unanimous decision after 10 rounds versus Tijuana's Angel Ruiz (17-2, 12 KOs). The two southpaws were evenly matched.
San Diego's Santillan was able to outwork Ruiz in almost every round. Though Ruiz has heavy hands he was not able to hurt Santillan even with uppercuts. It was clear very early in the fight that Santillan was the more technical and busier of the two. No knockdowns were scored.
After 10 rounds two judges scored it 100-90 for Santillan and a third saw it 99-91.
Other Results
Lindolfo Delgado (14-0, 12 KOs) battered and knocked down fellow Mexican Juan Garcia Mendez (21-5-2) in the last round of an 8-round super lightweight bout, but could not score the knockout win.
Delgado, a Mexican Olympian, was the quicker and stronger fighter yet discovered Garcia Mendez has a solid chin. All three judges scored it 80-71 for Delgado.
Puerto Rico's Henry Lebron (14-0, 9 KOs) defeated Manuel Rey Rojas (21-6) by decision after eight rounds in a lightweight match.
Javier Martinez (5-0, 2 KOs) soundly defeated Darryl Jones (4-3-1) by decision after six rounds in a middleweight clash. Jones was tough.
Las Vegas bantamweight Floyd Diaz (3-0) knocked down Tucson's Jose Ramirez (1-1) in the first round but was unable to end the fight early. Diaz won by decision.
Heavyweight Antonio Mireles (1-0) knocked out Demonte Randle (2-2) at 2:07 of the first round.
Photo credit: Mikey Williams / Top Rank for Getty Images
Check out more boxing news on video at the Boxing Channel
To comment on this story in the Fight Forum CLICK HERE
Russell Peltz's "Thirty Dollars and a Cut Eye": Book Review by Thomas Hauser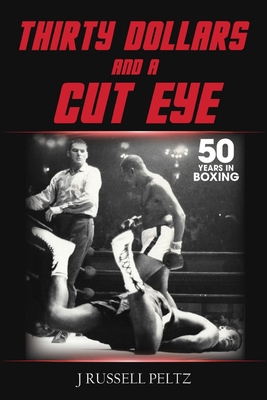 Russell Peltz's "Thirty Dollars and a Cut Eye": Book Review by Thomas Hauser
Russell Peltz has been promoting fights for fifty years and is as much a part of the fabric of Philadelphia boxing as Philly gym wars and Philly fighters. He was inducted into the International Boxing Hall of Fame in 2004 and deservedly so. Now Peltz has written a memoir entitled Thirty Dollars and a Cut Eye that chronicles his many years in the sweet science.
Peltz started in boxing before it was, in his words, "bastardized by the alphabet groups" and at a time when "world titles still meant something."
"I fell in love with boxing when I was twelve," he writes, "saw my first live fight at fourteen, decided to make it my life, and never looked back." He promoted his first fight card in 1969 at age 22.
Peltz came of age in boxing at a time when promoters – particularly small promoters – survived or died based on the live gate. Peltz Boxing Promotions had long runs at the Blue Horizon in Philadelphia and both Harrah's Marina and the Sands  in Atlantic City. His journey through the sweet science included a seven-year stint as director of boxing for The Spectrum in Philadelphia. At the turn of the century, he was a matchmaker for ESPN.
Along the way, Peltz's office in Philadelphia was fire-bombed. He was robbed at gunpoint while selling tickets in his office for a fight card at the Blue Horizon and threatened in creative ways more times than one might imagine. He once had a fight fall out when one of the fighters was arrested on the day of the weigh-in. No wonder he quotes promoter Marty Kramer, who declared, "The only thing I wish on my worst enemy is that he becomes a small-club boxing promoter."
Now Peltz has put pen to paper – or finger to keyboard. "The internet is often a misinformation highway," he writes. "I want to set the record straight as to what actually went on in boxing in the Philadelphia area since the late-1960s. I'm tired of reading tweets or Facebook posts or Instagram accounts from people who were not around and have no idea what went on but write like they do."
Thirty Dollars and a Cut Eye is filled with characters (inside and outside the ring) who give boxing its texture. As Peltz acknowledges, his own judgment was sometimes faulty. Russell once turned down the opportunity to promote Marvin Hagler on a long-term basis. There are countless anecdotes about shady referees, bad judging, and other injustices. Middleweight Bennie Briscoe figures prominently in the story, as do other Philadelphia fighters like Willie "The Worm" Monroe, Bobby "Boogaloo" Watts, Eugene "Cyclone" Hart, Stanley "Kitten" Hayward, and Matthew Franklin (later Matthew Saad Muhammad). Perhaps the best fight Peltz ever promoted  was the 1977 classic when Franklin knocked out Marvin Johnson in the twelfth round.
There's humor. After Larry Holmes pitched a shutout against Randall "Tex" Cobb in 1982, Cobb proclaimed, "Larry never beat me. He just won the first fifteen rounds."
And there are poignant notes. Writing about Tanzanian-born Rogers Mtagwa (who boxed out of Philadelphia), Peltz recalls, "He couldn't pass an eye exam because he didn't understand the alphabet."
Remembering the Blue Horizon, Peltz fondly recounts, ""The Blue Horizon was a fight fan's nirvana. The ring was 15-feet-9-inches squared inside the ropes. No fighter came to the Blue Horizon to pad his record. Fans wanted good fights, not slaughters of second-raters."
That ethos was personified by future bantamweight champion Jeff Chandler who, after knocking out an obviously inept opponent, told Peltz, "Don't ever embarrass me like that again in front of my fans."
Thereafter, whenever a manager asked Peltz to put his fighter in soft to "get me six wins in a row," Russell thought of Chandler. "I enjoyed promoting fights more than promoting fighters," he writes. "If I was interested in promoting fighters, I would have been a manager."
That brings us to Peltz the writer.
The first thing to be said here is that this is a book for boxing junkies, not the casual fan. Peltz is detail-oriented. But do readers really need to know what tickets prices were for the April 6, 1976, fight between Bennie Briscoe and Eugene Hart? The book tends to get bogged down in details. And after a while, the fights and fighters blur together in the telling.
It brings to mind the relationship between Gene Tunney and George Bernard Shaw. The noted playwright and heavyweight great developed a genuine friendship. But Shaw's fondness for Tunney stopped short of uncritical admiration. In 1932, the former champion authored his autobiography (A Man Must Fight) and proudly presented a copy to his intellectual mentor. Shaw read the book and responded with a letter that read in part, "Just as one prayer meeting is very like another, one fight is very like another. At a certain point, I wanted to skip to Dempsey."
Reading Thirty Dollars and a Cut Eye, at a certain point I wanted to skip to Hagler.
There's also one jarring note. Peltz recounts how, when Mike Jones fought Randall Bailey for the vacant IBF welterweight title in Las Vegas in 2012, Peltz bet five hundred dollars against Jones (his own fighter) at the MGM Sports Book and collected two thousand dollars when Bailey (trailing badly on the judges' scorecards) knocked Jones out in the eleventh round.
"It was a tradition from my days with Bennie Briscoe," Russell explains. "I'd bet against my fighter, hoping to lose the bet and win the fight."
I think Russell Peltz is honest. I mean that sincerely. And I think he was rooting for Mike Jones to beat Randall Bailey. But I don't think that promoters should bet on fights involving their own fighters. And it's worse if they bet against their own fighters. Regardless of the motivation, it looks bad. Or phrased differently: Suppose Don King had bet on Buster Douglas to beat Mike Tyson in Tokyo?
Philadelphia was once a great fight town. in 1926, the first fight between Jack Dempsey and Gene Tunney drew 120,000 fans to Sesquicentennial Stadium. Twenty-six years later, Rocky Marciano knocked out Jersey Joe Walcott at same site (renamed Municipal Stadium) to claim the heavyweight throne.
Peltz takes pride in saying, "I was part of Philadelphia's last golden age of boxing."
An important part.
Thomas Hauser's email address is thomashauserwriter@gmail.com. His most recent book – Broken Dreams: Another Year Inside Boxing – was published by the University of Arkansas Press this autumn. In 2004, the Boxing Writers Association of America honored Hauser with the Nat Fleischer Award for career excellence in boxing journalism. In 2019, he was selected for boxing's highest honor – induction into the International Boxing Hall of Fame.
Check out more boxing news on video at the Boxing Channel
To comment on this story in the Fight Forum CLICK HERE