NEW STAR ON THE BROOKLYN BLOCK? "If You're Worried About 'Triple G', There's a New Name…Lemieux"
David Lemieux, the Canadian power puncher who is auditioning for a star slot on Dec. 6, on HBO, walked up to Barclays Center, the new-ish building in the hottest borough of NYC, Brooklyn.
Wow. This ain't the Bell Centre, he thought to himself, while checking out the big barn with manager Camille Estephan. This place is BIG. And shiny. And a proper place for an ascent up the ladder, to where I want to be, which is fighting the Canelos, the Cottos, the Golovkins.
Ah, but that proverbial "first things first." The 32-2 hitter, who impressed mightily in his last time out, stopping Fernando Guerrero (KO3) in Montreal at the Bell in May, has to get past Gabriel Rosado. That is something that has been done, a few times in fact, as the North Philly hitter has lost four straight, to Golovkin, J'Leon Love, Peter Quillin and Jermell Charlo in his last outing, on Jan. 25. That said, he's no steppingstone sort who will know his role, show up to put up a plausible fight, wing a few hay/praymakers, and "win" by going the distance. This is a guy who can be stopped, though, as Fredo Angulo, Peter Quillin and Golovkin have proven. The task for Lemieux, who lost to Marco Antonio Rubio (by TKO7) in his previous star audition (in 2011) and then Joachim Alcine in his next outing (12-10-11), via MD12, will be to stop Rosado, and in fine fashion.
"I'm going to be a beast on December 6 and it's going to be dangerous," Lemieux said at a Wednesday presser at Barclays, touting the Dec. 6 show, which has tix on sale starting at $15 (!) bucks. "I can't wait. I've always trained hard, for people who don't know my background; I've never cheated myself. I always put in all the work in the gym."
And here's his quote that I dug so much, which told me he's thinking grande, he's craving a star-making showing on Dec. 6, on a show promoter by Golden Boy, whose boss Oscar de Hoya presided over the presser. "Not everybody knows me here, but after December 6, you will," said the 28-year-old. "If you're worried about 'Triple G', there's a new name that's coming in…Lemieux. Wait until you see my fight and then we will speak."
Indeed. Check out BoxingChannel.TV for coverage format he presser.
http://www.boxingchannel.tv/david-lemieux-vs-gabriel-rosado-december-6-at-barclays-center
Also, here is a press release which went out this afternoon, with quotes from some of the other principals.
DAVID LEMIEUX, NABF Middleweight Champion
"Thank you to everybody for being here, it is a great honor and great opportunity for me to be able to fight in Brooklyn at Barclays Center.
"I'm very excited. I didn't sleep much last night just getting excited to talk in front of you all.
"I can't wait for the fight. Gabriel Rosado is a great fighter. He comes to fight and he's a very tough opponent. However, I've never felt so strong in a camp and trained so well. If you saw my fight against Fernando Guerrero, it is going to be a new David again.
"I'm going to be a beast on December 6 and it's going to be dangerous. I can't wait. I've always trained hard, for people who don't know my background; I've never cheated myself. I always put in all the work in the gym.
"We've had some miscalculations and setbacks, but we're back on track and we're here to stay on top of the pyramid.
"Brooklyn is a great city, when we landed here we could feel the energy. Then when we came here in front of Barclays Center we said, 'wow'. This feels like home.
"Not everybody knows me here, but after December 6, you will. If you're worried about 'Triple G', there's a new name that's coming in…Lemieux. Wait until you see my fight and then we will speak.
"I'm here to put on the best show and with Rosado, he's a great fighter so it's going to be fireworks and dynamite in the arena. I can't wait."
GABRIEL ROSADO, Middleweight Contender
"It's interesting how this fight came about. I was supposed to be the co-main event on Hopkins' card against Kirkland and that fight fell through. Golden Boy told me not to worry and they stuck to their word. The next thing you know, I'm the main event. One door closes another one opens.
"I've been in a lot of fights that were controversial, but that is boxing. Fans love the drama. Now I have the opportunity to showcase my talent.
"Jesse Reid [Rosado's trainer] has brought new life to boxing for me. A lot of the fights that I study are old fights so I knew about Jesse. One day I needed Jesse to wrap my hands and I realized this was the guy for me.
"I respect Lemieux. He is a tough fighter. Just because I respect him doesn't mean I am going to give him too much respect [in the ring].
"When it comes to the caliber of fighters I have faced, I've faced better names. I need to use my experience and intelligence in this fight.
"I'm excited to fight in New York City – the Mecca of boxing. It's close to Philadelphia so I know the fans are going to come out. I'm Puerto Rican and there's a big Puerto Rican population in New York and all of the Latinos will want to watch this fight.
"I'm excited and I can't wait to put on a show."
EDDIE GOMEZ, Junior Middleweight Contender
"As we all know, my last fight did not go in my favor. I lost my first fight as a professional, so now I'm just looking to bounce back and do what I have to do.
"I'm happy to be fighting again at Barclays Center, so a lot of my friends and family will come out and show support. You never know, my luck might just be right here at home.
"I'm looking to put on an impressive show in my first comeback fight. I'm happy to be fighting before Christmas and New Years and I'm hoping to close out the year with a good victory."
ZACHARY OCHOA, Junior Welterweight Prospect
"Since I've started boxing I've dreamed of an introduction like that from Oscar De La Hoya. I've studied him for a long time, especially that jab. I want to thank him and Golden Boy Promotions.
"I want to thank Brett Yormark, Barclays Center and everyone who gave me the opportunity to fight on this great stage.
"It's going to be a great fight, this has been my best year since signing with Golden Boy and I'm ready to go."
OSCAR DE LA HOYA, President & Founder of Golden Boy Promotions
"It is satisfying to know that we are coming back once again to the 'Mecca of Boxing' in New York – Barclays Center and to be able to give the fight fans real fights that they deserve to see.
"What better venue than Barclays Center? We are always happy to be back in a town where boxing is appreciated this much. The fight fans know boxing. The fight fans live for boxing here in Brooklyn.
"It is very important for Golden Boy Promotions and Barclays Center to keep bringing boxing back to Brooklyn on a regular basis. This is quite a treat for us. Quite a treat for Barclays Center because we know that the fight fans are going to get close to 10 competitive fights from top to bottom.
"I'm really happy to be working with CES Boxing, Gary Shaw Productions and Eye of the Tiger Management. It shows the direction in which Golden Boy Promotions is heading – in terms of bringing the best fights to the fans. It shows that Golden Boy Promotions is willing to work with anybody in order to satisfy the boxing fans.
"The three televised fights are competitive, compelling fights that the fans will enjoy. There is a lot at stake in the 150-pound and 160-pound weight ranges – you think tough competition. There will be no losers because every fighter is going to give it their all. Every fighter knows what is at stake.
"We are really excited about all of the fights on this card. The winners will move on to bigger and better things."
CAMILLE ESTEPHAN, President of Eye of the Tiger Managements
"We spoke for a while about this and now it is a dream come true. What better place than Barclays Center, what a beautiful place. Being here in New York City, all I can think is 'wow.'
"We've been working towards this for a long time, way before any news about Rosado's other fights. We have a lot of respect for Rosado and he is a guy that is respected in boxing. What we want to do is stamp the boxing world with David Lemieux.
"A couple of years ago when David and I started working together, we were sitting in a restaurant planning out what we wanted to do. We were sitting near a nice wall of bricks. There are a lot of difficulties in a boxer's career, and what I said to him is that we we're going to build a wall, every single day in the gym and every day is another brick in that wall. One day will end up with a great wall.
"We have a grand vision and we're going to prove it on Dec. 6. We think the best possible place to do it is here so we want to thank everyone who made it possible.
"We're going to have lots of people from Montreal coming, they're ready. They're coming to support David. There are some other great fights on that night in Montreal, but a poll started online saying which fight people wanted to see most. So far 58 percent want to see David's fight, so hopefully we will bring them hear with us.
JESSE REID, Rosado's Trainer
"It's my pleasure to be here. I first saw Gabe on television and he reminded me of the old time fighters like Rocky Graziano. You look at some of these young souls and you see tremendous power, tremendous speed and a big heart.
"I told my son, 'If I could ever get a chance to work with this young man, I would love it.' I've had some great champions in Johnny Tapia, Roger Mayweather, Hector Camacho and others. This young man has really brought my heart back into boxing. I'm 72-years-old and he makes me feel like I'm 21.
"He's ready to fight anyone at any time, but he also has tremendous boxing ability and I don't think that has ever been tapped into and I have the opportunity to work on these things.
"The aggressiveness of Gabriel Rosado is what makes boxing worthwhile."
BRETT YORMARK, CEO of Barclays Center
"We are extremely excited to be hosting another great night of boxing. We thank Golden Boy Promotions for its support of boxing in Brooklyn and Barclays Center.
"This is the ninth boxing event with Golden Boy Promotions. We are very proud of that. Golden Boy put us on the map in terms of our boxing promotion in Brooklyn. We have only been open for a little more than 24 months and I think we have certainly become the home of boxing in the northeast.
"When I look back at 2014, it was a great year of boxing at Barclays Center. I am looking forward to ending it on a high note on December 6.
"I truly believe that 2015 will be our biggest year ever when it comes to boxing in Brooklyn and with the help of Golden Boy, we will continue to bring great fights."
# # #
Lemieux vs. Rosado is a 12 round NABF middleweight bout which is promoted by Golden Boy Promotions in association with Eye Of The Tiger Management and sponsored by Corona Extra, AT&T and Mexico – Live It To Believe It! Dulorme vs. Lundy is a 10-round junior welterweight bout promoted by Golden Boy Promotions, Gary Shaw Productions and CES Boxing. The HBO Boxing After Dark telecast begins at 10:00 p.m. ET/PT.
Tickets priced at $150, $80, $50, $25 and $15, plus applicable taxes and service charges are on sale now and are available for purchase at www.barclayscenter.com, www.ticketmaster.com, all Ticketmaster locations, by calling 800-745-3000 and at the American Express Box Office. For group tickets, please call 800-GROUP-BK.
Photo Credit – Hogan Photos/Golden Boy Promotions
HITS and MISSES: Javier Fortuna Shines and More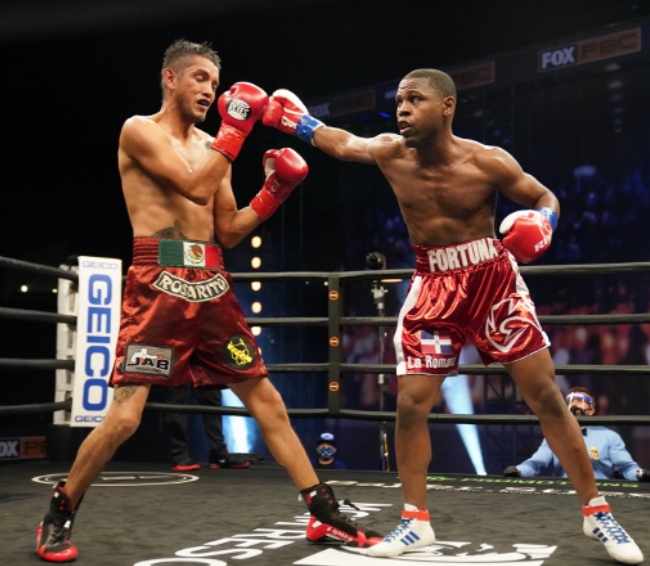 HITS and MISSES: Javier Fortuna Shines and More
The boxing schedule continued during the penultimate week of November though there seemed a little less action over the weekend than prior weeks. Still, important contests took place featuring some of the top fighters in the sport.
Here are the biggest HITS and MISSES from another week on the boxing beat.
HIT: Future Fortunes of Javier Fortuna 
Perhaps it's just my affinity for southpaws, but Javier Fortuna looked sensational on Saturday night in the main event of an FS1 PBC Fight Night card.
Fortuna, 31, from the Dominican Republic, is a legit threat in the 135-pound division. His sole loss since moving up to lightweight was a split-decision to former titleholder Robert Easter in a fight that could have been scored either way, and his athletic and unorthodox style will just about always make him a problem for anyone.
Alongside being tied to Al Haymon's PBC group, Fortuna is promoted by Sampson Lewkowicz, whose most famous recent client is probably former middleweight champion Sergio Martinez. Like Martinez, Fortuna is the type of talent who could unexpectedly make some legitimate noise in his division during the latter part of his career.
MISS: Austin Delay's Emotional Reactions to Accidental Headbutts
Despite the two losses on his record, there's a lot to like about lightweight prospect Austin Dulay. The 25-year-old from Nashville defeated Jose Luis Gallegos in a 10-round decision in the co-feature of the PBC card on Saturday night in Los Angeles.
Dulay's a sharp-fisted, crafty southpaw with fast hands and good feet. While his win over Gallegos absolutely proved he possesses some upside as a rising talent in the sport, his emotional responses to the three accidental headbutts in the fight gives his team plenty to work on with the fighter as he progresses.
Referee Thomas Taylor did a great job explaining the key concept to him. "It happens," Taylor reminded Dulay at least twice in the fight after the clashes of heads. Indeed, it does happen, and that's especially true in southpaw vs. orthodox matchups.
After the second headbutt in the fight, which happened in the sixth round, Dulay angrily gunned for the knockout. Everyone loves action like that, but reactive responses to innocuous events aren't on the path to the highest levels in the sport. Dulay needs to reel his emotions back in during those types of moments if he hopes to become a world champion.
HIT: The Savagery of Alen Babic vs. Tom Little
Hopefully, you've witnessed the majesty of Alen Babic by now. The 30-year-old from Croatia is the type of heavyweight you'd better enjoy now on the way up the ranks because, let's face it, Babic's style and skill set make him likely to be exposed as he climbs higher up the ladder.
Until that time comes, though, Babic is must-see TV. The savagery of seeing a volume punching heavyweight who throws just about every single punch with serious emotional intent is a wonder to behold.
For his part, Tom Little did his best to turn the Babic tide back. In fact, the 33-year-old was the first fighter to weather Babic's early storm and offer a return, but Babic ultimately dumped him down for the third-round knockout.
By the way, that's faster than Daniel Dubois and Filip Hrgovic did it.
MISS: Terence Crawford and Errol Spence Not Making Superfight Priority
What shouldn't be lost in the Terence Crawford vs. Errol Spence debate is how both fighters would rather fight Manny Pacquiao instead of each other.
I had the chance to speak with both elite welterweight champions within the past week, and both men told me the same thing in regards to their focus on making one fight happen. Crawford wants Pacquiao next. Spence does, too.
While it's completely understandable why these guys would seek the bigger payday against the legendary future Hall of Famer, something would seem to be broken in boxing overall when arguably the best and most important fight in the sport doesn't even seem to have a tiny chance of happening anytime soon.
HIT: The Professional Amateur Conor Benn
Imagine having just around 20 amateur bouts and trying to put together a world-level professional boxing career. Now, imagine also trying to follow in the footsteps of your father, himself a former world champion.
But rising welterweight contender Conor Benn seems to be on his way to giving that run a serious go. Benn, 24, from England, defeated Germany's Sebastian Formella in the main event of a Matchroom Boxing card on DAZN on Saturday.
While Benn doesn't exactly have the look of a can't-miss prospect destined for greatness, he does at least possess some of the qualities that could lead him to the top of the sport. Certainly, Benn believes it.
After beating Formella, Benn argued he'd done it just as good as two-time welterweight titleholder Shawn Porter had done.
"I beat him just as good," Benn said during his post-fight interview.
He wasn't wrong about that, and neither was his father, Nigel Benn, for lavishing praise on his son after his big win.
"Well done, son. I'm proud of you," Nigel Benn said.
Benn has a tough road ahead of him. He's basically been a professional amateur up to this point, a fighter getting paid professional money to employ an amateur skill set on fight night.
But he's improving at a rate that suggests that might not be the case soon.
Photo credit: Sean Michael Ham / TGB Promotions
Check out more boxing news on video at the Boxing Channel 
To comment on this story in the Fight Forum CLICK HERE
Boxing Odds and Ends: Filip Hrgovic vs. Efe Ajagba, Dame Helen Mirren and More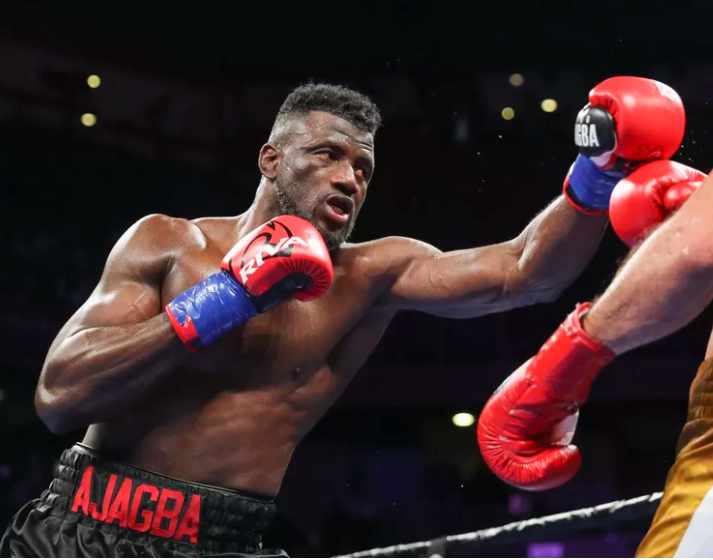 There's a battalion of young heavyweights ready to make their mark when Tyson Fury and Anthony Joshua and their cohorts leave the scene. There's Daniel Dubois and Tony Yoka and Filip Hrgovic and Efe Ajagba to name just four.
When one thinks of a fantasy fight, one usually thinks of a "what if?" match between two all-time greats. But one can also contrive a fantasy fight out of two young guns who have a high probability of meeting down the road.
Filip Hrgovic (12-0, 10 KOs) and Efe Ajagba (14-0, 11 KOs) are at a similar stage of development. Both fought in the 2016 Olympics – Hrgovic for Croatia and Ajagba for Nigeria – and both have been touted as future champions. Ajagba's former trainer Ronnie Shields, not a man given to hyperbole, compared him to a young George Foreman.
Who would win if Filip Hrgovic were to meet up with Efe Ejagba?
We posed this question to Jonnie Rice who is quite familiar with both fighters. Rice sparred with Ajagba and then went 10 rounds with him at the MGM Bubble on Sept. 19. Shortly thereafter, he was off to Florida to help Hrgovic prepare for his bout earlier this month with Rydell Booker. Rice sparred frequently with Hrgovic during the three weeks he spent in the Croatian's training camp.
"You have to respect Efe's power," Rice told us, "but I would have to go with Filip because he throws more punches and has better footwork."
Jonnie Rice, by the way, is improving at age 33 although one wouldn't assume that from his 13-6-1 record. He was outpointed by Ajagba but had several good moments late in the fight.
Helen Mirren
Andrew Moloney failed to recapture his WBA world super flyweight title in his rematch with Joshua Franco on Nov. 14, but won legions of new fans. In case you missed it, the fight was stopped after only two rounds because Franco's right eye was swollen shut. Referee Russell Mora ruled that the damage was caused by an accidental head butt which meant that the fight would go into the books as a "no-decision" and Franco would keep the title.
It took the Nevada Athletic Commission 26 minutes to confirm Mora's ruling. During the lacuna, the abbreviated fight was replayed over and over again for folks tuning in on ESPN. There was no visible head butt, at least not one that could have produced this result, and the TV talking heads, lead announcer Joe Tessitore the most vocal among them, were adamant that Moloney, who clearly won the first two rounds, was the victim of a grave injustice.
Many well-known people took to social media to weigh in on the "villainy," none more famous than Helen Mirren, Dame Helen Mirren, if you please, having been invested with that title during a 2003 ceremony at Buckingham Palace. The multi-decorated British-American actress (she holds dual citizenship), who won both a Tony and a Best Actress Oscar for her portrayal of Queen Elizabeth II, wrote "Moloney was clearly robbed in Vegas tonight. Shame on the Nevada boxing organisation" on her Instagram platform which reportedly has 903,000 followers.
Many people were surprised to learn that a classy Dame like Mirren, now 75 years old, had any interest in pugilistic affairs, but maybe that shouldn't have been so surprising considering that Mirren once had an affair with the ill-fated Argentine boxer Oscar Bonavena.
I had best re-phrase that. Her screen character had the affair.
The movie was called "Love Shack." In the 2010 film, directed by Mirren's husband Taylor Hackford — who shared a producing credit with Lou DiBella — Mirren played Sally Conforte, the wife of Joe Conforte, the keeper of Nevada's most infamous brothel, the Mustang Ranch on the outskirts of Reno. In 1976, the rugged Bonavena, who twice went the distance with Joe Frazier and took Muhammad Ali into the 15th round, was working there as a bouncer when he was fatally shot by one of Joe's henchmen, a killing supposedly sparked by Joe's jealousy over Sally's affair with the 33-year-old bruiser whose 38-vehicle funeral procession through the streets of Buenos Aires would reportedly attract more than 150,000 onlookers.
The movie seemingly couldn't miss. It had a compelling storyline based on real-life events and two stars in the leading roles, with Joe Pesci smartly cast as Joe Conforte. However, the movie got lukewarm reviews and died a quick death.
Mirren's hubby, by the way, is helming the big screen biopic of Mike Tyson with Jamie Foxx portraying Iron Mike. The movie, as they say, is in pre-production.
Literally Matched Soft
In case you missed it, former IBF light-heavyweight title-holder Tavoris Cloud returned to the ring this past Friday after a six-year absence. Cloud was matched Soft, and yes, that's Soft with a capital "S."
Cloud's opponent, a Sioux Indian from Rapid City, South Dakota, fights under the name Ryan Soft. He brought a 4-11-1 record and had been stopped eight times. Cloud made it "9", stopping the softie in the third round on a show in Daytona Beach, Florida.
Cloud, who was managed by Don King for much of his career, opened his career with 25 straight wins that included four successful defenses of his IBF belt. He lost his title to 48-year-old Bernard Hopkins, was stopped by Adonis Stevenson and Artur Beterbiev in his next two fights, and then disappeared. At age 38 and without a lot of mileage on his odometer, he may be young enough to snag a few decent paydays before he calls it quits for good.
The Upside of Covid-19
Five games in college football's top division were postponed this past Saturday, including two games vs. Top 5 teams. Also, there was a hastily arranged boxing card this past Saturday on the Fox Sports 1 network.
These developments were interrelated and they point out that this terrible scourge called Covid-19 hasn't been all bad for boxing. As other kinds of sporting events are postponed or cancelled with little advance warning, boxing stands poised to fill the void. The mushrooming sports channels need content.
The ever-expanding number of weight divisions in pro boxing pales alongside the glut of bowl games in college football. Counting the national title game and the semifinals bleeding into it, there will be 37 bowl games this year. The games are splayed across a 22-day window straddling New Year's Day and it all starts with the ludicrous Tropical Smoothie Café Bowl on Dec. 19 in Frisco, Texas.
Correction: There would be 37 bowl games if they all get played. But many will be cancelled. That opens the door to enterprising boxing promoters.
On balance, of course, the pandemic has been terrible for all sports that depend in whole or in part on gate receipts, without which they are not sustainable. By and large, the boxers that have appeared in "bubble fights" have been working on the cheap. But for some, the pandemic has provided an opportunity for exposure they would not have otherwise received, and that will pay dividends down the road when the world returns to normal.
Check out more boxing news on video at the Boxing Channel 
To comment on this story in the Fight Forum CLICK HERE
Avila Perspective, Chap. 114: Electrifying Ryan Garcia Opens Up 2021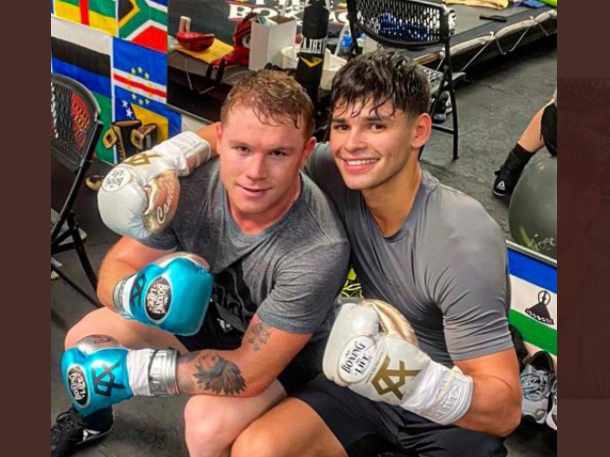 Southern California's Ryan "Kingry" Garcia will face England's Luke Campbell on Saturday January 2, 2021. DAZN will stream the battle for the interim WBC lightweight title at Fantasy Springs Casino in Indio, Calif.
Another one of those useless titles but it's really all about the fight.
Garcia (20-0, 17 KOs) was supposed to meet Campbell (20-3, 16 KOs) in early December, but the British fighter contracted the coronavirus and was forced to quarantine. This new date allows enough time for the fight to be re-scheduled.
"My mindset going into this fight hasn't changed, and my training hasn't stopped," said Ryan Garcia. "I'm excited we have a new date and can finally bring this to the fans. I'm here, and I'm ready to ring in the new year with a victory…let's go."
Campbell expects to be ready.
"New date, new year, same result," said Luke Campbell. "I'm fully back in training and have never felt better. What a way to start 2021 this is going to be with a clinical Luke Campbell win."
It's rare for a non-world title fight to grab main event status on a major boxing card, but Garcia (pictured on the right with his famous stablemate) is not the usual contender. Though undefeated, it's really the manner of his victories that have electrified fans. In his last three fights, none of his opponents survived longer than six minutes. Francisco Fonseca was electrocuted with a left hook at 1:20 of the first round the last time Garcia walked into a prize ring.
British fans expect Campbell to prove Garcia is pure hype and a product of social media mania and a large female fan base. They cite Campbell's experience against world champions like Vasyl Lomachenko and Jorge Linares that ended in decision losses. Also, that Campbell has never been stopped.
So far, Garcia has never been floored as a professional and shown extraordinary speed. It's not a push-over fight but a strategically important step for the Southern Californian's future as a major force in boxing and a crossover star who can attract non-boxing fans.
We have seen this before several decades ago.
"What better way to start this new chapter than with boxing's newest crossover star? Despite being just 22 years old, Ryan Garcia has already built a huge fan base, and once he gets past Luke Campbell, the sky is the limit," said Oscar De La Hoya who knows a thing or two about crossover appeal.
De La Hoya also happens to be Garcia's promoter.
Now if Oscar can hang onto Garcia's contract, we might see a revisit to a golden era like we saw when De La Hoya sold out boxing cards from Los Angeles to New York. And of course, Las Vegas.
One day after the new year begins, Garcia could be the vanguard of a new boxing era.
We shall see.
New Boxing Networks
No matter how many times prizefighting gets kicked and stomped on from detractors and haters, the sport always seems to rise up again.
Two boxing cards competed on a Thursday night with NBC Sports Network showcasing Ring City USA at the Wild Card Gym parking lot in Hollywood, and another show in Mexico City streamed on UFC Fight Pass.
Boxing continues to attract media outlets.
American fighters were sent to Sonora, Mexico on Roy Jones Jr. Boxing Promotions to battle Mexican fighters. On the same night, Mexican fighters were sent to Hollywood, California USA to battle American fighters.
Both competed against each other.
Ring City USA has no particular promoter tie and already has dates set up for December and beyond.
"We're willing to work with all promoters and we are not promoters," said Evan Rutkowski on a DAZN boxing talk show. "We're not taking options on any of these fighters."
UFC Fight Pass has a deal with Roy Jones Jr. Boxing Promotions, but rumors are spreading that the streaming network plans to expand its boxing platform on a large scale.
One of its promoters is said to be Salita Promotions and if that is true, then it could be a major coup led by top female fighter Claressa Shields.
At the moment, it is merely a rumor.
Spence and Garcia
All systems are go for the welterweight showdown between IBF and WBC welterweight titlist Errol Spence Jr. and former champion Danny "Swift" Garcia on December 5 at AT&T Stadium in Arlington, Texas. It will be shown on FOX pay-per-view.
Questions remain about the health of Spence after a horrific car crash that saw his car topple end over end a year ago. Does the Texas southpaw still possess the reflexes and grit that propelled him to victory over Shawn Porter, Mikey Garcia and Kell Brook?
Garcia has only two losses and both were firefights with no clear winner.
This is an important measuring stick for both Spence and Garcia.
Canelo
With the departure of Saul "Canelo" Alvarez from Golden Boy Promotions it does not seem to constitute a complete amputation. DAZN will continue to stream the redheaded Mexican's fights.
Alvarez will be fighting Callum Smith on Saturday Dec. 19, at the Alamodome in San Antonio, Texas. A limited number of fans will be allowed to witness the fight that will be co-promoted by Matchroom Boxing and Canelo Promotions. DAZN will stream.
"I am thrilled to be back at the Alamodome and very thankful to be fighting in front of my fans on December 19," said Canelo. "I have great memories of my previous bouts in Texas, and I expect this to be a special fight to close out the year."
Callum Smith is a younger brother of Liam Smith one of Canelo's earlier knockout victims. He also has a seven-inch height advantage and equal reach advantage. Canelo, tiny by comparison, has a towering assignment to complete.
Check out more boxing news on video at the Boxing Channel 
To comment on this story in the Fight Forum CLICK HERE