NEW STAR ON THE BROOKLYN BLOCK? "If You're Worried About 'Triple G', There's a New Name…Lemieux"
David Lemieux, the Canadian power puncher who is auditioning for a star slot on Dec. 6, on HBO, walked up to Barclays Center, the new-ish building in the hottest borough of NYC, Brooklyn.
Wow. This ain't the Bell Centre, he thought to himself, while checking out the big barn with manager Camille Estephan. This place is BIG. And shiny. And a proper place for an ascent up the ladder, to where I want to be, which is fighting the Canelos, the Cottos, the Golovkins.
Ah, but that proverbial "first things first." The 32-2 hitter, who impressed mightily in his last time out, stopping Fernando Guerrero (KO3) in Montreal at the Bell in May, has to get past Gabriel Rosado. That is something that has been done, a few times in fact, as the North Philly hitter has lost four straight, to Golovkin, J'Leon Love, Peter Quillin and Jermell Charlo in his last outing, on Jan. 25. That said, he's no steppingstone sort who will know his role, show up to put up a plausible fight, wing a few hay/praymakers, and "win" by going the distance. This is a guy who can be stopped, though, as Fredo Angulo, Peter Quillin and Golovkin have proven. The task for Lemieux, who lost to Marco Antonio Rubio (by TKO7) in his previous star audition (in 2011) and then Joachim Alcine in his next outing (12-10-11), via MD12, will be to stop Rosado, and in fine fashion.
"I'm going to be a beast on December 6 and it's going to be dangerous," Lemieux said at a Wednesday presser at Barclays, touting the Dec. 6 show, which has tix on sale starting at $15 (!) bucks. "I can't wait. I've always trained hard, for people who don't know my background; I've never cheated myself. I always put in all the work in the gym."
And here's his quote that I dug so much, which told me he's thinking grande, he's craving a star-making showing on Dec. 6, on a show promoter by Golden Boy, whose boss Oscar de Hoya presided over the presser. "Not everybody knows me here, but after December 6, you will," said the 28-year-old. "If you're worried about 'Triple G', there's a new name that's coming in…Lemieux. Wait until you see my fight and then we will speak."
Indeed. Check out BoxingChannel.TV for coverage format he presser.
http://www.boxingchannel.tv/david-lemieux-vs-gabriel-rosado-december-6-at-barclays-center
Also, here is a press release which went out this afternoon, with quotes from some of the other principals.
DAVID LEMIEUX, NABF Middleweight Champion
"Thank you to everybody for being here, it is a great honor and great opportunity for me to be able to fight in Brooklyn at Barclays Center.
"I'm very excited. I didn't sleep much last night just getting excited to talk in front of you all.
"I can't wait for the fight. Gabriel Rosado is a great fighter. He comes to fight and he's a very tough opponent. However, I've never felt so strong in a camp and trained so well. If you saw my fight against Fernando Guerrero, it is going to be a new David again.
"I'm going to be a beast on December 6 and it's going to be dangerous. I can't wait. I've always trained hard, for people who don't know my background; I've never cheated myself. I always put in all the work in the gym.
"We've had some miscalculations and setbacks, but we're back on track and we're here to stay on top of the pyramid.
"Brooklyn is a great city, when we landed here we could feel the energy. Then when we came here in front of Barclays Center we said, 'wow'. This feels like home.
"Not everybody knows me here, but after December 6, you will. If you're worried about 'Triple G', there's a new name that's coming in…Lemieux. Wait until you see my fight and then we will speak.
"I'm here to put on the best show and with Rosado, he's a great fighter so it's going to be fireworks and dynamite in the arena. I can't wait."
GABRIEL ROSADO, Middleweight Contender
"It's interesting how this fight came about. I was supposed to be the co-main event on Hopkins' card against Kirkland and that fight fell through. Golden Boy told me not to worry and they stuck to their word. The next thing you know, I'm the main event. One door closes another one opens.
"I've been in a lot of fights that were controversial, but that is boxing. Fans love the drama. Now I have the opportunity to showcase my talent.
"Jesse Reid [Rosado's trainer] has brought new life to boxing for me. A lot of the fights that I study are old fights so I knew about Jesse. One day I needed Jesse to wrap my hands and I realized this was the guy for me.
"I respect Lemieux. He is a tough fighter. Just because I respect him doesn't mean I am going to give him too much respect [in the ring].
"When it comes to the caliber of fighters I have faced, I've faced better names. I need to use my experience and intelligence in this fight.
"I'm excited to fight in New York City – the Mecca of boxing. It's close to Philadelphia so I know the fans are going to come out. I'm Puerto Rican and there's a big Puerto Rican population in New York and all of the Latinos will want to watch this fight.
"I'm excited and I can't wait to put on a show."
EDDIE GOMEZ, Junior Middleweight Contender
"As we all know, my last fight did not go in my favor. I lost my first fight as a professional, so now I'm just looking to bounce back and do what I have to do.
"I'm happy to be fighting again at Barclays Center, so a lot of my friends and family will come out and show support. You never know, my luck might just be right here at home.
"I'm looking to put on an impressive show in my first comeback fight. I'm happy to be fighting before Christmas and New Years and I'm hoping to close out the year with a good victory."
ZACHARY OCHOA, Junior Welterweight Prospect
"Since I've started boxing I've dreamed of an introduction like that from Oscar De La Hoya. I've studied him for a long time, especially that jab. I want to thank him and Golden Boy Promotions.
"I want to thank Brett Yormark, Barclays Center and everyone who gave me the opportunity to fight on this great stage.
"It's going to be a great fight, this has been my best year since signing with Golden Boy and I'm ready to go."
OSCAR DE LA HOYA, President & Founder of Golden Boy Promotions
"It is satisfying to know that we are coming back once again to the 'Mecca of Boxing' in New York – Barclays Center and to be able to give the fight fans real fights that they deserve to see.
"What better venue than Barclays Center? We are always happy to be back in a town where boxing is appreciated this much. The fight fans know boxing. The fight fans live for boxing here in Brooklyn.
"It is very important for Golden Boy Promotions and Barclays Center to keep bringing boxing back to Brooklyn on a regular basis. This is quite a treat for us. Quite a treat for Barclays Center because we know that the fight fans are going to get close to 10 competitive fights from top to bottom.
"I'm really happy to be working with CES Boxing, Gary Shaw Productions and Eye of the Tiger Management. It shows the direction in which Golden Boy Promotions is heading – in terms of bringing the best fights to the fans. It shows that Golden Boy Promotions is willing to work with anybody in order to satisfy the boxing fans.
"The three televised fights are competitive, compelling fights that the fans will enjoy. There is a lot at stake in the 150-pound and 160-pound weight ranges – you think tough competition. There will be no losers because every fighter is going to give it their all. Every fighter knows what is at stake.
"We are really excited about all of the fights on this card. The winners will move on to bigger and better things."
CAMILLE ESTEPHAN, President of Eye of the Tiger Managements
"We spoke for a while about this and now it is a dream come true. What better place than Barclays Center, what a beautiful place. Being here in New York City, all I can think is 'wow.'
"We've been working towards this for a long time, way before any news about Rosado's other fights. We have a lot of respect for Rosado and he is a guy that is respected in boxing. What we want to do is stamp the boxing world with David Lemieux.
"A couple of years ago when David and I started working together, we were sitting in a restaurant planning out what we wanted to do. We were sitting near a nice wall of bricks. There are a lot of difficulties in a boxer's career, and what I said to him is that we we're going to build a wall, every single day in the gym and every day is another brick in that wall. One day will end up with a great wall.
"We have a grand vision and we're going to prove it on Dec. 6. We think the best possible place to do it is here so we want to thank everyone who made it possible.
"We're going to have lots of people from Montreal coming, they're ready. They're coming to support David. There are some other great fights on that night in Montreal, but a poll started online saying which fight people wanted to see most. So far 58 percent want to see David's fight, so hopefully we will bring them hear with us.
JESSE REID, Rosado's Trainer
"It's my pleasure to be here. I first saw Gabe on television and he reminded me of the old time fighters like Rocky Graziano. You look at some of these young souls and you see tremendous power, tremendous speed and a big heart.
"I told my son, 'If I could ever get a chance to work with this young man, I would love it.' I've had some great champions in Johnny Tapia, Roger Mayweather, Hector Camacho and others. This young man has really brought my heart back into boxing. I'm 72-years-old and he makes me feel like I'm 21.
"He's ready to fight anyone at any time, but he also has tremendous boxing ability and I don't think that has ever been tapped into and I have the opportunity to work on these things.
"The aggressiveness of Gabriel Rosado is what makes boxing worthwhile."
BRETT YORMARK, CEO of Barclays Center
"We are extremely excited to be hosting another great night of boxing. We thank Golden Boy Promotions for its support of boxing in Brooklyn and Barclays Center.
"This is the ninth boxing event with Golden Boy Promotions. We are very proud of that. Golden Boy put us on the map in terms of our boxing promotion in Brooklyn. We have only been open for a little more than 24 months and I think we have certainly become the home of boxing in the northeast.
"When I look back at 2014, it was a great year of boxing at Barclays Center. I am looking forward to ending it on a high note on December 6.
"I truly believe that 2015 will be our biggest year ever when it comes to boxing in Brooklyn and with the help of Golden Boy, we will continue to bring great fights."
# # #
Lemieux vs. Rosado is a 12 round NABF middleweight bout which is promoted by Golden Boy Promotions in association with Eye Of The Tiger Management and sponsored by Corona Extra, AT&T and Mexico – Live It To Believe It! Dulorme vs. Lundy is a 10-round junior welterweight bout promoted by Golden Boy Promotions, Gary Shaw Productions and CES Boxing. The HBO Boxing After Dark telecast begins at 10:00 p.m. ET/PT.
Tickets priced at $150, $80, $50, $25 and $15, plus applicable taxes and service charges are on sale now and are available for purchase at www.barclayscenter.com, www.ticketmaster.com, all Ticketmaster locations, by calling 800-745-3000 and at the American Express Box Office. For group tickets, please call 800-GROUP-BK.
Photo Credit – Hogan Photos/Golden Boy Promotions
Skavynskyi and Bustillos Win on a MarvNation Card in Long Beach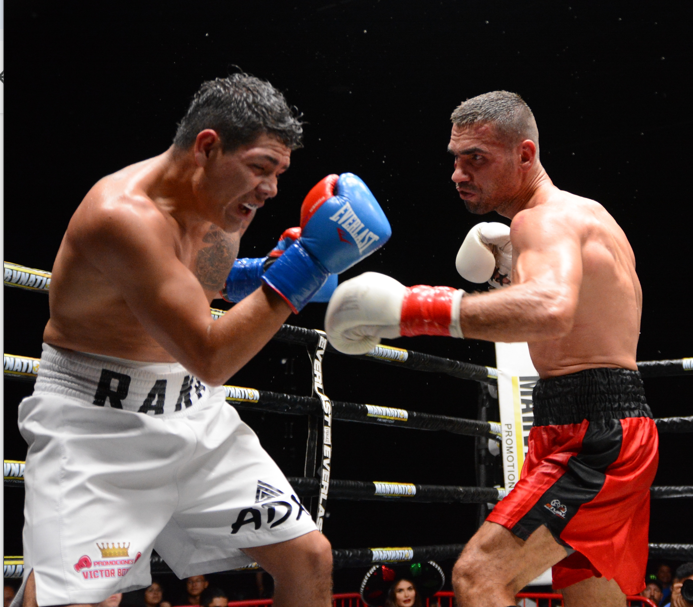 Skavynskyi and Bustillos Win on a MarvNation Card in Long Beach
LONG BEACH, Ca.-A cool autumn night saw welterweights and minimumweights share main events for a MarvNation fight card on Saturday.
Ukraine's Eduard Skavynskyi (15-0, 7 KOs) experienced a tangled mess against the awkward Alejandro Frias (14-10-2) but won by decision after eight rounds in a welterweight contest at the indoor furnace called the Thunder Studios.
It was hot in there for the more than 600 people inside.
Skavynskyi probably never fought someone like Mexico's Frias whose style was the opposite of the Ukrainian's fundamentally sound one-two style. But round after round the rough edges became more familiar.
Neither fighter was ever damaged but all three judges saw Skavynskyi the winner by unanimous decision 79-73 on all three cards. The Ukrainian fighter trains in Ventura.
Bustillo Wins Rematch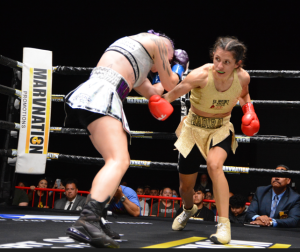 In the female main event Las Vegas' Yadira Bustillos (8-1) stepped into a rematch with Karen Lindenmuth (5-2) and immediately proved the lessons learned from their first encounter.
Bustillos connected solidly with an overhand right and staggered Lindenmuth but never came close to putting the pressure fighter down. Still, Bustillos kept turning the hard rushing Lindenmuth and snapping her head with overhand rights and check left hooks.
Lindenmuth usually overwhelms most opponents with a smothering attack that causes panic. But not against Bustillos who seemed quite comfortable all eight rounds in slipping blows and countering back.
After eight rounds all three judges scored the contest for Bustillos 78-74 and 80-72 twice. Body shots were especially effective for the Las Vegas fighter in the fifth round. Bustillos competes in the same division as IBF/WBO title-holder Yokasta Valle.
Other Bouts
In a middleweight clash, undefeated Victorville's Andrew Buchanan (3-0-1) used effective combination punching to defeat Mexico's Fredy Vargas (2-1-1) after six rounds. Two judges scored it 59-55 and a third 60-54 for Buchanan. No knockdowns were scored.
A super lightweight match saw Sergio Aldana win his pro debut by decision after four rounds versus Gerardo Fuentes (2-9-1).
Photos credit: Al Applerose
To comment on this story in the Fight Forum CLICK HERE
Tedious Fights and a Controversial Draw Smudge the Matchroom Boxing Card in Orlando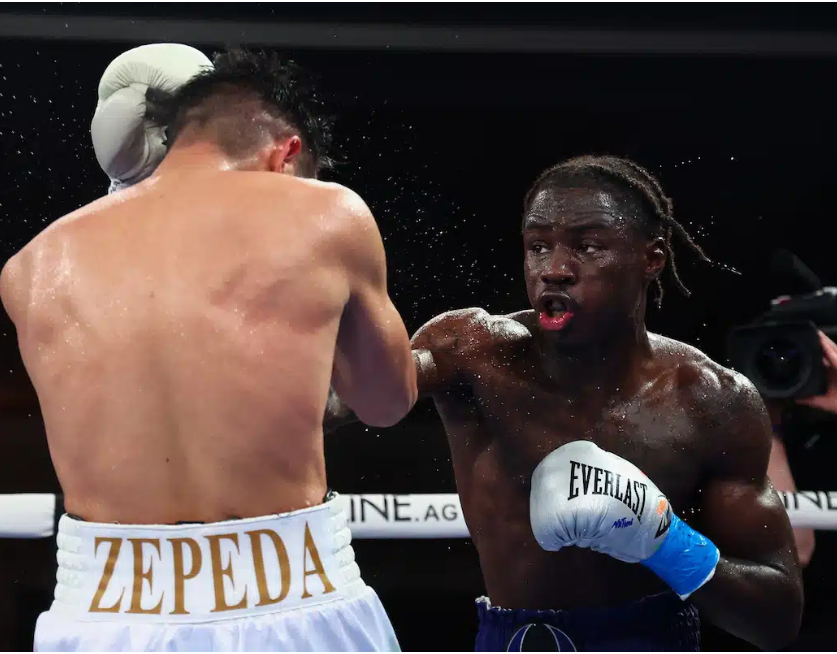 Matchroom Boxing was at the sprawling Royale Caribe Resort Hotel in Orlando, Florida tonight with a card that aired on DAZN. The main event was a ho-hum affair between super lightweights Richardson Hitchins and Jose Zepeda.
SoCal's Zepeda has been in some wars in the past, notably his savage tussle with Ivan Baranchyk, but tonight he brought little to the table and was outclassed by the lanky Hitchins who won all 12 rounds on two of the cards and 11 rounds on the other.  There were no knockdowns, but Zepeda suffered a cut on his forehead in round seven that was deemed to be the product of an accidental head butt and another clash in round ten forced a respite in the action although Hitchins suffered no apparent damage.
It was the sort of fight where each round was pretty much a carbon of the round preceding it. Brooklyn's Hitchins, who improved to 17-0 (7), was content to pepper Zepeda with his jab, and the 34-year-old SoCal southpaw, who brought a 37-3 record, was never able to penetrate his defense and land anything meaningful.
Hitchins signed with Floyd Mayweather Jr's promotional outfit coming out of the amateur ranks and his style is reminiscent in ways of his former mentor. Like Mayweather, he loses very few rounds. In his precious engagement, he pitched a shutout over previously undefeated John Bauza.
Co-Feature
In the co-feature, Conor Benn returned to the ring after an absence of 17 months and won a unanimous decision over Mexico's Rodolfo Orozco. It wasn't a bad showing by Benn who showed decent boxing skills, but more was expected of him after his name had been bandied about so often in the media. Two of the judges had it 99-91 and the other 96-94.
Benn (22-0, 14 KOs) was a late addition to the card although one suspects that promoter Eddie Hearn purposely kept him under wraps until the week of the fight so as not to deflect the spotlight from the other matches on his show. Benn lost a lucrative date with Chris Eubank Jr when he was suspended by the BBBofC when evidence of a banned substance was found in his system and it's understood that Hearn has designs on re-igniting the match-up with an eye on a date in December. For tonight's fight, Benn carried a career-high 153 ½ pounds. Mexico's Orozco, who was making his first appearance in a U.S. ring, declined to 32-4-3.
Other Bouts of Note
The welterweight title fight between WBA/WBC title-holder Jessica McCaskill (15-3-1) and WBO title-holder Sandy Ryan (6-1-1) ended in a draw and the ladies' retain their respective titles. Ryan worked the body effectively and the general feeling was that she got a raw deal, a sentiment shared by the crowd which booed the decision. There was a switch of favorites in the betting with the late money seemingly all on the Englishwoman who at age 30 was the younger boxer by nine years.
The judges had it 96-94 Ryan, 96-95, and a vilified 97-93 for Chicago's McCaskill.
In the opener of the main DAZN stream, Houston middleweight Austin "Ammo" Williams, 27, improved to 15-0 (10) with a 10-round unanimous decision over 39-year-old Toronto veteran Steve Rolls (22-3). All three judges had it 97-93. Rolls has been stopped only once, that by Gennady Golovkin.
Photo credit: Ed Mulholland / Matchroom Boxing
To comment on this story in the Fight Forum CLICK HERE
Zhilei Zhang KOs Joe Joyce; Calls Out Tyson Fury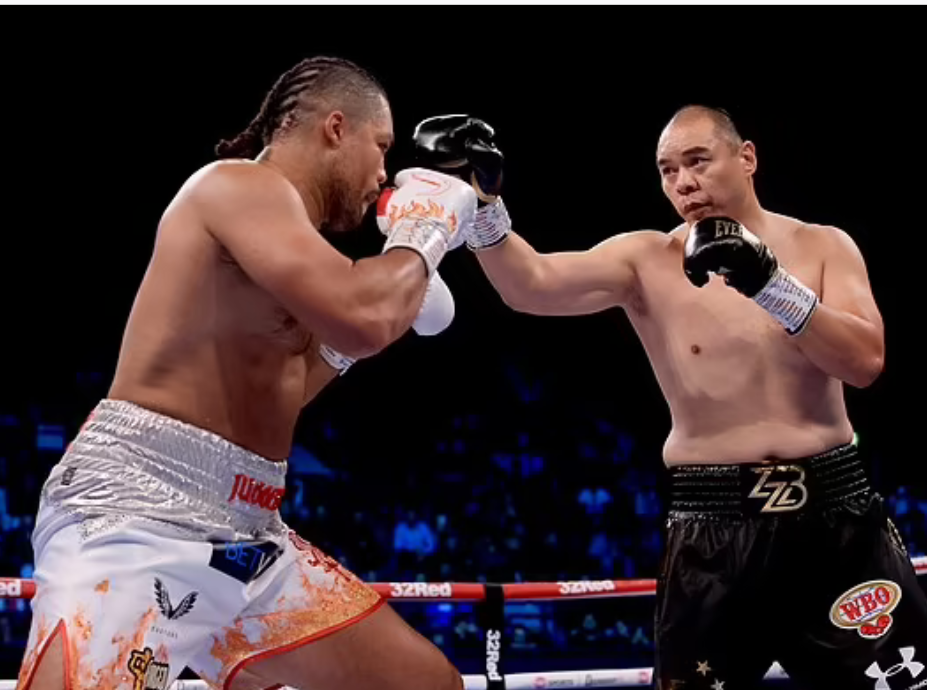 Joe Joyce activated his rematch clause after being stopped in the sixth frame by Zhilei Zhang in their first meeting. In hindsight, he may wish that he hadn't. Tonight at London's Wembley Stadium, Zhang stopped him again and far more conclusively than in their first encounter.
In the first meeting, Zhang, a southpaw, found a steady home for his stiff left jab. Targeting Joyce's right eye, he eventually damaged the optic to where the ring doctor wouldn't let Joyce continue. At the end, the fight was close on the cards and Joyce was confident that he would have pulled away if not for the issue with his eye.
In the rematch tonight, Zhang (26-1-1, 21 KOs) closed the curtain with his right hand. A thunderous right hook on the heels of a straight left pitched Joyce to the canvas where he landed face first. He appeared to beat the count by a whisker, but was seriously dazed and referee Steve Gray properly waived it off. The official time was 3:07 of round three.
Zhang, who lived up to his nickname, "Big Bang," was credited with landing 29 power punches compared with only six for Joyce (15-2) who came in 25 pounds heavier than in their first meeting while still looking properly conditioned. One would be inclined to say that age finally caught with the "Juggernaut" who turned 38 since their last encounter, but Zhang, 40, is actually the older man. In his post-fight interview in the ring, the New Jersey resident, a two-time Olympian for China, when asked who he wanted to fight next, turned to the audience and said, "Do you want to see me shut Tyson Fury up?"
He meant it as a rhetorical question.
Semi-Windup
Light heavyweight Anthony Yarde was matched soft against late sub Jorge Silva, a 40-year-old Portuguese journeyman, and barely broke a sweat while scoring a second-round stoppage. Yarde backed Silva against a corner post and put him on the deck with a short right hand. Silva's body language indicated that he had no interest in continuing and the referee accommodated him. The official time was 2:07 of round two.
A 30-year-old Londoner, Yarde (24-3, 23 KOs) was making his first start since being stopped in eight rounds by Artur Beterbiev in a bout that Yarde was winning on two of the scorecards. Silva, a late replacement for 19-3-1 Ricky Summers, falls to 22-9.
Also
Former leading super middleweight contender Zach Parker (23-1, 17 KOs) returned to the ring in a "shake-off-the-rust" fight against 40-year-old Frenchman Khalid Graidia and performed as expected. Graidia's corner pulled him out after seven one-sided rounds.
In his previous fight, Parker was matched against John Ryder who he was favored to beat. The carrot for the winner was a lucrative date with Canelo Alvarez. Unfortunately for Parker, he suffered a broken hand and was unable to continue after four frames. Tonight, he carried 174 pounds, a hint that he plans to compete as a light heavyweight going forward. Indeed, he has expressed an interest in fighting Anthony Yarde. Graidia declined to 10-13-4.
The Zhang-Joyce and Yarde-Silva fights were live-streamed in the U.S. on ESPN+.
To comment on this story in the Fight Forum CLICK HERE