PATERSON'S PREDICTION PAGE: Expert Calls on Hopkins-Kovalev
"Nobody will ever do it five times because you know as well as I do that people get old too fast. I used to run six miles a day but now I got to make an effort for three. I can still do everything I want but I got to make appointments. Can't do things on the spur of the moment like when you're 20."
Those candid words weren't uttered by today's elder statesman of boxing and its most distinguished defier of age erosion, Bernard Hopkins, who will turn 50 in January.
Wearing a chocolate brown suit, relaxing on a couch, muscles probably still twitching after a two mile run earlier that morning, a fighter with deluded intentions swirling around inside his head like a tornado, had just spoken to New York Times sports columnist George Vecsey. At 39, lofty mountains had already been scaled on more than a few occasions, memorably. However, one more victory, a victory which would propel Muhammad Ali out boxing's abyss and onwards and upwards toward a shot at the near impossible, winning the heavyweight title for a fourth time, was always going to be as probable as a resurfacing of the Titanic.
Deep down, Ali knew it.
12 days later, on December 11, 1981, inside the Queen Elizabeth Sports Centre in the Bahamas' capital, Nassau, the scene of an infamous demise for boxing's foremost entertainer – in and out of the ring – was just as painful for the contingent of seated observers to view as it was for the great man himself to physically endure. Compared to how he moved around the ring, which was eloquently graceful and highly distinctive during the iconic decade the 60s, this Ali was almost statue-like whilst being undressed by the youthful hands of 27-year-old Trevor Berbick over the course of a 10 round points decision loss. Had he been around ten years earlier, Berbick would've been fortunate enough to have found himself on Ali's payroll as a sparring partner.
In addition, three years after his final farewell, Ali was sadly diagnosed with Parkinson's Syndrome, a disease with a much more prolonged impact than any jolting wallops he received from Joe Frazier, George Foreman, Larry Holmes, or Trevor Berbick, amongst others. It has has taken its toll to the point where he is now, for the most part, secluded to the confinement of a wheelchair.
Those words, the ones Ali, now 72, briefed Vecsey with 23 years ago, are ringing truer than ever today. Simple tasks in life many of us take for granted such as washing our faces or reaching for the TV remote control are long gone for him. Making a mere effort, now a sacrifice. Quick spur of the moment physical reaches, void.
Dear Bernard:
Hey, you. Yes, you, the youngest old man in the world.
Time to walk away into the horizon, brother. Win or lose, this Saturday against Sergey Kovalev, it's time. Time to hang 'em darn gloves up.
If defeats to Taylor, Calzaghe and Dawson couldn't push you into retirement, what will? Also, after those previous historic wins of recent years, you still couldn't walk down those steps one last time. You're stupidly getting caught up in a turbulent vicious circle – and you know it.
Time to vacate the premises.
Good luck, Saturday night.
Yours truly,
Robbi Paterson
Hopkins vs. Kovalev is a 12-round unification bout for the IBF, WBA and WBO Light Heavyweight World titles, presented by Golden Boy Promotions and Main Events in association with Caesars Atlantic City, Corona Extra, AT&T and Hortitsia Vodka. The HBO World Championship Boxing telecast begins at 10:45 p.m. ET/PT. Coverage starts at 2:00 am in the UK on Boxnation.
Prediction time – I've reached out and spoke to various experts and asked them for their take on the outcome. Enjoy, and please add your own, in the TSS forum.
Chris Cozzone (Fightnews.com): I'm predicting an ugly fight ending in a majority decision for Hopkins. B-Hop will put on an unpretty clinic, with plenty of tying up and complaints, while a frustrated Kovalev will try to land bombs, several of which will have judges seeing a close fight.
Matt Hamilton (ESNewsreporting.com): Most – including the bookmakers – will make Sergey Kovalev a strong favorite in this one. But for me it's one thing to knock over less cultured, less refined and perhaps critically less proven campaigners at world level, it's another to take out the ilk of Bernard Hopkins. Hopkins has been discounted before and whilst Kovalev presents an entirely qualitatively disparate dilemma to say Kelly Pavlik, I can't help but assume B-Hop provides as close to a litmus test of authenticity as exists for the multitude lofty claims surrounding the Kovalev phenomenon. Kovalev is a favourite for a reason but I'm going to stick my neck on the block and predict a Hopkins win by wideish unanimous decision.
Ben Dirs (BBC Sport and author of the book 'The Hate Game: Benn, Eubank and British Boxing's Bitterest Rivalry'): Hopkins on a split decision.
Robbi Paterson (TheSweetScience.com): It's going to be an interesting evening. I'm firmly in the corner of Kovalev trainer John David Jackson when he says it's Hopkins' fight if he dictates the tempo – a slow tempo. He'll be looking for Kovalev to do more flowing than thinking, which just happens to be very difficult to accomplish and maintain against Hopkins, who's style and superbly implemented counter punching approach makes many opponents 'pause.' See, that's the thing about fighting Hopkins effectively; it's about taking him out of his comfort zone. The first 3-4 rounds will be extremely crucial. During those moments, Hopkins needs to defuse Kovalev by making doubts creep into his mind. Apart from Kovalev winning by result of a one punch knockout, for me, Hopkins wins on points.
Diego Morilla (HBO.com, RingTV.com, XN Sports.com): Through the last few years, Hopkins has been able to demonstrate that boxing is not all about speed and power, and he has placed experience and ring IQ even above those two virtues, redesigning and reshuffling the pieces of the puzzle that he presents to his opponents in each one of his fights with the ability of a wizard. But against a rangy, powerful, skilled and motivated fighter like Kovalev, he'll need much more than that. So far, few fighters have been able to land more than two meaningful punches in a row against Hopkins, or at least one with enough power to unsettle him. My bet, unfortunately, is that Kovalev will be able to execute either one of these feats (or both) to bring The Alien's career to a halt, once and for all. Kovalev TKO 10 Hopkins.
Mikey Garcia (WBO world super featherweight champion): Hopkins by decision.
Jeff Mayweather (Boxing/MMA trainer): Interesting fight. Kovalev should win but no guarantee. He hasn't fought anyone near Hopkins' calibre or smarts. I wouldn't be surprised to see Hopkins pull-off the upset. Kovalev by close decision.
Randy Gordon (tss.ib.tv/SiriusXM radio host): I am finding this the toughest pick I have ever had to make, that's how even I think this fight is, despite the fact they are totally different fighters. Kovalev has the power. B-Hop has the skill. Kovalev has the youth. B-Hop has the experience. Kovalev is like a bomb, set to blow up and do damage. B-Hop must be the bomb squad. He can't simply jump on the bomb and try to rip it apart. If he does, it will most likely detonate. He must take his time, diffusing it wire by wire, piece by piece. Can he do it? I say he can. I look for a distance fight which will be close and competitive, especially in the first half of the fight. Then, the massive skill and experience of B-Hop will take over. Rough and dirty at times, this will be an interesting fight. B-Hop by unanimous decision.
Jason Pribila (Secondsout.com): I had the honour of sitting ringside for Hopkins' masterpiece vs Pavlik. Bernard looked old in the opening frames vs Pascal in their first fight. Kovalev won't let him off hook. And, John David Jackson will prepare Kovalev for a "Graterford Stare" at the weigh-in. Kovalev TKO 6.
Clay Moyle (Prizefightingbooks.com and author of the book 'Sam Langford: Boxing's Greatest Uncrowned Champion'): I'll go with Hopkins by decision.
Abel Sanchez (trainer of world middleweight champion Gennady Golovkin): It could end up being a great fight. I believe it is a 50/50 fight. It's there for Kovalev to win it if he boxes, maintains distance and doesn't get caught up in the machismo of trying to knock Hopkins out. Hopkins will school you if you are to aggressive and over anxious. Hopkins by decision.
Ben Doughty (TipTV.co.uk): While I could never write the 'Alien' off, I am inclined to feel that this will be a step too far for Hopkins. He has had an amazing run and his place in history is secure but we should remember that he lost fair and square to the younger Chad Dawson a couple of years ago and Kovalev is fresh, capable and dangerous. Bernard's body of work is vastly superior with Nathan Cleverly about the most notable scalp on Kovalev's record. But I suspect Kovalev will make Hopkins fight at a pace that doesn't suit him and can win on points.
Jeffrey Freeman (KO Digest): This is a scary boxing blockbuster in the making! Here's a sneak preview of coming attractions: a 49-year-old Bernard "The Alien" Hopkins gets launched from the ring by the crushing power of a real-life killer with an a**-kicking strategy, Sergey "The Krusher" Kovalev. In Atlantic City, the Russian will execute the former executioner from Philadelphia with a prophetic injection of phantom punching precision. It's a black and white remake of Rocky Marciano knocking out Joe Louis except this "Krusher" sheds no tears. To him, it's a dark comedy, or worse, a dirty movie. Wherever his spaceship crash-lands inside old Boardwalk Hall, the "Alien" will be writhing around in agony, but this time it's no act. Closing credits: If the fight somehow makes it to the scorecards, the rotten tomatoes review was written and executive produced by judges Layton, Ortiz, and Sammartino. Sergey Kovalev TKO4 Bernard Hopkins.
Rudy Hernandez (Los Angeles based trainer): If Kovalev is anywhere as smart as Nicholas Walters (who knocked out Nonito Donaire for the WBA featherweight title on Oct 18) he wins by knockout. But I believe that Hopkins will find the easy way out and claim injury.
Allan Scotto (Maxboxing.com): I think Hopkins takes the decision. Much more experience and very crafty.
Sean Crose (Boxinginsider.com): Man, this one is most certainly NOT easy to pick. I said I would never go against Hopkins again, but I'm going to have to eat my words in this case. Here's the thing – Kovalev can do more than just punch. He's an adept ring technician. Add that to the fact that the man can literally knock a person down with no more than a jab and you've got a deadly combination on your hands. I see this one being stopped in the later rounds after it becomes clear the Alien can't outsmart the Krusher and the heavy punches start to really take their toll. Kovalev by TKO, 11th round.
Leighton Ginn (Desurtsun.com): I have Kovalev. I hate to go against Hopkins but Kovalev might be too much.
Barry Jones (Boxnation pundit and former WBO world super featherweight champion): It's a hard one to call as Kovalev's style is suited to Hopkins. But saying that I'm going for Kovalev to win, with Hopkins looking for a way out and possibly getting disqualified.
Springs Toledo (TheSweetScience.com and author of the book 'The Gods of War'): I'm actively recommending this fight to non-boxing fans because if gray-bearded Hopkins happens to defeat the most dangerous light heavyweight in the world, it will be an historic accomplishment. There's a caveat though: Hopkins will have to weather early storms which will be fun to watch, but then he'll slow the pace, maul, and make the fight an eyesore. If he doesn't neutralize Kovalev with spoiler tactics, he will provoke him into unthinking aggression and catch him with counters. A part of Hopkins's training regimen may be learning Russian slurs to use during clinches. I'm going with age and guile for this one; Hopkins by controversial SD or DQ.
Fast Results from Tulsa: Joe Smith Jr Nips Vlasov, Wins WBO Title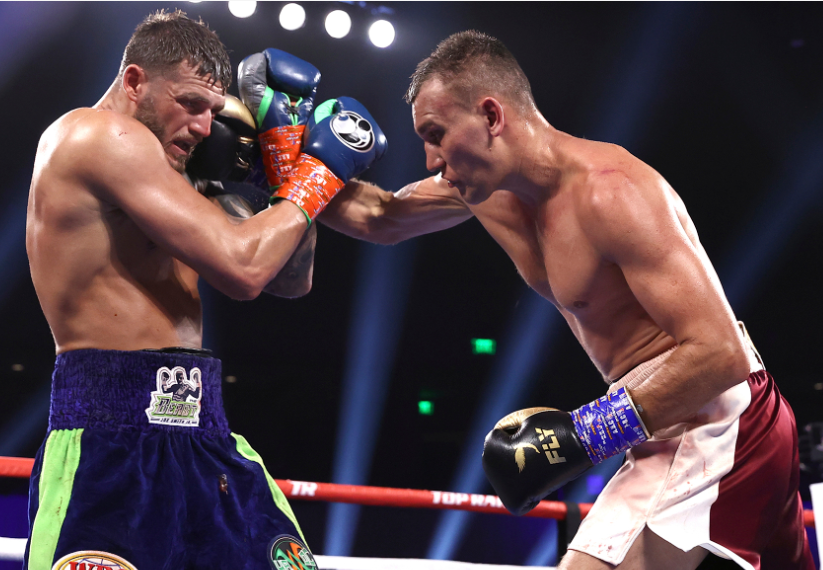 Joe Smith Jr had to dig down deep to upend Russian veteran Maxim Vlasov, but pulled the fight out of the fire with a late rally to capture the vacant WBO light heavyweight title before a sold-out crowd of 500 masked-up fight fans at Tulsa's Osage Casino. Smith prevailed by a majority decision. One of the judges had it a draw (114-114), but he was overruled by his cohorts who each turned in tallies of 115-113.
Smith, the quintessential blue-collar fighter, suffered a cut above his left eye in the first round and it troubled him throughout. Vlasov fought a smart fight, out-working the more one-dimensional Smith in most of the rounds, but a cut inside his mouth and Smith's body punches eventually took their toll. Smith had a strong seventh round but Vlasov recaptured the lead only to let it slip away in a good action fight. There were no knockdowns, but Vlasov went down in the 11th from a punch that landed behind his head, an illegal punch, hence no knockdown.
Smith Jr improved to 27-3 and earned a date with WBC/IBF champion Artur Beterbiev. Vlasov, whose effort commanded a rematch that won't happen — at least not any time soon — falls to 45-4. All four of the Russian's losses have come on U.S. soil, two right here in Tulsa where Vlasov was out-pointed by future world title challenger Isaac Chilemba way back in 2011.
—
The were nine bouts in all the card, the majority of which were intended to showcase up-and-coming heavyweights. The result was a predictable slew of quick stoppages, resulting in plenty of dead time between bouts.
The match between Efe Ajagba and Brian Howard was packaged as the co-feature. Ajagba had been less than impressive in some of his recent starts, but tonight the 6-foot-6 former Olympian for Nigeria scored a devastating one-punch knockout to restore whatever luster he may have lost. The lightning bolt came at the 1:29 mark of round three. Howard was unconscious before he hit the canvas. Ajagba advanced to 15-0 with his 12th knockout. Howard declined to 15-5.
Other Bouts
In the last of the seven preliminary fights on ESPN's subscription channel, Jared Anderson improved to 9-0 (9) with a second-round stoppage of West Virginia southpaw Jeremiah Karpency. The gifted 21-year-old Anderson, from Toledo, Ohio, scored two knockdowns with hard body shots before the bout was halted after only 38 seconds of the second round. The grossly overmatched Karpency was 16-2-1 heading in.
Local fan favorite Trey Lippe Morrison advanced his record to 17-0 with his 17th knockout, stopping 36-year-old Alabama journeyman Jason Bergman (27-20-2) in the third frame. Bergman came to fight and actually scored a knockdown in the opening round that the ref erroneously called a push. Fighting with his back against the ropes, Bergman landed a left that knocked Morrison off his pins.
It was a quirky knockout, coming at the 1:27 mark of round three when Bergman rolled his ankle while throwing an errant punch. He fell to the canvas in obvious pain and the bout was stopped. Bergman had lost seven of his last nine coming in, but was meeting an undefeated opponent for the fifth straight time.
Tulsa native Jeremiah Milton (3-0, 3 KOs) had a successful homecoming, bombing out Mississippi's Jayvone Dafney in the first round. An overhand right by Milton left Dafney out on his feet with his back pinned against the ropes. Milton, realizing that his opponent was seriously hurt, held back, waiting for the referee to intervene. The time was 1:19.
In the ESPN+ opener, Philadelphia's Sonny Conto (7-0, 6 KOs) returned after a 15-month absence and dismissed paunchy Waldo Cortes in the opening round. Conto put Cortes (6-4) down for the 10-count with a perfectly placed right hand. The official time was 1:41.
Photo credit: Mikey Williams / Top Rank via Getty Images
Check out more boxing news on video at the Boxing Channel
To comment on this story in the Fight Forum CLICK HERE
Conor Benn Embarrasses His Detractors, Demolishes Vargas in 80 Seconds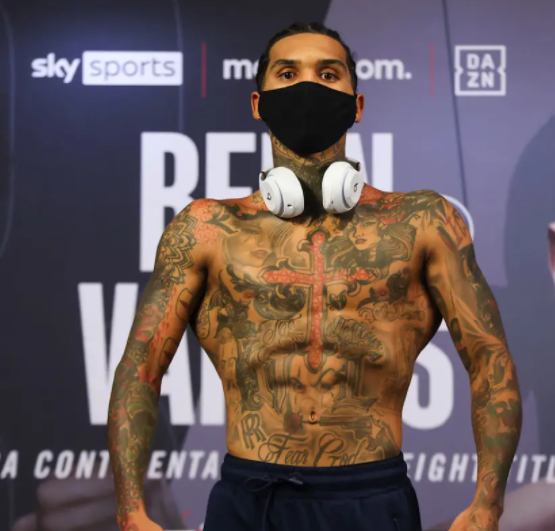 Conor Benn fought Samuel Vargas in London today (Saturday, April 10). Although Benn was a solid favorite, he was stepping up in class. Vargas, a 31-year-old Canadian via Columbia, brought a 31-6-2 record. He had been in with the likes of Errol Spence Jr and Danny Garcia and had extended Amir Khan 12 rounds on Khan's turf in Manchester.
Vargas's best days were behind him , but the prevailing sentiment was that he would make it interesting, likely taking the fight into the late rounds and perhaps lasting the distance. So much for prevailing sentiment. Benn walked right through him. Vargas couldn't cope with Benn's superior speed. He was being battered against the ropes and offering nothing in return when referee Michael Alexander stepped in and waived it off. It was all over in 80 seconds. Benn improved to 18-0 with his 12th win inside the distance.
Benn, 24, is the son of Nigel Benn, a former two-division world champion who was one of England's most celebrated fighters. Conor had a brief amateur career in Australia before turning pro at age 19 in London, the city of his birth. While his record is unblemished, it would be incorrect to say that he passed every test as he was climbing the ladder. His first fight with Cedric Peynaud, a marginally skilled Frenchman, has haunted him.
Benn was knocked down twice in the opening round, but scored two knockdowns of his own late in the 6-round fight and was awarded the decision. Peynaud brought a 5-4-3 record and to say that Conor's performance was underwhelming would be an understatement. At the finish, his right eye was badly swollen.
Scott Gilfoid offered up the most damning criticism: "To say that Benn looked poor tonight is being kind. He was absolutely horrible….The flaws that I saw in Benn's game tonight are ones that likely won't go away anytime soon….His performance has to be viewed as a warning sign that he's not destined to go far in the sport like his famous father."
Benn and Peynaud fought on Dec. 13, 2017. This was Benn's 12th pro fight. He had one more bout under his belt before he and the Frenchman had another go at it. The rematch, scheduled for 10 rounds, took place on July 28, 2018, on a show headlined by the heavyweight match between Dillian Whyte and Joseph Parker.
Benn knocked Peynaud down three times but couldn't finish him. However, the outcome was never in doubt. He won by scores of 98-90 and 98-91 twice.
Trevor McIntyre, a stablemate of the aforementioned Scott Gilfoid (rumor has it that Gilfoid and McIntyre are the same person, and that both are aliases of the owner of the web site where their bylines appear) conceded that Benn showed improvement, but was otherwise unimpressed: "(He) still looked like someone that would be blown away by a halfway decent journeyman fighter….Benn's defense was leaky, his hand speed slow, and his movements looked uncoordinated throughout."
Benn's most recent fight before tonight came against Sebastian Formella, a sturdy but feather-fisted German who was coming off a 12-round defeat to Shawn Porter, a bout in which he showed great heart but won nary a round. Benn won lopsidedly. The scorecards read 100-91, 99-91, and 98-92.
The mysterious Barry Holbrook, whose byline appears at the same web site as Gilfoid and McIntyre, acknowledged that Benn proved some of his doubters wrong, but wrote that "a top welterweight like Errol Spence, Keith Thurman, Danny Garcia, Terence Crawford, or Vergil Ortiz Jr would have knocked him out. If they didn't score a knockout, they would have battered him to the point where the referee would have needed to stop it."
The respected British scribe Ron Lewis offered a different take: "(Conor) looked a completely changed fighter from the wild youngster of his early professional career, switching well from head to body, being patient, and picking his spots well." Lewis did not speculate how Benn would have fared against some of the division's top guns, but certainly hinted that Nigel's son could become a factor in what is currently a very strong welterweight division.
As today's showing proved, Mr. Lewis is a more perceptive observer than his counterpart(s) at the web site where Benn has been repeatedly 'dissed. Nigel's son has made enormous strides in the last few years. He's also an interesting character. Having spent much of his formative years living on the Spanish island of Majorca, he's fluent in Spanish which is always a useful attribute from a marketing standpoint. But as for how good he is, let's not jump to conclusions, mindful that Samuel Vargas was on the wrong side of the curve, having lost three of his last five heading in.
The question doesn't yet have a definitive answer, but tonight in London, Conor Benn was very good, very very good.
Check out more boxing news on video at the Boxing Channel
To comment on this story in the Fight Forum CLICK HERE
Avila Perspective, Chap 130: Jaron 'Boots' Ennis, Super Fly and More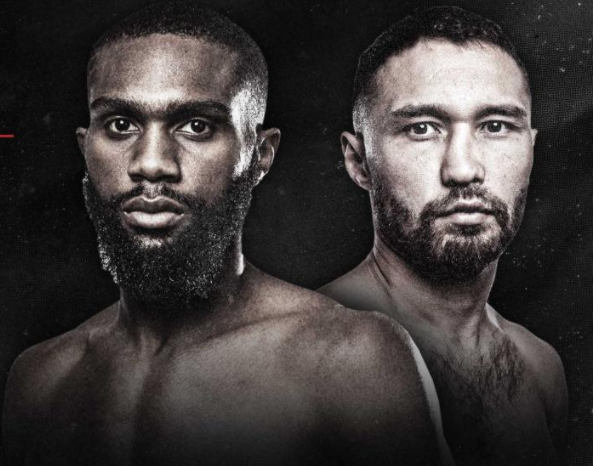 A stacked weekend of marquee fights is led by top American welterweight prospect Jaron "Boots" Ennis tasked with meeting the challenge of Russia's Sergey Lipinets in Connecticut.
The undefeated Ennis (26-0, 24 KOs) faces former super lightweight world titlist Lipinets (16-1-1, 12 KOs) on Saturday April 10, at the Mohegan Sun Casino in Uncasville. Showtime will televise the loaded PBC card.
Philadelphia's Ennis walks into the boxing ring with all of the physical advantages including height, reach, speed and even more pro fights. But Lipinets does indeed know what it's like to fight against a world champion.
"I think the opposition that I've faced is definitely better than what Ennis has faced. I went 12 rounds with Mikey Garcia and I faced a two-time champion in Lamont Peterson," said Lipinets. "Those guys have pushed me to the edge before. Ennis has more pro fights than I do, he just hasn't been pushed in the same way in his fights."
This will be an opportunity for the athletically gifted Ennis to discover if he cracks the elite level.
"I've been trying to get these types of guys in the ring for about two-and-a-half years. I've been trying to get former world champions and top ten guys. It just didn't happen. I finally got my chance and you guys are going to see a whole different animal. A whole different beast. It's time for me to do my thing," said Ennis, 23.
Lipinets, 32, realizes that time is running out and needs a win against an avoided prospect like Ennis to re-introduce himself to the fickle boxing world.
"Ennis is a young and up-and-coming fighter. All we want is a shot at the title and everything that comes with it. A win in this fight will give us all of that. I want to get my crack at the big dogs in the division," said Lipinets who trains in Southern California.
Both fighters are explosive types with extreme confidence in their abilities.
Superfly
Also on the same fight card, long-reigning IBF super flyweight world titlist Jerwin Ancajas (32-1-2, 22 KOs) yearns to be part of the super flyweight wars that have emerged with fighters Juan Francisco Estrada, Roman "Chocolatito" Gonzalez, Kazuto Ioka and Srisaket Sor Rungvisai.
The super flyweight division has become one of the hottest in boxing.
"I want to fight whoever is left after the four-man tournament between Rungvisai, Chocolatito, Estrada and (Carlos) Cuadras. I'm always calling the name of any titleholder in my division, so I would fight Ioka too," said Ancajas, a Filipino southpaw who has held the IBF super fly title since September 2016. "I want a signature fight because I'm tired of people criticizing me for not fighting anybody."
Ancajas, 29, meets Mexico's Jonathan Rodriguez (22-1, 16 KOs) another one of those little-known Mexican sluggers that can upset any fighter looking too far ahead.
"Ancajas is a great champion, but he's never faced someone like me. I'm going to put the pressure on him from the very beginning Saturday night and show him that he has a great Mexican fighter standing in his way," said Rodriguez.
Early Fights
A welterweight battle between Conor Benn (17-0) and Samuel Vargas (31-6-2) takes place on Saturday April 10, from London. The Matchroom Boxing card will be streamed on DAZN at 11 a.m. Pacific Time.
British-born Benn is the son of the great Nigel Benn and was slated for a showdown with another British prospect Josh Kelly. But that fighter was upended by David Avanesyan this past February who knocked out Kelly. Matchroom Boxing had to re-arrange somethings and now it's Benn versus Vargas.
Vargas is tough.
The last time we saw Vargas he was getting clobbered by knockout artist Vergil Ortiz Jr. but never touched the floor. Whoever fights Vargas learns quickly that he's a dangerous fighter with a head made of steel.
Does Benn have enough boxing skills to switch to plan B when a knockout win isn't possible?
We shall see.
On the same card two female world title fights take place with the vacant WBA bantamweight title up for grabs between England's Shannon Courtenay and Australia's Ebanie Bridges. Also, WBO middleweight titlist Savannah Marshall defends against Maria Lindberg.
Light Heavyweight Title
A fight for the vacant WBO light heavyweight title will try and take place again when Joe Smith Jr. (26-3, 21 KOs) the hard-hitting blue-collar worker from Long Island takes his hammer fists to Tulsa, Oklahoma to face Max Vlasov (45-3, 26 KOs) on Saturday April 10. ESPN will show the Top Rank fight card.
They tried fighting each other before but the coronavirus epidemic knocked the first attempt out of the water. Here they go again.
Smith, 31, has tried before and been defeated before. But every time someone thinks its all over for the construction worker, he knocks somebody out to regain a footing. He knocked out former champion Eleider Alvarez and defeated Jesse Hart to get to this spot.
Vlasov, 34, has been around for many years and displays an aptitude for doing what's necessary to survive. Can he find that same ingredient to fend off Smith?
It should be a worthy world title fight.
Check out more boxing news on video at the Boxing Channel
To comment on this story in the Fight Forum CLICK HERE