Kovalev And Father Time Finally Too Much For Hopkins
This past Saturday night boxing fans saw a changing of the guard in the light heavyweight division. With three titles on the line (WBA/IBF/WBO), Sergey Kovalev 26-0-1 (23) won 12-consecutive rounds against Bernard Hopkins 55-7-2 (32) and left the ring with all three belts via a unanimous decision victory. Kovalev dropped Hopkins in the first round and then proceeded to fight his fight from outside and totally nullified everything Hopkins tried for the last 11 rounds.
Boxing fans have witnessed Hopkins shave things a little close and lose a decision before. But this was different. Hopkins had a legitimate beef with every decision he's lost with the exception of his first fight with Roy Jones, yet he did to win four rounds against Roy. That wasn't the case on November 8th in Atlantic City versus Kovalev because Hopkins didn't win a round.
Let's be perfectly clear, Hopkins is two months shy of turning 50 years old. He's not the same fighter who schooled Antonio Tarver and Kelly Pavlik in 2006 and 2008. And make no mistake about it, Hopkins looked a lot like Joe Louis did when he fought Rocky Marciano in his last fight. Like Louis, Hopkins couldn't get off. However, don't let anyone tell you that Hopkins age was his total undoing, because it wasn't. Kovalev, and his ability to fight and hit with power from mid-range and outside, as it was stated here before the fight, had much to do with Hopkins looking like the old fighter he is.
Kovalev fought a smart and efficient fight. He didn't risk anything, really, and in fact he actually may have shown Hopkins a little too much respect during some of the middle rounds because he'd never gone past eight rounds before. There were no heroics with Kovalev, just his typical contained and methodical fight. And that was to jab Hopkins to the head and body, thus keeping Bernard at the end of his punches. Kovalev did his best work from outside, and that not only added up the points for him, it kept Hopkins on the defense and nullified his traps and counters. Hopkins, realizing that the fight was slipping away, had no choice but to take some chances. And every time he attempted to go on the offensive and bring the fight to Kovalev, he paid for it because Kovalev was waiting for him.
After the fight Hopkins admitted that every time he was about to go on the offensive or attempt to, Kovalev forced him to reset. What a luxury it was for Kovalev to be able to score and somewhat make Hopkins uncomfortable with his long game and power. What that did was paint Hopkins into a corner to where he needed the reflexes and speed of a young fighter to score, but it wasn't there. Kovalev kept Hopkins to the point to where he needed to cut loose but couldn't pull the trigger. And while he was waiting for what he thought was the right time to go, Kovalev kept giving him something else to think about, and the more he did that, the less open the window became in Hopkins' mind and eyes.
Sure, Hopkins aged during the bout. But Kovalev had a lot to do with it. Some may look at the fight and say, "that's how you beat Hopkins," using the strategy that Kovalev did. And in the cookbook analyst world that sounds plausible, but it's wrong. What Sergey did was fight his fight. He doesn't have much of an uppercut and slaps with his hook. Kovalev's strength isn't fighting on the inside, and that's where Hopkins is very dangerous with his tactics and short counter right hands. Kovalev stayed within who he is as a fighter and landed power shots from the outside, which prevented Hopkins from getting his hands on Kovalev and doing his thing inside. It just so happened to be that what Kovalev does every day as a fighter was something that hamstrung an older Hopkins. It's not a strategy that many others could employ against Hopkins and be nearly as successful as Kovalev was.
Everything we saw from Kovalev looks good. He's an outstanding puncher, not a great one punch life-taker. He's a good boxer and is also very measured and patient. He takes what his opponent gives him and doesn't veer away from who he is. He needs to work on his ability to fight on the inside but that can be learned. He's not fast, but he's fast enough. The one area of concern that I saw was his chin. I'm not saying it'll be his undoing, but he was hurt a couple times during the fight in the later rounds by what appeared to be throw away punches from Hopkins. And lastly, he's likeable and seems willing to fight whoever is the supposed best in the division. Hopkins is probably right when he said after the bout that Kovalev could be around for a long time.
As for Hopkins, I hope he retires. There's nothing for him to prove. To hardcore boxing fans, Hopkins has a better resume than Floyd Mayweather. Hopkins fought everybody, even those who presented a style conundrum for him, and he did it when he was in his forties. Mayweather retired to avoid Paul Williams and Antonio Margarito, both had the style to be a nightmare for him and Mayweather acted as if they didn't exist. Being undefeated, in Floyd's case, means he picked his spots better than Hopkins because that's what he thinks is most important to his lasting legacy. However, nobody will ever call Hopkins a cherry picker.
Hopkins showing against Kovalev will hurt his chances in future fights now that fans have seen him get beaten up for 12 full rounds. It detracts from the "Alien" thing. Now future opponents see that it can be done, and thus a lot of Hopkins' psychic weaponry falls by the wayside.
The take-away from Hopkins-Kovalev is this: Hopkins became an old man during the fight, but Sergey Kovalev had much to do with his acceleration in aging during the bout. Hopkins is no doubt one of the all-time greatest and most unique fighters ever, and that wasn't washed away by Kovalev. Let's hope Sergey respects the sport and fights the best of the best like Hopkins did for 20 consecutive years.
Frank Lotierzo can be contacted at GlovedFist@Gmail.com
Broner UD 10 Hutchinson in Miami; Izmailov UD 10 Foster at Turning Stone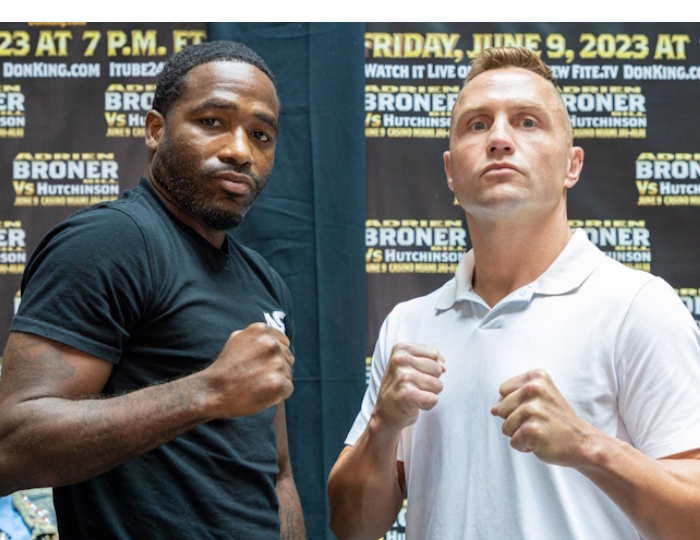 Boxing cards in Miami and in Verona, New York, competed for eyeballs on Friday night. Neither card produced much in the way of fireworks.
The main go of the Miami event, a Don King promotion, was dismal. Perpetual under-achiever Adrien Broner delivered another clinker while pitching a near-shutout over gallant but overmatched Bill Hutchinson.
Yes, that sounds like a contradiction in terms, but Broner was matched very soft and it did not reflect well of him that Hutchinson was never off his feet and still standing at the final bell. The judges had it 100-90 and 99-91 twice.
Broner (35-4-1, 24 KOs) seemed content to get in 10 rounds of sparring in his return to the ring after a 27-month absence. The intrepid Hutchinson, a 34-year-old attorney from Pittsburgh who hadn't previously fought beyond eight rounds, fell to 20-3-4 and will be able to boast that he stayed the limit against an opponent who was a title-holder in four weight classes.
Other Bouts of Note
In a 10-round light heavyweight affair with a pair of regional belts at stake, Ahmed Elbiali won a unanimous but paper-thin decision over Laredo, Texas campaigner Rodolfo Gomez Jr. All three judges awarded Elbiali six of the 10 rounds which translated to 95-94 scores factoring in a point deduction for low blows.
A local Miami man but born in Egypt, Elbiali won his seventh straight to improve his record to 23-1 (18). However, this was a messy fight marred by excessive clinching and Elbiali, 32, did nothing to suggest that he could hold his own with the top dogs in his weight class. Gomez declined to 14-7-3 but maintained his distinction of having never been stopped.
In a bantamweight contest slated for "10," Guillermo Rigondeaux (22-3, 15 KOs) scored his second straight knockout, knocking defensive-oriented Charlie Clemente-Andino down for the count with a straight left to the belly in the seventh round. The 42-year-old southpaw, a former two division world title-holder and one of the most decorated amateurs of his generation, had the best of every round before bringing the bout to its sudden conclusion. Puerto Rico's Clemente-Andino  came in undefeated (12-0), but had been out of the ring for seven years. He filled the breach when Argentine veteran Julian Aristule pulled out, purportedly because of visa problems.
TURNING STONE
"ShoBox: The New Generation" was at the Turning Stone Casino Resort in Verona, New York, with a show held in conjunction with Induction Weekend at the nearby International Boxing Hall of Fame and Museum. The lead promoter, Dmitry Salita, left a happy man when his fighter, light heavyweight Ali Izmailov, won the featured bout. Izmailov, who improved to 11-0 (7) won a unanimous decision over previously undefeated Charles Foster (22-1). Foster was fighting an uphill battle after hitting the deck near the end of round five. The judges had it 95-94 and 96-93 twice.
A 30-year-old Russian who trains in Michigan and Florida, Izmailov came in ranked number 11 by the WBO. He will need some help to move up a notch, however, as his showing wasn't particularly impressive.
The other TV bouts were also light heavyweight affairs.
Co-Feature
In a battle of southpaws in which the competitors traded knockdowns, Colombia's Juan Carrillo advanced to 11-0 (8) with a majority decision over Washington's Richard Vansiclen (13-1-1). Carrillo put Vansiclen on the canvas early in round three with a right hook. Vansiclen wasn't badly hurt and he returned the favor in the next round just when it seemed that the Colombian was on the verge of scoring a TKO. It was a good back-and-forth fight from that point on. Two of the judges favored Carrillo by 95-93 scores with the other scoring it a draw (94-94).
Also
In the TV opener, Australian import Clay Waterman, making his U.S. debut, advanced to 11-0 (8) with a unanimous 8-round decision over Kenmon Evans (10-1-1).  The judges had it 77-75 and 78-74 twice. Evans, a 31-year-old Floridian promoted by 2020 IBHOF inductee Christy Martin, had won eight straight heading in.
To comment on this story in the Fight Forum CLICK HERE
Avila Perspective, Chap. 239: Mexican Boxing Stars in SoCal's Inland Empire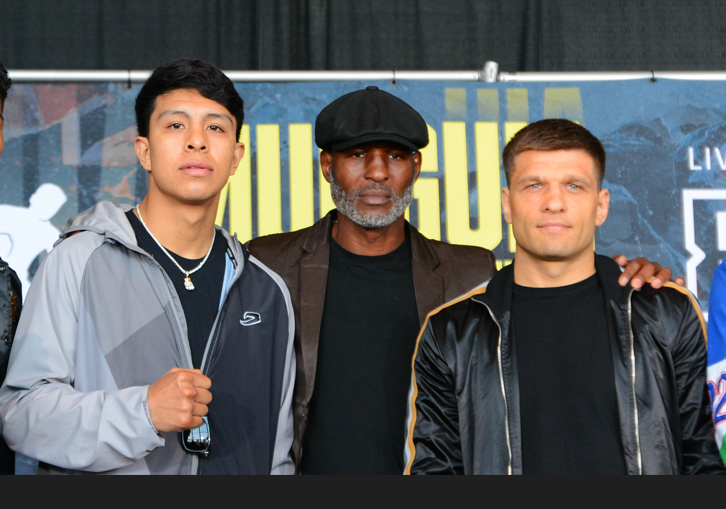 Mexican style prizefighting arrives in the Inland Empire with undefeated burgeoning middleweight star Jaime Munguia and female boxing legend Mariana "Barbie" Juarez this weekend.
Both have their legion of fans. Both are in dangerous fights.
Munguia (41-0, 33 KOs) faces a tough test in Ukraine's Sergiy Derevyanchenko (14-4, 10 KOs) and former three-division world champion Juarez (55-12-4, 19 KOs) has an equally tough match in tiny but powerful Mayeli Flores (9-1-1). Both will be fighting at the Toyota Arena in Ontario, CA on Saturday, June 10. DAZN will stream the Golden Boy Promotions card.
And to add local luster Pomona's Shane Mosley Jr. (19-4) has been added. The super middleweight has been impressive in his rise to contention. He also has a rough foe in D'Mitrius Ballard (21-1-1).
It's an interesting card mostly because the two Mexican stars are not guaranteed wins on Saturday. Munguia faces a very tough and experienced fighter who has traded blows with several of the best fighters today.
"He has a lot of experience," says Munguia about his next foe. "Without a doubt the hardest fight of my career."
While Derevyanchenko has fought Gennady Golovkin, Daniel Jacobs and Jermall Charlo, the Mexican fighter has only faced Gabe Rosado, Dennis Hogan and Liam Smith. All are worthy opponents but not as dangerous as the Ukrainian.
"I think he has the experience with 41 fights," said Derevyanchenko. "We will see."
One way or the other Munguia expects people to sit up and notice both fighters after they clash on Saturday.
"There's going to be a lot of punches thrown and a lot of emotion," Munguia predicts.
Hall of Fame boxer Bernard Hopkins (pictured between the two gladiators) predicts big things for the winner.
"I know from my experience these are champions brewing and these are legends coming," Hopkins said.
Five years ago, Munguia almost fought Golovkin but it was nixed by the Nevada State Athletic Commission because of the Mexican fighter's young age and lack of experience. Instead, Munguia was matched against Sadam Ali in New York and promptly knocked out the WBO super welterweight titlist.
Munguia has out-grown the super welterweight division and now fights at or above 160 pounds.
"Everyone wanted to see Jaime in a battle like this one," said Fernando Beltran of Zanfer Promotions.
Barbie
Mariana "Barbie" Juarez, 43, has been fighting since the 1990s and was largely helpful in making women's boxing legal in Mexico.
You read that correctly.
Before the early 2000s women's boxing was illegal in Mexico so fighters like Juarez and Ana Maria Torres fought underground and mostly against each other. Early on Mexican-style fighting was established by women like Juarez, Torres and others.
Juarez made boxing history when she fought in front of the largest recorded crowd of more than 500,000 people at the Zocalo in Mexico City in April 2017. No fighter, man or woman, has ever reached or exceeded that number.
Unknown to many, Juarez moved to Southern California in the early 2000s and trained under South El Monte's boxing wizard Ben Lira. For several years she learned the finer points of boxing and emerged one of the greatest female fighters of her generation.
Juarez also spearheaded the women's boxing movement in Mexico which gained popularity and was often televised in that country when it was ignored in the USA and other countries.
Now women's boxing has gained traction due to fighters like Juarez who willingly spoke to the media whenever asked. She advised other female fighters to never turn down media requests.
The queen has returned.
Boxing Addicts Weekend
If you love boxing, today and tomorrow will be crunched with boxing cards all over the world. Many will be televised.
Don King Productions brings Adrien Broner back to the limelight. Guillermo Rigondeaux is also competing on the same card. It begins in the late afternoon for West Coast fans. It can be seen on FITE.tv.
360 Promotions has a boxing event tonight (Friday June 9), at Commerce Casino with Callum Walsh versus Carson Jones.
PBC also has a Showtime Boxing card featuring undefeated light heavyweights Charles Foster and Ali Izmailov clashing in upstate New York.
Then on Saturday morning Matchroom Boxing has flyweights Sunny Edwards and Andres Campos vying for the IBF flyweight title and also female fighters Cherneka Johnson defending against Ellie Scotney for the IBF super bantamweight title. All on DAZN.
That is followed by the Golden Boy Promotions card at 5.p.m
In New York, a showdown between pound for pound fighters Josh Taylor and Teofimo Lopez takes place at Madison Square Garden. ESPN will televise. It should be very revealing.
Fights to Watch (Pacific Coast Time)
Fri. www.donking.com 3:50 p.m. Adrien Broner (34-4-1) vs Bill Hutchinson (20-2-4).
Fri. UFC Fight Pass 7 p.m. Callum Walsh (6-0) vs Carson Jones (43-15-3).
Fri. Showtime 7 p.m. Ali Izmailov (10-0) vs Charles Foster (22-0).
Sat. DAZN 11 a.m. Sunny Edwards (19-0) vs Andres Campos (15-0).
Sat. DAZN 5 p.m. Jaime Munguia (41-0) vs Sergiy Derevyanchenko (14-4); Shane Mosley Jr. (19-4) vs Demetrius Ballard (21-1-1); Mariana Juarez (55-12-4) vs Mayeli Flores (9-1-1).
Sat. ESPN 7 p.m. Josh Taylor (19-0) vs Teofimo Lopez (18-1).
Munguia / Derevyanchenko photo credit: Al Applerose
To comment on this story in the Fight Forum CLICK HERE
Adrien Broner Returns to the Ring with an Attorney in the Opposite Corner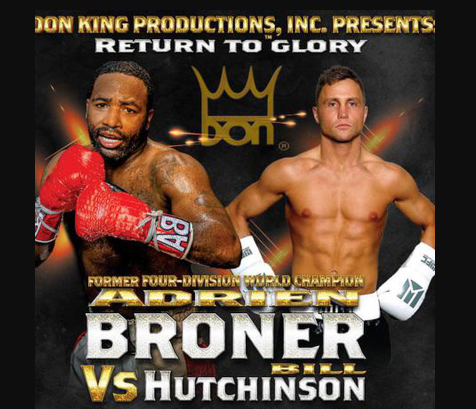 Adrien Broner returns to the ring tomorrow (Friday, June 9) after a 27-month absence. He meets Bill Hutchinson at Casino Miami Jai Alai in Miami, Florida, in a fight slated for "10." It's a Don King promotion for sale at $24.99 on FITE TV and several other pay-per-view platforms.
Hutchinson – his friends call him Hutch — is a practicing attorney with offices in his native Pittsburgh and in Naples, Florida. Reading about him reminded me of Leach Cross. A very good lightweight during the early years of the twentieth-century, Cross was a dentist. His disparate occupations, as one would imagine, gave rise to many jokes. It was said of Leach that he drummed up business for his dental practice by rearranging the bridgework of his opponents. He could knock out a man's tooth and replace it with a facsimile the next morning.
Adrien Broner, aptly nicknamed "The Problem," is frequently in need of a good attorney. The same goes for Don King, a litigious sort who has sued and been sued many times. Even if Hutchinson never fights again, it wouldn't be surprising if he crosses paths with Broner and/or King at some point again down the road. The principals made light of this in Tuesday's press conference. "Dealing with lawyers is Broner's forte," wisecracked Don King. "After I mess you up, I'm going to hire you," said Broner, looking sternly at Hutchinson.
On his web site, Hutchinson comes across as less of an attorney than a man who makes his living as a motivational speaker. "Currently," it reads, "Hutch is a partner and leader in multiple businesses across divergent market categories. These businesses range from the automobile industry to event promotions, high end construction to hospitality, real estate to medical marijuana, and biologics/pharmaceuticals…Hutch has earned a reputation in each industry as an innovative problem solver who discovers new opportunities for growth."
Okay, but can he fight?
Hutchinson's current record (20-2-4, 9 KOs) is decent, but only nine of his 20 wins have come against opponents with winning records. None of his previous fights were slated for more than eight rounds.
There are levels to this sport as Mike Lee can ruefully attest. A finance major at Notre Dame, Lee was a successful businessman with a 21-0 record (against limited opposition) when he wangled a match with IBF super-middleweight title-holder Caleb Plant. That bout turned ugly in a hurry. Plant put him on the deck in the opening round and scored three more knockdowns before the butchery was halted at the midway point of the third round.
The guess is that Broner-Hutchinson won't be quite as lopsided. Owing to legal problems, management issues, personal problems, and training injuries incurred by would-be opponents, Adrien Broner has been relatively inactive, missing all of 2020 and 2022. He's 1-2-1 in his last four fights going back to July of 2017 with the lone triumph coming against unheralded Jovanie Santiago who took the fight on short notice. Broner won a 12-round unanimous decision, but was actually out-landed. His post-fight interview was more exciting than the fight, said CBS reporter Brian Campbell.
In truth, Broner (34-4-1, 24 KOs) hasn't been the same fighter since his bout with Marcos Maidana in December of 2013. Broner was still standing at the final bell, but Maidana roughed him up en route to winning a lopsided decision. Entering that contest, Broner was 27-0 and had never been knocked down. After that bout, he became far less willing to initiate contact, relying more on his sublime defensive skills.
Broner vs. Maidana drew a reported 1.3 million pay-per-view buys, an impressive figure. Broner vs. Hutchinson won't come anywhere close to matching those numbers (75,000 may be a stretch) and no matter his showing, Broner won't repair his tattered image. A prizefighter cannot regain what he has lost against the Bill Hutchinson's of the world.
To comment on this story in the Fight Forum CLICK HERE