TSS WHERE ARE THEY NOW SPECIAL: Courage Tshabalala
Boxing attracts way more solid citizens than it is given credit for. But of course, our low barrier to entry attracts more than a fair share of scoundrels and wretches. Overall, though, in my time covering the sport, I've found the good souls out-numbering the cads, bigtime.
I was recently in touch with yet another solid citizen, in ex heavyweight contender Courage Tshabalala, who I touched base with for a Where Are They Know? piece.
The South African native, who now lives in California, fought as a pro from 1993-2005. He was hooked up with Lou Duva and Main Events, and got pretty near the promised land, of a title fight, and life-changing moolah. But it didn't happen that way for the big banger, who finished up with a 26-4 (22 KOs) mark.
"My ambition always exceeded my talent," the 43-year-old told me, on the phone, in between efforts on behalf of Sheer Sports, the boxing management company he works for and with, as a talent scout and mentor. "I never thought I'd make a living at it, but I was in the same ring with Ray Mercer, Michael Grant, Henry Akinwande, Jameel McCline, David Tua…that alone is a real accomplishment. I loved every minute of it, stayed in the moment, and have no regrets."
Courage came from South Africa to the US in 1994, and right away, found himself in the Triple Threat Gym, in Newark, NJ, where guys like Roy Jones and Al Cole often did their thing. Ray Mercer was getting ready for a fight with Frank Bruno which didn't come off, and right away, Courage swam in the deep waters with the sharks.
Back then, Main Events was a mega-company, and had a stellar stable. Pernell Whitaker, Evander Holyfield, and Andrew Golota was working his way up. Courage has eyes wide open on where he fit on the food chain, and never, he says, got irked that the spotlight didn't fall on him more than it did. "Lou Duva basically adopted me, I was with his family at Christmas. So yes, I have full acceptance. I was meeting good people, and I sat back, and learned," he said. There were hiccups as he acclimated to the States, but more of the humorous variety, such as when in a deli, he asked for chips, and was bewildered when a bag of Lays was thrown to him. "I want em fried," he recalls asking, chuckling.
Courage lived in Jersey, but went to camps everywhere. Vegas, Texas, wherever a Main Events XL hitter was readying for a rumble, he went. Today, he lives in the Valley, in Cali, and lives in the present, as he seeks to help find talent for Sheer, which boasts the talents of irish banger/boxer Jason Quigley, under the Golden Boy banner, who impressed mightily in his last outing, which ran on Fox Sports 1.
The South African, now divorced, has three children, a 22-year-old in med school, a 14 and a 7 year old. He says that he knows Quigley is a future star, and is impressed by his "talent and charisma." Courage got a good sense of the power of having a guy who has a fanbase when he got to know Irish-American Martin O'Malley, a pro from 1996-2005, who had throngs snapping up tix when he rumbled. "Quigley is a skillful, good looking white kid who can fight his behind off," says Tshabala. "He had a great amataeur career and he's getting better. He's going to be a force to be reckoned with. At Sheer, that's the kind of talent we want, and we want to create relationships like in the old school way. We want to bring that back, it being more than just a business. Kids need to be comfortable, we need to nurse their talent."
Sheer backs a gym in Santa Monica, Iron Boxing, and two more facilities, in the Valley, and in West LA, are in the works. "You can go there, and you can train like a pro," Courage says.
The talent scout told me that he accepts and understands why boxers, like, say, a Floyd Mayweather, talk their smack and act up and enjoy the pub from that. But he likes what he learned from Lou Duva, which is that "character is the most important thing in a human. And people are humans before and after boxing. Back then, I was young, and I didn't really get it. In my late 30s, I got it."
It seeped into Courage when he saw Duva hooking up Johnny Bumphus, an ex champ down on his luck, with contender Kassim Ouma, helping "Bump City" get back on track. "How can you not admire that?" he said to me.
To this day, Courage (May 27) and Lou Duva (May 28; is 92 years old) exchange phone calls around their birthdays. "It's more than just a relationship, we're all connected, whether we know it or not. The biggest thing that came out of my boxing time was to understand true nobility, that we are not superior to another, to never compare myself to somebody else. What I did when I was younger, I share those lessons. There is nothing new being done. What Floyd is doing, Jack Johnson did, with cars and women. Therefore, we can take lessons from that. I learned that things are not always going to go your way, that what you plan and the universe does can differ. I don't dwell on the challenges, you can find a way to move on. Letting go of such things is the hardest lesson, one I learned late in life."
All too often the story we read about ex fighters is the "what might have been" or the "now down on his luck" sagas. This one is different; like most of us humans, he fell short of some goals, but he came out stronger, wiser, and I dare say a better man for it. That's a role model, again, I dare say, a better one than one who wants you to look up to him for the money he's made or the baubles he's collected.
Follow Woods on Twitter. https://twitter.com/Woodsy1069
Claressa Shields Defeats Maricela Cornejo in Detroit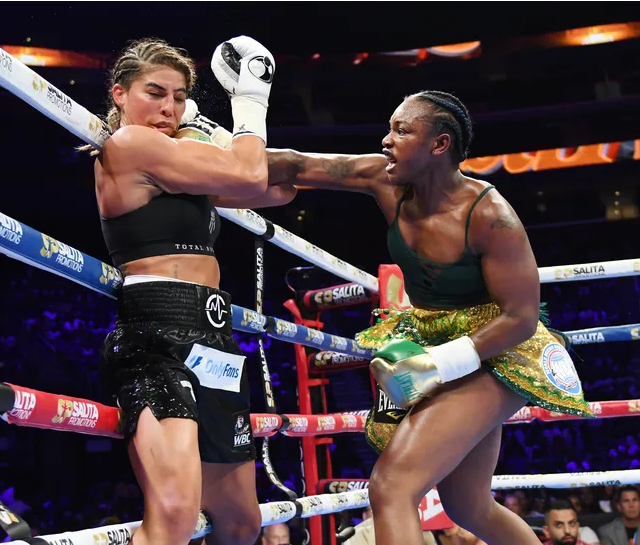 In front of a Detroit crowd familiar with boxing legends Claressa Shields demonstrated her place among the legends with a start-to-finish win over number one contender Maricela Cornejo to retain her middleweight world championship on Saturday.
"Maricela is just super tough. She was just in shape and knew how to get away from shots," said Shields
More than 10,000 fans entered Little Caesars Arena and witnessed Shields perform.
Despite last-minute changes in opposition, Shields (14-0, 2 KOs) accepted always strong Cornejo (16-6, 6 KOs) and proved that former Detroit boxing legends such as Sugar Ray Robinson, Joe Louis and Tommy Hearns need to move over.
Shields wasted little time in opening-up with looping overhand rights that barely missed the mark. Cornejo was careful to avoid the bombs. Though few punches landed it was clear that Shields was on the attack.
Cornejo was scheduled to fight another foe and had been preparing in Las Vegas with famed trainer Ismael Salas. She was fully prepared to face anyone, but Shields is not anyone. Her defense was on point but the speed ratio of Shields punches is almost impossible to practice.
Still, Cornejo did enough by connecting with a strong right cross that kept Shields from overwhelming her.
"Just stay smart and not get hit with her big right hand," said Shields about her battle plan against Cornejo who replaced Hanna Gabriels who failed a PED test.
Though Cornejo had two inches height advantage, Shields had faced others that were taller before such as Christina Hammer and Savannah Marshall. Shields adjusted well.
"Height don't matter, power don't matter," Shields said. "It's all about skills and wills and I always have more."
Over the years Shields has carefully added more ammunition to her offensive arsenal and fighting a taller opponent with power has become second nature. Shields kept a perfect distance at all times and made it difficult for Cornejo to time her attacks with a big right cross.
Cornejo jabbed her way trying to close the distance, but Shields agility and reflexes kept the taller fighter from her goal. Shields snapped Cornejo's head back numerous times during the fight, but the Mexican-American fighter from the state of Washington has always shown to have one of the best chins in women's boxing. No one has ever knocked her down.
Shields came close, especially in the seventh round. Cornejo opened the frame with a strong right lead that seemed to awaken the gates. Shields unleashed the blinding combinations that have bewildered every foe she's ever faced since childhood. The speed and fury of the blows forced Cornejo to hold and maneuver out of range. She survived the onslaught but if it had been a three-minute round the fight might have been over. Instead, after the two-minute round expired, Cornejo had survived.
Shields had expended a lot of energy attempting the knockout. It takes a lot of to fire off dozens of blows with blinding speed and accuracy. Most of the eighth round was fought by both at a much slower tempo, until the last 20 seconds when Shields and Cornejo opened up the guns.
After saving energy in the prior round, Shields stunned Cornejo with a strong one-two that snapped the head of the challenger. Shields kept on the attack but in measured tones. Though she won every round it was evident that Cornejo was looking for one big counter shot that could turn the momentum.
It did not happen. Shields kept control of the fight until the very end. After 10 rounds both hugged each other in respect and the judges gave their verdict 100-89, 100-90 twice for Shields who keeps the middleweight world championship.
"I felt great. I won every round like I knew I could," said Shields. "I tried for the KO, but Maricela was tough, had a strong right hand."
For Shields it was her sixth defense of the middleweight championship.
"I thought I looked really, really good," said a very content Shields. "Thank you for coming out."
Other Bouts
Local fighter Ardreal Holmes (14-0) defeated Haiti's Wendy Toussaint (14-2) by technical split decision after the fight was stopped early due to a bad cut following a clash of heads in the super welterweight match.
Toussaint was the aggressor through most of the fight but when a savage cut opened up above his forehead the referee stopped the fight though the ringside physician had given approval to continue.
The fight was stopped at 1:54 of the eighth round and Holmes won 76-75, 77-74, 74-77. The Detroit crowd booed the decision loudly.
A middleweight contest saw Michigan's Joseph Hicks (7-0, 5 KOs) use his height and reach to dominate Atlanta's Antonio Todd (14-8) from the outside. All three judges scored it 80-72 for Hicks.
To comment on this story in the Fight Forum CLICK HERE
Adelaida Ruiz and Fernando Vargas Jr Score KO Wins at Pechanga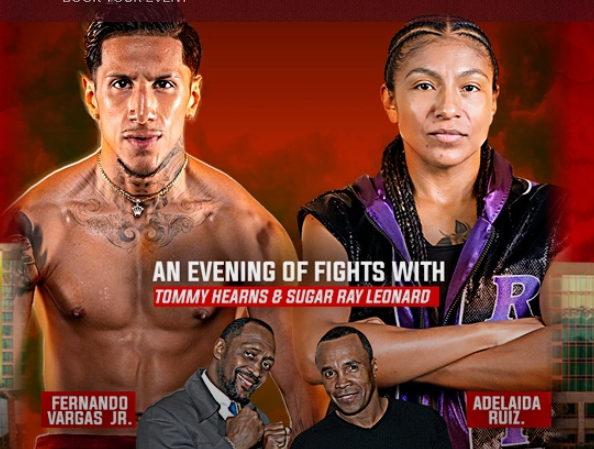 Adelaida Ruiz and Fernando Vargas Jr Score KO Wins at Pechanga
TEMECULA, Ca.-After a long period of fighting out of the country, Adelaida Ruiz returned to Southern California and with her came hundreds of her ardent followers as she won by knockout over Mexico's Maria Cecilia Roman on Friday.
Ruiz (14-0-1, 8 KOs) looked sharp and stepped in with a disciplined attack against Roman (17-8) who fought behind a peek-a-boo style throughout the fight. Ruiz fired away at openings with a measured attack in front of several thousand fans at Pechanga Arena on the MarvNation Promotions card.
Midway through the eight-round match Ruiz increased the tempo of the attack with blistering combinations to the body and head. During one of the combinations Ruiz connected with a left hook to Roman's temple and down she went.
Roman beat the count, but Ruiz never slowed her attack and each round her blows seemed to increase with power, the impact of the punches resonating in the arena. The interim WBC super flyweight titlist, whose title was not at stake, seemed determined to win by knockout.
In the eighth and final round Ruiz staggered Roman with another left hook to the temple and that only sparked more punches from the Southern California fighter. She unloaded her bullet chambers and the referee decided to stop the action at 1:19 of the eighth round.
Other Bouts
Fernando Vargas Jr. (9-0) won the super middleweight contest by knockout when Heber Rondon (20-5) was unable to continue due to a shoulder injury at the end of the second round. Fans were displeased but it was not up to the fans.
Vargas showed patience against the veteran southpaw Rondon who showed some tricks in his bag. But after some exchanges in the second round it was a surprise to everyone in the arena when the referee signaled the fight was over at the end of the second round.
Undefeated Jonathan Lopez (11-0, 7 KOs) of Florida remained unblemished with a unanimous decision win over Mexico's Eduardo Baez (21-5-2, 7 KOs) in a 10-round featherweight fight.
San Bernardino's Lawrence King (13-1,11 KOs) faced veteran Mexican fighter Marco Reyes (37-10) and was able to use his speed and southpaw stance to win almost every round. But he had to work for it.
Reyes was able to avoid most of King's attacks but in the sixth round after absorbing some heavy blows the Mexican fighter was unable to continue and the fight was stopped at the end of the sixth round for a knockout win by King.
In a super welterweight fight, Mario Ramos (11-0, 9 KOs) wore down Jesus Cruz (6-3) for three rounds with his left-handed assault and then lowered the boom with a non-stop barrage of lefts and rights. After nearly two-dozen nearly unanswered blows the referee stopped the battering at 2:09 of the fourth round.
Orlando Salgado (3-2) slugged it out with Squire Redfern (0-1) to win a super welterweight fight by decision after four back and forth rounds. Salgado connected with the bigger blows but never could stop Redfern from rallying round after round. All three judges scored in favor of Salgado.
A heavyweight battle saw Mike Diorio (1-5-1) win his first pro fight in out-punching debuting heavyweight Ian Morgan (0-1) after four rounds. Both fighters tired a bit but Diorio had a better idea of how to score and won by decision.
To comment on this story in the Fight Forum CLICK HERE
Reviews of Two Atypical Boxing Books: A 'Thumbs Up' and a 'Thumbs Down'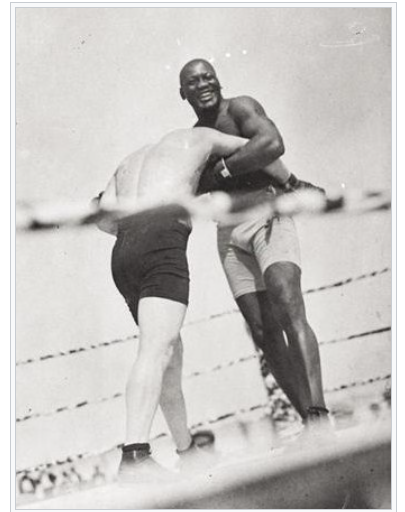 Reviews of Two Atypical Boxing Books: A 'Thumbs Up' and a 'Thumbs Down'
Jack Johnson sheared the world heavyweight title from Tommy Burns in 1908 and lost it to Jess Willard in 1915. Between these two poles he had nine ring engagements, none of which commanded much attention with one glaring exception. His 1910 fight in Reno with former title-holder James J. Jeffries stands as arguably the most sociologically significant sporting event in U.S. history.
Toby Smith, who wrote extensively about Johnny Tapia while working as a sports reporter for the Albuquerque Journal, exhumes one of these forgotten fights in his meticulously researched 2020 book "Crazy Fourth" (University of New Mexico Press), sub-titled "How Jack Johnson Kept His Heavyweight Title and Put Las Vegas, New Mexico on the Map." With 30 chapters spread across 172 pages of text and 10 pages of illustrations, it's an enjoyable read.
The July 4, 1912 fight wherein Jack Johnson defended his heavyweight title against Fireman Jim Flynn, was dreadful. For the nine rounds that it lasted, writes Smith, Johnson and Flynn resembled prize buffoons rather than prizefighters.
Johnson, who out-weighed Flynn by 20 pounds, toyed with the Fireman whenever the two weren't locked in a clinch. The foul-filled fight ended when a police captain decided that he had seen enough and bounded into the ring followed by a phalanx of his lieutenants. "Las Vegas 'Battle' Worst in History of American Ring" read the headline in the next day's Chicago Inter Ocean, an important newspaper.
The fight itself is of less interest to author Smith than the context. How odd that a world heavyweight title fight would be anchored in Las Vegas, New Mexico (roughly 700 miles from the other Las Vegas), a railroad town that in 1912 was home to about nine thousand people. The titles of two of the chapters, "Birth of a Debacle" (chapter 1) and "A Misbegotten Mess" (chapter 27) capture the gist.
Designed to boost the economy and give the city lasting prestige, the promotion was a colossal dud. Fewer than four thousand people attended the fight in an 18,000-seat makeshift wooden arena erected in the north end of town. The would-be grand spectacle was doomed when the Governor sought to have the fight banned by the legislature, giving the impression the fight would never come off, and it didn't help that Johnson and Flynn had fought once before, clashing five years earlier in San Francisco. Johnson dominated that encounter before knocking Flynn out in the eleventh round.
"Crazy Fourth" reminded this reporter of two other books.
"White Hopes and Other Tigers," by the great John Lardner, originally published by Lippincott in 1950, includes Lardner's wonderfully droll New Yorker essay on the 1923 fight between Jack Dempsey and Tommy Gibbons in Shelby, Montana, an ill-conceived promotion that virtually bankrupted the entire community. In the same vein, although more straightforward, is Bruce J. Evensen's "When Dempsey Fought Tunney: Hokum, Heroes, and Storytelling in the Jazz Age."
Johnson-Flynn II was suffused with hokum. Energetic press agent H.W. Lanigan cranked out dozens of puff pieces under multiple bylines for out-of-town papers in a futile attempt to build the event into a must-see attraction. His chief assistant Tommy Cannon, the ring announcer, had an interesting, if dubious, distinction. Cannon claimed to have copyrighted the term "squared circle."
I found one little error in the book. The Ed Smith that refereed the Johnson-Flynn rematch and the Ed Smith that refereed the famously brutal 1910 fight between Battling Nelson and Ad Wolgast, were two different guys.  (It pains me to note this, as I know another author who made the same mistake and I see him every morning when I look in the bathroom mirror.) But this is nitpicking. One doesn't have to be a serious student of boxing history to enjoy "Crazy Fourth."
Knock Out! The True Story of Emile Griffith by Reinhard Kleist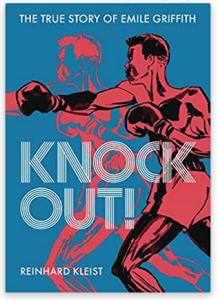 Let me digress before I even get started. Whenever I am in a library in the city where I reside, I wander over to the "GV" aisle and take a gander at the boxing offerings. If, perchance, there is a book there that I haven't yet read, I reflexively snatch it up and take it home.
When I got home and riffed through the pages of this particular book, I was surprised to find that it was a comic book of sorts, one that I would classify as a graphic non-fiction novel.
Emile Griffith, as is now common knowledge, was gay, or at least bisexual. Reinhard Kleist, a longtime resident of Berlin, Germany, was drawn to him because of this facet of his being. Kleist makes this plain in the introduction: "Despite [Berlin] being one of the most tolerant cities in the world, I have suffered homophobic insults and threats while walking hand in hand down the street with my boyfriend."
Born in the Virgin Islands, Emile Griffith came to New York City at age 17 and found work in the garment district as a shipping clerk for a company that manufactured women's hats. The factory's owner, Howard Albert, a former amateur boxer, saw something in Griffith that suggested to him that he had the makings of a top-notch boxer and he became his co-manager along with trainer Gil Glancy. Kleist informs us that in addition to being "one of the greatest boxers ever seen in the ring," Griffith was an incredible hat-designer.
Griffith, who died at age 75 in 2013, is best remembered for his rubber match with Benny Paret, a fight at Madison Square Garden that was nationally televised on ABC. Paret left the ring in a coma and died 10 days later without regaining consciousness. At the weigh-in, Paret, a Cuban, had insulted Griffith with the Spanish slur comparable to "faggot."
The fight – including its prelude and aftermath (Griffith suffered nightmares about it for the rest of his life) – is the focal point of several previous works about Emile Griffith; biographies, a prize-winning documentary, and even an opera that was recently performed at The Met, the crème de la crème of America's grand opera houses. The fatal fight factors large here too.
During a 17-year career that began in 1958, Emile Griffith went to post 112 times, answering the bell for 1122 rounds, and won titles in three weight classes: 147, 154, and 160. At one point, he had a 17-2 record in world title fights (at a time when there were only two relevant sanctioning bodies) before losing his last five to finish 17-7. No boxer in history boxed more rounds in true title fights.
Griffith, who finished his career with a record of 85-24-2 with 23 KOs and 1 no-contest, entered the International Boxing Hall of Fame with the inaugural class of 1990. There is absolutely no question that he belongs there, but to rank him among the greatest of all time is perhaps a bit of a stretch. Regardless, I take umbrage with the sub-title. The "true story" of Emile Griffith cannot be capsulated in a book with such a narrow scope. Moreover, it is misclassified; it ought not have been shelved with other boxing books but in some other section of the library as this is less a story about a prizefighter than about a man who is forced to wear a mask, so to speak, as he navigates his way through a thorny, heteronormative society.
Graphic novels are a growing segment of the publishing industry. The genre is not my cup of tea, but to each his own.
To comment on this story in the Fight Forum CLICK HERE