The Tragedy of "The Harlem Hammer" Needn't Be Repeated So Often
His nickname, ironically, was "The Harlem Hammer."
James Butler was a super middleweight boxer, and a pretty good one at that. A fan favorite in his native New York City because of his relentless, attacking style, Butler was accomplished enough to have earned a title shot at IBF super middleweight champion Sven Ottke on Sept. 1, 2000, in Magdeburg, Germany, and despite the fact that he dropped a one-sided decision to the slick-boxing German, he was still rated at No. 8 in the 168-pound weight class by the IBF when he took on Richard Grant in his next bout, on Nov. 23 of that year, at the Roseland Ballroom in midtown Manhattan.
Grant, a pronounced underdog despite the fact he had outpointed Butler in a four-rounder early in the respective careers, on Jan. 31, 1997, had reprised his earlier victory in winning a unanimous, 10-round decision. The Brooklyn, N.Y., resident was celebrating with his cornermen when Grant, whose gloves had been removed, walked over as if to offer a congratulatory handshake.
As Grant lifted his arms to hug his opponent, a gesture of respect and sportsmanship that is so often the case in even the hardest-fought boxing matches, "The Harlem Hammer" nailed him with an overhand right to the jaw that sent the victor crashing to the canvas, unconscious, bloody spittle spewing from his mouth like fiery ash from an erupting volcano.
That's when all hell broke loose. But it would not be the last criminally violent act of a mentally unstable individual whose inner demons had yet to become fully, and tragically, apparent.
Predictably, Bob Papa and Teddy Atlas, who had called the bout that was televised on ESPN2, reacted with shock and revulsion.
"James Butler should never be allowed in the ring again!" Papa, the blow-by-blow announcer, screamed into his microphone. "Absolutely! That's assault and battery! He should be arrested right on the spot! What a punk! The police should come in here and arrest him! Handcuff him!"
Atlas, the color analyst, was no less aghast by what he had just seen. "Butler just went over there and sucker-punched – sucker-punched! – and knocked out Grant," he said. "Oh, boy. Terrible. And the new commissioner (of the New York State Athletic Commission), Ray Kelly, will do something very, very enforceful here … That was a punch without a glove on! A despicable, cowardly act!"
Butler's in-ring meltdown is all the more egregious and unfathomable considering the circumstances: All the proceeds from the "Fighting for America" card, held just two months after the 9/11 terrorist attacks that had left 3,000 dead and a nation shaken, went to the Twin Towers Fund, and about 500 New York police officers and firefighters were among the 1,517 spectators. Several of the participating boxers – including Butler, who was to be paid $10,000 – had pledged their entire purses toward the relief effort.
Seated at ringside was Kelly, who in addition to his top spot with the NYSAC, was New York mayor-elect Michael Bloomberg's newly appointed police commissioner. If Butler was going to commit an act of senseless violence that potentially could have landed him in prison for seven years, this was the worst possible audience before which to do it.
Kelly, in fact, did order the arrest of Butler, who was led from the arena in handcuffs. He spent the night at the Rikers Island detention facility, and he later was convicted of assault. He served four months behind bars, accelerating a personal and professional decline that may have been inevitable in any case.
Born and raised in a housing project by a mother who frequently left him and his brother to fend for themselves, Butler had gotten a reputation for having a quick temper even before he coldcocked Grant and made himself something of a pariah in New York's close-knit boxing community. Tales abounded of harsh words, and sometimes blows, he frequently exchanged with sparring partners and others outside the ring at the gym that served as his home base as well as for Atlas, who trained fighters in addition to his ESPN2 analyst duties.
"I'm sure there were previous incidents (prior to the postfight knockout of Grant) if you trace it back," Atlas told me a few days before the Nov. 23 anniversary date of the fateful night he now calls "probably the worst" transgression he has ever seen in the sport, along with Mike Tyson's chewing off of part of Evander Holyfield's right ear on June 28, 1997. "I'm sure there were other past acts of violence, or at least threats of violence. I knew he had gotten into some skirmishes in the gym where I was when he was training, but they never got to a level where he seriously hurt anybody. Some threats may have been made, but you see that sometimes in the gym. Usually nothing comes of it."
Perhaps, if he had refrained from throwing the illegal punch that sent his career spinning wildly off-kilter, things would have turned out much differently for Butler. Then again, maybe not. He ballooned to 256 pounds, in part because of medication he was put on after he was diagnosed as being bipolar, but, even after he put in the time to get all the unwanted weight off – a process expedited by the fact he had cut back on or stopped taking his meds — he was a mere shadow of the fighter he had been. He was just 2-2 against mostly second-tier opponents after the Grant debacle, his final ring appearance a split-decision loss to Omar Sheika on Aug. 10, 2004.
Personal issues also contributed to Butler's deteriorating state of mind and overall demise. He relocated to Vero Beach, Fla., to work with his new trainer, Buddy McGirt, and while there he met a woman, Chase Mariposa, who was to bear him a son. Mariposa would later say that Butler, his boxing income all but gone and his reputation in tatters, would often erupt into frightening fits of anger.
Feeling alone and unwanted, Butler, a two-time New York Golden Gloves champion, turned to the one friend who had been there for him through thick and frequently thin – Sam Kellerman, younger brother of Max Kellerman, a sports talk-show host who is now a boxing analyst for HBO Sports.
Sam Kellerman – well-educated (a graduate of Columbia University), outgoing, from an affluent family — seemed an unlikely candidate to ever have formed an alliance with the brooding Butler, a product of some of New York's meaner streets. They were both products of the same town, but from decidedly different sections, and decidedly different sociological strata. Kellerman, a white-collar type who boxed to, as one associate said, "to toughen himself up," and Butler, the menacing pro, had been introduced to each other a decade earlier by their mutual trainer, Alexander Newbold, who believed it was beneficial for his fighters to socialize outside of the gym.
Kellerman, by then living in Hollywood, Calif., agreed to take Butler in, with the understanding he would be a houseguest for only a few days. But the days stretched into weeks, Butler revealing no intention to move out, at which point Kellerman told his now-not-so-close friend that he would have him evicted if he did not leave voluntarily.
On Oct. 17, 2004, Sam Kellerman, 29, was found dead on the floor of his blood-splattered apartment. His body had been there for several days, the authorities said, and there was evidence of arson. The murder weapon, a bloody hammer, was found at the scene.
Three days after Kellerman's body was discovered, Butler turned himself in to the police. He pleaded not guilty to murder and arson, but later pleaded guilty to voluntary manslaughter and arson and was sentenced to 29 years, four months in prison by Superior Court Judge Michael Pastor.
Violent behavior, sometimes resulting in death, is common enough that it scarcely raises an eyebrow in 21st century America. But when sports celebrities are involved, the issue takes on heightened significance. Even non-NFL fans are aware of the domestic- violence scandals that have made such well-known football players as Ray Rice, Adrian Peterson and Ray McDonald notorious figures. All of which raises an issue that increasingly merits discussion: Are athletes, especially those who have risen to prominence from desperately poor or disadvantaged backgrounds, more susceptible to involvement in the kind of incidents that have become something of a national cause celebre?
Atlas believes each case should be judged on its individual merits, but what are the criteria for realizing, with any degree of certainty, that anyone is a ticking time bomb about to go off?
"I think it's important at all levels of society to identify someone who might have tendencies that are not conducive to a proper workplace," said Atlas, whose concedes that his own background is pockmarked with youthful indiscretions. "If someone's actions suggest he has violent impulses, that should not be accepted any place. It shouldn't just be relegated to sports. We have to look at these things seriously at all times, but maybe even more so nowadays, because there seems to be more and more incidents that we're learning about.
"It could be a stepfather beating a two-year-old child to death, which just happened in the Bronx and I read about in the newspaper. Apparently this child had shown signs of being abused by this person before, and was put back in that household. Now she's dead. If she hadn't been put back in that household, she'd still be alive. This is a child who never had a real chance at life.
"Do we need to look at things like that, and the James Butler situation, closer? Who's responsibility is that? Who's actually qualified to say this or that person is dangerous? I also read that somebody pushed somebody else in front of a subway train. They'll probably find that the guy who did it is mentally disturbed, and I'm sure there are people capable of such things walking around the streets of New York right now. But who gets to make this call that `This person needs help,' or `This other person should be put away.' Usually it doesn't happen until he acts out."
So we are left to wonder, who is the next James Butler? Or the next Ike Ibeabuchi? Is one act of aberrant behavior enough to send up a red warning flare? Is two sufficient? Three or more?
Upon his return to boxing after his vicious attack on Grant, Butler his thought process went so blank he didn't even realize what he had done, or why he had done it.
"Nothing went through my mind," Butler told Tim Smith, of the New York Daily News, before his first post-Grant bout, against Thomas Reid, on Feb. 27, 2005. "That's the point. It was flat-line. I was like dead. I went blank. After I hit Richard everything clicked back on. It was like fist to jaw, then the noise and the lights and I could see and hear all the people. It was like I was literally brain-dead for a while. If I had been thinking I would have just walked out of the ring, maybe punched a locker or broken a door or something."
Understandably, Max Kellerman was – and still is – shaken by the death of a brother he cherished. But even he was prepared to grant Butler a bit of leniency just days after his post-fight assault on Grant. In a bylined story for ESPN.com, Max noted that "Riddick Bowe punched Larry Donald with his bare fist at a press conference promoting their match in 1994. The blow did no real physical damage. Nonetheless, it was assault. Bowe was neither led away in handcuffs nor handed a lifetime suspension from any state athletic commission. It could be that the handling of Bowe's assault was a mistake, and a more severe reaction was warranted. Yet if an example is made of Butler, the Bowe incident will beg the question: was Butler punished out of proportion?
"Mike Tyson bit a part of Evander Holyfield's ear off, knocked Orlin Norris down and ended the fight after the bell had run to end the first round of their bout, admittedly tried to break Frans Botha's arm in a clinch, and hit and knocked down the referee who tried to stop his fight against Lou Savarese. Tyson's license has not been permanently taken away, despite this pattern of bad behavior. James Butler has no such pattern. His attacking Grant was an isolated incident."
Atlas is correct. Good or bad, right or wrong, are not reserved sections for any particular group. The Menendez brothers, Lyle and Erik, were convicted in 1994 for the shotgun murder of their affluent parents in the family's Beverly Hills, Calif., mansion. A movie that is drawing Academy Award notices, "Foxcatcher," is in theaters now and details the murder of Olympic wrestler Dave Schultz by John Eleuthere du Pont, the heir to the du Pont pharmaceutical fortune. Du Pont, who was convicted in 1997, had demonstrated increasingly erratic and paranoid behavior prior to his killing of Schultz, but it was largely shrugged off as the eccentricities of a very wealthy man.
Atlas could offer himself as proof that everyone at least deserves a second chance. Son of a beloved physician in the family's Staten Island, N.Y., neighborhood, the young Teddy dropped out of high school, served time in Rikers Island for his participation in an armed robbery and still bears the jagged facial scar from a street slashing that required 400 stitches to close. On Nov. 20, a date in close calendar proximity to the anniversary date of Butler's unprovoked slugging of Grant, he will host the 18th annual Dr. Theodore A. Atlas Foundation dinner, which aids Staten Island's poor, sick and forgotten with emergency funds, as needed. And, on Saturday, Nov. 21, he again will distribute a thousand turkeys so that some of for the borough's underprivileged citizens will have something to be thankful for on Thanksgiving.
Perhaps there is no way of absolutely detecting when a James Butler will cross the line separating civility and depravity, but there are enough instances when a Teddy Atlas or a Bernard Hopkins brakes himself before passing the point of no return that everyone else can dare to hope that salvation exists on a wider basis.
The final page of Teddy's autobiography, "Atlas: A Son's Journey From the Streets to the Ring to a Life Worth Living," co-authored with Peter Alson, offers this positive message.
"I'm very aware of the extremes within me," Atlas writes. "The caring and the anger. I've gotten better over the years at modulating them and controlling them, but I won't pretend they don't still exist. I guess in some ways my whole life has been a journey and a search for family. I wasn't some kid from the streets. I was a doctor's don who grew up in a nice house in a good neighborhood. It just goes to show that you can be lost and alone and neglected in any kind of surroundings."
It's too bad for Sam Kellerman – for all of us, really – that the journey of James Butler, "The Harlem Hammer," didn't lead him to the same sort of favorable destination.
Tyson Fury Returns on Saturday with a Familiar Foe in the Opposite Corner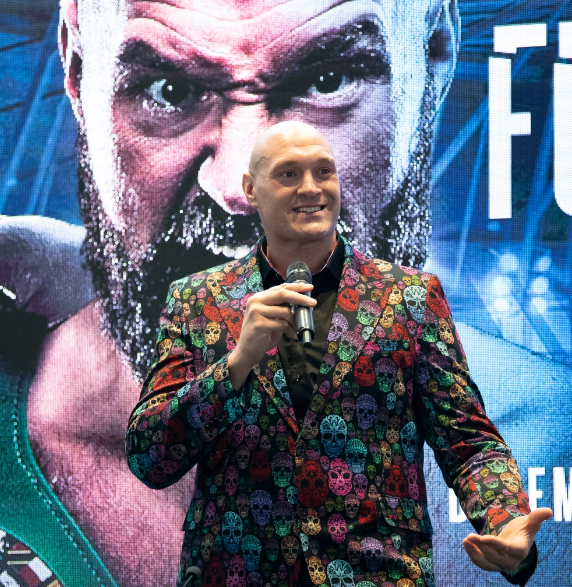 "Tyson Fury made a name for himself last night, one that already has a ready-made ring about it and will be destined to become familiar in boxing." Alan Hubbard, a ringside correspondent for The (London) Examiner wrote those words after Fury wrested the British and Commonwealth heavyweight titles from Derek Chisora with a comprehensive 12-round decision on July 23, 2011.
Those words were prescient. Tyson Fury did go on to become a familiar name in the sport. Indeed, one could argue that at this moment in history no active boxer is more famous.
More than 11 full years have elapsed since Fury toppled Chisora. In the ensuing years, the Gypsy King outpointed Wladimir Klitschko in Germany to win the world heavyweight title, battled personal demons that sidelined him for two-and-half years, returned to the ring with a flourish, ultimately regaining the world heavyweight title, or at least a version of it, in the second chapter of his memorable trilogy with Deontay Wilder, and rising so high in the opinion of boxing enthusiasts that he would be favored over any other boxer on the planet.
Oh, and lest we forget, since defeating Chisora in 2011, Fury whipped Chisora again, stopping him after 10 one-sided frames in 2014. Fury's eight-inch height advantage enabled him to control the distance vs. "Dell Boy" who was never knocked down but who absorbed a great deal of punishment before his chief second said, "no mas."
A third meeting between Fury (32-0-1, 23 KOs) and the soon-to-be-39-year-old Chisora (33-12) would seem to be superfluous. Del Boy, coming off a narrow win over Kubrat Pulev, has lost three of his last four. But on Saturday, Dec. 3, they will go at it again. The venue is London's Tottenham Hotspur Stadium, capacity 62,850, and by all indications, despite a chill in the air (the temperature is expected to hover around 40 degrees), there won't be too many empty seats.
For promoter Frank Warren, Fury vs Chisora is Plan B – he was hoping to match Fury against Anthony Joshua – but he believes that Fury has become so popular that he can make a tidy profit no matter who is in the opposite corner. The Gypsy King, once referenced as the enfant terrible of British boxing, has toned down his rhetoric (one might say that he proactively distanced himself from Kanye West) and become almost cuddly, a source of inspiration for many Brits, the first member of the black sheep Traveler community about whom this could ever be said.
Fury, needless to say, is a heavy favorite. The odds are in the 25/1 range. The co-feature is likewise looked upon as a mismatch. Daniel Dubois, who shares the diluted WBA heavyweight title with Oleksandr Usyk, is a consensus 16/1 favorite over Kevin Lerena (28-1, 19 KOs) who rides in on a 17-fight winning streak. The six-foot-one Lerena carried a career-high 234 pounds for his last assignment against ancient Mariusz Wach, but the South African southpaw has fought most of his career as a cruiserweight.
The undercard includes featherweight Isaac Lowe, Tyson Fury's bosom buddy, and Hosea Burton, Fury's cousin, both of whom appear to be matched soft in scheduled six-rounders, plus 18-year-old phenom Royston Barney Smith in a 4-rounder against a transplanted Nicaraguan.
This is a pay-per-view event in the UK, but U.S. fight fans who subscribe to ESPN+ can see it for free. The ring walks for the main event are expected to go about 4 pm ET.
To comment on this story in the Fight Forum CLICK HERE
What Path will Yokasta Valle Choose Next?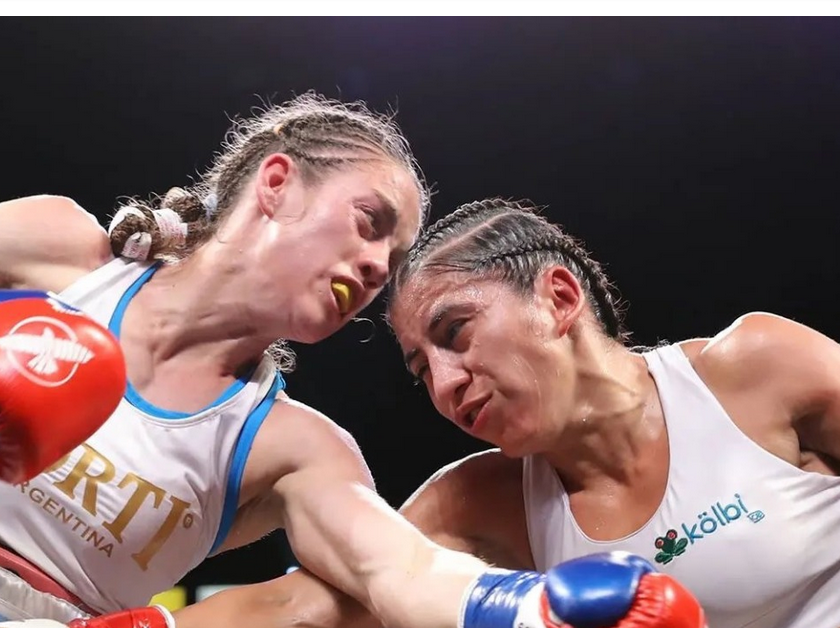 After the recent controversial ruling that made her a world champion in three different divisions, the fans of the Costa Rican Yokasta Valle are wondering: What path will the successful boxer choose next?
On Saturday, November 26th, in a fight of continuous exchanges with the then undefeated Argentine Evelyn Bermúdez (17-1-1, 6 KOs), "Yoka" Valle (27-2, 9 KOs) came out with her arm raised at the Dignity Health Sports Park in Carson, California, where she won the IBF and WBO belts, which Bermúdez was defending for the seventh and second time, respectively.
Although the Costa Rican fighter (pictured on the right) went on the attack for practically the entire 10 rounds, the exchanges were even, give and take, with good moments for both fighters, which made it difficult to evaluate each round. Hence the discomfort of many fans, especially in the Bermúdez camp, with the card of judge Adalaide Byrd (99-91), which apparently had Bermúdez prevailing in only one round. Neither did Judge Daniel Sandoval's card (97-93) represent what transpired in the ring, while Zachary Young's score of 95-95 was more accurate, distributing five rounds for each combatant.
In the case of Byrd, she also received innumerable criticism in the first fight between Saúl "Canelo" Álvarez and Gennady "GGG" Golovkin, which was held in September 2017 at the T-Mobile Arena in Las Vegas and which ended with a favorable scorecard for each boxer and another of 114-114.
At that time, Byrd had judged more than 400 fights over a 20-year span, and her discordant scorecard of 118-110 reflected Canelo winning 10 rounds and GGG only two (the fourth and the seventh). Dave Moretti leaned towards Golovkin (115-113), while Don Trella (114-114) saw it even.
CHAMPION IN THREE CATEGORIES
Born in Matagalpa, Nicaragua on August 28, 1992 and living in Costa Rica since her childhood, Valle made her boxing debut at the age of 22 in the light flyweight category. In that first experience at the pro level, she defeated Mexican María Guadalupe Gómez by unanimous decision in four rounds, on July 26, 2014, in Alajuela, Costa Rica.
Two years later, in her twelfth fight, she conquered the IBF title at 102 pounds by split decision against Ana Victoria Polo in San José, Costa Rica. In December 2017, Valle suffered her first professional failure against the local Naoko Fujioka, who won by unanimous decision at Korakuén Hall in Tokyo where they fought for the vacant WBO light flyweight belt.
Six months later, on June 16, 2018, Valle lost again by unanimous decision against German Christina Rupprecht (11-0-1, 3 KOs) in Munich, a duel that was for the WBO strawweight interim belt. Rupprecht maintains that belt and is again in Valle's sights.
Following those two setbacks, "Yoka" Valle compiled 14 victories, including the one she obtained in Marbella against Spaniard Joana Pastrana in August 2019, which she won by split decision securing the IBF 105-pound belt.
More recently, on September 8th in Costa Rica, Valle became a two-division champion at 105 pounds, by unanimously prevailing (the three judges scored the fight 100-90) over Vietnamese Thi Thu Nhi Nguyen, who ceded the WBO title. And then with her success against Bermúdez last weekend, Valle made history in Costa Rican boxing by adding her third crown in three different divisions (102, 105 and 108 pounds).
WHERE WILL YOKASTA VALLE GO NEXT?
Valle, who now owns two light flyweight titles (IBF and WBO) could next go in search of unification with Mexican Jéssica Nery (WBA super champion) or with Canadian Kim Clavel, who holds the WBC title. (Clavel and Nery collide on Thursday in Laval, Quebec.)
However, a more viable option would be to return to 105 pounds and seek a fight with American Seniesa Estrada (23-0, 9 KOs), who maintains the WBA belt, or with Rupprecht, who remains unbeaten. That seemed to be Valle's immediate objective, as she affirmed it in the ring after defeating Nguyen. In an indirect reference to Seniesa Estrada and Tina Rupprecht, Valle said "I want the belts. I've been saying it from the beginning, I want the WBC and WBA next, whoever has 'em."
At Friday's weigh-in for her fight with Bermúdez, Valle stated "I want to fight the best. I want to be undisputed. When Tina (Rupprecht) and Seniesa (Estrada) were not available, my team and I made the decision to move up in weight and challenge Evelyn for her world title belts. I have to fight. [MarvNation CEO] Marvin Rodriguez presented this fight to me. This is the type of fight I want. It is champion versus champion. I want to give the fans these types of fights."
EDITOR'S NOTE: Kim Clavel caught the flu and pulled out on Wednesday just prior to the weigh-in. Her match with Jessica Nery was rescheduled for Jan. 13.
Photo credit: Tom Hogan / Hogan Photos
Article submitted by Jorge Juan Alvarez in Spanish
Please note any adjustments made for clarification purposes and any errors in translation were unintentional.
To comment on this story in the Fight Forum CLICK HERE
Regis Prograis Knocks Out José Zepeda and Clears the Way for José Ramírez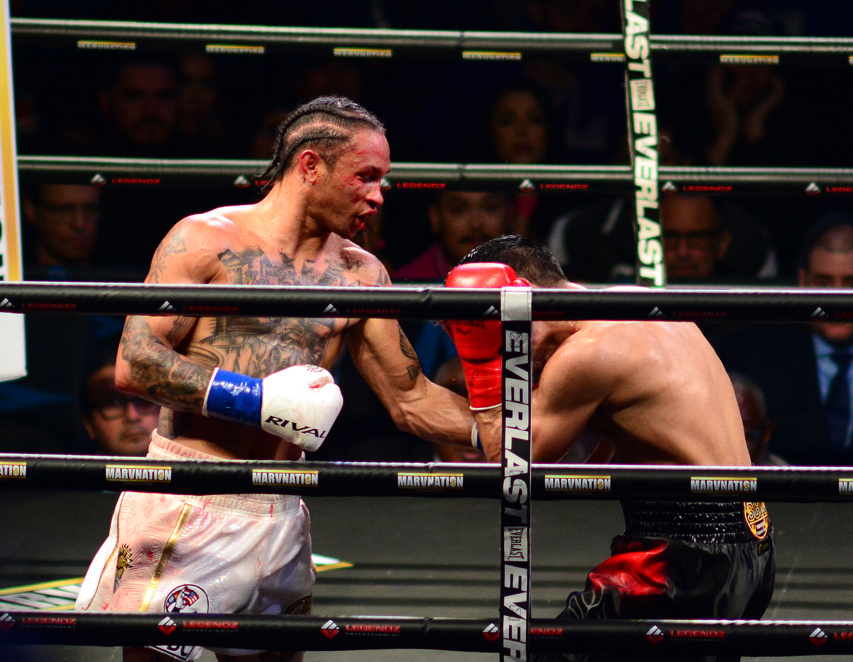 American Regis Prograis had to wait three years and a month for the opportunity to hold a world crown once again. On Saturday, November 26, at the Dignity Health Sports Park, in Carson, California, Prograis faced José Zepeda for the vacant WBC junior welterweight belt. Prograis was victorious by applying chloroform to Zepeda in the eleventh round.
Previously, on October 26, 2019, Prograis (28-1, 24 KOs) had lost the WBA junior welterweight belt by majority decision to Scotsman Josh Taylor at the 02 Arena in England.
Since then, the thirty-three-year-old Prograis who is based in Houston, Texas has obtained four wins (including vs Zepeda), all before the limit, as proof of the devilish power of his powerful fists, especially the left one.
Prior to the duel with Zepeda (35-2, 27 KOs), most experts favored Prograis, who after winning the intense battle, recognized that it was the most demanding fight of his career. "That dude is tough, tough, tough. He came to fight, he probably gave me one of my hardest fights, I'm not even gonna lie," said Prograis. "This dude is tough, bro. I've got so much respect for you. You prepared me to get this belt and hold this belt. I congratulate you. All the best to you, bro. Don't stop, I feel like you can still be a world champion."
Almost from the very beginning of the fight, Prograis showed greater speed with his hands and legs, and a general sense of technical superiority over Zepeda, who in the second round opened up a wound above his left eye with a legal blow.
From then on, Prograis's strong impacts gradually undermined Zepeda's resistance. Zepeda arrived totally exhausted in the eleventh round, where he received a straight left to the face, putting him in poor condition. A run with both fists from Prograis knocked him down and referee Ray Corona called the match with 59 seconds remaining in the round. This is the first setback that Zepeda has suffered by knockout in professional boxing.
On several occasions, Prograis has stated that he wants revenge against the undefeated Taylor (19-0, 13 KOs), but now, by order of the WBC, he must face American José Carlos Ramírez (27-1, 17 KOs).
Ramírez, 30 years old, is currently ranked second by the WBC. In February of 2019, in his second defense of his 140-pound belt, he defeated Zepeda by majority decision.
Twenty-five months later, Ramírez succumbed by unanimous decision to Taylor at the Virgin Hotels in Las Vegas, enabling the Scotsman to become the undisputed king of the category by winning the four most prestigious belts (WBA, WBC, WBO, IBF).
Recently, Ramírez expressed an interest in dueling with the main 140-pound contenders, including a second fight with Zepeda; although he did not rule out clashing with Prograis or Taylor. "Every fighter has the same amount of risk," said Ramirez. "We're a little under-promoted compared to other weight classes but I think that the best fights are at 140. You see guys fighting twice or three times, doing a trilogy. Honestly, I would love to face Regis, because I've never faced him. I would love to make the rematch with Zepeda, because he's such a good fighter. Obviously I want Josh Taylor, man. I want Josh Taylor bad."
Photo credit: Al Applerose
Article submitted by Jorge Juan Alvarez in Spanish.
Please note any adjustments made were for clarification purposes and any errors in translation were unintentional.
To comment on this story in the Fight Forum CLICK HERE