Beating Algieri Served Pacquiao's Purpose But He Can't Beat Floyd
This past Saturday night WBO welterweight title holder Manny Pacquiao 57-5-2 (38) won an overwhelming unanimous decision over former WBO junior welterweight title holder Chris Algieri 20-1 (8), by the scores of 119-103, 119-103, and 120-102.
Algieri was down six times in the fight and never was a threat to Pacquiao once during the 12-rounds it lasted. The biggest surprise just may be that Algieri got up six times after being knocked down and Pacquiao still was forced to go the distance.
In my pre-fight Pacquiao-Algieri piece titled "Pacquiao Needs To Shock And Amaze Versus Algieri" the below paragraph was found about half way through.
"Algieri is a beginner and Manny is a seasoned pro. On paper Pacquiao should take Chris apart and beat him convincingly. Manny and trainer Freddie Roach want a knockout in this fight in the worst way possible, with the hope being a memorable showing will have fans talking about how he's again one of the best fighters in boxing. I'm not so sure that he'll win that decidedly, but if he does, the interest in Pacquiao will escalate again. The talk will be that he's hungry and is the fighter to hand Mayweather his first loss. But the reality is Pacquiao has regressed more than a little. This bout was made to create the illusion that he hasn't. I don't think this fight will tell us anything about where Pacquiao truly is, as Algieri was brought in to make Manny look like a killer."
Well, after watching the fight, I think that's exactly what we saw. Algieri, aside from being all-world tough, really is a beginner. He was never a threat to Manny because he just doesn't possess a big enough punch to make Pacquiao do a single thing in the ring that he doesn't want to do. As we saw, Algieri was fighting mostly to keep from getting knocked out and worked over than he was to win.
Chris couldn't keep Pacquiao off with his jab and his right couldn't freeze Manny or make him quell his aggression. Pacquiao and his promoter Bob Arum knew this would probably be the case going in. The only thing that wasn't realized was the knockout that team Pacquiao relished. And the reason for that was A) Manny has regressed offensively as a fighter and B) Chris Algieri was in tremendous physical condition and has a very strong mental and physical constitution.
Pacquiao really did try for the knockout, especially during the last third of the bout. However, he no longer lets his hands go in waves and he doesn't judge range and distance as proficiently as he used to, and he neglects the body. Saturday night he was confronted by an opponent who has exactly one punch: a straight right. And it has no power or shock to it. Yet, it was enough of a weapon to slightly nullify Pacquiao that as much as he overwhelmed Algieri and distanced himself as a fighter, he just couldn't get him out of there.
Chris Algieri was perfect for Pacquiao in many ways. He went the distance without embarrassing himself, and at the same time he provided Pacquiao 36 minutes to re-boot the illusion that he's the dynamo we think of when hearing his name mentioned. When I say an illusion, it's not with the intent of suggesting he's not one of the best fighters in boxing because he still is. My point is, as much as Manny is loved and adored by a majority of boxing fans, they really only have one use for him. And that is holding on to the belief that he can be the fighter to hand Floyd Mayweather his first professional defeat. The reality is, Manny's bouts aren't much more exciting than Mayweather's lately, and he's running out of opponents, most noticeably at welterweight.
There's no news regarding Pacquiao-Algieri. The fight went exactly as most observers thought it would. Manny dominated. All there is to ponder is whether or not you felt he dominated because he was so good, or perhaps it was more so that the opponent enabled him to look untouchable?
Today, fans mostly tune in to see both Mayweather and Pacquiao fight for one reason, and that's to simulate a fight between them in their mind and then try to conclude who will win when they eventually fight. I'm still confounded by why they care so much, for the record. And yes, they will fight. I've been saying that for over five years and there's no doubt in my mind that when Floyd decides he's ready for the fight, Arum and Pacquiao will jump through whatever hoops and stipulations Mayweather and Al Haymon throw up, and sign on.
Pacquiao did what he was supposed to do against Algieri except stop him. That's nine consecutive fights that Manny has been forced to go the distance. And yes, for a fighter that made his reputation by stopping one opponent after the next, that's a little telling.
I haven't a morsel of doubt in my mind that Mayweather will lose two rounds to Pacquiao, one will be debatable, and Floyd will clearly win the other nine when they fight. For argument sake, suppose you disagree and feel Pacquiao will beat Mayweather. Okay, that's certainly plausible. Than can we at least agree that if Mayweather and Pacquiao fight in the next year or so, that if Manny is to win, the fight is going the distance and he won't stop Floyd? And if you cede that, than you also have to agree that to beat Mayweather, Pacquiao must out-box and out-think him for 12-rounds. To which I say, "Good Luck with that!"
Frank Lotierzo can be contacted at GlovedFist@Gmail.com
Zhilei Zhang KOs Joe Joyce; Calls Out Tyson Fury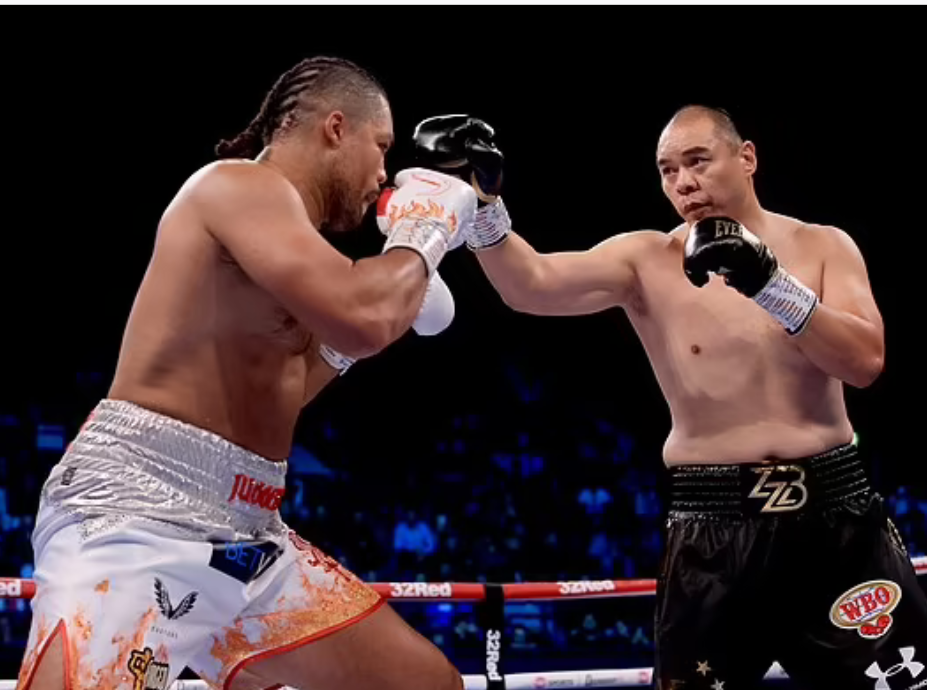 Joe Joyce activated his rematch clause after being stopped in the sixth frame by Zhilei Zhang in their first meeting. In hindsight, he may wish that he hadn't. Tonight at London's Wembley Stadium, Zhang stopped him again and far more conclusively than in their first encounter.
In the first meeting, Zhang, a southpaw, found a steady home for his stiff left jab. Targeting Joyce's right eye, he eventually damaged the optic to where the ring doctor wouldn't let Joyce continue. At the end, the fight was close on the cards and Joyce was confident that he would have pulled away if not for the issue with his eye.
In the rematch tonight, Zhang (26-1-1, 21 KOs) closed the curtain with his right hand. A thunderous right hook on the heels of a straight left pitched Joyce to the canvas where he landed face first. He appeared to beat the count by a whisker, but was seriously dazed and referee Steve Gray properly waived it off. The official time was 3:07 of round three.
Zhang, who lived up to his nickname, "Big Bang," was credited with landing 29 power punches compared with only six for Joyce (15-2) who came in 25 pounds heavier than in their first meeting while still looking properly conditioned. One would be inclined to say that age finally caught with the "Juggernaut" who turned 38 since their last encounter, but Zhang, 40, is actually the older man. In his post-fight interview in the ring, the New Jersey resident, a two-time Olympian for China, when asked who he wanted to fight next, turned to the audience and said, "Do you want to see me shut Tyson Fury up?"
He meant it as a rhetorical question.
Semi-Windup
Light heavyweight Anthony Yarde was matched soft against late sub Jorge Silva, a 40-year-old Portuguese journeyman, and barely broke a sweat while scoring a second-round stoppage. Yarde backed Silva against a corner post and put him on the deck with a short right hand. Silva's body language indicated that he had no interest in continuing and the referee accommodated him. The official time was 2:07 of round two.
A 30-year-old Londoner, Yarde (24-3, 23 KOs) was making his first start since being stopped in eight rounds by Artur Beterbiev in a bout that Yarde was winning on two of the scorecards. Silva, a late replacement for 19-3-1 Ricky Summers, falls to 22-9.
Also
Former leading super middleweight contender Zach Parker (23-1, 17 KOs) returned to the ring in a "shake-off-the-rust" fight against 40-year-old Frenchman Khalid Graidia and performed as expected. Graidia's corner pulled him out after seven one-sided rounds.
In his previous fight, Parker was matched against John Ryder who he was favored to beat. The carrot for the winner was a lucrative date with Canelo Alvarez. Unfortunately for Parker, he suffered a broken hand and was unable to continue after four frames. Tonight, he carried 174 pounds, a hint that he plans to compete as a light heavyweight going forward. Indeed, he has expressed an interest in fighting Anthony Yarde. Graidia declined to 10-13-4.
The Zhang-Joyce and Yarde-Silva fights were live-streamed in the U.S. on ESPN+.
To comment on this story in the Fight Forum CLICK HERE
An Ode to the Polo Grounds on the (Belated) 100th Anniversary of Dempsey-Firpo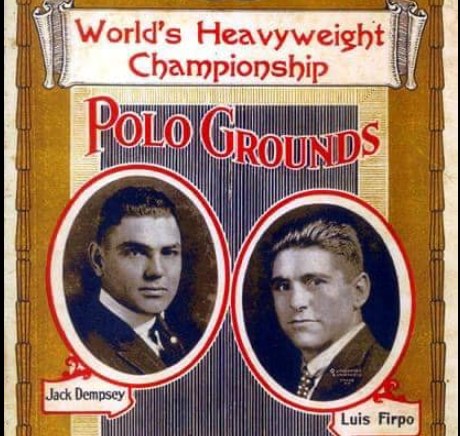 If you happen to be up in Harlem this Saturday, they are holding a little shindig at the Polo Grounds Towers Community Center in honor of the 100th anniversary of the Dempsey-Firpo fight.
Better late than never, as they say. The centennial of this storied fight was actually September 14, a week ago Thursday. But that rubbed up against Mexican Independence Day which prompted little shindigs that would take precedence in a neighborhood where many of the inhabitants speak Spanish.
The Sept. 14, 1923 bout between heavyweight champion Jack Dempsey, the Manassa Mauler, and his Argentine challenger Luis Angel Firpo, the Wild Bull of the Pampas, was staged at the Polo Grounds. The match was slated for 15 rounds, but no one expected it would go that far. "The styles of both," said a Brooklyn Times Union scribe in his pre-fight report, "eliminate the possibility of the affair becoming tedious."
That proved to be an understatement. Dempsey vs. Firpo consumed only three minutes and 57 seconds of actual fighting, but the action was breathtakingly intense and the crowd, estimated at 80,000, was on its feet the whole while.
There were so many knockdowns and they came so fast that there was disagreement among ringside reporters as to the exact number. In the first round alone, Dempsey put Firpo on the canvas at least five times, if not seven, and Firpo returned the favor twice. However, it was the Argentine that scored the most memorable knockdown. With one mighty swing of his vaunted right hand, Firpo knocked Dempsey clear out of the ring, the Mauler landing head first on a table of ringside reporters and their telegraphers with his feet up in the air. The moment inspired one of the most famous paintings in sports, George Bellows "Dempsey and Firpo," on display at the Whitney Museum of American Art in New York since the museum opened in 1931.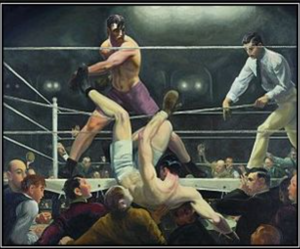 Dempsey was reeling and almost out before the first round ended, but he gathered his senses and ended the contest in the next frame. His final punch, with Firpo bleeding heavily from his mouth, "lifted the Argentine giant from his feet and hurled him headlong to the floor with the crash of a mighty oak falling from great heights." So wrote Grantland Rice.
The Polo Grounds sat in a hollow in the northern reaches of Harlem across the Harlem River from Yankee Stadium. It was the home of the New York Giants of the National League from 1891 until the franchise left for San Francisco at the end of the 1957 season. It also housed the New York Giants football team from its inception in 1925 through 1955 and in its end days, served as the temporary home of New York's two expansion teams, the Mets and the Jets.
Professional boxing was first served up at the Polo Grounds in 1922. There were four boxing shows there in 1923 preceding Dempsey-Firpo, but these were small potatoes by comparison, notwithstanding the fact that each of the four shows included a title fight. Dempsey-Firpo was the first collaboration between Tex Rickard and Charles Stoneham who owned the controlling interest in the baseball team.
Rickard and Stoneham had a lot in common. Rickard ran gambling saloons in mining camps in Alaska and Nevada before making his mark as a boxing promoter and settling in New York where he headed up the boxing department at Madison Square Garden. Charles Stoneham was a gambler too. He made his fortune operating bucket shops, funneling his winnings into a string of thoroughbred race horses and a horse track and casino in Havana. His silent partner in many of his business ventures was purportedly the infamous Arnold Rothstein. (A so-called bucket shop was a business where people could bet on the rise and fall of stocks and other commodities like wheat and oil without taking an ownership stake in any of the companies that comprised the marketplace.)
Rickard died in 1929, opening the door to Broadway ticket scalper Mike Jacobs who supplanted Rickard as New York's most powerful boxing promoter. Jacobs acquired the exclusive rights to stage boxing shows at both the Polo Grounds and Yankee Stadium. Charles Stoneham and his counterpart with the Yankees both profited when a card was held at either property.
Yankee Stadium was more modern and could accommodate a larger crowd, so Jacobs tended to pot his biggest promotions there. Joe Louis had 12 fights at Yankee Stadium, but only two at the Polo Grounds, namely his famous 1941 fight with Billy Conn and his fight later that year with Lou Nova. However, important matches continued to land at the Polo Grounds. Thirty-four boxers who would go on to be enshrined in the International Boxing Hall of Fame had one or more fights at the Polo Grounds.
—
I'm dating myself, but this reporter is among an ever-shrinking cadre of people who once sat in the grandstand of the Polo Grounds. The allurement was baseball. Although born in Brooklyn, I was a Giants fan.
I vaguely remember descending the steep iron staircase that led from the 155th Street subway station to the ticket booths. When one exited the subway, he was on Coogan's Bluff, named for the former Manhattan borough president who owned the land on which the stadium sat. Coogan's Bluff became a euphemism for the Polo Grounds itself, as Chavez Ravine would become a euphemism for Dodger Stadium.
The Polo Grounds had an odd, triangular-shaped configuration. The distance to both foul poles was short whereas centerfield was cavernous, the perfect playland for the wonderful Willie Mays whose range was unsurpassed. In the words of the late, great Jim Murray, Willie's glove was where triples went to die.
When Charles Stoneham died in 1936, the ballclub passed to his son Horace Stoneham who moved the team in San Francisco and eventually sold it to local interests. Stoneham was vilified in New York for abandoning the city, but the park and surrounding neighborhood had deteriorated. The stadium was torn down in 1964 and became the site of a giant, low-income housing project, Polo Grounds Towers, a complex consisting of four 30-story buildings run by the New York City Housing Authority. The Polo Grounds Community Center is housed in Tower #2.
The Dempsey-Firpo fight was an incandescent moment in America's Golden Era of Sports. It was a big deal in South America too. In Buenos Aires, tens of thousands of people reportedly jammed the streets around the newspaper offices to follow the progress of the fight on bulletin boards. The last boxing show at the Polo Grounds was staged on June 20, 1960. Floyd Patterson avenged his loss to Ingemar Johannson with a fifth-round stoppage. The predicted crowd of 40,000 failed to materialize. The official attendance was 31,892.
To comment on this story in the Fight Forum CLICK HERE
—
Arne K. Lang is a recognized authority on the history of prizefighting and the history of American sports gambling. His latest book, titled Clash of the Little Giants: George Dixon, Terry McGovern, and the Culture of Boxing in America, 1890-1910, was released by McFarland in September, 2022.
Avila Perspective, Chap. 253: Oscar De La Hoya Reloading in LA and More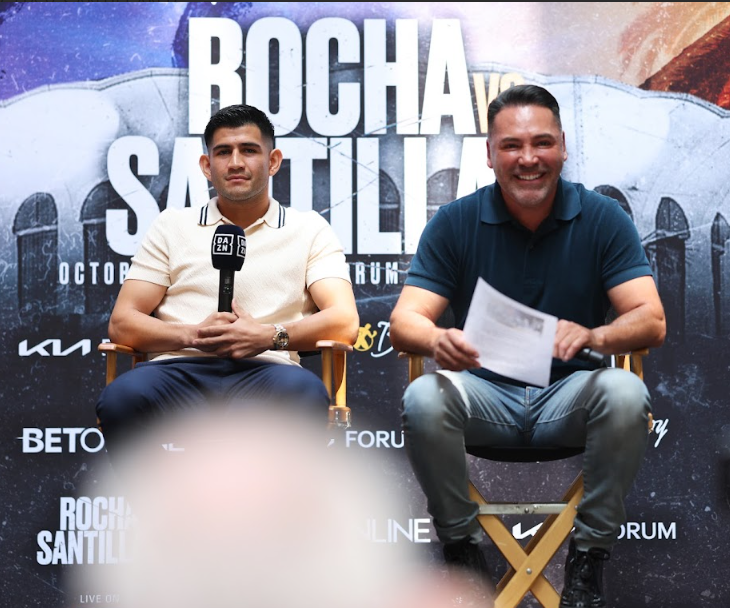 Oscar De La Hoya sat with a satisfied look inside his glittering building on Wilshire Boulevard, unveiling plans to stage a welterweight showdown between southpaw contenders next month.
Lately, the six-division world champion turned promoter from nearby East Los Angeles has attended every boxing show produced by his company Golden Boy Promotions. Big or small, the former fighter who acquired millions as a prizefighter has put full attention on expanding his boxing empire.
Golden Boy Promotions has reloaded.
On Tuesday, De La Hoya discussed plans to match Alexis Rocha with Top Rank's Giovanni Santillan on Saturday, October 21, at the Kia Forum in Inglewood, Calif. DAZN will stream the show.
Rocha (23-1, 15 KOs) seems to have gained his man strength. Five out of seven of his past foes have not heard the final bell. The Orange County fighter's seek and destroy style has made him a crowd favorite throughout Southern California.
Santillan (31-0, 16 KOs) is a different kind of cat. The San Diego-based welterweight was groomed by Thompson Boxing Promotions and then aided by Top Rank. With the loss of promoter Ken Thompson who passed away earlier this year, Top Rank has taken over the reins of the crafty fighter.
Both Rocha (pictured with Oscar) and Santillan are familiar with each other through sparring.
"I feel that I've grown so much over time and now's my moment, and I want to keep just banging on the door for a world title. I know that Giovani is going to be a good opponent," said Rocha who is based in Santa Ana.
San Diego's Santillan expressed excitement about fighting in Los Angeles.
"This isn't the first time that I go into enemy territory," Santillan said. "I think that I will gain the LA fan base after this fight."
It's the kind of fight that would have sold out the Olympic Auditorium down the street. Battles between fighters from rival towns in Southern California resulted in fights like Bobby Chacon versus Danny "Lil Red" Lopez, or East L.A.'s Ruben Navarro versus South L.A.'s Raul Rojas.
Crosstown rivalries made the Olympic Auditorium a legendary venue for decades. And the Los Angeles area has always been a hotbed for boxing talent. Always.
De La Hoya knows that and has lived it.
"As Golden Boy, we know our position, we know exactly what we have to do in order to position that fighter to get them to that world title. Alexis Rocha is knocking on the door. Giovani has an amazing opportunity. So, this is what boxing is all about," said De La Hoya.
MarvNation
Welterweights Eduard Skavynskyi (14-0) of Ukraine and Mexico's Alejandro Frias (14-9-2) headline the main event at Thunder Studios in Long Beach, California on Saturday Sept. 23.
This is Skavynskyi's first time fighting in the U.S. All his previous fights were in Russia and Ukraine.
Also, co-headlining are female minimumweights Yadira Bustillos (7-1) and Katherine Lindenmuth (5-1) in a rematch set for eight rounds.
Bustillos fights out of Las Vegas and Lindenmuth is based in New Mexico and looking to avenge her loss a year ago.
For tickets and information go to: https://www.tix.com/ticket-sales/marvnation/6815/event/1344994?fbclid=paaabuvxlnjny1dafchk0wwkftjganfmww6bayhkj7autu-mhjyz8ll__ycga
Heavyweight Rematch in England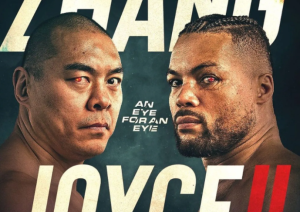 Once again, the United Kingdom presents a heavyweight show and this time a rematch between China's Zhilei Zhang (25-1-1, 20 KOs) and England's Joe Joyce (15-1, 14 KOs) on Saturday, Sept 23. ESPN will stream the Frank Warren boxing card from London.
Zhang stopped Joyce in the sixth round this past April. Can he do it again?
Welterweight showdown in Florida
Jessica McCaskill (12-3) and Sandy Ryan (6-1) meet for several welterweight world titles on Saturday, Sept. 23, in Orlando, Florida. DAZN will stream the Matchroom Boxing card.
Super lightweight Richardson Hitchins (16-0, 7 KOs) test top contender Jose "Chon" Zepeda (37-3, 28 KOs) in the co-main event. Conor Benn is also on the card.
Fights to Watch
Sat. ESPN+ 2 p.m. Zhilei Zhang (25-1-1) vs Joe Joyce (15-1).
Sat. DAZN 5 p.m. Jessica McCaskill (12-3) vs Sandy Ryan (6-1); Richardson Hitchins (16-0) vs Jose Zepeda (37-3).
Alexis Rocha photo credit: Golden Boy / Cris Esqueda
To comment on this story in the Fight Forum CLICK HERE