Mayweather Wouldn't Get Props For Beating Algieri Like Pacquiao Did
I've heard it said that he's never looked better or been more confident. I've read that he has the ideal style to beat Floyd Mayweather 47-0 (26). Some have implied and inferred that Mayweather hasn't agreed to fight him because he fears being knocked out by him. Despite the inconvenient fact that he couldn't put away a beginner like Chris Algieri in his last bout after having him down six times and he hasn't won by stoppage in five years. Yes, I'm talking about WBO welterweight title holder Manny Pacquiao 57-5-2 (38).
It's over three weeks since Pacquiao fought Chris Algieri in a 144 pound catch-weight bout. The fight was no contest; Manny won every round and did whatever he wanted to during the fight. His speed and accuracy were there, so was some of the old explosiveness and obviously his power. He did put Algieri down six times and Chris certainly wasn't hitting himself. What's shocking is how after dominating Algieri, who would probably lose to half a dozen other fighters between 140/147, Pacquiao is once again seen in many eyes as the supernova he was back in 2009, when he stopped Ricky Hatton and Miguel Cotto.
Floyd Mayweather has been excoriated for fighting hand-picked opponents and being too risk averse in the last five years, especially in this space. And Mayweather has been dominant in most of those bouts where you/me/we belabored him for fighting opponents who would make him look sensational. Yet, Manny Pacquiao can fight Chris Algieri, who I questioned before the fight as being PPV worthy, something the terrible buy numbers supported, and he gets major props for winning every round against him?
At first I thought Pacquiao beating Algieri didn't fool anybody, but I think I was wrong. You'd think that the lousy PPV numbers would suggest that the public knew it wasn't much of a fight. And that winning a decision, when he really needed a knockout, and didn't get it over a novice wouldn't restore the public's sense that Pacquiao is now a killer again. But apparently it has?
I tried to explain before the bout how Pacquiao-Algieri was specifically made to create the illusion that Manny is back now and is as good as and smarter than ever. And you know what? Based on what's scoured in the sports section of many newspapers and on the Internet, they were more successful than I thought they'd be. Because it seems Manny went from being the prohibitive underdog when matched up with Mayweather after being knocked out by Juan Manuel Marquez two years ago, to now being almost even money based on him taking Chris Algieri to boxing school last month.
Based on the consensus, Pacquiao gets some breaks that Mayweather would never get in the eyes of the boxing public. And since 2009 I've maintained and have been consistent that Mayweather-Pacquiao hasn't happened because of Mayweather's reluctance more so than Pacquiao's. Ever since the talk of them fighting each other became a hot topic, it's been mostly because of Floyd why it didn't happen. And I still stand by that.
But what's fair is fair… I wonder how well Mayweather would've been received if he signed to fight Algieri and beat him as handily as Pacquiao did?
For starters, Floyd would've been excoriated by both boxing fans and the media for fighting a no hope opponent like Chris Algieri. Leading up to the fight we would've read about how Algieri barely beat Ruslan Provodnikov and the fight is just another hoax by Mayweather to pocket $30 million and avoid fighting Pacquiao.
Let us suppose that it was Mayweather who peppered Algieri for 36 uninterrupted minutes on November 23rd instead of Pacquiao, which of course isn't much of reach. What would the post-fight chatter be? I can only speculate, but I'd be willing to bet that the loudest voices wouldn't be declaring that Floyd is back and is as sharp as ever. Nor would the talk be centered on how quick and accurate he is and how impossible it is to lay a glove on, and you know I'm right. I think it would be more on the lines of, "Mayweather fought Algieri because he knew he couldn't lose and how it says nothing as to how great he still is because he handled a beginner like Algieri." And then every name fighter campaigning between 140-147 who was more deserving and dangerous than Algieri would be named and suggested as that's who Floyd should've fought instead. And if that were the case, they'd be correct.
So why does Pacquiao get a pass?
For more than a decade critics and fans have ripped Mayweather up and down, and rightfully so, for being too judicious and fighting no hope opponents who resembled Algieri. Or to put it another way, for fighting and defending his titles against opponents who didn't have tool-one to beat him with. The opponents he fought were either too old or too green (like Algieri), or they just didn't have the skill or power (like Algieri) to concern Mayweather in the least.
I can't envision a case being made on Mayweather's behalf suggesting or reinforcing that he could beat Pacquiao based on how Floyd performed against Algieri had they fought. All that would be repeated over and over to rebuke that is, Algieri is inexperienced and Mayweather only did what he should've done against a limited opponent at the most elite level in professional boxing. And that's all that Pacquiao did! And actually, Manny underperformed because he didn't get the stoppage or come close to the first round kayo that his trainer Freddie Roach predicted he would score.
The overreaction to Pacquiao's showing against Algieri is ridiculous. Maybe you are one who believes that Pacquiao will beat Mayweather when they eventually fight… fine. I happen to think Floyd will beat Manny and control the fight most of the way for reasons I'll go into at a later time when the bout is closer to becoming a reality. That said, I fully get that there is a strong case to be made supporting why Pacquiao will come out on top. Again, I get it.
However, if you believe Pacquiao is the superior fighter to Mayweather and will be victorious when they fight, great. Just don't base it on how Manny looked for 12 rounds against Chris Algieri. Because that was an illusion with the purpose of making you believe that Manny is as good as ever in case you were starting to wane in that belief. Algieri is nothing close to Mayweather and is a completely different animal. What afforded Pacquiao to look great against Algieri won't apply to Mayweather. And the same holds true regarding Mayweather and how he looked against Marcos Maidana. Pacquiao is nothing like Maidana.
And to those who are basing everything off of how Mayweather looked against Maidana as to why Pacquiao will beat him, especially during their first meeting, remember, Maidana came in for that fight weighing over 160 pounds. That was Floyd's biggest mistake. Pacquiao has to bulk up to weigh 145. And Maidana is much more aggressive than Pacquiao, and his aggression disrupted Floyd stylistically. Pacquiao attacks more in spurts so Mayweather's legs, if they're starting to go, won't be nearly as important against Pacquiao because Manny isn't as aggressive and he'll be easier to time and counter than Maidana was.
Frank Lotierzo can be contacted at GlovedFist@Gmail.com
Adelaida Ruiz and Fernando Vargas Jr Score KO Wins at Pechanga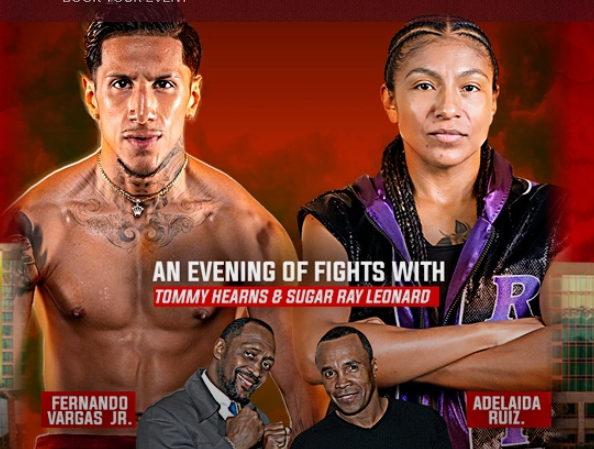 Adelaida Ruiz and Fernando Vargas Jr Score KO Wins at Pechanga
TEMECULA, Ca.-After a long period of fighting out of the country, Adelaida Ruiz returned to Southern California and with her came hundreds of her ardent followers as she won by knockout over Mexico's Maria Cecilia Roman on Friday.
Ruiz (14-0-1, 8 KOs) looked sharp and stepped in with a disciplined attack against Roman (17-8) who fought behind a peek-a-boo style throughout the fight. Ruiz fired away at openings with a measured attack in front of several thousand fans at Pechanga Arena on the MarvNation Promotions card.
Midway through the eight-round match Ruiz increased the tempo of the attack with blistering combinations to the body and head. During one of the combinations Ruiz connected with a left hook to Roman's temple and down she went.
Roman beat the count, but Ruiz never slowed her attack and each round her blows seemed to increase with power, the impact of the punches resonating in the arena. The interim WBC super flyweight titlist, whose title was not at stake, seemed determined to win by knockout.
In the eighth and final round Ruiz staggered Roman with another left hook to the temple and that only sparked more punches from the Southern California fighter. She unloaded her bullet chambers and the referee decided to stop the action at 1:19 of the eighth round.
Other Bouts
Fernando Vargas Jr. (9-0) won the super middleweight contest by knockout when Heber Rondon (20-5) was unable to continue due to a shoulder injury at the end of the second round. Fans were displeased but it was not up to the fans.
Vargas showed patience against the veteran southpaw Rondon who showed some tricks in his bag. But after some exchanges in the second round it was a surprise to everyone in the arena when the referee signaled the fight was over at the end of the second round.
Undefeated Jonathan Lopez (11-0, 7 KOs) of Florida remained unblemished with a unanimous decision win over Mexico's Eduardo Baez (21-5-2, 7 KOs) in a 10-round featherweight fight.
San Bernardino's Lawrence King (13-1,11 KOs) faced veteran Mexican fighter Marco Reyes (37-10) and was able to use his speed and southpaw stance to win almost every round. But he had to work for it.
Reyes was able to avoid most of King's attacks but in the sixth round after absorbing some heavy blows the Mexican fighter was unable to continue and the fight was stopped at the end of the sixth round for a knockout win by King.
In a super welterweight fight, Mario Ramos (11-0, 9 KOs) wore down Jesus Cruz (6-3) for three rounds with his left-handed assault and then lowered the boom with a non-stop barrage of lefts and rights. After nearly two-dozen nearly unanswered blows the referee stopped the battering at 2:09 of the fourth round.
Orlando Salgado (3-2) slugged it out with Squire Redfern (0-1) to win a super welterweight fight by decision after four back and forth rounds. Salgado connected with the bigger blows but never could stop Redfern from rallying round after round. All three judges scored in favor of Salgado.
A heavyweight battle saw Mike Diorio (1-5-1) win his first pro fight in out-punching debuting heavyweight Ian Morgan (0-1) after four rounds. Both fighters tired a bit but Diorio had a better idea of how to score and won by decision.
To comment on this story in the Fight Forum CLICK HERE
Reviews of Two Atypical Boxing Books: A 'Thumbs Up' and a 'Thumbs Down'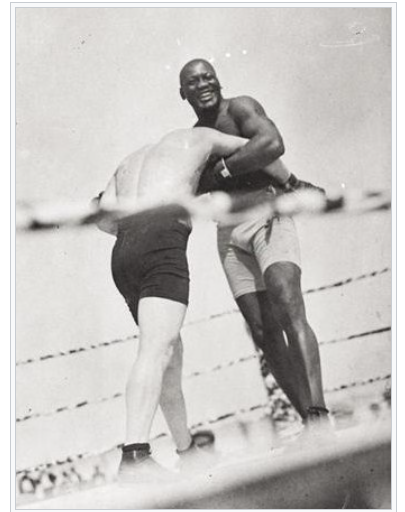 Reviews of Two Atypical Boxing Books: A 'Thumbs Up' and a 'Thumbs Down'
Jack Johnson sheared the world heavyweight title from Tommy Burns in 1908 and lost it to Jess Willard in 1915. Between these two poles he had nine ring engagements, none of which commanded much attention with one glaring exception. His 1910 fight in Reno with former title-holder James J. Jeffries stands as arguably the most sociologically significant sporting event in U.S. history.
Toby Smith, who wrote extensively about Johnny Tapia while working as a sports reporter for the Albuquerque Journal, exhumes one of these forgotten fights in his meticulously researched 2020 book "Crazy Fourth" (University of New Mexico Press), sub-titled "How Jack Johnson Kept His Heavyweight Title and Put Las Vegas, New Mexico on the Map." With 30 chapters spread across 172 pages of text and 10 pages of illustrations, it's an enjoyable read.
The July 4, 1912 fight wherein Jack Johnson defended his heavyweight title against Fireman Jim Flynn, was dreadful. For the nine rounds that it lasted, writes Smith, Johnson and Flynn resembled prize buffoons rather than prizefighters.
Johnson, who out-weighed Flynn by 20 pounds, toyed with the Fireman whenever the two weren't locked in a clinch. The foul-filled fight ended when a police captain decided that he had seen enough and bounded into the ring followed by a phalanx of his lieutenants. "Las Vegas 'Battle' Worst in History of American Ring" read the headline in the next day's Chicago Inter Ocean, an important newspaper.
The fight itself is of less interest to author Smith than the context. How odd that a world heavyweight title fight would be anchored in Las Vegas, New Mexico (roughly 700 miles from the other Las Vegas), a railroad town that in 1912 was home to about nine thousand people. The titles of two of the chapters, "Birth of a Debacle" (chapter 1) and "A Misbegotten Mess" (chapter 27) capture the gist.
Designed to boost the economy and give the city lasting prestige, the promotion was a colossal dud. Fewer than four thousand people attended the fight in an 18,000-seat makeshift wooden arena erected in the north end of town. The would-be grand spectacle was doomed when the Governor sought to have the fight banned by the legislature, giving the impression the fight would never come off, and it didn't help that Johnson and Flynn had fought once before, clashing five years earlier in San Francisco. Johnson dominated that encounter before knocking Flynn out in the eleventh round.
"Crazy Fourth" reminded this reporter of two other books.
"White Hopes and Other Tigers," by the great John Lardner, originally published by Lippincott in 1950, includes Lardner's wonderfully droll New Yorker essay on the 1923 fight between Jack Dempsey and Tommy Gibbons in Shelby, Montana, an ill-conceived promotion that virtually bankrupted the entire community. In the same vein, although more straightforward, is Bruce J. Evensen's "When Dempsey Fought Tunney: Hokum, Heroes, and Storytelling in the Jazz Age."
Johnson-Flynn II was suffused with hokum. Energetic press agent H.W. Lanigan cranked out dozens of puff pieces under multiple bylines for out-of-town papers in a futile attempt to build the event into a must-see attraction. His chief assistant Tommy Cannon, the ring announcer, had an interesting, if dubious, distinction. Cannon claimed to have copyrighted the term "squared circle."
I found one little error in the book. The Ed Smith that refereed the Johnson-Flynn rematch and the Ed Smith that refereed the famously brutal 1910 fight between Battling Nelson and Ad Wolgast, were two different guys.  (It pains me to note this, as I know another author who made the same mistake and I see him every morning when I look in the bathroom mirror.) But this is nitpicking. One doesn't have to be a serious student of boxing history to enjoy "Crazy Fourth."
Knock Out! The True Story of Emile Griffith by Reinhard Kleist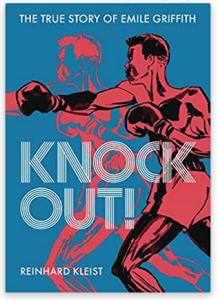 Let me digress before I even get started. Whenever I am in a library in the city where I reside, I wander over to the "GV" aisle and take a gander at the boxing offerings. If, perchance, there is a book there that I haven't yet read, I reflexively snatch it up and take it home.
When I got home and riffed through the pages of this particular book, I was surprised to find that it was a comic book of sorts, one that I would classify as a graphic non-fiction novel.
Emile Griffith, as is now common knowledge, was gay, or at least bisexual. Reinhard Kleist, a longtime resident of Berlin, Germany, was drawn to him because of this facet of his being. Kleist makes this plain in the introduction: "Despite [Berlin] being one of the most tolerant cities in the world, I have suffered homophobic insults and threats while walking hand in hand down the street with my boyfriend."
Born in the Virgin Islands, Emile Griffith came to New York City at age 17 and found work in the garment district as a shipping clerk for a company that manufactured women's hats. The factory's owner, Howard Albert, a former amateur boxer, saw something in Griffith that suggested to him that he had the makings of a top-notch boxer and he became his co-manager along with trainer Gil Glancy. Kleist informs us that in addition to being "one of the greatest boxers ever seen in the ring," Griffith was an incredible hat-designer.
Griffith, who died at age 75 in 2013, is best remembered for his rubber match with Benny Paret, a fight at Madison Square Garden that was nationally televised on ABC. Paret left the ring in a coma and died 10 days later without regaining consciousness. At the weigh-in, Paret, a Cuban, had insulted Griffith with the Spanish slur comparable to "faggot."
The fight – including its prelude and aftermath (Griffith suffered nightmares about it for the rest of his life) – is the focal point of several previous works about Emile Griffith; biographies, a prize-winning documentary, and even an opera that was recently performed at The Met, the crème de la crème of America's grand opera houses. The fatal fight factors large here too.
During a 17-year career that began in 1958, Emile Griffith went to post 112 times, answering the bell for 1122 rounds, and won titles in three weight classes: 147, 154, and 160. At one point, he had a 17-2 record in world title fights (at a time when there were only two relevant sanctioning bodies) before losing his last five to finish 17-7. No boxer in history boxed more rounds in true title fights.
Griffith, who finished his career with a record of 85-24-2 with 23 KOs and 1 no-contest, entered the International Boxing Hall of Fame with the inaugural class of 1990. There is absolutely no question that he belongs there, but to rank him among the greatest of all time is perhaps a bit of a stretch. Regardless, I take umbrage with the sub-title. The "true story" of Emile Griffith cannot be capsulated in a book with such a narrow scope. Moreover, it is misclassified; it ought not have been shelved with other boxing books but in some other section of the library as this is less a story about a prizefighter than about a man who is forced to wear a mask, so to speak, as he navigates his way through a thorny, heteronormative society.
Graphic novels are a growing segment of the publishing industry. The genre is not my cup of tea, but to each his own.
To comment on this story in the Fight Forum CLICK HERE
Bazinyan Overcomes Adversity; Skirts by Macias in Montreal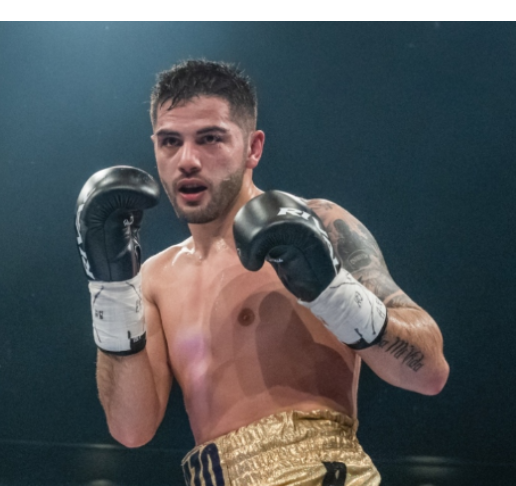 Camille Estephan, one of two prominent boxing promoters operating in Quebec, was back at his customary playpen tonight, The Montreal Casino, with an 8-bout card that aired in the U.S. on ESPN+. The featured bout pit Erik Bazinyan against Mexican globetrotter Jose de Jesus Macias in a super middleweight bout with two regional titles at stake. Bazinyan entered the contest undefeated (29-0, 21 KOs) and ranked #2 at 168 by the WBC, WBA, and WBO.
A member of the National Team of Armenia before moving with his parents to Quebec at age 16, Bazinyan figured to be too physical for Matias. He had launched his career as a light heavyweight whereas Matias had fought extensively as a welterweight. However, the battle-tested Macias (28-12-4) was no pushover. Indeed, he had the best round of the fight. It came in Round 7 when he hurt Bazinyan with a barrage of punches that left the Armenian on shaky legs. But Bazinyan weathered the storm and fought the spunky Macias on better-than-even terms in the homestretch to win a unanimous decision.
The judges were predisposed toward the "A side" and submitted cards of 98-92, 97-93, 97-93.
In his previous bout, Bazinyan was hard-pressed to turn away Alantez Fox. Tonight's performance confirmed the suspicion that he isn't as good as his record or his rating. He would be the underdog if matched against stablemate Christian Mbilli.
Co-Feature
In what stands as arguably the finest performance in his 14-year pro career, Calgary junior welterweight Steve Claggett dismantled Puerto Rico's Alberto Machado, a former world title-holder at 130 pounds. Claggett had Machado on the canvas twice before the referee waived the fight off at the 2:29 mark of round three, the stoppage coming moments after the white towel of surrender was tossed from Machado' corner. It was the sixth straight win inside the distance for the resurgent Claggett (35-7-2, 25 KOs) who was favored in the 3/1 range.
Claggett scored his first knockdown late in round two with a chopping left hook. The second knockdown came from a two-punch combo — a short right uppercut to the jaw that followed a hard left hook to the body. Machado, whose promoter of record is Miguel Cotto, falls to 23-4.
Claggett, who won an NABF belt, would welcome a fight with Rolly Romero. A more likely scenario finds him locking horns with undefeated Arnold Barboza, a Top Rank fighter.
Also…
Quebec southpaw Thomas Chabot remained undefeated with a harder-than expected and somewhat controversial 8-round split decision over 20-year-old Mexico City import Luis Bolanos. At the conclusion, Chabot, who improved to 9-0 (7), was more marked-up than his scrappy opponent who declined to 4-3-1. This was an entertaining fight between two high-volume punchers.
In a middleweight affair slated for six, Alexandre Gaumont improved to 8-0 (6 KOs) with a second round TKO over hapless Piotr Bis. The official time was 3:00.
A 37-year-old Pole making his North American debut, Bis (6-3-1) was on the canvas six times in all during the six minutes of action. There were two genuine knockdowns, the result of short uppercuts, two dubious knockdowns, a slip, and a push.
As an amateur, Gaumont reportedly knocked out half of his 24 opponents. This sloppy fight with Bis wasn't of the sort from which Gaumont can gain anything useful, but he is a bright prospect who bears watching.
To comment on this story in the Fight Forum CLICK HERE