SERGEY KOVALEV Is TSS FIGHTER of the YEAR
Utter domination, it was, from the singing of the National Anthem onward.
Yep, he "Krushed" it, did 31-year-old Sergey Kovalev, nailing down the win as TSS Fighter of the Year when he overwhelmingly, completely, most thoroughly handled the living legend that is Bernard Hopkins on November 8, 2014 at Boardwalk Hall in Atlantic City.
It was a bout that saw experts split about 50-50 on who'd have their hand raised in a classic Legend vs. Upstart clash which screened on HBO, and it will be, arguably, the most enduring takeaway from the year in boxing when one is looking back at this 12 month span and assessing the pros, the cons and the accomplishments during that time-span.
Kovalev had a quarter of my vote when he clanged a right hand of the noggin of the man who has forgotten more fistic wizardry than the masses of campaigners today have learned, and sent the no-longer-ageless wonder to the mat. Notice was served then, and then cemented over the remainder of the 12 round light heavyweight consolidation bash that the Russian-born fighter who'd had to cold-call promoters from coast to coast to secure himself a backer who would take a flyer on him, that Sergey Kovalev was king of the division.
The man dislodged from the throne acknowledged as much after he'd had the brutal truth that a younger, stronger pugilist had his number on this late fall evening tattoed into his temple, chin and torso. Hopkins, a bottomless well of pride not prone to conceding any damned thing easily, gave it up for Kovalev, who who branded a brand of pugilist on this night.
TSS reached out to the now California-based boxer, who seeks to continue his momentum surge in his next outing, on March 14, against ex champion Jean Pascal, and informed him he is our 2014 Fighter of the Year. "Thank you for choosing me, and believing in me," Kovalev said. "Happy New Year and I wish you good reporting in 2015!"
In case you don't know, the fighter is a good egg; he's been knee-deep in diaper duty since son Aleksander was born right before the Hopkins changing-of-the-guard effort, and all of us who cover him are genuinely happy for the fighter, whose dimples betray a soft side which is utterly absent when he does his thing in ring. Thus, it makes me, personally, pleased to bestow the fighter with this honor, after consulting with the TSS staff and our publisher. Indeed, when the victor who receives the spoils also happens to be a good soul, there is something that much more right in this world.
Promoter Kathy Duva, of Main Events, who listened when manager Egis Klimas told her he was working with a future champion and could use a hand-up from a promotional entity, was also pumped when told that TSS was tapping Kovalev as FOY.
"Awesome," enthused the New Jersey based dealmaker. "Of course he deserves it! And I will be happy to tell you why. During 2014 Sergey displayed all of the qualities that should distinguish the Fighter of the Year. First of all, he consistently pursued the best opposition. Think about it. During 2014 Sergey agreed to fight Adonis Stevenson (although Stevenson ultimately pulled out), Bernard Hopkins and now Jean Pascal. After Sergey, they are the three top fighters in the division. Sergey not only defeated all of his opponents, he dominated them, losing a total of one round in three fights. That round was lost when Blake Caparello stepped on his foot to score a cheap knock down. You saw what happened to Blake in the second round! And to cap it off, Sergey outboxed a legendary boxer in Bernard Hopkins. As I have said to everyone who is willing to listen, is not just that Sergey defeated a great world champion who half the media expected to win, winning two more titles in the process, it was the way that Sergey did it–displaying levels to his game that he had not shown us before."
To be sure, the choice didn't come without considerable debate and thought. Our man Kelsey McCarson weighs in with some light dissent, and food for thought on others who merited the top slot. "By far the most important award in boxing given every year by those who do such things is Fighter of the Year," says McCarson, who himself had a helluva year in his realm, as he raised over $10,000 for the medical expenses of a Texas boy battling cancer, little Corbin Glasscock, when he engaged in a sparring match with contender Jermell Charlo last month. "This year's candidates include light heavyweight Sergey Kovalev, lightweight Terence Crawford, welterweight Manny Pacquiao, middleweight Andy Lee and flyweight Roman Gonzalez. While I can make a pretty decent case for every one of those guys (in fact, I voted for Kovalev in Bleacher Report's year-end awards because we were asked to do so before all fighters had their 2014 fights in the books), the truth of the matter is that no one really stands out head and shoulders above the rest. The field is a close, competitive bunch of excellent fighters who all had fine years. To that end, Japan's Naoya Inoue should also be considered for the honor. This Japanese junior flyweight is a monster puncher with superb skills. He's fast, exciting and perhaps the future of boxing in Japan and maybe even the entire world. Inoue, age 21, won the WBC junior flyweight title against Adrian Hernandez in just his sixth professional fight. He defended it versus Samartlek Kokietgym, then jumped up two weight classes to knock out the best junior bantamweight in the world, Omar Narvaez, for that division's WBO belt to close out the year, on Tuesday. All three wins for Inoue came by knockout, and he stands above his peers as a young up-and-comer who both says he wants to fight the very best and actually does so. "
Well reasoned, Kelsey, and for that reason, we're naming Inoue as first runner up in the category of TSS Fighter of the Year.
Kovalev manager Klimas seemed content with our choice of his guy over Inoue as FOY. "I am very glad you are voting for Sergey as a Fighter of the Year and I strongly believe he deserved it, as it was good year for him," Klimas said. "Especially since he showed on November 8th that he is not just a puncher, but also that he knows how to box, destroying each round the legendary Bernard Hopkins!"
Congrats Sergey, and thank you for your service to your craft, and for providing us with so much entertainment value this boxing season.
Making Boxing Safer, A Call to Action: Part One, Weigh-in Reform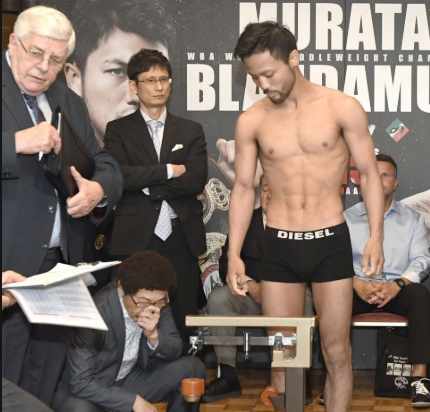 Promoters Lou DiBella and Eddie Hearn set the stage for this article with heartfelt and moving comments about the recent and tragic passing of Patrick Day.
It becomes very difficult to explain away or justify the dangers of boxing at a time like this…This is not a time where edicts or pronouncements are appropriate, or the answers are readily available. It is, however, a time for a call to action. While we don't have the answers, we certainly know many of the questions, have the means to answer them, and have the opportunity to respond responsibly and accordingly and make boxing safer for all who participate. — Lou DiBella
You can say 'it's boxing' but it's so hard to justify. We have to make sure as a sport we do better in this situation…We need to respect these fighters, we need to make sure that we make it as safe as possible for them and as fans of the business we've got to keep evolving. There's so much more we can do. — Eddie Hearn
In the spirit of the above, I reached out to a mix of trainers, ex-boxers, and writers for their suggestions, asking them what a call to action might include. The response was impressive. While the answers varied, there were several recurrent themes. Weigh-in reform was a common thread.
Weight Control Reforms
Las Vegas neurologist Dr. Margaret Goodman, the Founder, President, and Board Chairman of VADA (Voluntary Anti-Doping Association), offered up many suggestions but underlined weigh-in reform for added emphasis. "Move the weigh-in back to day of the fight or 24 hrs. before with the second weigh-in day of with percentage maximum weight gain," she wrote.
Max Kellerman of "Outside the Lions" concurs. "Weigh-ins should be the day of the fight," he says.
Hall of Famer Buddy McGirt, the noted trainer and former two-division world champion hit on this point in a recent conversation with Michael Rosenthal that ran in USA Today: "They should have the weigh-ins the day of the fight…listen, guys don't fight at their normal weight because they know they have 24 hours to put weight on. Make the weigh-ins the day of the fight. Then you would know that you can't really dry out and then have an IV and fight five, six hours later…I think you'd have less injuries. Say you're trying to make 140 when you should realistically be at 147. You weigh, say, 143 and think, 'I can get down to 140.' But you have to dehydrate yourself, and that's not good for your body or your brain. I'm not a doctor, but I'm not an idiot either."
Former world middleweight champion Dana Rosenblatt is in perfect accord: "Due to the fact that 100% of brain injuries in boxing being the result of dehydration from making weight, the most important thing that can be done to safeguard fighters is to make sure that our brothers in the ring never fight when they are not properly hydrated.
"Some of us can take punches better than others, this is obvious. None of us can take punches for too long when we are materially dehydrated without suffering in potentially life-threatening ways. If real care for the health of boxers is to be demonstrated, it will come in boxing commissions worldwide never allowing a fighter to enter the ring before being properly rehydrated after making weight. I am sure a hydration test can eventually be created and administered that would allow all boxers to compete in a healthy way."
Writer Paul Magno dealt with this issue brilliantly in a story that appeared in the Boxing Tribune back in 2013: "Fighters who routinely compete below their natural body weight are playing an ugly game with their insides, putting themselves at risk of serious injury by dehydrating themselves and then, in the day or so between weigh-in and the fight, quickly re-hydrating to a much higher weight. The primary danger to the fighter is in the increased vulnerability of the brain, slow to rebuild its jelly-like protective layer due to dehydration."
More recently, Magno made this observation: "Fighters fighting at artificially low weights may have short term advantages in strength and power, but weight manipulation drains life from fighters over the long haul. As a fighter ages, the less he has to battle at the scale, the fresher he'll enter the ring."
The Gatti Episode
We are reminded that Arturo Gatti nearly killed Joey Gamache in a 2000 junior welterweight bout when he entered the ring as a middleweight. He had gained 19 pounds between the weigh-in Friday afternoon and the fight on Saturday. Something was dangerously amiss and it resulted in altering Joey's life…
The Jacobs Episode
Similarly, but with a far better outcome, Gennady Golovkin weighed 159.6 lb. while his opponent, Danny Jacobs weighed 159.8 at the official weigh-in a day before their March 2017 fight. However, by skipping a fight-day weight check and thereby declining to compete for the IBF title, Danny seemed to have gained significantly coming into the ring and looked to be around 180 pounds. Max Kellerman suggested he was utilizing a "strategic plan." Others (myself included) thought he was also manipulating the system, thus causing the playing field to become uneven.
Historian and writer Harry Otty made an interesting point: "With boxers also trying to shoe-horn themselves into the 'closest' weight division it may be time to re-consider the 'Jnr' and/or 'super' weight divisions. While this may sound counter-intuitive as far as weight-making goes, it could make the difference between 1% or 5% dehydration."
"Travelin' Man" Lee Groves, author, writer and CompuBox punch counter, offered up a more nuanced point of view: "As far as returning to same-day weigh-ins, there are pros and cons. On the positive side, one can better control the dramatic rehydrations that now take place but on the negative side it would cause some fighters to drain themselves and be given less time to recover from the strain — the very reason today's protocols were adopted a generation ago. While reintroducing same-day weigh-ins could persuade some fighters to think twice about campaigning in a weight class too light for their bodies, others will choose to roll the dice and reap the benefits of scaling a certain weight for 30 seconds, then fighting at a much higher weight on fight night. In short, if a system can be gamed, it will be gamed."
And finally, let me throw out this point to ponder: Over the years, relatively fewer ring fatalities have occurred among the heavyweights. Whether that's because weight-cutting is, by definition, not as much an issue is something that warrants further study.
Ted Sares can be reached at tedsares@roadrunner.com
Check out more boxing news on video at The Boxing Channel 
To comment on this story in The Fight Forum CLICK HERE
Three Punch Combo: Two Under The Radar Fights on Saturday and More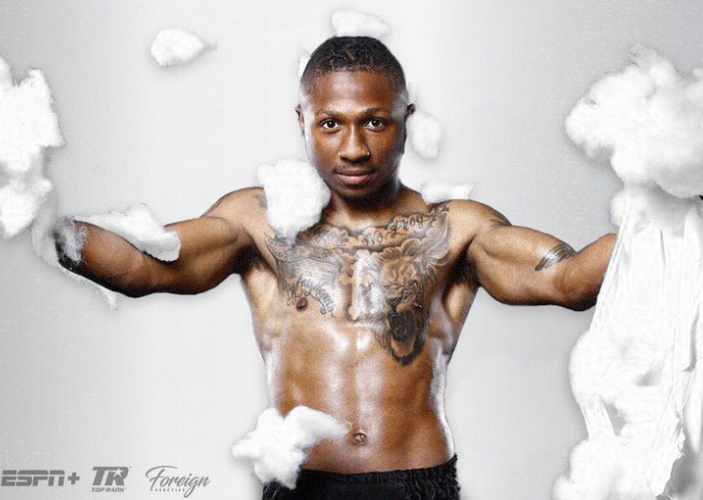 THREE PUNCH COMBO — We have another busy week in store with several events on the docket that will be available on various platforms. With so many fights on the schedule, some very intriguing contests inevitably fall under the radar.
On Saturday, ESPN+ will broadcast a card from Reno, NV that will be headlined by a contest between Shakur Stevenson (12-0, 7 KO's) and Joet Gonzalez (23-0, 14 KO's) for the vacant WBO featherweight title. While this main event is drawing almost all the press coverage, there is a very pivotal bantamweight bout on this card between Joshua Greer Jr. (21-1-1, 12 KO's) and Antonio Nieves (19-2-2, 11 KO's) that could very well steal the show.
Greer (pictured) exploded on the scene in March of 2017 with an electric knockout over James Smith in a bout televised on the popular ShoBox series. This was the beginning of a stretch of impressive outings for Greer in which he easily disposed of some very credible opponents. During this stretch, Greer landed a coveted promotional deal with Top Rank and seemed on the fast track toward big things in the bantamweight division.
However, in his last fight this past July, Greer's stock took a hit when he was fortunate to squeak out a close 12-round majority decision over Nikolai Potapov. In that fight, Greer appeared to be out-worked by Potapov in the majority of the rounds. Now to get his career back on track, Greer not only needs to win but bring back some of that explosiveness we saw in the past.
Similar to Greer, Nieves also finds himself at a career crossroads. In 2017, Nieves faced off against the aforementioned Potapov. In that fight, which was also shown on ShoBox, Nieves raised his game and got the better of Potapov, or so it appeared. But the judges saw things differently and Potapov won a controversial split decision.
Although he lost, Nieves parlayed that performance into a big fight with Naoya Inoue later that year. And though he fell short against Inoue, Nieves gave a good account of himself in defeat. Now after two knockout wins against lower level opponents, Nieves has a big chance to move up the rankings with a win over Greer.
These are just the type of crossroads fight I absolutely love in this sport. These two are evenly matched and stylistically should mesh well inside the ring.
Greer is a boxer-puncher with fast hands and possesses legitimate one-punch power in both fists. But he also has a tendency to fight in spots and not be very active with his hands.
Nieves is also a boxer-puncher. He lacks Greer's speed and power, but is a more active fighter and is technically proficient. He is a sharp accurate puncher and uses angles well to get in position to land clean shots.
We are going to see crisp back-and-forth action fight between these two on Saturday. This is a fight that should not be missed.
Under The Radar Fight, Part Two
Also on Saturday, Showtime will broadcast a tripleheader from the Santander Arena in Reading, PA. This card will be headlined by a fight between 154-pound contenders Erickson Lubin (21-1, 16 KO's) and Nathaniel Gallimore (21-3-1, 17 KO's). While I do like this main event and consider Gallimore a live underdog, the fight on this card that really piques my interest is the 140-pound co-feature between former lightweight champion Robert Easter Jr. (21-1-1, 14 KO's) and Adrian Granados (20-7-2, 14 KO's).
Easter, once a highly touted prospect, won his title in a rousing effort against current IBF lightweight champion Richard Commey in 2016. After three successful defenses, Easter found himself in a big unification fight against Mikey Garcia in 2018. While some thought Easter could rise to the occasion, he was underwhelming, dropping a wide 12-round decision.
In his bounce-back fight this past April, Easter fought former two-division champion Rances Barthelemy to a 12-round split draw. Anyone who unfortunately watched this fight knows that neither Easter nor Barthelemy put forth his best effort.
Granados was never a highly touted prospect. Instead, he was often the opponent. But he always gave an honest effort and occasionally would spring a surprise. And in 2015, he sprung a major surprise when he knocked out the then undefeated Amir Imam.
Following that win, Granados has had a mixed bag of results. He has tough competitive decision losses to Adrien Broner and Shawn Porter mixed in with some stay-busy knockout wins against overmatched foes.
And this past April, Granados was utterly out-classed by Danny Garcia and stopped for the first time in his career.
With both Easter and Granados coming off underwhelming performances, I understand why many are overlooking this fight. But the way I see it, both have a lot to prove and know they must make a statement in order to stay relevant in the sport. And in these instances, we sometimes get some really fun fights.
Easter is a classic boxer-puncher who likes to work combinations behind the left jab. He has quick hands and can be a sharp accurate puncher when unloading those combinations. Granados, for his part, is an aggressive pressure fighter. He will come forward and look to get inside the taller Easter. Granados, at his best, is a high volume puncher who is more than willing to eat some leather when pressing forward to create opportunities to do his own work.
Unlike Easter's last fight, this is not one to sleep on. Styles make fights and I am confident we see an entertaining and competitive fight.
Emanuel "Pinky" Colon
Most of the attention of the boxing community this past Friday was on the big light heavyweight title unification fight between Artur Beterbiev and Oleksandr Gvozdyk. But that wasn't the only televised show that night. Telemundo continued with its fall swing of events with a card from the Seneca Niagara Resort and Casino in Niagara Falls, NY. The card was headlined by a local fighter, Emanuel "Pinky" Colon (17-1-1, 16 KO's). And Colon, who fights at 140, did not disappoint in his national television debut as he dispatched his opponent, Richard Zamora (19-4, 12 KO's), in the very first round.
I recorded this show and watched it first thing Saturday morning. I hated not attending a live show in my backyard of upstate NY but could not miss Beterbiev-Gvozdyk. But I was very interested in seeing Colon as there wasn't much video available on him and he was getting a lot of local buzz (and from the look of the crowd, he sold quite a few tickets).
It is tough to handicap a fighter from about two and a half minutes of action. However, I really liked what I saw from Colon and think he can be a good local draw. Against Zamora, Colon came in clearly looking to put on a show and make a statement. And he certainly did just that.
Zamora had been stopped on three previous occasions, so the jury is still out on Colon's punching power, but he appears to put his punches together well and he appears to have heavy hands.
Can Colon become a top contender at 140? Maybe, but at the very least I think he has a chance with his offensive-minded style and his ability to sell tickets to revive the boxing scene somewhat up here in upstate New York.
Check out more boxing news on video at The Boxing Channel 
To comment on this story in The Fight Forum CLICK HERE
Jeff Fenech's Speedy Recovery from Heart Surgery Has His Doctors Baffled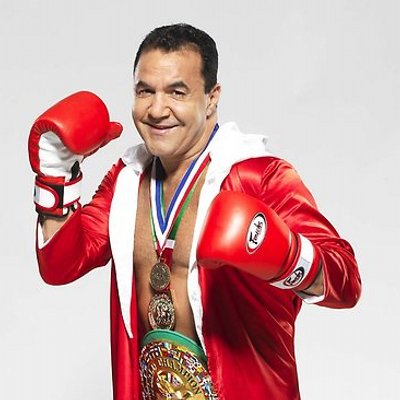 Jeff Fenech was training a team of young Australian fighters in Bangkok when he began spitting up blood and feeling chest pains. He was hospitalized on Oct. 4 and four days later underwent a delicate five-hour operation to replace a defective heart valve.
The timing meant that Fenech would be unable to walk his daughter Jessica down the aisle this past Saturday (Friday in the U.S.) at her wedding at Sydney's landmark St. Mary's Cathedral. His Thai doctors, it was reported, prohibited him from traveling; the risk of infection was too high (it's about a nine-hour plane ride from Bangkok to Sydney). Some reports said that Fenech might have to spend an entire month in the hospital before he was deemed fit to go home.
But Fenech, age 55, is one tough Aussie. He made it to the church on time. There he was walking Jessica down the aisle, wearing a black tuxedo and an incongruous black baseball hat. He looked haggard, but he was there.
Jessica has now been married twice, but to the same fellow in nuptials spaced roughly 10 days apart.
An Australian tabloid TV show, "A Current Affair," arranged for a secret wedding between Jessica and her beau at Fenech's bedside in Bangkok as he was recovering from the surgery.
In the modern era, no Australian fighter had a more avid following than Jeff Fenech who won the IBF world bantamweight title in his seventh pro fight and went on to capture world titles in two other weight classes. Fenech's second fight with Azumah Nelson in 1992 was a huge event in the Land Down Under, attracting more than 30,000 to a stadium dedicated to Australian rules football.
Here we are 27 years later and Jeff Fenech's fame in Australia is undiminished. Here he is with his glamorous wife Suzee during a day at the races in Hong Kong. They have been married for 23 years.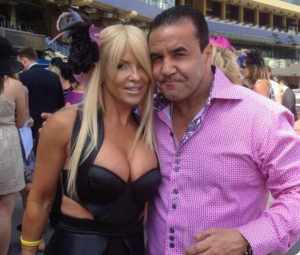 One of the fighters that Fenech was training in Bangkok was junior middleweight Jack Brubaker who has a high-profile fight coming up in December in Sydney against undefeated countryman Tim Tszyu. It isn't known if Fenech will be okay to work Brubaker's corner, but don't bet against it.
Errol Spence Jr
It's old news now, but WBC/IBF welterweight champion Errol Spence Jr was extremely fortunate to survive his recent car accident and it was a miracle that he emerged from it with no broken bones. His condition hasn't been recently updated, but various reports say that Spence suffered only facial lacerations and a few broken teeth.
In case you missed it, Spence was driving his Ferrari at a high rate of speed near downtown Dallas when he crossed the center divider and the vehicle flipped over several times. Spence, who wasn't wearing a seat belt, was ejected. The accident happened shortly before 3 am on the morning of Oct. 10.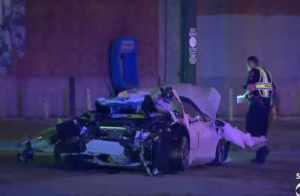 It came as no surprise when Dallas police charged Spence with driving while intoxicated. They filed the charge on Wednesday, Oct. 16, by which time Spence was out of the hospital.
Spence was widely considered one of the good guys in boxing, but that opinion has been tempered. Folks tend to have a very low opinion of people who drive drunk.
Spence's management was reportedly eyeing a fight with Danny Garcia for Jan. 23. We would be surprised if Spence was able to get back in the ring again so soon.
Check out more boxing news on video at The Boxing Channel 
To comment on this story in The Fight Forum CLICK HERE