One of HBO's Smiling Assassins, Sergey Kovalev, Talks Up March 14 Date With Pascal
Man, is HBO cornering the market on smiling assassins, or what? You got Gennady Golovkin, who carries himself with the boyish enthusiasm and politeness of a Boy Scout–hey, they still have those?–and HBO also features Sergey Kovalev, always quick with a grin, and self deprecating take on his place in the boxing universe. As always, I was struck by Kovalev's easy-going charm when I chatted with him today, Wednesday, at a Manhattan presser to trumpet his March 14 scrap against Jean Pascal, which will unfold in Montreal.
Before his last fight, against Bernard Hopkins, in which he shed any and all holdouts who weren't sure if his power punching wasn't a top-heavy asset, and clung to wondering if holes in his game would be exposed by the master of in-ring trickeration and anti-aging, Kovalev had me pondering. Why wouldn't he go out on a limb and predict a win? Why was he hedging? Why wouldn't he proclaim his imminent victory over B-Hop? Well, it became apparent after he schooled the professor, that he's 1) intensely humble and 2) he's wise, and knows that there are no guarantees when one steps in the ring, but that Buffer will collect a fat check if he says his catchphrase.
That humility, it was present again at the Parker Meridien, when he told me that it's not for him to say if he is THE MAN at light heavy, or is Fighter of the Year, as he was chosen by we here at TSS. But, he did give a hint of that other side, the one which enables him to have stopped 23 of 26 opponents since turning pro in 2009. Pascal, who looked in solid shape, with popped biceps curving out from a short sleeve shirt, got a turn with the mic and stood up. He strode over to Kovalev, and told all present that he was not coming to lay down, and fully expected to have his hand raised at La Bell Centre. He put a hand on Kovalev, and I studied the Russian's face to see how he handled it. I didn't note any consternation. Later, I asked him about that Pascal move. Did his radar go up, I wondered? Indeed it did, he told me. (You can see his answer when we post the footage to BoxingChannel.TV soon.) He told me he was eyeing Pascal, reading his body language, looking for clues to his intent. It turns out the intent wasn't odious or done to try and inject doubt into Kovalev's head. I think Pascal is too much a vet for that….He knows that Kovalev isn't the flappable sort. But it got me thinking again about Golovkin, and Kovalev, and that bizarre and wondrous ability to have that duality in you. Possessors of disarming grins and easy amiability…and the ability and desire to seperate you from your senses. Boxing, a helluva thing.
FOLLOW WOODS ON TWITTER https://twitter.com/Woodsy1069
Here is a pic of one of HBO's smiling assassin's and the writer, by David Spagnolo:
Here is the release, with all the top quotes and stellar photos by David Spagnolo, which went out today:
Krusher and Pascal
Photo Credits: David Spagnolo/Main Events
New York, NY: Sergey "Krusher" Kovalev (26-0-1, 23 KOs), the current WBO, WBA and IBF Light Heavyweight World Champion, and Jean Pascal (29-2-1, 17 KOs), the former WBC and Lineal Light Heavyweight Champion and Current holder of the WBC Diamond Belt, addressed the U.S. media in New York City in advance of their March 14 fight for the WBO, WBA and IBF Light Heavyweight Championships. Kovalev has been named The Fighter of the Year by the WBO, Sports Illustrated, BleacherRepor, New York Post, USA Today and many others and today received his WBA and IBF Light Heavyweight World Championship Ring from Kathy Duva, CEO of Main Events.
Also in attendance were Vyacheslav "Czar" Glazkov (19-0-1, 12 KOs) and Steve "USS" Cunningham (28-6, 13 KOs) who were announced as the co-feature for the Kovalev-Pascal card. The two will fight for the #1 position in the IBF.
Below are the quotes from the press conference:
Glazkov, Kovalev, Pascal & Cunningham
Photo Credits: David Spagnolo/Main Events
Kathy Duva, CEO of Main Events
"Welcome to the press conference where everyone is invited! One of the joys of my life is to present an interesting and big event with two fighters where the outcome is doubt. On March 14 we will present two such fights. The Kovalev-Pascal fight is a throwback fight in the truest sense of the word. A reigning World Champion who is willing to fight a worthy challenger in the challenger's hometown. And if that wasn't enough, in the co-feature Czar Glazkov and Steve Cunningham will face off for the #1 position in the IBF and the winner will face Wladimir Klitschko or whomever is the IBF Heavyweight Champion at the end of the year."
Jean Bedard
Photo Credits: David Spagnolo/Main Events
Jean Bedard, President of Interbox
"It is a privilege for Interbox to work with Kathy and Main Events because we share the same vision – to bring the best fights to the fans. Saturday is usually hockey night in Canada but, on March 14, Kovalev and Pascal will replace the Canadiens. The Bell Centre is one of the busiest sporting venues in the world and we are so proud to bring this event there. Thank you also to HBO."
Duva
"Main Events and HBO have worked together since the 1980s probably before Peter Nelson was even born, but he has brought so much to the sweet science in a short period of time. It is a pleasure to work with again to bring another great night of boxing to the fans."
Peter Nelson, Vice President of Programming, HBO Sports
"I wrote that for Kathy (laughing). I want to thank the media for coming today. I want to thank Kathy Duva. She has done a great job with Sergey Kovalev's career. We were privileged to be part of his win over Bernard Hopkins and this is just the next installment in an amazing career. This fight is a signature event, it is not another check-in-the-box. This is two elite fighters looking to establish their legacies. We are privileged to be associated with events that not only have great main events but great co-features. The co-feature has an amazing story as well. Start time is 9:45 and we look forward to a great event. Sergey Kovalev and Jean Pascal always look to fight the best and I would like to thank the press for rewarding them for doing so."
Duva
"In the co-feature, all of you will watch while I cover my eyes. We wanted to bring the heavyweight division back to life. Who knew that last year we would be here with two of our own facing each other for the #1 position? Then Steve Cunningham defeated Amir Mansour and Czar Glazkov defeated Tomasz Adamek and those victories have brought us here to this moment. The fans are the ones who will win when this fight ends but I won't be able to watch. Steve's legendary trainer, Brother Naazim Richardson is one of the best in the business. He is a member of Steve's family and they have been living together through all the joy and all the sorrows. It is much better to be working together with Naazim on the same side this time instead of against him like with the fight against Hopkins. Steve has faced some incredible challenges in the boxing ring but he has faced even bigger challenges outside the ring. When he faced Mansour he was told his daughter Kennedy, who was born with a congenital heart defect, was going to die. Last month she proved the doctors wrong when she received a successful heart transplant. Her father shares her same fighting spirit to defy the odds and he is looking to show that on March 14."
Steve and Cruz Cunningham
Photo Credits: David Spagnolo/Main Events
Steve "USS" Cunningham, USBA Heavyweight Champion
"Thanks Kathy for making me tear up. I would like to thank my Lord and Savior, Jesus Christ, Main Events and HBO. I am finally getting on HBO! I gave up that I would ever get here so I am excited and happy to be on HBO finally. I know everyone talks about the situation with my daughter and the strength it took for us to survive it, but we have done nothing more than what anyone else would have done in the same situation. I want to thank everyone who gave to her fund and helped us get here. I am fighting my fourth undefeated heavyweight. I am here to show. Boxing is the show business. I have to show every time I get in that ring. I want to be the heavyweight world champion. Czar is an Olympian and he is undefeated and whatever plan Naaz comes up with I am going to execute it. You have seen the heart and the skill and I am going to bring that on March 14."
Duva
"I didn't know that the day that I met Egis Klimas that it would be one of the luckiest days of my life. He convinced me to look at Sergey Kovalev and I am so glad he did. Egis handles three world champions and now he is looking to get his first heavyweight world champion."
Nelson, Glazkov and Klimas
Photo Credits: David Spagnolo/Main Events
Egis Klimas, Manager of Sergey Kovalev and Czar Glazkov
"For me March 14 is going to be a double pleasure night. Me and Czar started working together when I convinced a Russian promoter to bring him to the United States. He just moved from the Ukraine to the United States. For this fight he relocated to Oxnard, CA and he is working with a new trainer, Victor Petrochenko. He has already started camp. It is going to be a good night and hopefully he can win and be IBF champion in the heavyweight division."
Duva
"While Czar Glazkov was here in the United States becoming the NABF heavyweight champion, his friends and family were suffering through the conflict in the Ukraine. He wants a shot at his fellow countryman Wladimir Klitschko and he is willing to take on any challenge to get there. When he was originally scheduled to fight Tomasz Adamek and Adamek had fallen out, he was so disappointed that we had to replace him with Garret Wilson. However, he only asked me one question – is he right handed or left handed? That is what makes him the type of competitor he is."
Czar and Steve
Photo Credits: David Spagnolo/Main Events
"Czar" Glazkov, NABF Heavyweight Champion
"I am very sorry to speak Russian but I am still learning English. I want to thank Kathy Duva and Main Events, HBO and Peter Nelson for giving me this opportunity to fight on the biggest boxing network. Steve Cunningham is a good fighter and this is his last chance to show something in boxing but my goal is to show that I am better. Now I am training with my new trainer, Victor Petrochenko. He is showing me something new. We are getting good workout and I will show March 14. It is going to be a good show."
Greg Leon, CEO of Jean Pascal Promotions
"I want to thank HBO, Main Events, and Interbox. Interbox is a first class organization across the board. This fight is about the best versus the best. They are the two best light heavyweights willing to fight each other. Jean Pascal has never seen anyone as strong as Sergey Kovalev and Sergey Kovalev has never seen anyone as athletic as Jean Pascal. Pascal was shocked the odds have him four to one but we welcome the challenge. We are looking forward to a great night of boxing."
Marc Ramsay, Trainer of Jean Pascal
"Thank you everyone. I would like to thank HBO, Main Events and Interbox for giving us this opportunity. I am proud to be part of this fight. So many fighters like to escape the big challenge. Sergey Kovalev is not afraid to travel and Jean Pascal is not afraid of this challenge. The real training camp starts next Monday. There is always a way to beat every fighter and Jean Pascal has all the tools to achieve it."
Pascal with Kovalev and Duva
Photo Credits: David Spagnolo/Main Events
Jean Pascal, Former WBC, IBO and The Ring Light Heavyweight Champion
"I want to thank God for giving us this opportunity as well as Interbox and Main Events. This fight was an easy fight to make. Titles and money come and go but history doesn't. We want to make history. HBO wants to make the best fight possible and that is why they made this fight. I don't have Showtime no more. They show boring fights. Sergey Kovalev is a great champion; a solid champion. He can punch, he has good speed, he is good with his distance, he does everything well, he has good technique and I love to be the underdog. I loved watching when Balboa fought the crushing Russian in Rocky IV and now this is my real life and I am going to be the black Balboa."
Duva
"I want to recognize the best training staff in the business John David Jackson and Derik Santos, Sergey's training team. They could not be here but they prepared him for his stellar appearance against Bernard Hopkins and they will have him ready for Pascal."
Klimas
"It is a pleasure to represent a fighter who is USA Today, Sports Illustrated, and New York Post Fighter of the Year (to name a few). I believe truly he has proved that. Everyone thought that he could only knock people out but he outboxed Bernard Hopkins. Jean Pascal is a good fighter. He is the best challenger in the division for Sergey Kovalev. The two good men are going to meet. In the end talk is cheap let's bring these guys in the ring and let that speak for itself. Nobody believed me when I brought Sergey Kovalev through 18 fights with my own money without a promoter. Thank you Kathy for bringing us to this level."
Duva
"So many recognize why Sergey Kovalev should be the Fighter of the Year is not because he defeats everyone he faces but the way he does it. He outboxed a legendary fighter. It takes more than talent to make a champion, add drive, ambition and a work ethic that is second to none. He is charming and one of the nicest people in the world. He is the most electrifying fighter I have ever worked with (and I have worked with some electrifying fighters!) and he is just beginning. Before I ask him to speak I have a little surprise for him. Main Events has a tradition of creating rings when our fighters win a world championship. Joel McFadden is the artist who created your WBO ring. The good news is they created a wonderful new ring, that bad news is because you won two belts at once there is only one ring. Everything was designed by hand."
Klimas and Kovalev with World Championship Ring
Photo Credits: David Spagnolo/Main Events
Sergey "Krusher" Kovalev, WBO, WBA and IBF Light Heavyweight World Champion
"Hello everybody. Thanks for this great ring, it is very complimentary from jewel masters. I always wear my WBO ring. I sleep with it and now I will have to sleep with both together. Next, I know I was named Fighter of the Year but I didn't know how many media chose me. I am happy and this push me more to show what I am a real Fighter of the Year. This year will be more big fights. I am starting with a very big fight with Jean Pascal. Thank you for taking this fight. For me it doesn't matter where I fight. If I am true champion, I am fighting anyone anywhere. I want to thank HBO and Peter Nelson personally for this opportunity to give me big chance in my life. Where I am it is because of my team: Kathy Duva and Main Events, Egis Klimas and HBO. That is my team I love you and bless you. Everybody say before the fight was made that I will win. I never say never; this is boxing. This isn't sprinting or bicycling. I never say never. You can go to Big Bear and repeat my preparations but no one can repeat my style. It is my thinking in me that gave me all victories and will give more."
Duva
"I want to thank Le Parker Meridien, HBO and Hortitsia vodka, our sponsor. We look forward to a great night of boxing on March 14. Thank you."
About Kovalev vs. Pascal
Kovalev vs. Pascal is a 12-round fight for the WBO, WBA and IBF Light Heavyweight World Championship Titles. The fight will be televised live on HBO World Championship Boxing® on March 14, 2015 from the Bell Centre in Montreal, Quebec, Canada. Tickets are on sale now at the Bell Centre ticket office, at www.evenko.ca, by telephone at 1-855-310-2525 or through Club de Boxe Champion (514-376-0980). This event is a co-promotion of Main Events and InterBox, presented by Vidéotron in association with Mise-O-Jeu.
Canelo-Charlo Gets All the Ink, but Don't Overlook the Compelling Match-up of Gassiev-Wallin in Turkey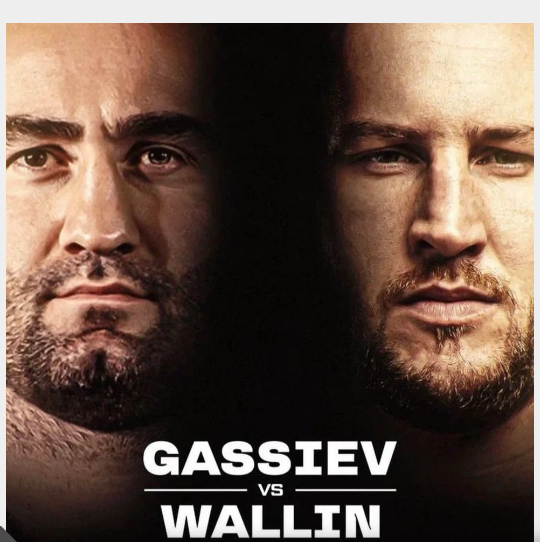 Canelo-Charlo Gets All the Ink, but Don't Overlook the Compelling Match-up of Gassiev-Wallin in Turkey
The eyes of the boxing world will be on Las Vegas this Saturday where Mexican superstar Saul "Canelo" Alvarez risks his four super middleweight title belts against unified 154-pound champion Jermell Charlo. Earlier that day at a luxury resort hotel in the city of Antalya on the Mediterranean coast of Turkey, there's a heavyweight match sitting under the radar that may prove to be the better fight. It's an intriguing match-up between former world cruiserweight title-holder Murat Gassiev and Swedish southpaw Otto Wallin, a bout with significant ramifications for boxing's glamour division.
Gassiev (30-1, 23 KOs) and Wallin (25-1, 14 KOs) have only one loss, but those setbacks came against the top dogs in the division. Gassiev was out-boxed by Oleksandr Usyk back in the days when both were cruiserweights. Wallin gave Tyson Fury a world of trouble before losing a unanimous decision.
Since those fights, both have been treading water.
Gassiev
Gassiev was inactive for 27 months after his match with Usyk while dealing with legal issues and an injury to his left shoulder. He is 4-0 (4 KOs) since returning to the ring while answering the bell for only eight rounds. The only recognizable name among those four victims is German gatekeeper Michael Wallisch. After stopping Wallisch, Gassiev was out of action for another 13 months while reportedly dealing with an arm injury.
A first-round knockout of Carlouse Welch, an obscure 40-something boxer from the U.S. state of Georgia on Aug. 26, 2022, in Belgrade, Serbia, was promoted as a title fight. The sanctioning body was the Eurasian Boxing Parliament (insert your own punchline here). Gassiev followed that up with a second-round knockout of former NFL linebacker Mike Balogun who came in undefeated and was seemingly a legitimate threat to him.
Although he has yet to fight a ranked opponent since leaving the cruiserweight division, Gassiev — a former stablemate of Gennady Golovkin who has been living in Big Bear, California, training under Abel Sanchez – is one of the most respected fighters in the division because he has one-punch knockout power as Balogun and others can well attest. The rub against the Russian-Armenian bruiser is that he is somewhat robotic.
Wallin
Otto Wallin, a 32-year-old southpaw from Sweden who trains in New York under former world lightweight champion Joey Gamache, fought Tyson Fury on Sept. 14, 2019 at the MGM Grand in Las Vegas. There was a general feeling that the Swede would be a stroll in the park for Fury, but to the contrary, he gave the Gypsy King a hard tussle while losing a unanimous decision.
Wallin is 5-0 since that night beginning with victories over Travis Kauffman (KO 5) and Dominic Breazeale (UD 12), but his last three opponents were softer than soft and all three lasted the distance. In order, Wallin won an 8-round decision over Kamil Sokolowski, who was 11-24-2 heading in, won a 10-round decision over ancient Rydell Booker, and won an 8-round decision over Helaman Olguin. His bout with Utah trial horse Olguin was at a banquet hall in Windham, New Hampshire.
It isn't that Wallin has been avoiding the top names in the division; it's the other way around. His promoter Dmitriy Salita reportedly came close to getting Wallin a match with Anthony Joshua whose team had second thoughts about sending Joshua in against another southpaw after back-to-back setbacks to Oleksandr Usyk.
Gassiev vs Wallin is a true crossroads fight. Both are in dire need of a win over a credible opponent. At last look, Gassiev, who figures to have the crowd in his corner, was a 3/1 favorite.
To comment on this story in the Fight Forum CLICK HERE
Skavynskyi and Bustillos Win on a MarvNation Card in Long Beach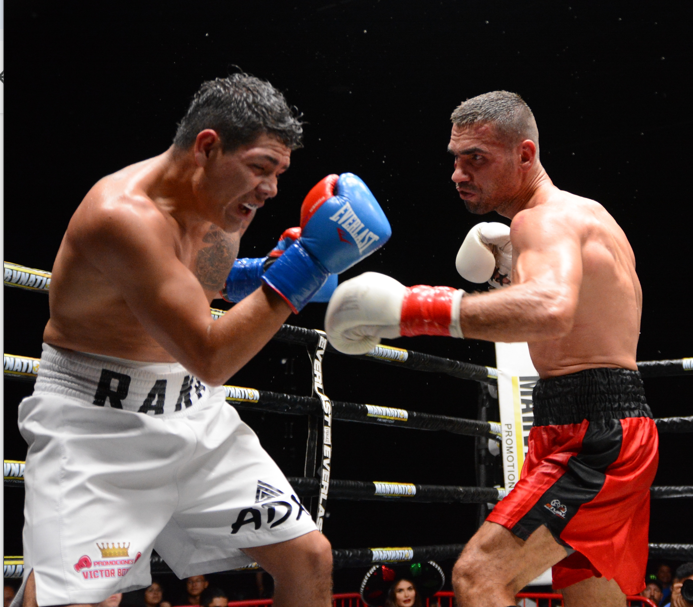 Skavynskyi and Bustillos Win on a MarvNation Card in Long Beach
LONG BEACH, Ca.-A cool autumn night saw welterweights and minimumweights share main events for a MarvNation fight card on Saturday.
Ukraine's Eduard Skavynskyi (15-0, 7 KOs) experienced a tangled mess against the awkward Alejandro Frias (14-10-2) but won by decision after eight rounds in a welterweight contest at the indoor furnace called the Thunder Studios.
It was hot in there for the more than 600 people inside.
Skavynskyi probably never fought someone like Mexico's Frias whose style was the opposite of the Ukrainian's fundamentally sound one-two style. But round after round the rough edges became more familiar.
Neither fighter was ever damaged but all three judges saw Skavynskyi the winner by unanimous decision 79-73 on all three cards. The Ukrainian fighter trains in Ventura.
Bustillo Wins Rematch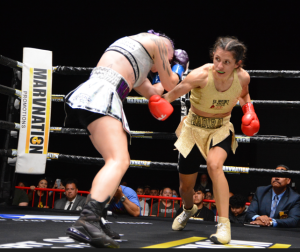 In the female main event Las Vegas' Yadira Bustillos (8-1) stepped into a rematch with Karen Lindenmuth (5-2) and immediately proved the lessons learned from their first encounter.
Bustillos connected solidly with an overhand right and staggered Lindenmuth but never came close to putting the pressure fighter down. Still, Bustillos kept turning the hard rushing Lindenmuth and snapping her head with overhand rights and check left hooks.
Lindenmuth usually overwhelms most opponents with a smothering attack that causes panic. But not against Bustillos who seemed quite comfortable all eight rounds in slipping blows and countering back.
After eight rounds all three judges scored the contest for Bustillos 78-74 and 80-72 twice. Body shots were especially effective for the Las Vegas fighter in the fifth round. Bustillos competes in the same division as IBF/WBO title-holder Yokasta Valle.
Other Bouts
In a middleweight clash, undefeated Victorville's Andrew Buchanan (3-0-1) used effective combination punching to defeat Mexico's Fredy Vargas (2-1-1) after six rounds. Two judges scored it 59-55 and a third 60-54 for Buchanan. No knockdowns were scored.
A super lightweight match saw Sergio Aldana win his pro debut by decision after four rounds versus Gerardo Fuentes (2-9-1).
Photos credit: Al Applerose
To comment on this story in the Fight Forum CLICK HERE
Tedious Fights and a Controversial Draw Smudge the Matchroom Boxing Card in Orlando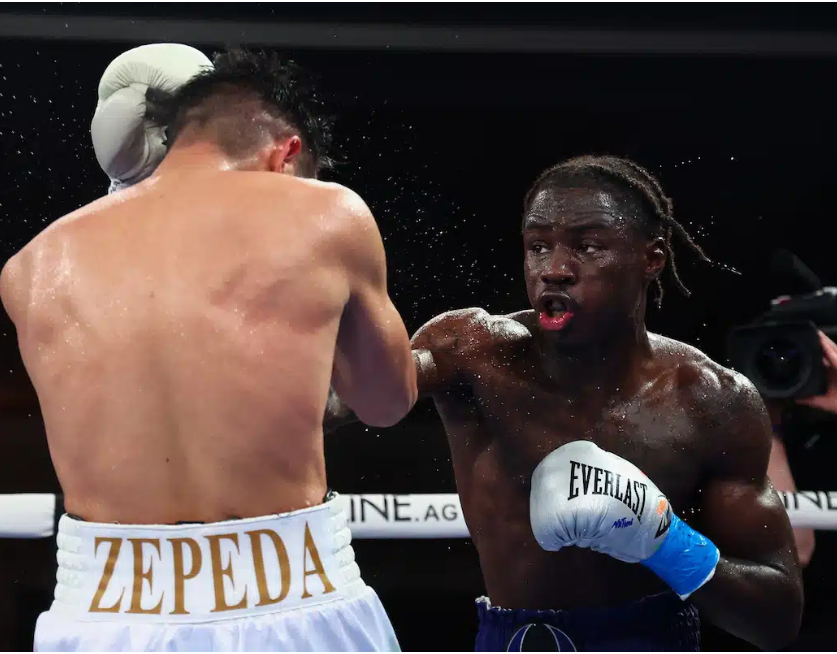 Matchroom Boxing was at the sprawling Royale Caribe Resort Hotel in Orlando, Florida tonight with a card that aired on DAZN. The main event was a ho-hum affair between super lightweights Richardson Hitchins and Jose Zepeda.
SoCal's Zepeda has been in some wars in the past, notably his savage tussle with Ivan Baranchyk, but tonight he brought little to the table and was outclassed by the lanky Hitchins who won all 12 rounds on two of the cards and 11 rounds on the other.  There were no knockdowns, but Zepeda suffered a cut on his forehead in round seven that was deemed to be the product of an accidental head butt and another clash in round ten forced a respite in the action although Hitchins suffered no apparent damage.
It was the sort of fight where each round was pretty much a carbon of the round preceding it. Brooklyn's Hitchins, who improved to 17-0 (7), was content to pepper Zepeda with his jab, and the 34-year-old SoCal southpaw, who brought a 37-3 record, was never able to penetrate his defense and land anything meaningful.
Hitchins signed with Floyd Mayweather Jr's promotional outfit coming out of the amateur ranks and his style is reminiscent in ways of his former mentor. Like Mayweather, he loses very few rounds. In his precious engagement, he pitched a shutout over previously undefeated John Bauza.
Co-Feature
In the co-feature, Conor Benn returned to the ring after an absence of 17 months and won a unanimous decision over Mexico's Rodolfo Orozco. It wasn't a bad showing by Benn who showed decent boxing skills, but more was expected of him after his name had been bandied about so often in the media. Two of the judges had it 99-91 and the other 96-94.
Benn (22-0, 14 KOs) was a late addition to the card although one suspects that promoter Eddie Hearn purposely kept him under wraps until the week of the fight so as not to deflect the spotlight from the other matches on his show. Benn lost a lucrative date with Chris Eubank Jr when he was suspended by the BBBofC when evidence of a banned substance was found in his system and it's understood that Hearn has designs on re-igniting the match-up with an eye on a date in December. For tonight's fight, Benn carried a career-high 153 ½ pounds. Mexico's Orozco, who was making his first appearance in a U.S. ring, declined to 32-4-3.
Other Bouts of Note
The welterweight title fight between WBA/WBC title-holder Jessica McCaskill (15-3-1) and WBO title-holder Sandy Ryan (6-1-1) ended in a draw and the ladies' retain their respective titles. Ryan worked the body effectively and the general feeling was that she got a raw deal, a sentiment shared by the crowd which booed the decision. There was a switch of favorites in the betting with the late money seemingly all on the Englishwoman who at age 30 was the younger boxer by nine years.
The judges had it 96-94 Ryan, 96-95, and a vilified 97-93 for Chicago's McCaskill.
In the opener of the main DAZN stream, Houston middleweight Austin "Ammo" Williams, 27, improved to 15-0 (10) with a 10-round unanimous decision over 39-year-old Toronto veteran Steve Rolls (22-3). All three judges had it 97-93. Rolls has been stopped only once, that by Gennady Golovkin.
Photo credit: Ed Mulholland / Matchroom Boxing
To comment on this story in the Fight Forum CLICK HERE