Don King: The Last Roar of the Lion in Winter?
It has been a remarkable run for a remarkable character, truly an American original, unique even by boxing's fast-and-loose, anything-goes tolerance and even compliant acceptance of outrageous behavior.
But Don King, he of the electrified hair, bombastic personality and streetwise cunning, has slowed down from full-throttle manipulation of boxing to a minor role that seems to shrink with each passing day. The "Teflon Don," as he once was dubbed for his ability to unstick himself from the many lawsuits filed against him, is 83 now, a graying lion in winter. Forty-plus years of wheeling and dealing can sap the vitality from even the most driven of alpha males, and especially so if the aging go-getter is an octogenarian who no longer is dealing from a position of near-absolute control.
That familiar, bellowing roar – well, more of a heh-heh-heh cackle – now comes with the volume turned low. At least the message being barked out isn't reaching as many listeners. Maybe that is because the man himself is simply tuckered out, and maybe because his depleted stable of fighters is basically down to one lead pony that, upon further inspection, is lacking the regal bloodlines and staying power of many of his predecessors. But regardless of their place in boxing's pecking order, King's fighters during his glory days were obliged to pledge fealty (and hefty percentages of their purses) to the boss as a condition of their servitude.
Some observers have made the mistake of writing off King in the past, but whenever it appeared he was becoming less relevant, he simply found a way to restock his talent pool with a fresh influx of elite attractions, more than a few of whom were lured away from rival promoters. If it is indeed possible for a slick enough huckster to sell sand to Bedouin tribesmen, it was a near-certainty that DK would find a way to run the largest, most profitable concession stand in the desert.
All of which makes tonight's Showtime-televised pairing at the MGM Grand King's last, best hope for an important toehold in the sport, WBC heavyweight champion Bermane "B. Ware" Stiverne (24-1-1, 21 KOs), and challenger Deontay Wilder (32-0, 32 KOs) more notable than it might be solely on its pugilistic merits. Should Stiverne – a 36-year-old Haitian, formerly based in Quebec City, Canada, now living in Las Vegas – lose a fight that is by no means a sure thing either way, it could have the effect of ushering King off to the side, once and for all.
But if King is indeed on his way out, he's going the same way he came in, with heaping measures of defiance, bluster and bullspit.
"This program is America's return to glory in the heavyweight division," King harrumphed, ignoring the fact that only one fighter, the one he doesn't control, is a United States citizen. "It's going to be a great event. This is a fight to bring boxing back to where it should be, and the glory back to the heavyweight division that has been lacking for quite a while now.
"A guy named Bermane Stiverne is an extension to (Mike) Tyson – awesome, brutal, a devastating puncher."
Perhaps Stiverne will be all of that on Saturday night, or at least show flashes of the form King has assured everyone he possesses in sufficient supply to be compared to iconic heavyweights Tyson, Larry Holmes, Evander Holyfield, George Foreman and Muhammad Ali, all of whom His Hairness promoted at one time or another. But it seems more plausible that Stiverne is a cut or two below that uppermost tier, more in line with such King roster-fillers as Tim Witherspoon, Greg Page, Bonecrusher Smith, Tony Tubbs and Tony Tucker, talented bench guys whom he had rounded up primarily to serve as opponents for his marquee attractions. It was standard practice for King to arrange title fights between two of his fighters, assuring that the only guaranteed winner after the last punch was thrown was … Don King.
It is a ploy also used by King's longest-running and most-bitter competitor for promotional domination, Top Rank CEO Bob Arum, 83, who, on the surface, is everything that King is not. But while their pre-boxing experiences are hardly identical, their management objectives are eerily similar: Always, always be the one calling the shots and directing the play.
Forget Ali-Frazier; that series was a fleeting blip on the radar screen compared to the decades-long blood feud between Arum, the "master of trickeration," as so dubbed by King, and his hulking, flag-waving nemesis with the mountain-range coif. But it says something about the arch-rivals that they occasionally got together to do business because, well, declaring intermittent truces was good business.
A couple of months prior to the April 8, 2006, matchup of King's Zab Judah and Arum's Floyd Mayweather Jr. in Las Vegas, the enemies-turned-temporary-allies held a remarkable press conference in Atlantic City, N.J., to not only chat up the upcoming fight, but to turn their verbal guns on a nagging irritant, then-Golden Boy CEO Richard Schaefer, whom each considered to be a threat to their established turf.
"If you were making a chart from zero to a hundred, Bob Arum – Harvard graduate, Kennedy raider, Jewish ethnic, got the complexion for the connection – would be the most likely to succeed," chortled King as Arum sat close by, forcing a smile.
"Don King – African-American, ex-convict, served time in jail – on (a scale) of zero to 100, it would be 100 to zero for Bob Arum. But in reality, is hasn't been that way because I've been extraordinary at what I do. Us playing off each other has been a blessing more than anything. At the end of the day, only the two of us are left standing. Collectively, the rest can't tie our shoestrings."
In the eight-plus years since that pronouncement, Arum has separated himself from King more than Dez Bryant putting a double-move on a confused rookie cornerback lacking top-end speed. Arum's company remains a behemoth of the industry, with a deep roster ranging from the more-established likes of Manny Pacquiao, Timothy Bradley Jr., Nonito Donaire, Terence Crawford and Nicholas Walters to such emerging attractions Vasyl Lomachenko, Zou Shiming, Felix Verdejo and Jesse Hart … about 50 fighters in all.
And it's not just the quantity and quality of Arum's inventory that keeps Top Rank strong. Ever the globe-trotting entrepreneur, Arum has made Macau, China, boxing's hot, new destination for major bouts, and the recent thawing of his company's frosty relationship with Oscar De La Hoya and Golden Boy, facilitated in no small part by the departure of Schaefer, his King-like substitute as an object of derision, has further entrenched Top Rank as a major player going forward. Arum also has a successor waiting in the wings in Todd duBoef, his stepson, who for years has been groomed to keep the TR brand buffed and polished.
King's operation hasn't fared nearly so well by comparison.
The tried-and-true tricks King used to telling effect in the past – opening up a satchel of money, dumping it on a table, and telling a fighter raised in poverty that he had to sign multiple blank contracts with King if he wanted to leave with the booty, and maybe the keys to a new car – aren't the guaranteed deal-closers that they once were. Nor is the race card King has been known to play with black fighters who were schmoozed into feeling more comfortable with one of their own.
Don King Productions moved from the Upper East Side of Manhattan – the tony section of New York that, rightly or wrongly, perceives itself as the center of the known universe – to Deerfield Beach, Fla., in the late 1980s. Once, DKP handled a Top-Rank-sized lineup of premier fighters, necessitating a staff of around 50 to keep the operation humming. Now, the number of employees has been pared to 10 or so, with many of King's most trusted lieutenants having either died off or, sensing the seismic shift taking place within the organization, gotten out while the getting was good.
But the man himself remains in the game, even if marginalized, even if an increasing number of former employees and associates, having broken free from his iron grip, now excoriate him as a ruthless taskmaster whose public persona is as purposefully crafted as anything that has ever been sold to gullible consumers.
Bernard Hopkins was unhappily under contract to King when he won the middleweight unification tournament with a surprise (or so some thought), 12th-round stoppage of a King favorite, Felix Trinidad, on Sept. 29, 2001. It gnawed at Hopkins that the Sugar Ray Robinson Award, which had been commissioned to go to the ultimate victor, had been engraved with Trinidad's name before the final. And if there is anything that can be said about B-Hop, it is that he files away all real and perceived slights, and draws upon them for inspiration as needed.
When Hopkins, no longer with King, was to take on King fighter Tavoris Cloud, the IBF titlist, on March 9, 2013, at the Barclays Center in Brooklyn, N.Y., the then-48-year-old Philadelphian, who would go on to score a unanimous-decision victory, reveled in the notion that he was going to shovel the last spadeful of dirt upon the professional grave of his onetime promoter.
"I am surprised that King agreed (to make the fight) because Cloud losing to me will shut down what's left of King's company," Hopkins said. "He's pretty much down to Cloud. Cloud is Don King's last big hope.
"Who would have thought that I would have stayed around long enough to destroy Don King? I started the process with Tito (Trinidad). Look, I made a history of beating Don King fighters. Robert Allen, John David Jackson, William Joppy, Keith Holmes, Trinidad. That's five so far. There's probably more."
Nor is Hopkins the only former King fighter who has told tales of chicanery and financial improprieties of a colossal magnitude, which served to mostly enrich the promoter instead of the guy eating the punches. Former heavyweight champion Tim Witherspoon filed a $25 million lawsuit against His Hairness in 1987, alleging that he had been bilked out of significant chunks of his purses. When Witherspoon, the WBA champ, fought Frank Bruno in London on July 19, 1986, for instance, HBO paid King $1.7 million to deliver "Terrible Tim," and the Associated Press reported that his share of the pot would be $900,000, the same as Bruno's. But although Bruno – a non-King fighter whom Witherspoon stopped in 11 rounds – received his full guarantee, 'Spoon was handed a check for $90,094.
"It's like we're racehorses," Witherspoon, who after years of legal wrangling settled with King out-of-court for $1 million, said of his role as one of the King-controlled "Lost generation of heavyweights" in the 1980s. "They race us 'til we drop and then they shoot us. And if we win, they tie a blue ribbon around our neck."
More damning accusations were cited, chapter and verse, in "Only in America: The Life and Crimes of Don King," by Jack Newfield, which was published in 1995. In the book, Newfield, who died in 2004, wrote that Muhammad Ali was shorted about $1.2 million of his contracted $8 million purse for the horrific beatdown he suffered at the hands of Larry Holmes on Oct. 2, 1980. While a clearly diminished Ali was recovering, Newfield detailed how King got a trusted Ali associate, Jeremiah Shabazz, to bring "The Greatest" a suitcase filled with $50,000 and a contract that not only precluded him from pursuing punitive damages against King, but gave King the option to promote any of Ali's future fights. Weary and confused, Ali signed the contract and took the cash.
By his own estimation, King has spent $30 million defending himself against lawsuits, and not only those filed by disgruntled fighters. The FBI went after him for tax evasion, among other things, but King beat the rap that landed Al Capone in Alcatraz. In 1995, he beat a nine-count indictment on insurance fraud. Almost without exception, King, claiming he was the target of jealous or unscrupulous adversaries, came away unscathed.
"They went down the list of every known charge conceivable to man," he said after outpointing the feds on the tax-evasion beef. "Racketeering, skimming, kickbacks, ticket-scalping, fixing fights, preordaining fights, corrupting judges, all the way down to laundering money. Everything but the Lindbergh baby. Instead of using me as the true attestation of the American dream, they threw the book at me."
The book missed King, as large as he is, but maybe Deontay Wilder will land the takeout shot to Stiverne's jaw that will finish the job so many have taken upon themselves dating back to the 1970s. Then again …
There are two sides to every story, of course, and King has an array of accomplishments to counteract the impression that he is a shameless con artist who only takes and never gives anything back to the sport that made him a legend and instantly recognizable figure here, there and everywhere. He was inducted into the International Boxing Hall of Fame in 1997, which is a pretty big deal, even though some critics said his enshrinement was akin to electing Willie Sutton or John Dillinger to the banking hall of fame. But, DK's acknowledged warts aside, it is also undeniable that he has promoted more than 500 world championship fights and made millionaires (90 or so, at last count) of numerous children of poverty who were handy with their fists. OK, joke if you must about how he showed all those people how to make a small fortune: Start out with a large fortune, then watch as Don King chipped away at it with a laundry list of dubious deductions.
But even the most persistent snipers who have always taken aim at King would have to admit that boxing would seem, well, a little less interesting with him totally absent from the picture. And he was totally in the picture during his decades-long heyday, hogging more on-camera face time than even today's most ubiquitous grandstander, Al Haymon associate Sam Watson, who is as out there as Haymon, boxing's hermit-like Svengali, is not.
When King – who had been prohibited from doing business in Atlantic City for seven-plus years while his insurance-fraud case was pending (he finally was acquitted) – returned to the Jersey shore with a Dec. 5, 1998, show headlined by the matchup of WBA bantamweight champion Nana Konadu and popular challenger Johnny Tapia at the new Convention Center, the focus was on you-know-who. In King's world, he is always the centerpiece, with the fighters playing support roles.
"I don't understand this. I'm the one who's fighting, right?" a perplexed Tapia, who claimed Konadu's title on a 12-round majority decision, said of the prefight press conference whose prevailing theme appeared to be "Don King makes triumphant return to Atlantic City!"
King has his familiar props and mannerisms, from the electrified hair to the little flags he always waves to the brandished stogie to the malaprops he sprinkles into his every turn at the microphone or even in casual conversation. Ask him a question, about anything, and a reporter is apt to get 15 minutes of stream-of-consciousness, with King randomly dropping such names as W.E.B. duBois, Frederick Douglass, Machiavelli and Sun Tzu, occasionally making you chuckle with a misstatement that, upon further reflection, seems part of a well-rehearsed act.
This was – and probably still is, even in his dotage – one very shrewd dude. When I introduced my father to him at the second Mike Tyson-Razor Ruddock fight in Las Vegas, King immediately turned on the charm. "So you are the daddy of one of the boss scribes!" he bellowed, enveloping my 5-6½ father in a bear-hug.
"He must like you," my dad said as we walked away.
"Depends on the most recent story I wrote about him or one of his fighters," I replied.
But I wondered then, and still do, if King was playing me, the media being as susceptible to mind games and flattery as anyone else. And now Bermane Stiverne could be the last twitching fish on the end of King's line, ready to be reeled in along with a new generation of willing and malleable reporters whose first rule of journalism is the insatiable need to find the most interesting story, and to ride it hard.
After all these years, Don King – Mr. Only in America – remains a story that can still be milked. He and I probably wouldn't have it any other way.
A Paean to the Great Sportswriter Jimmy Cannon Who Passed Away 50 Years Ago This Week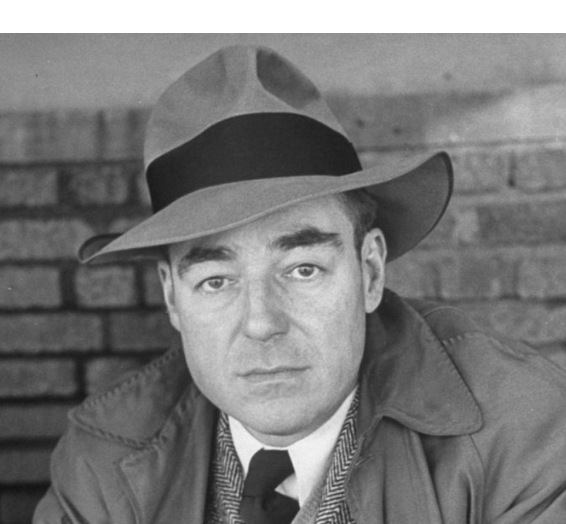 "Of all his assignments," said the renowned sportswriter Dave Anderson, "[Jimmy] Cannon appeared to enjoy boxing the most."
Cannon would have sheepishly concurred. He dated his infatuation with boxing to 1919 when he stood outside a saloon listening to a man with a megaphone relay bulletins from the Dempsey-Willard fight in faraway Toledo. His father followed boxing as did all the Irishmen in his neighborhood. For him, an interest in the sport of boxing, he once wrote, was like a family heirloom. But it became a love-hate relationship. It was Jimmy Cannon, after all, who coined the phrase "boxing is the red light district of sports."
This week marks the 50th anniversary of Jimmy Cannon's death. He passed away at age 63 on Dec. 5, 1973, in his room at the residential hotel in mid-Manhattan where he made his home. In the realm of American sportswriters, there has never been a voice quite like him. He was "the hardest-boiled of the hard-drinking, hard-boiled school of sports writing," wrote Darrell Simmons of the Atlanta Journal. One finds a glint of this in his summary of Sonny Liston's first-round demolition of Albert Westphal in 1961: "Sonny Liston hit Albert Westphal like he was a cop."
In his best columns, Jimmy Cannon was less a sportswriter than an urban poet. Here's what he wrote about Archie Moore in 1955 after Moore trounced Bobo Olson to set up a match with Rocky Marciano: "Someone should write a song about Archie Moore who in the Polo Grounds knocked out Bobo Olson in three rounds…It should be a song that comes out of the backrooms of sloughed saloons on night-drowned streets in morning-worried parts of bad towns. The guy who writes this one must be a piano player who can be dignified when he picks a quarter out of the marsh of a sawdust floor."
Prior to fighting in Madison Square Garden the previous year – his first appearance in that iconic boxing arena – Moore had roamed the globe in search of fights in a career that began in the Great Depression. Cannon was partial to boxers like Archie Moore, great ring artisans who toiled in obscurity, fighting for small purses –"moving-around money" in Cannon's words —  until the establishment could no longer ignore them.
Jimmy Cannon was born in Lower Manhattan. He left high school after one year to become a copy boy for the New York Daily News. In 1936, at age 26, the News sent him to cover the biggest news story of the day, the Lindbergh Baby kidnapping trial. While there he met Damon Runyon who would become a lifelong friend. At Runyon's suggestion, he applied for a job as a sportswriter at the New York American, a Hearst paper, and was hired.
During World War II, he was a war correspondent in Europe embedded in Gen. George S. Patton's Third Army. When he returned from the war, he joined the New York Post and then, in 1959, the Journal-American which made him America's highest-paid sportswriter at a purported salary of $1000 a week. His articles were syndicated and appeared in dozens of papers.
Cannon was very close to Joe Louis. He was the only reporter that Louis allowed in his hotel room on the morning of the Brown Bomber's rematch with Max Schmeling. Louis, he wrote, "was a credit to his race, the human race." It was his most-frequently-quoted line.
In an early story, Cannon named Sam Langford the best pound-for-pound fighter of all time. Later he joined with his colleagues on Press Row in naming Sugar Ray Robinson the greatest of the greats. As for the fellow who anointed himself "The Greatest," Muhammad Ali, Cannon profoundly disliked him. He persisted in calling him Cassius Clay long after Ali had adopted his Muslim name.
It troubled Cannon that Ali was afforded an opportunity to fight for the title after only 19 pro fights. Ali's poetry, he thought, was infantile. He abhorred Ali's political views. And, truth be told, he didn't like Ali because certain segments of society adored him. Cannon didn't like non-conformists – hippies and anti-war protesters and such. When queried about his boyhood in Greenwich Village, he was quick to note that he lived there "when it was a decent neighborhood, before it became freaky."
Cannon's animus toward Ali spilled over into his opinion of Ali's foil, the bombastic sportscaster Howard Cosell. "If Howard Cosell were a sport," he wrote," it would be roller derby."
Cannon frequently filled his column with a series of one-liners published under the heading "Nobody Asked Me, But…" His wonderfully acerbic put-down of Cosell appeared in one of these columns. But one can't read these columns today without cringing at some of his ruminations. He once wrote, "Any man is in trouble if he falls in love with a woman he can't knock down with one punch." If a newspaperman wrote those words today, he would be out of a job so fast it would make his head spin.
Similarly, his famous line about Joe Louis being a credit to the human race no longer resonates in the way that it once did. There is in its benevolence an air of racial prejudice.
Jimmy Cannon was a lifelong bachelor but in his younger days before he quit drinking cold turkey in 1948, he was quite the ladies man, often seen promenading showgirls around town. Like his pal Damon Runyon, he was a night owl. As the years passed, however, he became somewhat reclusive. The world passed him by when rock n' roll came in, pushing aside the Tin Pan Alley crooners and torch singers that had kept him company at his favorite late-night haunts.
Cannon's end days were tough. He suffered a stroke in 1971 as he was packing to go to the Kentucky Derby and spent most of his waking hours in his last two-plus years in a wheelchair. Fortunately, he could afford to hire a full-time attendant. In 2002, he was posthumously elected to the International Boxing Hall of Fame in the Observer category.
Jimmy Cannon once said that he resented it when someone told him that his stuff was too good to be in a newspaper. It was demeaning to newspapers and he never wanted to be anything but a newspaperman. He didn't always bring his "A" game and some of his stuff wouldn't hold up well, but the man could write like blazes and the sportswriting profession lost a giant when he drew his last breath.
To comment on this story in the Fight Forum CLICK HERE
—
Arne K. Lang is a recognized authority on the history of prizefighting and the history of American sports gambling. His latest book, titled Clash of the Little Giants: George Dixon, Terry McGovern, and the Culture of Boxing in America, 1890-1910, was released by McFarland in September, 2022.
Ryan "KingRy" Garcia Returns With a Bang; KOs Oscar Duarte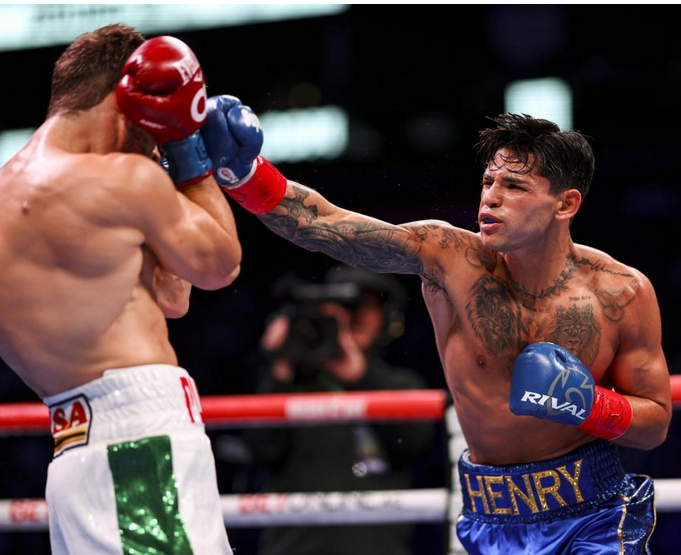 It was a different Ryan "KingRy" Garcia the world saw in defeating Mexico's rugged Oscar Duarte, but it was that same deadly left hook counter that got the job done by knockout on Saturday.
Only the quick survive.
Garcia (24-1, 20 KOs) used a variety of stances before luring knockout artist Duarte (26-1-1, 21 KOs) into his favorite punch before a sold-out crowd at Toyota Arena in Houston, Texas. That punch should be patented in gold.
It was somewhat advertised as knockout artist versus matinee idol, but those who know the sport knew that Garcia was a real puncher. But could he rebound from his loss earlier this year?
The answer was yes.
Garcia used a variety of styles beginning with a jab at a prescribed distance via his new trainer Derrick James. It allowed both Garcia and Duarte to gain footing and knock the cobwebs out of their reflexes. Garcia's jab scored most of the early points during the first three rounds. He also snapped off some left hooks and rights.
"He was a strong fighter, took a strong punch," said Garcia. "I hit him with some hard punches and he kept coming."
Duarte, an ultra-pale Mexican from Durango, was cautious, knowing full well how many Garcia foes had underestimated the power behind his blows.
Slowly the muscular Mexican fighter began closing in with body shots and soon both fighters were locked in an inside battle. Garcia used a tucked-in shoulder style while Duarte pounded the body, back of the head and in the back causing the referee to warn for the illegal punches twice.
Still, Duarte had finally managed to punch Garcia with multiple shots for several rounds.
Around the sixth round Garcia was advised by his new trainer to begin jabbing and moving. It forced Duarte out of his rhythm as he was unable to punch without planting his feet. Suddenly, the momentum had reversed again and Duarte looked less dangerous.
"I had to slow his momentum down. That softened him up," said Garcia about using that change in style to change Duarte's pressure attack. "Shout out to Derrick James."
Boos began cascading from the crowd but Garcia was on a roll and had definitely regained the advantage. A quick five-punch combination rocked Duarte though not all landed. The danger made the Mexican pause.
In the eighth round Duarte knew he had to take back the momentum and charged even harder. In one lickety-split second a near invisible counter left hook connected on Duarte's temple and he stumbled like a drunken soldier on liberty in Honolulu. Garcia quickly followed up with rights and uppercuts as Duarte had a look of terror as his legs failed to maintain stability. Down he went for the count.
Duarte was counted out by referee James Green at 2:51 of the eighth round as Garcia watched from the other side of the ring.
"I started opening up my legs a little bit to open up the shot," explained Garcia. "When I hurt somebody that hard, I just keep cracking them. I hurt him with a counter left hook."
The weapon of champions.
Garcia's victory returns him back to the forefront as one of boxing's biggest gate attractions. A list of potential foes is his to dissect and choose.
"I'm just ready to continue to my ascent to be a champion at 140," Garcia said.
It was a tranquil end after such a tumultuous last three days.
Other Bouts
Floyd Schofield (16-0, 12 KOs) blitzed Mexico's Ricardo "Not Finito" Lopez (17-8-3) with a four knockdown blowout that left fans mesmerized and pleased with the fighter from Austin, Texas.
Schofield immediately shot out quick jabs and then a lightning four-punch combination that delivered Lopez to the canvas wondering what had happened. He got up. Then Scholfield moved in with a jab and crisp left hook and down went Lopez like a dunked basketball bouncing.
At this point it seemed the fight might stop. But it proceeded and Schofield unleashed another quick combo that sent Lopez down though he did try to punch back. It was getting monotonous. Lopez got up and then was met with another rapid fire five- or six-punch combination. Lopez was down for the fourth time and the referee stopped the devastation.
"I appreciate him risking his life," said Schofield of his victim.
In a middleweight clash Shane Mosley Jr. (21-4, 12 KOs) out-worked Joshua Conley (17-6-1, 11 KOs) for five rounds before stopping the San Bernardino fighter at 1:51 of the sixth round. It was Mosley's second consecutive knockout and fourth straight win.
Mosley continues to improve in every fight and again moves up the middleweight rankings.
Super middleweight prospect Darius Fulghum (9-0, 9 KOs) of Houston remained undefeated and kept his knockout string intact with a second round pounding and stoppage over Pachino Hill (8-5-1) in 56 seconds of that round.
Photo credit: Golden Boy Promotions
To comment on this story in the Fight Forum CLICK HERE
Jordan Gill TKOs Michael Conlan Who May Have Reached the End of the Road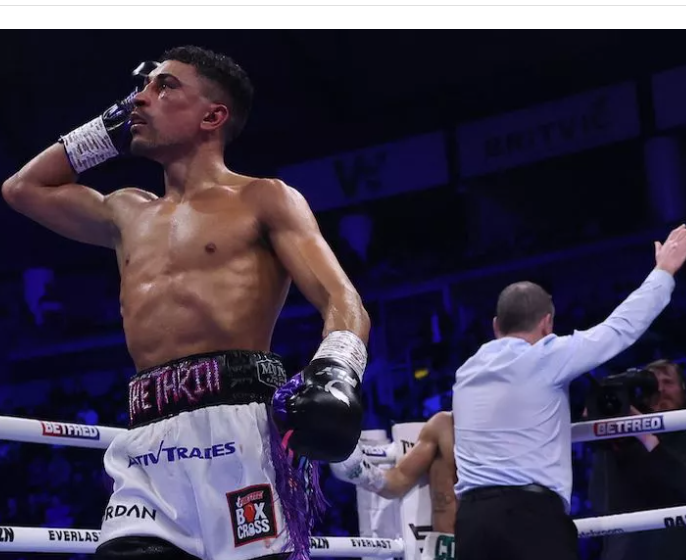 Fighting on his home turf, two-time Olympian Michael Conlan was an 8/1 favorite over Jordan Gill tonight in Belfast, Northern Ireland. Had he won, Matchroom promoter Eddie Hearn was eyeing a rematch for Conlan with Leigh Wood. Their March 2022 rumble in Nottingham was a popular pick for the Fight of the Year. But the 29-year-old Gill, a Cambridgeshire man, rendered that discussion moot with a seventh-round stoppage. It was Conlan's third loss inside the distance in the last 18 months and he would be wise to call it a day. His punch resistance is plainly not what it once was.
It was with considerable fanfare that Conlan cast his lot with Top Rank coming out of the amateur ranks. Tonight was his first assignment for Matchroom and his first fight at 130 pounds after coming up short in two world featherweight title fights. And he almost didn't make it past the second round. Gill had him on the canvas in the opening minute of round two compliments of a left hook and stunned him late in the round with a right hand that left him on unsteady legs.
He survived the round and for a fleeting moment in the sixth frame it appeared that he had reversed Gill's momentum. But Gill took charge again in the next stanza, trapping Conlan in the corner and unloading a fusillade of punches that forced referee Howard Foster to waive it off, much to the great dismay of the crowd. The official time was 1:09 of round seven.
Released by Top Rank, Conlan trained for this fight in Miami, Florida, under Pedro Diaz, best known for rejuvenating the career of Miguel Cotto. But the switch in trainer and in promoter made no difference as Conlan, who won his first amateur title at age 11, was damaged goods before he entered the ring. It was a career-defining victory for Jordan Gill (28-2-1, 9 KOs) who was not known as a big puncher and was returning to the ring after being stopped by Kiko Martinez 13 months ago in his previous start.
Semi-wind-up
In the "Battle of Belfast," undefeated welterweight Lewis Crocker seized control in the opening round and went on to win a lopsided decision over intra-city rival Tyrone McKenna (23-4-1). Two of the judges gave Crocker every round and the other had it 98-92, but yet this was entertaining fight in spurts. McKenna had more fans in the building, but Crocker, seven years younger at age 26, went to post a 7/2 favorite and youth was served.
Other Bouts of Note
Belfast super welterweight Caoimhin Agyarko, who overcame a near-fatal mugging at age 20, advanced to 14-0 (7) with a 10-round split decision over Troy Williamson (20-2-1). The judges had it 98-92 and 97-93 for Agyarko with a dissenter submitting a curious 96-94 score for the 31-year-old Williamson who wasn't able to exploit his advantages in height and reach.
Sean McComb, a 31-year-old Belfast southpaw, scored what was arguably the best win of his career with a 10-round beat-down of longtime sparring partner Sam Maxwell. Two of the judges gave McComb every round and the other had it 99-88. McComb, who has an interesting nickname, "The Public Nuisance, successfully defended his WBO European super welterweight strap while elevating his record to 18-1 (6). The fading, 35-year-old Maxwell, a former BBBofC British title-holder, lost for third time in his last four starts after winning his first 16 pro fights.
Photo credit: Mark Robinson / Matchroom
To comment on this story in the Fight Forum CLICK HERE