The Underappreciated Boxing Brilliance of Erislandy Lara
Erislandy Lara is not universally praised as one of the best boxers on the planet, but he should be.
Oh sure, he holds an alphabet title belt and is recognized as the No. 2 junior middleweight fighter in the world by both the Transnational Rankings and Ring Magazine. But being recognized and accepted as a top fighter is not nearly the same thing as being praised for it. And Lara isn't celebrated for his boxing brilliance by fans and media.
He's scoffed at for it.
A Familiar Story
There's always that one guy. Isn't there? He's the one who doesn't have hoards of fans but still commands the respect among his peers because they know what he is capable of doing every single time the bell rings: winning.
Other fighters avoid facing him like The Plague. They know he has the goods. He's just too damned skilled at what he does to be worth the risk no matter how big the associated payday might be. There's always someone else to fight, someone less risky. And to hell with whatever the alphabet gang says about him, fighters know he's the toughest fight in the division.
But he's a hard sell. Maybe he's so great defensively that his fights are labeled boring by anyone but boxing's most astute observers. Or maybe his best weapons are his jab and footwork. Or maybe he hails from a tiny island off the coast of America, one that's estranged from Uncle Sam's capitalist culture and doesn't offer a gigantic built-in fan base like some of boxing's other social groups.
God forbid it's all of them.
And because of it, ringside judges make him work extra hard to win fights. It's not that they're necessarily corrupt. It's not that they're not necessarily corrupt either. But it's mainly because they're human. They hear the crowd cheering for the other guy. They read the papers before the fight. They hear, too, the fans in the cheap seats, those whose interests typically match their pocketbooks, boo lustily as he slips and dodges punches rather than absorbing them with his face.
So our guy Lara has to win nine rounds or more every single fight just to get a "fair" shake from boxing judges. If he wins anything less, he can expect a draw on the cards or a decision loss. That's just how it goes.
It's not right, but Lara is used to it. He comes from tougher stuff.
The American Dream
Lara was born in one of the poorest areas of Cuba. He's never met his father, and he told me that his mother, Marisol, was an alcoholic. His grandmother did the best she could to raise him, but she died when Lara was just 11 years old.
Like I said, tougher stuff.
Maybe Lara was born to fight. By 2005, he was captain of the Cuban national team and a three-time national champion for a country that produces exponentially more Olympic boxing medalists per capita than any other in the world. Lara was one of the favorites for the 2008 Olympics in Beijing, but he never made it there.
Teofilo Stevenson, winner of three Olympic gold medals and perhaps Cuba's greatest boxer of all time, turned down $5 million dollars in the 1970s to leave his country and fight reigning heavyweight champion Muhammad Ali.
"I wouldn't exchange my piece of Cuba for all the money they could give me," Stevenson told Sports Illustrated. "I prefer the affection of eight million Cubans."
But Lara was from a new generation of Cubans, one that experienced the results of Fidel Castro's revolution in a vacuum. They weren't part of the change. They were the result of it. Lara's generation didn't reflect as fondly on their county's past. They looked even less favorably on its current condition.
Lara wanted more than his countrymen's ardor, so he attempted to defect from Cuba during the 2007 Pan American Games in Brazil. After having a few drinks with teammate Guillermo Rigondeaux, the two made a break for Germany with boxing promoter Ahmet Oner, who had helped Yuriorkis Gamboa and Yan Barthelemy defect from Cuba a short time earlier so that they could start their professional careers. That's what Lara and Rigondeaux wanted, too. The two men were hidden away by Oner so they could be smuggled safely out of the country when the time was right.
But it never happened.
The two languished for three weeks, fugitives in a strange land with no place to turn. Cuba worked diligently with Brazilian authorities to search for the missing boxers until Lara and Rigondeaux finally decided to turn themselves in. Upon their return to Cuba, the two were branded traitors and placed on indefinite suspension by the Cuban government. The men were then confined to their homes and not allowed to fight again.
"It was a pointless existence," said Lara.
But it wasn't pointless for Castro. It was important for him to make an example out of the two. "They have reached a point of no return as members of a Cuban boxing team," wrote Castro in the state-run Granma. "An athlete who abandons his team is like a solider who abandons his fellow troops in the middle of combat."
Four months later, Lara tried to leave Cuba again. He was smuggled by boat along with 20 other defectors. The six-hour trek to Mexico took 17 hours in the dead of night, and the smugglers demanded 10 times more for Lara's passage once they learned he was a world champion boxer.
Lara made it to Mexico, and once there, he was transported by Oner to Germany. He fought twice overseas for Oner before leaving for the United States in 2008 to sign with a new manager, Luis DeCubas, Jr. In 2012, boxing powerbroker Al Haymon became Lara's co-manager alongside DeCubas.
"It was a very difficult decision to leave Cuba, which is why it took me so long to leave, but I did it for the right reasons," said Lara. "I did it to better my life and better my family's life and that is what I've done. I came here to work hard and fight."
Lara's journey was fraught with danger. He wasn't sure he'd make it.
"Being on the sea, not knowing whether you are going to live or die—whether I'd make it or not," he said. "I'm grateful to God I was able to pass that stage of my life and now that is why I work so hard in this country to make the most out of my life. I believe that God put every human being on this planet for a reason."
If one supposes there truly is a reason for every human being on earth to exist, a close study of Lara reveals one obvious conclusion: Lara was born to be a world-class boxer.
A Technical Appreciation
A quote attributed to Bruce Lee can rightly be applied to Lara's boxing skills, too: "I fear not the man who has practiced 10,000 kicks once, but I fear the man who has practiced one kick 10,000 times."
Substitute "punch" for "kick" and Lee would probably have admitted a healthy amount of fear of Lara, particularly his straight left hand. Everything Lara does inside a boxing ring relies and depends on his left, and he does multiple things to set the punch up.
Erislandy Lara's offense is simple but effective. https://t.co/dGCDgAMCmb

— Kelsey McCarson (@KelseyMcCarson) January 22, 2015
All of Lara's favorite combinations include the straight left. He frequently employs a jab-cross, a jab-cross-jab and even a cross-jab that ends in a pivot.
While less used than the aforementioned, Lara also throws a mean half-hook, half-uppercut to the body after a stiff or blinding jab to the face.
Here are a couple of Lara's favorite punch sequences. https://t.co/3H9PP4tQoS

— Kelsey McCarson (@KelseyMcCarson) January 27, 2015
Like most fighters, Lara has more than one jab. Unlike most, he's great at more than one of them. The two most frequent jabs he uses are the classic, stiff jab (aka the first punch you learn in a boxing gym) and a flashy, blinding jab that's primarily used as a setup for whatever is coming in behind it.
In the video below, Lara uses both jabs in succession. His blinding jab sets up the stiff one. Only the second of the two is meant to land.
Here's an example of Lara using both types of jabs in succession. https://t.co/Rez5HEiUHz

— Kelsey McCarson (@KelseyMcCarson) January 27, 2015
Lara will at times use his power hand like a jab. Similar to Rigondeaux, Lara will sometimes paw with his left hand simply to have his opponent react to it or be blinded by it, after which he'll throw a sharp jab or stinging hook behind it. Think of it as a Trojan Horse; the light-hitting left seems so amiable and sweet until one realizes the walloping right that seemingly comes from within it.
In the very same sequence, Lara uses his left hand to blind Alvarez before throwing a hard one-two.
Lara uses his power hand sometimes in the same way as a flash jab. https://t.co/S63MEB1Eru

— Kelsey McCarson (@KelseyMcCarson) January 27, 2015
Overall, Lara's style is relatively simple but incredibly effective. He relies on just a few critical elements but has mastered them to the point of being almost unbeatable. His trainer, Ronnie Shields, believes the more one knows the intricacies of the sport, the more one appreciates the crafty style of Lara.
"If you really know boxing, then you will love Erislandy Lara," said Shields. "If you don't know anything about boxing, then you will not love him. Because the kid knows how to fight. He knows what to do inside of that ring. That's all that's important."
Lara is the prototypical Cuban fighter. He's a fast stylist who uses swift movement, educated timing and precise punching. He is a master of both distance and space who relies on his defense to set up his offense. He'd rather hit and not be hit. It's not that he doesn't believe in his ability to take a punch. It's that he knows he doesn't have to in order to land his own.
He accomplishes this by using superb footwork to create angles. Lara's goal is create linear attack points from one direction, and linear escape points in another. He's capable of stepping either toward or away from his opponent's power hand in order to land the punches he wants. He often steps wide to the side when he fights, but still manages to follow through with his punches as if he were trying to hit someone two inches behind where the opponent is standing.
It's called punching through the target, and Lara does it better than anyone in the sport.
Lara steps wide after punching to avoid return fire. https://t.co/pxswXbyBqM

— Kelsey McCarson (@KelseyMcCarson) January 27, 2015
The hallmark of Lara's style is his overly wide stance. If you go into any local American boxing gym and try to mimic his fighting technique, you'll likely be admonished. Traditionally, fighters rely on narrower stances than Lara's because they feel it allows more freedom to move around the ring.
A good example of a traditional wide-but-not-Lara-wide stance would be the one employed by Juan Manuel Marquez, a brilliant mover who can punch from virtually anywhere on the floor. There's nothing wrong with the approach. Marquez is one of the finest boxers ever.
Lara can punch from anywhere, too. And Lara's overly wide stance gives him significant power in situations where other fighters typically wouldn't have it, even if he's moving backwards.
Moreover, Lara uses his stance to draw opponents toward him. While Lara is capable of leading, he prefers to be a counterpuncher. One unique way he tries to lure his opponents in is by bending his knees low while resting in his stance. It puts his torso very close to the mat, and at times his rear is virtually inches from the ground. From this position, Lara moves his head and shoulders as punches come toward him and is capable of making his opponents miss wildly, serving the dual function of tiring them out and setting them up for counters.
"The Cubans really know what the sweet science is," said Shields. "Boxing is a hit-and-don't-get-hit sport. The Cubans have perfected that. They are boxer-punchers. They know how to hurt you. But at the same time, they're not getting beat up."
Lara has fought 24 times as a professional. He's never been beat up.
Fair Criticism
Lara is overly criticized for his fighting methods, but not all of it is unfair or unwarranted. While he's clearly a superb pugilist, one gets the impression watching him fight that he's not quite maximizing his full potential.
That was nowhere more apparent than during his hotly disputed split-decision loss to Saul "Canelo" Alvarez in 2014, a fight Lara probably won but also deserved to lose.
Judge Levi Martinez scored the bout atrociously, 117-111 for Alvarez. The other two judges scored the bout 115-113: Jerry Roth for Lara and Dave Moretti for Alvarez.
Media scores were similarly close. According to a Boxing News poll, of 89 media members who scored the bout, 34 of them scored it for Alvarez, 30 for Lara and 25 called it a draw. Compubox numbers support the Lara crowd. Lara outlanded Alvarez 107-97 and landed a higher percentage of his punches.
But Lara appeared to be in control of the bout for most of the night, and while Alvarez was an aggressor in many of the rounds (i.e., he was moving forward), he was hardly effective. Lara's footwork kept him out of sync, and while he hurled body punches at his Cuban foe over the course of the fight, much of them where blocked by Lara's arms and elbows.
Having watched and rewatched the bout numerous times, it seems that the most likely outcome of the fight, had Alvarez not been a popular Mexican fighter with big-money backers, and a loud a boisterous crowd shouting praises at him from all over the MGM Grand in Las Vegas, would have been anywhere between a draw to a 116-112 win for Lara.
The idea that Alvarez won more than six rounds is a stretch at the very least and becomes even more elasticized as one moves up the ladder to seven, eight or nine rounds in his favor.
Judge Martinez gave Alvarez nine rounds in the fight, meaning he either somehow prefilled his scorecards for each round based solely on expectation before the bout started or simply got the fighter's names mixed up when the bell rang.
But either way, Lara made curious choices leading up to the biggest bout of his professional career, enough to make one wonder how Roth and Moretti would have scored the bout had he done things just a little differently.
When Lara first defected from Cuba, he ended up in Miami. But Lara found the nightlife there distracting and decided to instead move to Katy, a suburb of Houston, Texas, so he could focus solely on the two things that mattered most to him: boxing and his family.
But heading into the biggest fight of his career, Lara moved his training camp away from home and to Las Vegas, a city known exactly for the things Lara left Miami for in the first place.
Lara trains with Shields in a boxing gym housed within Plex, an impressive fitness facility near Katy in Stafford, another Houston suburb. It's a place where the owner, Danny Arnold, has made a good living training elite athletes from all over the world.
Other Shields fighters, such as Bryan Vera and the Charlo brothers, Jermell and Jermall, train with Arnold there year-round. The results are astounding. The Charlos are two of the fittest 154-pounders in boxing. Since working with Arnold, their appearance has visibly changed and both have shown marked increases in speed and punching power.
Vera attained similar results. His newfound athleticism helped what used to be a lead-footed brawler deserve (but not receive) the nod for outboxing Julio Cesar Chavez in 2013.
Moreover, as Vera has been more and more absent from training at Plex over the last year, so too have his skills seemingly eroded back to the fighter he was before.
Despite having access to a place where other Shields' fighters, as well as NFL, NBA and MLB players, train with the latest technology to develop endurance, speed and power, Lara has maintained an old school boxing mentality.
Instead of taking advantage of where he is, Lara uses Edward Jackson, strength and conditioning coordinator who told me he didn't really even need a gym to get his fighters ready to fight.
"I don't need any of this stuff," said Jackson as he pointed to the machines at gadgets around him a Plex. "We can get ready anywhere."
Maybe that's true. But as someone who has been with and around Shields' fighters over the past couple of years, I can wholeheartedly attest to one thing: the fighters that train at Plex have changed significantly since they've taken the plunge. You don't just think the fighters are getting faster and stronger. You can actually see it.
Here's why that's so crucial. Lara's style is entirely dependent on his foot-speed and movement. It relies on him being quick and explosive and requires the maximum amount of endurance the human body can muster over 12 full rounds.
Against Alvarez, Lara appeared to tire in the middle rounds. He threw fewer punches, and allowed Alvarez to steal key moments in the bout by not keeping pace. Yes, Lara was in fine shape that night. But if there were ways for him to get into even better shape, it would have behooved him and his handlers to explore them.
Lara will never get the benefit of the doubt from judges. He should know that by now. He doesn't just have to win rounds. He has to win them convincingly. In order to do that, he doesn't just have to be in great shape. He has to be in exceptionally great shape.
And starting with Plex–exploring it and any other ideas or options that are available to a world-class fighter with big-money backers like Haymon and DeCubas–would be a wise move going forward.
The Road Ahead
Lara is 31 years old. His fan base largely consists of the small number of hardcore fight fans who enjoy the Cuban style of boxing and fighters who rely on ring generalship more than any other attribute. And even at that, he plays second fiddle to Rigondeaux, a fighter more talented, more accomplished and more ballyhooed with essentially the same fighting approach but more power and speed for his weight class.
Ranked No. 2 in the division by the Transnational Rankings behind lineal champion Floyd Mayweather and the No. 1 rated Alvarez, Lara appears to have no big fights on the horizon.
Lara is the WBA regular champion. Supposedly, this makes him first in line for the WBA's super champion at 154, Mayweather. But there's simply no world in which the aging Mayweather chooses Lara for a defense that isn't forced upon him. And even if that were the case, Mayweather only fights above 147 pounds for blockbuster pay-per-views against legitimate superstars.
Lara does not fit the bill.
After Alvarez eked out his decision win over Lara, his promoter, Oscar De La Hoya, was upfront about what everyone knew would be the case at the time: there would be no rematch.
De La Hoya knew Alvarez had gambled greatly by fighting Lara, a tough bout that would have been easy for the young star to avoid. To his credit, Alvarez made the fight happen and did enough in the judges' eyes to walk away the winner. Alvarez, age 24, is a brave, new generation of star who seems okay with taking fights he could possibly lose, an old school approach more young fighters could stand to mimic.
But Alvarez isn't stupid. He made it out of the bout unscathed and can now focus on bigger names and less risk. Moreover, Alvarez seems to have outgrown the junior middleweight division. His last two fights were fought above 154 pounds, including the contest with Lara.
Other division titleholders include Demetrius Andrade and Cornelius Bundrage, fighters who likely wouldn't jump at the prospect of a unification bout with Lara unless they could be guaranteed an amount of money for the fight a TV network isn't likely to pay.
And the best up-and-comers in the division, the Charlo brothers, are stable mates of Lara who also train with Shields, making them highly unlikely as potential competition.
About the only good thing one can say about Lara's future prospects is that, in boxing, fights just seem to materialize sometimes. Lara will get more fights, and some of them will be interesting and noteworthy.
Lara dominated former titleholder Austin Trout in 2013. The American has won two straight fights since and a rematch with Lara could make sense to his handlers if they're looking to earn more title shots.
Lara suffered a technical draw to Vanes Martirosyan in 2012. The bout was halted in Round 9 due to a cut caused by an accidental head-butt over Martirosyan's left eye. That fight might also warrant a redo.
Martirosyan lost a split-decision to Andrade in 2013 but has rebounded nicely since parting ways with former promoter Top Rank and hooking up with Goossen Promotions. He's won two straight over fairly decent opposition, including a solid shellacking of Willie Nelson last year.
And then there's Al Haymon.
The mysterious advisor, who just announced a multi-year deal to broadcast numerous fights on the NBC network, will need inventory for his grand television venture. Does Lara fit into those plans?
Lara is one of the fighters Haymon advises and could potentially be used to fill timeslots at NBC, or at the very least Lara could be someone who benefits from Haymon putting other fighters on NBC. With those men busy with dates on the slew of upcoming NBC, NBC Sports Network and Spike TV cards, and potentially less Haymon fighters left for traditional boxing powerhouse Showtime to choose from now, the superbly skilled Lara could suddenly become an alluring option to Showtime executives looking to fill dates with fighters that fans can recognize while Haymon focuses on his free TV experiment. Lara's bout with Alvarez last year and his exciting knockout of Alfredo Angulo in 2013 at least made him into someone fight fans know and have seen fight.
Whatever Lara's future is, though, one thing remains clear. He'll box brilliantly once the bell rings. He'll move, feint and counter better than most fighters in the world today. He'll showcase the Cuban style of boxing that has dominated amateur competitions for decades now, and he'll do it over 12 rounds in the world of professional prizefighting.
He'll make people wonder how great a heavyweight bout between Ali and Stevenson might actually have been. He'll do the same for those who pined for Mike Tyson against three-time gold medalist Felix Savon in the 1980s. He'll help people understand exactly why it's so hard for Rigondeaux to get the biggest names at junior featherweight to fight him, and whether professional boxing's slow demise in the United States would have been less severe had more of his countrymen chose he and Rigondeaux's path rather than Stevenson's and Savon's.
And Lara will probably remain underappreciated for all of it. Maybe it's just his lot in life. Maybe it's his choices. Maybe it's something heretofore undefined.
Or maybe Lara is right. Maybe God really does put every single human being on the planet for a reason. And maybe—just maybe—he didn't just put Lara here to be a boxer, but to be an underappreciated one.
Follow Kelsey McCarson on the Twitter:
Wilder – Fury Predictions & Analyses from the TSS Panel of Writers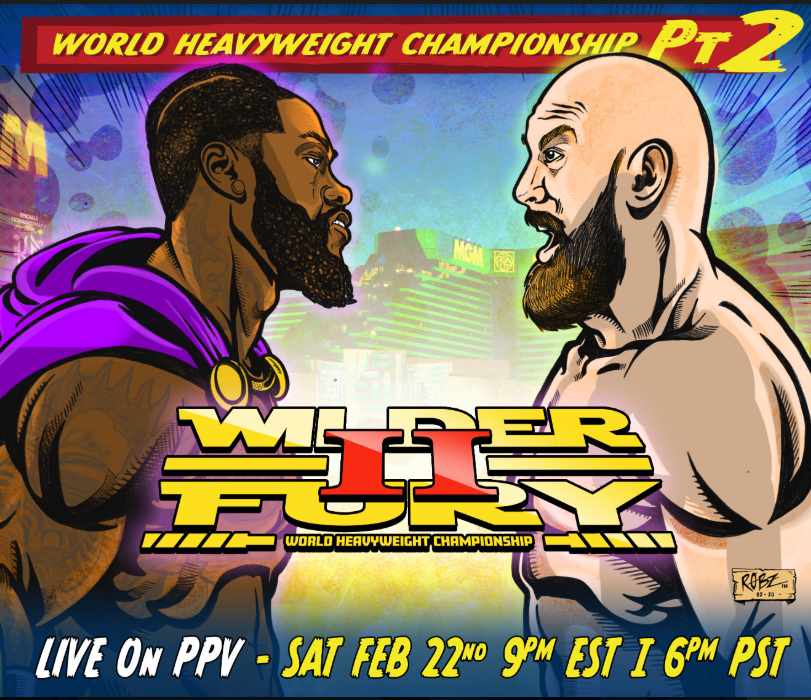 Whenever there is a big fight with a high level of intrigue, we survey members of our writing community to get their thoughts. In terms of pre-fight intrigue, Saturday's rematch in Las Vegas between fellow unbeatens Deontay Wilder (42-0-1, 41 KOs) and Tyson Fury (29-0-1, 20 KOs) ranks among the top heavyweight title fights of all time.
As is our usual custom, we are listing our panelists alphabetically. The graphic is by Colorado comic book cover artist ROB AYALA whose work has attracted a lot of buzz. Ayala's specialty is combat sports. Check out more of his very cool work at his web site fight posium.
MATT ANDRZEJEWSKI — In the first fight, my prediction was that Fury would easily out-box Wilder. I am sticking to my guns with the same prediction for the second fight. I know Fury is making a lot of noise about knocking out Wilder but I think this is more psychological than anything else. Fury will box cautiously behind the jab, pick his spots to counter and focus very carefully on his defense. He is not going to go for the knockout and will turn this into an even more tactical affair than the first fight. But he will be more successful this time and coast to a wide unanimous decision victory.
BERNARD FERNANDEZ — Fury is saying he's going to meet Wilder in the center of the ring and take him out in two rounds. I'm guessing that's a ruse, so I don't put much stock in it. But even if the big Brit elects to outbox Wilder over 12 rounds, which he is capable of doing, that means he has to avoid getting clocked with a huge right hand for 12 rounds. Gotta go with the home run hitter here. Wilder by KO or stoppage in eight rounds.
JEFFREY FREEMAN — Tyson Fury and Deontay Wilder are equally charged with restoring much needed prestige to the heavyweight division in America. It's a long slow slog. As a result, the powers caring about this have to be careful not to give away what they can sell. That's why the first Wilder-Fury fight was called a draw. Neither fighter can afford a loss on their undefeated record and Bob Arum won't be giving paying fans an actual result in exchange for their hard earned PPV dollars. Not yet anyway. So, it's going to happen again! Wilder-Fury II ends in another draw but don't worry, you can pay for the trilogy rubber-match "tie breaker" spectacular soon enough!
ARNE LANG – We performed this exercise before the first-Wilder Fury fight. No one was more bullish on Wilder than me. Properly chastened, I am going to pass the buck this time. Here are the observations of a long-time friend who resides on the Isle of Man and is known for having a sharp opinion: "Fury was cut badly in his last fight and will be very cautious, having tasted Wilder's power. Training at Kronk isn't the same without Manny Steward there. Fury has had multiple distractions and I don't regard him as a world class puncher. DW has 36 minutes to land the one punch that will turn the tide."
KELSEY McCARSON — Can you imagine what Deontay Wilder might feel on fight night? Across the ring from him will again be Tyson Fury, the same fighter who ate Wilder's best punch and got back up on his feet. The only other time Wilder didn't score a knockout was when he faced Bermane Stiverne in 2015. But Wilder broke his right hand in that fight, so he could explain that mystery away until he got the rematch with Stiverne two years later and ended up folding him in half in the first round like a lawn chair. But neither of Wilder's hands were broken against Fury. Worse for the 34-year-old American is that Fury outboxed him for the majority of the fight. I like Fury to win the rematch by decision. Wilder will overcommit on his punches, and Fury will box his ears off for the clear victory.
MATT McGRAIN — Predicting a Tyson Fury fight is rather like predicting the weather. Even with all the pertinent information on hand it's impossible to know exactly what will occur. Fury has been running less but reportedly sparring more; he has spoken openly of targeting 270lbs for the weigh-in; he has a new trainer who may or may not be motivating him; he has looked consistently bored and disinterested at more recent pressers; he has spoken openly of the crushing depression that envelopes him every Sunday. So, we might get an overweight, disinterested, under-motivated Fury on Saturday night. And he still might win. Put me down for Fury on points, but the right answer is, 'nobody knows'.
SEAN NAM — Tyson Fury's body may be as taut as its ever been, but his mind is in free-floating mode these days. Between hinting at an early retirement and opening up about certain sexual proclivities, Fury seems to have one foot perpetually out of the ring. In fact, ever since he linked up with Top Rank, it has been one big, gaudy publicity tour after another for the Manchester man. A stint with the WWE, the publication of his autobiography (as though his legacy in the ring had already been set in stone), and repeated desires to fight in an MMA crossover bout give the impression that Fury may not be as dialed-in for the most important fight of his life. Not to mention, Fury inexplicably canned his former trainer, Ben Davison. Meanwhile, Deontay Wilder, he of the thunderous right-hand fame, has been quiet as a church mouse. Wilder TKO9.
TED SARES –  An in-shape Fury schools Wilder in the early to mid rounds with focus and discipline, but then Wilder's right connects and a stunned Fury backs off. Wilder then presses the action and KOs the giant in the next round – maybe the 9th or 10th – with a windmill shot (left or right) or a paralyzing straight ala Breazeale. We know Fury can go down. We know he can get up. But so also do Wilder and Mark Breland.
PHIL WOOLEVER – Wilder's KO percentage gives him the coin-flip edge (Fury better remember what happened to Stiverne) but I have no clear idea what might happen where I see another draw just as likely as a decision either way. What intrigues me most are the over/under bet propositions listed around the 11th (take the under) and the possibility of this rematch joining a list of outrageous circumstances like the long count, ear bite or paraglider.
Check out more boxing news on video at The Boxing Channel 
To comment on this story in The Fight Forum CLICK HERE
Hot Prospect Ruben Torres Blasts Out Gabino Cota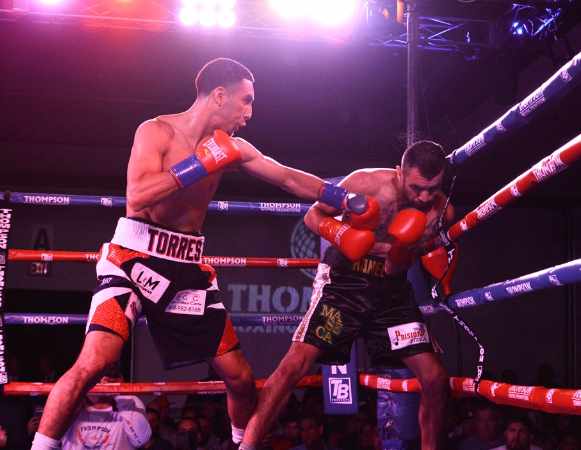 ONTARIO, Calif.-Those heavy hands of Ruben "Ace" Torres showed up again as he steamrolled by Gabino Cota to win their lightweight clash by knockout on Friday.
Backed by a large fan base Torres (12-0, 10 KOs) rewarded them with a one-sided shellacking of Tijuana's Cota (19-11-2, 17 KOs) at the Doubletree Hotel. There was never any doubt who packed the heavier firepower on the Thompson Boxing Promotions main event.
Torres opened up the fight behind a solid stiff jab that must have given Cota a quick indication of the power behind it, because the Mexican veteran seldom tried to engage early in the fight. A left hook followed by five blows wobbled Cota who leaned on the ropes in a kneeling position.
It was not ruled a knockdown but easily could have been.
In the next round Torres once again connected with a sweeping left hook and it was visible the blow hurt Cota. It seemed every time the taller Torres connected with the left hook a shock of pain crossed the Tijuana fighters face, but he would not go down.
Everything changed in the fourth round. As Cota waited to avoid the left hook, Torres shot a right cross to the body that took a second for the Mexican to register the pain and down he went. He could not get up and was counted out at 52 seconds of the fourth round.
Torres was ruled the winner by knockout.
"I know I could have stopped him a little earlier but his experience," said Torres who attended school in Santa Fe Springs. "He was tough. I was definitely waiting for him in the later rounds. I saw he was reacting to the punches that they were hurting him. I'm glad I came out victorious."
The Santa Fe Springs lightweight has been steadily impressing everyone with his heavy-handed power.
"Line them up and I'm going to do my best to knock them down," Torres said.
Other Bouts
George Acosta (9-1) defeated Ivan Benitez (14-4) by unanimous decision after six rounds in a fight featuring tall lanky lightweights. Acosta was the busier fighter through most of the match. Scores were 60-54, 59-55, 58-54 for Acosta whose only loss was to Ruben Torres last year.
A bantamweight clash saw Saul Sanchez (13-1, 7 KOs) out-hustle Mexico's Victor Trejo (17-12-2, 8 KOs) to win by decision after six white-hot rounds. Fans were pleased by the nonstop action fight and it was Sanchez first return to the boxing ring after suffering his first loss last August.
Cathedral City's Jose "Tito" Sanchez (6-0, 4 KOs) defeated the taller Luis Montellano (1-7-2) of Tijuana by unanimous decision after four rounds in a featherweight match-up. Despite the poor record Montellano proved to be a very capable fighter and used his height well until Sanchez took the fight inside and turned it into trench warfare. Sanchez was adept at smothering Montellano's blows inside while shooting uppercuts. Scores were 40-36 for Sanchez on all three cards.
Rancho Cucamonga's Richard Brewart (7-0, 3 KOs) won by knockout over Mexico's Erick Martinez (14-16-1, 8 KOs) in a battle fought at super middleweight. Brewart, who scored a sensational one-punch knockout here in February of last year, weighed only 157 pounds but fought Martinez who weighed 164 pounds and whittled him down to size with a blistering body attack from the opening bell. Finally, at 1:36 of the third round, Brewart sneaked a right uppercut to Martinez's chin and down he went for good. Referee Rudy Barragan counted out Martinez.
Ivan Zarate (2-0) proved too strong for Mexico's southpaw Ulises Gabriel (0-2) to win by unanimous decision after four rounds in a super bantamweight fight.
Photo credit: Al Applerose
Check out more boxing news on video at The Boxing Channel 
To comment on this story in The Fight Forum CLICK HERE
Wilder – Fury 2: Points to Ponder (Plus Official Weights)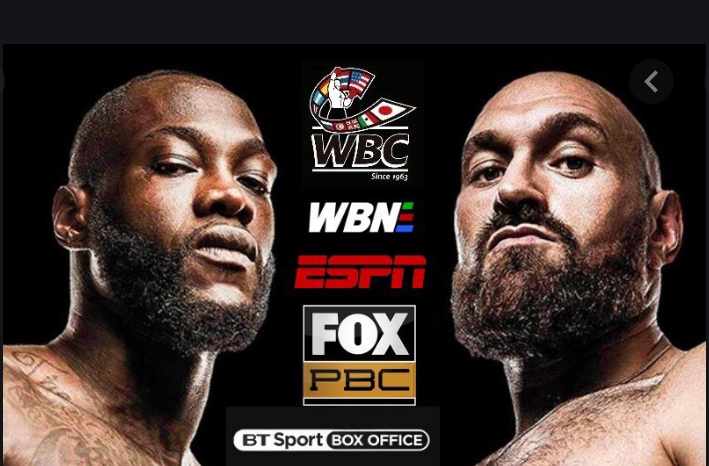 This afternoon's weigh-in, scheduled for 6 PM ET, will be closely monitored by gamblers who want to inspect the merchandise before making a wager. Tyson Fury has indicated that he will likely tip the scales at about 270 pounds, which would be 13 ½-pounds more than he carried in their first meeting and 15 ½-pounds more than what he carried in his last engagement vs Otto Wallin this past September. Deontay Wilder has also indicated that he plans to carry more weight for the rematch.
Andre Ward, for one, thinks that the added weight will be a detriment to Fury. "250 pounds is plenty big enough to push Wilder around," said Ward at a media confab yesterday where the former two-division world champion shared the dais with the other talking heads from the networks that will be showing the fight. The implication is that any gains that Fury achieves in strength would be offset by less mobility.
For the record, back in 2009, in his first scheduled 10-rounder, Tyson Fury carried 247 pounds for his match with British countryman John McDermott. That was a difficult fight for the Gypsy King with many in attendance believing he earned no better than a draw. Nine months later he met McDermott again, this time carrying 270 pounds, and Fury dominated en route to a ninth-round stoppage. So, putting on more weight for a rematch worked to his advantage.
Interestingly, Andre Ward doesn't believe that Deontay Wilder has reached his peak in terms of his ring IQ. Wilder, 34, is a former Olympic bronze medalist but had a very brief amateur career, a "small sample size," as Ward put it. The Bronze Bomber, he said, "is still learning on the job."
But he's still one-dimensional, noted former heavyweight champion Lennox Lewis. Asked which fighter he would prefer to fight if he were still in his prime, Lewis opted for Deontay Wilder, saying that Wilder would cause him fewer problems than Fury because Fury "gives you more looks."
Not once during yesterday's media confab did anyone address the cut that Fury suffered against Wallin. It was a wicked gash that required 47 stitches. The view from here, and it's a widely shared opinion, is that the fight would have been stopped if the stakes hadn't been so high.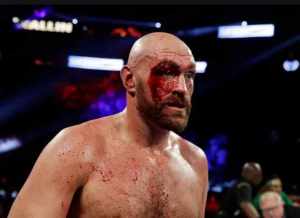 Wilder has 36 minutes to land the punch that would turn the tide in his favor and thus far only two of his 43 opponents has lasted until the final bell. But the possibly of the cut re-opening, say several reporters with whom I brain-stormed, is just as likely as the fight ending via one of Wilder's patented one-punch knockouts.
A shade over five months has elapsed since Fury suffered that bad cut. Was that a sufficient length of time for the cut to heal properly? And with this fight packaged as Chapter Two of a trilogy, a loss on cuts by Fury wouldn't necessarily damage his pocketbook which may factor into the ring doctor's decision of whether or not to stop it if this issue rears its head again.
If there is a third fight – and it's supposedly a done deal – there's virtually no chance that it will be staged in England. So says co-promoter Bob Arum. That's because the PPV receipts for a mega-fight are far and away the biggest piece of the revenue pie.
If Wilder-Fury III were to be held in the UK, the fight would start in the late afternoon throughout most of North America. "The pay-per-view disappears when you hold a fight in England," says Arum. "It's true that you would pick up more subscribers in Europe, but that's a little number compared to the big number you would lose."
"What the heavyweight division has lacked in recent years," said Mark Kriegel at yesterday's confab, "has been a great rivalry." Kriegel alluded to the three-fight series between Riddick Bowe and Evander Holyfield.
Will the Wilder-Fury rivalry become as celebrated as that intense rivalry or, more ambitiously, become as celebrated as the hallowed rivalry between Muhammad Ali and Joe Frazier? That's asking an awful lot but stay tuned.
UPDATE: Tyson Fury tipped the scales at 273 (he weighed in with his shirt and shoes on)
Deontay Wilder came in at 231.
Check out more boxing news on video at The Boxing Channel 
To comment on this story in The Fight Forum CLICK HERE