MONDAY AFTERNOON UPDATE: #MayPac Nearing Home Stretch?
MONDAY UPDATE: Hopes were dashed, for those brave (and foolish?) souls who had an inkling, whose hopefullness over-rode their common sense, and my Tweeted warnings that no announcement would come this weekend, when they tuned in to watch the NBA All-Star Game, and watched Floyd Mayweather get interviewed at the half.
This is it, they chortled to themselves, as their wife looked at them disdainfully, and muttered to herself something along the lines of 'what is this damn fool getting so invested in now?'… Only to be kicked in the family jewels yet again, when Floyd was asked if #MayPac was signed. "That's not true. I haven't signed yet and he hasn't signed yet," Mayweather said on TNT. "It's just been speculations and rumors. But I'm hoping we can make the fight happen." Could it be kicked to later in the summer, asked reporter David Aldridge, who said he has time off then, and would like to be able to check out the Super Fight on his off time. Nope, Floyd said, he's "MAYweather," it would have to happen in May.
Still icing those jewels, you optimists? You may need more icing…or at least, more patience. I'm gathering from talking to some bigwigs that issues still need ironing…and that the perception exists that what Pacman has agreed to, in writing,  doesn't and shouldn't signify, from the Mayweather side, that we are all thisclose to getting #MayPac confirmation. Showtime boxing boss Stephen Espinoza has Tweeted a public refutation that a contract has been signed by Pacman.
Things we shoudl keep an eye on, if you are still inclined to do so, and have not hopped off the bus of speculation and rumors and social media monitoring…Pacman promoter Bob Arum will be standing in front of press tomorrow (Tuesday), during an open workout for his Chinese standout Zou Shiming. Will Arum weigh in on #MayPac goings on? Or will he adhere to a "gag" policy which the dealmakers are pretty much going by for the last few weeks? If he is in blast mode, and takes aim at his ex fighter Mayweather, you might read into that that the chances for a May meeting between the two superstars are dwindling. Or not…As I have said before, the ball is firmly in the court of Mayweather. He's the A Plus side guy in this equation. He holds the cards, all the good ones, really, so if he want this thing, he can snap his fingers, and things will fall into place. The nets will fall into line, the final terms will coalesce. And if he doesn't? YIKES…will there be enough ice for those tattered family jewels of those peeps who have invested so much, maybe too much, into following this saga? (Oh, and what is the proper term, instead 'family jewels,'  for the ladies who are invested in this 'Will They or Won't They, Why Don't They? deal….They have absorbed punishment as their hopes have been dashed, rebuilt, only to be re-busted.)
What might be the blowback of spurned fight fans who would be disinclined to tune in to Floyd's May 2 fight against someone not named Pacquiao? I'm hoping I don't have to engage in more pondering about that situation, and that this week, common ground is found, and this ludicrous saga comes to a close. Because for cripes sake, this ain't peace in the Middle East. It's a PRIZE FIGHT, people!
—————————————————————————————————————–
A Brit paper has a report saying that things are good to go, from the Pacquiao side, and all that remains is for our man Mayweather to check out the contract, nod, and sign. Sounds simple, don't it? LOL. It's been five years, and a lifetime worth of haggling to get this far, so to assume that we are just a mere formality away from seeing the fruition, the culmination of this ludicrous ordeal of a waltz, probably is unwise. But my poking around, with a select few who are in the know, but don't wish to upset the delicate balance at this stage, this Brit account does seem to be on the level. "A source close to the Filipino boxer and congressman revealed to The Sunday Telegraph that Pacquiao completed his contractual agreements on Saturday and that Mayweather is set to sign and will announce the contest which is expected to be worth $250 million (£162 million) in the coming days," wrote Gareth Davies.
Makes sense, for Floyd, while in NYC, where he arrived Thursday, to tie up the loose ends where his "employer," the Showtime and CBS crew, are headquartered. After all, it makes sense for all the lawyers who'll have their fingerprints on all the elements of the deal, which should tally up to somewhere around $300 million worth of commerce, to be on site and able to easily communicate. Then again, conventional wisdom has come and gone and been doused with gasoline and lit aflame a few times since 2009, when this thing first became a no-brainer thing to do. So, until this is done, it can be thisclose…but actually a bridge too far away.
The power, the leverage, it's all with A-Plus Side Floyd….
"Money," the move is yours.
How about a Valentines Day smooch to all us who've played the waiting game so patiently, how about sending out a pic on Shots of the words "MayPac is on for May 2" on a candy heart?
FRI. AM UPDATE: The quiet the last few days has been deafening, for those of us unable to turn away from the fascinating and foolish "Will they or won't they?" dance being done by Teams Mayweather and Pacquiao. We read into it, wonder, and that's what we on the outside looking in are mostly doing, wondering, though we get occasional tidbits tossed to us by those more in the know, wonder if the silence means anything. We hear rumors, maybe based in fact, maybe based on the guesswork of keyboard tappers who like to stir the Twitter pot and build their Follower base…We say to ourselves, wouldn't it make sense for Floyd Mayweather, in NYC to party and take in the NBA All-Star festivities, to announce #MayPac while in the media capital of the world? He could in one fell swoop make himself available to all meaningful media outlets, from the NY Times on down…Makes sense, don't it?
I heard on Friday morning from Someone Big Who Would Know that it would make sense, and that it would be a good idea to watch the NBA All-Star Game on Sunday night, because Floyd has the contractual right to announce #MayPac, if and when the final Ts are crossed…and this of course implies that we will get to that point, and soon. But sometimes soon never comes…And Someone Else Big Who Would Know then told me a bit later that we won't get an Announcement this weekend. Yes, hopes dashed once again….Hey, it's Valentines Day time, anyone with any time on this earth understands hopes being dashed, the pain of not getting what you want, in this milieu, right?
———————————————————————————————————————
Some of you, I dare say many of you, have tuned out. The saturation of attention to the fifth, and hopefully last, round of negotiations for a proposed Floyd Mayweather-Manny Pacquiao bout has turned off a goodly number of boxingheads and heck, even more casual boxing fans. Just put up or shut up, is the message from those tired of the back and forth mud slinging, and obsessive monitoring of all the players on Team Mayweather and Team Pacquiao.
For those not giving a hoot about #MayPac until the two fighters are standing center ring and hear the ding-ding of the commencement of round one of ACTUAL fighting, we salute you. Your disdain is merited…but for anyone still paying attention, know this. One of the smartest deep insiders I know just called me, and told me to, "Bet on it."
He said that if he were a betting man, he'd lay money down on Floyd Mayweather facing off with Manny Pacquiao on May 2nd. 2015, that is…
Of course, all of us who splash in the pugilistic pond know that until the XXL lady hits the high notes, nothing is a done deal.
So grains of salt are being ingested as I write this and should be as you read this. But…it is looking like we might be near that finish line, and hopefully we can soon transfer our attention from "Will they?" to "What Will Happen When They Do?"
Follow Woods on the Twitter:
Skavynskyi and Bustillos Win on a MarvNation Card in Long Beach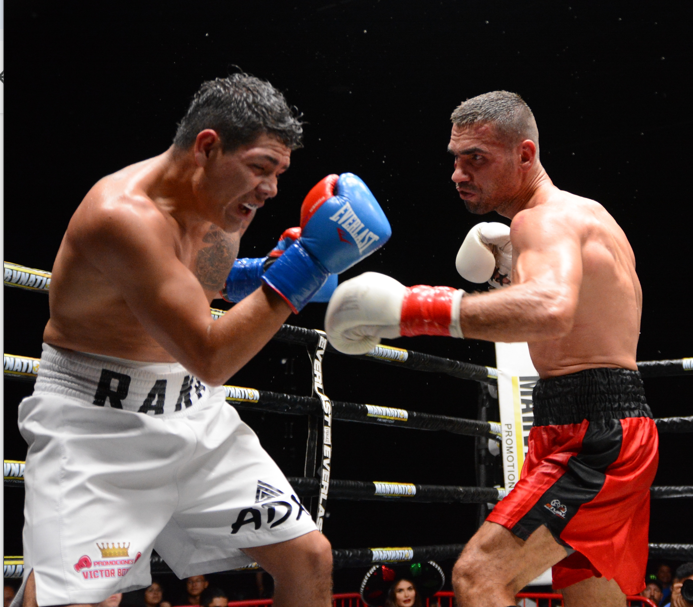 Skavynskyi and Bustillos Win on a MarvNation Card in Long Beach
LONG BEACH, Ca.-A cool autumn night saw welterweights and minimumweights share main events for a MarvNation fight card on Saturday.
Ukraine's Eduard Skavynskyi (15-0, 7 KOs) experienced a tangled mess against the awkward Alejandro Frias (14-10-2) but won by decision after eight rounds in a welterweight contest at the indoor furnace called the Thunder Studios.
It was hot in there for the more than 600 people inside.
Skavynskyi probably never fought someone like Mexico's Frias whose style was the opposite of the Ukrainian's fundamentally sound one-two style. But round after round the rough edges became more familiar.
Neither fighter was ever damaged but all three judges saw Skavynskyi the winner by unanimous decision 79-73 on all three cards. The Ukrainian fighter trains in Ventura.
Bustillo Wins Rematch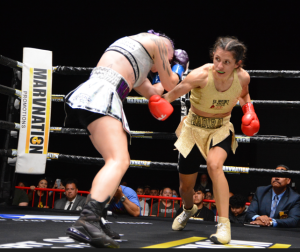 In the female main event Las Vegas' Yadira Bustillos (8-1) stepped into a rematch with Karen Lindenmuth (5-2) and immediately proved the lessons learned from their first encounter.
Bustillos connected solidly with an overhand right and staggered Lindenmuth but never came close to putting the pressure fighter down. Still, Bustillos kept turning the hard rushing Lindenmuth and snapping her head with overhand rights and check left hooks.
Lindenmuth usually overwhelms most opponents with a smothering attack that causes panic. But not against Bustillos who seemed quite comfortable all eight rounds in slipping blows and countering back.
After eight rounds all three judges scored the contest for Bustillos 78-74 and 80-72 twice. Body shots were especially effective for the Las Vegas fighter in the fifth round. Bustillos competes in the same division as IBF/WBO title-holder Yokasta Valle.
Other Bouts
In a middleweight clash, undefeated Victorville's Andrew Buchanan (3-0-1) used effective combination punching to defeat Mexico's Fredy Vargas (2-1-1) after six rounds. Two judges scored it 59-55 and a third 60-54 for Buchanan. No knockdowns were scored.
A super lightweight match saw Sergio Aldana win his pro debut by decision after four rounds versus Gerardo Fuentes (2-9-1).
Photos credit: Al Applerose
To comment on this story in the Fight Forum CLICK HERE
Tedious Fights and a Controversial Draw Smudge the Matchroom Boxing Card in Orlando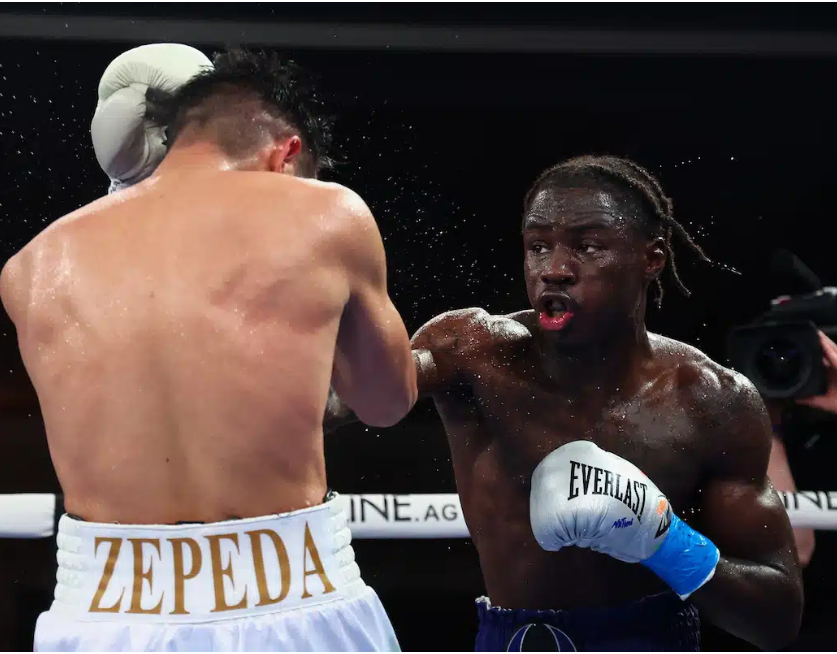 Matchroom Boxing was at the sprawling Royale Caribe Resort Hotel in Orlando, Florida tonight with a card that aired on DAZN. The main event was a ho-hum affair between super lightweights Richardson Hitchins and Jose Zepeda.
SoCal's Zepeda has been in some wars in the past, notably his savage tussle with Ivan Baranchyk, but tonight he brought little to the table and was outclassed by the lanky Hitchins who won all 12 rounds on two of the cards and 11 rounds on the other.  There were no knockdowns, but Zepeda suffered a cut on his forehead in round seven that was deemed to be the product of an accidental head butt and another clash in round ten forced a respite in the action although Hitchins suffered no apparent damage.
It was the sort of fight where each round was pretty much a carbon of the round preceding it. Brooklyn's Hitchins, who improved to 17-0 (7), was content to pepper Zepeda with his jab, and the 34-year-old SoCal southpaw, who brought a 37-3 record, was never able to penetrate his defense and land anything meaningful.
Hitchins signed with Floyd Mayweather Jr's promotional outfit coming out of the amateur ranks and his style is reminiscent in ways of his former mentor. Like Mayweather, he loses very few rounds. In his precious engagement, he pitched a shutout over previously undefeated John Bauza.
Co-Feature
In the co-feature, Conor Benn returned to the ring after an absence of 17 months and won a unanimous decision over Mexico's Rodolfo Orozco. It wasn't a bad showing by Benn who showed decent boxing skills, but more was expected of him after his name had been bandied about so often in the media. Two of the judges had it 99-91 and the other 96-94.
Benn (22-0, 14 KOs) was a late addition to the card although one suspects that promoter Eddie Hearn purposely kept him under wraps until the week of the fight so as not to deflect the spotlight from the other matches on his show. Benn lost a lucrative date with Chris Eubank Jr when he was suspended by the BBBofC when evidence of a banned substance was found in his system and it's understood that Hearn has designs on re-igniting the match-up with an eye on a date in December. For tonight's fight, Benn carried a career-high 153 ½ pounds. Mexico's Orozco, who was making his first appearance in a U.S. ring, declined to 32-4-3.
Other Bouts of Note
The welterweight title fight between WBA/WBC title-holder Jessica McCaskill (15-3-1) and WBO title-holder Sandy Ryan (6-1-1) ended in a draw and the ladies' retain their respective titles. Ryan worked the body effectively and the general feeling was that she got a raw deal, a sentiment shared by the crowd which booed the decision. There was a switch of favorites in the betting with the late money seemingly all on the Englishwoman who at age 30 was the younger boxer by nine years.
The judges had it 96-94 Ryan, 96-95, and a vilified 97-93 for Chicago's McCaskill.
In the opener of the main DAZN stream, Houston middleweight Austin "Ammo" Williams, 27, improved to 15-0 (10) with a 10-round unanimous decision over 39-year-old Toronto veteran Steve Rolls (22-3). All three judges had it 97-93. Rolls has been stopped only once, that by Gennady Golovkin.
Photo credit: Ed Mulholland / Matchroom Boxing
To comment on this story in the Fight Forum CLICK HERE
Zhilei Zhang KOs Joe Joyce; Calls Out Tyson Fury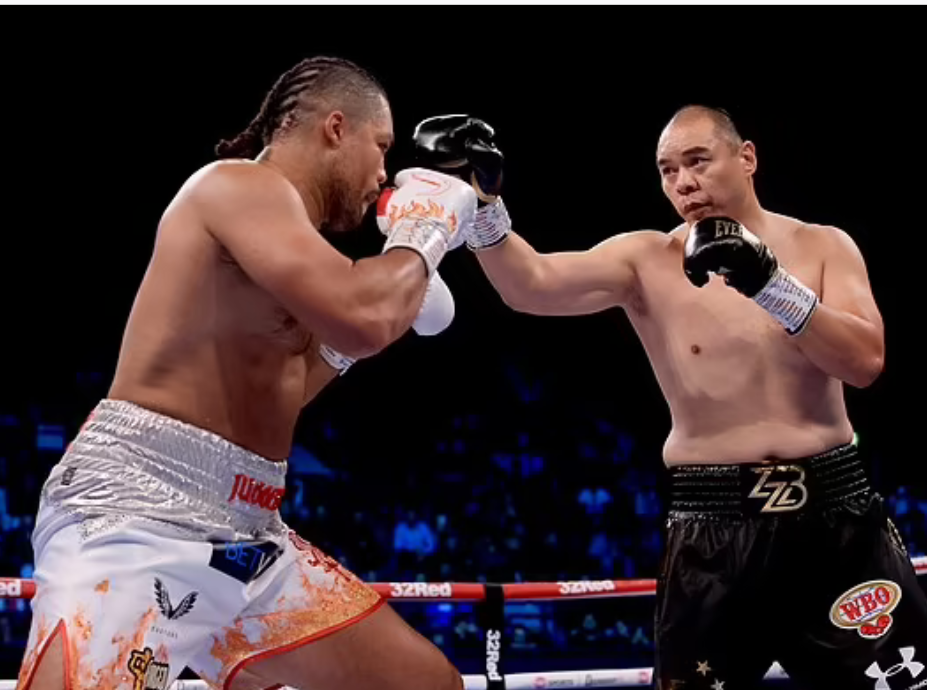 Joe Joyce activated his rematch clause after being stopped in the sixth frame by Zhilei Zhang in their first meeting. In hindsight, he may wish that he hadn't. Tonight at London's Wembley Stadium, Zhang stopped him again and far more conclusively than in their first encounter.
In the first meeting, Zhang, a southpaw, found a steady home for his stiff left jab. Targeting Joyce's right eye, he eventually damaged the optic to where the ring doctor wouldn't let Joyce continue. At the end, the fight was close on the cards and Joyce was confident that he would have pulled away if not for the issue with his eye.
In the rematch tonight, Zhang (26-1-1, 21 KOs) closed the curtain with his right hand. A thunderous right hook on the heels of a straight left pitched Joyce to the canvas where he landed face first. He appeared to beat the count by a whisker, but was seriously dazed and referee Steve Gray properly waived it off. The official time was 3:07 of round three.
Zhang, who lived up to his nickname, "Big Bang," was credited with landing 29 power punches compared with only six for Joyce (15-2) who came in 25 pounds heavier than in their first meeting while still looking properly conditioned. One would be inclined to say that age finally caught with the "Juggernaut" who turned 38 since their last encounter, but Zhang, 40, is actually the older man. In his post-fight interview in the ring, the New Jersey resident, a two-time Olympian for China, when asked who he wanted to fight next, turned to the audience and said, "Do you want to see me shut Tyson Fury up?"
He meant it as a rhetorical question.
Semi-Windup
Light heavyweight Anthony Yarde was matched soft against late sub Jorge Silva, a 40-year-old Portuguese journeyman, and barely broke a sweat while scoring a second-round stoppage. Yarde backed Silva against a corner post and put him on the deck with a short right hand. Silva's body language indicated that he had no interest in continuing and the referee accommodated him. The official time was 2:07 of round two.
A 30-year-old Londoner, Yarde (24-3, 23 KOs) was making his first start since being stopped in eight rounds by Artur Beterbiev in a bout that Yarde was winning on two of the scorecards. Silva, a late replacement for 19-3-1 Ricky Summers, falls to 22-9.
Also
Former leading super middleweight contender Zach Parker (23-1, 17 KOs) returned to the ring in a "shake-off-the-rust" fight against 40-year-old Frenchman Khalid Graidia and performed as expected. Graidia's corner pulled him out after seven one-sided rounds.
In his previous fight, Parker was matched against John Ryder who he was favored to beat. The carrot for the winner was a lucrative date with Canelo Alvarez. Unfortunately for Parker, he suffered a broken hand and was unable to continue after four frames. Tonight, he carried 174 pounds, a hint that he plans to compete as a light heavyweight going forward. Indeed, he has expressed an interest in fighting Anthony Yarde. Graidia declined to 10-13-4.
The Zhang-Joyce and Yarde-Silva fights were live-streamed in the U.S. on ESPN+.
To comment on this story in the Fight Forum CLICK HERE