Chilemba, Lepikhin Beneficiaries of Boxing's Blended Brand of Immigration Reform
The debate over immigration reform continues to rage in the United States Congress, but two fighters from the other side of the Atlantic Ocean are finding that temporarily sweating in pursuit of their boxing dreams while in the U.S. – or, for that matter, in Canada or Mexico – is enough to qualify them as semi-official North Americans.
To some – say, those geographically-challenged U.S. citizens who can't quite remember that Pierre is the capital of South Dakota, or that Montpelier is the capital of Vermont — it might seem odd that Isaac "Golden Boy" Chilemba (23-2-2, 10 KOs), from Johannesburg, South Africa by way of his native Blantyre, Malawi, and Vasily "The Professor" Lepikhin (17-0, 9 KOs), from Gelendzhik, Russia, will square off in a scheduled 12-rounder for the vacant North American light heavyweight championship on March 14 in Montreal, Quebec. It is the opener of an HBO-televised tripleheader, the middle segment of which is the 12-round heavyweight matchup of Steve "USS" Cunningham (28-6, 13 KOs), a two-time former IBF light heavyweight champion from Philadelphia, and Vyacheslav Glazkov (19-0-1, 12 KOs), who is from Ukraine but now resides in Fort Lauderdale, Fla.
The nightcap to this United Nations smorgasbord of pugilism pairs WBA/IBF/WBO light heavyweight champ Sergey "Krusher" Kovalev (26-0-1, 23 KOs), from Kopeysk, Russia, but now based in Los Angeles, against former WBC 175-pound titlist Jean Pascal, who hails from Port-au-Prince, Haiti, but now makes his home in Laval, Quebec.
Hey, we all were told decades ago that jet travel would make the world seem like a smaller place, but the long, international arm of boxing seemingly has accelerated the shrinkage.
So, what about the African and the Russian fighting for a North American championship belt? How can that be justified even under the strange and often arbitrary rules of the alphabet organizations, whose decision-makers seem to make things up as they go along?
Main Events CEO Kathy Duva, who promotes both Chilemba and Lepikhin, said birth nation or country of residence no longer are the only considerations for fighting for NABF or USBA titles, even though those designations would seem to be self-explanatory.
"They train in North America," she explained. "All of the sanctioning bodies recently have taken to recognizing that the place where the fighters are based for training (that would be Los Angeles for Chilemba and Oxnard, Calif., for Lepikhin) is their home as well."
But, really, what does it matter? The NABF championship is a nice but essentially meaningless trinket, sort of like the eighth-place finisher in a beauty pageant being named Miss Congeniality. What is of most consequence to fight fans everywhere in our global village has little to do with who holds some second-tier title or is the beneficiary of an NABF amendment written in crayon. All we want to know is, can the guy fight? Is he worth our time and effort for us to watch him ply his trade?
In Kovalev's case, those answers are as obvious as the nose on Cyrano de Bergerac's face. The lead stallion in the Main Events stable can box and he can punch, a nice package of skills that, coupled with his developing aura of charisma, stamp the most recent conqueror of the great Bernard Hopkins as a superstar of the present and probably quite a ways into the future. No, Kovalev isn't the lineal light heavyweight champion – that would be WBC ruler Adonis "Superman" Stevenson (25-1, 21 KOs), who defends that title against against Sakio Bika (32-6-3, 21 KOs) in the Showtime-televised main event on April 4 in Quebec City – but the WBC has indicated to Stevenson that he must take on Kovalev for the whole shooting match in the near future, if they are both still in possession of their titles. If that were to happen – and it's a big if — the survivor would be the first truly undisputed world champion since Hopkins rounded up the IBF, WBA, WBC and WBO middleweight belts in 2001.
It should be noted that Stevenson is another boxing product of multiple countries and cultures, having been born in Haiti, relocated to Laval, Quebec, and then to Las Vegas. Oh, and Bika is a native of Cameroon who now lives in Sydney, Australia.
Even though shadowy power broker Al Haymon apparently is intent on signing every boxer with a pulse to a roster already more populous than the state of Montana (capital: Helena), Duva professes not to be concerned. If her guy, Kovalev, keeps winning, and especially if he were to meet and beat Stevenson, thereby fully unifying the crown for a few moments (one or more of the alphabet groups would surely find a way to subdivide his realm), most if not all roads at 175 would lead to the Krusher.
"I take the long view of things because I've been doing this for so long," Duva said when asked about Haymon's apparent goal of establishing a boxing monopoly. "I have seen so many people come along over the years with the intention of taking over boxing and owning it and changing everything about it. Yet I still sit here in my chair and Bob Arum (the CEO of Top Rank) is still sitting in his. There are a few others out there, most notably Golden Boy (Oscar De La Hoya's company, not Chilemba's nickname), probably the only upstart to become a major promoter that I can think of that survived. Let's wait to see what happens in a year or two."
Duva believes that the light heavyweight division, so rich in history and tradition – some of the legendary champions it has produced are George Carpentier, Tommy Loughran, Gus Lesnevich, Billy Conn, Archie Moore, Harold Johnson, Bob Foster, Matthew Saad Muhammad and Michael Spinks – is ready for a new era of prosperity, perhaps even to the point of becoming what the talent-deep welterweight division is now. And she has an inkling that the 27-year-old Chilemba, who is ranked No. 2 by the WBC, No. 6 by the WBO and No. 7 by the IBF, and Lepikhin, 29, ranked No. 5 by the WBO and No. 12 by the WBA, have the right stuff to become major factors. You might not know them so much now, but the winner – maybe the loser, too – could leave a deep impression by the time the March 14 tripleheader concludes.
"I think in the next three or four years you're going to see light heavyweights vying for that top spot on the pound-for-pound list, like you see welterweights doing it now," she said, a not-so-veiled reference to the May 2 unification megafight between Floyd Mayweather Jr. and Manny Pacquiao. "This is the future. We have a few different things going. Sergey is always looking for the very biggest and best fights that he can get."
On March 14, a pair of 175-pounders from thousands of miles away fight for the North American championship in French-speaking Canada. After that, who knows? The world isn't such a big and strange place anymore, not for boxers without borders willing to have their passports frequently stamped.
WATCH RELATED VIDEOS ON BOXINGCHANNEL.TV
Canelo vs. BJ Saunders: Predictions and Analyses from the TSS Faculty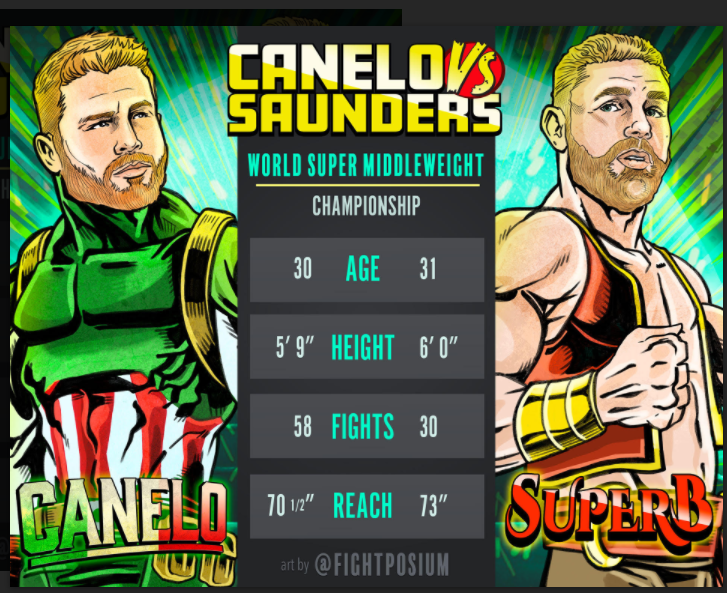 More than 60,000 fight fans are expected to gather at AT&T Stadium, home of the Dallas Cowboys, on Saturday. The turnout for the fight between Saul "Canelo" Alvarez and Billy Joe Saunders represents a turning point in the COVID-19 era. Boxing has been pretty much walled-off to the general public since a sellout crowd of 15,816 witnessed the second encounter between Tyson Fury and Deontay Wilder on Feb. 20, 2020 in Las Vegas.
Canelo Alvarez (55-1-2, 37 KOs) holds the WBC and WBA world titles at 168 pounds. Billy Joe Saunders (30-0, 14 KOs) owns the WBO belt. However, the hardware is largely immaterial whenever Canelo steps in the ring as he is widely considered the best pound-for-pound fighter in the world. In Saunders he is meeting a slick southpaw bidding to become the second member of the Traveling community to hold multiple title belts simultaneously, joining his friend Tyson Fury. The bout headlines a 7-bout card that will air on DAZN in 200+ countries and territories worldwide and on TV Azteca in Mexico.
Whenever a fight of this magnitude comes down the pike, we invite members of our editorial staff to provide a quick analysis of the match and forecast the outcome. Their prognostications appear below with the respondents listed in alphabetical order.
The graphic is by Colorado comic book cover artist ROB AYALA, an honored guest whenever we perform this kind of exercise. Check out more of Rob's cool illustrations at his web site fight posium.
PICKS and ANALYSIS
No gimme for Canelo here, as Saunders is a southpaw who can box, has a bit of pop in his punch, as well as a knack for making his opponents look not quite as impressive as they normally are. Still, Canelo is at the top of the boxing food chain for a reason. It's all right for him to win some fights and not be spectacular in doing so. Figure the Mexican icon on scoring a knockdown or two along the way, but he may have to be satisfied with a win on points this time out. – BERNARD FERNANDEZ
I no longer pick against Canelo Alvarez. And certainly not against a boxing basket case like Billy Joe Saunders. There's a huge difference in the level of maturity between these two fighters and that will be seen in the ring when Canelo becomes the first to corner the fleet-footed Saunders and put him on his back. Canelo KO in 10. – JEFFREY FREEMAN
Canelo by decision. He does everything better than Saunders, who will fight well enough to survive but not win. – THOMAS HAUSER
Billy Joe is formidable. You don't lock in an Olympic berth at age 18 without natural talent. You don't run circles around a big puncher like David Lemieux without a high ring IQ. But Saunders, despite his undefeated record, has been inconsistent. Canelo, as Kevin Iole noted in a recent column, doesn't do one thing great, but he does everything well. How does one formulate a smart game plan for a boxer with no flaws to exploit? Canelo UD. – ARNE LANG
Much has been made by Saunders' camp this week about the size of the ring that will be used in the fight. While it seems strange and even unruly that there can be such vast disparities in how large the boxing ring is or how spongy the mat can be for any professional fight card in our sport, the truth of the matter is that Saunders probably doesn't have much hope in beating Alvarez no matter how those other factors play out. They could fight on a basketball court, and I'd still pick Alvarez. The best the cagey UK fighter will be able to muster is trying to go the distance with the Mexican. Callum Smith pulled it off back in December, but Saunders won't quite get there. CANELO via 9th-round stoppage. – KELSEY McCARSON
There was a time, not that long ago, when I would have favoured Saunders to beat Canelo and stylistically I still feel Saunders holds all the aces. Canelo's improvements in the last 30 months have astonished, though. He has found a meaningful fourth and fifth punch for his combinations and his strength, for whatever reason, is prestigious at whatever weight he fights. Saunders, something of a persona-non-grata here in his home country after a series of public relations disasters, is very much a man out of time.  Canelo, bodyshots, between the eighth and the tenth. – MATT McGRAIN
There is a case to be made that Canelo Alvarez has not faced a pure boxer on the level of Billy Joe Saunders since his do-si-do with Erislandy Lara in 2014, in a fight that still has some screaming robbery (Alvarez won by split decision). Of course, that was nearly seven years ago, back when Alvarez was still trading on his telenovela bonafides. Since then, he has gone on to distinguish himself as arguably the best boxer in the sport today. The same cannot be said for the erratic and self-sabotaging Saunders, who has squandered his impressive showing against David Lemieux in 2017 with consecutive lackluster outings against mostly middling opposition. The southpaw will find ways to frustrate Alvarez at times, to be sure, but expect Alvarez to slow down the jittery motions of the Brit by punishing him to the body en route to a mostly clear win on the cards. Canelo by majority decision. – SEAN NAM
I see a feeling-out type fight in the first two rounds and then Canelo begins the stalk. Saunders will be more elusive and more savvy than most of Canelo's opponents, occasionally getting in some sharp counters. However, he will begin to tire late from an accumulation of Canelo's body work and from backing up. This will allow the Mexican to increase the tempo looking for a way to close the show. The Traveler will survive. But Canelo will win with a dominating UD. – TED SARES
Two names come to mind for me when deciding how this fight will play out. First, Erislandy Lara, who I saw outbox but not outfight Alvarez. Second is Alexander Povetkin, whose horrible performance against Dillian Whyte was reportedly due to coronavirus residue, which Alvarez also claims to have been afflicted by. Can Saunders, another left-hander with a bit more of a reach advantage than Lara, take advantage of a possibly weakened Canelo? Don't bet on it unless Cinco de Mayo weekend gets cancelled and nobody from Texas or Mexico shows up for the fight. Saunders seems capable of making it interesting, but Alvarez wins by wide decision or late TKO.  – PHIL WOOLEVER
To comment on this story in the Fight Forum CLICK HERE
A Heinous Crime Will Likely Land Felix Verdejo in Prison for the Rest of His Life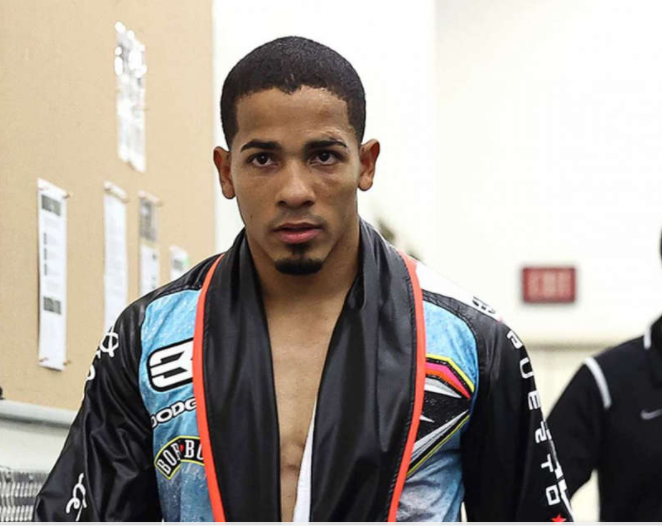 "Felix has a sparkling personality, a flashy fighting style, and he's good. He's also f-a-s-t." The quote is from Thomas Hauser who wrote those words in June of 2015 after Verdejo improved his record to 18-0 with a near-shutout of fellow unbeaten Ivan Nejara on an HBO card from the Theater at Madison Square Garden.
At this juncture it appeared that Verdejo, a former Olympian, was destined to become the next icon of Puerto Rican fight fans, the heir-apparent to Felix Trinidad and Miguel Cotto.
Today, news stories about Verdejo make no reference to his sparkling personality. It's an attribute inconsistent with the portrait of a monster.
This past Saturday, as hardcore fight fans were glued to the telecast of a show in Manchester, England, it came to light that authorities in San Juan, Puerto Rico, had found the body of a young woman who had been reported missing after failing to turn up at her job at a dog grooming salon on Thursday morning, that the decedent was plainly the victim of foul play, that Verdejo was the primary suspect in her murder, and that he wasn't cooperating with the authorities.
When the corpse of the missing woman was fished from a lagoon, her body was reportedly so mangled that forensic examiners had to consult dental records to confirm that the decedent was indeed Keishla Marlen Rodriguez Ortiz, the 27-year-old woman they were looking for. The boxer and Ms. Rodriguez had reportedly known each other since middle school. According to Rodriguez's family members, she was pregnant with Verdejo's child and the boxer, who was married with a 2-year-old daughter, wasn't happy about it.
With each new detail, the story became more sordid.
It is alleged that the victim was thrown off a bridge after being punched in the face and injected with a syringe filled with an unidentified substance. Verdejo and an accomplice – who hasn't been charged and is identified only as a witness – then tied her hands and feet with wire and weighed the body down with a cinderblock before tossing it into the water. When the body was slow to sink, Verdejo allegedly fired a bullet at it. A shell casing was found on the bridge and the authorities have corroborating evidence from toll booth cameras.
As first reported by veteran boxing writer Jake Donovan, the boxer surrendered to FBI agents yesterday evening (Sunday). He appeared this morning via zoom before federal magistrate Camille Velez Rive who ordered him returned to prison and held without bail.
Many of the headlines in the tabloids say that Verdejo is facing the death penalty. That's technically true. The three crimes for which he has been charged — carjacking resulting in death, kidnapping resulting in death, and intentionally killing an unborn child – are federal crimes. As a commonwealth of the United States, Puerto Rico is subject to U.S. federal laws. However, Puerto Rico abolished capitol punishment in 1929. The country hasn't executed anyone since 1927 when a man named Pascual Ramos was hanged for killing his boss.
It's doubtful that prosecutors would pursue the death penalty unless the trial were moved to the mainland. However, domestic violence has become a hot-button issue in Puerto Rico and the national mood toward crimes of this nature is trending toward harsher retribution. Yesterday, according to the Daily Mail, hundreds of people, mostly women, including Rodriguez's sister, gathered at the bridge that spans the lagoon to pay their respects and demand justice for the victims of domestic violence.
Felix Verdejo turned pro  at age 19 after representing Puerto Rico in the 2012 London Olympics. He rose to #1 in the WBO lightweight rankings after defeating Oliver Flores in February of 2017, but was demoted for inactivity. There were extenuating circumstances including fights that fell out and a 6-day stay in a hospital following a motorcycle accident.
He returned to the ring after a 13 ½ month absence and suffered his first pro defeat. An unheralded Mexican, Antonio Lozada, stopped him in the final round, the 10th. Verdejo was ahead on two of the scorecards through the nine completed rounds. There were 23 seconds remaining in the contest when the bout was stopped.
Verdejo's most recent fight came in December of last year. He was stopped in the ninth round by Masayoshi Nakatani at the MGM Bubble in Las Vegas, reducing his pro record to 27-2. As happened against Lozada, Verdejo faded late, squandering a big lead.
Verdejo photo credit: Mikey Williams / Top Rank via Getty Images
Check out more boxing news on video at the Boxing Channel
To comment on this story in the Fight Forum CLICK HERE
In Boxing, a Quadrilogy is Rare. Going 2-2 Against Butterbean Even More So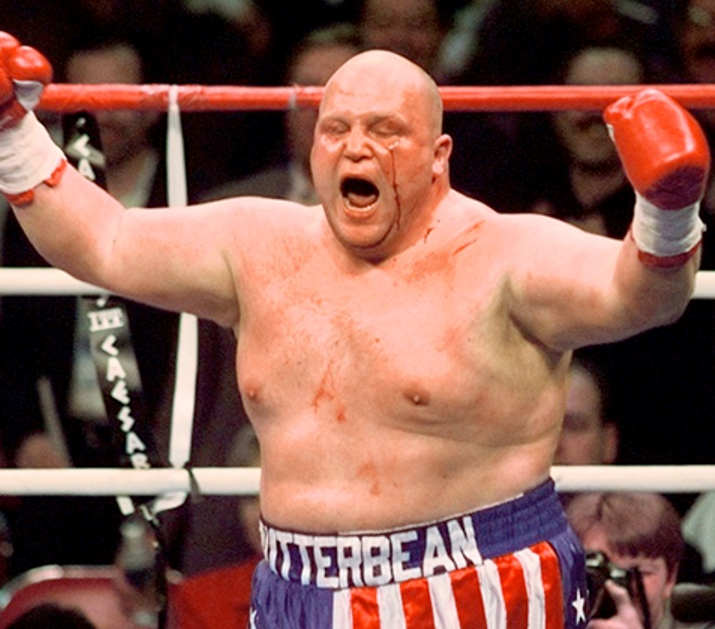 The late heavyweight Mitch Rose could not translate his Golden Gloves amateur skills to the pro ranks. He retired with an underwhelming 2-11-1 mark, but he did enough quirky things to put his life story in a book and one of the most memorable parts of it involved his being the first fighter to stop Eric "Butterbean" Esch, the legendary knockout machine who was trumpeted as the King of the Four Rounders. Rose did it on an undercard bout at Madison Square Garden on a show with Oscar De La Hoya and Arturo Gatti in the featured bouts.
"… Rose was a tried and true New Yorker. As loud and funny as he was, he never seemed to take himself too seriously. He had a big heart, a lot of dreams, and an emotional honesty that was extremely refreshing." — Robert Mladinich, NYFIGHTS
As Bernard Fernandez noted, Eric Esch, aka Butterbean, rebounded nicely. "(He) went on to continue his unlikely advance to stardom of sorts as a bald and blubbery blaster."
Butterbean, who also competed in MMA and in Tough Man competitions, developed a cult following and retired with a boxing record of 77-10-4. But Butterbean's last three losses as a boxer came between 2009-2013, long after he should have left the boxing scene.
Enter Kenny "The Raven" Craven (here's a recent picture).
 "Wherever you find yourself in time… Please remember to do the right thing." — Kenny Craven
A soulful and righteous man who believes in equality and walks the walk, Craven, a Mississippian from tiny Ellisville, is a follower of the teachings of Desmond Tutu. He is pro-people and pro-underdog and will not bypass injustice.
"I wrote a post yesterday on Facebook that expanded my view of the power of the people. All of us know we have this power but we have no idea how to use it. Well, we do know how it is used but we make a conscious decision not to. Why? We the people have supreme authority but we give this gift to just a few people who do not even like us." — Craven
Kenny Craven finished his pro boxing career with a 28-20 record. He won 23 by knockout BUT all of his 20 losses came by knockout and that made him an exciting fighter, if nothing else. Kenny was a fan favorite on the southern circuit and if his opponent didn't get him, he usually got his opponent and the fans could anticipate with near 100 percent accuracy that someone was getting knocked down.
The other thing about Kenny was that he fought a Who's Who of elite fighters. They included Henry Akinwande (37-1-1 coming in), Michael Nunn (55-4), Vaughn Bean (41-2 and no relation to Butterbean), Attila Levin (27-1), Albert Sosnowski (33-1), Clifford Etienne (28-2-2), Calvin Brock (25-0), Timur Ibragimov (20-0-1), Oliver McCall (46-8), Vassiliy Jirov (36-3-1), and Ezra Sellers (28-7).
In 1999, "The Raven" was stopped by Butterbean (48-1-2) in the second round on the undercard of the De La Hoya vs Trinidad fight at the Mandalay Bay Resort and Casino in Las Vegas. It was Alabama vs Mississippi. However, in the first round, Craven displayed the blueprint on how to beat the 'King of Four Rounders" by using a stick and run approach.
In 2005, Kenny lasted until the third round before the Bean (then 71-3-4) overwhelmed him.
 But just three months later in Jackson, Mississippi, Kenny finally figured out Esch and utilized the blueprint by jabbing and moving laterally, and won a majority decision over the heavily favored Bean in front of a small but howling and disbelieving crowd. The fact that Tonya Harding was on the undercard added to the circus-like atmosphere.
Then, three months later in Bejing, China, Kenny did it again. Yes, in China!!? This time he had his way with Eric and cruised to an easy win.
In a rare Quadrilogy, Kenny Craven went 2-2 with Eric Esch who never managed to knock Kenny down or even hurt him. No mean feat.
Mitch Rose had his moment. Kenny Craven had two. As Kenny says, "I did the best I could for a guy with three amateur fights and growing up in rural Mississippi. I loved every second, the good and the bad."
Ted Sares can be reached at tedsares@roadrunner.com
Check out more boxing news on video at the Boxing Channel
To comment on this story in the Fight Forum CLICK HERE