MAY-PAC STIRS MEMORIES OF HAGLER-LEONARD FOR SUGAR RAY
It has been said in Hollywood that there are no original ideas, just variations of familiar plots and story lines. And so it is in boxing, which perhaps is why the movie industry has ventured so often into the drama-drenched world of fights and fighters.
The great Sugar Ray Leonard has seen and done it all, and at 58 his perspective is such that he can pretty much tell when an old script is being dusted off for a contemporary audience. When he looks ahead to the May 2 superfight pitting Floyd Mayweather Jr. and Manny Pacquiao, he has a sense of déjà vu, that he's been there and done that. It is a feeling rooted in reality, at least to an extensive enough degree to make comparisons between May-Pac and Leonard's April 6, 1987, showdown with Marvelous Marvin Hagler take on a sheen of legitimacy.
A fight five years in the making? Check, and check. A stylistic matchup between a mobile, quick-handed boxer and a relentless, southpaw punching machine? Check, and check. Global interest at a fever pitch? Check, and check. One fighter demanding, and getting, a laundry list of concessions from the other side in order to close the deal? Check, and check.
"There are distinct parallels," Leonard told me. "The buildup to Mayweather-Pacquiao has taken, what, five years? Same as my fight with Hagler. No one thought Mayweather-Pacquiao would ever happen; no one thought that my fight with Hagler would ever happen. In fact, for a long time I never thought that it would happen for me with Hagler.
"Also, had Hagler and I fought five years earlier I don't think it would have turned out to be as big as it was, or as spectacular. The wait made it an even bigger event, and that's what's happening with Mayweather-Pacquiao."
Even with all the instances where Mayweather-Pacquiao appears to tearing pages from the Hagler-Leonard reference book, it should be noted that there are differences between then and now. Leonard, whose ring attributes more closely mirror those of Mayweather, was the underdog and the smaller man coming up in weight, with the added burden of a long period of inactivity in which he had fought only once in the preceding five years. Pacquiao is a southpaw, like Hagler, but let's not forget that Marvelous Marvin pulled a switcheroo and opened his bout with Leonard in an orthodox stance, which came as a pleasant surprise to the guy in the other corner. Don't expect "PacMan" to follow suit.
"I looked for every possible thing that would give me an edge," said Leonard, a list which included wringing a grudging agreement from the Hagler camp to the larger ring, larger gloves (10 ounces instead of eight) and reduced number of rounds (from 15 to 12) demanded by Team Sugar. "Not a big edge, but a slight edge. When Marvin came out orthodox,that helped me. It was another edge. But if he had come out southpaw, I would eventually have figured it out because I fought southpaws pretty well. It would have just taken me a little longer to get into a groove."
Before an accord was reached for Mayweather-Pacquiao, "Money" demanded a favorable 60-40 split of the huge financial pie and for other perks, such as having his name listed first in all promotional materials and being introduced after the fab Filipino. Where pride is concerned, such things matter, maybe even as much as money to fighters who are already unfathomably wealthy. Pacquiao finally acquiesced, as had Hagler when presented with Leonard's non-negotiable preferences. But someone has to give a little at the bargaining table, as well as inside the ropes, and the Hagler side yielded to the comebacking legend Hagler sneeringly referred to as the "little dictator."
Leonard's response to that is, "Hey, who wound up winning?" Oh, sure, there are those who dispute the split decision for Sugar Ray, not the least of whom is the still-bitter Hagler, but the outcome is what it is and so shall forever remain.
"This fight (May-Pac) is about bragging rights, like my fight with Hagler was," Leonard continued. "You can talk all you want about the money, and it's ridiculous money, crazy money. But to these guys, it's about more than that. Each wants to be able to say he won. There's so much personal pride at stake, and you can't put a price on that.
"When all is said and done, this fight, of all fights, means everything to these guys. Because the bottom line is, and should be, who beat who, not how much money you made."
It remains to be seen how the final chapter of the Mayweather-Pacquiao saga is written, but here is the tale of Hagler-Leonard, and how that year's Fight of the Century painstakingly came to be.
There was a widespread perception, dating back to Leonard's gold-medal star turn at the 1976 Montreal Olympics, that the kid from Palmer Park, Md., with the megawatt smile, Muhammad Ali-like skills and affable personality was destined for superstardom, that all the good things life and his sport had to offer would be served up on jewel-encrusted platter. For those who came up the hard way, like Hagler – a product of the meanest streets of Newark, N.J., who moved to Brockton, Mass., as a teenager in 1969 and in the mid-'70s had to put in regular shifts at the Petronelli Construction Company before going to the gym to log hours more of hard labor as a fighter enrolled in the Petronelli School of Boxing. To Hagler, who was not quite so marvelous then, Leonard was not someone to be admired, but a source of jealousy and irritation. In the weeks leading up to the long-delayed faceoff with Leonard, Hagler derided his opponent as a "pretty HBO face" who took a shortcut to the superstardom the best middleweight in the world had had to claw and scrap to even approach.
They hadn't fought earlier because Leonard as a welterweight had no problem making 147 pounds, while Hagler was a full-fledged middleweight who scared the hell out of most would-be foes, Leonard included. Leonard saw the weight difference as too wide a chasm to even attempt to bridge.
"Hagler, to me, was a unique machine, a unique beast," the Leonard of today recalled. "There was fear inside of me. Most fighters won't admit it, but there's always an element of fear. We're all scared of what could happen. But fear can be good as well as bad. Fear can paralyze you, which is bad, but fear can also make you so sharp your eyes are as big as headlights. You're looking for every damn punch, every conceivable thing the other guy can throw at you. And that's good."
Any chance that Hagler and Leonard might share the same ring appeared to vanish when Leonard was diagnosed with a detached retina in 1982, an injury that, in those days before medical advances, often was a career-ender. It appeared that would be the case with Leonard, who retired with no thought of coming back at the risk of perhaps losing his eyesight, strangely ironic in light of the fact that his full birth name, Ray Charles Leonard, was in tribute to Ray Charles, the legendary blind musician and singer.
Without boxing and out of the spotlight that in which he had become so comfortable, Leonard admits to losing his way, drinking too much and doing cocaine. Nor was his sole attempt to recapture what had been lost a rousing success; he was floored in the fourth round of his May 11, 1984, bout with journeyman Kevin Howard before going on to stop the tough but limited Philadelphian in nine. Embarrassed that he had been knocked down for the first time as a professional, Leonard retired again, saying he had lost what he had that had made him such a special fighter.
A year and a half earlier, Leonard had taken his first leave, doing so with a dramatic and unexpected flourish. He invited Hagler to attend "A Night With Sugar Ray Leonard," a black-tie charity event on Nov. 9, 1982, at the Baltimore Civic Center that was emceed by Howard Cosell. Hagler showed up in anticipation that Leonard would finally announce that he was ready to move up in weight and take on the finest 160-pounder on the planet. And why shouldn't he have felt that way? Leonard had advised the media that there would be a "major press announcement."
"A fight with this great man, with this great champion, would be one of the greatest fights in history," Leonard said as a beaming and tuxedoed Hagler looked on. There was a dramatic pause before Leonard delivered the words that stung Hagler more than any punch ever could: "Unfortunately, it'll never happen."
So what convinced Leonard to return after his desultory performance against Kevin Howard? One was the unflagging belief that he still had more to give, and at a high level, if only if he could root around inside himself and rediscover it.
"I believe every good fighter believes he has one big fight left in him," Leonard said. "And I believed mine would be against Hagler. As it turned out, it was."
There were other factors involved in Leonard's decision to not only return to boxing, but to go directly to the biggest, baddest threat out there. As was the case with Max Schmeling before his first fight with Joe Louis, he thought he "saw something" that would enable him to confound the oddsmakers (Leonard opened as a 3-to-1 underdog and went off as a 2½-1 longshot) and make history as the first man to win world titles in four different weight classes. Yeah, Hagler was still a monster, but maybe not quite as monstrous as he had been.
"When Duran fought Hagler (a close but unanimous decision for Hagler on Nov. 10, 1983), I was doing commentary for HBO," Leonard said. "After 15 rounds, Duran came over and said to me, in English, `You fight him, you box him, you beat him.'"
If that didn't plant a seed of inspiration in Leonard's mind, Hagler's last pre-Leonard bout, an 11th-round knockout of John "The Beast" Mugabi, did. Mugabi, a tough-as-nails Ugandan, got the better of several toe-to-toe exchanges, landing hard hooks and uppercuts, before Marvin put him away.
"When Hagler beat Mugabi, I wasn't exactly inebriated, but I was on my way," Leonard admitted. "I was drinking so much back then. But still, I saw what I saw. It wasn't that I thought Hagler was slowing down; I just thought that with my speed and my talent, I could do something with him."
So The Return was set in motion, much to the relief of Hagler and, initially, to the consternation of an admittedly rusty Leonard.
"I feel very excited about the fact that he finally got his courage up," the 32-year-old Hagler told reporters at his training camp in Palm Springs, Calif. "But when he made his move, he made it at the wrong time. I'm at my best right now, so I'm glad it's happening now.
"If it had happened years ago, he had too much popularity, the Golden Boy out of the Olympics. Now, he's just a curiosity. People want to see if he can come back and fight with an eye like that. I'm not a curiosity. I get asked why I'm giving him an opportunity even though when I wanted the opportunity, he didn't give it to me. He was waiting for me to get old."
Leonard's return to serious training, meanwhile, was sluggish and frequently painful.
"For the first few months, my sparring partners were kicking my butt," Leonard said. "They were banging the crap out of me. I would come home, my head down, walk in the kitchen and Juanita, my wife back then, would say, `Are you sure you want to fight Hagler?' I'd get so mad. I got defensive. But when I think about it, she was right. I wasn't ready – then.
"But every day it got a little bit better, a little bit better, until it all came back to me. It was frustrating when I knew I didn't have it, that coordination, that touch. I had to fight through it. It was the most painful and agonizing experience of my life. I had to bite the bullet. I'd say to myself, `I know it's there, I just know it.' But I hadn't found it yet.
"Then one day, about three months before the fight, I was in the gym and everything just fell into place. I snapped off a jab like I used to and I was, like, `Holy crap, this still works!' I don't know how to describe how that felt. It was ecstasy. But when you've been off as long as I was, you can't really know for sure until you're in that ring."
Leonard said his fight plan – lots of movement, getting in and out, flurries late in each round to leave an impression on the judges – "was choreographed. I knew what I wanted to do."
It also helped fuel Leonard's fire that in a poll of 30 boxing writers, 24 picked Hagler to win, most inside the distance. After every round, Leonard would return to his corner and look at the media section "as if to say, `Hey, I'm still here,'" he noted.
The officials scorecards at the temporary outdoor stadium constructed on the tennis courts of Caesars Palace were all over the place. Judge Jo Jo Guerra might have been overly generous to Leonard in favoring him by a 118-110 margin, while Dave Moretti and Lou Fillippo each saw it at 115-113, with Moretti going with Leonard and Fillippo with Hagler.
"This is the greatest accomplishment of my life," Leonard proclaimed at the postfight press conference. "Marvin never hurt me. He kind of slowed me up a little. I felt his power in the late rounds, but he never hurt me. I was able to do what I wanted to – stick and move, hit and run, taunt and frustrate."
Hagler, not surprisingly, saw things far differently.
"I feel in my heart that I'm still the champion," he said. "I really hate the fact that (the judges) took it away from me and gave it to Sugar Ray Leonard, of all people. It really leaves a bad taste in my mouth.
"I rocked him three or four times. He fought like a little girl in there. Those little flurries don't mean nothing."
Nor has Hagler, who never fought again, ever softened his stance. In 1995, when in Las Vegas to do commentary on WBC heavyweight champion Oliver McCall's unanimous-decision victory over longtime former titlist Larry Holmes, he again spoke bitterly of the Leonard fight plan that found favor with Guerra and Moretti.
"That's all he did all night long," Hagler said of the furious flurries in the final 30 seconds of rounds that clearly tipped the balance of the scoring. "I thought I was fighting a professional, but he was just an amateur. I gave up everything for that fight I gave him the bigger ring. I gave him 12 rounds instead of 15. But when it came time for him to give me a rematch, he wouldn't do it."
Leonard doesn't expect Mayweather, who got what he wanted in the prefight negotiations with Pacquiao, to reciprocate by giving "PacMan" what he wants inside the ropes. Leopards don't change their spots, not if they want to continue being leopards.
"You're not going to see Hagler-Hearns, you're not going to see Roberto Duran-Sugar Ray Leonard I," Leonard predicted. "Not going to happen. The way I fought Duran the first time, that was a mistake I made. The way Tommy fought Hagler was a mistake on his part, as far as I'm concerned. Tommy was far more effective as a boxer against a guy like Hagler. You fight Hagler the way Tommy did, he's going to knock you out.
"A fighter has to fight his fight. You have to play to your strengths. That's the only way to be effective."
Which is not to say that Leonard, who is leaning toward Mayweather, is going all-in on a prediction for a fighter whose style is more or less an approximation of his own. If there is a difference, it might be that a prime Leonard had more of a finishing instinct when he had his man in trouble than Mayweather.
"This fight is not easy to call," he said. "It probably will come down to which guy can get back to his total `A' game."
The Sweet Science Rankings: Week of May 29th, 2023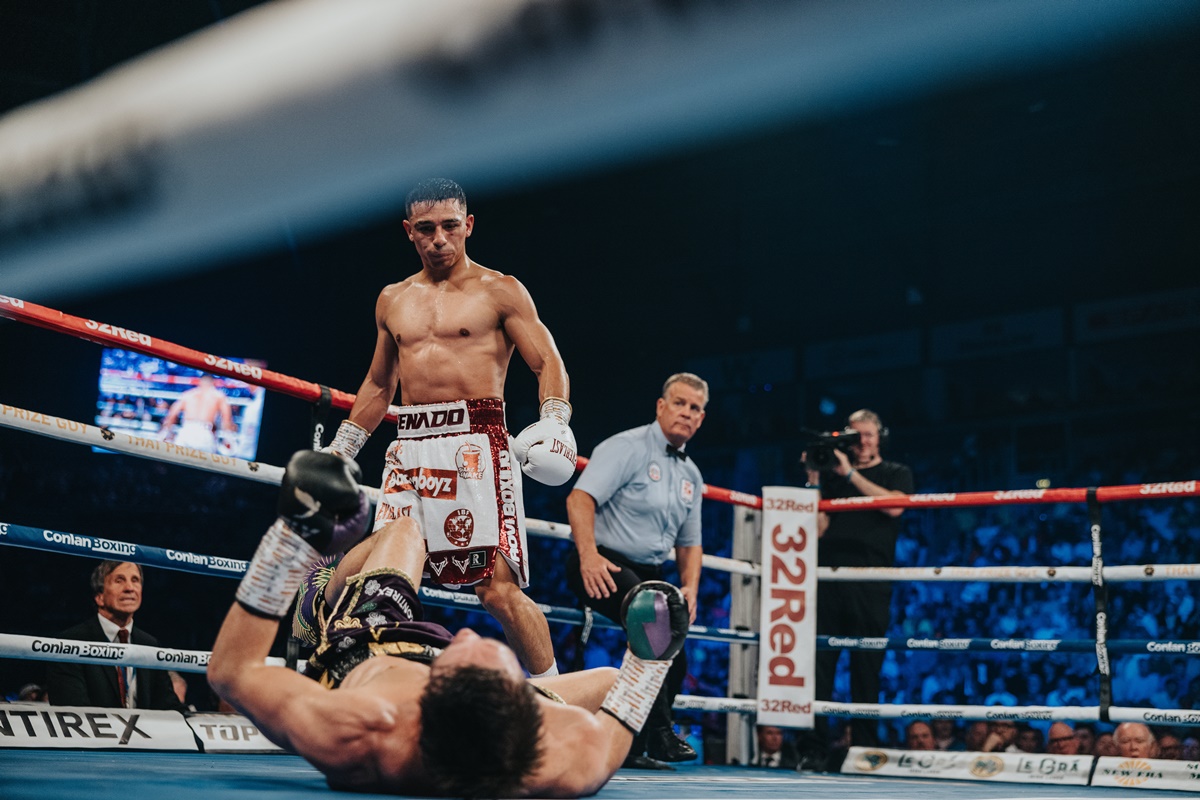 The Sweet Science Rankings: Week of May 29th, 2023
In this week's TSS Rankings, it's all change at the top of the 126lbs division with Luis Alberto Lopez rocketing to the #1 spot after a brutal dispatch of Michael Conlan; Leigh Wood is right behind him after making it 1-1 with a miserable Mauricio Lara (Mexico) who is likely about to depart for 130lbs after failing to make weight by 4lbs.  For the moment he languishes at #5.  Chris Billam-Smith makes #3 at 200lbs after ripping victory from fellow Englishman Lawrence Okolie.  The hapless Okolie drops to #8.  The best performance this weekend though was turned in by New Yorker Oscar Collazo who brutalised the favoured Melvin Jerusalem (Philippines).  Collazo rises to three, Jerusalem drops to #8.
Pound-for-Pound
01 – Naoya Inoue
02 – Oleksandr Usyk
03 – Juan Francisco Estrada
04 – Dmitry Bivol
05 – Terence Crawford
06 – Errol Spence Jnr.
07 – Tyson Fury
08 – Saul Alvarez
09 – Artur Beterbiev
10 – Shakur Stevenson
105lbs
1            Knockout CP Freshmart (Thailand)
2            Petchmanee CP Freshmart (Thailand)
3            Oscar Collazo (USA)*
4            Ginjiro Shigeoka (Japan)
5            Wanheng Menayothin (Thailand)
6            Daniel Valladares (Mexico)
7            Yudai Shigeoka (Japan)
8            Melvin Jerusalem (Philippines)
9            Masataka Taniguchi (Japan)
10          Rene Mark Cuarto (Philippines)
108lbs
1            Kenshiro Teraji (Japan)
2            Jonathan Gonzalez (Puerto Rico)
3            Masamichi Yabuki (Japan)
4            Hekkie Budler (South Africa)
5            Sivenathi Nontshinga (South Africa)
6            Elwin Soto (Mexico)
7            Daniel Matellon (Cuba)
8            Reggie Suganob (Philippines)
9            Shokichi Iwata (Japan)
10          Esteban Bermudez (Mexico)
112lbs
1            Sunny Edwards (England)
2            Artem Dalakian (Ukraine)
3            Julio Cesar Martinez (Mexico)
4            Angel Ayala Lardizabal (Mexico)
5            David Jimenez (Costa Rica)
6            Jesse Rodriguez (USA)
7            Ricardo Sandoval (USA)
8            Felix Alvarado (Nicaragua)
9            Seigo Yuri Akui (Japan)
10          Cristofer Rosales (Nicaragua)
115lbs
1            Juan Francisco Estrada (Mexico)
2            Roman Gonzalez (Nicaragua)
3            Jesse Rodriguez (USA)
4            Kazuto Ioka (Japan)
5            Joshua Franco (USA)
6            Junto Nakatani (Japan)
7            Fernando Martinez (Argentina)
8            Srisaket Sor Rungvisai (Thailand)
9            Kosei Tanaka (Japan)
10          Andrew Moloney (Australia)
118lbs
1            Emmanuel Rodriguez (Puerto Rico)
2            Jason Moloney (Australia)
3            Nonito Donaire (Philippines)
4            Vincent Astrolabio (Philippines)
5            Gary Antonio Russell (USA)
6            Takuma Inoue (Japan)
7            Alexandro Santiago (Mexico)
8           Ryosuke Nishida (Japan)
9            Keita Kurihara (Japan)
10          Paul Butler (England)
122lbs
1            Stephen Fulton (USA)
2            Marlo Tapales (Philippines)
3            Luis Nery (Mexico)
4            Murodjon Akhmadaliev (Uzbekistan)
5            Ra'eese Aleem (USA)
6            Azat Hovhannisyan (Armenia)
7            Kevin Gonzalez (Mexico)
8            Takuma Inoue (Japan)
9            John Riel Casimero (Philippines)
10          Fillipus Nghitumbwa (Namibia)
126lbs
1            Luis Alberto Lopez (Mexico)*
2           Leigh Wood (England)*
3            Brandon Figueroa (USA)
4            Rey Vargas (Mexico)
5            Mauricio Lara (Mexico)
6            Mark Magsayo (Philippines)
7            Josh Warrington (England)
8            Robeisy Ramirez (Cuba)
9            Reiya Abe (Japan)
10          Otabek Kholmatov (Uzbekistan)
130lbs
1            Joe Cordina (Wales)
2            Oscar Valdez (Mexico)
3            Hector Garcia (Dominican Republic)
4            O'Shaquie Foster (USA)
5            Shavkatdzhon Rakhimov (Tajikistan)
6            Roger Gutierrez (Venezuela)
7            Lamont Roach (USA)
8            Eduardo Ramirez (Mexico)
9            Kenichi Ogawa (Japan)
10          Robson Conceicao (Brazil)
135lbs
1            Devin Haney (USA)
2            Gervonta Davis (USA)
3            Vasily Lomachenko (Ukraine)
4            Isaac Cruz (Mexico)
5            William Zepeda Segura (Mexico)
6            Frank Martin (USA)
7            George Kambosos Jnr (Australia)
8            Shakur Stevenson (USA)
9            Raymond Muratalla (USA)
10          Keyshawn Davis (USA)
140lbs
1            Josh Taylor (Scotland)
2            Regis Prograis (USA)
3            Jose Ramirez (USA)
4            Jose Zepeda (USA)
5            Jack Catterall (England)
6            Subriel Matias (Puerto Rico)
7            Arnold Barboza Jr. (USA)
8            Gary Antuanne Russell (USA)
9            Zhankosh Turarov (Kazakhstan)
10          Shohjahon Ergashev (Uzbekistan)
147lbs
1            Errol Spence (USA)
2            Terence Crawford (USA)
3            Yordenis Ugas (Cuba)
4            Vergil Ortiz Jr. (USA)
5            Jaron Ennis (USA)
6            Eimantas Stanionis (Lithuania)
7            David Avanesyan (Russia)
8            Cody Crowley (Canada)
9            Roiman Villa (Columbia)
10          Alexis Rocha (USA)
154lbs
1            Jermell Charlo (USA)
2           Tim Tszyu (Australia)
3            Brian Castano (Argentina)
4            Brian Mendoza (USA)
5            Liam Smith (England)
6            Jesus Alejandro Ramos (USA)
7            Sebastian Fundora (USA)
8            Michel Soro (Ivory Coast)
9            Erickson Lubin (USA)
10          Magomed Kurbanov (Russia)
160lbs
1            Gennady Golovkin (Kazakhstan)
2            Jaime Munguia (Mexico)
3            Carlos Adames (Dominican Republic)
4            Janibek Alimkhanuly (Kazakhstan)
5            Liam Smith (England)
6            Erislandy Lara (USA)
7            Sergiy Derevyanchenko (Ukraine)
8            Felix Cash (England)
9            Esquiva Falcao (Brazil)
10          Chris Eubank Jnr. (Poland)
168lbs
1            Canelo Alvarez (Mexico)
2            David Benavidez (USA)
3            Caleb Plant (USA)
4            Christian Mbilli (France)
5            David Morrell (Cuba)
6            John Ryder (England)
7            Pavel Silyagin (Russia)
8            Vladimir Shishkin (Russia)
9            Carlos Gongora (Ecuador)
10          Demetrius Andrade (USA)
175lbs
1            Dmitry Bivol (Russia)
2            Artur Beterbiev (Canada)
3            Joshua Buatsi (England)
4            Callum Smith (England)
5            Joe Smith Jr. (USA)
6            Gilberto Ramirez (Mexico)
7            Anthony Yarde (England)
8           Dan Azeez (England)
9            Craig Richards (England)
10          Michael Eifert (Germany)
200lbs
1            Jai Opetaia (Australia)
2            Mairis Breidis (Latvia)
3            Chris Billam-Smith (England)*
4            Richard Riakporhe (England)
5            Aleksei Papin (Russia)
6            Badou Jack (Sweden)
7            Arsen Goulamirian (France)
8            Lawrence Okolie (England)
9            Yuniel Dorticos (Cuba)
10          Mateusz Masternak (Poland)
Unlimited
1            Tyson Fury (England)
2            Oleksandr Usyk (Ukraine)
3            Zhilei Zhang (China)
4            Deontay Wilder (USA)
5            Anthony Joshua (England)
6            Andy Ruiz (USA)
7            Filip Hrgovic (Croatia)
8            Joe Joyce (England)
9            Dillian Whyte (England)
10          Frank Sanchez (Cuba)
To comment on this story in the Fight Forum CLICK HERE
U.K. Boxing Montage: Conlan KOed; Wood Regains Title; Billam-Smith Upsets Okolie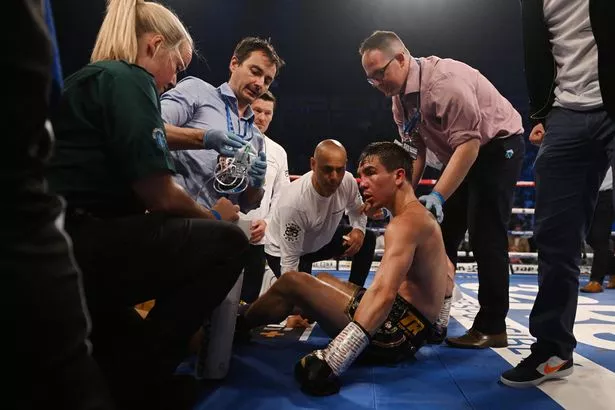 British fight fabs had plenty of options last night. Important events were staged in Manchester, in Bournemouth, and in Belfast, Northern Ireland. The locals were delighted in Manchester and Bournemouth, but fans in Belfast were left crestfallen when their hometown hero Michael Conlan, the former two-time Olympian, was on the wrong end of a vicious KO.
Conlan, who was 18-1 heading in, had a four-inch height advantage and three-inch reach advantage over Mexican spoiler Luis Alberto Lopez. The Irishman attracted late money and went to post a small favorite. But Lopez (28-2, 16 KOs) emerged victorious, successfully defending his IBF world featherweight title which he won in British soil over Josh Warrington.
Although Conlan had a rough patch in the second round, he was seemingly in a good position heading into round five when the Mexican invader brought a swift conclusion to the contest, discombobulating Conlan (pictured) with a right uppercut that prompted his trainer Adam Booth to throw in the towel. It was the second time that Conlan came up short in a bid for a world title. He challenged for the WBA version of this belt in March of last year, losing on a spectacular last round knockout to Leigh Wood in a fight that he was winning until the final 90 seconds.
Also…
In a scheduled 12-rounder for a WBC featherweight trinket, five-foot-three Liverpool buzzsaw Nick "Wrecking" Ball advanced to 18-0, (11 KOs) with a 12th-round stoppage of South Africa's previously undefeated Ludumo Lamati (21-1-1, 11 KOs). Lamati's corner tossed in the towel after Ball landed a series of hard punches in the final frame.
Lamati was on his feet when the bout was stopped but was in dire straits and was removed from the ring on a stretcher. There was no update on his condition as this story was going to press.
In a companion 12-rounder, Belfast's Anthony "Apache" Cacace (21-1, 7 KOs) successfully defended his fringe 130-pound title with a wide decision over Damian Wrzesinski (26-3-2). The judges had 118-111, 117-111, and 116-112.
Wrzesinski, a 38-year-old Pole, fought with a brace on his right knee. This was the first fight for "Apache" in his hometown in eight years. The win may have set him up for a match with Welshman Joe Cordina, the IBF junior lightweight title-holder, or Shavkat Rakhimov who lost a close decision to Cordina in a bruising tiff last month.
Manchester
Mauricio Lara didn't bring his "A" game to England. That became apparent at the weigh-in when he failed to make weight, losing his WBA world featherweight title on the scales. By rule, only Leigh Wood could win it or it would become vacant.
This was a rematch. Fourteen weeks ago, Lara went into Wood's backyard in Nottingham and stopped him in the seventh round. Lara was behind on the cards when he felled Wood with a crunching left hook. Wood beat the count but his trainer Ben Davison tossed in the towel which struck many, especially Wood, as premature as less than 10 seconds remained in the round.
In a previous trip to England, Lara had broken hearts in Leeds, stopping native son Josh Warrington. The Mexican invader, younger than Leigh Wood by 10 years, was expected to win again, but Wood, 34, simply out-worked him. He knocked Lara down in the second round with an uppercut and methodically kept him at bay, winning by scores of 116-111 and 118-109 twice.
Co-Feature
In his first appearance since his controversial defeat to Josh Taylor in Glasgow in February of last year, Jack Catterall improved to 27-1 (15) with a wide decision over Irish-Australian southpaw Darragh Foley (22-5-1).
The Sportsman called the Catterall-Taylor fight, a split decision win for Taylor, the most controversial fight in British boxing history and Catterall became a more sympathetic figure when Taylor, after several postponements, reneged on his promise to give Catterall a rematch, opting instead for a date with Teofimo Lopez.
Although Foley was in action 10 weeks ago, scoring his signature win with a third-round stoppage of favored Robbie Davies Jr., and Catterall was making his first start in 15 months, this was a one-sided fray in Catterall's favor. He had Foley on the canvas twice en route to winning by scores of 99-88, 98-89, and 97-90.
Eddie Hearn has expressed an interest in matching Catterall with Regis Prograis assuming that Prograis gets past Arnold Barboza on June 17.
Also
England's Terri Harper (14-1-1), who jumped up three weight classes last year, successfully defended her WBA 154-pound diadem with a unanimous but unimpressive 10-round decision over perennial title challenger Ivana Habazin. The judges had it 98-92 and 99-93 twice.
Harper was slated to fight former pound-for-pound queen Cecilia Braekhus last Saturday in the co-feature to Taylor vs. Cameron in Dublin, but hat match fell out when Braekhus came down with a bad cold following the weight-in.
Harper is seeking a unification fight with countrywoman Natasha Jonas. Habazin, a 33-year-old Croat, fell to 21-5.
Bournemouth
In his fourth defense of his WBO world cruiserweight title, previously undefeated Lawrence Okolie was soundly defeated by former sparring partner Chris Billam.-Smith The match was contested in Billam-Smith's  hometown before a raucous crowd at sold-out Vitality Stadium.
A 3/1 underdog, Billam-Smith, who was 17-1 heading in, proved clearly superior He knocked Okolie down in the fourth round and again in rounds 10 and 11 en route to winning by scores of 116-107, 115-108, and 112-112.
About that curious 112-112 card. It was turned in by U.S. judge  Benjamin Rodriguez who had been working the Illinois-Wisconsin circuit. On social media, his tally is being called the worst scorecard of all time.
Did Billam-Smith's fans leave happy? The correspondent for British Boxing News called the event "a night of breathtaking boxing action that will never be forgotten."
The six-foot-five Okolie may have made his last start as a cruiserweight. He aspires to fight Oleksandr Usyk.
The Sweet Science Rankings: Week of May 22nd, 2023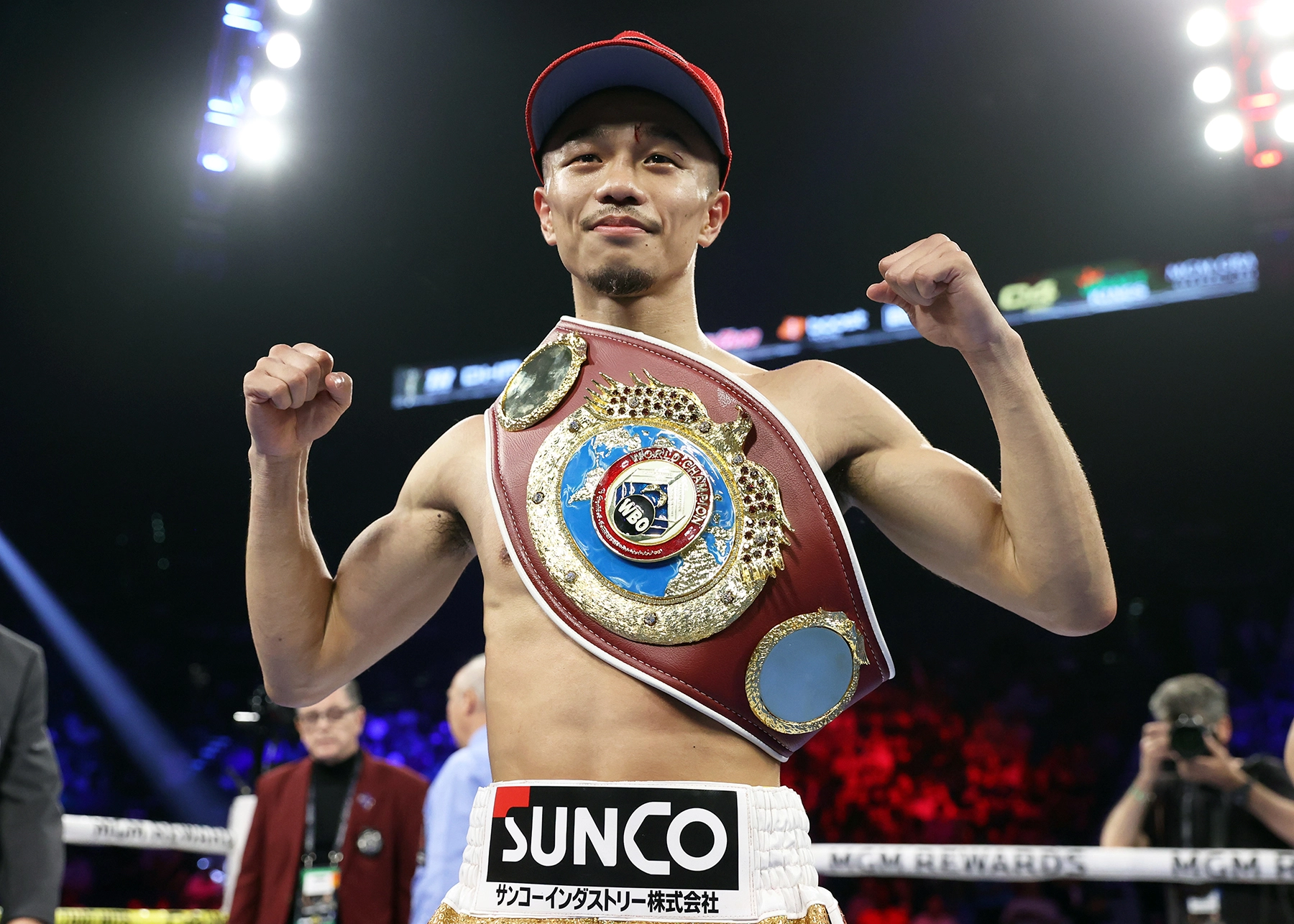 The Sweet Science Rankings: Week of May 22nd, 2023
Hiroto Kyoguchi departs 108lbs for 112lbs so there's a reorganisation at the bottom of the 108lbs division.  Fellow Japanese Junto Nakatani's breathtaking destruction of Andrew Maloney sees him rise to #6 at 115lbs with Maloney dropping to #10; Kosei Tanaki who was also out at the weekend climbs to #9.  Raymond Muratalla is the last mover this week, eliminating Jamaine Ortiz and debuting at #9 at 135lbs.  There are no further changes at lightweight where Lomachenko maintains his ranking at #3.
*Please note that when the fighter's name appears with an asterisk it represents a movement in ranking from the previous week.
Pound-for-Pound
01 – Naoya Inoue
02 – Oleksandr Usyk
03 – Juan Francisco Estrada
04 – Dmitry Bivol
05 – Terence Crawford
06 – Errol Spence Jnr.
07 – Tyson Fury
08 – Saul Alvarez
09 – Artur Beterbiev
10 – Shakur Stevenson
105lbs
1            Knockout CP Freshmart (Thailand)
2            Petchmanee CP Freshmart (Thailand)
3            Melvin Jerusalem (Philippines)
4            Ginjiro Shigeoka (Japan)
5            Wanheng Menayothin (Thailand)
6            Daniel Valladares (Mexico)
7            Yudai Shigeoka (Japan)
8            Oscar Collazo (USA)
9            Masataka Taniguchi (Japan)
10          Rene Mark Cuarto (Philippines)
108lbs
1            Kenshiro Teraji (Japan)
2            Jonathan Gonzalez (Puerto Rico)
3            Masamichi Yabuki (Japan)
4            Hekkie Budler (South Africa)
5            Sivenathi Nontshinga (South Africa)
6            Elwin Soto (Mexico)
7            Daniel Matellon (Cuba)
8            Reggie Suganob (Philippines)
9            Shokichi Iwata (Japan)*
10          Esteban Bermudez (Mexico)*
112lbs
1            Sunny Edwards (England)
2            Artem Dalakian (Ukraine)
3            Julio Cesar Martinez (Mexico)
4            Angel Ayala Lardizabal (Mexico)
5            David Jimenez (Costa Rica)
6            Jesse Rodriguez (USA)
7            Ricardo Sandoval (USA)
8            Felix Alvarado (Nicaragua)
9            Seigo Yuri Akui (Japan)
10          Cristofer Rosales (Nicaragua)
115lbs
1            Juan Francisco Estrada (Mexico)
2            Roman Gonzalez (Nicaragua)
3            Jesse Rodriguez (USA)
4            Kazuto Ioka (Japan)
5            Joshua Franco (USA)
6            Junto Nakatani (Japan)*
7            Fernando Martinez (Argentina)
8            Srisaket Sor Rungvisai (Thailand)
9            Kosei Tanaka (Japan)*
10          Andrew Moloney (Australia)
118lbs
1            Emmanuel Rodriguez (Puerto Rico)
2            Jason Moloney (Australia)
3            Nonito Donaire (Philippines)
4            Vincent Astrolabio (Philippines)
5            Gary Antonio Russell (USA)
6            Takuma Inoue (Japan)
7            Alexandro Santiago (Mexico)
8           Ryosuke Nishida (Japan)
9            Keita Kurihara (Japan)
10          Paul Butler (England)
122lbs
1            Stephen Fulton (USA)
2            Marlo Tapales (Philippines)
3            Luis Nery (Mexico)
4            Murodjon Akhmadaliev (Uzbekistan)
5            Ra'eese Aleem (USA)
6            Azat Hovhannisyan (Armenia)
7            Kevin Gonzalez (Mexico)
8            Takuma Inoue (Japan)
9            John Riel Casimero (Philippines)
10          Fillipus Nghitumbwa (Namibia)
126lbs
1            Mauricio Lara (Mexico)
2           Brandon Figueroa (USA)
3            Rey Vargas (Mexico)
4            Luis Alberto Lopez (Mexico)
5            Mark Magsayo (Philippines)
6            Leigh Wood (England)
7            Josh Warrington (England)
8            Robeisy Ramirez (Cuba)
9            Reiya Abe (Japan)
10          Otabek Kholmatov (Uzbekistan)
130lbs
1            Joe Cordina (Wales)
2            Oscar Valdez (Mexico)
3            Hector Garcia (Dominican Republic)
4            O'Shaquie Foster (USA)
5            Shavkatdzhon Rakhimov (Tajikistan)
6            Roger Gutierrez (Venezuela)
7            Lamont Roach (USA)
8            Eduardo Ramirez (Mexico)
9            Kenichi Ogawa (Japan)
10          Robson Conceicao (Brazil)
135lbs
1            Devin Haney (USA)
2            Gervonta Davis (USA)
3            Vasily Lomachenko (Ukraine)
4            Isaac Cruz (Mexico)
5            William Zepeda Segura (Mexico)
6            Frank Martin (USA)
7            George Kambosos Jnr (Australia)
8            Shakur Stevenson (USA)
9            Raymond Muratalla (USA)*
10          Keyshawn Davis (USA)
140lbs
1            Josh Taylor (Scotland)
2            Regis Prograis (USA)
3            Jose Ramirez (USA)
4            Jose Zepeda (USA)
5            Jack Catterall (England)
6            Subriel Matias (Puerto Rico)
7            Arnold Barboza Jr. (USA)
8            Gary Antuanne Russell (USA)
9            Zhankosh Turarov (Kazakhstan)
10          Shohjahon Ergashev (Uzbekistan)
147lbs
1            Errol Spence (USA)
2            Terence Crawford (USA)
3            Yordenis Ugas (Cuba)
4            Vergil Ortiz Jr. (USA)
5            Jaron Ennis (USA)
6            Eimantas Stanionis (Lithuania)
7            David Avanesyan (Russia)
8            Cody Crowley (Canada)
9            Roiman Villa (Columbia)
10          Alexis Rocha (USA)
154lbs
1            Jermell Charlo (USA)
2           Tim Tszyu (Australia)
3            Brian Castano (Argentina)
4            Brian Mendoza (USA)
5            Liam Smith (England)
6            Jesus Alejandro Ramos (USA)
7            Sebastian Fundora (USA)
8            Michel Soro (Ivory Coast)
9            Erickson Lubin (USA)
10          Magomed Kurbanov (Russia)
160lbs
1            Gennady Golovkin (Kazakhstan)
2            Jaime Munguia (Mexico)
3            Carlos Adames (Dominican Republic)
4            Janibek Alimkhanuly (Kazakhstan)
5            Liam Smith (England)
6            Erislandy Lara (USA)
7            Sergiy Derevyanchenko (Ukraine)
8            Felix Cash (England)
9            Esquiva Falcao (Brazil)
10          Chris Eubank Jnr. (Poland)
168lbs
1            Canelo Alvarez (Mexico)
2            David Benavidez (USA)
3            Caleb Plant (USA)
4            Christian Mbilli (France)
5            David Morrell (Cuba)
6            John Ryder (England)
7            Pavel Silyagin (Russia)
8            Vladimir Shishkin (Russia)
9            Carlos Gongora (Ecuador)
10          Demetrius Andrade (USA)
175lbs
1            Dmitry Bivol (Russia)
2            Artur Beterbiev (Canada)
3            Joshua Buatsi (England)
4            Callum Smith (England)
5            Joe Smith Jr. (USA)
6            Gilberto Ramirez (Mexico)
7            Anthony Yarde (England)
8           Dan Azeez (England)
9            Craig Richards (England)
10          Michael Eifert (Germany)
200lbs
1            Jai Opetaia (Australia)
2            Mairis Breidis (Latvia)
3            Lawrence Okolie (England)
4            Richard Riakporhe (England)
5            Aleksei Papin (Russia)
6            Badou Jack (Sweden)
7            Chris Billam-Smith (England)
8            Arsen Goulamirian (France)
9            Yuniel Dorticos (Cuba)
10          Mateusz Masternak (Poland)
Unlimited
1            Tyson Fury (England)
2            Oleksandr Usyk (Ukraine)
3            Zhilei Zhang (China)
4            Deontay Wilder (USA)
5            Anthony Joshua (England)
6            Andy Ruiz (USA)
7            Filip Hrgovic (Croatia)
8            Joe Joyce (England)
9            Dillian Whyte (England)
10          Frank Sanchez (Cuba)
To comment on this story in the Fight Forum CLICK HERE