Countdown To Mayweather-Pacquiao: Why It's A Dead-End Super Fight
What does the upcoming Mayweather-Pacquiao Super Fight mean for boxing's future landscape?
In the past, "Super Fights" there often were residual effects from the outcome which set up the next highly anticipated bout. When "Smokin" Joe Frazier clipped the wings of "The Butterfly" Muhammad Ali on March 8, 1971, it set forth a four year period in which Ali fought George Foreman and Frazier two more times as they exchanged the undisputed heavyweight title between the three of them. That period is considered one of the best eras in heavyweight history. And it all started with the super fight in which all super fights are measured, Frazier vs. Ali in 1971, the most widely anticipated and comprehensively covered boxing match ever.
In June of 1980 Roberto Duran 71-1 (55) beat Sugar Ray Leonard 27-0 (18) in the "Brawl In Montreal." Duran's win as a 9-5 underdog set up a rematch with Leonard five months later. Leonard won the rematch and within a year met undefeated destroyer and WBA welterweight title holder Thomas Hearns 32-0 (30) in a bout that was billed as "The Showdown." Leonard stopped Hearns in the 14th round of a tremendous give and take bout to become the undisputed welterweight champion. Five months later he was forced to retire due to suffering a detached retina in his left eye. During Leonard's absence after setting the stage fighting both Duran and Hearns, "Marvelous" Marvin Hagler emerged as the baddest middleweight in the world. And between the three of them (Hagler, Hearns & Duran) there were some really big super fights which captivated the boxing public circa 1983-85. A few years after Hagler stopped Hearns in three rounds, Leonard fought Hagler in his initial come back bout and won the WBC middleweight title in April of 1987. As you can see as a result of the first Leonard-Duran bout, a series between four all-time greats encompassing nine fights was set in motion, taking place in between 1980-89.
The 1988 undisputed heavyweight championship bout between Mike Tyson 34-0 (30) and former undisputed light heavyweight champ Michael Spinks 31-0 (21) was a monumental bout because it would clear up the confusion as to who the undisputed champ was. After Tyson dispatched Spinks in the first round the consensus was Mike would hold the title as long as he wanted to. With Olympians Riddick Bowe and Lennox Lewis both turning pro in early 1989 the table was set for them to eventually meet Tyson for the title in future super fights in the early nineties. Then the unexpected happened and Tyson lost the title in his third defense against James "Buster" Douglas 29-4-1 (19) in what many consider to be the biggest upset in boxing history. So it can't be said Tyson-Spinks was a dead end super fight because there were dream fights out there for Tyson had he been able to hold onto the undisputed title a couple of more years as expected.
However, there have been many dead end super fights since the "Fight Of The Century" between Ali and Frazier 44 years ago. Hagler-Leonard, Tyson-Holyfield and Lewis-Tyson come to mind, just to name a few. A dead end super fight is like a match race; its single purpose is to determine the winner between two superstar fighters who have been on a collision course that haven't yet clashed. There are usually no residual effects from them and the result doesn't set up other big fights down the road other than perhaps a rematch.
Hagler-Leonard was huge because Marvin and Ray, along with being all-time greats, were two of the most dominant fighters of the eighties and were close in weight and physical stature. Everyone who even casually followed boxing wanted to find out who was better between them. And after losing a split decision to Leonard in a bout he was certain that he won, Hagler retired from boxing and never flirted with returning to the ring again. Leonard, after scoring the most gratifying victory of his career, milked the public for a few more years, fighting a rematch with Hearns and a rubber match with Duran. Two years after beating Duran in their third bout he was taken apart by Terry Norris in 1991 and that was pretty much it for Sugar Ray Leonard as a superstar fighter. His ill-fated comeback against Hector Camacho in 1996 was virtually ignored by the boxing world, and rightly so.
Tyson-Holyfield I, like Mayweather-Pacquiao, also happened five years after its original sell-by date. And the only reason why it was so big was because everyone wanted to find out after all those years of anticipating–as is the case with Mayweather-Pacquiao–who'd win between career rivals Mike and Evander. The same applied to the Lewis-Tyson and De La Hoya-Mayweather mega bouts. They were nothing more than match races between superstar fighters with one of them on a severe decline (Tyson & De La Hoya). There was no discernible fallout from either bout in regards to being the springboard for another big fight.
When examining Mayweather-Pacquiao under a microscope, it doesn't matter whether or not you believe it will be a terrific fight from an action point of view. But there can be no conclusion other than it really is a dead-end super fight. And that's not because it's happening five years too late….Actually, like the third fight between Muhammad Ali and Joe Frazier, more commonly known as the "Thrilla In Manila," Mayweather-Pacquiao can still be an exciting/great bout.
When Ali 48-2 (35) and Frazier 32-2 (27) fought their rubber match during the fall of 1975, Muhammad was four months shy of turning 34 and Joe was four months shy of turning 32. Much to the surprise of many boxing observers, Ali-Frazier III turned out to be a real war and great fight, despite neither being close to the great fighters they were the first time they met four years earlier in 1971. And the reason for that was neither Joe nor Muhammad had much left defensively and couldn't get out of the others' way. The older and slower versions of them landed almost everything they threw at each other, resulting in a back and forth bout in which ruined both of them as all-time greats. But the fight was very relevant because it was the culmination and final chapter of what is truly the greatest sports rivalry in history. So Ali-Frazier III certainly cannot be considered a dead end super fight.
The same cannot be said for Mayweather and Pacquiao, who have never faced each other. They've both defeated practically every big name fighter currently campaigning at welterweight. The biggest reason why the fight between them has finally been made is simply because neither Floyd nor Manny have anyone left to fight that boxing fans really care about seeing them in the ring against. Once they finally fight and the result is history, then what? Where does Pacquiao turn? It's not like the world is waiting with baited breath for him to fight Amir Khan or Keith Thurman. Manny has nothing left to prove to anyone or himself. He's already established himself as one of the all-time great pound-for-pound fighters in boxing history having won a world title in eight different weight divisions. If Pacquiao loses to Mayweather his legacy won't be the least bit diminished, and if he beats him his legend grows in leaps and bounds almost to Roberto Duran-esque stature. Manny Pacquiao is pretty much done as a professional fighter aside from fighting Mayweather again in a rematch.
As for Mayweather…..it all depends on what happens against Pacquiao. If he wins and controls the fight most of the way, I would venture to say we'll never see them fight again. Why? Because it's not like Pacquiao can change his stripes and beat Floyd by fighting a different style in a rematch, and most boxing fans understand that, and if they don't they should. If Mayweather wins a close fight, say 115-113, and the decision is seen as being disputed or controversial, he'll probably have to fight Manny again to erase any lingering doubt. And if the worst possible for Mayweather is realized and he loses to Manny, then he has no choice but to exercise the rematch clause in their contract (which stipulates Pacquiao must give Mayweather a rematch if he wins). Let's say for argument sake Mayweather beats Pacquiao, which I have no doubt he will. What's next if he doesn't fight him again? Nobody can convince me that there's interest in Mayweather fighting Keith Thurman or Amir Khan after finally beating Pacquiao. Add Canelo Alvarez and Timothy Bradley to the list. Nobody wants to see Mayweather-Alvarez II, and Mayweather-Bradley is something I'd use as a threat to make prisoners watch if they didn't snitch on their partners in crime, that's how terrible that would be to have to sit through. So who or what's left for Mayweather?
Gennady Golovkin for the middleweight title without a catch-weight stipulation? Perhaps, that would certainly be something, but it wouldn't be as big as Mayweather-Pacquiao to quasi boxing fans because they don't know who Golovkin is yet. In the boxing world Golovkin-Mayweather is huge, but not outside of it.
As you can see Mayweather vs. Pacquiao is really just a match race between two world renowned thoroughbreds that have been on a collision course for almost six years. Once it's over only one of two things will happen. Either Floyd and Manny touch gloves once more or, they will fight a swan song bout affording their fans one last chance to celebrate their hall of fame careers before they move onto the next stage of their lives. What does the fight really mean for boxing's landscape? It's a super fight because of the money it will generate.
But it's one of the only recent super fights along with Hagler-Leonard (1987), Lewis-Tyson (2002) and De La Hoya-Mayweather (2007) that has nearly a dead end, other than a rematch and that's about it.
But that doesn't mean it can't or won't be a terrific fight on the night of May 2nd 2015 regardless of who wins.
Frank Lotierzo can be reached at GlovedFist@Gmail.com
Arne's Almanac: The Australian Boxing Renaissance and More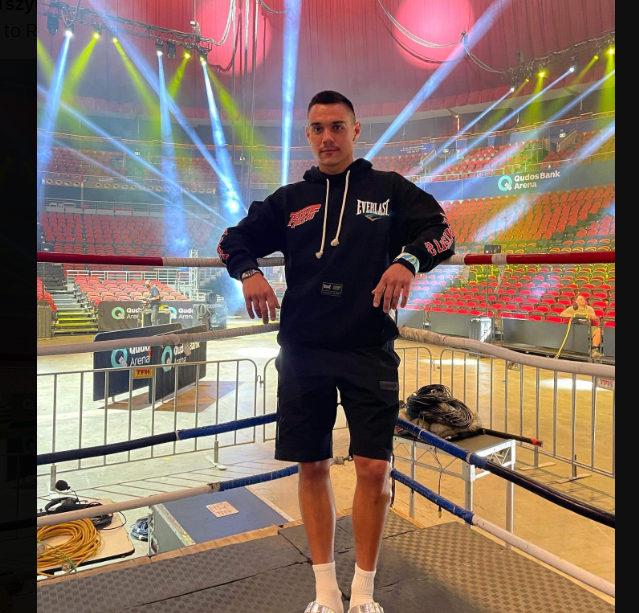 A new junior middleweight champion emerged this past Saturday night at the T-Mobile Arena in Las Vegas. The World Boxing Organization (which uses the nomenclature junior middleweight instead of super welterweight) had made it known that it planned to strip Jermell Charlo of his 154-pound title for taking the fight with Canelo Alvarez and that adjudication took effect the moment the bell sounded to signify the start of the contest.
Charlo was displaced by Tim Tszyu (pictured) whose first defense of his newly-acquired title comes in less than two weeks when he touches gloves with Albuquerque's Brian Mendoza at the Gold Coast Convention Center in Broadbeach, Queensland, Australia.
There are often hoots of derision when a fighter is anointed a title-holder without actually winning the diadem in the ring, but not in this instance. Tszyu (23-0, 17 KOs) would have been favored over Charlo if they had met and this would have been true even before Jermell's hollow performance against Canelo.
Earlier that same day, WBO cruiserweight champion Jai Opetaia returned to the ring after a 15-month absence and demolished Jordan Thompson at London's Wembley Stadium. Although Opetaia (23-0, 18 KOs) was a massive favorite, he yet turned heads by winning every minute of the fight until it was halted after only 20 seconds of round four.
Australia now has three world title-holders, two of whom (Opetaia and Tszyu) are considered the best fighters in their respective weight classes. The other is Jason Moloney who recently won the WBO bantamweight title vacated by Naoya Inoue. And for whatever it's worth, the Land Down Under has a fourth title-holder in IBF female bantamweight champion Ebanie Bridges.
There may be more in the pipeline. Sam Goodman (15-0, 7 KOs) is rated #1 at 122 pounds by the IBF and WBO. Tim Tszyu's younger brother Nikita Tszyu (7-0, 6 KOs) has the look of a future champion and some folks are high on heavyweight Justis Huni (7-0, 4 KOs) who fights later this month in Cancun, Mexico with Andrew Tabiti in the opposite corner.
Things go in cycles and right now this is something of a golden era for Australian boxing.
Weekend Afterthoughts
The Showtime PPV topped by the Canelo-Charlo fight started swimmingly. The lid-lifter between middleweights Elijah Garcia and Jose Armando Resendiz was a doozy. Garcia, a 20-year-old southpaw from the Phoenix area, eventually assumed command and put Resendiz away in the eighth, but not before Resendiz showed that his upset of former title-holder Jarrett Hurd was no fluke.
The show went downhill from there. The second fight, pitting Mario Barrios and against Yordenis Ugas, the last man to defeat Manny Pacquiao, wasn't a bad fight but too one-sided to provide great entertainment. Barrios, who had previously lost to Gervonta Davis and Keith Thurman, got his career back on track with a lopsided 12-round decision.
This reporter anticipated that the co-feature between super welterweights Jesus Ramos and Erickson Lubin would be a stirring battle with Ramos prevailing to maintain his undefeated record. I was wrong on both counts, dead wrong on the "stirring" part.
Far from a fan-friendly scrap, Ramos vs. Lubin was a snoozer. Lubin got the nod and although many thought Ramos was robbed, don't look for a rematch any time soon. Concocting a sequel would bring back a bad memory.
The main event wasn't much better. Jermell Charlo has been roundly excoriated on social media for his tepid effort. The folks that ponied up the dough to buy the pay-per-view didn't get their money's worth. But that's boxing, the Theater of the Unexpected as Larry Merchant once phrased it.
The New GGG?
Buried on last Saturday's Canelo-Charlo undercard was a 6-round contest between super middleweights Bek Nurmaganbet and Abimbola Osundairo. A 25-year-old Kazakh, Nurmaganbet advanced his record to 11-0 with a third-round stoppage. Nine of his wins have come inside the distance including the last seven, all of which ended inside three rounds.
Osundairo, a 30-year-old Chicago-based Nigerian, was a 2021 USA National Champion at 178 pounds. He was 5-0 in the pro ranks. Last year, he returned to his African homeland and won a 12-round contest to claim a regional title. On paper, he was a good match for the Kazakh.
For some readers, the name Osundairo may be vaguely familiar. That's because he was involved in a bogus fight that became a major news story. The party of the other part, who offered no resistance, was actor Jussie Smollett.
Abimbola and his brother Olabinjo were paid to simulate an attack on Smollett which they carried out at 2 am on Jan. 29, 2019, on a street in downtown Chicago. Smollett, who is black and gay, claimed to be the victim of a hate crime, but developments would show that it was all a hoax. A jury found Smollett guilty on five counts related to the obstruction of justice and he was released on bond when his attorneys filed notice of an appeal.
Although Bek Nurmaganbet has built his record on the backs of no-name opponents, it's worth noting that only one of those opponents had a losing record. Is he the successor to Gennady Golovkin as the next great KO artist from Kazakhstan? That may be asking too much, but remember his name; he bears watching.
To comment on this story in the Fight Forum CLICK HERE
The Hauser Report: Jim Lampley and Bob Sheridan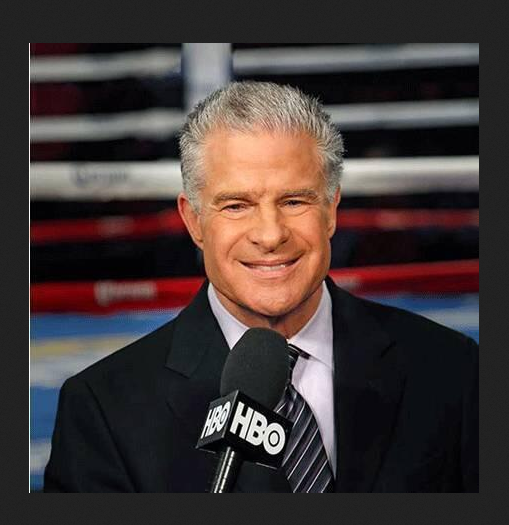 Two of boxing's greatest blow-by-blow commentators were in the news last week. On Saturday night, Jim Lampley returned to the sweet science but in a role that was different from the one he'd enjoyed for decades at HBO. Sadly, three days earlier, Bob Sheridan died.
Let's start with Lampley.
With all due respect to Sheridan (we'll talk about his remarkable body of work later), Lampley is widely regarded as the greatest blow-by-blow commentator in boxing history. He was separated from the boxing scene when HBO stopped televising fights five years ago and resurfaced in a new role with PPV.com at Canelo Alvarez vs. Jermell Charlo.
PPV.com is a division of InDemand and streams various entertainment events. As part of its business, it streamed Canelo-Charlo in English and Spanish in the United States and Canada as a source of ancillary pay-per-view income for the promotion.
On August 22, PPV.com announced that Lampley and Lance Pugmire would co-host a live viewer chat during Canelo-Charlo. In keeping with his duties, Jim was in Las Vegas during fight week to generate interest in the fight and PPV.com.
Lampley arrived in Las Vegas on Tuesday night. He was a constant presence at media events, conducting interviews and being interviewed about the fight. His presence benefited the promotion by enlarging the pool of potential buyers who became aware of Canelo-Charlo. And the attention that Jim received was a boon for PPV.com, which became a talked-about alternative platform for buying the fight.
Lampley introduced himself to his PPV.com audience on fight night at 5:04 PM west coast time with a post that read, "After almost 5 years away from live boxing, the entire last 4 days in Las Vegas and the MGM Grand Hotel, the noise, the lights, the people, it's been a hallucinogenic experience."
When the judges awarded Erickson Lubin a stunningly bad decision over Jesus Ramos, Jim declared, "So I spent four years plus away from boxing, and I guess the judging didn't get fixed."
Lampley is a superb ambassador for boxing. His involvement with Canelo-Charlo was good for the entire promotion, not just PPV.com. But fight-night chats aren't the best medium for Jim's talent. And PPV.com shouldn't be his end destination.
Part of the Jim Lampley experience for fans has always been the electric quality of his voice, a voice that generated excitement. By definition, that voice is missing in a written chat. Also, Lampley had an unmatched ability to view ring action and synthesize it into concise, perfectly-worded sound bites as it was unfolding, not several seconds afterward. In a written chat, that quality is lost in transition.
Jim Lampley belongs at ringside behind a microphone, not a keyboard.
Bob Sheridan plied his trade for decades. He had a distinctive announcing style and larger-than-life personality coupled with a love for boxing and the people he met in it.
 Sixteen years ago, I profiled "The Colonel" (as Sheridan was known). Bob's resume grew even more impressive after that, capped by his 2016 induction into the International Boxing Hall of Fame. My original article about Bob is republished below as a tribute to a man whose enthusiasm for the sweet science was contagious.
Bob Sheridan was first behind the microphone for a fight in 1966. Since then, he has called more than 800 championship bouts and become an integral part of boxing's historical soundtrack. From radio to broadcast television to closed-circuit to pay-per-view; been there, done that.
Sheridan is the international voice of boxing. He's the commentator for the foreign-rights feed on most major bouts held in the United States and also for many fights overseas that are transmitted by satellite to the US. He was at ringside when Muhammad Ali battled George Foreman in Zaire and Joe Frazier in Manila. He has called the fights of legends like Sugar Ray Leonard, Marvin Hagler, and Roberto Duran. He was behind the microphone when Mike Tyson bit off part of Evander Holyfield's ear. In large swaths of the world, his voice is synonymous with the sweet science.
Sheridan's parents were born in 1905; his mother in County Mayo and his father in County Longford. Both of them came to the United States as toddlers.
Bob was born in Boston in 1944. "None of my grandparents were educated people," he says. "But they were very family-oriented and wise. My father's father, James Sheridan, was a sheet-metal worker in Boston, who died before I could know him. He passed the trade on to my father, who later became a building contractor. My maternal grandfather, Andrew Dougherty, was a farmer in New Hampshire. He knew a lot about Irish history and politics and talked endlessly to me about them."
Sheridan went to college on a baseball scholarship at the University of Miami. "Baseball was my first love," he says. He graduated in 1966 and, that summer, played a few games at third base for the Miami Marlins, who were a Class-A farm team for the Baltimore Orioles. "There was never any chance I'd stay with the club," he acknowledges. "I'd been brought in to fill a spot until some kid they'd signed out of high school joined the team."
His first year out of college, Sheridan also taught physical education in the Dade County school system and hosted his own radio talk show on WDER-FM, a small station in Miami. "I bought my own airtime," he remembers. "It cost ten dollars for a two-hour slot between 6:00 AM and 8:00 AM every Sunday morning. If I sold more than ten dollars in ads, I made a profit."
But WDER-FM led to bigger things. The general manager for the Florida Marlins was Bill Durney, who co-hosted a radio show on WGBS (a major Florida station) with Red Barber. Barber was semi-retired and living in the Sunshine State. In earlier years, he'd been a radio and television baseball play-by-play announcer of legendary proportions. Durney introduced Sheridan to Barber.
"When I was young," Sheridan says, picking up the story, "I wanted to be Babe Ruth. I had a pretty wild lifestyle, and I used to tell people that I was Babe Ruth reincarnated, except I'd been born four years before Babe died and I couldn't play ball like him. However, I did have a tremendous ability to talk, and Red hired me. At first, I lined up interviews for him and read the sports news on his show. Then my role expanded. Red taught me a lot about the business. I learned from him that it doesn't all come from the top of your head. There's research and preparation. I prepare for every fight today like it was my first. I prepare for each undercard fight the same way I prepare for the main event. I learned that from Red Barber."
Working with Barber gave Sheridan exposure throughout Florida. Then boxing entered his life.
The first fight that Sheridan had seen in person was Cassius Clay's conquest of Sonny Liston in Miami Beach on February 25, 1964.
"Chris Dundee, the on-site promoter, called our baseball coach at Miami and asked if he could send some kids over to the arena to sell Coke at the fight," Bob remembers. "Half a dozen of us went. I think a Coke sold for a quarter back then. We each made about four dollars, but I wasn't there for the money. I was there for the fight. Clay wasn't the most popular guy in the world, but I liked him. When the main event started, I stopped selling Coke, sat down in an aisle about twelve feet from the ring, and watched the fight. Of course, none of us had any idea of the magnitude of the history that was being made."
In late-1966, Sheridan began calling Chris Dundee's fights in Miami on WGBS radio. Boxing was a popular sport back then. There were fights in town every week, and Sheridan's work became increasingly popular. "The more you do, the better you get," he says. "And as I improved, more things fell into place."
Dundee started taking Sheridan to fights out of town. He was hired to do radio color commentary for University of Miami football games. The first championship fight he called was Jerry Quarry against Jimmy Ellis for the WBA heavyweight title in 1968. Television work followed.
By the mid-1970s, Sheridan had gained a considerable following. Then his life took an unusual detour. He moved to Ireland and began raising cattle on a small farm in County Clare. "It's hard to relate to city people the pleasures of working on a farm," he says. "But remember; my grandfather was a farmer, and I loved horses and cattle."
Sheridan owned ten acres in County Clare, leased a hundred more and, at one point, had two hundred head of cattle." Then the detour got stranger.
"I figured I was breeding cattle and raising them, so why not ride them," he remembers. "I tell people, I was always a bullshitter so bull-riding was the next logical step. Anyway, I took up rodeo bull-riding. In retrospect, it was crazy. This was before flak jackets. There were a lot of bruises and I broke my back one time at a rodeo in Arkansas. I'd fly from Shannon to the United States, do a rodeo, and fly back home again. For a while, I was Aer Lingus's number-one non-commercial account. The last time I got on a bull was in 1981 at Madison Square Garden. I got bucked off in two seconds. The chute wasn't even shut before I was off. After that, I stopped. But it was a very enjoyable period in my life. Rodeo cowboys are great athletes and fun guys to be around. The characters in rodeo are like the characters in boxing."
In late-1981, Sheridan left the cattle business and moved back to Boston. "I loved every minute of it," he says. "But land became too expensive to lease." He now lives in Las Vegas with his wife of ten years, the former Annie Kelly, who was born in County Tipperary.
"I was a hard-drinking womanizing single guy for a long time," Sheridan acknowledges. "I was married once before to another Irish girl, and it was a horrible marriage because I wasn't mature enough to handle it. Whatever went wrong in that one, I'll take responsibility for it. I'm a much better husband now."
In addition to being a better husband, Sheridan is also now a fixture on the international boxing scene. He's behind the microphone for forty fight cards annually, but that doesn't begin to tell the story of his travels. In one seven-week stretch last year, he was ringside for fights in Memphis, the Philippines, St. Louis, Las Vegas, Boise, and South Africa. In 2005, he visited Australia eleven times.
Here, it should be noted that Sheridan has had four heart attacks and twelve angio-plasties. "I have heart attacks like other people have the flu," he jokes. But in the next sentences, he adds," Any health problems I've had are the result of genetics and eating and drinking too much. Don't blame boxing; the traveling isn't a problem. I get a bit tired sometimes, but there's always an adrenaline rush when the fights begin."
"I love boxing," Sheraton says as his thoughts return to the sweet science. "It's the purest sport in the world; it's the greatest sport in the world. And my enthusiasm for it is one of my strengths as an announcer. I'm not a journalist. I don't focus on the negative when I'm commentating. Sure, boxing has problems, but other sports have problems too. My job as a boxing commentator is to give people the facts and entertain the public. I never forget the brutality of boxing and how dangerous it is. I was tough enough to get on the back of a bull again and again. I'm not tough enough to be a fighter. But boxing takes poor kids without hope like Muhammad Ali and Mike Tyson and elevates them to a place where they're among the most famous people on the planet. And each fight is an event. Nothing excites me more than two great fighters getting in the ring for a championship fight."
"There's an old saying," Sheridan observes in closing. "If you find a job you love, you never have to do a day's work in your life. When I'm behind the microphone, I'm happy."
Thomas Hauser's email address is thomashauserwriter@gmail.com. His most recent book – The Universal Sport: Two Years Inside Boxing – was published by the University of Arkansas Press. In 2004, the Boxing Writers Association of America honored Hauser with the Nat Fleischer Award for career excellence in boxing journalism. In 2019, Hauser was selected for boxing's highest honor – induction into the International Boxing Hall of Fame.
To comment on this story in the Fight Forum CLICK HERE
Canelo Alvarez Returns to Form; Proves Too Strong for Jermell Charlo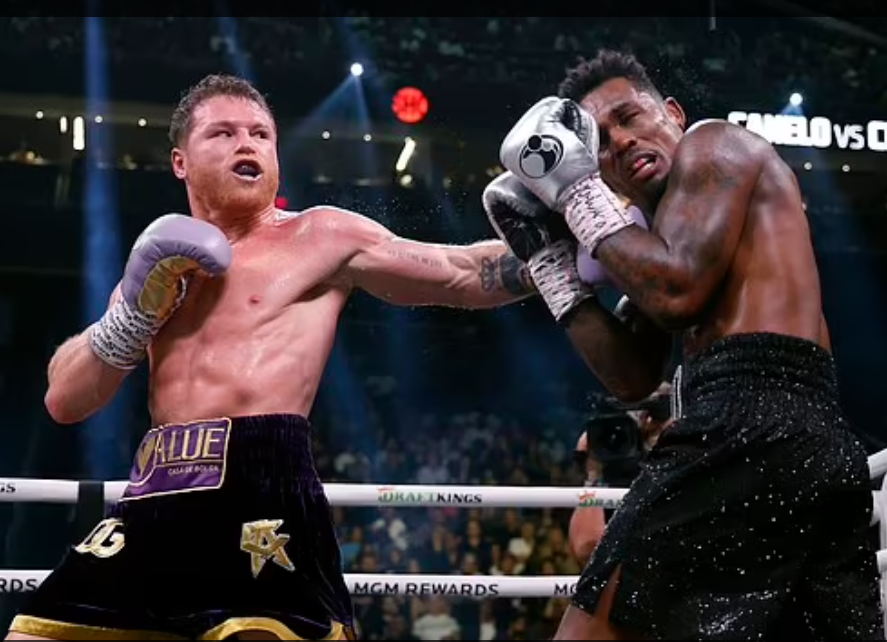 Canelo Alvarez Returns to Form; Proves Too Strong for Jermell Charlo
Daring to be great does not guarantee success.
Mexico's Saul "Canelo" Alvarez powered his way past fellow undisputed but lighter world champion Jermell Charlo for a unanimous decision in front of a pro-Mexican crowd who cheered every attack by their champion on Saturday.
The difference in weight proved daunting.
A seemingly refreshed Alvarez (60-2-2, 39 KOs) returned to form in soundly defeating Houston's Charlo (35-2-1, 19 KOs) who fired back like the champion he is at the T-Mobile Arena. More than 60 percent of the crowd seemed overwhelmingly pro-Canelo.
It was Canelo's night and he was not going to disappoint.
Though his recent performances had been subpar, the real Canelo showed up looking sharp from the opening bell. He was not underestimating Charlo, a fellow pound-for-pound fighter according to many boxing publications.
After a tenuous opening round the fight slipped into its real rhythm in the second round as the taller and more slippery moving fighter decided to engage. While inside the range of fire, Charlo opened up with jabs and a crisp left hook. Canelo stalked the taller fighter and connected twice with combinations to the head and body. Neither fighter was hurt. Charlo showcased a fast triple jab. But when he tried to clinch, he was tossed away like a dangling tree branch by the stronger Alvarez.
It was a telling moment.
"I'm a strong fighter all the time. Nobody can beat Canelo," said Alvarez.
In the third round Alvarez fired three rapid jabs and a right to the body that left the crowd in a collective exasperation. A right uppercut by Charlo connected and he was met by Canelo attacking the body viciously. Charlo held on twice.
It became apparent that Charlo could not handle Alvarez's power and strength inside the pocket. And whenever he clinched he was met by powerful left hook shots to the body and a right to the head.
Charlo showed a very good chin and resilience despite getting pounded occasionally by the Mexican redhead's body attack. It's why he was undisputed super welterweight champion.
The fighter from Houston was gambling that he could match wits against boxing's biggest draw. He was gambling that Alvarez's recent performances were proof that he was ready to be toppled. And Charlo was not going to shy away from the fire.
The lanky Texas fighter showed brilliant speed and solid defense to go along with his championship heart. In the seventh round. Canelo pressured Charlo against the ropes with three jabs and a quick right to the forehead, followed by a right uppercut to Charlo's chin. After a few seconds Charlo dropped to a knee for the count. He survived.
"We worked on that. He's a great fighter and knows how to work in the ring," said Alvarez.
For the remainder of the match, Alvarez remained in stalking mode and Charlo looking to counter with left hooks and an occasional right uppercut. Nothing seemed to work for Charlo who was hoping the rise from 154-pounds to 168-pounds would not prove a problem. It was.
After 12 rounds all three judges scored in favor of Alvarez 119-108, 118-109 twice. He retains the undisputed super middleweight world championship. Charlo will go back down to super welterweight where he reigned supreme.
"I wasn't me tonight. This is boxing. Sometimes you win, sometimes you lose," said Charlo who was knocked down for only the second time in his career. "Truthfully, you can tell the difference in the weight."
Alvarez hugged Charlo after the fight and told him he respected the gamble Charlo accepted in moving up.
"I love boxing so f——g much. Boxing is my life," said Alvarez.
Other Bouts
In a battle between reluctant contenders, Erickson Lubin captured the win by unanimous decision over Arizona's Jesus Ramos to maintain his place in line for a world title match.
"I stuck to the game plan. We came back with the victory tonight," said Lubin.
"I was in control of the fight. I'm one of the top dogs in the division."
Both super welterweights seemed hesitant to open up with any semblance of combinations. Lubin countered while Ramos worked the body with jabs. After 12 low-key rounds Lubin was declared the winner by scores of 115-113, 116-112, 117-111.
Ramos was surprised but never really formed an all-out attack.
"I was trying to show different dimensions to my game," Ramos said. "Maybe a little bit more pressure."
Mario Barrios (28-2, 18 Ks) put it all together and defeated Yordenis Ugas (27-6, 12 KOs) in a battle between ex-world champions. That left jab and left hook did all the work in picking apart Cuba's excellent fighter Ugas.
"I just concentrated on my jab," Barrios said.
Knockdowns by Barrios in the second and twelfth round proved emphatically the difference between the two former champions.
"All the work I put in paid off. Early on he hurt me with a right liver shot," said Barrios who trained in Las Vegas with Bob Santos. "I knew he was coming with it. I was prepared."
A counter left hook dropped Ugas twice.
Arizona's Elijah Garcia (16-0, 13 KOs) out-slugged Mexico's Armando Resendiz (14-2, 10 KOs) in a spirited middleweight battle and stopped the fighter in the eighth round. The 20-year-old southpaw from Phoenix connected with a powerful right hook that Resendiz did not see and that ended the regional title fight at 1:23 of the eighth round.
"He was 100 percent my toughest opponent," said Garcia.
To comment on this story in the Fight Forum CLICK HERE