Hopkins Looking Ahead, Not at 20-Year Reunion of 1st World Championship
HOPKINS LOOKING AHEAD, NOT THINKING ABOUT 20-YEAR ANNIVERSARY OF HIS FIRST WORLD TITLE
You might think that the 20th anniversary of the winning of his first world championship would be a cause of celebration for Bernard Hopkins, or at least a reason for fond remembrance.
Such an assumption would be incorrect. For all his accomplishments, Hopkins, 50, is more of a forward-thinker than a looking-past type. He might or might not have one more fight to squeeze out of his career as an active fighter, but in either case he's prepared for the next phase of a most interesting life, which the reformed ex-con envisions as a color commentator for televised boxing, a celebrity endorser, a more fully involved executive with Golden Boy Promotions or, who knows, maybe the host of a network news/entertainment show.
"I've been knowing Michael Strahan for, like, five years," Hopkins, when contacted for this story, said of his friendship with the two-time-Super Bowl-winning defensive end for the New York Giants who now co-hosts "Michael and Kelly" with Kelly Ripa weekday mornings on ABC-TV. "Michael said, `Bernard, you're a charming guy. You have personality. We have two things in common: We both like to talk, and we got that gap between our teeth."
During an hour-long discussion of what was, what is and what is yet to be, the oldest fighter ever to win a widely recognized world title made it clear that his final bout, whether it is against an undetermined opponent sometime this year or his unanimous-decision loss to Sergey Kovalev in their light heavyweight unification showdown last Nov. 8 in Atlantic City Boardwalk Hall, is not the end of Bernard Hopkins. It only marks a new beginning.
"I'm always going to have fighting in me," Hopkins said. "Physically, this year is important to me. I'm 50. There's a movement out there that I represent, and that's the 50-and-up club. If I do take another fight, it has to be meaningful. But, really, how many good fighters would want to run the risk of getting beat up by a 50-year-old man? There aren't a lot of Sergey Kovalevs out there. I give him a lot of respect for agreeing to fight me. Adonis Stevenson (the WBC light heavyweight champ), he ain't kicking down no doors to get to me or to Sergey."
And if no credible opponent signs up for B-Hop's farewell to the ring wars, after 27 years in the pro ranks?
"Then that'll be that," he said. "I'm not going to embarrass myself by begging or pleading to fight anybody."
For many champions, retirement means taking it easy, maybe eating some of the fattening food that they had to deny themselves to remain in fighting trim, and to become fixtures at card shows and other gatherings where nostalgic fans can gaze upon them and recall just how proficient they once were in the toughest, most demanding sport of all.
Hopkins doesn't intend to settle into the comfortable if somewhat dissatisfying existence of an official relic. After being a guest presenter at the 90th annual Boxing Writers Association of America Awards Dinner in New York on April 24, and then taking in the Wladimir Klitschko-Bryant Jennings heavyweight title bout in Madison Square Garden the following night, he jetted to Las Vegas the next day to serve as an expert commentator for ESPN's week-long coverage of the Mayweather-Pacquiao megafight, which comes on the heels of what he hopes was the first of many similar gigs with HBO Sports, having been a part of the broadcast team for the March 14 Kovalev-Jean Pascal fight in Montreal along with Jim Lampley and Max Kellerman. And while he is still learning a few tricks of that trade, like shortening his trademark 10-minute soliloquies, as entertaining as they might be, to more easily digestible 10-second sound bites.
"It takes some getting used to," Hopkins, Philadelphia's most notable fighter since the heyday of the late, great Smokin' Joe Frazier, said of his introduction to vocal brevity. "I can't dominate the conversation. I admit, I got a problem with that sometimes. But I'm learning you can use a few words to make a point instead of a lot of words. Jim Lampley has been working with me on that, like a mentor. He tells me to get in and get out. Just like in boxing."
As an interviewee instead of as an interviewer, B-Hop can still go the distance, rattling off lengthy responses to questions about, well, just about anything. For the purposes of this story, the subject was his first world championship victory, in his third shot at a title, when he won the vacant IBF middleweight belt on a seventh-round stoppage of Ecuador's Segundo Mercado on April 29, 1995, in Landover, Md. But, somewhat oddly, Hopkins' recollections of that fateful, life-altering encounter were not on the tip of his always-wagging tongue.
"You know, I really haven't thought about that fight in a long time," he said. "Not even for one second."
Perhaps, if you're the veteran of 28 world title bouts, including 21 during his 10-year reign as a middleweight champion, it's easy to tuck one such fight into the dustier recesses of memory. Or it just might be that Hopkins has sharper, more vivid recollections of his first two title scrums, which came up short. It nagged him that he had to wait 17 years to get a rematch with Roy Jones Jr., who won a unanimous decision for the vacant IBF middleweight crown on May 22, 1993. That festering wound was finally cleansed when Hopkins outpointed Jones on all the judges' scorecards in a non-title, light heavyweight matchup on April 3, 2010.
And it is the first scrap with Mercado, a descendant of African slaves, that Hopkins is forever apt to recall, and none too fondly. Again fighting for the vacant IBF middleweight championship, Jones having moved up to super middleweight, Hopkins seemingly was being dealt from a stacked deck, although he was ranked No. 1 by the IBF to No. 2 for Mercado. Not only was he going up against an Ecuadorean in his home country, but the lead promoter for the fight was Don King, who had Mercado, a Quito resident who presumably was accustomed to that city's thin air at an elevation of 9,252 feet. Hopkins, on the other hand, was brought in just two days before the bout (as he remembers it today) or four days before (the time line described by the Showtime broadcast crew). In either case, that was hardly enough time for Hopkins' body to adjust to the stark change in altitude.
"Oh, man, that whole trip was something else," Hopkins said. "There was a war or something going on between Ecuador and Peru. Everywhere you went, there were a lot of soldiers carrying submachine guns.
"After we arrived, I ran into (future WBA super middleweight champion) Frankie Liles and he said, `You just coming in?' This was Thursday, two days before my fight with Mercado. I said yeah. He told me he and some of the other fighters from America had been there for, like, two weeks, to get adjusted to the altitude.
"I didn't have nearly enough time to make that adjustment. Let me tell you, it does make a difference. The next day, I went out to run and got lightheaded. I could hardly breathe. Then I went to the gym that had been assigned for me and there was dog and chicken s— all over the place. I turned around and said, `Man, they want me to work out here? You have got to be kidding.'
"Butch Lewis (Hopkins' promoter at the time) found some local guy, a tour guide or something, and gave him a few dollars to find us a better place. He sent us to a gym even further up the mountain! We're being driven up there on these winding roads, with no guard rails. I'm looking out the window and you can see over the cliff. Make a bad turn, you drop all the way down and it'd have been all over. I got to the gym alive, shook out a few things, and that was it. I wasn't about to go back up there again."
So why did Hopkins arrive in Quito with so little time for get acclimated? He said he has "documentation" that Lewis, from whom he later split, had been given $100,000 by King to delay his departure for Ecuador and thus further enhance Mercado's chances to become the first professional boxer from his country to win a world championship.
"I keep stuff," Hopkins said. "They call me a hoarder, but you never know when you might need something."
What a gasping Hopkins, who was floored in the fifth and seventh rounds, needed was a second wind. Somehow he found it, dominating the closing rounds as it was Mercado who appeared to tire more down the stretch. When it was all over, the IBF title remained vacant, Hopkins coming out ahead, 114-111, on Al DeVito's card while Colombia's Francisco Hernandez had Mercado winning by 116-114. That left matters up to the swing judge, Paul Gibbs, who submitted a scorecard all even at 113-113.
The IBF-mandated rematch took place just 133 days later, at sea level and on American soil. The atmospheric change and a supportive audience must have energized Hopkins, who brutalized Mercado from the opening bell until referee Rudy Battle stepped in to wave a halt to the one-sided proceedings with 1 minute, 10 seconds remaining in the seventh round.
"If he couldn't beat me in Ecuador, he damn sure wasn't about to beat me in the States," Hopkins said. "I think Don King knew that. It was my fight to lose at that point, and I wasn't about to let that happen."
As for Mercado, the thrashing he received in Landover – Hopkins still was "The Executioner" then, 20 of his 27 victories coming inside the distance, including 12 in the first round – ruined him. He was 1-7-1 thereafter until his retirement in 2003, with six of the losses by knockout.
I asked Hopkins what might have happened had Mercado gotten the nod in their first fight, or if he had fought a Mexican for a WBC belt in Mexico or Las Vegas instead of an Ecuadorean for an IBF belt in Ecuador. Boxing politics being what they are, it is not unreasonable to presume that he would have had to wait longer, perhaps even a great deal longer, to get another shot at a world championship. Maybe he would never have gotten that opportunity to become what he became.
"That makes a lot of sense, based on history," he said. "It's happened before, plenty of times. It does give you something to think about. It probably would have put me on a different path. But there's no sense in wondering about what might have happened. My thing is to look ahead more than to look back, whether I ever throw another punch or not."
As champion, Hopkins reinvented himself. With an eye toward the longevity he was to achieve, he honed the hit-and-don't-get-hit style that has enabled him to remain at or near the top longer than any elite fighter, and that includes Archie Moore and George Foreman. He makes no apologies for the makeover that some have labeled as exciting as watching paint dry.
"Yeah, I heard how I was boring, how I was a technician," Hopkins said. "Some of it hurt. Fighters believe that the only way to be a superstar is to be `TV-friendly' or `fan-friendly.' If you're hitting and not getting hit back much, you're perceived as not being marketable. But I came to realize I had great defense and great reflexes. I could make a guy miss and make him pay. The thing is, you can do all that and still look pretty good doing it, and against real fighters.
"Why should you take punches to prove you can take a punch? That's ridiculous. It's worse than ridiculous. It's stupid."
So the onetime "Executioner," more recently re-labeled as "The Alien," is morphing into "The Elocutioner." His diction might not be velvety smooth or his grammar always perfect, but he doesn't slur his words or demonstrate any signs of a damaged brain. Those are the foremost prerequisites for someone who is eager to continue making a good living by talking. Hopkins' late mother, Shirley, once thought her son's chattiness might lead him to become a preacher or a politician, and B-Hop said his first dream was to become a disc jockey on the radio.
He found boxing instead.
"I'm in a good place," Hopkins continued. "My money's fine, my family's fine. People say,`Why don't you just rest? Take it easy?' I can't. I won't. To me, everything is a competition. It shouldn't be, but it is. That's just the way I am."
Brandon Figueroa KOs Nery and Danny Roman Wins Too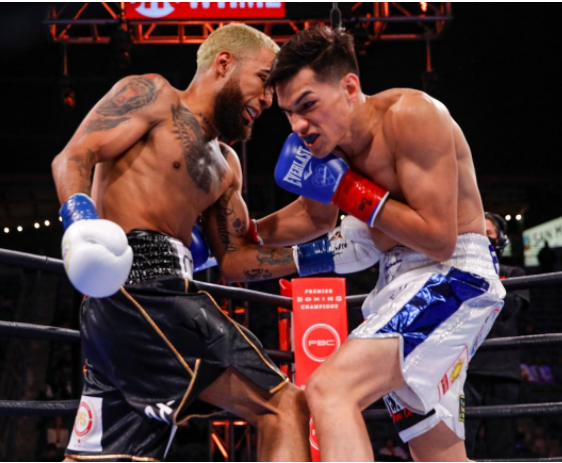 LOS ANGELES-Brandon Figueroa took the air out of Mexico's Luis Nery to win by knockout and unify the WBA and WBC super bantamweight titles on Saturday. It was a belly buster that did the job.
Texan Figueroa (22-0-1, 17 KOs) set out to prove that Tijuana's two-division world champion Nery (31-1, 24 KOs) could not endure a toe-to-toe battle with the bigger guys and he proved it before several thousand fans at the Dignity Health Sports Park.
It was a back-and-forth battle that saw Nery attack the body and head while Figueroa focused on winging big blows from a distance and in close. Many of the rounds were extremely close to score.
When Nery was able to battle from a distance and dive inside, he seemed the much more athletic between the two champions. But Figueroa just seemed stronger and unfazed by any of the Mexican fighter's blows.
Though Figueroa absorbed a lot of punishment, he never seemed in trouble. When Nery connected with a several combinations in the fifth round by landing five-punch and three-punch combinations, it looked like he was taking control.
He did not.
Figueroa opened the sixth round with two left hook blasts that reminded Nery that the taller Texan had a punch. When Nery tried to rally with his own blasts, Figueroa slipped under back-to-back left hooks. It seemed to change the tide.
"I knew he was getting tired," said Figueroa. "He was trying to box me."
In the seventh round Figueroa was able to connect with a left hook and followed up with a lead right. Nery countered with a three-punch combination that was met with Figueroa countering with a three-punch combination to the head and body. Then both fighters exchanged inside and Figueroa connected with a right to the chest and a left uppercut to the solar plexus and down went Nery.
Nery could not beat referee Tom Taylor's count and was counted out at 2:18 of the seventh round.
Figueroa is now the WBC and WBA super bantamweight unified champion.
"It feels amazing," said Figueroa. "I know everyone doubted me."
Roman Wins Super Bantam Eliminator
Los Angeles-based Danny Roman (29-3-1, 10 KOs) battered Mexico's Ricardo Espinoza (25-4, 21 KOs) to win convincingly by unanimous decision after 10 rounds in a super bantamweight fight.
After a slow start Roman began to out-maneuver the heavy-punching Espinoza and found openings for left uppercuts. Boy did he find openings.
"I concentrated on finding my distance," said Roman.
Roman snapped Espinoza's head back so many times it seemed that the Mexican fighter would not be able to last the full 10 rounds. But like most Mexican fighters he would not quit.
Espinoza tried every move in his catalogue but nothing worked against the superb technique used by Roman, who formerly held the IBF and WBA super bantamweight world titles. It was a perfect example of technical prowess defeating raw power.
The uppercut was the chosen weapon of choice and Roman exhibited how to throw it from various positions and angles. It landed perfectly every time as if targeted by a laser. Espinoza never could avoid the uppercut.
During the last three rounds Espinoza's face was bloody and battered while Roman looked as if he were merely sparring. The end seemed near but the fighter from Tijuana battled until the final bell.
"I thought he was going to go down," said Roman. "But he had a big heart."
All three judges scored it for Roman at 97-93 and 98-92 twice.
"It's a step closer to getting back my titles," said Roman who lost the titles to Murodjon Akhmadaliev a year ago by split decision. "I'm here to fight the best."
Martinez Beats Burgos
Sacramento's Xavier Martinez (16-0, 11 KOs) discovered that Tijuana's Juan Carlos Burgos (34-5-2, 21 KOs) still has plenty of fight remaining and showed it with a gutsy 10 rounds of back-and-forth battering. Still, Martinez won by unanimous decision though every round was competitive.
Boy was it competitive.
Martinez, 23, had a 10-year advantage in youth but was unable to convince Burgos. Every round saw savage combinations connect by each fighter, but the judges all felt that the Sacramento fighter was superior. All three scored it 99-91 for Martinez. The crowd booed the decision.
"I was landing the cleaner shots," said Martinez. "He's a tough competitor."
Other Results
A super lightweight match saw Jose Valenzuela (8-0) knock out Nelson Hampton (7-4) in the first round.
Gabriela Fundora (1-0) won her pro debut by unanimous decision over Jazmin Valverde (2-2) in a four round flyweight match. Fundora is the sister of super welterweight contender Sebastian Fundora.
A lightweight bout was won by Justin Cardona (5-0) by first round knockout of James De Herrera (4-7).
Check out more boxing news on video at the Boxing Channel
To comment on this story in the Fight Forum CLICK HERE
Buatsi Flattens Dos Santos in Manchester; Charr KOs Fraudulent Lovejoy in Cologne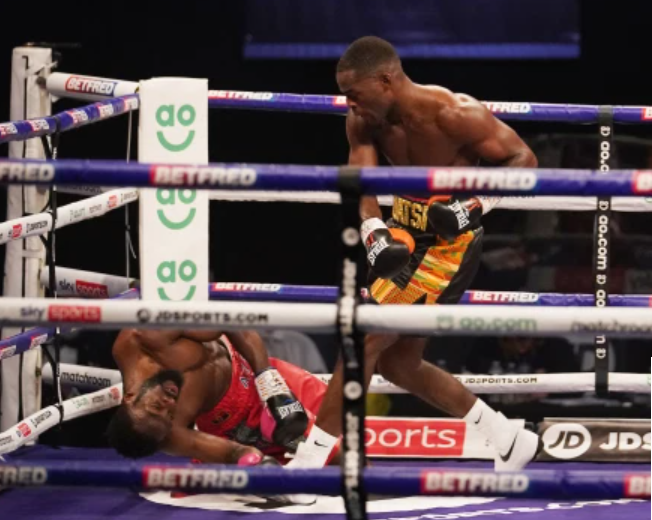 In a Knockout of the Year candidate, rising light heavyweight contender Joshua Buatsi (14-0, 12 KOs) leveled Daniel Blenda Dos Santos, an unheralded Frenchman, in the fourth round, closing the show with a pulverizing right hand – and for good measure, touching him with another right as he fell. A 2016 Olympic bronze medalist for England, the Ghana-born Buatsi trained for two months in the California Bay Area under his new trainer Virgil Hunter and his American sojourn paid dividends.
Dos Santos, who found his way to boxing after serving three-and-a-half years in prison, was undefeated (15-0, 8 KOs) coming in, but hadn't fought beyond six rounds. He was knocked down earlier in the fight with a chopping right hand. There were less than 20 seconds remaining in the fourth when Buatsi put Dos Santos to sleep, and to his credit he did not celebrate but consoled his distraught victim.
Other Bouts
In a shocker, 31-year-old southpaw Jason Cunningham improved to 29-6 (6) with a unanimous decision over Gamal Yafai (18-2) who was making the first defense of the European bantamweight title that he won in Milan.
Cunningham had Yafai on the canvas three times — knocking him down with left hands in the second, fourth and sixth rounds — but Yafai, the younger brother of former 115-pound world title-holder Kal Yafai — wasn't deterred and kept coming forward. In the end, however, Cunningham's lead was too big for Yafai to overcome. The judges had it 115-110 and 114-111 x2 for the southpaw who was a consensus 10/1 underdog.
Super middleweight Lerrone Richards breezed to a lopsided 12-round decision over Italian veteran Giovanni DeCarolis to snatch a vacant European title. Trained by Dave Coldwell, who previously handled Tony Bellew, Richards was content to rack up points and the one-dimensional DeCarolis, who was making his first start in 23 months, had no way to stop him.
The judges had it 120-108 and 119-109 twice. The London-born Richards, whose family roots are in Ghana, improved to 15-0 (3). This may have been the last rodeo for the 36-year-old DeCarolis who fell to 28-10-1.
Belfast's Tommy McCarthy (18-2, 9 KOs) was fed a softie for his first defense of his European cruiserweight title in the form of 36-year-old Romanian Alexandru Jur who brought a 19-4 record but had defeated only four men with winning records. Except for a few brief moments, Jur showed little inclination to mix it up. McCarthy put Jur down with a body punch in round four and finished him off two rounds later with another body punch. The official time was 2:09.
McCarthy, who is of Irish and Jamaican descent, moves on to a date with fellow Brit Chris Billam-Smith. Jur lost for the fourth time in his last six starts.
Cologne
Credit Christopher Lovejoy for having the gumption to defy Don King who threatened legal action if Lovejoy went ahead with his match today with WBA "champion in recess" Mahmoud (Manuel) Charr. But the 37-year-old Lovejoy, who arrived in Germany all by himself, traveled a long way to destroy whatever credibility he may have had. Fighting off the grid, he had rung up 19 fast knockouts in 19 fights against 19 presumptive Tijuana taxi drivers.
Carrying 306 ½-pounds, the six-foot-five Lovejoy lasted less than two full rounds against Charr who was making his first ring appearance in 42 months. Lovejoy was counted out after being dropped with a volley of punches in the second round.
Photo credit: Mark Robinson / Matchroom
Check out more boxing news on video at the Boxing Channel
To comment on this story in the Fight Forum CLICK HERE
Avila Perspective, Chap. 135: Danny Roman and Super Bantamweights Perform in L.A.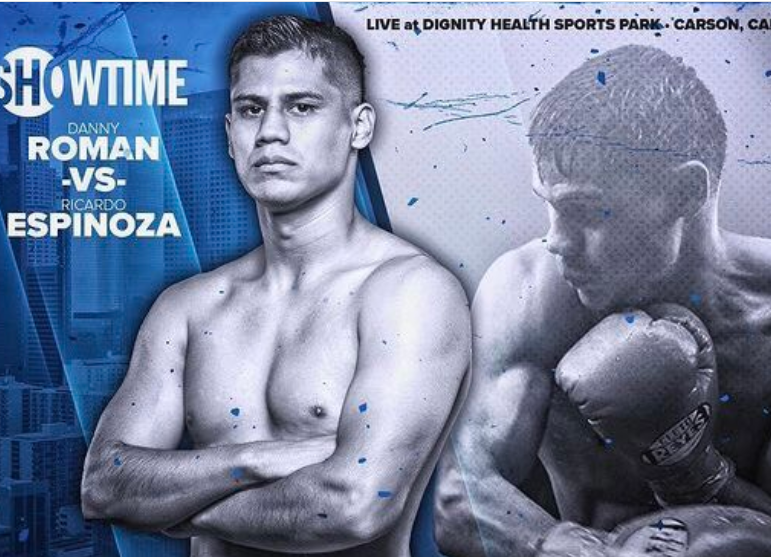 Avila Perspective, Chap. 135: Danny Roman and Super Bantamweights Perform in L.A.
The super bantamweight division was virtually unknown by most fans of prizefighting for the last decade.
Then Danny Roman arrived and re-booted the 122-pound division virtually by himself by challenging and defeating world champions from Japan and the United Kingdom.
Roman (28-3-1, 10 KOs) no longer holds the world titles but itches to regain his footing when he fights Ricardo Espinoza (25-3, 21 KOs) at Dignity Health Sports Park on Saturday May 15. Showtime will televise the battle on the Premier Boxing Champions card.
"Everything I do in boxing from here on out is to regain my status as a world champion," said the normally ultra-reserved Roman, 31.
Ironically, both Roman and Espinoza turned their careers around with numerous battles at boxing shows in Ontario, California. They entered as boys and emerged as battle-tested men.
For the last 20 years Thompson Boxing Promotions has been pumping out world champions and contenders at a furious rate despite their small size in Southern California. They do not pamper or cajole their prospects.
Both Roman and Espinoza suffered their first losses as professionals at Thompson Boxing's bloody battles at the Doubletree Hotel in Ontario. But despite losing, they continued to learn and evolve. Now they meet in Los Angeles on the big stage.
When Roman lost to Japan's Takashi Okada in 2011 and Juan Reyes in 2013, that could have derailed the Los Angeles-based fighter for good. Instead, he re-grouped and reloaded to become a unified world champion. Roman traveled to Japan and won the WBA super bantamweight world title by stoppage of Shun Kubo in 2017. A couple of years later after several defenses, he clashed with WBO super bantamweight titlist TJ Doheny to win an incredible battle by decision in Los Angeles. It was perhaps the Fight of the Year in 2019 and gained Roman the WBO belt.
Though Roman lost both the WBA and WBO titles to Murodjon Akhmadaliev, it was a disputed split decision. Many felt Roman was the true winner. So now he must battle back toward the top.
Espinoza also fought many bloody affairs at the Doubletree Hotel in Ontario including his first two losses. He lost to Sam Rodriguez in 2016 and Christian Nieto in 2017. Then the power-punching fighter from Tijuana, Mexico knocked out 12 of 13 of his opponents to gain a world title fight that he lost in April 2019. Since then, he has returned to his winning ways and upset undefeated Brandon Valdes last year.
"Danny Roman has fought some really quality opponents that are high in the rankings, but this is my time. This is when I show that I can step up in competition and prove that I belong with the best," said Espinoza who is very familiar with Roman.
The Tijuana fighter is a punching machine.
"This is not going to be an easy fight because I know my opponent is a tough fighter from Tijuana who is coming with everything he's got. He's got a lot of power, so I must be smart on how I throw my combinations," said Roman who lives within 10 miles of the event. "I believe my experience in big fights is going to be the difference on May 15. I'm expecting a rough fight and I'm ready for an intense battle."
Now the two veterans of the Ontario, California wars finally meet each other to see who advances toward a world title fight. They won't have to look far. The main event pits two titleholders against each other.
Unification Battle for Super Bantam Belts
Mexico's Luis Nery holds the WBC super bantamweight world title and faces Texan Brandon Figueroa who holds a version of the WBA super bantamweight title in the main event on the Dignity Health Sports Park card on Saturday. Showtime will televise.
Nery formerly held the bantamweight title too. But the Tijuana-based fighter had problems making weight and wisely moved up a weight division. So far, the extra pounds hasn't been a problem.
The problem facing Nery is Figueroa has a solid chin.
Figueroa may look like a pretty boy but he fights like he's ugly. The Weslaco, Texas native has firepower and a rock chin but does he have the skills to match Nery?
"I come forward. I bring the pressure and I'm definitely going to bring the power, the size and all the advantages I have to make sure that we give the fans a great show. I do respect him as a fighter but we're just going to have to find out Saturday," said Figueroa whose brother Omar Figueroa fought in the same venue two weeks ago.
Nery has quickness and agility to supplement his power. He also has experience in world class opposition and that's something Figueroa lacks.
"Brandon's style really fits with what I want to do in the ring," said Nery, a boxer-slugger. "This is going to be an all-out war from the first round on. People are going to be talking about it for a long time after."
The winner of this clash will hopefully meet the winner of Roman and Espinoza. That would really heat up the super bantamweight division to blue hot levels.
Some of my favorite fighters of the past occupied the super bantamweight division like Wilfredo "Bazooka" Gomez, Marco Antonio Barrera and Israel "Magnifico" Vazquez who twice fought in this same venue. His third fight with Rafael Marquez on March 1, 2008 was voted Fight of the Year for its brutal but spectacular display of super bantamweight power.
The winners of this quasi-super bantamweight tournament can equally achieve the same kind of greatness those former stars achieved. This is a good start.
Fights to Watch (All times are Pacific Coast)
Friday UFC Fight Pass 5:30 p.m. Heather Hardy (22-1) vs Jessica Camara (7-2); Melissa St. Vil (13-4-4) vs Olivia Gerula (18-18-4).
Friday Telemundo 11:30 p.m. Denilson Valtierra (14-0) vs Emanuel Lopez (30-12-1).
Sat. DAZN 10 a.m. Lerrone Richards (14-0) vs Giovanni De Carolis (28-9-1).
Sat. Showtime 7 p.m. Luis Nery (31-0) vs Brandon Figueroa (21-0-1); Danny Roman (28-3-1) vs Ricardo Espinoza (25-3).
Check out more boxing news on video at the Boxing Channel
To comment on this story in the Fight Forum CLICK HERE