Hopkins Looking Ahead, Not at 20-Year Reunion of 1st World Championship
HOPKINS LOOKING AHEAD, NOT THINKING ABOUT 20-YEAR ANNIVERSARY OF HIS FIRST WORLD TITLE
You might think that the 20th anniversary of the winning of his first world championship would be a cause of celebration for Bernard Hopkins, or at least a reason for fond remembrance.
Such an assumption would be incorrect. For all his accomplishments, Hopkins, 50, is more of a forward-thinker than a looking-past type. He might or might not have one more fight to squeeze out of his career as an active fighter, but in either case he's prepared for the next phase of a most interesting life, which the reformed ex-con envisions as a color commentator for televised boxing, a celebrity endorser, a more fully involved executive with Golden Boy Promotions or, who knows, maybe the host of a network news/entertainment show.
"I've been knowing Michael Strahan for, like, five years," Hopkins, when contacted for this story, said of his friendship with the two-time-Super Bowl-winning defensive end for the New York Giants who now co-hosts "Michael and Kelly" with Kelly Ripa weekday mornings on ABC-TV. "Michael said, `Bernard, you're a charming guy. You have personality. We have two things in common: We both like to talk, and we got that gap between our teeth."
During an hour-long discussion of what was, what is and what is yet to be, the oldest fighter ever to win a widely recognized world title made it clear that his final bout, whether it is against an undetermined opponent sometime this year or his unanimous-decision loss to Sergey Kovalev in their light heavyweight unification showdown last Nov. 8 in Atlantic City Boardwalk Hall, is not the end of Bernard Hopkins. It only marks a new beginning.
"I'm always going to have fighting in me," Hopkins said. "Physically, this year is important to me. I'm 50. There's a movement out there that I represent, and that's the 50-and-up club. If I do take another fight, it has to be meaningful. But, really, how many good fighters would want to run the risk of getting beat up by a 50-year-old man? There aren't a lot of Sergey Kovalevs out there. I give him a lot of respect for agreeing to fight me. Adonis Stevenson (the WBC light heavyweight champ), he ain't kicking down no doors to get to me or to Sergey."
And if no credible opponent signs up for B-Hop's farewell to the ring wars, after 27 years in the pro ranks?
"Then that'll be that," he said. "I'm not going to embarrass myself by begging or pleading to fight anybody."
For many champions, retirement means taking it easy, maybe eating some of the fattening food that they had to deny themselves to remain in fighting trim, and to become fixtures at card shows and other gatherings where nostalgic fans can gaze upon them and recall just how proficient they once were in the toughest, most demanding sport of all.
Hopkins doesn't intend to settle into the comfortable if somewhat dissatisfying existence of an official relic. After being a guest presenter at the 90th annual Boxing Writers Association of America Awards Dinner in New York on April 24, and then taking in the Wladimir Klitschko-Bryant Jennings heavyweight title bout in Madison Square Garden the following night, he jetted to Las Vegas the next day to serve as an expert commentator for ESPN's week-long coverage of the Mayweather-Pacquiao megafight, which comes on the heels of what he hopes was the first of many similar gigs with HBO Sports, having been a part of the broadcast team for the March 14 Kovalev-Jean Pascal fight in Montreal along with Jim Lampley and Max Kellerman. And while he is still learning a few tricks of that trade, like shortening his trademark 10-minute soliloquies, as entertaining as they might be, to more easily digestible 10-second sound bites.
"It takes some getting used to," Hopkins, Philadelphia's most notable fighter since the heyday of the late, great Smokin' Joe Frazier, said of his introduction to vocal brevity. "I can't dominate the conversation. I admit, I got a problem with that sometimes. But I'm learning you can use a few words to make a point instead of a lot of words. Jim Lampley has been working with me on that, like a mentor. He tells me to get in and get out. Just like in boxing."
As an interviewee instead of as an interviewer, B-Hop can still go the distance, rattling off lengthy responses to questions about, well, just about anything. For the purposes of this story, the subject was his first world championship victory, in his third shot at a title, when he won the vacant IBF middleweight belt on a seventh-round stoppage of Ecuador's Segundo Mercado on April 29, 1995, in Landover, Md. But, somewhat oddly, Hopkins' recollections of that fateful, life-altering encounter were not on the tip of his always-wagging tongue.
"You know, I really haven't thought about that fight in a long time," he said. "Not even for one second."
Perhaps, if you're the veteran of 28 world title bouts, including 21 during his 10-year reign as a middleweight champion, it's easy to tuck one such fight into the dustier recesses of memory. Or it just might be that Hopkins has sharper, more vivid recollections of his first two title scrums, which came up short. It nagged him that he had to wait 17 years to get a rematch with Roy Jones Jr., who won a unanimous decision for the vacant IBF middleweight crown on May 22, 1993. That festering wound was finally cleansed when Hopkins outpointed Jones on all the judges' scorecards in a non-title, light heavyweight matchup on April 3, 2010.
And it is the first scrap with Mercado, a descendant of African slaves, that Hopkins is forever apt to recall, and none too fondly. Again fighting for the vacant IBF middleweight championship, Jones having moved up to super middleweight, Hopkins seemingly was being dealt from a stacked deck, although he was ranked No. 1 by the IBF to No. 2 for Mercado. Not only was he going up against an Ecuadorean in his home country, but the lead promoter for the fight was Don King, who had Mercado, a Quito resident who presumably was accustomed to that city's thin air at an elevation of 9,252 feet. Hopkins, on the other hand, was brought in just two days before the bout (as he remembers it today) or four days before (the time line described by the Showtime broadcast crew). In either case, that was hardly enough time for Hopkins' body to adjust to the stark change in altitude.
"Oh, man, that whole trip was something else," Hopkins said. "There was a war or something going on between Ecuador and Peru. Everywhere you went, there were a lot of soldiers carrying submachine guns.
"After we arrived, I ran into (future WBA super middleweight champion) Frankie Liles and he said, `You just coming in?' This was Thursday, two days before my fight with Mercado. I said yeah. He told me he and some of the other fighters from America had been there for, like, two weeks, to get adjusted to the altitude.
"I didn't have nearly enough time to make that adjustment. Let me tell you, it does make a difference. The next day, I went out to run and got lightheaded. I could hardly breathe. Then I went to the gym that had been assigned for me and there was dog and chicken s— all over the place. I turned around and said, `Man, they want me to work out here? You have got to be kidding.'
"Butch Lewis (Hopkins' promoter at the time) found some local guy, a tour guide or something, and gave him a few dollars to find us a better place. He sent us to a gym even further up the mountain! We're being driven up there on these winding roads, with no guard rails. I'm looking out the window and you can see over the cliff. Make a bad turn, you drop all the way down and it'd have been all over. I got to the gym alive, shook out a few things, and that was it. I wasn't about to go back up there again."
So why did Hopkins arrive in Quito with so little time for get acclimated? He said he has "documentation" that Lewis, from whom he later split, had been given $100,000 by King to delay his departure for Ecuador and thus further enhance Mercado's chances to become the first professional boxer from his country to win a world championship.
"I keep stuff," Hopkins said. "They call me a hoarder, but you never know when you might need something."
What a gasping Hopkins, who was floored in the fifth and seventh rounds, needed was a second wind. Somehow he found it, dominating the closing rounds as it was Mercado who appeared to tire more down the stretch. When it was all over, the IBF title remained vacant, Hopkins coming out ahead, 114-111, on Al DeVito's card while Colombia's Francisco Hernandez had Mercado winning by 116-114. That left matters up to the swing judge, Paul Gibbs, who submitted a scorecard all even at 113-113.
The IBF-mandated rematch took place just 133 days later, at sea level and on American soil. The atmospheric change and a supportive audience must have energized Hopkins, who brutalized Mercado from the opening bell until referee Rudy Battle stepped in to wave a halt to the one-sided proceedings with 1 minute, 10 seconds remaining in the seventh round.
"If he couldn't beat me in Ecuador, he damn sure wasn't about to beat me in the States," Hopkins said. "I think Don King knew that. It was my fight to lose at that point, and I wasn't about to let that happen."
As for Mercado, the thrashing he received in Landover – Hopkins still was "The Executioner" then, 20 of his 27 victories coming inside the distance, including 12 in the first round – ruined him. He was 1-7-1 thereafter until his retirement in 2003, with six of the losses by knockout.
I asked Hopkins what might have happened had Mercado gotten the nod in their first fight, or if he had fought a Mexican for a WBC belt in Mexico or Las Vegas instead of an Ecuadorean for an IBF belt in Ecuador. Boxing politics being what they are, it is not unreasonable to presume that he would have had to wait longer, perhaps even a great deal longer, to get another shot at a world championship. Maybe he would never have gotten that opportunity to become what he became.
"That makes a lot of sense, based on history," he said. "It's happened before, plenty of times. It does give you something to think about. It probably would have put me on a different path. But there's no sense in wondering about what might have happened. My thing is to look ahead more than to look back, whether I ever throw another punch or not."
As champion, Hopkins reinvented himself. With an eye toward the longevity he was to achieve, he honed the hit-and-don't-get-hit style that has enabled him to remain at or near the top longer than any elite fighter, and that includes Archie Moore and George Foreman. He makes no apologies for the makeover that some have labeled as exciting as watching paint dry.
"Yeah, I heard how I was boring, how I was a technician," Hopkins said. "Some of it hurt. Fighters believe that the only way to be a superstar is to be `TV-friendly' or `fan-friendly.' If you're hitting and not getting hit back much, you're perceived as not being marketable. But I came to realize I had great defense and great reflexes. I could make a guy miss and make him pay. The thing is, you can do all that and still look pretty good doing it, and against real fighters.
"Why should you take punches to prove you can take a punch? That's ridiculous. It's worse than ridiculous. It's stupid."
So the onetime "Executioner," more recently re-labeled as "The Alien," is morphing into "The Elocutioner." His diction might not be velvety smooth or his grammar always perfect, but he doesn't slur his words or demonstrate any signs of a damaged brain. Those are the foremost prerequisites for someone who is eager to continue making a good living by talking. Hopkins' late mother, Shirley, once thought her son's chattiness might lead him to become a preacher or a politician, and B-Hop said his first dream was to become a disc jockey on the radio.
He found boxing instead.
"I'm in a good place," Hopkins continued. "My money's fine, my family's fine. People say,`Why don't you just rest? Take it easy?' I can't. I won't. To me, everything is a competition. It shouldn't be, but it is. That's just the way I am."
Jermell Charlo Unifies Super Welterweights Via Solar Plexus Punch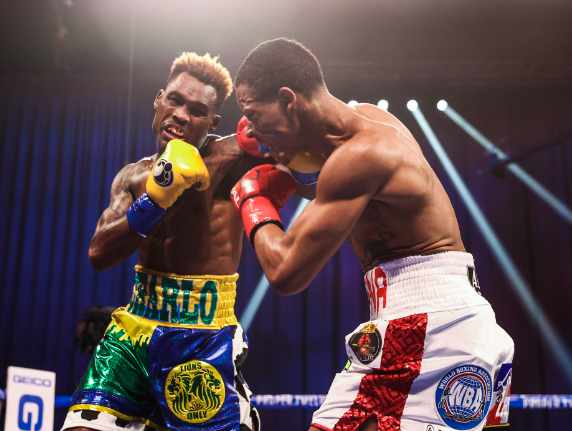 WBC super welterweight titlist Jermell Charlo knocked out IBF and WBA titlist Jeison Rosario with a knockout punch delivered to the solar plexus on Saturday to add two more belts to his collection.
"I'm definitely bringing home the straps," said Charlo.
Shades of Bob Fitzsimmons.
Back in 1897, Fitzsimmons used the same solar plexus punch to dethrone Gentleman James Corbett for the heavyweight title in Carson City, Nevada.
In another casino city Charlo (34-1, 18 KOs) floored Dominican Republic's Rosario (20-2-1, 14 KOs) three times at the Mohegan Sun Casino in Uncasville, Conn. He and his brother co-headlined a heavy duty pay-per-view card with no fans in attendance on the Premier Boxing Champions card.
Charlo jumped on Rosario quickly in the first round when he charged and clipped him with a left hook to the temple. Down went the two-belt champion for the count. But he got up seemingly unfazed.
For the next several rounds Rosario was the aggressor and put the pressure on Charlo who was content to allow the Dominican to fire away. Occasionally the Houston fighter jabbed but allowed Rosario to pound up and down with both fists.
After allowing Rosario to get comfortable with his attack, suddenly Charlo stopped moving and connected with a short crisp counter left hook and right cross in the sixth round. Down went Rosario again and he got up before the count of 10.
Charlo said it was part of the game plan.
"I'm growing and I realize that the knockout will just come," he said.
Charlo was in control with a patient style and allowed Rosario to come forward. But the Dominican was more cautious in the seventh.
In the eighth round Charlo jabbed to the head and then jabbed hard to Rosario's stomach. The Dominican fighter dropped down on his seat as if felled by a gun shot. He could not get up and convulsed while on the floor. The referee Harvey Dock counted him out at 21 seconds of round eight.
"That jab that got to him must have landed in a vital point," said Charlo after the fight. "I hope he recovers and bounces back."
Charlo now has three of the four major super welterweight world titles.
WBC Super Bantamweight Title
Luis Nery (31-0, 24 KOs) captured the WBC super bantamweight title by unanimous decision over fellow Mexican Aaron Alameda (25-1, 13 KOs) in a battle between southpaws. The war between border town fighters was intense.
Nery, a former bantamweight world titlist, moved up a weight division and found Alameda to be a slick southpaw with an outstanding jab. At first the Tijuana fighter was a little puzzled how to attack but found his groove in the fourth round.
But Alameda, who fights out of Nogales, Mexico, began using combinations and finding success.  A crafty counter left uppercut caught Nery charging in a few times, but he managed to walk through them.
In the final two rounds Nery picked up the action and increased the pressure against the slick fighting Alameda, He forced the Nogales fighter to fight defensively and that proved enough to give the last two rounds for Nery and the victory by unanimous decision. The scores were 115-113, 116-112 and 118-110 for Nery who now holds the WBC super bantamweight world title. He formerly held the WBC bantamweight title.
Roman Wins
Danny "Baby-Faced Assassin" Roman (28-3-1, 10 KOs) managed to rally from behind and defeat Juan Carlos Payano (21-4, 9 KOs) in a battle between former world champions in a nontitle super bantamweight clash. It wasn't easy.
Once again Roman fought a talented southpaw and in this fight Payano, a former bantamweight titlist, moved up in weight and kept Roman off balance for the first half of the fight. The jab and movement by the Dominican fighter seemed to keep Roman out of sync.
Roman, who fights out of Los Angeles, used a constant body attack to wear down the 35-year-old Payano and it paid off in the second half. Then the former unified world champion Roman began to pinpoint more blows to the body and head. With seconds left in the 12th and final round, a left hook delivered Payano down and through the ropes. Sadly, the referee missed the knockdown. It didn't matter as all three judges scored it identical at 116-112 for Roman after 12 rounds.
"I made some adjustments and picked up the pace and got the win," said Roman who formerly held the WBA and IBF super bantamweight world titles.
Photo credit: Amanda Westcott / SHOWTIME
Check out more boxing news on video at the Boxing Channel 
To comment on this story in the Fight Forum CLICK HERE
Jermall Charlo UD 12 Derevyanchenko; Figueroa and Casimero Also Triumphant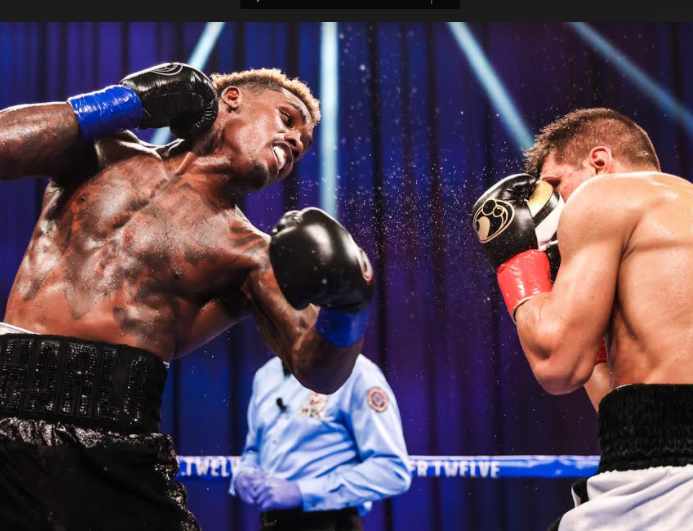 Jermall Charlo UD 12 Derevyanchenko; Figueroa and Casimero Also Triumphant
The Mohegan Sun Casino in Uncasville, Connecticut, was the site of the first pay-per-view boxing event in the United States since the Fury-Wilder rematch on Feb. 22. There were six fights in all, five of which were title fights and the other a title-eliminator. They were divided into two tiers but bundled into a package that cost approximately a dollar a round with a facile intermission tossed in at no extra charge.
The headline attraction of the first "three-pack" – and the most anticipated fight of the evening – found WBC world middleweight champion Jermall Charlo defending his title against Sergiy Derevyanchenko. The Ukrainian gave Gennady Golovkin a hard tussle when they fought in November of last year at Madison Square Garden – GGG won a unanimous decision but the scores were tight and many thought Derevyanchenko deserved the decision – and the expectation was that tonight's match would also be very competitive.  But it really wasn't although the rugged Derevyanchenko rarely took a backward step.
The fight went the distance and there were no knockdowns, but Charlo buckled his knees at the end of round three and Derevyanchenko ended the fight with cuts above both eyes. The judges had it 118-110, 117-111, and 116-112.
With Canelo Alvarez apparently headed to 168 and GGG showing his age at 38, one can make a strong case that the undefeated 30-year-old Jermall Charlo (31-0, 22 KOs) is now the top middleweight in the world. Derevyanchenko, who was 23-1 in the semi-pro World Series of Boxing before turning pro, saw his pro record decline to 13-3 with all three losses in middleweight title fights.
—
The middle fight of the first tier was a lusty encounter between Mexican-American super bantamweights Brandon Figueroa and Damien Vazquez. Figueroa, one of two fighting brothers from the Mexican border town of Weslaco, Texas, was a huge favorite over Vazquez, a Colorado native who moved to Las Vegas as a freshman in high school and had fought extensively in Mexico where he made his pro debut at age 16. But Vazquez, the nephew of former three-time world super bantamweight title-holder Israel Vazquez, came to fight and gave a good effort until the fight turned lopsidedly against him.
In the middle rounds, Figueroa's high-pressure attack began to wear Vazquez down. Vazquez had a few good moments in rounds six and eight, but when his right eye began swelling from the cut above it, he was fighting an uphill battle. He took a lot of punishment before referee Gary Rosato halted it at the 1:18 mark of round 10.
Figueroa, 23, successfully defended his WBA 122-pound title while improving his record to 21-0-1 with his 16th KO. Vazquez declined to 15-2-1.
—
The lid-lifter was a WBO bantamweight title defense by John Riel Casimero with Duke Micah in the opposite corner. Micah, from Accra, Ghana, came in undefeated at 24-0, but Casimero had faced a far stronger schedule and was a substantial favorite.
A Filipino who was been training in Las Vegas under Bones Adams, Casimero took Micah out in the third round. The Brooklyn-based Micah was somewhat busier in the opening frame, but the tide turned quickly in favor of the Filipino. Casimero hurt Micah with a left hook in round two and went for the kill. He wasn't able to finish him, but Micah was on a short leash and referee Steve Willis was quick to step in when Casimero resumed his attack after the break. The official time was 0:54.
Casimero (30-4, 21 KOs) was defending the title he won last November with a third-round knockout of favored Zolani Tete in Birmingham, England. He was slated to fight this past April in Las Vegas against Naoya Inoue, but that fight evaporated as a result of the coronavirus. After the bout, Casimero called out Inoue (and others): "I'm the real monster," he said. "Naoya Inoue is scared of me. You're next. I would have knocked out anyone today. If Inoue doesn't fight me, then I'll fight Guillermo Rigondeaux, Luis Nery, or any of the top fighters."
Check back shortly for David Avila's summaries of the remaining fights.
Photo credit: Amanda Westcott / SHOWTIME
Check out more boxing news on video at the Boxing Channel 
To comment on this story in the Fight Forum CLICK HERE
Mairis Briedis and Josh Taylor Impress on a Busy Fight Day in Europe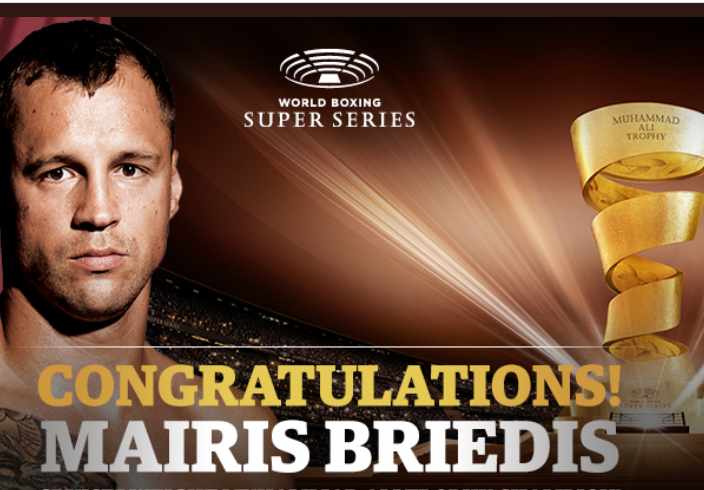 In the busiest weekend of boxing thus far in 2020, there were fights of note all over the map in Europe. The most compelling was held at the Plazamedia Broadcasting Center in Munich where the long-delayed WBSS cruiserweight final pit IBF world cruiserweight title-holder Yuniel Dorticos against Mairis Briedis. Both had only one loss on their ledger, that coming in a semifinal of Season One of the WBSS tourney.
Heading in, Briedis was recognized as the more well-rounder boxer. Dorticos had a style somewhat similar to Deontay Wilder, meaning that he was over-dependent on his big right hand. It figured that Briedis would fight with extreme caution, using his faster hands and superior footwork to keep out of harm's way, but to the contrary he wasn't afraid to trade with Dorticos and actually landed the harder punches. At the end, he captured the IBF belt and the more coveted Muhammad Ali Trophy with a majority decision. The judges had it 117-111, 117-111, and a confounding 114-114.
The first fighter from Latvia to win a world title, Briedis (27-1, 19 KOs) is now a two-time world cruiserweight champion. He previously held the WBO cruiserweight belt, but vacated it rather than adhere to the organization's mandate that he give Krzysztof Glowacki a rematch. (Their first fight, a TKO 3 for Briedis, was very messy and he was fortunate that he wasn't disqualified.) Dorticos, the Cuban defector, returns to his adopted home in Miami with a 24-2 record.
Briedis, 35, may own only one piece of the world cruiserweight title, but at the moment he is clearly the topmost fighter in the division.
York Hall, London
Apinun Khongsong's first engagement outside the Orient didn't go well for him. The 24-year-old Thai boxer with an Muay Thai background was out of his element against WBA/IBF champion Josh Taylor who dismissed him in a hurry with a "solar plexus punch" that would have made Bob Fitzsimmons proud. The punch from the left-handed Scotsman sent Khongsong to the canvas writhing in pain and he was down for several minutes before he was able to stand upright. The official time was 2:41 of the opening round.
Taylor, the Tartan Tornado, was making his first start since October of last year when he won a 12-round majority decision over Regis Prograis in a Fight of the Year candidate. His next fight may be a full unification of the 140-pound belt with Jose Carlos Ramirez in the opposite corner. Both he and Khangsong entered today's fight with 16-0 records, but Taylor, who scored his 13th knockout, was in a different league.
Undercard Bouts of Note
In a 10-round bantamweight contest, Charlie Edwards (16-1, 1 NC, 6 KOs) out-classed British countryman Kyle Williams (11-3). The referee awarded Edwards nine of the 10 rounds. Edwards, 27, previously held the WBC 112-pound title but was forced to relinquish it because he had trouble making the weight.
York Hall has been a jinx for David Oliver Joyce, the 33-year-old super bantamweight from Mullinger, Ireland, who is 0-2 in this building and 12-0 elsewhere. Joyce failed to last three rounds today in his match with Ionut Baluta. A Romanian who fights out of Bilbao, Spain, Baluta knocked Joyce down with a big left hook and then swarmed all over him when he arose, forcing the referee to intervene. The official time was 1:49 of round three.
It was the sixth straight win for Baluta (14-2, 3 KOs) and his third straight over a once-beaten opponent.
Riga, Latvia
Riga native Richard Bilotniks successfully defended his version of the European 175-pound title and advanced to the finals of the Golden Contract Light Heavyweight Tournament with a one-sided 10-round decision over Hosea Burton. A late bloomer who won only four of his first eight pro fights, Bilotnicks 30, won every round on one of the scorecards and eight rounds on the others to advance record to 17-5-1. Burton, who lost for the second time in 27 starts, let down his cousin Tyson Fury who flew to Latvia to cheer him on.
Struer, Denmark
At an arena in the city of Struer, hometown lass Dina Thorslund had a harder time than expected with Nina Radovanovic, but the Serb got no respect from the judges who didn't see fit to award her a single round. Thorslund (15-0, 6 KOs) successfully defended her WBO world 122-pound title.
In the chief undercard bout, heavyweight Filip Hrgovic (11-0, 9 KOs) moved a step closer to a world title opportunity with a second-round blast-out of late sub Alexandre Kartozia. There was no need to count when Hrgovic leveled Kartozia with a big right hand.
Check out more boxing news on video at the Boxing Channel 
To comment on this story in the Fight Forum CLICK HERE