Billion Dollar  Daddy  – At the long-awaited first official press conference to announce one of the most anticipated fights in boxing history, a dark figure emerges from the back of the stage to photobomb the customary final group picture of the main protagonists. He sneaks into the frame almost unnoticed, seeking the unearned attention of photographers, media and fans, smiling casually as he inserts himself in the moment while everyone asks what did he actually do to deserve that spot in a scene in which he hardly belongs.
We're obviously talking about the obnoxious and unnerving presence of teen pop star and bad boy wannabee Justin Bieber, one of the most inexplicable figures in Floyd Mayweather's entourage, in the final group photograph of the Mayweather-Pacquiao presser in Los Angeles on March 11th at the Nokia Theater. But we might as well be talking about an equally intrusive presence in that lineup, a largely irrelevant silhouette awkwardly pasted onto a press shot for a mega-bout that he did so much to keep from happening.
We are talking, of course, of Top Rank's big boss, none other than 83-year old Hall of Fame promoter Bob Arum, a man who has spent a significant amount of time in his career putting together some of the most significant boxing matchups of all time, and who worked almost equally as hard to keep the most profitable and most desirable bout of his era from actually coming to fruition, whether on purpose or not.
Think of it as Hemingway's fictional old man in the sea trying to actually fend off that giant marlin away from him and keeping it from actually jumping onto his canoe. Or just dragging it around just to allow sharks to tear it to pieces.
In all honesty, perhaps Arum's intention was to mirror Hemingway's tale in every possible way. After all, Santiago, the fictional fisherman, was trying to catch his elusive big prey after going 84 days without a catch. Perhaps Arum was waiting to finally become 84 years old in early December to finally hoist that heavy sea creature onto his vessel and thus make my brilliant analogy work. But the truth about Arum's role in keeping this (and other fights) from coming to fruition may lay beyond this assumption.
Timing is what makes the difference between a clash of titans in their prime and a punch-drunk waltz between two has-beens. And as the world's leading supplier of overblown main events with non-descript undercards filled with matches between young contenders and no-hopers, Arum knows that this game is all about the main event. And there is no bigger main event (possibly in history) than Pacquiao-Mayweather. Did he intentionally wanted to be remembered as the guy who stood in the way?
Maybe that's just the case. Because maybe, just maybe, Arum's diminished sense of timing is to blame for his childish obsession with delaying the negotiations and/or blatantly overpricing this bout in every possible way, some of them more active than others, with the excuse of having plotted a better revenue scenario for later. And even though some other reasons may have indeed been in play for the fight not to happen earlier, it is clear that Arum's erratic behavior in the weeks leading to the impending mega-fight between Floyd Mayweather and Manny Pacquiao constitute a revealing indication of his loss of one of the most valuable assets a promoter should have.
It ain't business, Manny. It's strictly personal
Ever since he got his start as a boxing promoter after looking at the numbers in certain tax documents related to a Muhammad Ali fight back in the late '60s thanks to his job in the Justice Department in New York and deciding that his time would be more wisely invested in that particular field (in which he had almost no prior interest), Arum grew in giant strides thanks to his ability to allow the best fighters of his era fight each other in their prime.
Three examples are enough to reaffirm Arum's claim to greatness: Ali-Frazier I, Leonard-Hagler, and De La Hoya-Trinidad. Even for the most casual of boxing fans, these are more than enough to prove the value of Arum's work as a promoter.
But just as those fights could not have been made with only one fighter in the ring, Arum did not produce those bouts on his own. For most of his most important promotions, he was forced to engage in oftentimes brutal negotiations with rival promoters, most notably his sworn enemy and fellow mega-promoter Don King. If anything, Arum's ability to deal with King's flamboyant personality and unorthodox business practices only enhanced Arum's credentials as a top promoter.
But as time progressed, the once-savvy businessman found himself running a virtual monopoly at the very top of the boxing game he once fought so hard to break into. His work with superstar pay-per-view darling Oscar De La Hoya put him in the driver's seat in the post-Tyson era of boxing, in which the once-dominant heavyweight division took a back seat to a thriving welter-middle-ish weight region. Arum's business acumen, as well as the lack of competent competitors in the scene, led him to a dominant position in the boxing landscape that extended during a good portion of the '90s and early 2000s.
But that's when disaster began to strike. His personal relationship with De La Hoya (now a promoter in his own right) deteriorated to a point in which they stopped talking to each other, and their stables began suffering the consequences of that rift. Soon enough, the sub-plot of their personal rivalry took center stage, and the chances of certain fights being made or not was directly linked to the name of the fighter's promoters instead of their own.
And the worst was yet to come.
Arum's new cash cow after De La Hoya's departure was another former Olympian he had managed to snatch away at the last minute from the hands of another promoter. That young fellow happened to be as ambitious as the young Oscar was, and soon enough he began asking for the attention and the money that he believed he deserved.
Soon enough, he would get both, and in large amounts, but only after leaving his old promoter behind.
Back in those days, Floyd Mayweather (the young rising star in question, in case you're still asking) insisted on requesting $20 million dollars to face Oscar De La Hoya. For Arum, the time wasn't right and the payout was too low. But it wouldn't be the last time he would be wrong in his prognosis.
Having grown impatient with Arum's unwillingness to produce the big fights he craved, Mayweather finally found a way to cancel his contract with Top Rank for a ridiculous sum of money (less than a million dollars) and soon enough he was on his way to face Oscar under his newly minted promotional banner.
His take for the mega-fight? A cool $25 million.
A pattern was set. A new force in boxing business was born. And a personal feud between Arum and Mayweather had arisen. A feud that, despite their occasional polite exchanges, runs deep still after all these years, and which was the driving force for not allowing the Mayweather-Pacquiao bout to materialize even in the face of an unbelievable amount of pressure from fans, media, TV networks and fighters themselves.
Soon enough, what could have been an isolated incident became the norm at Top Rank. Some of the most eagerly anticipated and long-awaited matchups in recent years failed to become a reality because of Arum's suddenly flawed sense of ripeness.
A potentially very lucrative and phenomenally attractive fight between Cuba's Yuriorkis Gamboa and Puerto Rico's Juan Manuel Lopez was put off indefinitely based on the assumption that Arum would be able to pinpoint the perfect moment in time as if on a mandate from a higher power.
Fast-forward a few years, and both fighters are on their way to becoming stepping stones for younger contenders, a few steps closer to retirement and at least a couple of million dollars none the richer thanks to their belief in a promise of a larger payday down the road.
At around the same time, the presence of two young and tough Mexican middleweights galvanized the attention of their country every time they stepped into the ring. One had the looks, the other one had the name, and they both had the style and the punching power to turn their fight into one of the most eagerly awaited rivalries in Mexico's storied boxing history.
But in Arum's mind, the fight was not going to just make money. It was going to make money rain from the sky. The huge Aztec Stadium in Mexico City was going to be filled to the rafters for the most lucrative and exciting all-Mexican fight of all times. The bout was so insistently discussed online that this scribe had to ban the very question of "when will Canelo and Junior finally fight?" from his weekly chat with the fans.
And yet, here we are only a few years later, with Julio Cesar Chavez Jr. finally released from Arum's grip and having lost by stoppage as a light-heavyweight, and Saul "Canelo" Alvarez still fighting at the super welterweight-ish level and on his way to become a superstar under the guidance of Oscar De La Hoya, and with millions of Mexican fans still holding their neatly folded dollar bills in their hands and waiting in line to buy a ticket for a fight for pride and country that will never happen.
But even though Arum's now diminished sense of momentum is to blame for those bragging rights to go unclaimed and for at least those two bouts not happening, the reason for the five-year delay in making the Mayweather-Pacquiao bout can be attributed also to Arum's unwillingness to acknowledge Mayweather not only as a fighter, but also as the rival promoter that he has become after creating his own promotional brand in The Money Team, also known as Mayweather Promotions. By placing the blame on Mayweather's controversial handler Al Haymon, Arum created a personal chasm between himself and Mayweather that soon transcended the business realm to become a personal matter.
Soon enough, Arum was comparing Mayweather with Hitler and attacking him relentlessly in the press, while Mayweather retaliated by openly calling for banishing Arum from the sport of boxing. They both publicly swore to never allow the other to pocket as much as a penny from each other's efforts.
And just when all hope was seemingly lost, a new plan popped up in Arum's mind. Another giant marlin to be hooked out of the ocean in one last heroic move to save the day, and to help him etch his name even deeper in the marbles of the pantheon of pugilism.
And the minor fact that it involved the untested drawing power of a virtually unknown fighter with only 5 or 6 professional fights hailing from a country with absolutely no boxing tradition was not going to stand in Arum's way.
The Chinaman is the issue here, Bob
"Zou Shiming is the driving force for taking pay-per-view into China," said Arum about the 34-year old flyweight contender and former Olympic star who has been showcased regularly in Top Rank's promotions in China in recent years. "They idolize him. Combine his appeal with Pacquiao-Mayweather and we are looking at numbers undreamed of before."
After turning down several offers and having some of his own offers scoffed by Mayweather's team through the years, Arum plotted a larger-than-life scenario in which the fight would collect a billion dollars. Yes, that's one thousand million dollars, most of them coming from a nation with no boxing tradition and no tested PPV structure for an event of that magnitude.
In Arum's mind, the marlin du jour could weigh as much as an elephant and still be hooked right out of the water if everyone followed his delirious master plan, which involved an elaborate architecture combining several sources of income.
Arum proposed a $5 Pay-Per-View for China, imagining that at least 10 percent of the entire population would purchase the fight to produce a staggering $650 million dollars to watch a boxing match while eating breakfast. Add to that the $300 million he aimed to make in the US at $95 for each PPV. Throw in the site fee and the large television fees from around the globe, the live gate, sponsors, merchandising and other revenue streams, and you got yourself the first billion dollar fight in boxing history.
It does sound like an idea straight out of Rocky XXV (Billions, Rocky! Think o'that! Listen to Paulie for once, will ya?), but it was an actual business proposal by one of boxing's top promoters of all time. And if it did have any effect at all, it was the rippling effect throughout the boxing industry clamoring for a voice of reason to put a stop to this insanity.
And of course, Zou Shiming did his part by being defeated in his first title challenge, which came in his 7th professional bout. The stage was set for a major change in the dynamics of the negotiation. But no one could even imagine how would the whole mess would be finally untangled.
Let's just say that, even though it did not involve the presence of lawyers or judges, the matter was solved in court.
Halfway meeting at halftime
At the not-particularly-anticipated matchup between the Miami Heat and the Milwaukee Bucks of the NBA in Miami's American Airlines Arena, two figures emerge from opposite courtside seats to meet in the middle of the court for an impromptu chat and a rare photo opportunity. They clash head-on in uncharacteristically friendly terms, immediately earning the attention of photographers, media and fans, smiling casually and engaging in a conversation captured by a picture that instantly becomes a viral internet sensation.
Call it a hail-Mary sky-hook right on the buzzer with the game on the line. Call it destiny, fate, or Mayweather's final rite of passage as the consummate self promoter he claims to be. But the truth is that the combined business knowledge of a dozen TV executives and boxing promoters was nowhere in sight when the "Fight of the Century" finally took its first baby step into life.
All it took was a halfway meeting of the most literal nature to make the fight happen, with both fighters finally coming to the realization that the fight was literally in their hands. Borrowing a page from his own history book, Mayweather took matters out of Arum's hands and into his own again and carried his proposal directly to Pacquiao in a meeting that was anything but casual.
Both men have been known for their devotion for the NBA, with Mayweather flying his personal jet to wherever there is a good game on, and Pacquiao turning his own passion for hoops up a notch by purchasing his own team in the Philippines and appointing himself as the unlikely Jackie Moon-esque point guard. Pacquiao's presence in that game was anticipated by Mayweather, who then flew specially to Miami for the occasion, and the rest is history.
Soon enough, CBS chief Leslie Moonves began unilaterally pulling the strings to bring the less relevant group of protagonists together, at the behest of none other than his usual waiter at his favorite restaurant. He invited Mayweather's advisor Al Haymon and Pacquiao's promoter Bob Arum to his house to iron out the details of a deal that had already been concocted in broad strokes by the principals themselves during a meeting after the aforementioned game in Pacquiao's hotel room, with an ironing board nearby standing as the sole witness of the event (no, seriously, who in the world set up this meeting in that place? Where is the large exotic wood table, the designer chairs, the excessive pastry and the jug of tepid tap water? C'mon, people!!).
As for Arum, everything went pretty much downhill for him after that situation. Which, if we compare to Arum's previous line of work, was like watching Arum barging into a courtroom appointment an hour late only to find out that plaintiff and defendant had already solved their matters without any outside help, and with the honorable judge Moonves simply waiting for Arum to sign off on the plea to get things going.
After that, Arum was summarily demoted to glorified mandatory chaperone of the Pacquiao entourage, trying to give the image of being calm and relevant in every event related to the fight, when it was clear that he was anything but that.
His usual business-like demeanor gave way to a cranky, oftentimes childish behavior tinged with a bitter mixture of jealousy and spite for the entire event. His dull and grandiose speech during the first press conference at the Nokia Theater, with a long and unnecessary presence at the podium, was the first sign of what loomed as one of the most awkward promotions ever put together by Top Rank.
His similarly obnoxious behavior at the last press conference on Wednesday, April 29th in Las Vegas was just another sign of his uncomfortable stance on the whole promotion. Arum also arranged for Pacquiao not to participate in the massive meet-and-greet with the fans in the lobby of the MGM Grand on the Tuesday before the fight, preferring to stage a more private event elsewhere. And obviously there was the Teleconference-Gate, where Arum ended a conference call abruptly with a profanity-laced performance at the phone, depriving the media from around the world from one of the few chances to speak with Pacquiao ahead of the most important fight of his career.
It could be said that the guilt of pricing Manny out of this fight for such a long time finally turned back on Arum to haunt him, but the truth is that the role of the promoter in these cases is as clear as Arum's refusal to abide by it, and going to such lengths to express his discontent is only going to hurt his fighter and his future business.
That, of course, is if Arum thinks there is a future for him in this business, which at the age of 83 is not easy to assure. With the promotion of the most profitable fight in history having him as the "odd man in" continuously sabotaging press events with his self-centered antics, it is unlikely that a potential rematch could have him anywhere near the driver's seat now that the true protagonists of the show know that a fruitful negotiation is just one casual meeting away, in the comfort of their favorite laundry room at their favorite hotel.
But if history has taught us something, is that ruling Arum out is never a good idea. Especially when he smells blood in the water.
Grandpa's gone fishing
In the months leading to the fight, Arum endured a sustained attack from all sides regarding his role as more of a roadblock than a mediator in the making of this fight.
He began by brandishing a unilaterally signed agreement in a vain attempt to challenge Mayweather to sign for a fight under his own terms, in a delusional move that even Don King would have ruled out as excessively extortive. He was bluntly offered a lump sum to the tune of $10 million dollars by the Mayweather camp to step aside and allow Pacquiao to negotiate on his own. He was politely asked to release Pacquiao from his contract by the fighter's own attorney in the Philippines. The desire of a lowly waiter in a restaurant somewhere weighed more than his own drive to success in the making of this event. And to top things off, he forced a simple yet important promotional tool as a worldwide conference call to join boxing's illustrious list of what-ifs and what-wouldabeens. His painful admission, a mere 9 days before the bout, that he had no idea of why tickets had not been put up for sale, was just the icing on the cake.
Bang-up job so far. And after a final self-complacent performance at the podium in the last presser of the event, in which he exchanged smirks with MGM honcho Richard Sturm (no, he was not the keyboard player for REO Speedwagon, regardless of what his hairdo might suggest) when he decided that lashing out his rage at the hosting facilities would be a lovely idea to kickstart the event, his role as big-time promoter (in the truest sense of the word) is definitely up for review.
Those situations are indeed going to play a role in his future involvement in a potential rematch. If the fight ends up being as big as everyone predicts it to be, and the rest of the main characters in this production deem Arum as more of a nuisance than anything else, his role in the eventual second part will be forced to be limited to a minimum, if anything.
But that doesn't stop Arum from believing that he can pull off an even bigger event the second time around, especially if his man wins. Even though his role in the capture of boxing's biggest marlin in history is still in dispute, Captain Arum wants to make boxing to boldly go where no other promoter has taken it before.
Whether he can do that, after having a very limited role in the first fight and with no rematch clause on the contract, remains to be seen. The age of both fighters rules out the possibility of another long negotiation, and pricing Manny out of the eventual rematch would be the final blow in Arum's ongoing bout with Father Timing.
Indeed, the promise of a gazillion dollar extravaganza rematch may not be enough to revive his once-glorious career, but that will not keep Arum from believing that he can pull it off.
And yet, even in the face of the overwhelming proof that maybe, just maybe, it's time for Arum to let that last one marlin swim free towards the sunset.
Diego Morilla, a bilingual boxing writer since 1995, is a full member of the Boxing Writers Association of America. He served as boxing writer for ESPNdeportes.com and ESPN.com, and is now a regular contributor to RingTV.com and HBO.com, as well as the resident boxing writer for XNSports.com. Follow him on Twitter @MorillaBoxing
Follow @MorillaBoxing / Billion Dollar  Daddy
Jermell Charlo Unifies Super Welterweights Via Solar Plexus Punch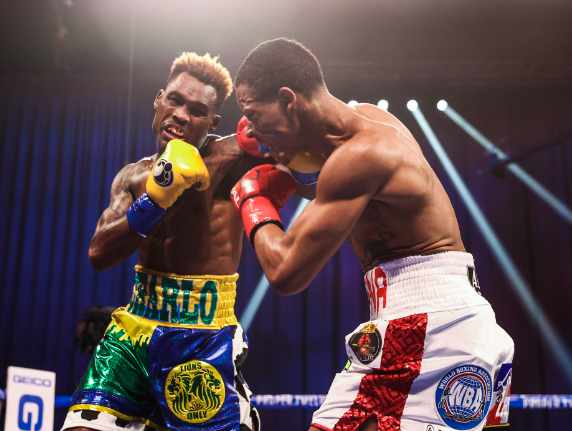 WBC super welterweight titlist Jermell Charlo knocked out IBF and WBA titlist Jeison Rosario with a knockout punch delivered to the solar plexus on Saturday to add two more belts to his collection.
"I'm definitely bringing home the straps," said Charlo.
Shades of Bob Fitzsimmons.
Back in 1897, Fitzsimmons used the same solar plexus punch to dethrone Gentleman James Corbett for the heavyweight title in Carson City, Nevada.
In another casino city Charlo (34-1, 18 KOs) floored Dominican Republic's Rosario (20-2-1, 14 KOs) three times at the Mohegan Sun Casino in Uncasville, Conn. He and his brother co-headlined a heavy duty pay-per-view card with no fans in attendance on the Premier Boxing Champions card.
Charlo jumped on Rosario quickly in the first round when he charged and clipped him with a left hook to the temple. Down went the two-belt champion for the count. But he got up seemingly unfazed.
For the next several rounds Rosario was the aggressor and put the pressure on Charlo who was content to allow the Dominican to fire away. Occasionally the Houston fighter jabbed but allowed Rosario to pound up and down with both fists.
After allowing Rosario to get comfortable with his attack, suddenly Charlo stopped moving and connected with a short crisp counter left hook and right cross in the sixth round. Down went Rosario again and he got up before the count of 10.
Charlo said it was part of the game plan.
"I'm growing and I realize that the knockout will just come," he said.
Charlo was in control with a patient style and allowed Rosario to come forward. But the Dominican was more cautious in the seventh.
In the eighth round Charlo jabbed to the head and then jabbed hard to Rosario's stomach. The Dominican fighter dropped down on his seat as if felled by a gun shot. He could not get up and convulsed while on the floor. The referee Harvey Dock counted him out at 21 seconds of round eight.
"That jab that got to him must have landed in a vital point," said Charlo after the fight. "I hope he recovers and bounces back."
Charlo now has three of the four major super welterweight world titles.
WBC Super Bantamweight Title
Luis Nery (31-0, 24 KOs) captured the WBC super bantamweight title by unanimous decision over fellow Mexican Aaron Alameda (25-1, 13 KOs) in a battle between southpaws. The war between border town fighters was intense.
Nery, a former bantamweight world titlist, moved up a weight division and found Alameda to be a slick southpaw with an outstanding jab. At first the Tijuana fighter was a little puzzled how to attack but found his groove in the fourth round.
But Alameda, who fights out of Nogales, Mexico, began using combinations and finding success.  A crafty counter left uppercut caught Nery charging in a few times, but he managed to walk through them.
In the final two rounds Nery picked up the action and increased the pressure against the slick fighting Alameda, He forced the Nogales fighter to fight defensively and that proved enough to give the last two rounds for Nery and the victory by unanimous decision. The scores were 115-113, 116-112 and 118-110 for Nery who now holds the WBC super bantamweight world title. He formerly held the WBC bantamweight title.
Roman Wins
Danny "Baby-Faced Assassin" Roman (28-3-1, 10 KOs) managed to rally from behind and defeat Juan Carlos Payano (21-4, 9 KOs) in a battle between former world champions in a nontitle super bantamweight clash. It wasn't easy.
Once again Roman fought a talented southpaw and in this fight Payano, a former bantamweight titlist, moved up in weight and kept Roman off balance for the first half of the fight. The jab and movement by the Dominican fighter seemed to keep Roman out of sync.
Roman, who fights out of Los Angeles, used a constant body attack to wear down the 35-year-old Payano and it paid off in the second half. Then the former unified world champion Roman began to pinpoint more blows to the body and head. With seconds left in the 12th and final round, a left hook delivered Payano down and through the ropes. Sadly, the referee missed the knockdown. It didn't matter as all three judges scored it identical at 116-112 for Roman after 12 rounds.
"I made some adjustments and picked up the pace and got the win," said Roman who formerly held the WBA and IBF super bantamweight world titles.
Photo credit: Amanda Westcott / SHOWTIME
Check out more boxing news on video at the Boxing Channel 
To comment on this story in the Fight Forum CLICK HERE
Jermall Charlo UD 12 Derevyanchenko; Figueroa and Casimero Also Triumphant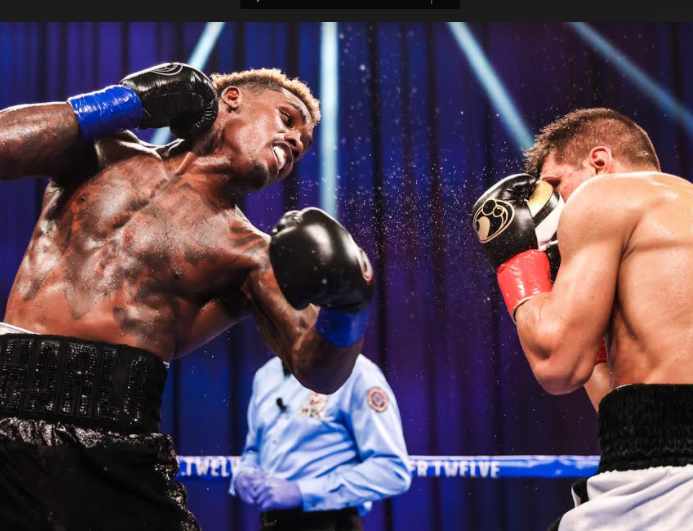 Jermall Charlo UD 12 Derevyanchenko; Figueroa and Casimero Also Triumphant
The Mohegan Sun Casino in Uncasville, Connecticut, was the site of the first pay-per-view boxing event in the United States since the Fury-Wilder rematch on Feb. 22. There were six fights in all, five of which were title fights and the other a title-eliminator. They were divided into two tiers but bundled into a package that cost approximately a dollar a round with a facile intermission tossed in at no extra charge.
The headline attraction of the first "three-pack" – and the most anticipated fight of the evening – found WBC world middleweight champion Jermall Charlo defending his title against Sergiy Derevyanchenko. The Ukrainian gave Gennady Golovkin a hard tussle when they fought in November of last year at Madison Square Garden – GGG won a unanimous decision but the scores were tight and many thought Derevyanchenko deserved the decision – and the expectation was that tonight's match would also be very competitive.  But it really wasn't although the rugged Derevyanchenko rarely took a backward step.
The fight went the distance and there were no knockdowns, but Charlo buckled his knees at the end of round three and Derevyanchenko ended the fight with cuts above both eyes. The judges had it 118-110, 117-111, and 116-112.
With Canelo Alvarez apparently headed to 168 and GGG showing his age at 38, one can make a strong case that the undefeated 30-year-old Jermall Charlo (31-0, 22 KOs) is now the top middleweight in the world. Derevyanchenko, who was 23-1 in the semi-pro World Series of Boxing before turning pro, saw his pro record decline to 13-3 with all three losses in middleweight title fights.
—
The middle fight of the first tier was a lusty encounter between Mexican-American super bantamweights Brandon Figueroa and Damien Vazquez. Figueroa, one of two fighting brothers from the Mexican border town of Weslaco, Texas, was a huge favorite over Vazquez, a Colorado native who moved to Las Vegas as a freshman in high school and had fought extensively in Mexico where he made his pro debut at age 16. But Vazquez, the nephew of former three-time world super bantamweight title-holder Israel Vazquez, came to fight and gave a good effort until the fight turned lopsidedly against him.
In the middle rounds, Figueroa's high-pressure attack began to wear Vazquez down. Vazquez had a few good moments in rounds six and eight, but when his right eye began swelling from the cut above it, he was fighting an uphill battle. He took a lot of punishment before referee Gary Rosato halted it at the 1:18 mark of round 10.
Figueroa, 23, successfully defended his WBA 122-pound title while improving his record to 21-0-1 with his 16th KO. Vazquez declined to 15-2-1.
—
The lid-lifter was a WBO bantamweight title defense by John Riel Casimero with Duke Micah in the opposite corner. Micah, from Accra, Ghana, came in undefeated at 24-0, but Casimero had faced a far stronger schedule and was a substantial favorite.
A Filipino who was been training in Las Vegas under Bones Adams, Casimero took Micah out in the third round. The Brooklyn-based Micah was somewhat busier in the opening frame, but the tide turned quickly in favor of the Filipino. Casimero hurt Micah with a left hook in round two and went for the kill. He wasn't able to finish him, but Micah was on a short leash and referee Steve Willis was quick to step in when Casimero resumed his attack after the break. The official time was 0:54.
Casimero (30-4, 21 KOs) was defending the title he won last November with a third-round knockout of favored Zolani Tete in Birmingham, England. He was slated to fight this past April in Las Vegas against Naoya Inoue, but that fight evaporated as a result of the coronavirus. After the bout, Casimero called out Inoue (and others): "I'm the real monster," he said. "Naoya Inoue is scared of me. You're next. I would have knocked out anyone today. If Inoue doesn't fight me, then I'll fight Guillermo Rigondeaux, Luis Nery, or any of the top fighters."
Check back shortly for David Avila's summaries of the remaining fights.
Photo credit: Amanda Westcott / SHOWTIME
Check out more boxing news on video at the Boxing Channel 
To comment on this story in the Fight Forum CLICK HERE
Mairis Briedis and Josh Taylor Impress on a Busy Fight Day in Europe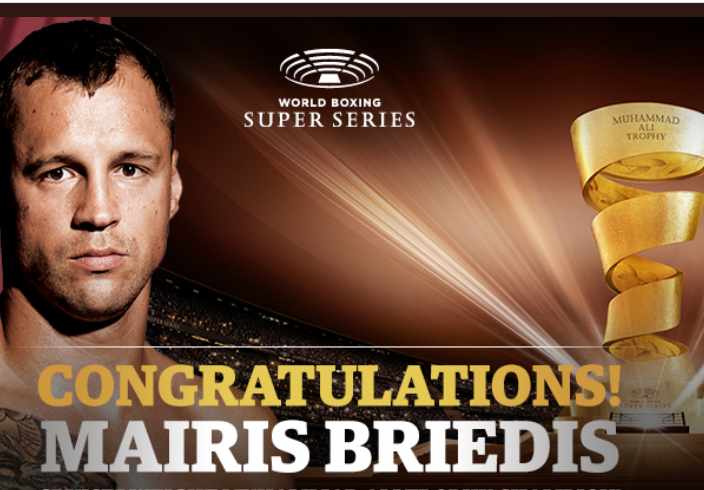 In the busiest weekend of boxing thus far in 2020, there were fights of note all over the map in Europe. The most compelling was held at the Plazamedia Broadcasting Center in Munich where the long-delayed WBSS cruiserweight final pit IBF world cruiserweight title-holder Yuniel Dorticos against Mairis Briedis. Both had only one loss on their ledger, that coming in a semifinal of Season One of the WBSS tourney.
Heading in, Briedis was recognized as the more well-rounder boxer. Dorticos had a style somewhat similar to Deontay Wilder, meaning that he was over-dependent on his big right hand. It figured that Briedis would fight with extreme caution, using his faster hands and superior footwork to keep out of harm's way, but to the contrary he wasn't afraid to trade with Dorticos and actually landed the harder punches. At the end, he captured the IBF belt and the more coveted Muhammad Ali Trophy with a majority decision. The judges had it 117-111, 117-111, and a confounding 114-114.
The first fighter from Latvia to win a world title, Briedis (27-1, 19 KOs) is now a two-time world cruiserweight champion. He previously held the WBO cruiserweight belt, but vacated it rather than adhere to the organization's mandate that he give Krzysztof Glowacki a rematch. (Their first fight, a TKO 3 for Briedis, was very messy and he was fortunate that he wasn't disqualified.) Dorticos, the Cuban defector, returns to his adopted home in Miami with a 24-2 record.
Briedis, 35, may own only one piece of the world cruiserweight title, but at the moment he is clearly the topmost fighter in the division.
York Hall, London
Apinun Khongsong's first engagement outside the Orient didn't go well for him. The 24-year-old Thai boxer with an Muay Thai background was out of his element against WBA/IBF champion Josh Taylor who dismissed him in a hurry with a "solar plexus punch" that would have made Bob Fitzsimmons proud. The punch from the left-handed Scotsman sent Khongsong to the canvas writhing in pain and he was down for several minutes before he was able to stand upright. The official time was 2:41 of the opening round.
Taylor, the Tartan Tornado, was making his first start since October of last year when he won a 12-round majority decision over Regis Prograis in a Fight of the Year candidate. His next fight may be a full unification of the 140-pound belt with Jose Carlos Ramirez in the opposite corner. Both he and Khangsong entered today's fight with 16-0 records, but Taylor, who scored his 13th knockout, was in a different league.
Undercard Bouts of Note
In a 10-round bantamweight contest, Charlie Edwards (16-1, 1 NC, 6 KOs) out-classed British countryman Kyle Williams (11-3). The referee awarded Edwards nine of the 10 rounds. Edwards, 27, previously held the WBC 112-pound title but was forced to relinquish it because he had trouble making the weight.
York Hall has been a jinx for David Oliver Joyce, the 33-year-old super bantamweight from Mullinger, Ireland, who is 0-2 in this building and 12-0 elsewhere. Joyce failed to last three rounds today in his match with Ionut Baluta. A Romanian who fights out of Bilbao, Spain, Baluta knocked Joyce down with a big left hook and then swarmed all over him when he arose, forcing the referee to intervene. The official time was 1:49 of round three.
It was the sixth straight win for Baluta (14-2, 3 KOs) and his third straight over a once-beaten opponent.
Riga, Latvia
Riga native Richard Bilotniks successfully defended his version of the European 175-pound title and advanced to the finals of the Golden Contract Light Heavyweight Tournament with a one-sided 10-round decision over Hosea Burton. A late bloomer who won only four of his first eight pro fights, Bilotnicks 30, won every round on one of the scorecards and eight rounds on the others to advance record to 17-5-1. Burton, who lost for the second time in 27 starts, let down his cousin Tyson Fury who flew to Latvia to cheer him on.
Struer, Denmark
At an arena in the city of Struer, hometown lass Dina Thorslund had a harder time than expected with Nina Radovanovic, but the Serb got no respect from the judges who didn't see fit to award her a single round. Thorslund (15-0, 6 KOs) successfully defended her WBO world 122-pound title.
In the chief undercard bout, heavyweight Filip Hrgovic (11-0, 9 KOs) moved a step closer to a world title opportunity with a second-round blast-out of late sub Alexandre Kartozia. There was no need to count when Hrgovic leveled Kartozia with a big right hand.
Check out more boxing news on video at the Boxing Channel 
To comment on this story in the Fight Forum CLICK HERE