RINGSIDE REPORT: DeGale Betters Dirrell in Boston, Grabs Title
Boxing is back in Boston and it's not a moment too soon. In the past ten years, there have been only two significant fight cards held in the city and both were at the TD Boston Garden.
The UK's Ricky Hatton defeated New Yorker Luis Collazo for the WBA welterweight title in 2006 and then two years ago, a successful pro-am show was put on there as well and featured Danny O'Connor in the main event against Derek Silveira in a regional battle.
Thanks to Al Haymon's revolutionary Premier Champions (PBC) platform, the sweet science was in full effect at the Agganis Arena on Saturday afternoon, May 23 on the campus of Boston University.
Home to the BU Terriers college hockey team, the arena hosted an NBC televised card promoted by DiBella Entertainment and Murphy's Boxing before a small but very enthusiastic crowd.
In the main event, James "Chunky" DeGale (seen above, after his win, in Freeman photo), 29, London, England, 21-1, 14 KOs, 167.2, fulfilled his obsessive dream of becoming the first Olympic Gold Medalist from Great Britain to win a "genuine" world title.
"I'm speechless," the new champion told me after the fight. DeGale defeated American Olympic Bronze Medalist Andre Dirrell, 31, 24-2, 16 KOs, Flint, Michigan, 167.8, by unanimous decision to win the IBF super middleweight championship in a tactical but relatively entertaining affair. The Brit scored two knockdowns in the second round and used his superior boxing skills to outpoint his opponent over the distance.
"Dirrell showed a lot of heart like a true warrior," said DeGale. "That second round knockdown was heavy," DeGale said of the shot that dropped Dirrell. Dirrell had his moments but they were essentially given to him by DeGale in an attempt to set Dirrell up for more of the abuse he put on Dirrell in the second. When I asked DeGale if that was the case, the Londoner confirmed my assessment of his strategy. "Also, he's such a good fighter, I couldn't be careless and make too many mistakes because he's dangerous with that left hand," he said.
After a slow first round battle of jabs, traps, and counters, DeGale picked up the pace in the second round and dropped Dirrell hard with a smashing left cross to the face. Dirrell hit the mat flat but bounced up fast, only to get sent back down from a follow-up barrage. Dirrell got his legs back in the third but DeGale pinned him in a corner late in the round and hammered his exposed chin with another hard left hand. In the fourth, DeGale slowed his attack but landed a spearing right jab to the face of Dirrell, who struggled from the outside and clinched on the inside whenever DeGale pressed his advantage in close. As the rounds went on, DeGale showed the true essence of boxing. He hit more than he got hit. His defense was tight. His counters were on point. As chants of "Chunky, Chunky" broke out in the sixth, Dirrell looked like a beaten fighter, or at the very least, an extremely frustrated one.
In the seventh, eighth and ninth, DeGale motored around the ring looking to land his big left hand again as he did in the second round. Occasionally he'd plant his feet and let Dirrell tire himself out by punching wildly at his guard. In the tenth, Dirrell responded to "USA, USA" chants with two straight left hands to the chin of DeGale as "Chunky" backed up into the ropes. DeGale seized control in the championship rounds and outboxed Dirrell to punctuate his tactical victory by official scores of 117-109 and 114-112 twice.
From ringside, I scored it 116-110 in favor of DeGale, who told me he agreed with the 114-112 scores, but that the 117-109 score was "a bit too much."
"He ran from me and they gave it to him," said a dejected Dirrell after the second loss of his career.
Edwin Rodriguez, Worcester, MA., 27-1, 18 KOs. 176, stopped Craig Baker, Baytown, TX., 16-1, 12 KOs, 175.6, in the third round of a scheduled ten. Both light heavyweights came to the ring in Red Sox baseball jerseys. Baker, an interesting character for sure, wore a Larry Bird shirt to the Friday weigh-in. It featured Bird's upside down image and read "Flip The Bird" across the front. In boxing they say you kill the body so the head will follow but Rodriguez took a different approach, targeting Baker upstairs early in an attempt to open up those exposed flanks for Rodriguez's trademark body punches. In the second round, Baker was starting to feel them as Rodriguez whipped him with long right hands downstairs. Baker stayed pesky on the inside but "La Bomba" was walking through his best punches to land his own. After five consecutive right hands from Rodriguez to the head of Baker, the referee jumped in at 2:22 of the third and called a halt, a surprise only to Baker, who was not punching back.
Baker got into boxing to lose weight. After losing more than 100 pounds in 16 professional wins, he finally lost a fight. "I was pacing myself," said the winner. "When the referee stopped it, Baker wasn't throwing back. He took my body punches well but they slowed him down. They did what I wanted them to do. It was like chopping down a tree. The accumulation was too much for him."
Danny O'Connor, Framingham, MA., 26-2, 10 KOs, 147.4, beat up Chris "Gumby" Gilbert, Windsor, VT., 13-2, 10 KOs, 146, registering a fifth round TKO to win the New England welterweight championship close to home. Bull versus matador. Brute versus brains. This is how O'Connor was able to handle the tank-like Gilbert. In the first round, Gilbert charged hard and was merely outboxed. In the second, O'Connor gored the bull with brutal left hands to the gut and Gilbert went down twice in obvious pain. By the fourth, O'Connor was in complete control of the fight and he hit the defenseless Gilbert at will up and down. In the fifth, Gilbert fell again from body punches and the referee put a stop to Gilbert's agony at 1:04.
"Gilbert was tough as nails. I didn't believe his level of skill was at my level. I could've fought down to his level but I stayed skillful. I stayed true to me," said O'Connor of the victory.
Undercard Results:
Featherweight Jonathon Guzman, 19-0, 19 KOs, Boca Chica, Dominica Republic, 124.6, stopped Christian Esquivel, 27-7, 20 KOs, Mexico, 123.2, in the corner after five rounds. The undefeated Guzman keeps his knockout streak intact in the last bout of the day.
Heavyweight Danny "Smooth" Kelly, 8-1-1, 7 KOs, Washington DC, 239.8, obliterated Curtis Lee Tate, 7-6, 6 KOs, Memphis, TN., 229.4, with three thudding knockdowns in the first round. The slaughter was wisely waved off by the assigned referee at 1:05.
Middleweight Gary "Spike" O'Sullivan, 21-1, 14 KOs, Cork, Ireland, 159.6, brutalized MelvinBetancourt, 29-2, 23 KOs, Dominic Republic, 159.6, for a scary second round knockout. Sporting a traditional green Irish kilt and bright yellow boxing shoes, O'Sullivan walked his man down and hammered him with lefts and rights before a sweet right hook put Betancourt flat on his back for the count. The pillow-fisted Betancourt had never fought outside of the Dominican Republic and it showed. Time of the KO was 2:46. Said the victorious O'Sullivan afterwards, "Anyone I hit is going to sleep. I want Gennady Golovkin. I'll knock him out."
Middleweight Immanuwel Aleem, 13-0, 9 KOs, East Meadow, NY., 159.2, knocked out DavidToribio, 21-15, 14 KOs, Dominican Republic, 159.6, at just 0:39 of the first round. A wicked left to the body sent Toribio down in a corner and a follow up right hand to the head as he fell was just the icing on the cake. Toribio was counted out with a grimaced look on his face.
Light heavyweight prospect Edwin Espinal, 6-0, 4 KOs. Providence, RI., 171, defeated Alvaro Enriquez, 5-14-2, Mexico City, Mexico, 170.4, by unanimous decision to stay undefeated. Bouncing on his toes and attacking behind a high guard, Espinal battered his Mexican opponent around the ring like a rag-doll in the first round before reducing his output in the second to choose his shots more carefully. The boom was nearly lowered in the fourth and final round when Espinal scored a hurtful knockdown from a hard right hand to the chops but Enriquez hung in there like a Mexican fighter. Scores: 40-35 from all three judges.
Super featherweight Ryan "Polish Prince" Kielczewski, 23-1, 7 KOs, Quincy, MA., 127.6 scored a first round knockout of Anthony Napunyi, 11-12, 6 KOs, Nairobi, Kenya, 125.4, to get back in the win column after his first professional loss last month to Danny Aquino in Connecticut on ESPN Friday Night Fights. Kielczewski's opponent made the ever menacing throat-slash sign at the weigh-in face off but Kielczewski made him pay for that nonsense with a vicious body attack that sent him down and out at 2:54.
Junior lightweight Logan McGuinness, 23-0-1, 10 KOs, Ontario, Canada, 136.8 decisioned Gerardo Cuevas, 17-14, 15 KOs, Mexico City, Mexico, 142, over six rounds. Cuevas brought a soft abdomen to the ring against McGuiness but that didn't stop him from dropping the Canadian with a soft left jab in the first round. McGuiness responded well by attacking the body of Cuevas who stayed feisty with his jab and busy fists. McGuiness pounded the jelly bellied Cuevas in the third and "Pipino Junior" looked a little gassed in the corner after the assault. The pace slowed considerably in the second half of the bout for both. Scores: 57-56 on all three cards.
Bantamweight Gary "Another" Russell, 2-0, 2 KOs, Washington, DC, 117.2, stopped Brandon Garvin, 0-2, 118.6, Philadelphia, PA in one round. Cornered by current WBC featherweight champion Gary Russell Jr., this Russell made short work of his opponent, dropping him with a right hook along the ropes during an exchange that left Garvin in no condition to continue. The referee appropriately stopped the fight at 1:03 of the first. This was opening bout of the show and the first bell sounded at 1:38 PM.
Boxing Odds and Ends: Canelo-GGG III and a Gary Russell Sr Tribute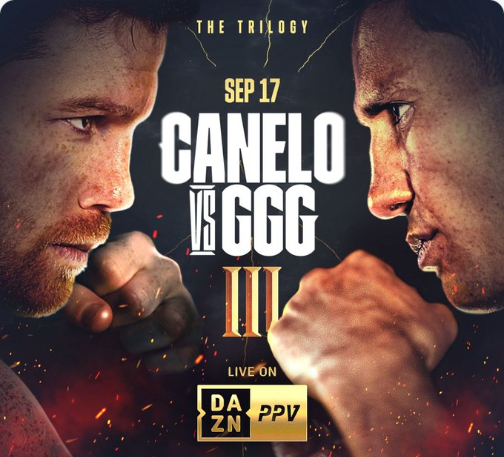 It's official. Saul "Canelo" Alvarez will bypass a rematch with Dmitry Bivol in favor of a third meeting with Gennadiy "Triple-G" Golovkin. They will renew acquaintances on Saturday, Sept. 17, Mexican Independence Day weekend, at a site to be determined, most likely the T-Mobile Arena in Las Vegas, the site of their first two battles, or AT&T Stadium in Arlington, TX (Jerry's World) where Canelo drew 51,420 for his 2016 match with Liam Smith and 73,126 for his 2021 match with Billy Joe Saunders, the latter a North American record for a boxing card at an indoor venue. At stake will be Canelo's undisputed (four-belt) super middleweight title. A career-long middleweight with one exception — his June 2019 fight with Steve Rolls was contested at the catchweight of 164 pounds — GGG will be making his first start at 168.
Canelo and Triple-G first fought on Sept. 16, 2017 and rematched a year later. The first meeting ended in a draw and Canelo won the second by a majority decision. Both outcomes were controversial.
Since then, Canelo is 7-1, adding world titles at 168 and 175. GGG, who left trainer Abel Sanchez after his second meeting with Canelo, replacing him with Emanuel Steward disciple Johnathan Banks, is 4-0, advancing his record to 42-1-1 (37). He was dominant against two soft opponents and against capable Ryota Murata, but had a very hard test with Sergiy Derevyanchenko. Of greater import from a handicapping standpoint, he turned 40, reaching that milestone on April 8. Canelo Alvarez (57-2-2, 39 KOs) is the younger man by eight years.
Pundits have criticized the powers that be for letting the trilogy fight languish until both men, but especially Golovkin, were theoretically past their prime. However, the first two encounters between these gladiators, both surefire first-ballot Hall of Famers, provided 24 rounds of white-knuckle entertainment and the third installment, a DAZN pay-per-view, is a guaranteed blockbuster.
R.I.P. Gary Russell Sr
Gary Russell Sr, the patriarch of a boxing dynasty, passed away Monday, May 23, at age 63 from complications of diabetes. Russell had been in and out of the hospital these last few months. He had his left foot amputated in December and was confined to a wheelchair.
Russell, who was raised in the crime-ridden Trinidad neighborhood of Washington DC, boxed as an amateur and passed his love of the sport on to his sons, all of whom, in the fashion of George Foreman, he named Gary. Under his tutelage, four of his sons were national amateur champions, two made the U.S. Olympic team, and three – Gary Russell Jr, Gary Antonio Russell, and Gary Antuanne Russell — are currently active professionals with a combined record of 65-2.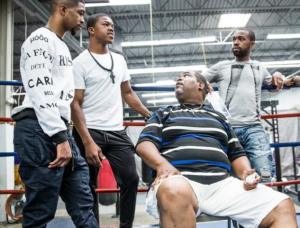 A featherweight, Gary Russell Jr, 33, is 31-2 (18). Both of his losses were by majority decision, the first to Vasyl Lomachenko and the second to Mark Magsayo in January of this year in the sixth defense of his WBC belt. He injured his shoulder during the Magsayo fight and was reduced to a one-armed boxer for most of the bout.
Gary Antonio Russell, 29, a bantamweight, last fought in November, out-pointing Alexandro Santiago to advance his record to 19-0 (12).
Gary Antuanne Russell, 25, a super lightweight, left the amateur ranks after losing a controversial decision to his Uzbekistani opponent in the 2016 Rio Olympics. As a pro he's undefeated, winning all 15 of his fights inside the distance. It is rumored that his next fight will come against former two-division world title-holder Rances Barthelemy.
Gary Russell Sr emphasized the cerebral component of boxing. "My father told me what creates a war is two fighters that didn't have a Plan B…That's what makes the difference between a good fighter and a great fighter, the level of intellect," said Gary Russell Jr. The elder Russell also encouraged his sons to invest their ring earnings in real estate.
The proudest moment for the Russell family came on May 20, 2017, the elder Russell's 58th birthday, when all three of his fighting sons appeared on the same card at the new MGM Inner Harbor in Oxon Hill, Maryland, roughly 15 minutes from the family home in Capitol Heights where the brothers first donned the mitts in a basement gym. Gary Russell Jr, Gary Antonio, and Gary Antuanne won their matches by stoppage. It was Gary Antuanne's pro debut.
As noted by award-winning writer Ronan Keenan, the event was a woolly affair marred by several brawls in the audience, but the Russell brothers brought honor to the family by their deportment, avoiding any hint of arrogance or bombast in their pre-fight and post-fight pronouncements.
Gary Russell Sr was no stranger to heartbreak. A son by a previous marriage, named Devaun, was murdered in 2004. Another of his sons, Gary Boosa Russell, died from cardiac arrest two months before Christmas in 2020.
We here at The Sweet Science send our condolences.
Arne K. Lang's latest book, titled "George Dixon, Terry McGovern and the Culture of Boxing in America, 1890-1910," will shortly roll off the press. The book, published by McFarland, can be pre-ordered directly from the publisher (https://mcfarlandbooks.com/product/clashof-the-little-giants) or via Amazon.
To comment on this story in the Fight Forum CLICK HERE
Harvey Araton Reflects on the Odd Coupling of Ali-Liston II and Lewiston, Maine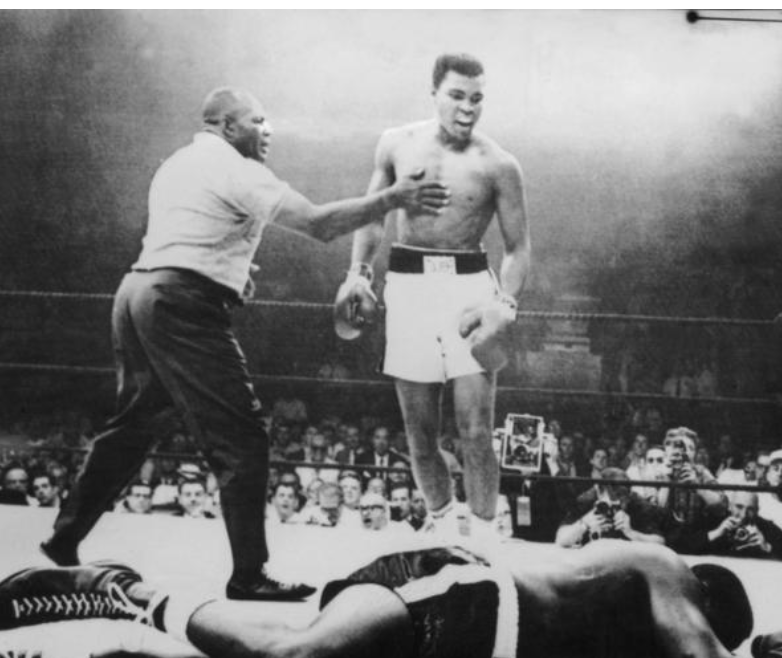 Harvey Araton Reflects on the Odd Coupling of Ali-Liston II and Lewiston, Maine
It's rarely the case, but in a few instances a heavyweight championship fight has been staged in a small town like Shelby, Montana, or Lewiston, Maine.
The latter was the case 57 years ago this week — May 25 to be exact — when Muhammad Ali faced Sonny Liston for the second time in 15 months.
In the initial meeting, Ali, then Cassius Clay, stunned the world by stopping and taking away the Big Bear's title with a sixth-round technical knockout in Miami Beach.
In the rematch, Ali's short right hand proved to be the knockout punch, but many called it the "Phantom Punch," because few in the throng of 2,434 inside Lewiston's St. Dominic's Arena actually saw the blow land.
Looking back, just how did a town of around 40,000 inhabitants and 142 miles north of Boston, actually host the second meeting?
Longtime New York City sportswriter Harvey Araton penned a feature that ran on May, 19, 2015 in the New York Times on just how that unlikely hamlet of Lewiston, at least for one night, became the boxing capital of the world.
"For the old timers in Lewiston, that fight is the equivalent of hosting an Olympics, an event that for decades has defined its identity, even more so after the city fell into disrepair following the decline of its textile industry and the closing of its mills," said Araton, who worked at the Staten Island Advance, the New York Post, and the New York Daily News preceding a 25-year stint at the New York Times including a decade and a half writing the "Sports of the Times" column.
"The filmmaker I met who talked about what Ali yelled at Liston as he lay on his back – "Get up and fight!" – and how it enhanced the fight's legacy in Lewiston as it struggled to revive itself was just perfect for my story. I'd like to think it has also come to reflect the rise of the Somali immigrant community, what it has had to go through in order to find a home and to overcome the standard fear and loathing of immigrants to share its restorative efforts in the city."
When Araton visited Lewiston on the fight's 50th anniversary, the townsfolk were proud.
"There certainly was a nostalgic quality to the city of Lewiston with the retention of its old, industrial feel, but especially in the arena where the fight took place. Beyond the facelift it was given several years ago, more to its facade than anything else, it still resembles what I described in the story as a cross between an old barn and an airplane hangar," he said. "And while I wouldn't say time is frozen inside, you didn't have to stretch your imagination too far to feel what fight night must have been like, all of it enhanced by the folks I found who actually attended. And who, 50 years after the fact, were surprisingly vivid in their recall."
While Ali was famous before this matchup, he became even more recognizable after it.
"To a degree, yes, this fight, more than the first one with Liston, arguably made the new champ more of a household name, for several reasons (though I would go easy on the global aspect of it, given the technological disconnectedness of the time). First and foremost, the chaotic and controversial nature of the fight was unavoidable," said Araton, the author, co-author or editor of nine books including "When The Garden Was Eden: Clyde, The Captain, Dollar Bill And the Glory Days Of The New York Knicks" and "Driving Mr. Yogi: Yogi Berra, Ron Guidry And Baseball's Greatest Gift."
"Two, with the name "Muhammad Ali" stitched onto his white robe, that was unquestionably more of an attention-grabber than Clay (even if much of the media refused to call him Ali). Finally, for those (including my dad Gilbert) who were turned off by Ali's brashness and preferred to think of the Miami bout as a fluke or even a setup to have Liston put him to sleep in the rematch, the quick work Ali made of Liston essentially suggested to fans everywhere (of what was then a far more popular sport than today) that they might want to get used to this mouthy showman. He was going to be around for a while."
Araton, who received the prestigious Curt Gowdy Award in 2017 (given annually to print/digital and broadcasting members of the media), said he had to talk his editors into letting him write the piece.
"This one was self-generated all the way. I even had to do a bit of a sales pitch for my editors, who weren't in love with retrospective pieces. By 2015, I knew I wasn't going to be a full-time sports journalist for much longer. I had tired of the traveling, the late-nights at live events, the calls for a deadline column that uprooted a dinner plan or a day with my family," he said. "There
wasn't for me a great sense of unfinished business, events I hadn't had the good fortune of covering. But I had always wondered about that fight – how the hell did it wind up in Lewiston, of all places? I mean, there were obvious details about the Boston situation, but I wanted to know the full story. More than that, I was dying to find out if I could interview anyone who actually attended the fight. I really thought I'd be lucky to locate one or two. But lo and behold, there were several – including the former Bates students – who were either at the fight or connected to it, one way or another. And, of course, the story ultimately evolved to being about Lewiston as much as it was about the fight. That's what I always loved about journalism: the idea is what merely gets you moving in the pursuit of a story."
Like so many at that time, Araton listened to the fight on the radio. "I mentioned my father earlier – he wasn't much of a sports fan but he grew up on the Lower East Side of Manhattan, had a cousin who was a boxer and loved a good boxing match. And as I also mentioned, he didn't care much for Ali, while I, like so many other kids, found him compelling, especially compared to the dour, menacing Liston," he noted. "So that night, he set up the radio on the kitchen table in our Staten Island housing projects apartment, as he typically did for a big fight that wasn't on TV. I had just turned 13, apparently old enough to be teased: "Liston's gonna give it to him good.
"Just as the start of the fight approached, I had to hit the bathroom, and after taking care of business in there, I emerged to see him pulling the plug from the socket and returning the radio to the shelf where he kept it. "Go to bed, it's over," he said. I was confused – "whaddaya mean, it's over?" He huffed, "Clay knocked him out." I went off to my room happily."
The fight lasted one round and some thought it was fixed. Jimmy Cannon, the legendary sportswriter sitting ringside said of the knockout punch: "It couldn't have squashed a grape."
"I asked that question to all I interviewed who'd attended the fight. Most told me they managed to miss the moment of the punch – looked away, or sipped a beer, or whatever," said Araton, "But one guy, a former IRS agent named Bob Pacios, insisted he'd had a clear and elevated line of vision from behind Ali and saw Liston step into the blow to the side of his face. He even diagrammed what he saw on a napkin. So, I'll go with what he testified, while also factoring in that Liston did get up and the fight sort of continued as the ref, Jersey Joe Walcott, went over to consult the timekeeper. Which, I suppose, could obfuscate the hardcore belief that he took a dive. Also, while Ali was no knockout artist, he certainly was a very large man with lightning-fast hands. In other words, the one-punch takeout was plausible."
Araton never covered any of Ali's fights, but he did see him up close on one occasion.
"I met him once at the baggage claim at one of the New York-area airports, can't remember which one, or the year, but it was well after he'd been afflicted by Parkinson's," he said. "I was waiting for my bag, minding my business, when I noticed him standing with his wife, Lonnie, at the carousel right next door – of course with people gawking all around him. I just had to go over and say something, anything. I introduced myself as a New York Times sports columnist, and a fan, and mentioned one of my mentors in the newspaper business – Vic Ziegel, who'd covered prime Ali for the New York Post. He smiled, made a fist and said something to the extent of, 'You tell him I'm looking for him!'"
Araton said he did see the three-time heavyweight champion from a distance.
"Having covered the Atlanta Summer Olympics in 1996, I was also in the stadium when he appeared with the torch, in what had to be the greatest ceremonial sports moment of our times," he said. "It takes no special insight to call Ali a great historical figure, incredibly courageous, transcendent of his sport, all sports and pretty much everything else. But also a man with some troubling contradictions – tough to stomach, for instance, how he demeaned Joe Frazier, even when rationalized for the purpose of selling the fights. And shame on the press for laughing along, or even portraying Frazier as a tool of the white establishment."
Araton went on: "When Ali died, I was wrapping up my 25 years at the Times (as I'd anticipated before doing the Lewiston piece the previous year) and was covering the NBA finals in the California Bay Area. My older son, Alex, was quite upset by the news. He was, after all, the son of a sports columnist who happened to be fascinated with the Ali legend. He kept texting me, encouraging me to write something, while I reminded him that the Times tributes had all been prepared well in advance of Ali's death, as almost all are for the truly great ones. But when he insisted, I finally relented, and stayed up into the wee hours to finish a piece that I posted on a blog site I had created but seldom used.
"Strangely enough, once posted to the blog site, it appeared on my Twitter feed and a media critic for Sports Illustrated included it on a list of Ali tributes he liked. That provided it with far more readers than I'd imagined it would get. Which gets back to my earlier point of how Ali as a phenomenon was much easier to propagate globally by 2016 than he was in 1965."
Harvey Araton's blog piece bore the title "Ali, Connector of Generations." Here's a link to it.
http://www.harveyaraton.com/the-araton-blog/ali-connector-of-generations
To comment on this story in the Fight Forum CLICK HERE
R.I.P. Les Bonano (1943-2022), Linchpin of Boxing in New Orleans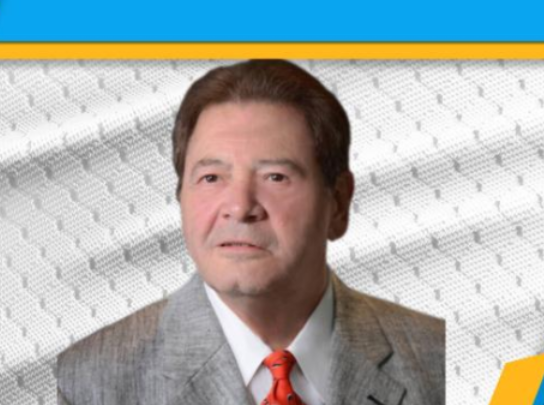 Les Bonano, a fixture on the New Orleans area boxing scene for 50 years, passed away on Saturday night, May 21, at his home in Slidell, Louisiana, surrounded by his wife of 60 years, Mary, his four children and his eight grandchildren. Bonano, who had been in and out of the hospital in recent months with kidney problems, was 79 years old.
Bonano joined the New Orleans Police Department in 1965 and patrolled the French Quarter, one of America's most harrowing beats. In 1974, while working for the New Orleans Parish Sheriff's Department, he was charged with starting an intramural sports program to relieve tensions at the parish prison. He began with basketball and then added boxing. Somewhat later, he opened a gym and took to training, managing, and promoting fighters. He retired from law enforcement in 1981 to give boxing his full attention.
Bonano was poised to seize the moment when neighboring Mississippi legalized gambling in 1990. He carved out arrangements with Gulf Coast casino resorts in Biloxi and Bay St. Louis to keep his fighters' busy. Many of the shows that he facilitated were mid-week shows that aired on the old USA cable network.
Bonano never had the satisfaction of managing a world champion, but he came awful close with Melvin Paul who lost a controversial decision to Charlie "Cho Choo" Brown in the inaugural IBF lightweight title fight. Others in Bonano's stable who went on to compete for world titles include Jerry Celestine, Anthony Stephens, and John Duplessis. Celestine, a light heavyweight who fought Michael Spinks, was an alumnus of Bonano's prison program.
More recently, Bonano promoted Jonathan Guidry, the Dulac, LA heavyweight who made a surprisingly strong showing against WBA (secondary) title-holder Trevor Bryan on a Don King promotion in Warren, Ohio.
In July of last year, Les Bonano was formally inducted into the Greater New Orleans Sports Hall of Fame with the class of 2021. "He is perhaps the final ruler of what remains of a fraying and depleted boxing kingdom in the formerly great fight city of New Orleans," wrote Hall of Fame boxing writer Bernard Fernandez, a New Orleans native, in a tribute that ran on these pages.
We here at The Sweet Science send our condolences to the Bonano family. May he rest in peace.
To comment on this story in the Fight Forum CLICK HERE