The Fifty Greatest Light-Heavyweights of All Time Part One – 50-41
Constructing a top 100 pound-for-pound was a difficult task, but far more tortuous was my attempt last year to construct a top 100 at heavyweight. The workload of research and footage was no heavier, but I had overlooked the fact that the distinction between fighters ranked even twenty places apart would be tiny; in some cases almost meaningless.
Or at least, that was the case where the lower order was concerned. The top fifty was more cohesive. This was encouraging, and probably rescued my determination to construct thorough ATG lists for each of what is now typically known as "the eight original weight classes." What you are now reading is the third such list, but the first one that is made up of only fifty fighters. Despite this I hope it loses considerably less than the fifty percent in worth one might imagine. Just as was the case with the heavies, right outside the top fifty things become extremely soft. There are around thirty fighters with a claim for spots #48 through #60 with very little to separate them and this makes their ordering rather meaningless. Within the fifty, the light-heavyweights come alive, suddenly vibrant and distinct. Ahead there are surprises but they are surprises formed by opinion based upon the facts that made up the careers these great fighters enjoyed and endured.
First among those surprises: no Bob Fitzsimmons, and no Jack O'Brien. In appraising light-heavyweights I haven't gone any further back than 1903 and the point in history that is often seen as beginning of the division with Jack Root's defeat of Charles McCoy. There were other dates that would have served almost as well, but this is the one I have selected.
Both Fitzsimmons and O'Brien held the title after this point, but both also did the bulk of their work before this point. If this seems a little unfair, consider that both were credited on the pound-for-pound list and on the heavyweight list for these earlier fights. Anything fought above middleweight in the earliest days of gloved boxing was considered a heavyweight fight, and this is how they were appraised by me.
Further to that, no fighter is credited more than once for any contest. For this reason, fights fought by men usually held to be light-heavyweights that were fought above the light-heavyweight limit will be considered to have engaged in a heavyweight contest and will not be credited here. As a rough guide, fighters matched at below 164lbs are generally held to have fought a middleweight contest and fighters matched at 180lbs and above are fighting at heavyweight. Also the weight class in question is always defined by the heavier fighter. If a 173lb man is fighting a 203lb man, he is engaging in a heavyweight contest. This list is interested almost exclusively in fights that took place within the light-heavyweight class.
As to what is considered for placings: opposition bested is the most pressing consideration. "Who did he beat?" is always the first question I ask, quickly followed by "how?" Ability on film, where it can be seen, plays a part, as do prime losses, dominance, and certain other intangibles that can make the difference between a lower spot and a higher one as they throw indistinct shapes from history into focus.
That's the dull stuff out of the way – now let me introduce you the fifty greatest light-heavyweights of all time.
This, is how I have it:
#50 – Michael Moorer (52-4-1)
Michael Moorer rustled up just 22-0 at light-heayweight and he squeezed the usual quota of sharpening stones into his formative years. Heavyweight was where he made his reputation and his money, 175lbs was doubtless an aperitif and this is reflected in his ranking. In a sense, Moorer is the troubled soul of what has been a difficult project. From Freddie Mills (who falls outside the fifty) to Archie Moore (who, you will be unsurprised to hear, we won't visit with until part five), a majority of these men spent the majority of their boxing lives rubbernecking the heavyweight division. As Moorer's own career demonstrated, even the perpetual growth of the heavyweight division between Larry Holmes and Wladimir Klitschko hasn't discouraged 175lb fighters adding thirty-fifty pounds and hurling themselves against the heavyweights.
My strict consideration of what a fighter achieves in the light-heavyweight division might, therefore, result in some interesting rankings, but Moorer's place at #50 demonstrates that a part-time light-heavyweight can still receive his due. There are perhaps twenty other men that could have scooped this spot but what edged Moorer in through the closing door was not what he did but the way that he did it. Ramzi Hassan was his first visitation upon a ranked fighter and it was a brutal one. Moorer clubbed him out in five to claim a strap. Victor Claudio followed forty days later in two. Frank Swindell was coming off a first round stoppage of the once great Matthew Saad Muhammad when he took on Moorer forty days after that. Before the fight, Moorer spoke about being extended the full twelve by "tough guy" Swindell; the tough guy managed six rounds. He didn't win any of them. By the time of his final light-heavyweight contest in December of 1990 he was boxing with the type of destructive surety that spoke of a possible reign of greatness.
It was not to be. A paucity of top class opposition in tandem with the eternal thirst of the light-heavyweight to become just a plain old heavyweight means he can rank no higher, but a 100% KO record and 22-0 squeezed into just 34 months means he cannot be ignored.
A final note – Moorer also ranked in my heavyweight top fifty…at #49. The temptation to rank him at #49 here was almost overwhelming.
#49 – Joe Knight (103-19-11)
But that slot is inhabited by the unheralded Joe Knight who will stand firm as the most underrated fighter on this list almost regardless of who else we come across on our travels; frankly only the hardcore among even a readership as well informed as that of the The Sweet Science will even have heard of him.
There are reasons for this. Despite being the beneficiary of alphabet-belt shenanigans that would make a 1980s heavyweight blush, Knight never lifted the legitimate, lineal light-heavyweight title, although he did get his shot, in February of 1934. The incumbent champion was the eccentric and brilliant Max Rosenbloom, as perplexing a riddle as can be seen in the opposite corner for a light-heavyweight title fight. But Knight had already solved Rosenbloom two years earlier, defeating him over ten rounds in 1932 and he was neither intimidated nor bamboozled. Rather he marched calmly in and fed the champion a steady diet of hooks to the body, giving him a sizeable lead going into the eleventh according to the great Tommy Loughran, who was in attendance. Rosenbloom, who had named Knight "the second best light-heavyweight in the country", was a king, however, and an experienced one. He finished the stronger, dominating the final two frames to salvage a draw and his title.
This in turn illuminates the second reason for his lack of historical impact: a certain lack of aggression even with a hurt opponent on the hook in an important fight. He let the superb Tony Shucco clamber off the deck to rescue a draw in 1935 and his failure to put away a hurt opponent cost him a loss in a rematch the following year; a similarly wounded Patsy Perroni was able to draw level on the cards in 1936. But for all that, Knight's decade was a healthy and impressive romp through a tough crew of fighters, losing a series with Bob Goodwin, winning one with Rosenbloom, outworking numerous other solid professionals to rank among the ten best in the world.
It's true that he lost nineteen, but given that he only won five of his last ten and twelve of his first twenty, those one-hundred wins built for the most part during a superb prime run earns him the #49 spot I wanted to give to Moorer. It is fitting that a boxer who remained almost exclusively a light-heavyweight for his entire career should out-rank one who departed for heavyweight within three years.
#48 – Anton Christoforidis (54-15-8)
Anton Christoforidis runs Joe Knight close for the title of the most underrated fighter on this list. In 1943 he suffered back to back defeats against Jimmy Bivins, a fight he always held he won, and Lloyd Marshall, who he admitted had bested him. He then joined the US Navy, having taken up citizenship of the United States after leaving Turkey, his birthplace, Greece, his first adopted home and France, where he lived his salad days as a professional fighter, behind. When he returned to fighting, it was as a middleweight.
Similarly, he turned professional at middleweight, sparing him the losses then associated with an apprenticeship as well as those associated with a fistic dotage, leaving just his prime for the light-heavyweight division. And he did some superb work there.
He arrived on American soil in 1940, a move that coincided with his first real interest in the light-heavyweight division, announcing himself in that company in earnest with a double left-hook knockout of the prospect Jimmy Reeves. After dropping down to middleweight to go 1-1 with future nemesis Jimmy Bivins, a fight was arranged for the NBA's light-heavyweight strap against the tough Melio Bettina, who very nearly made this list himself. Speed and stamina were the keynote attributes in a workmanlike and savvy performance that saw Christoforidis pound out a clean, come-from behind decision over the narrow favourite. His reign did not last long, in fact he lost his strap in his very first defence against Gus Lesnevich, but he continued to campaign in the division and cobbled together a fine resume of wins against some of the era's better fighters, including close victories over Nate Brown and Johnny Colan.
It isn't a stirring resume, but given light-heavyweight's surprising lack of depth outside the top forty it's enough to get him into the bottom ten of the top fifty.
#47 – Henry Maske (31-1)
There was a perception, I think, among the American fight fraternity in the 1990s that fighters who remained in Europe rather than set sail for the fight capital of the world were to be viewed with suspicion. Maske, though, won his critics on the other side of the Atlantic over despite having fought in USA just once, as a 7-0 prospect against a cruiserweight journeyman in a fight staged at a middling Hollywood hotel.
Returning home to his beloved Germany, never to leave Europe again for professional reasons, Maske earned respect with a thirty fight winning streak that eventually saw him named the best light-heavyweight on the planet by Ring magazine.
He likely first caught all but the sharpest of American eyes in March of 1993 by not just defeating but dominating the widely admired Ohioan, Charles Williams. It was a lesson in substance over style and in the deceptive appearance of Maske, who misled in all kinds of ways. There to be hit by eye, he actually had a superb judge of range, and the seemingly clear path to his jaw, a straight shot from wrist to chin, was actually littered with all kinds of sneaky, digging punches. Williams obliged Maske completely in driving himself on to these punches with an overly aggressive approach that the German ate up.
Lacking genuine fluidity on offence, Maske was an expert punch-picker even at 19-0 and was a prototype for Joe Calzaghe in the sense that he sacrificed in order to maintain punching opportunities. Where Calzaghe sacrificed balance, Maske sacrificed rhythm and certain gains his traditional technique may have brought him. It made Maske shifty, one big feint.
He deceived Iran Barkley when that old warhorse mad the trip, winning almost every round and jabbing the old man's left eye shut with that southpaw jab, feeding him a steady diet of uppercuts when the American tried to rush, head down. Maske punished him sorely from that narrow-legged wide-armed stance in the ninth and Barkley refused to answer the bell for the tenth.
Perhaps a little lucky in taking an exquisitely close decision from Graciano Rocchigiani in May 1995, Maske provided his opponent with an immediate rematch and beat him clean, confirming his status as the best light-heavy on the planet. There are fighters who haven't made this list who have might be favoured to beat Maske, guys like Eddie Cotton, guys like James Scott, but consistency, paper record and a delightful tendency to deceive opponent and spectator alike sees Maske sneak in ahead of them.
#46 – Willie Pastrano (62-13-8)
Willie Pastrano lifted the world's light-heavyweight championship versus the brilliant Harold Johnson in the closest thing to a flat out robbery that the modern lineal kingship has ever seen. I scored no fewer than ten rounds for Harold Johnson and if this is extreme, it is still the case that most ringsiders (9-5 in a poll of sports reporters) saw the fight clearly for Johnson. It is hard to credit Pastrano for the win.
But he did fight a clever, foraging battle that night, and he did upset Johnson's rhythm to a greater extent than geniuses such as Ezzard Charles so if he can't be credited for the win he can perhaps be credited for a good effort. More, for all that he was handed the title, he did a fine job of defending it, stopping both Gregorio Peralta and Terry Downes.
Pastrano never inspired confidence in the public, his style too skittish to make believers of the fight-fans and Peralta started their title fight as a favourite, based upon his victory over Pastrano in a non-title fight; Pastrano blasted his eye wide open with a right hand while ahead on the cards, stopping him in five. Downes was also cut early but the Londoner proved more stubborn and was likely ahead at the beginning of the eleventh. Pastrano had travelled to Manchester for his second defence and found himself tucked up in a small ring against an aggressive hometown boy with the title on his mind – but he didn't panic. Instead he boxed, moved when he could and when the time came to fight, he fought. The beginning of the eleventh was such a time, and supposedly inspired by a particularly blue tirade from an irate Angelo Dundee, Pastrano got up on his toes and boomed home two huge right hands; Downes never recovered and Pastrano proceeded to batter him about the ring until the referee was forced to intervene.
He lost his title in his very next defence, to Jose Torres, and promptly retired. Pre-title his career had been a mix of superb work against excellent heavyweight competition (including a 200lb Archie Moore and a 184lb Joey Maxim) and passable work against limited light-heavyweight competition, the probable highlights being his first contest with Chuck Spieser and his decision over Jerry Luedee. This is not top fifty form, but his good performances in title fights plus his gift decision over Harold Johnson gets this overachiever through the door head of light-heavyweight underachievers like James Toney and Bob Olin.
#45 – Mauro Mina (52-3-3)
When he was just 6-0 Peruvian Mauro Mina was defeated by future Brazilian national light-heavyweight champion Luis Ignacio. A year later, at 10-1-1, he lost to South-American light-heavyweight champion Dogomar Martinez over fifteen rounds. And that's it. That's all. Mina, who would never fight for the light-heavyweight championship, was never again defeated at the weight. His prime was an undefeated streak six years long interrupted only by a setback up at heavyweight.
Like all the great Central and South Americans (especially in this era), Mina's first task was to place the massed banditry of his domestic scene under control. This was no small matter. Names like Huberto Loayza and Sixto Rodriguez may not call to mind famous faces, but they were serious men unaccustomed to letting local prospects escape their grasp without a fight. Mina beat out all comers, often in front of crowds of thousands, and eventually escaped to the United States where the veteran Henry Hank gave him a most unwelcome welcome. Already 11-0 versus American fighters paid to visit Peru, Mina included a victory over #1 contender Eddie Cotton on his ledger, but Hank pushed him hard in the early going. When the Peruvian got down off his toes however, he dominated, using his more traditional style to out-hit Hank with high pressure and some superb short-arm punching. A split decision win was his reward, to be followed by a shot at the light-heavyweight champion Harold Johnson.
Alas, it was not to be. Whether or not Mina would have tested Johnson with his crafty defence and his depth of style will never be known as an eye injury kept him from the championship ring. Hank, who met both men, certainly thought Mina's chances were healthy claiming he was too strong for "anyone in the division." The Peruvian continued to impress, climbing off the canvas to outpoint a green Bob Foster, defeating Cotton again and out-pointing the ranked Piero Del Papa in his very last fight, but when he retired there was a sense that his potential went unfulfilled.
#44 – Billy Miske (45-3-3; Newspaper Decisions 29-10-13)
Billy Miske is best known as the first victim of the title run of the heavyweight legend Jack Dempsey, but Miske boxed an entire career before he limped to the ring to face Jack and much of it was fought at the 175lb limit.
It is also true that Miske is known for making an attempt on the prime Dempsey's title despite suffering the debilitating symptoms of Bright's Disease, leading many to write him off as a valid opponent; less well known is that Miske had been battling these symptoms for years and suffered badly with them before many of his key battles at the weight. Before his summer 1919 confrontation with Tommy Gibbons he had, according to Clay Moyle, author of Billy Miske, nine boils lanced. In the week before the fight he was so weak with fever he could hardly rise form his bed. According to Miske himself, "my back ached, my legs were numb…I gritted my teeth and said "I'm going to go these ten rounds"…I don't know how I did it."
But he did do it, and in the opinion of the referee and several newspapermen in attendance he toughed it out to a draw, gameness and aggression his chief weapons against the brilliant Gibbons. The two fought a series across the span of seven years and it was one that was dominated by Gibbons, but in their only meeting at 175lbs, Miske held his own despite his desperate health. It is very possible that were he well, Miske might have found a shade in that fight.
The other key series in his career was fought against the great Jack Dillon, "The St.Paul Thunderbolt" and for all that Dillon had started to slip by the time Miske had started to dominate, when they first met in January of 1916 Dillon was at the tail end of his absolutely extraordinary prime. Heavily favoured, Dillon was shocked by Miske who, as he would throughout his career, refused to bow to any measure of punishment, remaining in the pocket with the much more experienced man and appearing to out-fight him there. Dillon claimed illness, and there may be something to this as he showed better in the rematch, taking his revenge, but it is a fact that by the end of their four fight series Miske was winning at a canter. He is generally credited with winning their rivalry three fights to one. He had developed a healthy habit of making Dillon miss with bodywork before hitting out with serious punches in return.
He could never get over on the deadly Kid Norfolk, or on the immortal Harry Greb but there is certainly no shame in that. Supporting wins over champion Battling Levinsky and the always willing Gunboat Smith see him enjoy an elevated ranking here – but certainly not one that he does not deserve.
#43 – Jeff Clarke (92-31-15; Newspaper Decisions 37-9-6)
Jeff Clarke was known as the Jopplin Ghost, The Fighting Ghost, a spectre of a boxer, gone from his flailing opponent in a step, offering the parting gift of an uppercut. So brilliant was Clarke that he was able, despite what was a definitive light-heavyweight's frame, to straddle two divisions, making inroads into a hot heavyweight division. Clarke once defeated the brilliant heavyweight contender Joe Jeanette and dropped and out-boxed the fabled Sam Langford; yet his footprint on history is, perhaps fittingly, ghost-like.
Never a legitimate champion, he remorselessly pursued alphabet straps at the heavier weight, fighting for the Mexican heavyweight title, the Panamanian heavyweight title, the "coloured" heavyweight title. For an African-American fighter turning professional in the USA in 1908, there was really no other way to achieve financial security. His Herculean pursuit of heavyweight riches ironically hampers his ranking here. Had he fought in a later era he likely would have spent most of his career at the weight and found himself in the upper reaches of this list.
A counter-punching specialist, he was extremely hard to hit and more than capable of keeping from the era's most dangerous punchers for distance fights, but when called to arms he was capable of duking it out with the best of them, as he proved against Kid Norfolk in May of 1915 in Panama City, stepping close to give one of the most brutal infighters of the era a solid lesson in the art.
Kid Norfolk would eventually catch up to him and as the older man Clarke was firmly dominated by Norfolk in the end. The Ghost spent almost ten years in a funk of losses and beatings as his career wound down, ruining his paper record but failing to obscure an excellence that continues to shine, barely, through the past century.
#42 – Jose Torres (41-3-1)
When people talk about "old-school" fighters they are talking about guys like Puerto Rican Jose Torres.
Check out his 1966 fight of the year with the timeless Eddie Cotton for a fine example. It's not that Torres does anything we don't see today but rather the way that he does it. There is no flashy shoulder-role or sizzling footwork, he just slips jabs with good reaction time, arbitrary head movement, technically sure positioning and well-drilled balance. The over-riding definition of old-school is economy – it is born of necessity as fighters trained and learned to box fifteen rounds, a whole 25% more than their modern counterparts. His moves at every range are dotted by a certain care that often cannot be seen in the modern ring. Nothing is wasted. His opponent, Cotton, is complicit in this and together they turn in one of the great light-heavyweight fights.
Torres delivered a similar performance against Willie Pastrano, from whom he took the title. Pastrano, probably, is past his best but this is Jose's best effort on film, a fight in which he demonstrates all that is good about him. Moving forwards steadily in that now famous peekaboo style, gloves high, dipping and cutting the ring off on the fleet-footed Pastrano before the champion even knew where he was headed, a vicious body-attack the tip of his spear. It was a one-sided beating that resulted in the first stoppage of Pastrano's career for any reason other than cuts. The reason on this occasion was an accumulation of punches that forced the referee's hand between the ninth and tenth round.
In addition to his wonderful defeat of Cotton, Torres managed defences against former top contender Chic Calderwood, who he blasted out in two with a booming right to the ear, and the always game Wayne Thornton who he outclassed over fifteen.
Against this must be tempered Jose's loss of the title to former middleweight Dick Tiger, a fighter totally incapable of filling out into a light-heavyweight, not once but twice. It is also true that he lifted the title against a fighter that probably should never have been in possession of it, Pastrano gifted a decision over Harold Johnson. Finally, Torres was not a career light-heavy, having fought many years at middleweight in the fruitless pursuit of a title shot.
Still, it is clear he belongs, even if the above is reason enough for me to see him a little lower than many Puerto Rican's will care to see him.
#41 – Sergey Kovalev (27-0-1)
It's a strange thing with active fighters. I am writing just hours after Sergey Kovalev's brutalisation of Jean Pascal in the latter's hometown of Quebec, March the fifteenth, 2015. The fight was not close, but the fight was most entertaining and in the course of the fight Kovalev was checked for both chin and engine. He was the equal to both of these examinations, showed a wonderful patience in stalking his wounded opponent for the knockout, and devastated Pascal in eight surgical and brutal rounds. Had Kovalev lost that fight rather than inflicted upon Pascal his first ever stoppage defeat, he would now be ranked nowhere, and the great middleweight and sometime light-heavyweight Tiger Flowers would have crept into the #50 spot. As it is, Flowers languishes outside, and Kovalev assaults the dizzy, even absurd heights of #41, above one or two men whose names ring out as legendary.
Is it reasonable? Certainly it can be defended, although in a less traditional manner than the logic that supports much of this list. Firstly, Kovalev has now beaten more men ranked in the top five at light-heavyweight at the time that he met them than Anton Christoforidis (#46) and Mauro Mina (#45). He has defeated old-man Hopkins at a time when the great man was ranked the #1 light-heavyweight contender to the 175lb title. He is undefeated at the weight and has knocked out every ranked opponent he has ever faced aside from Hopkins.
I admit, still, there is a sneaking suspicion that perhaps Kovalev might be better suited to a spot a little further down, behind Clarke and Torres perhaps. What leads him to the #41 spot is this: if his ranking looks high now it will look low in a year's time – that is because Kovalev is, by my reckoning, the best light-heavyweight since the heyday of one Roy Jones Junior. Experience has taught me it is better to be conservative in ranking active fighters, but this fighter seems a legitimate leviathan; so I have let my gut guide me.
Time, as always, will tell.
Follow Matt McGrain on Twitter: @McGrainM
Berchelt TKOs Valenzuela in Mexico City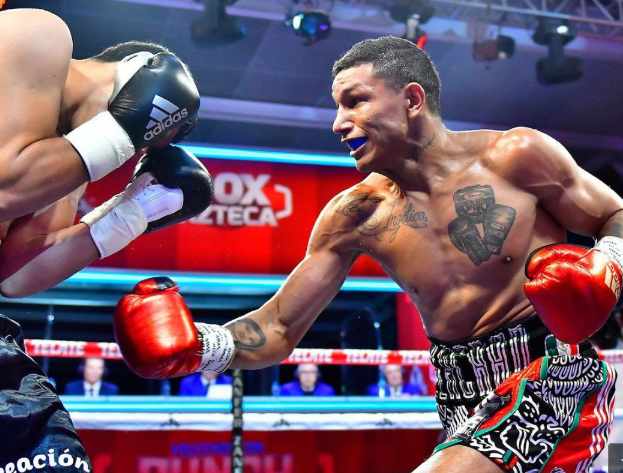 Mexico's Miguel Berchelt hammered his way to a decisive knockout victory over fellow Mexican Eleazar Valenzuela in a non-title light fight on Saturday.
After nearly nine months off, WBC super featherweight titlist Berchelt (38-1, 34 KOs) unraveled a withering body attack including numerous low blows but Valenzuela remained upright in front of a sparse TV studio audience until he could take it no longer.
Berchelt used a seven-punch combination to knock the senses out of the very tough Valenzuela who hails from Sinaloa. The referee saw enough and stopped the fight with Valenzuela leaning against the ropes with a dazed look.
The champion from Cancun used a triple left hook in the first round to floor Valenzuela and it looked like the fight would not last more than two rounds. But Valenzuela, a sturdy veteran, bored into Berchelt to keep him off balance and was able to stop the momentum.
It did not last.
A vicious attack to the body sapped the energy from Valenzuela who has fought many elite fighters in the past, but none like Berchelt. He was able to batter the veteran round after round.
Valenzuela sought to reverse the momentum with some combinations of his own. Berchelt opened up with some combinations from the outside and cracked his foe with some skull-numbing blows that clearly affected Valenzuela's senses. The referee wisely stopped the fight at 1:03 of the sixth round to give the win to Berchelt by knockout.
The victory opens the door to a potential clash with featherweight world titlist Oscar Valdez of Nogales, Mexico who has a fight of his own planned next month. Both champions are promoted by Top Rank.
Other Bouts       
Omar Aguilar (18-0, 17 KOs) bushwacked veteran Dante Jardon (32-7, 23 KOs) within a minute of the first round to win by technical knockout. A barrage of blows by Ensenada's Aguilar opened up the fight and a four-punch combination forced the referee to stop the super lightweight fight with Mexico City's Jardon against the ropes.
A battle between super bantamweights saw the taller Alan Picasso (14-1) out-hustle Florentino Perez (14-6-2) in an eight round clash between Mexican fighters. Mexico City's Picasso fought effectively inside against the shorter Perez of Monterrey and was able to maintain a consistent pace. Neither fighter approved the use of a jab but Picasso was more effective inside with body shots and uppercuts and dominated the last half of the fight.  The six judges scored in favor of Picasso.
The WBC instituted the extra judges as a means of tabulating score cards efficiently. Three judges scored from the television studios and another three judges scored from the USA. It was the second time WBC judges officiated remotely and all six scorecards were official.
Photo credit: Zanfer Promotions
To comment on this story in The Fight Forum CLICK HERE
Boxing Odds and Ends: Big Baby Miller, Roberto Duran and More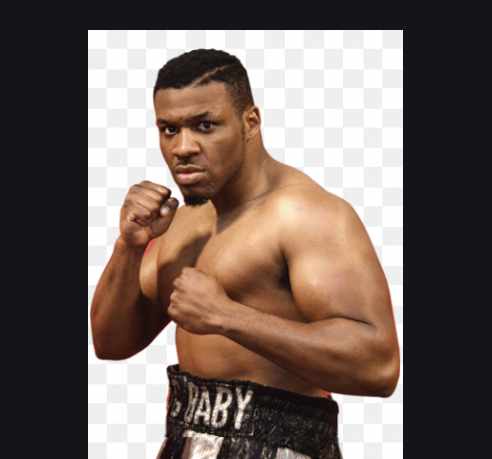 Jarrell "Big Baby" Miller just can't keep his hands out of the cookie jar. It was announced today (Saturday, June 27) that the jumbo-sized heavyweight from Brooklyn tested positive for a banned substance, forcing him out of a July 9 fight at the MGM Grand "Bubble" against Jerry Forrest. The story was broken by Mike Coppinger of The Athletic who breaks more hard news stories than any other boxing writer.
Miller, needless to say is a repeat offender. He failed three different PED tests in a span of three days for three different banned substances leading into his planned June 2019 match at Madison Square Garden with WBA/IBF/WBO world heavyweight champion Anthony Joshua. That cost him the fight and a reported $5 million-plus payday. Andy Ruiz filled the void and scored an historic upset.
When the first test came back positive, Miller wailed that he was the victim of a faulty test. "My team and I stand for integrity, decency and honesty and will fight this with everything we have," he said in a prepared statement. He later changed his tune. "I messed up," he said.
In a story that appeared on these pages, Thomas Hauser noted that Big Baby had a history of PED use dating to 2014. In that year, he was slapped with a nine-month suspension by the California Athletic Commission following a kickboxing event in Los Angeles.
Counting this latest revelation, it's five strikes for Big Baby. He's taking quite a roasting right now on social media. Some of the harshest criticism is coming from his fellow boxers.
Assuming that Top Rank can't find a replacement for Miller, this is another tough break for Jerry Forrest, a 32-year-old southpaw from Virginia with a 26-3 (20) record. Forrest was scheduled to fight hot prospect Filip Hrgovic on April 17 on a card at the MGM National Harbor in Oxon Hill, Maryland, a show swept away by the coronavirus outbreak. Forrest has been matched very soft throughout his career, but he acquitted himself well in his lone previous TV appearance, losing a split decision to undefeated Jermaine Franklin on "Showtime: The New Generation." The decision was controversial.
There's talk now that Carlos Takam is angling to replace Big Baby. The French-Cameroonian, a former world title challenger who turns 40 in December, was billed out of Henderson, Nevada, in his last ring appearance that saw him winning a unanimous decision over fellow greybeard Fabio Maldonado in Huntington, NY.
—-
When it comes to Murphy's Law ("anything that can go wrong, will"), there's no sport quite like boxing. Just ask Bob Arum. The most mouth-watering matchup in his ESPN "summer series" fell out this week when Eleider Alvarez suffered a shoulder injury in training, forcing a postponement of his July 16 date with Joe Smith Jr. The match between Alvarez (25-1, 13 KOs) and Smith (25-3, 20 KOs) would have been a 12-rounder with the winner guaranteed a shot at the vacant WBO light heavyweight title, a diadem that Alvarez previously owned.
Joe Smith Jr, a Long Island construction worker once dismissed as nothing more than a club fighter, won legions of new fans in his last start, a one-sided (to everyone except one myopic judge) win over Jesse Hart in Atlantic City.
Cancelled matches have become a recurrent theme in ESPN's semi-weekly boxing series. The very first card in the series lost what shaped up as its most competitive fight when Mikaela Mayer tested positive for COVID-19, scuttling her bout with Helen Joseph. In subsequent weeks, the manager of Mikkel Les Pierre tested positive for COVID-19 as did WBO junior lightweight champion Jamel Herring. Those bad test results forced the postponement of two main events. Then earlier this week, hot lightweight prospect Joseph Adorno was lopped off Tuesday's card after feeling sick after coming in overweight at the previous day's weigh-in.
The undercards of the Tuesday/Thursday ESPN fights have left something to be desired, but that's understandable. As Bob Arum noted in a conversation with veteran boxing scribe Keith Idec, Top Rank's matchmakers Bruce Trampler and Brad "Abdul" Goodman have had a hard time fleshing out the cards because with so many gyms closed there's a shortage of boxers who are in shape to fight on short notice. Then there are the COVID-19 travel restrictions and (something Arum did not acknowledge) budgetary restrictions more severe than an ordinary Top Rank card. Most of the undercard fighters have come from neighboring states such as Utah, saving Top Rank the cost of air fare. Fighters from faraway places, with some exceptions, were already training in Las Vegas.
Kudos to the entire Top Rank staff for keeping boxing alive during these challenging times.
—
It's old news now, but Panamanian boxing legend Roberto Duran, 69, tested positive for the coronavirus and was hospitalized in Panama City with a viral infection. There's been no update on his condition but his son Robin Duran wrote on Instagram that his father is not having any symptoms beyond those associated with a common cold. We will update you when new details become available.
Duran's hospitalization came just a few days after the 40th anniversary of his first fight with Sugar Ray Leonard in what would say was Duran's finest hour. They met on June 20, 1980 at Olympic Stadium in Montreal.
Duran won a unanimous decision. Converting the "10-point must" system into rounds, Duran prevailed by scores of 3-2-10, 6-5-4, and 6-4-5. As Yogi would have said, you could look it up.
Check out more boxing news on video at The Boxing Channel 
To comment on this story in the Fight Forum CLICK HERE
Fast Results from the Bubble: Jason Moloney TKOs Baez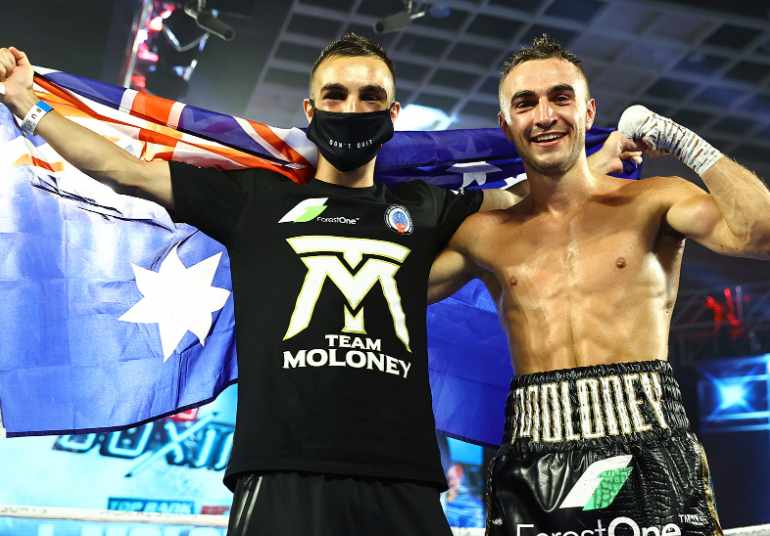 Top Rank was back inside the MGM Grand "Bubble" tonight for chapter six of their semi-weekly ESPN summer series. Jason Moloney, one-half of Australia's Moloney twins, accomplished what his brother Andrew Moloney was unable to accomplish in this ring on Tuesday night, adding a "W" to his ledger and looking good doing it. It came at the expense of Mexicali's Leonardo Baez.
It was Jason Moloney's second start on U.S. soil after coming up just a tad short in a bid for the vacant IBF world bantamweight title at Orlando in October of 2018. Against Baez, he fought a smart tactical fight, blunting the Mexican's superior reach by fighting him at close quarters. Baez fought from the third round on with a cut over his right eye and then suffered a cut over his left eye in the seventh round. By then the fight was becoming increasingly one-sided and Baez's corner did not let him come out for round eight.
Jason Moloney improved to 21-1 with his 18th knockout. Leonardo Baez, who took the fight on short notice after Maloney's original opponent Oscar Negrete was forced to withdraw with a detached retina, slumped to 18-3.
Co-Feature
In the 10-round co-feature, Abraham Nova advanced to 19-0 with a unanimous decision over Philadelphia's Avery Sparrow but won no new fans with a lackadaisical performance. Nova, born in Puerto Rico to parents from the Dominican Republic and raised in Albany, NY, showed little but his jab through the first seven rounds until hurting Sparrow with a big right hand in the eighth. The judges had it 96-94, 97-93, and 99-91.
Sparrow (10-2), whose lone previous loss was by disqualification, was making his first start in 15 months. He was slated to fight Ryan Garcia in Los Angeles last Sept. 14 but never made it to the weigh-in after being arrested by U.S. marshals on a charge of threatening a woman with a gun after she threw his clothes out the window…
Other Bouts
In an 8-round featherweight contest, Puerto Rican southpaw Orlando Gonzalez advanced to 15-0 with a unanimous decision over Ecuador's Luis Porozo (15-3). The scores were 76-74 and 77-73 twice.
Gonzalez wasn't particularly impressive although he did score two knockdowns. He decked Porozo near the end of round two with a left hook following a straight left and decked him again near the end of round seven with a left uppercut to the body.
In a rather ho-hum fight, welterweight Vlad Panin improved to 8-1 with 6-round majority decision over San Antonio's 36-year-old Benjamin Whitaker (13-4). Panin, a Belarusian who grew up in Las Vegas and earned a BA in English from UCLA, has a good back story but seemingly a limited upside in the fight game.
In an entertaining 6-round welterweight clash, Filipino campaigner Reymond Yanon improved to 11-5-1 with a split decision (59-55, 58-56, 56-58) over Clay Burns. A 33-year-old ex-Marine from Fort Worth, Burns declined to 9-8-2.
The opener, a heavyweight bout slated for six rounds, matched two Phoenix-based fighters in a rematch. Kingsley Ibeh, a former standout defensive lineman for the Washburn College Ichabods, avenged his lone defeat and improved to 4-1 with a fourth-round stoppage of Waldo Cortes (5-3). Ibeh, who at 286 had a 39-pound weight advantage, softened Cortes up with a series of uppercuts and Cortes was on his way down when he was tagged with a glancing left hand. He got to his feet, but referee Vic Drakulich waived it off. The official time was 1:41.
Photo credit: Mikey Williams for Top Rank
Check out more boxing news on video at The Boxing Channel 
To comment on this story in The Fight Forum CLICK HERE