Broner Dishes Out Disses, Near-Classic Comedy, At Thursday Presser
Crying shame it was, them not streaming the Thursday presser which saw Adrien Broner acting out, talking trash galore, getting into it with a father and a son, for good measure, two days out from his PBC tangle on NBC.
A-side AB took it to Saturday foe Shawn Porter, and his pop, Kenny, showed off his abs and yes, that mouth, which was motorted up, revving hard and spewing amusing and confrontational talk.
Oh yes, it was humorous but threatened to tilt over the edge into real-deal heated; dad Kenny yapped at Broner, when Broner told him to get out front, stand in front of him, instead of son Shawn, during the stare-down. Sam Watson told Kenny to stand down, as he was commanding the Cinci boxer to "look him in the eyes."
Broner was in gym gear while Porter was in neo-Haymon attire, a most sharp suit with a crisp hanky poking out of his chest pocket. Promoter Floyd Mayweather, sporting a "Brooklyn" ballcap, watched, mildly interested, while AB kept yapping. "He can get it too," said the bratty boxer, referencing the pop, "This is easy work."
Porter was silent, but his nostrils flared, and then he broke into a grin as AB whispered trash talk to him. Then, AB showed off his abs, and said, "We made weight fine…Make sure you make weight," he said, at Porter. It was the AB show, fully…
Broner said that he'd whip Kenny after whupping Shawn, as he left the stage and Kenny accepted the invite. "AB, absolutely broke," said Kenny, responding to the needling AB dispensed during the presser. That had AB teasing that the father was spending all the son's money.
"I'm fighting Shawn Porter, and I'm fighting his dad," the quipster said, going on to describe how he thinks the purse money from Porter fights is chopped up. Shawn has to get an Uber or take a bummy ride while dad takes rides in a luxe ride, he joked. "He got the girl that Shawn is supposed to have…even today he got on a better suit…they live together, let him live, have some fun," AB said, in a mildly classic standup set. Kenny then made a crack about child-support, and how AB should be kicking funds there. "He high," Broner responded, off wearing patent leather.
Broner did well to try and get into Shawn's head, telling him he liked him, but that he got negative energy from dad. He offered to sign Porter to his promotional outfit, and yes, the look on Porters' face said that the goat-getting was working. "Saturday night I'm gonna put on a show, this boys not gonna beat me," he said…indeed, he put on a show then and there.
This was old school drama and humor and comedy, the variety of which the PBC have tried to steer away from, while trying to dust off the rep of the sport a bit. I'd recommend they continue to loosen the reins, let the yappers yap, let their personalities flap in the wind. This is an adult sport, Broner has an adult personality, might as well run with it, not from it.
Here is the release sent out by the PBC peeps re: the presser–
FIREWORKS BETWEEN ADRIEN BRONER & SHAWN PORTER AT PREMIER BOXING CHAMPIONS ON NBC FINAL PRESS CONFERENCE
Photos – Lucas Noonan/Premier Boxing Champions
Antonio DeMarco Vows To Defeat Rances Barthelemy For Cancer-Stricken Sister on Premier Boxing Champions on CBS
Promoter Floyd Mayweather & Premier Boxing Champions Fighters
Final Press Conference Quotes
LAS VEGAS (June 18, 2015) – An animated Adrien "The Problem" Broner held court for several minutes Thursday, as a calm "Showtime" Shawn Porter delivered his own strong message in advance of the exciting weekend of Premier Boxing Champions action at MGM Grand.
In a different role than his usual one as boxing's pound-for-pound king, President of Mayweather Promotions Floyd "Money" Mayweather helped run the press conferences alongside Mayweather Promotions CEO Leonard Ellerbe.
On the Saturday, June 20 PBC on NBC show, Broner (30-1, 22 KOs) will take on Porter (25-1-1, 16 KOs) after Errol "The Truth" Spence Jr. (16-0, 13 KOs) battles Phil "The Italian Sensation" Lo Greco (26-1, 14 KOs). Televised coverage on NBC begins at 8:30 p.m. ET/5:30 p.m. PT.
Also at Thursday's press conference, main event participant on the Sunday, June 21 PBC on CBS card Antonio DeMarco (22-0, 13 KOs) vowed to bring home a victory for his cancer-stricken sister in Sunday's PBC on CBS main event showdown against former world champion Rances Barthelemy (31-4-1, 23 KOs). Sunday's co-feature showcases a welterweight matchup between Sammy Vasquez (18-0, 13 KOs) and Wale Omotoso (25-1, 21 KOs). Televised coverage begins on CBS Sports at 4 p.m. ET/1 p.m. PT.
Also in attendance on Thursday were rising stars from Mayweather Promotions who will be competing on both Saturday and Sunday.
Tickets for Saturday's event are priced at $400, $300, $100 and $50 and tickets for Sunday's event are priced at $100, $75, $50, and $25 not including applicable service charges and taxes are on sale now. To charge by phone with a major credit card for tickets to both events, call Ticketmaster at (800) 745-3000. Tickets for both events are also available at www.mgmgrand.com or www.ticketmaster.com. The weekend of action is promoted by Mayweather Promotions in association with TGB Promotions.
Here is what the press conference participants had to say:
FLOYD MAYWEATHER, President of Mayweather Promotions
"Mayweather Promotions has always done record-breaking numbers and our ultimate goal is to find the next Floyd Mayweather. With all of the talent out there, it will soon happen.
"I want all of the fighters out there to keep working hard, stay focused and know that there is no limit to what you can do.
"With all the media here talking to him, it's obvious that Adrien is doing something right. He's entertaining and people like it.
"There's no limit to how far Adrien Broner can go in this sport. He can fight. I'm in the gym with him and he's boxing top guys. He's pushing himself.
"Shawn Porter is a really solid competitor. It's not an easy task for Adrien, he's going to have to fight.
"Mayweather Promotions wants to continue to work with all fighters and help build their careers so that they can get to that top level."
ADRIEN BRONER
"This is the AB show. You're all getting it first, live and personal.
"I'm fighting Shawn Porter and I'm fighting his dad. It's like I'm fighting his dad because the check comes in his dad's name, then he pays Shawn.
"Since both Shawn and his dad get a check, if I whoop both of them, will I get paid twice?
"I like Shawn as a person, but he gets so much negative energy from his dad. That's just the truth.
"After I whoop you Shawn, come sign with About Billions and I'll buy you a nicer car than your dad's. I already wrote out the contract.
"This is going to be a great fight. I'm very excited because I love putting on a show for the fans. This boy will not beat me.
"I'm coming to deliver a beat down. Shawn Porter is a football player, I'm going to take him out. It's going to be fun."
SHAWN PORTER
"I feel great, it's a good day. I'm just counting down until fight night.
"I've been working on everything in camp. I have a lot of speed, power, quickness and the whole nine. It's going to take everything to win this fight.
"He's got good speed, so we're preparing for him to use a lot of that. We'll make adjustments as we go along but the key is definitely taking care of his speed with our speed.
"It's so sweet to be fighting at MGM Grand, this is what you want as a fighter. It's my time now. I'm so excited about this opportunity.
"Number one, we have to take care of business. We know that if we take care of business it'll be a great Father's Day on Sunday."
ERROL SPENCE JR.
"I just have to stay focused and put on a spectacular performance on Saturday night. Hopefully next time I'll be the main event. It's a process but I'm getting there.
"I'm ready for anybody in the welterweight division, I'm ready for any kind of step up in competition period. I'm not the guy to shy away from anybody.
"Porter and Broner are a little more seasoned that me, but skill wise I think I'm right on par with them. Skill for skill I can match anybody in boxing.
"A lot of guys aren't in the position that I'm in to get the opportunities that I have. This is my third year as a pro and it's all been coming pretty fast. It's all about timing. I'm enjoying the process.
"You're going to be looking at the future of the sport come Saturday night."
PHIL LO GRECO
"There's no such thing as the right moment. The perfect fight is when you want it to be. I got the call and decided that this is the perfect timing.
"It took me about 30 seconds to decide to take this fight. When you know why you fight, it makes these decisions easy.
"A year ago there was no way I thought I'd be on this stage. Now I have real opportunities and we're here now.
"Win, lose or draw, I'm going back to the gym next week.
"I'm a pressure fighter. I like to engage and give the fans what they want to see. This is a great opportunity. Saturday is going to be fun."
RANCES BARTHELEMY
"I'm feeling good moving up in weight. Everybody knows Antonio DeMarco is a very, very tough fighter. He's one of the best I've ever fought. His record who he has faced proves that. He's experienced, but so am I.
"I want to be the best Cuban fighter of all-time and I'm on my way.
"I'm in tremendous shape and I'm ready to go. I want to showcase my skills on Sunday to show the world how I can fight.
"Who do I want to fight? I'll fight anyone they put in my way. I'll fight Godzilla if he's there.
"I don't do predictions but this is going to be an entertaining fight. Unlike past Cuban fighters, I have power and can knock people out. In the amateurs you don't need power. But in the pros, that's what it's all about."
ANTONIO DEMARCO
"This is going to be a tough fight, a difficult fight, but I have a great responsibility. My 15-year-old sister told me that if I win, she will beat cancer. She was diagnosed with bone cancer last November – and it was life-threatening. But her last chemo treatment was yesterday.
"From a ring standpoint, I am really looking forward to Sunday. I am very prepared, I am relaxed and ready to go. Besides for my sister, my other main motivation is that this is a chance to get my career back on track. A victory and I can get back to where I was and in position to challenge the best.
"I am treating it like another fight, but of course it is much more. Exposure-wise, you can't get better than network television.
"I know Rances is going to be a difficult opponent. He's a great fighter. But I have the experience to come up with a game plan to win. From a career-standpoint, this is a very important fight and I'm ready for it."
SAMMY VASQUEZ
"It's an honor to be here in this building among some of the greatest fighters in the world. Omotoso has never fought anyone like me before.
"I'm here to restore the greatness of Pittsburgh boxing. Everyone knows 'The Pittsburgh Kid', Paul Spadafora, but we all carry the torch differently. I respect him as a fighter and he's done some great things. We were raised differently and I'm amazed at the great things he's accomplished. But I'm here to bring a new look to Pittsburgh boxing.
"Omotoso is tough. His record speaks for itself at 25-1. His only loss was to Jessie Vargas who's fighting for a world title. I don't take anybody lightly. I've trained hard for this and I don't think he's fought anyone as fast as me or hits as hard as me with both hands.
"I'm going to throw a lot of punches and it should be fun to see. It will be an entertaining fight. The main goal is to win. If the opportunity presents itself to knock him out then I will. I'm not going to go in there trying to knock his head off or anything. I have to box smart.
"In this game it's all about longevity and the less you get hit the longer you can fight so I don't want to get hit. That's my goal."
WALE OMOTOSO
"I feel blessed to have the opportunity to fight on such a big stage. Fighting on network TV provides all of us such a lift. Getting this kind of national exposure is what fighters like me need and what we work so hard to get.
"I'm totally ready to take advantage and I look forward to being able to showcase my talents on Sunday. All my friends and countrymen are going to be able to watch it, and I don't want to let them down.
"I really don't know much about Vasquez, other than he's a southpaw whose quick, he is just another fighter who can fight. But we can all fight. It's not like he has four hands and two heads.
"The best man will be victorious and I am confident that is me.
"I can't wait for Sunday. I wish it was time to fight right now. This is going to be my Father's Day present to my kids and wife."
Skavynskyi and Bustillos Win on a MarvNation Card in Long Beach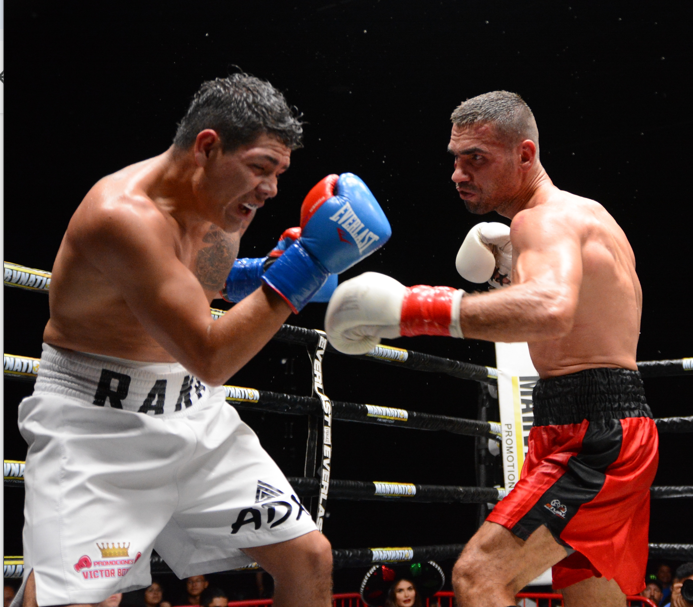 Skavynskyi and Bustillos Win on a MarvNation Card in Long Beach
LONG BEACH, Ca.-A cool autumn night saw welterweights and minimumweights share main events for a MarvNation fight card on Saturday.
Ukraine's Eduard Skavynskyi (15-0, 7 KOs) experienced a tangled mess against the awkward Alejandro Frias (14-10-2) but won by decision after eight rounds in a welterweight contest at the indoor furnace called the Thunder Studios.
It was hot in there for the more than 600 people inside.
Skavynskyi probably never fought someone like Mexico's Frias whose style was the opposite of the Ukrainian's fundamentally sound one-two style. But round after round the rough edges became more familiar.
Neither fighter was ever damaged but all three judges saw Skavynskyi the winner by unanimous decision 79-73 on all three cards. The Ukrainian fighter trains in Ventura.
Bustillo Wins Rematch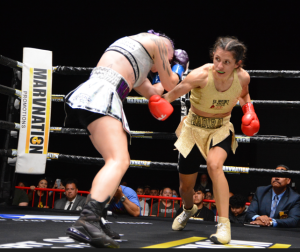 In the female main event Las Vegas' Yadira Bustillos (8-1) stepped into a rematch with Karen Lindenmuth (5-2) and immediately proved the lessons learned from their first encounter.
Bustillos connected solidly with an overhand right and staggered Lindenmuth but never came close to putting the pressure fighter down. Still, Bustillos kept turning the hard rushing Lindenmuth and snapping her head with overhand rights and check left hooks.
Lindenmuth usually overwhelms most opponents with a smothering attack that causes panic. But not against Bustillos who seemed quite comfortable all eight rounds in slipping blows and countering back.
After eight rounds all three judges scored the contest for Bustillos 78-74 and 80-72 twice. Body shots were especially effective for the Las Vegas fighter in the fifth round. Bustillos competes in the same division as IBF/WBO title-holder Yokasta Valle.
Other Bouts
In a middleweight clash, undefeated Victorville's Andrew Buchanan (3-0-1) used effective combination punching to defeat Mexico's Fredy Vargas (2-1-1) after six rounds. Two judges scored it 59-55 and a third 60-54 for Buchanan. No knockdowns were scored.
A super lightweight match saw Sergio Aldana win his pro debut by decision after four rounds versus Gerardo Fuentes (2-9-1).
Photos credit: Al Applerose
To comment on this story in the Fight Forum CLICK HERE
Tedious Fights and a Controversial Draw Smudge the Matchroom Boxing Card in Orlando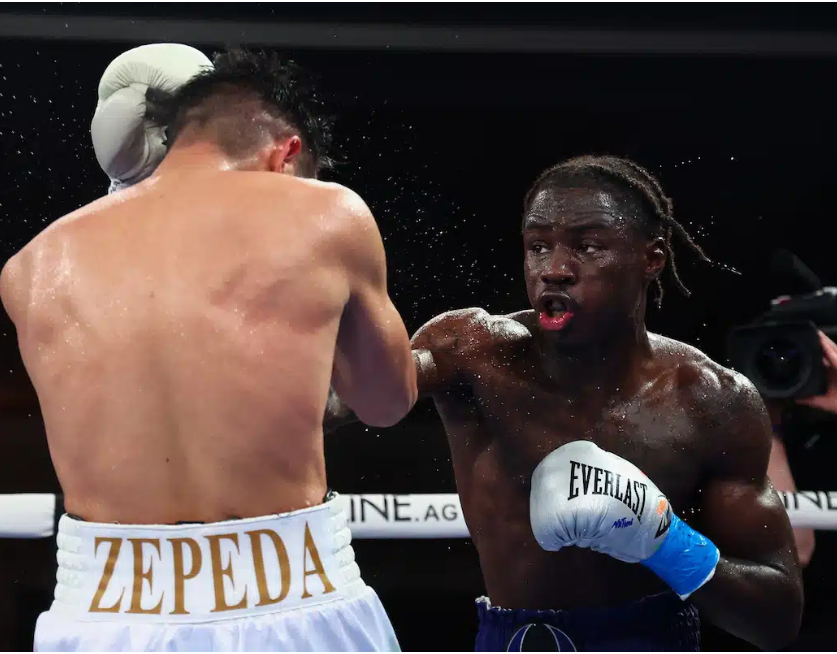 Matchroom Boxing was at the sprawling Royale Caribe Resort Hotel in Orlando, Florida tonight with a card that aired on DAZN. The main event was a ho-hum affair between super lightweights Richardson Hitchins and Jose Zepeda.
SoCal's Zepeda has been in some wars in the past, notably his savage tussle with Ivan Baranchyk, but tonight he brought little to the table and was outclassed by the lanky Hitchins who won all 12 rounds on two of the cards and 11 rounds on the other.  There were no knockdowns, but Zepeda suffered a cut on his forehead in round seven that was deemed to be the product of an accidental head butt and another clash in round ten forced a respite in the action although Hitchins suffered no apparent damage.
It was the sort of fight where each round was pretty much a carbon of the round preceding it. Brooklyn's Hitchins, who improved to 17-0 (7), was content to pepper Zepeda with his jab, and the 34-year-old SoCal southpaw, who brought a 37-3 record, was never able to penetrate his defense and land anything meaningful.
Hitchins signed with Floyd Mayweather Jr's promotional outfit coming out of the amateur ranks and his style is reminiscent in ways of his former mentor. Like Mayweather, he loses very few rounds. In his precious engagement, he pitched a shutout over previously undefeated John Bauza.
Co-Feature
In the co-feature, Conor Benn returned to the ring after an absence of 17 months and won a unanimous decision over Mexico's Rodolfo Orozco. It wasn't a bad showing by Benn who showed decent boxing skills, but more was expected of him after his name had been bandied about so often in the media. Two of the judges had it 99-91 and the other 96-94.
Benn (22-0, 14 KOs) was a late addition to the card although one suspects that promoter Eddie Hearn purposely kept him under wraps until the week of the fight so as not to deflect the spotlight from the other matches on his show. Benn lost a lucrative date with Chris Eubank Jr when he was suspended by the BBBofC when evidence of a banned substance was found in his system and it's understood that Hearn has designs on re-igniting the match-up with an eye on a date in December. For tonight's fight, Benn carried a career-high 153 ½ pounds. Mexico's Orozco, who was making his first appearance in a U.S. ring, declined to 32-4-3.
Other Bouts of Note
The welterweight title fight between WBA/WBC title-holder Jessica McCaskill (15-3-1) and WBO title-holder Sandy Ryan (6-1-1) ended in a draw and the ladies' retain their respective titles. Ryan worked the body effectively and the general feeling was that she got a raw deal, a sentiment shared by the crowd which booed the decision. There was a switch of favorites in the betting with the late money seemingly all on the Englishwoman who at age 30 was the younger boxer by nine years.
The judges had it 96-94 Ryan, 96-95, and a vilified 97-93 for Chicago's McCaskill.
In the opener of the main DAZN stream, Houston middleweight Austin "Ammo" Williams, 27, improved to 15-0 (10) with a 10-round unanimous decision over 39-year-old Toronto veteran Steve Rolls (22-3). All three judges had it 97-93. Rolls has been stopped only once, that by Gennady Golovkin.
Photo credit: Ed Mulholland / Matchroom Boxing
To comment on this story in the Fight Forum CLICK HERE
Zhilei Zhang KOs Joe Joyce; Calls Out Tyson Fury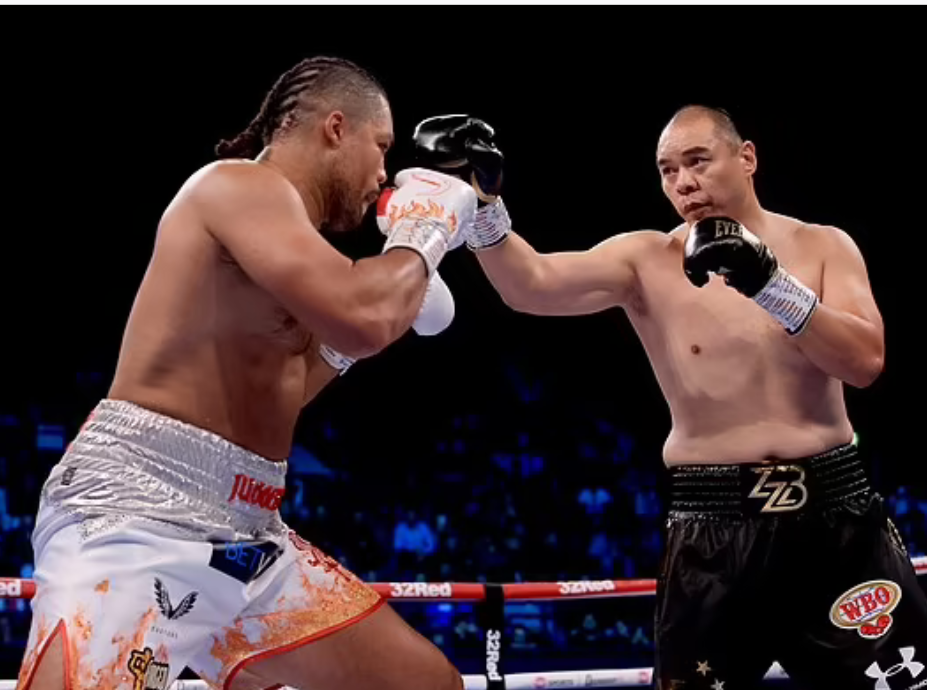 Joe Joyce activated his rematch clause after being stopped in the sixth frame by Zhilei Zhang in their first meeting. In hindsight, he may wish that he hadn't. Tonight at London's Wembley Stadium, Zhang stopped him again and far more conclusively than in their first encounter.
In the first meeting, Zhang, a southpaw, found a steady home for his stiff left jab. Targeting Joyce's right eye, he eventually damaged the optic to where the ring doctor wouldn't let Joyce continue. At the end, the fight was close on the cards and Joyce was confident that he would have pulled away if not for the issue with his eye.
In the rematch tonight, Zhang (26-1-1, 21 KOs) closed the curtain with his right hand. A thunderous right hook on the heels of a straight left pitched Joyce to the canvas where he landed face first. He appeared to beat the count by a whisker, but was seriously dazed and referee Steve Gray properly waived it off. The official time was 3:07 of round three.
Zhang, who lived up to his nickname, "Big Bang," was credited with landing 29 power punches compared with only six for Joyce (15-2) who came in 25 pounds heavier than in their first meeting while still looking properly conditioned. One would be inclined to say that age finally caught with the "Juggernaut" who turned 38 since their last encounter, but Zhang, 40, is actually the older man. In his post-fight interview in the ring, the New Jersey resident, a two-time Olympian for China, when asked who he wanted to fight next, turned to the audience and said, "Do you want to see me shut Tyson Fury up?"
He meant it as a rhetorical question.
Semi-Windup
Light heavyweight Anthony Yarde was matched soft against late sub Jorge Silva, a 40-year-old Portuguese journeyman, and barely broke a sweat while scoring a second-round stoppage. Yarde backed Silva against a corner post and put him on the deck with a short right hand. Silva's body language indicated that he had no interest in continuing and the referee accommodated him. The official time was 2:07 of round two.
A 30-year-old Londoner, Yarde (24-3, 23 KOs) was making his first start since being stopped in eight rounds by Artur Beterbiev in a bout that Yarde was winning on two of the scorecards. Silva, a late replacement for 19-3-1 Ricky Summers, falls to 22-9.
Also
Former leading super middleweight contender Zach Parker (23-1, 17 KOs) returned to the ring in a "shake-off-the-rust" fight against 40-year-old Frenchman Khalid Graidia and performed as expected. Graidia's corner pulled him out after seven one-sided rounds.
In his previous fight, Parker was matched against John Ryder who he was favored to beat. The carrot for the winner was a lucrative date with Canelo Alvarez. Unfortunately for Parker, he suffered a broken hand and was unable to continue after four frames. Tonight, he carried 174 pounds, a hint that he plans to compete as a light heavyweight going forward. Indeed, he has expressed an interest in fighting Anthony Yarde. Graidia declined to 10-13-4.
The Zhang-Joyce and Yarde-Silva fights were live-streamed in the U.S. on ESPN+.
To comment on this story in the Fight Forum CLICK HERE