Broner Dishes Out Disses, Near-Classic Comedy, At Thursday Presser
Crying shame it was, them not streaming the Thursday presser which saw Adrien Broner acting out, talking trash galore, getting into it with a father and a son, for good measure, two days out from his PBC tangle on NBC.
A-side AB took it to Saturday foe Shawn Porter, and his pop, Kenny, showed off his abs and yes, that mouth, which was motorted up, revving hard and spewing amusing and confrontational talk.
Oh yes, it was humorous but threatened to tilt over the edge into real-deal heated; dad Kenny yapped at Broner, when Broner told him to get out front, stand in front of him, instead of son Shawn, during the stare-down. Sam Watson told Kenny to stand down, as he was commanding the Cinci boxer to "look him in the eyes."
Broner was in gym gear while Porter was in neo-Haymon attire, a most sharp suit with a crisp hanky poking out of his chest pocket. Promoter Floyd Mayweather, sporting a "Brooklyn" ballcap, watched, mildly interested, while AB kept yapping. "He can get it too," said the bratty boxer, referencing the pop, "This is easy work."
Porter was silent, but his nostrils flared, and then he broke into a grin as AB whispered trash talk to him. Then, AB showed off his abs, and said, "We made weight fine…Make sure you make weight," he said, at Porter. It was the AB show, fully…
Broner said that he'd whip Kenny after whupping Shawn, as he left the stage and Kenny accepted the invite. "AB, absolutely broke," said Kenny, responding to the needling AB dispensed during the presser. That had AB teasing that the father was spending all the son's money.
"I'm fighting Shawn Porter, and I'm fighting his dad," the quipster said, going on to describe how he thinks the purse money from Porter fights is chopped up. Shawn has to get an Uber or take a bummy ride while dad takes rides in a luxe ride, he joked. "He got the girl that Shawn is supposed to have…even today he got on a better suit…they live together, let him live, have some fun," AB said, in a mildly classic standup set. Kenny then made a crack about child-support, and how AB should be kicking funds there. "He high," Broner responded, off wearing patent leather.
Broner did well to try and get into Shawn's head, telling him he liked him, but that he got negative energy from dad. He offered to sign Porter to his promotional outfit, and yes, the look on Porters' face said that the goat-getting was working. "Saturday night I'm gonna put on a show, this boys not gonna beat me," he said…indeed, he put on a show then and there.
This was old school drama and humor and comedy, the variety of which the PBC have tried to steer away from, while trying to dust off the rep of the sport a bit. I'd recommend they continue to loosen the reins, let the yappers yap, let their personalities flap in the wind. This is an adult sport, Broner has an adult personality, might as well run with it, not from it.
Here is the release sent out by the PBC peeps re: the presser–
FIREWORKS BETWEEN ADRIEN BRONER & SHAWN PORTER AT PREMIER BOXING CHAMPIONS ON NBC FINAL PRESS CONFERENCE
Photos – Lucas Noonan/Premier Boxing Champions
Antonio DeMarco Vows To Defeat Rances Barthelemy For Cancer-Stricken Sister on Premier Boxing Champions on CBS
Promoter Floyd Mayweather & Premier Boxing Champions Fighters
Final Press Conference Quotes
LAS VEGAS (June 18, 2015) – An animated Adrien "The Problem" Broner held court for several minutes Thursday, as a calm "Showtime" Shawn Porter delivered his own strong message in advance of the exciting weekend of Premier Boxing Champions action at MGM Grand.
In a different role than his usual one as boxing's pound-for-pound king, President of Mayweather Promotions Floyd "Money" Mayweather helped run the press conferences alongside Mayweather Promotions CEO Leonard Ellerbe.
On the Saturday, June 20 PBC on NBC show, Broner (30-1, 22 KOs) will take on Porter (25-1-1, 16 KOs) after Errol "The Truth" Spence Jr. (16-0, 13 KOs) battles Phil "The Italian Sensation" Lo Greco (26-1, 14 KOs). Televised coverage on NBC begins at 8:30 p.m. ET/5:30 p.m. PT.
Also at Thursday's press conference, main event participant on the Sunday, June 21 PBC on CBS card Antonio DeMarco (22-0, 13 KOs) vowed to bring home a victory for his cancer-stricken sister in Sunday's PBC on CBS main event showdown against former world champion Rances Barthelemy (31-4-1, 23 KOs). Sunday's co-feature showcases a welterweight matchup between Sammy Vasquez (18-0, 13 KOs) and Wale Omotoso (25-1, 21 KOs). Televised coverage begins on CBS Sports at 4 p.m. ET/1 p.m. PT.
Also in attendance on Thursday were rising stars from Mayweather Promotions who will be competing on both Saturday and Sunday.
Tickets for Saturday's event are priced at $400, $300, $100 and $50 and tickets for Sunday's event are priced at $100, $75, $50, and $25 not including applicable service charges and taxes are on sale now. To charge by phone with a major credit card for tickets to both events, call Ticketmaster at (800) 745-3000. Tickets for both events are also available at www.mgmgrand.com or www.ticketmaster.com. The weekend of action is promoted by Mayweather Promotions in association with TGB Promotions.
Here is what the press conference participants had to say:
FLOYD MAYWEATHER, President of Mayweather Promotions
"Mayweather Promotions has always done record-breaking numbers and our ultimate goal is to find the next Floyd Mayweather. With all of the talent out there, it will soon happen.
"I want all of the fighters out there to keep working hard, stay focused and know that there is no limit to what you can do.
"With all the media here talking to him, it's obvious that Adrien is doing something right. He's entertaining and people like it.
"There's no limit to how far Adrien Broner can go in this sport. He can fight. I'm in the gym with him and he's boxing top guys. He's pushing himself.
"Shawn Porter is a really solid competitor. It's not an easy task for Adrien, he's going to have to fight.
"Mayweather Promotions wants to continue to work with all fighters and help build their careers so that they can get to that top level."
ADRIEN BRONER
"This is the AB show. You're all getting it first, live and personal.
"I'm fighting Shawn Porter and I'm fighting his dad. It's like I'm fighting his dad because the check comes in his dad's name, then he pays Shawn.
"Since both Shawn and his dad get a check, if I whoop both of them, will I get paid twice?
"I like Shawn as a person, but he gets so much negative energy from his dad. That's just the truth.
"After I whoop you Shawn, come sign with About Billions and I'll buy you a nicer car than your dad's. I already wrote out the contract.
"This is going to be a great fight. I'm very excited because I love putting on a show for the fans. This boy will not beat me.
"I'm coming to deliver a beat down. Shawn Porter is a football player, I'm going to take him out. It's going to be fun."
SHAWN PORTER
"I feel great, it's a good day. I'm just counting down until fight night.
"I've been working on everything in camp. I have a lot of speed, power, quickness and the whole nine. It's going to take everything to win this fight.
"He's got good speed, so we're preparing for him to use a lot of that. We'll make adjustments as we go along but the key is definitely taking care of his speed with our speed.
"It's so sweet to be fighting at MGM Grand, this is what you want as a fighter. It's my time now. I'm so excited about this opportunity.
"Number one, we have to take care of business. We know that if we take care of business it'll be a great Father's Day on Sunday."
ERROL SPENCE JR.
"I just have to stay focused and put on a spectacular performance on Saturday night. Hopefully next time I'll be the main event. It's a process but I'm getting there.
"I'm ready for anybody in the welterweight division, I'm ready for any kind of step up in competition period. I'm not the guy to shy away from anybody.
"Porter and Broner are a little more seasoned that me, but skill wise I think I'm right on par with them. Skill for skill I can match anybody in boxing.
"A lot of guys aren't in the position that I'm in to get the opportunities that I have. This is my third year as a pro and it's all been coming pretty fast. It's all about timing. I'm enjoying the process.
"You're going to be looking at the future of the sport come Saturday night."
PHIL LO GRECO
"There's no such thing as the right moment. The perfect fight is when you want it to be. I got the call and decided that this is the perfect timing.
"It took me about 30 seconds to decide to take this fight. When you know why you fight, it makes these decisions easy.
"A year ago there was no way I thought I'd be on this stage. Now I have real opportunities and we're here now.
"Win, lose or draw, I'm going back to the gym next week.
"I'm a pressure fighter. I like to engage and give the fans what they want to see. This is a great opportunity. Saturday is going to be fun."
RANCES BARTHELEMY
"I'm feeling good moving up in weight. Everybody knows Antonio DeMarco is a very, very tough fighter. He's one of the best I've ever fought. His record who he has faced proves that. He's experienced, but so am I.
"I want to be the best Cuban fighter of all-time and I'm on my way.
"I'm in tremendous shape and I'm ready to go. I want to showcase my skills on Sunday to show the world how I can fight.
"Who do I want to fight? I'll fight anyone they put in my way. I'll fight Godzilla if he's there.
"I don't do predictions but this is going to be an entertaining fight. Unlike past Cuban fighters, I have power and can knock people out. In the amateurs you don't need power. But in the pros, that's what it's all about."
ANTONIO DEMARCO
"This is going to be a tough fight, a difficult fight, but I have a great responsibility. My 15-year-old sister told me that if I win, she will beat cancer. She was diagnosed with bone cancer last November – and it was life-threatening. But her last chemo treatment was yesterday.
"From a ring standpoint, I am really looking forward to Sunday. I am very prepared, I am relaxed and ready to go. Besides for my sister, my other main motivation is that this is a chance to get my career back on track. A victory and I can get back to where I was and in position to challenge the best.
"I am treating it like another fight, but of course it is much more. Exposure-wise, you can't get better than network television.
"I know Rances is going to be a difficult opponent. He's a great fighter. But I have the experience to come up with a game plan to win. From a career-standpoint, this is a very important fight and I'm ready for it."
SAMMY VASQUEZ
"It's an honor to be here in this building among some of the greatest fighters in the world. Omotoso has never fought anyone like me before.
"I'm here to restore the greatness of Pittsburgh boxing. Everyone knows 'The Pittsburgh Kid', Paul Spadafora, but we all carry the torch differently. I respect him as a fighter and he's done some great things. We were raised differently and I'm amazed at the great things he's accomplished. But I'm here to bring a new look to Pittsburgh boxing.
"Omotoso is tough. His record speaks for itself at 25-1. His only loss was to Jessie Vargas who's fighting for a world title. I don't take anybody lightly. I've trained hard for this and I don't think he's fought anyone as fast as me or hits as hard as me with both hands.
"I'm going to throw a lot of punches and it should be fun to see. It will be an entertaining fight. The main goal is to win. If the opportunity presents itself to knock him out then I will. I'm not going to go in there trying to knock his head off or anything. I have to box smart.
"In this game it's all about longevity and the less you get hit the longer you can fight so I don't want to get hit. That's my goal."
WALE OMOTOSO
"I feel blessed to have the opportunity to fight on such a big stage. Fighting on network TV provides all of us such a lift. Getting this kind of national exposure is what fighters like me need and what we work so hard to get.
"I'm totally ready to take advantage and I look forward to being able to showcase my talents on Sunday. All my friends and countrymen are going to be able to watch it, and I don't want to let them down.
"I really don't know much about Vasquez, other than he's a southpaw whose quick, he is just another fighter who can fight. But we can all fight. It's not like he has four hands and two heads.
"The best man will be victorious and I am confident that is me.
"I can't wait for Sunday. I wish it was time to fight right now. This is going to be my Father's Day present to my kids and wife."
Buatsi Flattens Dos Santos in Manchester; Charr KOs Fraudulent Lovejoy in Cologne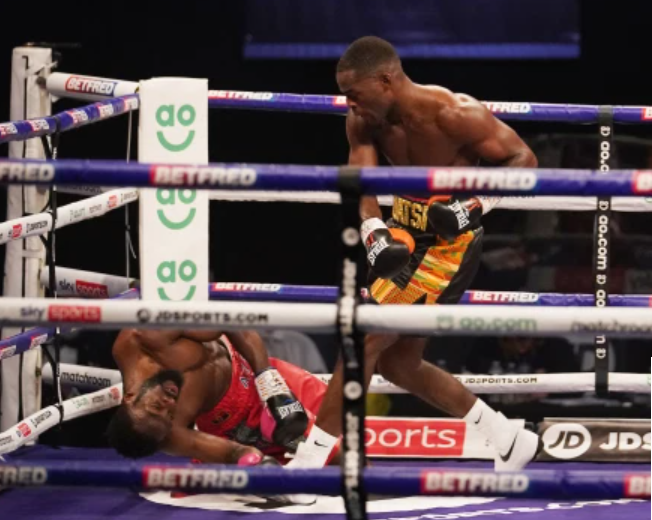 In a Knockout of the Year candidate, rising light heavyweight contender Joshua Buatsi (14-0, 12 KOs) leveled Daniel Blenda Dos Santos, an unheralded Frenchman, in the fourth round, closing the show with a pulverizing right hand – and for good measure, touching him with another right as he fell. A 2016 Olympic bronze medalist for England, the Ghana-born Buatsi trained for two months in the California Bay Area under his new trainer Virgil Hunter and his American sojourn paid dividends.
Dos Santos, who found his way to boxing after serving three-and-a-half years in prison, was undefeated (15-0, 8 KOs) coming in, but hadn't fought beyond six rounds. He was knocked down earlier in the fight with a chopping right hand. There were less than 20 seconds remaining in the fourth when Buatsi put Dos Santos to sleep, and to his credit he did not celebrate but consoled his distraught victim.
Other Bouts
In a shocker, 31-year-old southpaw Jason Cunningham improved to 29-6 (6) with a unanimous decision over Gamal Yafai (18-2) who was making the first defense of the European bantamweight title that he won in Milan.
Cunningham had Yafai on the canvas three times — knocking him down with left hands in the second, fourth and sixth rounds — but Yafai, the younger brother of former 115-pound world title-holder Kal Yafai — wasn't deterred and kept coming forward. In the end, however, Cunningham's lead was too big for Yafai to overcome. The judges had it 115-110 and 114-111 x2 for the southpaw who was a consensus 10/1 underdog.
Super middleweight Lerrone Richards breezed to a lopsided 12-round decision over Italian veteran Giovanni DeCarolis to snatch a vacant European title. Trained by Dave Coldwell, who previously handled Tony Bellew, Richards was content to rack up points and the one-dimensional DeCarolis, who was making his first start in 23 months, had no way to stop him.
The judges had it 120-108 and 119-109 twice. The London-born Richards, whose family roots are in Ghana, improved to 15-0 (3). This may have been the last rodeo for the 36-year-old DeCarolis who fell to 28-10-1.
Belfast's Tommy McCarthy (18-2, 9 KOs) was fed a softie for his first defense of his European cruiserweight title in the form of 36-year-old Romanian Alexandru Jur who brought a 19-4 record but had defeated only four men with winning records. Except for a few brief moments, Jur showed little inclination to mix it up. McCarthy put Jur down with a body punch in round four and finished him off two rounds later with another body punch. The official time was 2:09.
McCarthy, who is of Irish and Jamaican descent, moves on to a date with fellow Brit Chris Billam-Smith. Jur lost for the fourth time in his last six starts.
Cologne
Credit Christopher Lovejoy for having the gumption to defy Don King who threatened legal action if Lovejoy went ahead with his match today with WBA "champion in recess" Mahmoud (Manuel) Charr. But the 37-year-old Lovejoy, who arrived in Germany all by himself, traveled a long way to destroy whatever credibility he may have had. Fighting off the grid, he had rung up 19 fast knockouts in 19 fights against 19 presumptive Tijuana taxi drivers.
Carrying 306 ½-pounds, the six-foot-five Lovejoy lasted less than two full rounds against Charr who was making his first ring appearance in 42 months. Lovejoy was counted out after being dropped with a volley of punches in the second round.
Photo credit: Mark Robinson / Matchroom
Check out more boxing news on video at the Boxing Channel
To comment on this story in the Fight Forum CLICK HERE
Avila Perspective, Chap. 135: Danny Roman and Super Bantamweights Perform in L.A.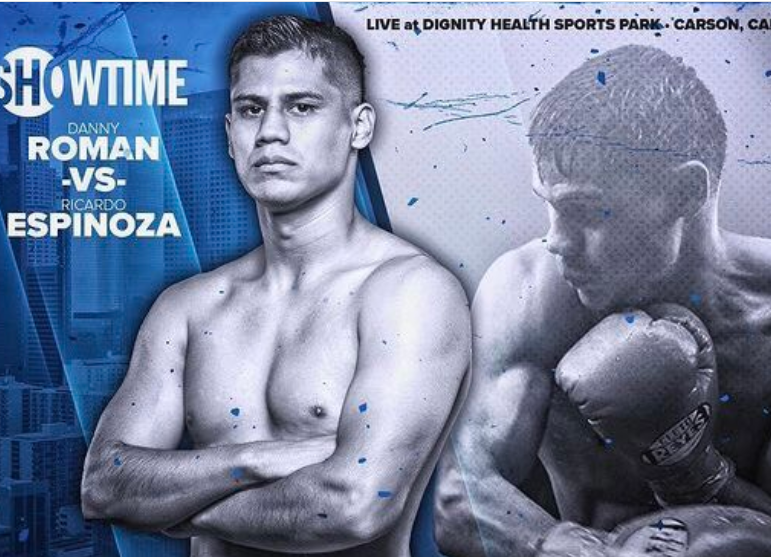 Avila Perspective, Chap. 135: Danny Roman and Super Bantamweights Perform in L.A.
The super bantamweight division was virtually unknown by most fans of prizefighting for the last decade.
Then Danny Roman arrived and re-booted the 122-pound division virtually by himself by challenging and defeating world champions from Japan and the United Kingdom.
Roman (28-3-1, 10 KOs) no longer holds the world titles but itches to regain his footing when he fights Ricardo Espinoza (25-3, 21 KOs) at Dignity Health Sports Park on Saturday May 15. Showtime will televise the battle on the Premier Boxing Champions card.
"Everything I do in boxing from here on out is to regain my status as a world champion," said the normally ultra-reserved Roman, 31.
Ironically, both Roman and Espinoza turned their careers around with numerous battles at boxing shows in Ontario, California. They entered as boys and emerged as battle-tested men.
For the last 20 years Thompson Boxing Promotions has been pumping out world champions and contenders at a furious rate despite their small size in Southern California. They do not pamper or cajole their prospects.
Both Roman and Espinoza suffered their first losses as professionals at Thompson Boxing's bloody battles at the Doubletree Hotel in Ontario. But despite losing, they continued to learn and evolve. Now they meet in Los Angeles on the big stage.
When Roman lost to Japan's Takashi Okada in 2011 and Juan Reyes in 2013, that could have derailed the Los Angeles-based fighter for good. Instead, he re-grouped and reloaded to become a unified world champion. Roman traveled to Japan and won the WBA super bantamweight world title by stoppage of Shun Kubo in 2017. A couple of years later after several defenses, he clashed with WBO super bantamweight titlist TJ Doheny to win an incredible battle by decision in Los Angeles. It was perhaps the Fight of the Year in 2019 and gained Roman the WBO belt.
Though Roman lost both the WBA and WBO titles to Murodjon Akhmadaliev, it was a disputed split decision. Many felt Roman was the true winner. So now he must battle back toward the top.
Espinoza also fought many bloody affairs at the Doubletree Hotel in Ontario including his first two losses. He lost to Sam Rodriguez in 2016 and Christian Nieto in 2017. Then the power-punching fighter from Tijuana, Mexico knocked out 12 of 13 of his opponents to gain a world title fight that he lost in April 2019. Since then, he has returned to his winning ways and upset undefeated Brandon Valdes last year.
"Danny Roman has fought some really quality opponents that are high in the rankings, but this is my time. This is when I show that I can step up in competition and prove that I belong with the best," said Espinoza who is very familiar with Roman.
The Tijuana fighter is a punching machine.
"This is not going to be an easy fight because I know my opponent is a tough fighter from Tijuana who is coming with everything he's got. He's got a lot of power, so I must be smart on how I throw my combinations," said Roman who lives within 10 miles of the event. "I believe my experience in big fights is going to be the difference on May 15. I'm expecting a rough fight and I'm ready for an intense battle."
Now the two veterans of the Ontario, California wars finally meet each other to see who advances toward a world title fight. They won't have to look far. The main event pits two titleholders against each other.
Unification Battle for Super Bantam Belts
Mexico's Luis Nery holds the WBC super bantamweight world title and faces Texan Brandon Figueroa who holds a version of the WBA super bantamweight title in the main event on the Dignity Health Sports Park card on Saturday. Showtime will televise.
Nery formerly held the bantamweight title too. But the Tijuana-based fighter had problems making weight and wisely moved up a weight division. So far, the extra pounds hasn't been a problem.
The problem facing Nery is Figueroa has a solid chin.
Figueroa may look like a pretty boy but he fights like he's ugly. The Weslaco, Texas native has firepower and a rock chin but does he have the skills to match Nery?
"I come forward. I bring the pressure and I'm definitely going to bring the power, the size and all the advantages I have to make sure that we give the fans a great show. I do respect him as a fighter but we're just going to have to find out Saturday," said Figueroa whose brother Omar Figueroa fought in the same venue two weeks ago.
Nery has quickness and agility to supplement his power. He also has experience in world class opposition and that's something Figueroa lacks.
"Brandon's style really fits with what I want to do in the ring," said Nery, a boxer-slugger. "This is going to be an all-out war from the first round on. People are going to be talking about it for a long time after."
The winner of this clash will hopefully meet the winner of Roman and Espinoza. That would really heat up the super bantamweight division to blue hot levels.
Some of my favorite fighters of the past occupied the super bantamweight division like Wilfredo "Bazooka" Gomez, Marco Antonio Barrera and Israel "Magnifico" Vazquez who twice fought in this same venue. His third fight with Rafael Marquez on March 1, 2008 was voted Fight of the Year for its brutal but spectacular display of super bantamweight power.
The winners of this quasi-super bantamweight tournament can equally achieve the same kind of greatness those former stars achieved. This is a good start.
Fights to Watch (All times are Pacific Coast)
Friday UFC Fight Pass 5:30 p.m. Heather Hardy (22-1) vs Jessica Camara (7-2); Melissa St. Vil (13-4-4) vs Olivia Gerula (18-18-4).
Friday Telemundo 11:30 p.m. Denilson Valtierra (14-0) vs Emanuel Lopez (30-12-1).
Sat. DAZN 10 a.m. Lerrone Richards (14-0) vs Giovanni De Carolis (28-9-1).
Sat. Showtime 7 p.m. Luis Nery (31-0) vs Brandon Figueroa (21-0-1); Danny Roman (28-3-1) vs Ricardo Espinoza (25-3).
Check out more boxing news on video at the Boxing Channel
To comment on this story in the Fight Forum CLICK HERE
Charr vs Lovejoy: Better Late Than Never, or Not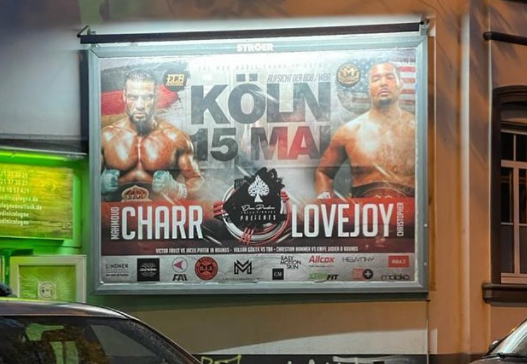 COLOGNE – There are many questions to be answered regarding Mahmoud Charr's scheduled fight against Christopher Lovejoy this Saturday night at a training facility along the Rhine. The most primary point to be determined is whether the contest actually occurs.
Charr has been idle since capturing a WBA title belt against Aleksandr Ustinov way back in November 2017. Since then numerous delays and cancellations, many of them out of Charr's control, have kept the erstwhile ranked heavyweight out of the championship picture and far from the international public eye.
The most recent of such situations found Charr unable to obtain a travel visa for a defense against Trevor Bryan in Florida last January. Machinations by Don King and the WBA in relegating Charr to "in recess" status further tarnished both the promoter and the organization's already disgraceful reputations.
King has also had a hand in keeping Lovejoy off the rumbling radar, after the boxer previously claimed retirement as a way out of King's contractual clutches. When Lovejoy attempted to face Dave Allen in London on the undercard of Usyk-Chisora, King contacted Matchroom's Eddie Hearn with enough of a claim that Lovejoy's appearance was cancelled.
According to Lovejoy, King has also attempted to block Saturday's fight, so uncertainty remains until the first bell rings this weekend. That said, everything else about the relatively low key card seems to be well in place, and there is plenty to look forward to, questions and all. A subscriber-based live stream on German news outlet Bild.de will broadcast the bout.
How the long layoff, which began way before the coronavirus pandemic, has affected Charr is probably the most crucial factor, but what the rarely seen Lovejoy brings to the table is as compelling as it is curiously noteworthy. His record of 19-0 with 19 quick knockouts, compiled completely off-grid in frequent madhouse Tijuana could mean damn near anything.
Charr, 31-4 (17), has been stopped three times and in two of those KOs (by Maris Briedis and Alexander Povetkin) he was blasted into one-shot oblivion. Under Saturday's scenario one of the few possible surprises might be if Lovejoy doesn't try to get Charr out of there immediately.
Lovejoy, listed at 6'4", looks substantially larger than 6'3" Charr, but not any taller. An uneducated guess indicates a strong possibility that the more proven Charr is capable of wearing Lovejoy down, especially considering how he did it against a respectable version of Ustinov.
When Lovejoy refused to shake Charr's hand and insulted his courage during their press conference photo op, there was a slight but very significant twitch in Charr's almost constantly upbeat countenance. If Lovejoy doesn't indeed carry huge power in his punches, he may have inspired a painful night.
To put Charr's simmering anger in perspective, it must be remembered that he still looked like he was calmly waiting for his food while being carried out on a stretcher after getting shot four times in the lower abdomen during a 2015 ambush in nearby Essen. When his assailant, a former boxing protégé, confessed by saying he only meant to shoot him in the leg, Charr told an emotion packed courtroom bygones were bygones, saying "I am a man who forgives."
A refugee at five years old whose father was killed in the Lebanese civil war, Charr seems to clearly envision a bigger picture than just his boxing career, and he consistently posts positive motivational copy on social media, including an end of Ramadan message stressing nonpartisan hope for the current Gaza conflict.
The 10-round fight carries no title designation but whatever they may or may not step into the ring with, one thing Charr and Lovejoy share is the potential for a make-or-break performance.
If Charr wins, people will dismiss Lovejoy's merit in the first place but it still keeps a bit of shine on his championship claims, increasing his leverage regarding Bryan or even bigger game. If Lovejoy wins, especially by dramatic KO, he has definitely upped his recognition factor marketability.
The only safe bet is that the winner will probably hear from somebody representing Don King.
And maybe even Fres Oquendo.
Questions, questions.
Check out more boxing news on video at the Boxing Channel
To comment on this story in the Fight Forum CLICK HERE