The Night Andrew Golota Forever Became "The Foul Pole"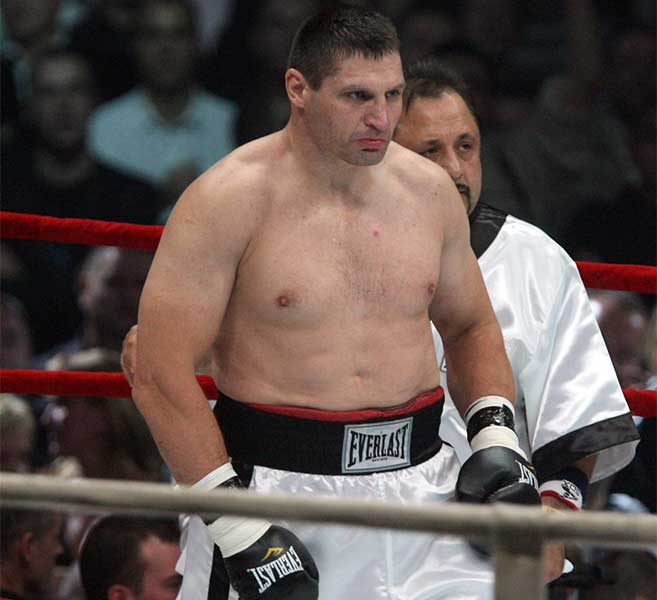 He could have been great. Or maybe not.
The only thing that is indisputable about former heavyweight contender Andrew Golota is that he will forever be remembered as one of the dirtiest, most mentally unhinged fighters ever to lace up a pair of padded gloves. So often did Golota's seemingly vast potential dissolve amid a barrage of low blows, head-butts, neck bites and bizarre behavior that the Polish-born, Chicago-based fighter came to be known as "The Foul Pole," a nickname that might be the most appropriate nom de guerre in boxing history.
Golota is 47 now, his last bout coming on Feb. 23, 2013, when he was knocked out in six rounds by another then-45-year-old, Przemyslav Saleta, in Gdansk, Poland. It was the last of three consecutive defeats, all inside the distance, for Golota, who took a 41-9-1 record into retirement where, one would hope, he finally has found the peace that evaded him as a lightning rod for controversy and scandal. Thirty-three of his victories were by KO or stoppage, as were six of his nine losses. But it is the manner of four of those setbacks, and even of a couple of his successes, that have made the seven-time Polish national amateur champion and 1988 Olympic bronze medalist such an enduringly curious figure.
This Saturday marks the 19th anniversary of one of Golota's infamous meltdowns, the first of his two disqualification losses to Riddick Bowe, each of which he appeared to be winning handily. When referee Wayne Kelly — who had already assessed Golota three penalty points for repeated low blows — DQ'd the 10-to-1 underdog in the seventh round as Bowe writhed on the canvas, clutching his groin, it ignited an ugly, half-hour riot in Madison Square Garden that resulted in 22 injuries, 16 arrests, heightened security for future events in the "World's Most Famous Arena" and a $250,000 fine levied by the New York State Athletic Commission against Bowe's excitable manager, Rock Newman, for leading an in-ring assault on Golota. One member of Bowe's unwieldy entourage, Jason Harris, struck Golota in the back of the head with a walkie-talkie, inflicting a nasty gash. Two other credential-bearing Bowe supporters, Stephen and William Wright, were taken into custody by police.
Outraged by what he claimed was "premeditation" by Golota to maim his fighter, Newman taunted Golota and his handlers throughout the scheduled 12-round bout. It was a powder keg primed to blow up, and eventually it did.
"It was a very ugly night for everyone who was involved in the staging of the event," a chastened Newman told reporters after he was socked with that quarter-million-dollar fine. "I wholeheartedly and very sincerely apologize for the pain, grief, anguish and embarrassment it has caused all of us."
The thing is, given the combustible histories of Golota and Newman, it was not only possible that the fight could take a nasty turn, it probably should have been expected. There was, for instance, the night that Bowe and Elijah Tillery began jawing at one another after the first round of their 1991 bout in Atlantic City. Refusing to return to his corner, Tillery aimed several kicks at Bowe's legs, Bowe fired back with his fists and Newman, who had jumped onto the ring apron, grabbed Tillery around the neck and flipped him over the ropes. Although there was ample blame to go around, it was Tillery who got the loss via disqualification.
Golota, meanwhile, was establishing his own bona fides as someone who was not adverse to bending the rules to the point of their breaking. He bit Samson Po'uha's neck during a clinch in their May 16, 1995, bout, and flagrantly head-butted Danell Nicholson on March 15, 1996. In each instance he somehow managed to avoid disqualification, going on to win both fights on technical knockouts.
But it was that ill-fated night at the Garden against Bowe that forever cemented Golota's reputation as "The Foul Pole," and set the stage for more, similarly egregious incidents that forever tarred him as a near-lunatic and, worse, a quitter.
After Kelly waved a halt to the foulfest, Golota's 74-year-old trainer, Lou Duva, was trampled in the ensuing melee. Duva, who had a history of coronary trouble, was rushed by ambulance to NYU Hospital, where he was reported to be in stable condition.
Duva might actually have fared better than some of the 11,252 spectators who found themselves caught up in a flash riot. Fistfights between supporters of the two fighters broke out throughout the arena and additional police had to be called in to assist the Garden's overmatched security force. Even those who were trying to avoid the expanding violence couldn't always steer clear. One woman, wandering around with both eyes nearly swollen shut, cried to no one in particular, "Look what they did to me."
Why had Golota elected to frequently target Bowe's not-so-protective cup, despite the urging of Duva and other members of his corner team to keep his punches up? At the time of the DQ, Golota, because of the three point deductions, led on the official scorecards by margins of 67-65 (twice) and 67-66. He certainly looked the part of an elite heavyweight, although it must be noted that Bowe, who had gone into training a couple of months earlier at an unsvelte 272 pounds, did himself no favors by coming in overweight and underprepared.
Several weeks after Bowe-Golota I, Larry Hazzard, executive director of the New Jersey State Athletic Control Board, weighed in on still another missed opportunity for a sport that had a chance to legitimately shine on the Big Apple's brightly lit stage.
"What boxing needs is a high-visibility fight where an underdog pulls off a big upset," Hazzard opined. "I love upsets. Look at all the excitement that was generated when Buster Douglas knocked off Mike Tyson in Tokyo. And you know what? We almost had that a few weeks ago. Andrew Golota beating up Riddick Bowe at Madison Square Garden was the closest thing we've had to Douglas beating up Tyson. It could have been the most spectacular night boxing has had in some time. Instead, it disintegrated into a disqualification loss and a postfight riot. Almost instantly, something great became something horrible. Upsets are good, but riots definitely are not good."
So it was on to the rematch, on Dec. 14, 1996, in Atlantic City's Boardwalk Hall, with Bowe again favored, this time by 4-to-1, the feeling being that he would commit himself to training harder and thus being in peak condition. In any case, the hope was that the nastiness of five months earlier could be avoided. There was no way another disqualification could occur, right?
Golota, as it turned out, was a leopard perhaps incapable of changing its spots. Part II was a virtual replay of the original, with referee Eddie Cotton taking over for Kelly and again penalizing Golota for infractions that were too frequent and severe to have been happenstance.
As had been the case in their first encounter, Golota was putting considerable distance between himself and Bowe on the scorecards, even with a pair of point deductions from Cotton (one for head-butting, another for low blows).
All he had to do was avoid doing something stupid. He couldn't do it.
Golota did the unthinkable moments just before the end of the ninth of 10 scheduled rounds, blatantly slamming Bowe with two punches to the cup, the two-time former champion again slumping to the canvas in agony. Cotton had no alternative but to wave the fight to a halt and award Bowe another DQ win.
An incensed Duva screamed "You can be champion of the world!" at Golota. "The only guy stopping you is you! Nobody but you!"
Golota, sobbing, said, "I stupid. I stupid."
"I'm going to ask Andrew, in no uncertain way, if he wants to continue fighting," a more composed Duva said at the postfight press conference. "But if he does want to go on, it's going to have to be like Frank Sinatra. He'll have to do it my way.
"He has all the tools to do it the right way. Why the hell does he have to resort to that other stuff? Does he want to fight like a fighter, or like a brawler in a bar or an alley? We have to get that straightened out."
The two blown chances against Bowe – who last month was inducted into the International Boxing Hall of Fame, a distinction that forever will be denied Golota – would have been enough to establish him as a screw-up to end all screw-ups. But there would be more stumbles, more missteps, more stains upon a legacy that soon would be beyond repair.
Even with the back-to-back DQ losses to Bowe, Golota received a shot at WBC heavyweight champion Lennox Lewis in his next bout, on Oct. 4, 1997, in Boardwalk Hall. Given Golota's growing legend as a loose cannon, the jokes were flying fast and furious. One of the better ones advised fans to "Watch a fight for the heavyweight crown, and the family jewels."
"What's his best weapon?" cracked Lewis when asked about Golota. "His best weapons are his jab, his left hook and his punch to the balls."
Duva, still in Golota's corner, said he was satisfied that the 6-4, 240-pounder had finally harnessed his inner demons. Asked if he had recommended that Golota receive psychological testing, Capn' Lou said, "Every time we approached him on the subject he said, `You talker. You handle it.' So I've been teaching him how to say, `Excuse me. Pardon me.' A lot of good stuff."
Unfortunately for Golota, he didn't get much of a chance to display the low blows of old or his newfound manners. He was blown away in the first round, nudging his career to the edge of irrelevance. But he rebounded from the Lewis debacle to post six straight wins, again putting him into a high-profile bout, this time against rising contender Michael Grant on Nov. 20, 1999, in Boardwalk Hall.
Once more, Golota looked strong early, flooring the undefeated Grant with a right hand in the first round and gradually building a substantial lead on points. But after being floored by Grant in the 10th round, Golota, who beat the count, twice refused to respond when referee Randy Neumann asked him if he was all right. Asked a third time if he wanted to continue, Golota said "No," and turned his back. For many fight fans, someone being DQ'ed can be accepted under certain conditions; giving up, especially in a tussle you're winning, is unforgivable.
"He got caught with one (good punch) and he quit," said Golota's manager, Ziggy Rozalski, "but he has nothing to be ashamed of." That certainly would have to be considered the minority viewpoint.
It's a funny thing about fame and notoriety, however. There is always another door that can be opened, if your name still holds some box-office magic. And whose name had more residual magic than that of Mike Tyson, maybe the only man in boxing with a reputation as sullied as Golota's? Their Oct. 20, 2000, meeting, at the Palace of Auburn Hills (Mich.), was labeled "Bad Boys," a nod toward not only Golota, but to Tyson, who had chomped Evander Holyfield's ears on his way to a disqualification loss even more outrageous than Golota's double-DQs against Bowe. The volcanic Tyson also was cited for a failed attempt to break Frans Botha's arm, the slugging of Orlin Norris well after the bell and, in his last fight prior to Golota, knocking down referee John Coyle when Tyson attempted to continue pounding Lou Savarese after a first-round stoppage had been declared.
By then Al Certo, best known as the trainer of two-division former world champ Buddy McGirt, had replaced Duva as Golota's chief second. And, unlike Duva, Certo was amenable to Golota returning to his rules-flaunting roots.
"Neither I nor Golota wants a dirty fight," Certo said. "Golota will play by the rules as long as he can. But if it gets dirty, Golota is a master at that. So, if Golota wants to body-slam Tyson, that is his business. I am not teaching him anything that he does not already know. Golota wrote the book himself."
ESPN color analyst Teddy Atlas, who trained the young Tyson when both were at Cus D'Amato's Catskill, N.Y., compound, figured the outcome hinged on which head case was mentally weaker. He did not discount the possibility that that might be Tyson.
"Tyson is always unsure of himself, and he always wants to know he has some kind of edge," Atlas offered. "Tyson can sense a guy who's intimidated, so he's bargaining that he will be able to walk right out and get rid of Golota. He's hoping Golota will just be waiting to be executed, so to speak. Tyson has gotten used to that, and he's gotten weak with it.
"But I can tell you that it's very possible and likely that if Golota is not intimidated – and the early part of the fight will tell everything – Tyson will become intimidated. Tyson is a very scared, fractured guy. He talks all of this stuff to scare other people so they won't find out how scared he is."
Perhaps, if the Golota who took it to Bowe twice before going off the rails had shown up, Atlas' assessment would have been proven correct. But it was Golota who cracked early. He complained that referee Frank Garza had not penalized Tyson for head-butting, and he refused to come out for the third round of the scheduled 10-rounder. He even shoved Certo away when the veteran trainer attempted to insert his mouthpiece.
"I'm sorry for all my fans who count on me," Golota said, nearly in tears. "It was not my day. But he head-butt me, you know? And nobody took care of this, you know? Nobody gave him a warning."
Showtime executive Jay Larkin wasn't buying any of it. His position was that Golota had more dog in him than the Westminster Kennel Club.
"I've never seen a more blatant act of cowardice," Larkin fumed. "He will never fight on Showtime again."
But Tommy Brooks, Tyson's trainer, was more forgiving of Golota's apparent act of surrender. It was, Brooks suggested, a sign of a deeper, more distressing condition.
"I never would have guessed that from Andrew," Brooks said. "I truly believe that Andrew is not a coward. I think he suffers from anxiety attacks and I believe he was having one there."
After his return to Chicago, Golota underwent a thorough medical examination that appeared to justify his decision to stop fighting. Neurosurgeon Wesley Yapor issued a statement that Golota had suffered a concussion, a fractured left cheekbone and a herniated disk between the fourth and fifth cervical vertebrae.
"There was extreme danger of sustaining another several blow to the head," Dr. Yapor said, which posed a "threat of paralysis."
It's likely the good doctor's explanation did not fully appease the 20 million Poles who stayed up to 4 a.m. in that country to watch Golota attempt to take down Tyson. But at least Golota came away with a non-loss on his record, the initial ruling of a second-round TKO for Iron Mike changed to a no-contest after Tyson tested positive for marijuana.
Incredibly, Golota got one more chance at the big time, or a reasonable facsimile. On Nov. 13, 2004, he challenged IBF heavyweight champion Chris Byrd in Madison Square Garden, the site of his first DQ defeat against Riddick Bowe nearly eight years earlier.
"We live in a capitalistic society," reasoned MSG boss Charles Dolan. "This is a commercial undertaking for (promoter) Don King and the Garden. Golota is – in large part because of his unsavory reputation – an attraction. He's notorious, and because of that he has the ability to put butts in seats. People are going to come out and see the train wreck. The same can be said of Tyson. That long has been part of both fighters' appeal. They're unpredictable. There's an element of the absurd to each of them."
Byrd retained his IBF strap on a split draw and, although he continued to hang around on the fringes for a few more years, the absurdity had ended for "The Foul Pole." The train wreck of his career was no longer must-see TV.
But you have to wonder, what if he hadn't gone goofy in the two fights with Bowe? Or run up the white flag against Grant and Tyson? When he was at his best, he could have been – should have been – a threat to anyone. Did a lack of talent do him in? Was it the anxiety attacks to which Brooks alluded? Some sort of mental defect or disorder?
Those are questions that provide only speculative answers, as is the case with another should-have-been-better-than-he-was heavyweight contender, Ike "The President" Ibeabuchi, whose prime was locked away behind prison walls.
Sometimes the toughest opponent to conquer is the one raging about inside a fighter's own mind.

Teddy Atlas, Keeper of His Late Father's Flame, Called to a Higher Mission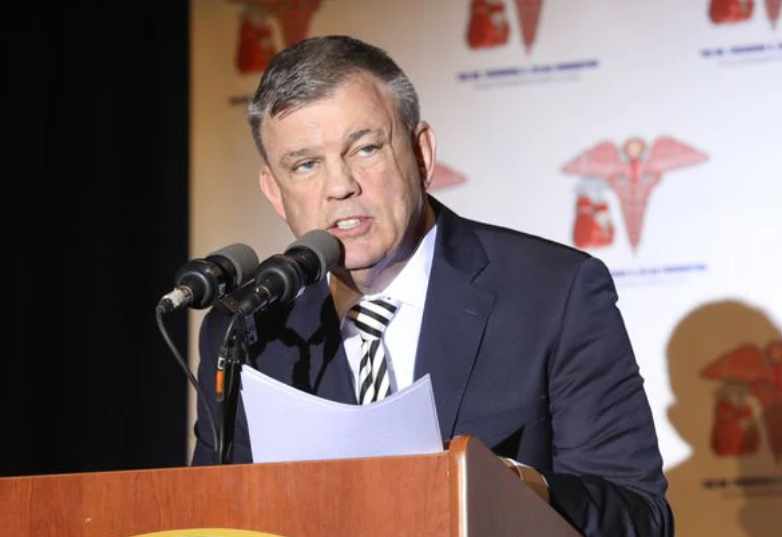 STATEN ISLAND, N.Y. – What people see, and hear, is not always what they get or expect. That is especially true of Theodore A. Atlas Jr., whom the world at large, and particularly the boxing world, knows as a first-rate trainer of fighters and an astute, opinionated longtime analyst of the sport for ESPN and for four Olympics televised by NBC.
For most individuals who have fully devoted themselves, or nearly so, to the sweet science, there can be no greater point of pride than to be inducted into the International Boxing Hall of Fame, which Teddy Atlas was on June 11 of this year in the Observer category. But for a very select few individuals even that signal achievement must yield precedence to a higher mission and purpose which more clearly defines who and what they are as human beings.
So, for those whose sensory perceptions of this special man are limited to his commendable corner work and heavy Staten Island accent, be advised that, as much as he loves boxing, the greater measure of who he is was on display here Thursday night at the Hilton Garden Inn. At the 23rd annual Teddy Dinner, the founder, chairman and driving force behind the Dr. Theodore A. Atlas Foundation was again at his persuasive best, urging diners to again open their hearts and minds to those less fortunate. The dais again was filled with like-minded celebrities who gladly lend their time and prestige to such a worthy ongoing project.
Recently retired ESPN broadcaster Bob Ley, who received an award named after the late journalist Jack Newfield, was making his first appearance at the event and he was visibly moved by tales of pain eased, wrongs righted and hope restored.
"I had heard this much about this dinner, and it was totally undersold to me," Ley said. "This is an experience. These incredible stories, anecdotes, human tales, (are about) making a difference. Teddy Atlas, the man, he makes a difference. Jack Newfield made a difference. He was driven by his principles. To be here tonight, in this company, and to accept an award in Jack Newfield's name, is to me a great honor."
To have a better understanding of the charitable principles which have arguably made Teddy Atlas Staten Island's most prominent citizen and resident angel of mercy, it is required to know the history of his late father, Dr. Theodore A. Atlas, a physician who over decades unselfishly became a local legend. Dr. Atlas dispensed his time, more than a little of his own money and especially his genuine concern for his patients, especially the poor, and even more especially the children of the poor. His level of compassion must have seemed bottomless to those residents of this comparatively unglamorous borough of New York City who seldom are served much when life's better things are handed out.
Dr. Atlas waded through snow drifts and climbed through windows to deliver babies during winter's worst storms; he went into the projects to provide needed medical services while other doctors refused to go there, and on Wednesdays he used blankets and pillows to make makeshift beds in his office and performed tonsillectomies on patients who could not afford to pay for surgery. He founded two hospitals whose first function was not to ascertain how much and how soon their patients will be able to pay for the services they received. He served his community for 55 years until his death, at 88, in 1994, leaving a void so wide it must have seemed impossible to even consider the possibility it could ever be bridged.
But Teddy Atlas, his father's son and namesake, was determined that the legacy of the dad he held in such towering esteem not fall into disrepair. He established the Dr. Atlas Foundation in 1997, whose modest early successes have, if anything, matched or even exceeded those of the original Theodore A. Atlas, in no small part because of the platform that boxing has afforded him.
Like his father, Teddy, well-known for his work in boxing, would prefer not to take credit for all the good deeds made possible by the Dr. Atlas Foundation. But that credit comes nonetheless from the recipients of those good deeds, who understand that Teddy, although assisted by so many devoted friends and supporters drawn to the cause, is no mere figurehead. As has been the case with the many accomplished fighters with whom he has worked, such champions as Michael Moorer (who was in attendance), Wilfred Benitez, Simon Brown, Joey Gamache, Donny Lalonde, Barry McGuigan, Tracy Harris Patterson, Timothy Bradley and recently dethroned WBC light heavyweight titlist Oleksandr Gvozdyk (also in attendance), Teddy is a hands-on, all-in, heart on his sleeve kind of guy when it comes to his interaction with those who come to the Foundation seeking assistance.
So diners learned of the two severely impaired children who found reasons to smile after they received motorized wheelchairs furnished by the Foundation; the single mother of four, one autistic, who feared she would be forced to live in a city shelter because she had fallen behind in her rent, until the Foundation stepped in; and another mom, with a son inflicted with muscular dystrophy, whom Teddy said was his "hero."
"Her husband, obviously not a hero, took off" after his son's disability was diagnosed," Teddy said. "She was no longer able to bathe him properly in her small apartment bathroom. She needed a handicap setup put in. She was also sick, and she was living on her Social Security disability check." Yep, the Foundation provided her with what she needed to get by.
You think there's pressure to win a fight which seems lost in the prize ring? To sink a couple of free throws when there's only a second or two on the clock and you're down a point? To make that 15-foot putt with the green jacket that goes to the Masters champion on the line, and a national TV audience watching? Well, yeah. But pressure comes in many forms for many people, and in many ways.
"We all feel it, and we all are impacted by it, and we all react differently to it," Teddy said. Of the aforementioned cases mentioned in this story, and others, the pressures can be enormous. But they can be alleviated by the people like Teddy Atlas, his cadre of Foundation workers and the hundreds of diners who attend his dinner not only for a good meal but for the opportunity to also do what they can to bring a little light into the darkness of despair.
"These pressures can also be a privilege, our privilege, our gift, that we are lucky enough and blessed enough to be able to make a difference in people's lives, to sometimes awaken them from their individual nightmares so they can have hope to feel loved and care off," he continued.
For all his excitability on-camera, Teddy's multifaceted nature includes the gentle soul of a poet. While he was in Philadelphia for two months, preparing Gvozdyk for a sure-to-be-difficult Oct. 18 unification showdown with IBF champ Artur Beterbiev, a bout won by Beterbiev on a 10th-round stoppage, Teddy wrote a quite literary message to his guy, which he intended to be relevant regardless of the outcome. But the message conveyed really applies to everyone, as he told his audience.
"There is a darkness that one works into, knowing there is risk and uncertainty waiting for them," it begins. "But there is also a certain light that can be found through the dark, an understanding that comes from having gone to the inner caves of one's self and discovering what is there. That journey can create a path, that can lead to new and greater places that would not have been possible before.
"The courage it took to walk into this place allows you to now leave with a lantern of knowledge and awareness that will forever provide a beacon of light, wherever you go. You will be a champion. Again."
For those interested in contributing to the Dr. Theodore A. Atlas Foundation, donations can be sent to 543 Cary Avenue, Staten Island, N.Y. 10310.
Photo credit: Jason Paderon
Check out more boxing news on video at The Boxing Channel 
To comment on this story in The Fight Forum CLICK HERE
Avila Perspective, Chap. 74: Cancio, Wilder, Santa Cruz and More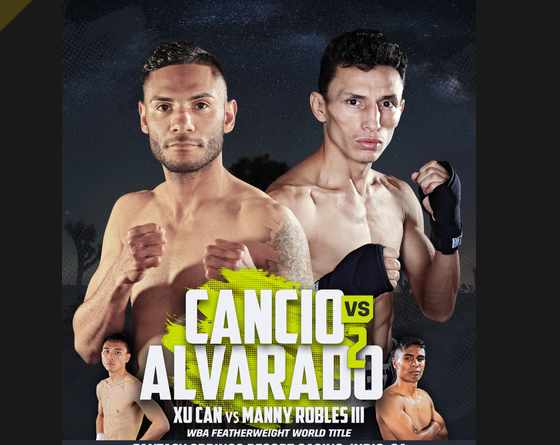 Cancio vs. Alvarado, Wilder vs. Ortiz, Santa Cruz vs. Flores and More
Casinos are getting rich and boxing fan grunts are getting slightly frustrated.
It's the big guys versus the little guys on Saturday with heavyweights in Las Vegas and featherweights in Indio, California going head to head in separate shows.
If only I could be in two places at once.
Let's start with the little guys as WBA super featherweight titlist Andrew Cancio (21-4-2, 16 KOs) and his jackhammer hands defends against former foe Rene Alvarado (31-8, 20 KOs) at the Fantasy Springs Casino in Indio. DAZN will stream the Golden Boy Promotions fight card.
They clashed once before in 2015 with the Cancio winning by technical knockout in the eighth round due to a cut from a punch suffered by Alvarado. Until the stoppage, it was fierceness at its best.
"I wanted to give him (Alvarado) another chance," said Cancio who still has his day job breaking cement with a jackhammer. "He deserves it. Who knows if I would have won if not for the cut?"
Cancio is a cool customer.
Also on the same card will be China's Can Xu (17-2, 3 KOs) defending the WBA featherweight title against Manny Robles III (18-0, 8 KOs), the son of trainer Manny Robles Jr. who works with IBF, WBA, WBO heavyweight champ Andy Ruiz.
Xu, who only has a couple of knockouts, can't help from being involved in wars. He endured hell and back against Puerto Rico's Jesus Rojas in his last U.S. appearance at the Toyota Center in Houston back in January. Now he gets Robles who has improved tremendously since his pro debut at the same venue back in 2012. It was not an impressive moment. But he's slowly and determinedly added more skills in the last seven years. Now he's 25 years old and has his man strength. It makes a major difference.
Another interesting return match features Rashidi Ellis (21-0, 14 KOs) against Eddie Gomez (23-3, 13 KOs) at the same venue as their first encounter. That first fight only lasted one brutal round. Can Ellis duplicate his first victory over the Bronx fighter?
Las Vegas
Speaking of rematches, WBC heavyweight titlist Deontay Wilder (41-0-1, 41 KOs) has to reload when he meets Cuban challenger Luis Ortiz (31-1, 26 KOs) at the MGM Grand in Las Vegas. FOX pay-per-view will televise the PBC fight card. It's been 20 months since their first clash ended in a knockout win for Wilder.
For those unaware, Wilder has held the WBC version of the title for almost four years and that includes nine title defenses. All but one has ended by knockout and the one that got away (Tyson Fury) will be his new date should he prevail against the southpaw Ortiz.
Wilder has pure athleticism and has added more technique each time he jumps in the boxing ring. The first time I witnessed Wilder in person was at the Tropicana Hotel in Las Vegas back in 2010. He's improved immensely since that time. I saw him later that year at Fantasy Springs. He traded knockdowns with Harold Sconiers and actually could have lost that fight, but the referee missed a crucial knockdown. Wilder could not get up and had there been a count, he would not have survived. But sometimes you get a break and Wilder has shown he knows how to cash in.
Ortiz has more skills than the champion but lacks the athleticism and is older. Some say he is much older than Wilder. He's made some astute changes for his career and now the Cuban heavyweight can cash out or cash in, depending on the outcome. Either way he's going to make some heavyweight money.
Heavyweights are a different ilk. They are large, carnivorous and pack immense power. Anything can happen at any time of the fight.
Need convincing?
Look at the Andy Ruiz fight against Anthony Joshua. The Mexican heavyweight was supposed to be an easy substitute opponent and despite getting knocked down, he got up and wiped the mat with Joshua.
In this Wilder-Ortiz rematch anyone can win. Ortiz had Wilder down in their first fight but could not finish the job. Wilder finished the job when he put Ortiz down. Will we see a repeat?
The MGM Grand should be packed with fans eager to see the result.
Santa Cruz
In another world title clash Leo Santa Cruz (36-1-1, 19 KOs) moves up a weight division and fights Miguel Flores (24-2, 12 KOs) at the MGM Grand on the pay-per-view portion on Saturday. It's for another version of the WBA super featherweight title that Cancio is defending on the same day in California.
Yes, it's confusing. You got a title and I got a title and everybody's got a title.
Still, Santa Cruz is hunting for his fourth division world title. I still remember watching him for the first time in November 2007 at Morongo Casino. Bobby Pacquiao was the main event, Carlos Baldomir was a semi-main eventer and Santa Cruz wore braces for his teeth into the fight if I'm not mistaken.
Back in those days no major promoter wanted to take a chance on Santa Cruz. Though his older brothers had fought and were successful, many matchmakers were not convinced on little Leo. But he could always fight up a storm. He had a life and death struggle at Pala Casino with Robert DaLuz in 2009. After that fight he seemed to find himself and got on a tear much like a Major League Baseball player finding his stroke.
Since 2012 he's won the bantamweight, super bantamweight, and featherweight world titles. He lost to Carl Frampton in 2016, then regained it in 2017 in the rematch. Now he fights Flores for the super featherweight title. They were supposed to fight back in February but Flores was forced to pull out with an ankle injury. Now they are finally meeting.
"I'm really glad I'm getting this second opportunity to fight Leo Santa Cruz," said Flores. "I thought I would never get a second chance, but here I am."
Santa Cruz has bigger plans than just securing a fourth division world title, he wants world domination at 130 pounds.
"I want to unify and fight everyone at 130," said Santa Cruz. "Whoever they throw in front of me."
First up is Flores. But 300 miles to the west, Cancio will be defending his version of the WBA super featherweight title too. And he's not too happy.
"I think it's a bunch of B.S. I got the short end of the stick once again. I'm not a big name to a lot of people like Leo Santa Cruz is. I feel like that's why they did it," said Cancio. "If I come out victorious Nov. 23 and if Leo comes out victorious Nov. 23, that's a fight I definitely want to make. I feel like I'm the bigger, stronger 130-pound guy."
That's a fight many people would like to see made.
Friday Fights
In the sleepy town of Ontario, California, another Thompson Boxing Promotions card takes place at the Doubletree Hotel on Friday, Nov. 22.
Three interesting eight-round fights highlight the card including the newest finds by the Orange County based company in a lightweight contest. They specialize in finding talent.
Ruben Villa (10-0, 8 KOs) seeks to extend his unbeaten streak against Eduardo Lionel Rodriguez (8-1-1). The lanky Santa Monica fighter Villa emerged on top with a win over another undefeated fighter George Acosta last May. He followed that up with a quick two-round destruction over veteran Ruben Tamayo last July. Now he faces another test with Rodriguez.
Also on the Thompson card, is the return of Giovani Santillan (24-0, 14 KOs) who meets Wilfrido Buelvas (20-12) in a welterweight match. It's been 19 months since Santillan was last in the ring and knocked out Alejandro Barboza on a televised match to retain the NABO title.
Santillan, 28, fights out of San Diego and his southpaw style allowed him to rise up the rankings in impressive fashion until his disappearance from the fight scene.
Does he still have it?
Doors open at 6:30 p.m. and the first bell starts around 8 p.m. For more information call (714) 935-0900.
Al Mitchell
Al Mitchell, the trainer for female super featherweight star Mikaela Mayer, will be inducted to the USA Boxing Alumni Association Hall of Fame on Friday Dec. 13, it was announced this week.
Mitchell, 76, has been an advisor for many top amateur boxers throughout the past 60 years and was the head coach for the 1996 US Olympic Team. He also advised on numerous Olympic teams that featured boxers such as Vernon Forrest and Floyd Mayweather.
"I want to thank all the coaches who worked under me and all the young fighters I've worked with," said Mitchell. "I'm thankful that USA Boxing believed in me, putting 13 to 15 boxers in my program, and cream does rise to the top."
Today, Mitchell has female fighter Mayer headed to a world title bid in 2020. The tall super featherweight will be accompanying Mitchell when he is inducted to the Hall of Fame at ceremonies held at the Golden Nugget Hotel and Casino in Lake Charles, Louisiana. Al Bernstein will host the proceedings.
Others being inducted are George Foreman, Joe Frazier, Mark Breland, Ray Rodgers and Sen. John McCain.
Fights to Watch
Fri. ESPN+ 7 a.m. Jack Caterall (24-0) vs Timo Schwarzkopf (20-3)
Fri. WWW.RingTV.com
Sat. DAZN 11 a.m. Callum Smith (26-0) vs John Ryder (28-4).
Sat. WWW.DBE1.com 4 p.m. Marie Eve Dicaire (16-0) vs Ogleidis Suarez (29-3-1); Raquel Miller (9-0) vs Alma Ibarra (7-0).
Sat. DAZN 4:30 p.m. Andrew Cancio (21-4-2) vs Rene Alvarado (31-8); Can XU (17-2) vs Manny Robles III (18-0)
Sat. FOX pay-per-view 6 p.m. Deontay Wilder (41-0-1) vs Luis Ortiz (31-1); Leo Santa Cruz (36-1-1) vs Miguel Flores (24-2); Luis Nery (30-0) vs Manny Rodriguez (19-1); Brandon Figueroa (20-0) vs Julio Ceja (32-4)
Check out more boxing news on video at The Boxing Channel 
To comment on this story in The Fight Forum CLICK HERE
Dubai Poised to Mirror Saudi Arabia in the New World Order of Boxing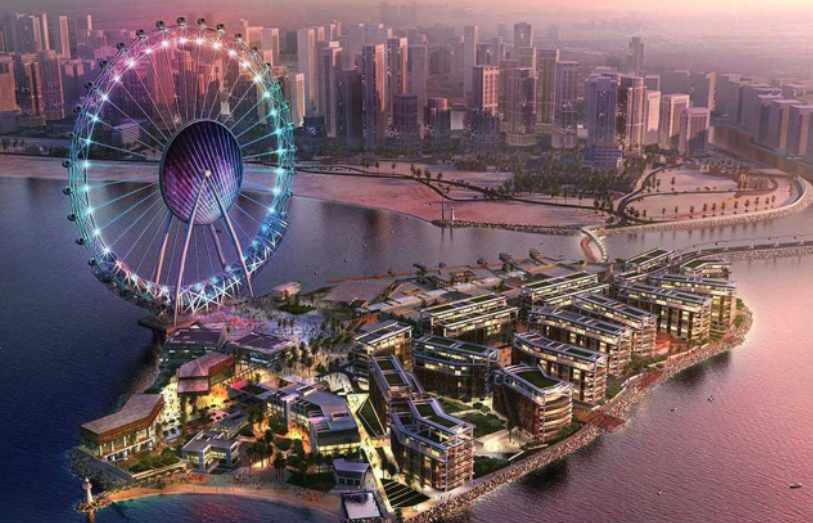 The royal family of Saudi Arabia is committed to making their fiefdom a major player in the world of professional boxing. The grand finale of the super middleweight tournament of the 2018 World Boxing Super Series (Callum Smith vs. George Groves) was held in Saudi Arabia as was Amir Khan's last fight against overmatched Billy Dibs. Those fights, in retrospect, were overtures to the big shebang on Dec. 7, the rematch between Anthony Joshua and Andy Ruiz Jr.
Saudi Arabia's next-door neighbor, the United Arab Emirates, is poised to join the party. Tomorrow's show at the plush new Caesars Palace resort at Bluewaters, a man-made island overlooking Dubai, is the latest manifestation of the incursion of boxing into the Arab world.
This isn't the first boxing show in Dubai. In 2008, former heavyweight champion Michael Moorer closed the curtain on his pro boxing career in Dubai, knocking out South Carolina no-hoper Shelby Gross in the opening round. That allowed Moorer to bookend his career with KOs in one, taking his leave on the same note on which he walked in the door. (You could probably win a few bar bets with this piece of trivia.)
When that odd event took place, there was only one registered professional boxer in all of the UAE.
That number is growing in leaps and bounds thanks to Ahmed Seddiqi, the driving force behind Dubai's Round 10 Boxing Club. Founded in 2013, Round 10 is the first gym in Dubai built specifically for boxing.
Seddiqi (pictured on the left with his cousin and business partner Abdulla Khoory) subsequently became a regional manager for MTK Global, a powerful boxing management company with a murky past. His association with MTK Global, which is now headquartered in Dubai, gave him the resources to bring in fighters from overseas to spiff up his promotions. And the relationship between Top Rank and MTK Global gave Dubai boxing greater exposure via Top Rank's affiliation with ESPN+.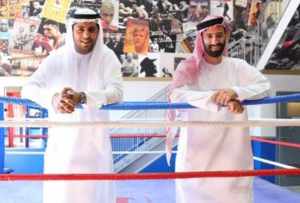 Seddiqi and MTK Global manufactured the inaugural boxing show at Caesars Palace Dubai this past Sept. 13. The main event pitted Pakistan's Muhammad Waseem against Conrado Tanamor of the Philippines. The super flyweights were penciled in to fight eight rounds.
Tomorrow's show has a larger budget reflected in a more interesting main event. England's Jack Catterall, ranked #1 by the WBO at 140 pounds, opposes Timo Schwarzkopf, the Kosovo-born German, in a match slated for 10.
The undefeated Catterall (24-0, 13 KOs) is on a collision course with WBC/WBO 140-pound title-holder Jose Carlos Ramirez. That bout will almost assuredly take place, notwithstanding the fact that the fans would much prefer to see Ramirez, the pride of Fresno, in a unification fight with Josh Taylor and that Ramirez's next title defense will apparently come against Viktor Postol, a bout seemingly headed to China in February.
Catterall is handled by longtime British promoter Frank Warren who currently has a very cozy relationship with Ramirez's promoter Bob Arum, an upshot of their shared financial interest in Tyson Fury. Being ranked #1 by the WBO carries sway with Arum who is a de facto member of the WBO Board of Directors. Arum's current title-holders (Terence Crawford, Vasyl Lomachenko, Jamel Herring, Shakur Stevenson, Emanuel Navarrette, and Ramirez) sport WBO colors.
For Dubai locals, the undercard holds more appeal than the main event. Vijender Singh and Muhammad Waseem, who returns for an encore after knocking out Conrado Tanamor in the opening round, have built-in fan bases in a country where immigrants outnumber natives by a 9/1 margin with ex-pats from India (27.5 percent) and Pakistan (12.5 percent) comprising 40 percent of the total immigrant population.
Vijender Singh, 34, is a three-time Olympian. In 2008, in the second of his three Olympic engagements, he won the bronze medal — the first Olympic medal of any kind for a boxer from India. He returned to his homeland a national hero, a man who would transcend boxing in the world's second-most populous country, appearing in layouts in popular fashion magazines and on numerous TV shows.
Singh (11-0, 8 KOs) signed a multi-fight contract with Top Rank in November of last year. His opponent, Charles Adamu, is a 42-year-old Ghanaian with a 33-14 record.
Adamu, who went 12 rounds with Carl Froch back in 2004, has been stopped only twice but Singh, despite being relatively inactive, expects to win comfortably. "I don't expect him to put up too much of a challenge because I have noticed he is slower than me…So I am relaxed, nothing to worry there," he told a reporter for the Hindustan Times.
In common with Singh, Muhammad Waseem (9-1, 7 KOs) is the most well-known boxer in a country where cricket is the national sport. The Quetta, Pakistan, native, 32, previously fought for the IBF world flyweight title, losing a close but unanimous decision to South Africa's Moruti Mthalene in Kuala Lumpur.
Waseem has something in common with headliner Jack Catterall. Both spent an extensive amount of time in Las Vegas at the Mayweather Gym. Catterall helped Floyd Mayweather Jr prepare for his bout with Manny Pacquiao. For a time, Muhammed Waseem's head trainer was Jeff Mayweather.
Waseem had a wealth of international amateur experience, but has answered the bell for only 61 rounds as a pro. By contrast, his Mexican opponent, former WBC light flyweight champion Ganigan Lopez (36-10, 19 KOs), has answered the bell for 311 rounds. It's an interesting match, notwithstanding the fact that Ganigan, 38, was knocked out just six weeks ago by a journeyman in Mexico City.
In common with the first boxing show at Caesars Palace Dubai, tomorrow's event is called the Rotunda Rumble. The Rotunda is the free-standing entertainment venue at the resort, a structure, says management, inspired by the Roman Pantheon although for most folks the referent would be an Eskimo's igloo. Nearby on the island, accessible to the mainland by a causeway, sits the world's largest ferris wheel.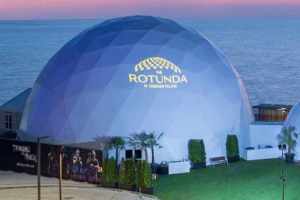 Can boxing at Caesars Palace Dubai ever match the heyday of boxing at Caesars Palace in Las Vegas? That's very doubtful. In Las Vegas, the early Caesars Palace shows in the indoor tennis pavilion were designed to showcase the property. The fights were televised on ABC's Wide World of Sports. Management expected an increase in casino activity, but were surprised at the extent of the increase. Boxing, they quickly learned, was a magnet for high rollers, the impetus for raising the bar, begetting the outdoor extravaganzas.
Caesars Palace Dubai is a non-gaming hotel. There is no legal gambling in the Arab world. Moreover, the crowds at the fights in Dubai will never resemble the crowds at the big fights in Las Vegas where a secondary diversion is ogling the scantily-clad young women who arrive on the arms of their benefactors. Dubai is a country where an unmarried couple can be arrested for sharing a hotel room.
But let's not sell Dubai short. You won't find a pari-mutuel window at Dubai's swanky Meydan Racecourse, but since 1996 the facility has been home to the world's richest thoroughbred horse race. So, if the nation's rulers become enamored of boxing, it's a fair guess they will parrot neighboring Saudi Arabia and go all in.
Check out more boxing news on video at The Boxing Channel 
To comment on this story in The Fight Forum CLICK HERE