The Night Andrew Golota Forever Became "The Foul Pole"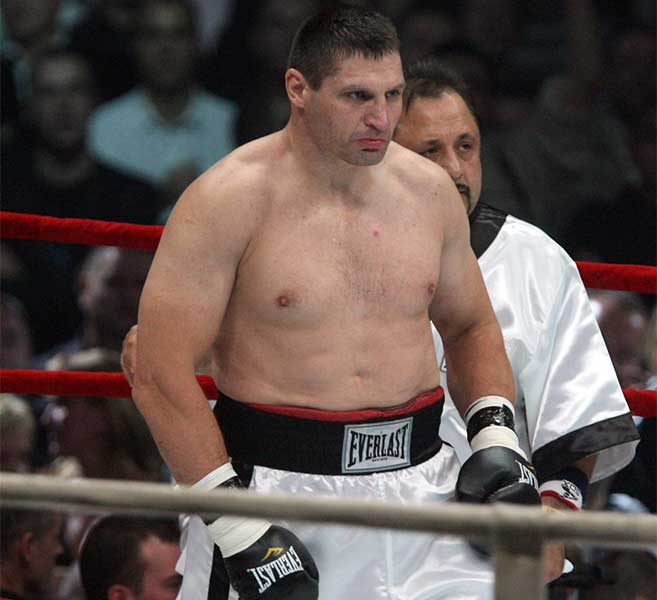 He could have been great. Or maybe not.
The only thing that is indisputable about former heavyweight contender Andrew Golota is that he will forever be remembered as one of the dirtiest, most mentally unhinged fighters ever to lace up a pair of padded gloves. So often did Golota's seemingly vast potential dissolve amid a barrage of low blows, head-butts, neck bites and bizarre behavior that the Polish-born, Chicago-based fighter came to be known as "The Foul Pole," a nickname that might be the most appropriate nom de guerre in boxing history.
Golota is 47 now, his last bout coming on Feb. 23, 2013, when he was knocked out in six rounds by another then-45-year-old, Przemyslav Saleta, in Gdansk, Poland. It was the last of three consecutive defeats, all inside the distance, for Golota, who took a 41-9-1 record into retirement where, one would hope, he finally has found the peace that evaded him as a lightning rod for controversy and scandal. Thirty-three of his victories were by KO or stoppage, as were six of his nine losses. But it is the manner of four of those setbacks, and even of a couple of his successes, that have made the seven-time Polish national amateur champion and 1988 Olympic bronze medalist such an enduringly curious figure.
This Saturday marks the 19th anniversary of one of Golota's infamous meltdowns, the first of his two disqualification losses to Riddick Bowe, each of which he appeared to be winning handily. When referee Wayne Kelly — who had already assessed Golota three penalty points for repeated low blows — DQ'd the 10-to-1 underdog in the seventh round as Bowe writhed on the canvas, clutching his groin, it ignited an ugly, half-hour riot in Madison Square Garden that resulted in 22 injuries, 16 arrests, heightened security for future events in the "World's Most Famous Arena" and a $250,000 fine levied by the New York State Athletic Commission against Bowe's excitable manager, Rock Newman, for leading an in-ring assault on Golota. One member of Bowe's unwieldy entourage, Jason Harris, struck Golota in the back of the head with a walkie-talkie, inflicting a nasty gash. Two other credential-bearing Bowe supporters, Stephen and William Wright, were taken into custody by police.
Outraged by what he claimed was "premeditation" by Golota to maim his fighter, Newman taunted Golota and his handlers throughout the scheduled 12-round bout. It was a powder keg primed to blow up, and eventually it did.
"It was a very ugly night for everyone who was involved in the staging of the event," a chastened Newman told reporters after he was socked with that quarter-million-dollar fine. "I wholeheartedly and very sincerely apologize for the pain, grief, anguish and embarrassment it has caused all of us."
The thing is, given the combustible histories of Golota and Newman, it was not only possible that the fight could take a nasty turn, it probably should have been expected. There was, for instance, the night that Bowe and Elijah Tillery began jawing at one another after the first round of their 1991 bout in Atlantic City. Refusing to return to his corner, Tillery aimed several kicks at Bowe's legs, Bowe fired back with his fists and Newman, who had jumped onto the ring apron, grabbed Tillery around the neck and flipped him over the ropes. Although there was ample blame to go around, it was Tillery who got the loss via disqualification.
Golota, meanwhile, was establishing his own bona fides as someone who was not adverse to bending the rules to the point of their breaking. He bit Samson Po'uha's neck during a clinch in their May 16, 1995, bout, and flagrantly head-butted Danell Nicholson on March 15, 1996. In each instance he somehow managed to avoid disqualification, going on to win both fights on technical knockouts.
But it was that ill-fated night at the Garden against Bowe that forever cemented Golota's reputation as "The Foul Pole," and set the stage for more, similarly egregious incidents that forever tarred him as a near-lunatic and, worse, a quitter.
After Kelly waved a halt to the foulfest, Golota's 74-year-old trainer, Lou Duva, was trampled in the ensuing melee. Duva, who had a history of coronary trouble, was rushed by ambulance to NYU Hospital, where he was reported to be in stable condition.
Duva might actually have fared better than some of the 11,252 spectators who found themselves caught up in a flash riot. Fistfights between supporters of the two fighters broke out throughout the arena and additional police had to be called in to assist the Garden's overmatched security force. Even those who were trying to avoid the expanding violence couldn't always steer clear. One woman, wandering around with both eyes nearly swollen shut, cried to no one in particular, "Look what they did to me."
Why had Golota elected to frequently target Bowe's not-so-protective cup, despite the urging of Duva and other members of his corner team to keep his punches up? At the time of the DQ, Golota, because of the three point deductions, led on the official scorecards by margins of 67-65 (twice) and 67-66. He certainly looked the part of an elite heavyweight, although it must be noted that Bowe, who had gone into training a couple of months earlier at an unsvelte 272 pounds, did himself no favors by coming in overweight and underprepared.
Several weeks after Bowe-Golota I, Larry Hazzard, executive director of the New Jersey State Athletic Control Board, weighed in on still another missed opportunity for a sport that had a chance to legitimately shine on the Big Apple's brightly lit stage.
"What boxing needs is a high-visibility fight where an underdog pulls off a big upset," Hazzard opined. "I love upsets. Look at all the excitement that was generated when Buster Douglas knocked off Mike Tyson in Tokyo. And you know what? We almost had that a few weeks ago. Andrew Golota beating up Riddick Bowe at Madison Square Garden was the closest thing we've had to Douglas beating up Tyson. It could have been the most spectacular night boxing has had in some time. Instead, it disintegrated into a disqualification loss and a postfight riot. Almost instantly, something great became something horrible. Upsets are good, but riots definitely are not good."
So it was on to the rematch, on Dec. 14, 1996, in Atlantic City's Boardwalk Hall, with Bowe again favored, this time by 4-to-1, the feeling being that he would commit himself to training harder and thus being in peak condition. In any case, the hope was that the nastiness of five months earlier could be avoided. There was no way another disqualification could occur, right?
Golota, as it turned out, was a leopard perhaps incapable of changing its spots. Part II was a virtual replay of the original, with referee Eddie Cotton taking over for Kelly and again penalizing Golota for infractions that were too frequent and severe to have been happenstance.
As had been the case in their first encounter, Golota was putting considerable distance between himself and Bowe on the scorecards, even with a pair of point deductions from Cotton (one for head-butting, another for low blows).
All he had to do was avoid doing something stupid. He couldn't do it.
Golota did the unthinkable moments just before the end of the ninth of 10 scheduled rounds, blatantly slamming Bowe with two punches to the cup, the two-time former champion again slumping to the canvas in agony. Cotton had no alternative but to wave the fight to a halt and award Bowe another DQ win.
An incensed Duva screamed "You can be champion of the world!" at Golota. "The only guy stopping you is you! Nobody but you!"
Golota, sobbing, said, "I stupid. I stupid."
"I'm going to ask Andrew, in no uncertain way, if he wants to continue fighting," a more composed Duva said at the postfight press conference. "But if he does want to go on, it's going to have to be like Frank Sinatra. He'll have to do it my way.
"He has all the tools to do it the right way. Why the hell does he have to resort to that other stuff? Does he want to fight like a fighter, or like a brawler in a bar or an alley? We have to get that straightened out."
The two blown chances against Bowe – who last month was inducted into the International Boxing Hall of Fame, a distinction that forever will be denied Golota – would have been enough to establish him as a screw-up to end all screw-ups. But there would be more stumbles, more missteps, more stains upon a legacy that soon would be beyond repair.
Even with the back-to-back DQ losses to Bowe, Golota received a shot at WBC heavyweight champion Lennox Lewis in his next bout, on Oct. 4, 1997, in Boardwalk Hall. Given Golota's growing legend as a loose cannon, the jokes were flying fast and furious. One of the better ones advised fans to "Watch a fight for the heavyweight crown, and the family jewels."
"What's his best weapon?" cracked Lewis when asked about Golota. "His best weapons are his jab, his left hook and his punch to the balls."
Duva, still in Golota's corner, said he was satisfied that the 6-4, 240-pounder had finally harnessed his inner demons. Asked if he had recommended that Golota receive psychological testing, Capn' Lou said, "Every time we approached him on the subject he said, `You talker. You handle it.' So I've been teaching him how to say, `Excuse me. Pardon me.' A lot of good stuff."
Unfortunately for Golota, he didn't get much of a chance to display the low blows of old or his newfound manners. He was blown away in the first round, nudging his career to the edge of irrelevance. But he rebounded from the Lewis debacle to post six straight wins, again putting him into a high-profile bout, this time against rising contender Michael Grant on Nov. 20, 1999, in Boardwalk Hall.
Once more, Golota looked strong early, flooring the undefeated Grant with a right hand in the first round and gradually building a substantial lead on points. But after being floored by Grant in the 10th round, Golota, who beat the count, twice refused to respond when referee Randy Neumann asked him if he was all right. Asked a third time if he wanted to continue, Golota said "No," and turned his back. For many fight fans, someone being DQ'ed can be accepted under certain conditions; giving up, especially in a tussle you're winning, is unforgivable.
"He got caught with one (good punch) and he quit," said Golota's manager, Ziggy Rozalski, "but he has nothing to be ashamed of." That certainly would have to be considered the minority viewpoint.
It's a funny thing about fame and notoriety, however. There is always another door that can be opened, if your name still holds some box-office magic. And whose name had more residual magic than that of Mike Tyson, maybe the only man in boxing with a reputation as sullied as Golota's? Their Oct. 20, 2000, meeting, at the Palace of Auburn Hills (Mich.), was labeled "Bad Boys," a nod toward not only Golota, but to Tyson, who had chomped Evander Holyfield's ears on his way to a disqualification loss even more outrageous than Golota's double-DQs against Bowe. The volcanic Tyson also was cited for a failed attempt to break Frans Botha's arm, the slugging of Orlin Norris well after the bell and, in his last fight prior to Golota, knocking down referee John Coyle when Tyson attempted to continue pounding Lou Savarese after a first-round stoppage had been declared.
By then Al Certo, best known as the trainer of two-division former world champ Buddy McGirt, had replaced Duva as Golota's chief second. And, unlike Duva, Certo was amenable to Golota returning to his rules-flaunting roots.
"Neither I nor Golota wants a dirty fight," Certo said. "Golota will play by the rules as long as he can. But if it gets dirty, Golota is a master at that. So, if Golota wants to body-slam Tyson, that is his business. I am not teaching him anything that he does not already know. Golota wrote the book himself."
ESPN color analyst Teddy Atlas, who trained the young Tyson when both were at Cus D'Amato's Catskill, N.Y., compound, figured the outcome hinged on which head case was mentally weaker. He did not discount the possibility that that might be Tyson.
"Tyson is always unsure of himself, and he always wants to know he has some kind of edge," Atlas offered. "Tyson can sense a guy who's intimidated, so he's bargaining that he will be able to walk right out and get rid of Golota. He's hoping Golota will just be waiting to be executed, so to speak. Tyson has gotten used to that, and he's gotten weak with it.
"But I can tell you that it's very possible and likely that if Golota is not intimidated – and the early part of the fight will tell everything – Tyson will become intimidated. Tyson is a very scared, fractured guy. He talks all of this stuff to scare other people so they won't find out how scared he is."
Perhaps, if the Golota who took it to Bowe twice before going off the rails had shown up, Atlas' assessment would have been proven correct. But it was Golota who cracked early. He complained that referee Frank Garza had not penalized Tyson for head-butting, and he refused to come out for the third round of the scheduled 10-rounder. He even shoved Certo away when the veteran trainer attempted to insert his mouthpiece.
"I'm sorry for all my fans who count on me," Golota said, nearly in tears. "It was not my day. But he head-butt me, you know? And nobody took care of this, you know? Nobody gave him a warning."
Showtime executive Jay Larkin wasn't buying any of it. His position was that Golota had more dog in him than the Westminster Kennel Club.
"I've never seen a more blatant act of cowardice," Larkin fumed. "He will never fight on Showtime again."
But Tommy Brooks, Tyson's trainer, was more forgiving of Golota's apparent act of surrender. It was, Brooks suggested, a sign of a deeper, more distressing condition.
"I never would have guessed that from Andrew," Brooks said. "I truly believe that Andrew is not a coward. I think he suffers from anxiety attacks and I believe he was having one there."
After his return to Chicago, Golota underwent a thorough medical examination that appeared to justify his decision to stop fighting. Neurosurgeon Wesley Yapor issued a statement that Golota had suffered a concussion, a fractured left cheekbone and a herniated disk between the fourth and fifth cervical vertebrae.
"There was extreme danger of sustaining another several blow to the head," Dr. Yapor said, which posed a "threat of paralysis."
It's likely the good doctor's explanation did not fully appease the 20 million Poles who stayed up to 4 a.m. in that country to watch Golota attempt to take down Tyson. But at least Golota came away with a non-loss on his record, the initial ruling of a second-round TKO for Iron Mike changed to a no-contest after Tyson tested positive for marijuana.
Incredibly, Golota got one more chance at the big time, or a reasonable facsimile. On Nov. 13, 2004, he challenged IBF heavyweight champion Chris Byrd in Madison Square Garden, the site of his first DQ defeat against Riddick Bowe nearly eight years earlier.
"We live in a capitalistic society," reasoned MSG boss Charles Dolan. "This is a commercial undertaking for (promoter) Don King and the Garden. Golota is – in large part because of his unsavory reputation – an attraction. He's notorious, and because of that he has the ability to put butts in seats. People are going to come out and see the train wreck. The same can be said of Tyson. That long has been part of both fighters' appeal. They're unpredictable. There's an element of the absurd to each of them."
Byrd retained his IBF strap on a split draw and, although he continued to hang around on the fringes for a few more years, the absurdity had ended for "The Foul Pole." The train wreck of his career was no longer must-see TV.
But you have to wonder, what if he hadn't gone goofy in the two fights with Bowe? Or run up the white flag against Grant and Tyson? When he was at his best, he could have been – should have been – a threat to anyone. Did a lack of talent do him in? Was it the anxiety attacks to which Brooks alluded? Some sort of mental defect or disorder?
Those are questions that provide only speculative answers, as is the case with another should-have-been-better-than-he-was heavyweight contender, Ike "The President" Ibeabuchi, whose prime was locked away behind prison walls.
Sometimes the toughest opponent to conquer is the one raging about inside a fighter's own mind.

Skavynskyi and Bustillos Win on a MarvNation Card in Long Beach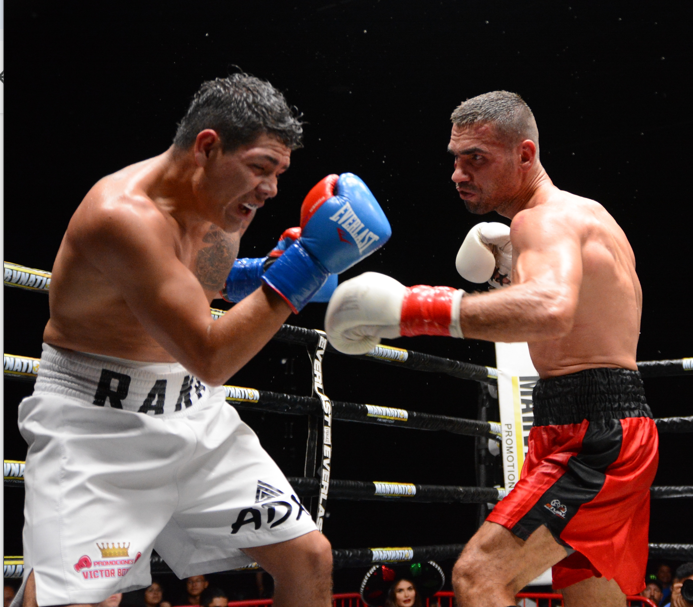 Skavynskyi and Bustillos Win on a MarvNation Card in Long Beach
LONG BEACH, Ca.-A cool autumn night saw welterweights and minimumweights share main events for a MarvNation fight card on Saturday.
Ukraine's Eduard Skavynskyi (15-0, 7 KOs) experienced a tangled mess against the awkward Alejandro Frias (14-10-2) but won by decision after eight rounds in a welterweight contest at the indoor furnace called the Thunder Studios.
It was hot in there for the more than 600 people inside.
Skavynskyi probably never fought someone like Mexico's Frias whose style was the opposite of the Ukrainian's fundamentally sound one-two style. But round after round the rough edges became more familiar.
Neither fighter was ever damaged but all three judges saw Skavynskyi the winner by unanimous decision 79-73 on all three cards. The Ukrainian fighter trains in Ventura.
Bustillo Wins Rematch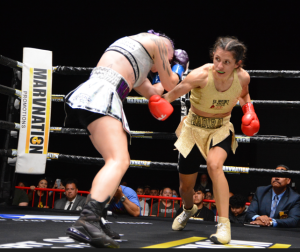 In the female main event Las Vegas' Yadira Bustillos (8-1) stepped into a rematch with Karen Lindenmuth (5-2) and immediately proved the lessons learned from their first encounter.
Bustillos connected solidly with an overhand right and staggered Lindenmuth but never came close to putting the pressure fighter down. Still, Bustillos kept turning the hard rushing Lindenmuth and snapping her head with overhand rights and check left hooks.
Lindenmuth usually overwhelms most opponents with a smothering attack that causes panic. But not against Bustillos who seemed quite comfortable all eight rounds in slipping blows and countering back.
After eight rounds all three judges scored the contest for Bustillos 78-74 and 80-72 twice. Body shots were especially effective for the Las Vegas fighter in the fifth round. Bustillos competes in the same division as IBF/WBO title-holder Yokasta Valle.
Other Bouts
In a middleweight clash, undefeated Victorville's Andrew Buchanan (3-0-1) used effective combination punching to defeat Mexico's Fredy Vargas (2-1-1) after six rounds. Two judges scored it 59-55 and a third 60-54 for Buchanan. No knockdowns were scored.
A super lightweight match saw Sergio Aldana win his pro debut by decision after four rounds versus Gerardo Fuentes (2-9-1).
Photos credit: Al Applerose
To comment on this story in the Fight Forum CLICK HERE
Tedious Fights and a Controversial Draw Smudge the Matchroom Boxing Card in Orlando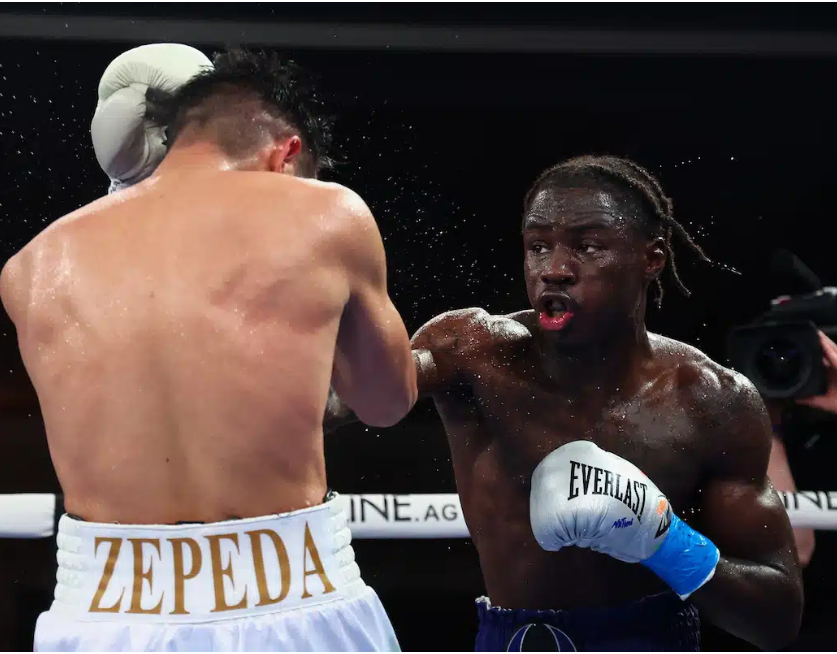 Matchroom Boxing was at the sprawling Royale Caribe Resort Hotel in Orlando, Florida tonight with a card that aired on DAZN. The main event was a ho-hum affair between super lightweights Richardson Hitchins and Jose Zepeda.
SoCal's Zepeda has been in some wars in the past, notably his savage tussle with Ivan Baranchyk, but tonight he brought little to the table and was outclassed by the lanky Hitchins who won all 12 rounds on two of the cards and 11 rounds on the other.  There were no knockdowns, but Zepeda suffered a cut on his forehead in round seven that was deemed to be the product of an accidental head butt and another clash in round ten forced a respite in the action although Hitchins suffered no apparent damage.
It was the sort of fight where each round was pretty much a carbon of the round preceding it. Brooklyn's Hitchins, who improved to 17-0 (7), was content to pepper Zepeda with his jab, and the 34-year-old SoCal southpaw, who brought a 37-3 record, was never able to penetrate his defense and land anything meaningful.
Hitchins signed with Floyd Mayweather Jr's promotional outfit coming out of the amateur ranks and his style is reminiscent in ways of his former mentor. Like Mayweather, he loses very few rounds. In his precious engagement, he pitched a shutout over previously undefeated John Bauza.
Co-Feature
In the co-feature, Conor Benn returned to the ring after an absence of 17 months and won a unanimous decision over Mexico's Rodolfo Orozco. It wasn't a bad showing by Benn who showed decent boxing skills, but more was expected of him after his name had been bandied about so often in the media. Two of the judges had it 99-91 and the other 96-94.
Benn (22-0, 14 KOs) was a late addition to the card although one suspects that promoter Eddie Hearn purposely kept him under wraps until the week of the fight so as not to deflect the spotlight from the other matches on his show. Benn lost a lucrative date with Chris Eubank Jr when he was suspended by the BBBofC when evidence of a banned substance was found in his system and it's understood that Hearn has designs on re-igniting the match-up with an eye on a date in December. For tonight's fight, Benn carried a career-high 153 ½ pounds. Mexico's Orozco, who was making his first appearance in a U.S. ring, declined to 32-4-3.
Other Bouts of Note
The welterweight title fight between WBA/WBC title-holder Jessica McCaskill (15-3-1) and WBO title-holder Sandy Ryan (6-1-1) ended in a draw and the ladies' retain their respective titles. Ryan worked the body effectively and the general feeling was that she got a raw deal, a sentiment shared by the crowd which booed the decision. There was a switch of favorites in the betting with the late money seemingly all on the Englishwoman who at age 30 was the younger boxer by nine years.
The judges had it 96-94 Ryan, 96-95, and a vilified 97-93 for Chicago's McCaskill.
In the opener of the main DAZN stream, Houston middleweight Austin "Ammo" Williams, 27, improved to 15-0 (10) with a 10-round unanimous decision over 39-year-old Toronto veteran Steve Rolls (22-3). All three judges had it 97-93. Rolls has been stopped only once, that by Gennady Golovkin.
Photo credit: Ed Mulholland / Matchroom Boxing
To comment on this story in the Fight Forum CLICK HERE
Zhilei Zhang KOs Joe Joyce; Calls Out Tyson Fury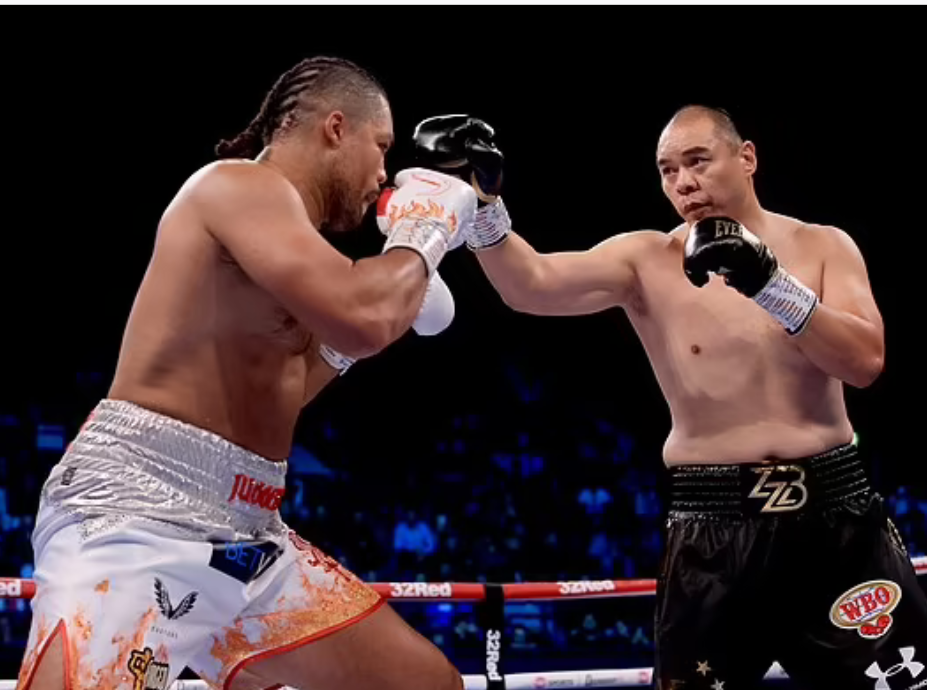 Joe Joyce activated his rematch clause after being stopped in the sixth frame by Zhilei Zhang in their first meeting. In hindsight, he may wish that he hadn't. Tonight at London's Wembley Stadium, Zhang stopped him again and far more conclusively than in their first encounter.
In the first meeting, Zhang, a southpaw, found a steady home for his stiff left jab. Targeting Joyce's right eye, he eventually damaged the optic to where the ring doctor wouldn't let Joyce continue. At the end, the fight was close on the cards and Joyce was confident that he would have pulled away if not for the issue with his eye.
In the rematch tonight, Zhang (26-1-1, 21 KOs) closed the curtain with his right hand. A thunderous right hook on the heels of a straight left pitched Joyce to the canvas where he landed face first. He appeared to beat the count by a whisker, but was seriously dazed and referee Steve Gray properly waived it off. The official time was 3:07 of round three.
Zhang, who lived up to his nickname, "Big Bang," was credited with landing 29 power punches compared with only six for Joyce (15-2) who came in 25 pounds heavier than in their first meeting while still looking properly conditioned. One would be inclined to say that age finally caught with the "Juggernaut" who turned 38 since their last encounter, but Zhang, 40, is actually the older man. In his post-fight interview in the ring, the New Jersey resident, a two-time Olympian for China, when asked who he wanted to fight next, turned to the audience and said, "Do you want to see me shut Tyson Fury up?"
He meant it as a rhetorical question.
Semi-Windup
Light heavyweight Anthony Yarde was matched soft against late sub Jorge Silva, a 40-year-old Portuguese journeyman, and barely broke a sweat while scoring a second-round stoppage. Yarde backed Silva against a corner post and put him on the deck with a short right hand. Silva's body language indicated that he had no interest in continuing and the referee accommodated him. The official time was 2:07 of round two.
A 30-year-old Londoner, Yarde (24-3, 23 KOs) was making his first start since being stopped in eight rounds by Artur Beterbiev in a bout that Yarde was winning on two of the scorecards. Silva, a late replacement for 19-3-1 Ricky Summers, falls to 22-9.
Also
Former leading super middleweight contender Zach Parker (23-1, 17 KOs) returned to the ring in a "shake-off-the-rust" fight against 40-year-old Frenchman Khalid Graidia and performed as expected. Graidia's corner pulled him out after seven one-sided rounds.
In his previous fight, Parker was matched against John Ryder who he was favored to beat. The carrot for the winner was a lucrative date with Canelo Alvarez. Unfortunately for Parker, he suffered a broken hand and was unable to continue after four frames. Tonight, he carried 174 pounds, a hint that he plans to compete as a light heavyweight going forward. Indeed, he has expressed an interest in fighting Anthony Yarde. Graidia declined to 10-13-4.
The Zhang-Joyce and Yarde-Silva fights were live-streamed in the U.S. on ESPN+.
To comment on this story in the Fight Forum CLICK HERE