Better UK 168er, Froch or Calzaghe?
With the recent retirement of British super middleweight Carl Froch, one topic that has received much attention is his standing among former British greats in a division that has produced some of the finest ever champions from these shores.
Below I analyse the respective careers of arguably the top two British 168lb legends and give my take on who stands higher in the all-time pantheon.
Joe Calzaghe
Overview:
After bursting on to the world scene with an impressive first title victory, long periods of frustration followed until "The Pride of Wales" finally proved the doubters wrong and cemented his place among the greats of the sport with a superb finish to the longest ever championship reign in the 168lb weight class. While it's true that there are a number of sub-par and even downright useless opponents littered among Calzaghe's CV, the Welshman also defeated a range of former champions and world-class fighters in over a decade as WBO champion, as well as establishing himself as the premier fighter in a second weight division.
Style & Ability:
A super-fast southpaw with blurring combinations and a furious work-rate, Calzaghe had a seemingly inexhaustible engine, completing the twelve-round championship distance on thirteen occasions. He also had an excellent set of whiskers, and despite several brief visits to the canvas, never came close to being stopped in 46 contests. Fragile hands plagued his career and probably prevented more knockout victories, but he nevertheless carried serious power, with a number of former foes commenting on the deceptively hurtful effect of his so called "slaps". Capable of boxing to a disciplined plan at long range and frustrating opponents with his speed and movement, as well as biting down on his gum shield and brawling wildly when it suited him, one of Calzaghe's main strengths was his uncanny ability to adjust his style mid-fight and outmatch any opponent skill for skill.
Titles & Accolades:
[168lbs] British champion (1995-1996, 1 defence); WBO world champion (October 1997-September 2008, 21 defences); IBF world champion (March 2005-November 2006, 1 defence); WBC & WBA "super" world champion (November 2007, 0 defences); The Ring & lineal champion (March 2006-September 2008, 3 defences); undisputed champion (2007 following unification with Mikkel Kessler); holds the all-time records for the longest reign (10 years, 11 months) and consecutive number of title defences (21, joint with Sven Ottke) in the 168lb division.
[175lbs] The Ring champion (April 2008-February 2009, 1 defence).
2014 Boxing Hall of Fame, first ballot inductee.
Five Significant Opponents:
1. Chris Eubank (vacant WBO title, October 1997). Calzaghe floored Eubank in the first round and then barely let the former champion take a breather, claiming a wide, unanimous victory in an excellent, break out performance.
2. Byron Mitchell (13th defence WBO title, June 2003). In a wild two-round brawl, Calzaghe was floored briefly for the first time in his career before blazing back and putting Mitchell to the canvas within seconds of rising to his feet. The champion then poured on flurries of punches, rocking the former WBA titleholder backwards and causing referee Dave Parris to intervene.
3. Jeff Lacy (18th defence WBO title/IBF unification/The Ring & lineal title, March 2006). Lacy came over to the UK as an undefeated, rival champion being heavily hyped as a monster puncher and a new "Mini Tyson", but Calzaghe absolutely ruined him – winning every second of every round in one of the finest performances ever seen in a British ring.
4. Mikkel Kessler (21st defence WBO title/3rd defence The Ring & lineal title/WBC/WBA unification, November 2007). In an absorbing battle between undefeated champions, the fight ebbed back and forth for the first four rounds before Calzaghe made the necessary adjustments to befuddle his opponent in a brilliant exhibition of technical boxing, winning comfortably on the cards to finally prove even the most ardent of his detractors wrong.
5. Bernard Hopkins (The Ring light-heavyweight [175lb] championship, April 2008). In a scrappy encounter, Calzaghe was floored by a counter right hand in the first round before clawing his way back to win a close split decision in the American's backyard, landing more punches on Hopkins than any previous opponent had ever recorded. To put the victory in context, in his next bout Hopkins dominated the much younger, undefeated American puncher Kelly Pavlik in one of his finest ever performances.
Other Notable Victories:
W12 Robin Reid (a close split decision over a former WBC champion); TKO5 Omar Sheika (the boisterous American contender was coming off a quality victory over world-rated Glen Johnson); TKO10 Richie Woodhall (the Olympic bronze medalist and former WBC champion was world class, but stopped late); TKO1 & TKO6 Mario Veit (the undefeated mandatory challenger was blasted out in a round, before stringing together fifteen consecutive victories and forcing a rematch, but Calzaghe travelled to Germany and repeated the result in six); W12 Charles Brewer (an exciting battle ended in a wide unanimous decision over the former IBF champion); W12 Sakio Bika (the awkward African was unlucky to receive a technical draw against WBC champion Markus Beyer prior to facing Calzaghe, and went on to become champion in 2013); W12 Roy Jones Junior (the Welshman humiliated a vastly faded version of the best fighter of his generation at New York's Madison Square Garden).
Ones That Got Away:
Steve Collins was scheduled to defend against Calzaghe in October 1997 before withdrawing injured at late notice and then retiring from the sport, citing a lack of motivation for the fight. Carl Froch chased a fight with Calzaghe towards the end of his reign, but Calzaghe opted instead to pursue bigger names in America at light-heavyweight. Fights with American greats Roy Jones and Bernard Hopkins were mooted for much of Calzaghe's 168lb reign, with Hopkins even agreeing terms at one point before backing out of the contest. A fight with long-reigning rival IBF holder Sven Ottke also should have happened, but neither champion was prepared to travel to the other's backyard. Fights against middleweight Kelly Pavlik and light-heavyweight Antonio Tarver would also have been huge, but failed to materialize.
Carl Froch
Overview:
Perhaps no British fighter in history has ever undertaken a more challenging run of back-to-back, world-class match-ups than Carl Froch: From December 2008-May 2012, The Cobra fought eight consecutive contests of the highest caliber (Pascal-Taylor-Dirrell-Kessler-Abraham-Johnson-Ward-Bute), winning far more than he lost and earning the respect of the entire boxing community as one of the sport's toughest warriors. On the downside, despite the array of entertaining victories, he never quite managed to reach the summit of his division.
Style & Ability:
A super-strong fighter who loved a tear-up, Froch was also a world amateur bronze medalist who possessed an underrated and at times under-utilized set of boxing skills, with a 'hands low', unorthodox style often masking his technical know-how and effective left jab. He was also the owner of an absolute granite jaw and legitimate one-punch knockout power. The Englishman's warrior spirit and inclination towards a straight shoot-out perhaps proving his shortcoming against more technically adept opposition, he nevertheless demonstrated he was capable of boxing to a disciplined strategy when it suited him.
Titles & Accolades:
[168lbs] English champion (2003, 0 defences), Commonwealth champion (2004-2006, 7 defences) & British champion (2004-2007, 4 defences); 2 x WBC world champion (December 2008-April 2010, 2 defences & November 2010-December 2011, 1 defence); IBF world champion (May 2012-February 2015, 4 defences); WBA "regular" world champion (May 2013-May 2015, 2 defences) [Note: Andre Ward was recognized as the WBA's "super" world champion during this period]
"Super Six World Boxing Classic" tournament, runner-up (2011).
Five Significant Opponents:
1. Jermain Taylor (1st defence WBC title, April 2009). After being floored in the 3rd round by a right hand and behind on two of the judges' cards going into the 12th, The Cobra scored a dramatic, Hollywood-style stoppage with just fifteen seconds remaining on the clock.
2. Mikkel Kessler (3rd defence WBC title, April 2011 & 2nd defence IBF title/WBA unification, May 2013). In their first meeting, the teak-tough "Viking Warrior" ended Froch's first reign as WBC champion, earning a unanimous points verdict in a brutal back-and-forth battle in his native Denmark. After re-establishing himself as a world champion, Froch enticed the Dane to London and returned the favour – this time unanimously outpointing Kessler in yet another closely fought, outstanding war of attrition.
3. Arthur Abraham (vacant WBC title, November 2010). Abraham was considered a dangerous puncher and even went into the battle as a betting favourite, but was completely out-boxed by Froch, scoring a virtual shutout in easily his most disciplined, polished performance.
4. Andre Ward (2nd defence [2nd reign] WBC title/WBA unification, December 2011). The Englishman fought bravely, but Ward's awkward style, more refined defence and superior technical skills proved a step too far, taking a clear unanimous victory over the twelve-round distance.
5. Lucian Bute (IBF title, May 2012). Bute started as a favourite in the Englishman's hometown, but Froch battered the shell-shocked, undefeated IBF champion in a one-sided, five round beat down in one of his most impressive wins.
Other Notable Victories:
WRTD5 Robin Reid (the faded former WBC champion couldn't hold off the rising star); W12 Jean Pascal (the undefeated, world-class Canadian later established himself as a light-heavyweight champion); W12 Andre Dirrell (undefeated, Olympic bronze medalist Dirrell lost a somewhat controversial split decision in Nottingham); W12 Glen Johnson (the faded 42 year-old former light-heavyweight champion fought well in losing a majority decision); TKO9 & KO8 George Groves (Froch's bitter domestic rival floored and hurt The Cobra in the first round of their first meeting before being controversially stopped later in the fight, but the feud was brutally and conclusively settled in Froch's final outing).
Ones That Got Away:
Froch pestered Calzaghe to give him his first title shot, but lacking the requisite name-value, couldn't bait the Welshman into a fight. A rematch with Andre Ward and a rubber match with Mikkel Kessler would both have been interesting, but the Dane retired and Froch seemed to show a lack of interest in a second meeting with his American conqueror. Domestic rival James DeGale earned a mandatory shot at Froch's IBF title, but – as Collins had done to Calzaghe and then Calzaghe had done to Froch years earlier – the champion cited a lack of motivation in meeting another domestic rival, and relinquished the belt instead. Light-heavyweight champions Sergey Kovalev & Adonis Stevenson would have presented an interesting test had the super middleweight elected to try for a belt in a second weight division, but Froch always said he was comfortable at the 168lb limit. Perhaps the most mouth-watering match-up of all would have been with middleweight monster Gennady Golovkin. The undefeated and much feared Kazakhstan champion called out Froch through the media, but despite early signs a deal might be made, the 38 year-old Englishman decided to retire instead.
The Verdict
Success in boxing is all about levels. And it seems to me that there is often a tendency to conflate respect for the Nottingham hero's warrior spirit and formidable series of match-ups with the level of his actual success in the ring; whereas with Calzaghe the reverse is true, and many observers tend to let the disappointing periods during his career detract from the magnitude of his final accomplishments. So while there is certainly no argument here that Froch indeed faced a more consistent level of challenging opposition, we should remember that just because a fighter consistently fights the best, that does not automatically make him the best. (If it did, Oscar De La Hoya would probably be the greatest fighter of all time). Ultimately, there is a reason that a younger, more dangerous version of Mikkel Kessler was handily beaten by Calzaghe but the older, more shopworn version was able to defeat Carl Froch; and there is a reason Calzaghe reached the absolute pinnacle of the super middleweight division, while Froch never did. The reason is that he was not quite able to compete successfully at the same level.
Had these two fine champions met in the ring, the evidence suggests that Calzaghe's greater speed and more refined boxing technique would probably have won the day. That being said, the theoretical victor in a meeting between the pair is not really the main issue here. "Mythical" match-ups are of course fun to debate, but based as they are on pure conjecture, they do not form the primary basis for assessing a fighter's overall achievements. Looking at what they actually did, rather than what they might have done had they faced off in the ring, the only conclusion to be drawn, I think, is that Calzaghe still comfortably surpasses The Cobra in terms of his overall level of success.
That conclusion should not be construed as denigrating the career of Carl Froch. He is undoubtedly one of the finest champions Britain has ever produced. Ultimately though, it was Calzaghe who scaled the greatest heights: becoming the undisputed, consensus No.1 in his weight class; defeating fellow pound-for-pound entrants and Hall of Fame legends; emerging victorious in his most significant, defining contests; becoming a two-division champion and being regarded as a top three pound-for-pound talent for a sustained period of time, on both sides of the Atlantic. The Cobra's CV, while outstanding, simply falls a notch below these accomplishments.
Matt can be followed on Twitter @Boxinphilosophy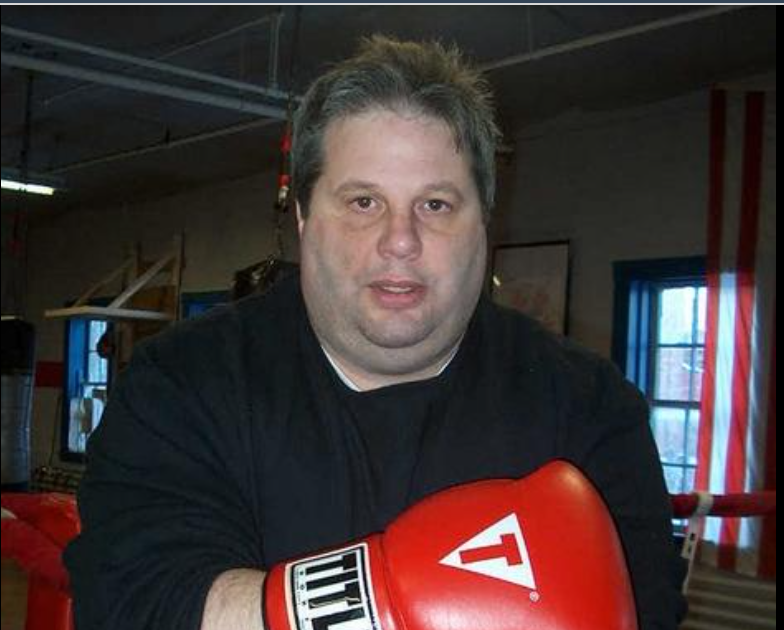 A number of bizarre events unfolded during a boxing show at the Palladium in Worcester, MA, on March 9, 2007. This was foreseeable. The main event was a freak fight that pit Eric "Butterbean" Esch, the "King of the Four Rounders," against Joe Siciliano, a 49-year-old Leominster, MA, narcotics detective. Siciliano, who had a 4-3 record, came in at a grotesque 313 pounds, but "The Bean," then 40 years old and sporting a 76-7 record, weighed a humungous 417. On paper it was a terrible mismatch, and a potentially dangerous mismatch at that.
The corpulent Siciliano (pictured) didn't lack for guts. "The people want to see a fight, and I'm not going in there and dance around and make it boring," he said. "People come to see Butterbean because he loves to brawl. Well, he's going to get one. Whether the fight lasts 30 seconds or four rounds, it's going to be action-packed. You're not going to see any love taps. You're going to see power punches. I'm not going to give up easy. I'm psyching myself up for this."
"This is definitely a big step up for me," said the 49-year-old, "but I feel real good. I'm fresh, and I've been training a lot. I've been given the chance to fight this guy, and I'm feeling very confident."
We're hoping for a four-round decision," added Jimbo Isperduli, Siciliano's trainer/manager and the fight's promoter. Translation: If Joe lasts four rounds, it would be deemed a monster upset.
Earlier in the show, Butterbean's son Brandon Esch (aka Babybean) got poleaxed by Matthew Eckerly. The 266-pound kid remained on the canvas unconscious for several scary minutes. It was Brandon's professional debut and would be his last boxing fight. And the guy who beat him was no world beater. Eckerly was 1-3 coming in and would proceed to lose his next and final seven fights, all by KO.
After watching his son, Butterbean was subdued and likely very anxious.
The Fight
In the first round, Joe was knocked down and there was a good deal of running, hugging and holding. At one point, Joe spit out his mouthpiece ala Chico Corrales to buy some time and extend the fight. When the round ended, he raised his hands in some sort of celebration. He had done what Peter "Hurricane" McNeely and many others couldn't do; he had survived the first round. Esch had crushed many of his opponents in the first stanza, ending the bout as soon as one of his power shots hit home.
Unfortunately for Joe, he had nothing left to hold off his stalking and grotesque opponent. Round Two was Bean Time and Joe's chances had now become zero to none. The end was in sight. Bean mercifully resorted mostly to body shots so as not to do any needless damage to the terribly mismatched detective. After several knockdowns in which Joe seemed to bounce off the canvas, two towels were thrown in to stop the massacre. But Joe had pocketed $4,000 and gained some serious bragging rights.
Despite Butterbean's cult following, throngs of Siciliano fans booed. Now there's high camp and there's cornball, but this was something else. Siciliano had a huge following in the Leominster-Fitchburg-Gardner area and had personally sold 1,000 tickets for the fight.
Butterbean was winding down his career and this would be his last boxing win. His final record was 77-10-4. Joe finished at 5-4.
As he pursued other viable options, Butterbean's  legacy as one of the greatest four-round boxers of all time remained intact.
Ted Sares enjoys researching and writing about boxing. He can be reached at tedsares@roadrunner.com
Check out more boxing news on video at the Boxing Channel
To comment on this story in the Fight Forum CLICK HERE
Remembering Oscar 'Shotgun' Albarado (1948-2021)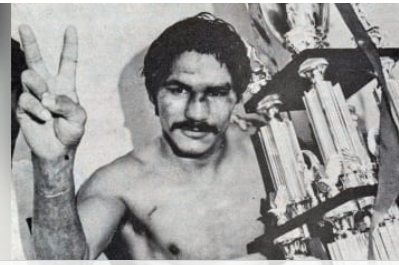 Former world junior middleweight champion Oscar "Shotgun" Albarado passed away on Feb. 17 at age 72 in a nursing home in his hometown of Uvalde, Texas. Albarado's death didn't go unnoticed in the town that he put on the sporting map, but news out of Uvalde appears to travel to the outside world by Pony Express. There's been no notice of it in the boxing press; even the authoritative boxrec has yet to acknowledge his passing. This isn't uncommon. A boxer has a high probability of dying in obscurity, even if he had a large fan base during his heyday.
The folks in Uvalde had a big shindig to honor Albarado after he won the title; a barbecue at the fairgrounds. "All Texas and especially the city of Uvalde share pride in your accomplishments," read a proclamation from the Governor of Texas, Dolph Briscoe.
The date was June 20, 1974. Sixteen days earlier, Albarado had wrested the 154-pound title from Koichi Wajima in Tokyo. Down two points on two of the scorecards through the 14 completed rounds, Albarado took the bout out of the judges hands, knocking Wajima down three times and out in the final stanza.
It was a long road to Tokyo. An eight-year pro, Oscar had at least 55 pro fights under his belt when he was granted a crack at the title. As he was scaling the ladder with occasional missteps, he became a fan favorite at the Olympic Auditorium, the shrine of Mexican-American boxing in L.A. But we are getting ahead of ourselves.
Albarado's parents were migrant farm workers. They spent a portion of each year picking sugar beets in Minnesota. The kids went along with them. Albarado was purportedly six years old when he first worked in the fields.
He was 17 years old when he had his first documented fight, a 4-rounder in San Antonio, but there are some reports that say he was fighting in Mexico when he was as young as 15.
Albarado became a local attraction in South Texas and then spread his wings, moving to Los Angeles where there was better sparring and boxers of Mexican extraction were a more highly-valued commodity. He was backed by LA fight functionary Harry Kabakoff, a wheeler-dealer who knew all the right people. A colorful character, Kabakoff, born Melville Himmelfarb (don't ask) had struck it big with bantamweight Jesus "Little Poison" Pimentel, a boxer he discovered while living in Mexicali.
Billed as the Uvalde Shotgun and eventually as just Shotgun Albarado, Oscar had his first fight at the Olympic on Jan. 9, 1969, and four more fights there in the next three months. He lost the last of the five and with it his undefeated record to Hedgemon Lewis who out-pointed him in a 10-round fight. There was no shame in losing to Hedgemon, an Eddie Futch fighter who went on to become a world title-holder.
Albarado was back at the Olympic before the year was out. All told, he had 17 fights at the fabled South Grand Street arena, going 13-3-1. His other losses came at the hands of Ernie "Indian Red" Lopez (L UD 10) and Dino Del Cid.
Del Cid, dressed with a 29-8-2 record, was a Puerto Rican from the streets of New York or a Filipino, depending on which LA newspaper one chose to read. Apprised that Albarado was a slow starter, he came out slugging. A punch behind the ear knocked Albarado woozy and the ref stepped in and stopped it. It was all over in 81 seconds.
Oscar demanded a rematch and was accommodated. Six weeks later, he avenged the setback in grand style, decking Del Cid three times in the opening stanza and knocking him down for the count in the following round with his "shotgun," his signature left hook.
As the house fighter, Albarado got the benefit of the doubt when he fought Thurman Durden in January of 1973. The decision that went his way struck many as a bit of a gift. But the same thing had happened to him in an earlier fight when he opposed fast-rising welterweight contender Armando Muniz.
As popular as Alvarado was at the Olympic, his pull paled beside that of young Muniz. Born in Mexico but a resident of Los Angeles from the age of six, Muniz attended UCLA on a wrestling scholarship before finishing his studies at a commuter school and had represented the United States in the 1968 Olympics while serving in the Army.
Muniz vs. Alvarado was a doozy. We know that without seeing the fight as we have the empirical evidence in the form of the description of the scene at the final bell; appreciative fans showered the ring with coins. The verdict, a draw, met with the approval of the folks in the cheap seats, but ringside reporters were of the opinion that "Shotgun" was wronged. The LA Times correspondent had it 7-2-1 for the Texan.
Oscar had two more fights after avenging his loss to Del Cid before heading off to Tokyo to meet the heavily-favored Wajima who was making the seventh defense of his 154-pound title. Two more trips to Tokyo would follow in quick succession.
Albarado made the first defense of his newly-acquired belt against Ryu Sorimachi. He stopped him in the seventh round, putting him down three times before the match was halted. Three-and-a-half months later, he gave the belt back to Wajima, losing a close but unanimous decision in their rematch.
Oscar quit the sport at this juncture, returning to Uvalde. He was in good shape financially. He had used his earnings from his Olympic Auditorium fights to open a gas station. With the Tokyo money, he expanded his holdings by purchasing a laundromat.
This would be a nice place to wrap up this story. Former Austin American-Statesman sportswriter Jack Cowan, a Uvalde native, recalled that when Oscar opened his service station, he gave his new customers an autographed photo of himself in a boxing pose inscribed with the words "Oscar Albarado: The Next World Champion." He would make that dream become a reality, defying the odds, while breaking the cycle of poverty in his family. Boxing was the steppingstone to a better life for him and his children.
But ending the story right here would be disingenuous. This is boxing, after all, and when the life story of a prominent boxer comes fully into a focus, a feel-good story usually takes a wrong turn.
Oscar got the itch to fight again. Sixty-seven months after walking away from boxing, he resumed his career with predictable results. He was only 34 when he returned to the ring, but he was a shell of his former self, an old 34.
Albarado was knocked out in five of his last seven fights before leaving the sport for good with a record of 57-13-1 (43 KOs). He made his final appearance in Denmark, the adopted home of double-tough Ayub Kalule who whacked him out in the second round.
Albarado's obituary in the Uvalde paper was uncharacteristically blunt. "He suffered from pugilistic dementia," it said, "caused by repeated concussive and sub-concussive blows."
There was no sugar-coating there, no Parkinson's to obfuscate the truth.
If he had known the fate that awaited him, would he have still chosen the life of a prizefighter? That's not for us to say, but author Tris Dixon, while researching his new book, interviewed a bunch of neurologically damaged fighters and almost to a man they said they would do it all over again.
Albarado had four children, three sons and a daughter. When he was elected to the West Coast Boxing Hall of Fame in 2017, he was too decrepit to travel, but all four of his children — Oscar Jr, Emmanuel, Jacob, and Angela — made the trip to North Hollywood to accept the award on his behalf.
The kids were proud of their old man, a feeling that did not dissipate as he became incapacitated. If boxing was helpful in tightening the bond, then it's a fair guess the Uvalde Shotgun had no regrets.
Check out more boxing news on video at the Boxing Channel
To comment on this story in the Fight Forum CLICK HERE
Brandon Figueroa KOs Nery and Danny Roman Wins Too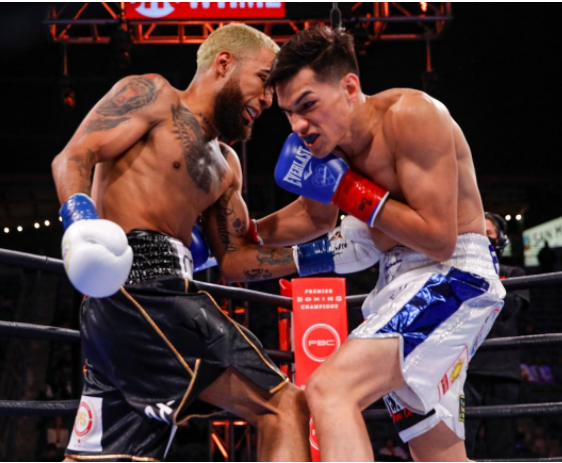 LOS ANGELES-Brandon Figueroa took the air out of Mexico's Luis Nery to win by knockout and unify the WBA and WBC super bantamweight titles on Saturday. It was a belly buster that did the job.
Texan Figueroa (22-0-1, 17 KOs) set out to prove that Tijuana's two-division world champion Nery (31-1, 24 KOs) could not endure a toe-to-toe battle with the bigger guys and he proved it before several thousand fans at the Dignity Health Sports Park.
It was a back-and-forth battle that saw Nery attack the body and head while Figueroa focused on winging big blows from a distance and in close. Many of the rounds were extremely close to score.
When Nery was able to battle from a distance and dive inside, he seemed the much more athletic between the two champions. But Figueroa just seemed stronger and unfazed by any of the Mexican fighter's blows.
Though Figueroa absorbed a lot of punishment, he never seemed in trouble. When Nery connected with a several combinations in the fifth round by landing five-punch and three-punch combinations, it looked like he was taking control.
He did not.
Figueroa opened the sixth round with two left hook blasts that reminded Nery that the taller Texan had a punch. When Nery tried to rally with his own blasts, Figueroa slipped under back-to-back left hooks. It seemed to change the tide.
"I knew he was getting tired," said Figueroa. "He was trying to box me."
In the seventh round Figueroa was able to connect with a left hook and followed up with a lead right. Nery countered with a three-punch combination that was met with Figueroa countering with a three-punch combination to the head and body. Then both fighters exchanged inside and Figueroa connected with a right to the chest and a left uppercut to the solar plexus and down went Nery.
Nery could not beat referee Tom Taylor's count and was counted out at 2:18 of the seventh round.
Figueroa is now the WBC and WBA super bantamweight unified champion.
"It feels amazing," said Figueroa. "I know everyone doubted me."
Roman Wins Super Bantam Eliminator
Los Angeles-based Danny Roman (29-3-1, 10 KOs) battered Mexico's Ricardo Espinoza (25-4, 21 KOs) to win convincingly by unanimous decision after 10 rounds in a super bantamweight fight.
After a slow start Roman began to out-maneuver the heavy-punching Espinoza and found openings for left uppercuts. Boy did he find openings.
"I concentrated on finding my distance," said Roman.
Roman snapped Espinoza's head back so many times it seemed that the Mexican fighter would not be able to last the full 10 rounds. But like most Mexican fighters he would not quit.
Espinoza tried every move in his catalogue but nothing worked against the superb technique used by Roman, who formerly held the IBF and WBA super bantamweight world titles. It was a perfect example of technical prowess defeating raw power.
The uppercut was the chosen weapon of choice and Roman exhibited how to throw it from various positions and angles. It landed perfectly every time as if targeted by a laser. Espinoza never could avoid the uppercut.
During the last three rounds Espinoza's face was bloody and battered while Roman looked as if he were merely sparring. The end seemed near but the fighter from Tijuana battled until the final bell.
"I thought he was going to go down," said Roman. "But he had a big heart."
All three judges scored it for Roman at 97-93 and 98-92 twice.
"It's a step closer to getting back my titles," said Roman who lost the titles to Murodjon Akhmadaliev a year ago by split decision. "I'm here to fight the best."
Martinez Beats Burgos
Sacramento's Xavier Martinez (16-0, 11 KOs) discovered that Tijuana's Juan Carlos Burgos (34-5-2, 21 KOs) still has plenty of fight remaining and showed it with a gutsy 10 rounds of back-and-forth battering. Still, Martinez won by unanimous decision though every round was competitive.
Boy was it competitive.
Martinez, 23, had a 10-year advantage in youth but was unable to convince Burgos. Every round saw savage combinations connect by each fighter, but the judges all felt that the Sacramento fighter was superior. All three scored it 99-91 for Martinez. The crowd booed the decision.
"I was landing the cleaner shots," said Martinez. "He's a tough competitor."
Other Results
A super lightweight match saw Jose Valenzuela (8-0) knock out Nelson Hampton (7-4) in the first round.
Gabriela Fundora (1-0) won her pro debut by unanimous decision over Jazmin Valverde (2-2) in a four round flyweight match. Fundora is the sister of super welterweight contender Sebastian Fundora.
A lightweight bout was won by Justin Cardona (5-0) by first round knockout of James De Herrera (4-7).
Check out more boxing news on video at the Boxing Channel
To comment on this story in the Fight Forum CLICK HERE