Klitschko – Fury: Mind Games, Round One
DUSSELDORF – "Some things are always the same at these press conferences, but some things are also always new," said Wladimir Klitschko at some point during the extended conversation, some incendiary, between he and Tyson Fury at their initial media gathering.
That statement is quite true, and in this instance some of those new things cast a better illumination on what to expect from each personality as the Klitschko – Fury saga unfolds.
It seemed appropriate that the participants emphasized mental aspects of their contest, which appears to pit opposite personality types who may actually be of more similar philosophies than they generally present.
If mind games are the first meaningful engagement before a fight itself, then Klitschko's heavyweight title defense on October 24th at ESPRIT Arena could be quite unique.
Unique, as in a slugging scenario in which the usually unflappable Klitschko faces serious problems. Klitschko was the usual epitome of class, but he seemed a little uptight, out of character.
Fury might have stung him with some eye-to-eye criticism, but that also seemed to fuel Klitschko's ferocity in a dangerous way. By the final third of the nearly three-hour session, he eyed Fury like a shark.
Trying to evaluate fighters' psyches as they attempt to get into each other's head is often an exercise in folly, but if such psychological analysis could always be accurately determined before the first punches land it would sure help tell me which way to bet.
When they glanced calmly at each other arriving on the podium, Klitschko leaned over to shake hands and Fury responded with a polite smile, indicating a mellow demeanor. His team was very respectful to Klitschko and to their German hosts.
Until provoked, Fury's comments were relatively mild. "I have to give credit to the older champion for taking on a challenge like myself. I'm just wondering, after I beat him, does his TV deal roll over to me?" pondered Fury, not so much tongue in cheek as money in bank.
An opening, super hi-def montage with multiple clips of Fury making derogatory remarks made Fury look bemused. Klitschko's montage showed numerous prefight promises by previous opponents. In case anybody missed the point there were high slow motion replays of each challenger's face getting rearranged.
It was the champion who shook matters up later, repeating passive-aggressive prods like, "Fury right now isn't everything he shows, just portions. I hope it's going to get more entertaining because I was a little disappointed. Is this it? He didn't throw the table, or a microphone or maybe a shoe? We used to get flying shoes here (Shannon Briggs)."
Interesting that the European urban dictionary seems to define those press conference outbursts as "Amerikanisch".
For his part, Klitschko offered biographical musings on a wide range of subjects. He is an aged vintage, Fury is a shot and a beer.
"It was always challenging to find the right key to beating my opponents, but it is also motivation to myself," continued Klitschko reflectively, while Fury seemed to suppress a yawn. "He really means what he's talking about and he's definitely not coming here just to be present and be on the canvas." Those words didn't hide the unspoken dismissal of the challenger's chances.
"The first time I heard about Tyson Fury was a running joke about a guy punching himself in the face," said Klitschko as Fury began to look less cordial. "He sings, he dances, he's a cool dude, so entertaining. Some people adore him and some say they can't stand him."
When Klitschko stated "I haven't seen much (film) of his fights, only a little bit." Fury growled, "He's lying."
Maybe we lost it in translation, but it sounded like Wlad almost took a swipe at beloved mentor Emanuel Steward, when Klitschko referenced Papa Kronk's supposed prediction of fighters like Fury becoming champion someday.
Therein lies what we believe was the reason for Dr. Steelhammer's more aggressive than usual stance at the press conference. It seemed like he felt a lack of respect from Fury, the media, maybe even the fans.
"Anybody can become champion quick, for one fight. It's very tough to be champion for a long, long time," said Klitschko, staring harshly.
"I think this is going to be the toughest fight of your life, I think it is not going to be simple for you. I also believe I am going to face one of my toughest opponents. Just your size and your stance, switching from southpaw to regular, is going to be a challenge. But I'll be ready, that I can promise. I wish you fast healing."
Fury understood that announced butt-kicking time. A subdued light in his eyes turned into fire as he became incensed, little by little.
Klitschko's shtick on this cranial chessboard cited sports psychology academics, referencing "therapy" to make unstable Fury a better person ala Klitschko's fight against David Haye. Not the most brazen posture, but it incensed Fury, who launched into a raging half soliloquy on Klitscko's lack of fistic virtue.
"It's a personal mission for me to rid boxing of a boring person like you," Said Fury. "I could have fallen asleep listening to your sheepish talk. I ain't interested in all the titles, all the belts you've got on that table. I'm interested in breaking your face in, that's what I'm interested in.
"Your jab and grab style, surely all of Europe wants to see you get beaten, and the rest of the world will see you get beaten. You have about as much charisma as my underpants, zero.
"You're a 'sports psychologist', speaks 37 different languages, so what? You're still a boring person. I am the new blood in the division, you're an old man. You've got grey hair like my trainer and my manager. You've got wrinkles in your face. I wouldn't be surprised if you've had Botox as well. It is what it is, you look old.
"You can have as many idiots on that television as you want, all them stupid Americans that's got no gas. They run out of steam after five rounds. It's a known fact that if you take these American guys six or seven rounds they fall on the ground, out of energy. I have the American style with the European conditioning, and that equals you're ("in trouble").
"History does not lie. History says all old champions move over for the new ones. Is this man better than all the great champions of the past? I think not. And all the great champions of the past, at 39 years old, are on the decline. You are nothing and you're getting knocked out.
"I don't care about being a role model, I don't care about going down in history. All I care bout is beating you. I dream about knocking your head off. How dare you mention my name in the same sentence with David Haye.
"I'll hire you to be my therapist after I knock you out because you'll need a job. I'm unpredictable, and all you types hate unpredictability. So right now I'm already inside your mind. How's that for psychology?"
The suddenly heated rhetoric concluded, Klitschko acted pleased that Fury was finally pumping the promotion. Still, intensity lingered. Fury delivered an impersonal, hilariously filthy one-liner that he was probably saving to close the show, so how much of his indignation was actually sincere remains unclear.
But their second handshake was much less cordial than the first. As in ice cold.
As they next made their way onto the bright stadium field for photos, Fury paused amidst a mass of multi-colored seats to glance toward the open roof, a pair of gigantic fight posters underneath. Contemplating that looming image was one of the few times Fury looked completely serious all afternoon.
From the sound and look of things with just a few people around, Fury was respectful of Klitschko but had gotten under his skin.
There was another serious moment for Fury as he waited between TV interviews, watching Klitschko, twenty feet away, interact seamlessly with the media. "Look at him," Fury said, almost wistfully, listing Klitschko's achievements. "I can't be that guy. I don't want to be that guy."
First impression odds considering only physiques and personas observed at press conference and photo shoot: pick 'em.
Odds including prior knowledge of fighter performances: Klitschko 5 – 1 favorite.
Odds considering only Klitschko performance against Bryant Jennings: Klitschko – 250 (almost 3-1 favorite).
Odds considering only Fury performance against Steve Cunningham: Klitschko 10 – 1 favorite.
Odds on Fury to impress: 2 – 1 for.
Odds on Klitschko to impress: 3 – 1 for.
Klitschko by decision: even / pick 'em.
Klitschko by KO: 3 – 1 for.
Fury by Decision: 15 – 1 against.
Fury by KO: 5 – 1 against.
Draw: 50-1 against.
Disqualification: 5 – 1 against.
Visiting Brits to handle their beer as well as the locals: 1000 – 1 against.
At first glance, this bout looks anywhere between one of Klitschko's patented dominant performances and one of his surprising debacles. It would be careless of him to use any different method than he has recently. Can Fury force him out of that conking comfort zone?
Fury's uncovered arms looked bigger than Klitschko's while Klitschko was in a slightly padded suit.
Which brings us back to early predictions. Obviously, each man will likely play true to their general form, without many exchanges during the first minutes. The more typically they fight, the more it favors Klitschko, and his chances for a late round KO, but something hints this will not be a typical Klitschko fight.
Don't be surprised if Klitschko switches stances or charges out more aggressively, especially if there are any new additions to his training camp. If Fury responds well to some unusual tactic, it is not impossible to visualize a multi-knockdown brawl, maybe the first one in either Klitschko's career in which each fighter gets dropped.
As they were walking off the pitch, somebody asked Fury, who'd been playing around with a soccer ball photo prop, how he was with the football.
"I'm great at everything I do," he replied sternly, then smiled with a nod and a wink.
The real Fury is somewhere between that casually intense character who narrowed his gaze at Klitschko on the pitch and the guy who took a humble, extended glance at his own image on the huge arena billboards.
That's pretty serious elevation, even if you're 6'8.
Whether that guy can generate near enough power or pressure to make things interesting, let alone highly competitive, against an elite champion like Klitschko is just one of many factors probably on each fighter's mind, right about now.
Jaron Ennis KOs Sergey Lipinets and Other Results from the Mohegan Sun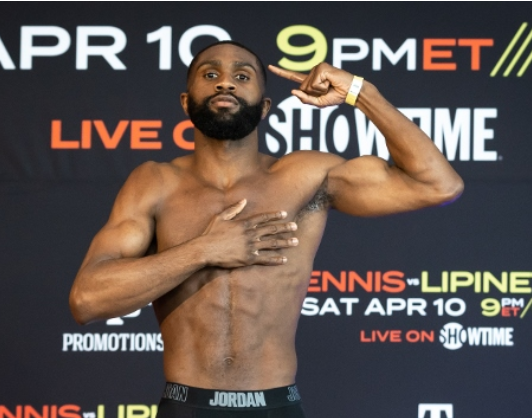 Jaron Ennis KOs Sergey Lipinets and Other Results from the Mohegan Sun
Philly is on the up. Again.
Jaron "Boots" Ennis kicked his stature into another gear with an impressive knockout of former world champion Sergey Lipinets on Saturday.
"It's on the up now for bigger and better fights," said Ennis.
Those Philly fighters know how to do it.
Before a small audience Philadelphia's Ennis (27-0, 25 KOs) showed that he's ready for the elite level class by dominating the always tough Lipinets (16-2-1, 12 KOs) at Mohegan Sun Casino in Uncasville, Conn.
Is there any other American welter looking for action?
Ennis walked into the arena with all of the physical advantages, but experience can be a tricky matter in the fight game. Lipinets was ready to provide the lesson.
For the first two rounds Ennis used his superior reach, height and speed to keep the former super lightweight world titlist from entering his domain. The Philly fighter wacked at the Russian fighter's body and head while taking minimal return fire.
Lipinets finally found his way inside and both fighters traded big blows. A wicked right uppercut by Ennis connected and Lipinets bounced a right cross on the Philly fighter. Both absorbed the big blows with little effect.
Still, Ennis was winning all of the rounds and Lipinets realized that maintaining the status quo was not doing him any good. He increased his attack and slipped on Ennis foot and went down. It was incorrectly ruled a knockdown by the referee but it was the least of the Russian fighter's problems.
Both fighters attacked the body but Lipinets shot one far below the belt and the fight was stopped for a moment. Lipinets was warned. Both went into attack inside and it seemed to be Lipinets best round. He seemed to find his way back into a groove.
"I saw he wasn't as skilled on the inside as I was so that's when I started getting a little closer," Ennis said.
Ennis may have realized that Lipinets had a good round and he wasn't about to allow another. As the two fighters re-engaged in their war inside, Ennis connected with a right hook to the chin and a left uppercut finished the job. Down went Lipinets and referee Arthur Mercante waved off the fight at 2:11 of the sixth round without a count.
"We worked on a lot of power shots and a lot of speed. That's what we did," said Ennis. "Everything is all natural."
The impressive knockout of Lipinets proved that Ennis has more than enough ability to hang with the best welterweights around.
"Maybe one of the guys will want to fight me. Who knows?", said Ennis.
Other Bouts
IBF super flyweight titlist Jerwin Ancajas (33-1-2, 22 KOs) floored Mexico's Jonathan Rodriquez (22-2, 16 KOs) and hammered out a win by unanimous decision. But it wasn't an easy fight. It never is when you put the Philippines versus Mexico.
Ancajas needed the win to keep his name handy for a possible match in the now heated super flyweight division that features Juan Francisco Estrada, Roman Gonzalez, and Carlos Cuadras.
A battle between welterweight contenders saw Eimantis Stanionis (13-0) power his way to a unanimous decision win after 12 rounds versus Thomas Dulorme (25-5-1).
Check out more boxing news on video at the Boxing Channel
To comment on this story in the Fight Forum CLICK HERE
Fast Results from Tulsa: Joe Smith Jr Nips Vlasov, Wins WBO Title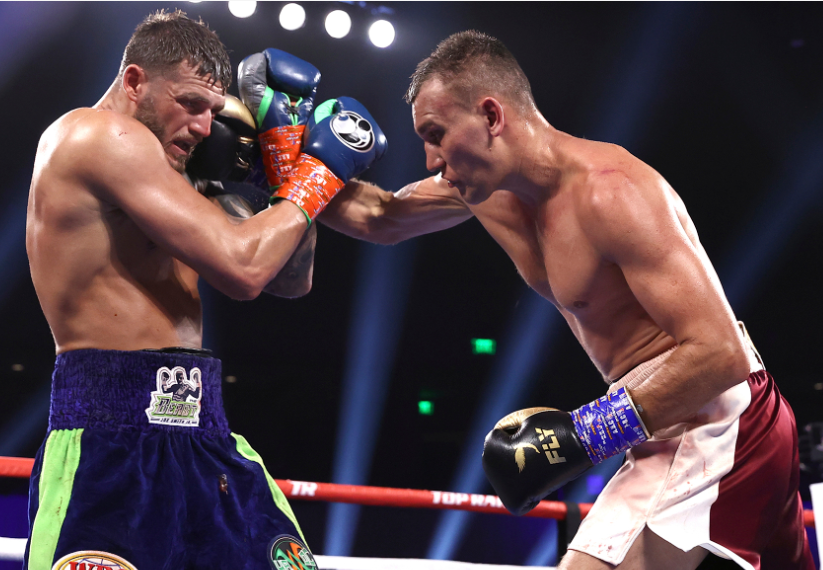 Joe Smith Jr had to dig down deep to upend Russian veteran Maxim Vlasov, but pulled the fight out of the fire with a late rally to capture the vacant WBO light heavyweight title before a sold-out crowd of 500 masked-up fight fans at Tulsa's Osage Casino. Smith prevailed by a majority decision. One of the judges had it a draw (114-114), but he was overruled by his cohorts who each turned in tallies of 115-113.
Smith, the quintessential blue-collar fighter, suffered a cut above his left eye in the first round and it troubled him throughout. Vlasov fought a smart fight, out-working the more one-dimensional Smith in most of the rounds, but a cut inside his mouth and Smith's body punches eventually took their toll. Smith had a strong seventh round but Vlasov recaptured the lead only to let it slip away in a good action fight. There were no knockdowns, but Vlasov went down in the 11th from a punch that landed behind his head, an illegal punch, hence no knockdown.
Smith Jr improved to 27-3 and earned a date with WBC/IBF champion Artur Beterbiev. Vlasov, whose effort commanded a rematch that won't happen — at least not any time soon — falls to 45-4. All four of the Russian's losses have come on U.S. soil, two right here in Tulsa where Vlasov was out-pointed by future world title challenger Isaac Chilemba way back in 2011.
—
The were nine bouts in all the card, the majority of which were intended to showcase up-and-coming heavyweights. The result was a predictable slew of quick stoppages, resulting in plenty of dead time between bouts.
The match between Efe Ajagba and Brian Howard was packaged as the co-feature. Ajagba had been less than impressive in some of his recent starts, but tonight the 6-foot-6 former Olympian for Nigeria scored a devastating one-punch knockout to restore whatever luster he may have lost. The lightning bolt came at the 1:29 mark of round three. Howard was unconscious before he hit the canvas. Ajagba advanced to 15-0 with his 12th knockout. Howard declined to 15-5.
Other Bouts
In the last of the seven preliminary fights on ESPN's subscription channel, Jared Anderson improved to 9-0 (9) with a second-round stoppage of West Virginia southpaw Jeremiah Karpency. The gifted 21-year-old Anderson, from Toledo, Ohio, scored two knockdowns with hard body shots before the bout was halted after only 38 seconds of the second round. The grossly overmatched Karpency was 16-2-1 heading in.
Local fan favorite Trey Lippe Morrison advanced his record to 17-0 with his 17th knockout, stopping 36-year-old Alabama journeyman Jason Bergman (27-20-2) in the third frame. Bergman came to fight and actually scored a knockdown in the opening round that the ref erroneously called a push. Fighting with his back against the ropes, Bergman landed a left that knocked Morrison off his pins.
It was a quirky knockout, coming at the 1:27 mark of round three when Bergman rolled his ankle while throwing an errant punch. He fell to the canvas in obvious pain and the bout was stopped. Bergman had lost seven of his last nine coming in, but was meeting an undefeated opponent for the fifth straight time.
Tulsa native Jeremiah Milton (3-0, 3 KOs) had a successful homecoming, bombing out Mississippi's Jayvone Dafney in the first round. An overhand right by Milton left Dafney out on his feet with his back pinned against the ropes. Milton, realizing that his opponent was seriously hurt, held back, waiting for the referee to intervene. The time was 1:19.
In the ESPN+ opener, Philadelphia's Sonny Conto (7-0, 6 KOs) returned after a 15-month absence and dismissed paunchy Waldo Cortes in the opening round. Conto put Cortes (6-4) down for the 10-count with a perfectly placed right hand. The official time was 1:41.
Photo credit: Mikey Williams / Top Rank via Getty Images
Check out more boxing news on video at the Boxing Channel
To comment on this story in the Fight Forum CLICK HERE
Conor Benn Embarrasses His Detractors, Demolishes Vargas in 80 Seconds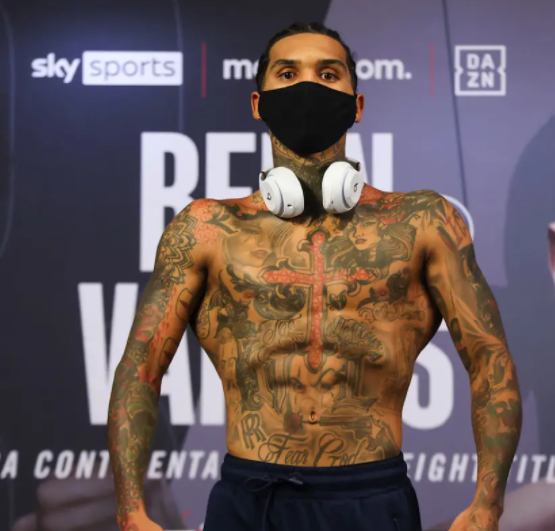 Conor Benn fought Samuel Vargas in London today (Saturday, April 10). Although Benn was a solid favorite, he was stepping up in class. Vargas, a 31-year-old Canadian via Columbia, brought a 31-6-2 record. He had been in with the likes of Errol Spence Jr and Danny Garcia and had extended Amir Khan 12 rounds on Khan's turf in Manchester.
Vargas's best days were behind him , but the prevailing sentiment was that he would make it interesting, likely taking the fight into the late rounds and perhaps lasting the distance. So much for prevailing sentiment. Benn walked right through him. Vargas couldn't cope with Benn's superior speed. He was being battered against the ropes and offering nothing in return when referee Michael Alexander stepped in and waived it off. It was all over in 80 seconds. Benn improved to 18-0 with his 12th win inside the distance.
Benn, 24, is the son of Nigel Benn, a former two-division world champion who was one of England's most celebrated fighters. Conor had a brief amateur career in Australia before turning pro at age 19 in London, the city of his birth. While his record is unblemished, it would be incorrect to say that he passed every test as he was climbing the ladder. His first fight with Cedric Peynaud, a marginally skilled Frenchman, has haunted him.
Benn was knocked down twice in the opening round, but scored two knockdowns of his own late in the 6-round fight and was awarded the decision. Peynaud brought a 5-4-3 record and to say that Conor's performance was underwhelming would be an understatement. At the finish, his right eye was badly swollen.
Scott Gilfoid offered up the most damning criticism: "To say that Benn looked poor tonight is being kind. He was absolutely horrible….The flaws that I saw in Benn's game tonight are ones that likely won't go away anytime soon….His performance has to be viewed as a warning sign that he's not destined to go far in the sport like his famous father."
Benn and Peynaud fought on Dec. 13, 2017. This was Benn's 12th pro fight. He had one more bout under his belt before he and the Frenchman had another go at it. The rematch, scheduled for 10 rounds, took place on July 28, 2018, on a show headlined by the heavyweight match between Dillian Whyte and Joseph Parker.
Benn knocked Peynaud down three times but couldn't finish him. However, the outcome was never in doubt. He won by scores of 98-90 and 98-91 twice.
Trevor McIntyre, a stablemate of the aforementioned Scott Gilfoid (rumor has it that Gilfoid and McIntyre are the same person, and that both are aliases of the owner of the web site where their bylines appear) conceded that Benn showed improvement, but was otherwise unimpressed: "(He) still looked like someone that would be blown away by a halfway decent journeyman fighter….Benn's defense was leaky, his hand speed slow, and his movements looked uncoordinated throughout."
Benn's most recent fight before tonight came against Sebastian Formella, a sturdy but feather-fisted German who was coming off a 12-round defeat to Shawn Porter, a bout in which he showed great heart but won nary a round. Benn won lopsidedly. The scorecards read 100-91, 99-91, and 98-92.
The mysterious Barry Holbrook, whose byline appears at the same web site as Gilfoid and McIntyre, acknowledged that Benn proved some of his doubters wrong, but wrote that "a top welterweight like Errol Spence, Keith Thurman, Danny Garcia, Terence Crawford, or Vergil Ortiz Jr would have knocked him out. If they didn't score a knockout, they would have battered him to the point where the referee would have needed to stop it."
The respected British scribe Ron Lewis offered a different take: "(Conor) looked a completely changed fighter from the wild youngster of his early professional career, switching well from head to body, being patient, and picking his spots well." Lewis did not speculate how Benn would have fared against some of the division's top guns, but certainly hinted that Nigel's son could become a factor in what is currently a very strong welterweight division.
As today's showing proved, Mr. Lewis is a more perceptive observer than his counterpart(s) at the web site where Benn has been repeatedly 'dissed. Nigel's son has made enormous strides in the last few years. He's also an interesting character. Having spent much of his formative years living on the Spanish island of Majorca, he's fluent in Spanish which is always a useful attribute from a marketing standpoint. But as for how good he is, let's not jump to conclusions, mindful that Samuel Vargas was on the wrong side of the curve, having lost three of his last five heading in.
The question doesn't yet have a definitive answer, but tonight in London, Conor Benn was very good, very very good.
Check out more boxing news on video at the Boxing Channel
To comment on this story in the Fight Forum CLICK HERE