WOODS: Santa Cruz-Mares Was NOT A Classic In My Eyes
Expectations can be a heckuva thing. How many times have you heard about a blockbuster flick, read up on it, seen tons of Tweets on it, heard friends and neighbors making plans to watch it.
You make your plans, brain buzzing, waiting to be blown away…and end the night thinking, Ho hum.
That wasn't all that.
You grumble some and vow to be more efficient in fending off the noise, in making up your own mind for yourself, in not falling for the hype.
The expectations bug bit all associated with #MayPac, and you see the winner of the bout to this day defending his part in the event.
You the press bear blame, he tells people, because we built up Pacman. And I do not, actually, summarily dismiss his line of thinking, although that is a markedly simplistic and muchly erroneous take, being that he built up Pacman as a capable foe, at times, while at other times promising he'd be easy work…and the armies of people tasked with convincing you to fly to Vegas and buy a ticket, or pony up the money to buy it on PPV, told you this one was one for the ages, a sure classic…
But I digress; all in all, the expectations set for that bout insured, virtually, that they would not be met. And they most certainly were not, we all agree.
Expectations for the Saturday Leo Santa Cruz vs. Abner Mares bout weren't in that same ballpark, they were minor league compared to that. But you did have some folks asking if the winner, or maybe both of em, would be anointed as a Mexican marvel…you had folks plumbing the depths of the brains of historians to get some apt comparisons…
The Battle of the Z Boys, Carlos Zarate and Alfonso Zamora, was brought up. I held my tongue when I read that, not wanting to be a nattering nabob of negativity, and had to refresh my memory. Zarate was a legit bomber, was 38-0 with 37 KOs entering, while Zamora was 29-0 with, yikes, 29 KOs. Man, it ain't a given to knock down an assemblage of cabbies and burger flippers and junkies paid to find a soft spot to lay down…and that wasn't the case with Zamora.
Don't know about you, but I didn't and don't consider Santa Cruz or Mares any sort of bomber. Their KO ratios (Mares' is 47%, Leo's is 53%) told you that, and thus, I think that lessened my expectations entering. To be honest, this fight to me felt like a big deal on the West Coast, not as much on the East Coast.
So, anyway, LSC and Mares fought. Maybe a year or even two later than they should have, some pondered in the leadup, being that LSC's rep really started boiling in the fall of 2012 or so. Mares at that time was hot stuff, too, but then felt the need to jump up in weight…so he had to wait for LSC to come join him at 126…and for some managerial and promotional stuff to get right, before they could tangle. LSC jumped ship, from the Cameron Dunkin/Top Rank plank, to uber advisor Al Haymon…and then Mares made the leap, after Golden Boy imploded, with Oscar brandishing a cutlass and requesting Richard Schaefer walk the plank for perceived disloyalty. Last summer, Mares joined the Haymon family. And the time became right, after Mares got stopped out against Jhonny Gonzalez in 2013…and then needed a few more bouts to collect his confidence. LSC was also in a pattern of activity which left heads scratching, and sent his profile into a depth, as a Twitter laughing-stock, with the Mockingbird Gang dismissing his foes as a jokers and journeymen. Anyway, all that stuff melted away–as it should, I think–as they finally got on that parallel track and then re-positioned themselves for a faceoff.
So yeah, they faced off…and threw a ton of punches. And it was a solid fight.
But…were my eyes lying to me? I didn't recall watching, and having an "Oh s–t!" reaction, during a crazy exchange, or otherworldly round…
And then I noted some of the after the fact analysis. Fight of the Year candidate…comparisons to Vazquez-Marquez and…wait, what??…Barrera vs. Morales 1!?
Srsly?
I had to think, maybe my mood wasn't right…but I saw a high volume fight, that had no real massive ebbs and flows and dips and bursts which make for a FOY candidate.
Yeah, there were some clean, hard shots landed. But no knockdowns…no one had to clamber back from the edge…no one had to collect their senses, gather their marbles in order to stop from drowning. Nah, this wasn't the Z Boys sniping…neither LSC nor Mares is anything resembling a one-punch power hitter, and besides, LSC especially was boxing smart and winning rounds, and I didn't see him all that much gunning for a stoppage. Yeah, you didn't see any sort of Duran-type fury in there. And gosh, was Mares missing a lot. Not to be the heavy critiquer, but when I'm seeing and hearing people gush over a decent bout, I have to take that second look and analysis. And I'm not alone, here. I saw some other dissenters out there.
Manager Vince Caruso reached out and touched base and processed what he saw, as well.
"I should make note that I am on that of a different level than the average spectator, as I was a part of two out of three Barrera/Morales bouts, and the classic Barrera/Hamed clash, standing by my brother, Marco Barrera. So, please forgive me if my pulse remains dormant while I discuss the Santa Cruz/Mares tilt," he said. "First off, Leo Santa Cruz did not in any way, shape or form, put himself into a discussion with Morales, Barrera, Marquez or Vazquez. Leo did however manage to gain respect for himself as a fighter and shake off the "mariquita" tag he was deemed by a majority of not only in boxing circles, but south of the border as well," Caruso told me.
"The problem here stems from this, when Gonzalez faced Carbajal, Morales with Barrera, and Marquez with Vazquez, just to name a few, all of the participants had been in, and defeated, several former or then current world champions. Their resumes were built with calculation, not padded for cosmetic need. This was solely due to the excellent matchmaking machines of gentleman such as Bruce Trampler and Antonio Curtis. The fighters rose in the ranks with stiffer competition and received heavier purses as the fights became more intriguing. To me, this is where the PBC vehicle has failed," he continued, adding some context to his contention. "The resumes of Mares and Santa Cruz combined looks more along the lines of the absentee list of Montebello High School than that of a professional fighter's ledger. However, that is still not the nucleus of the problem we are looking at today. It lies with the eye of the beholder. The fan. Or, in this case, the misguided fan. The Sunday boxing fan, the Johnny-come-lately if you will. An incredible system of a marginal product, marketed in a very sizable capacity, guided by at-best marginal boxing savvy people, covered by unaccredited media outlets, presented to the "5-year fan." The finished product? Comments filling up social media timelines reflecting sentiments of the Santa Cruz/Mares tilt as "an instant classic" or "as good (or better than) Barrera/Morales." As in shock that I was, I mustered the energy to arise from the floor in disbelief. I thought it was a bad LSD flashback to 1990, when we were all fooled by Milli Vanilli," the unfiltered Caruso stated.
"A classic?!?! Better than Morales/Barrera!?! Were this comments from pro-marijuana states like Colorado or Washington? No. It was from the true cancer of this great sport….unaccredited media outlets. Yes, those dreaded little $10 a month godaddy.com website trolls who wake up every morning and prove that idiots still do breed in abundance.
"Look. Santa Cruz vs Mares, at best, was compatible to a late 90's Boxing After Dark type of scrap. To be honest, I did give the fight a grade of B, however, at times it looked like the quality of Art Dore's old "Toughman" boxing series, where Average Joes would slug it out, throwing 100 punches and landing at most 10. Lots of sloppy action. That is what Santa Cruz/Mares was. Two fighters who had feeble resumes and had little, if no, war experience between them."
Caruso wrapped it up: "So let us show support for PBC's product, which I believe is improving with every card, without selling out any credibility here. Santa Cruz/Mares was a very good fight. Had they been tested a little more before they hit that stage last Saturday, I do believe we would have seen a barn burner. That burden falls on matchmaking. My suggestion? Bring in fresh blood for a fresh product. But whatever the future fights that may come, might I suggest relaying on credible sources to form and construct an opinion that will be respected, not ridiculed. That is of course if you do love the sport as I do."
I think he touches on a bunch of points here which we could riff on for awhile. For instance, so much of perception of events now is formed on social media, and instant analysis informs perception mightily. Often our guts speak insta-truth, and sometimes we get swayed by a mob mentality.
Another thing: this boxing age has fans and media picking sides to an amazing extent. You have your PBC guys, your Top Rank guys, your HBO guys, etc. And people are often not invested in the product as a whole, but in one segment of the product. So you often see "Al guys" on social media being very gentle in their grading…and then they use a harsher set of eyes when critiquing an Arum show. And the opposite occurs as well. I think we all need to, as Caruso says, be very careful when accepting POVs, and we must consider what if any filters people are looking through.
Another thing…is it possible peoples' expectations have been lowered, because we are in the post-concussion-comprehension era, and fewer boxers now employ a fan friendly, take two to give one style? Has the influence of Floyd Mayweathers' masterful brand of defense first pugilism changed how many folks watch and analyze a fight. Some food for thought, I hope..
All in all, bottom line, Santa Cruz-Mares was a solid fight. But nah, not a classic or near classic. Good fight, for sure. But let us not employ the word "classic" without maybe first re-acquainting ourselves with Barrera-Morales I, or Corrales-Castillo I, or fights of that ilk. Those warriors deserve that respect.
Tony Yoka Makes Quick Work of Duhaupas; Yoka's Wife Wins Too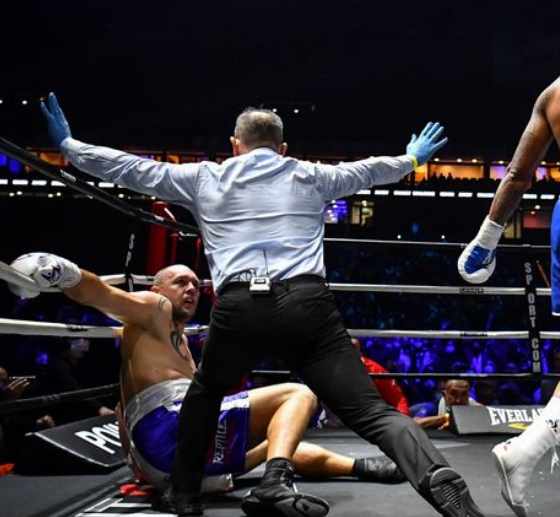 An indoor rugby stadium in Nanterre, a township in an inner suburb of Paris, was the site today of a five-fight boxing show featuring Tony Yoka and his wife Estelle Mossely in separate bouts (when they fight each other, they do it in the privacy of their home). Attendance was limited to 5,000 with social distancing protocols in place.
Yoka and Mossely, the parents of two young children, the youngest a boy born in May, were each gold medal winners in boxing at the 2016 Rio games. The six-foot-seven Yoka defeated Filip Hrgovic in the semis and Joe Joyce in the gold medal round.
Today Yoka, in his first scheduled 12-rounder, was matched against 39-year-old French warhorse Johan Duhaupas who was 38-5 (25) heading in. Duhaupas went 12 rounds with Jarrell Miller, extended Deontay Wilder into the 11th frame, and knocked out Robert Helenius, the conqueror of Adam Kownacki. Despite his advanced age, he represented a step up in class for Yoka, 28, whose pro career was disrupted by a one-year suspension from the French Boxing Federation for being a no-show at three PED tests. At the very least, Duhaupas was expected to give Yoka some rounds.
But Yoka had other ideas. He needed only 121 seconds to dismantle his countryman and show that he belongs in the conversation with Daniel Dubois, Jared Anderson, the aforementioned Hrgovic and others when talking about the next generation of heavyweight stars.
Yoka (8-0, 7 KOs) dropped Duhaupas midway through the opening round with an overhand right. Duhaupas didn't appear to be badly hurt, but he had no antidote for the barrage that followed. The coup-de-gras was a big right uppercut that sent him flying backward against the ropes. The referee stepped in immediately.
Yoka's U.S. promoter is Top Rank which is seeminly out to corner the market on bright young heavyweight prospects. When Yoka turned pro it was under the tutelage of Virgil Hunter, the trainer of Andre Ward. Yoka has spent considerable time in Las Vegas while serving as the chief sparring partner for Joseph Parker.
—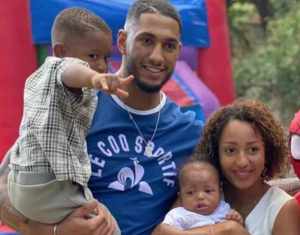 Estelle Mossely kept pace with her hubby. Mossely, 28, advanced her record to 7-0 (1) with an 8-round unanimous decision over countrywoman Aurelie Froment. The scores were 80-72 across the board.
This was an assignment designed to shed the rust. Froment, 33, entered the fight with a 3-0-1 record, but hadn't previously met an opponent with a winning record. In fact, none of Froment's previous opponents had ever won a fight. In the aggregate, the foursome was 0-32-5 at the time that she fought them. Even the world sanctioning bodies steered clear of this affair, refusing to cloak the fight in some sort of title.
That observation aside, it was a nice win for Mossely coming so soon after giving birth. Born in France of Congolese and Ukrainian descent, she is rated the world's best active female lightweight by BoxRec.
Hot prospect Souleymane Cissikho was originally scheduled to be on the card, but pulled out for an undisclosed reason. An Olympic teammate of Tony Yoka, Cissikho is a  special talent.
Check out more boxing news on video at the Boxing Channel 
To comment on this story in the Fight Forum CLICK HERE
Season 2 of the World Boxing Super Series Concludes on Saturday in Munich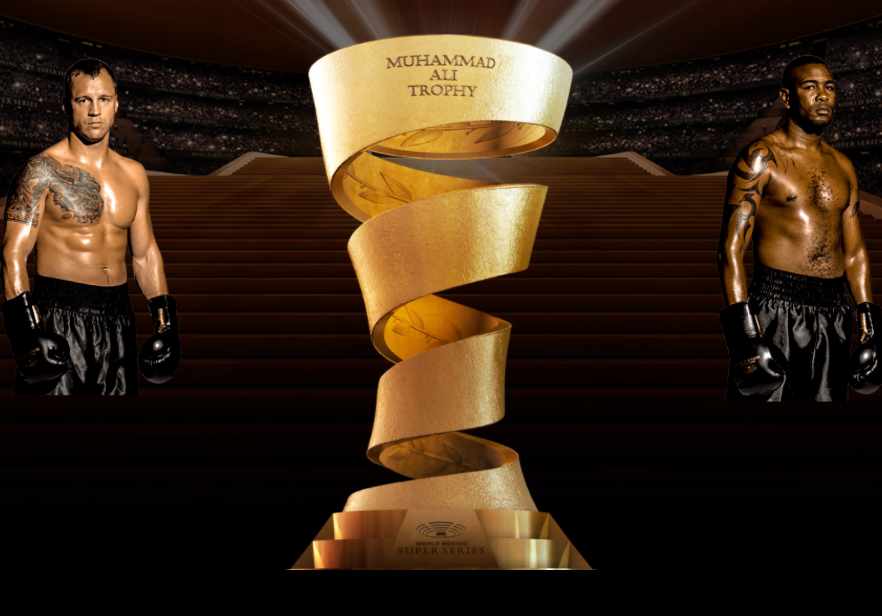 PRESS RELEASE: The hotly-anticipated World Boxing Super Series Season II Cruiserweight Final between Mairis Briedis and Yuniel Dorticos takes place behind-closed-doors in a film studio at Plazamedia Broadcasting Center in Munich, Germany on Saturday, 26 September. On the line: The Muhammad Ali Trophy, IBF World Title, and vacant Ring Magazine 200 lbs belt.
The final will be shown live on DAZN in the US and Sky Sports in the UK.
"A final for the Muhammad Ali Trophy has proved to be something extraordinary. We have seen that it brings out the best in boxers which reflects the DNA of our tournament as to deliver and continue to deliver boxing at its very best to fans of the sport," said Andreas Benz, CEO of Comosa, the event organizer.
"Plazamedia is a phenomenal solution, the studios are providing a controlled environment which is of huge benefit to us and the production team to keep everyone safe while also putting on a great show.
"At the same time, we have done everything to secure fair conditions for both teams, and to ensure they remain healthy and isolated until the action starts."
Mairis Briedis, tournament No. 1 seed, qualified for the final through wins over Noel Mikaelian (UD) and Krzysztof Glowacki (TKO3), while Dorticos, No. 2 seed conquered Mateusz Masternak (UD) and Andrew Tabiti (KO10) to enter the 200 lbs decider.
"We are very happy about the announcement of the final," said Latvia's Mairis Briedis. "I love the fact that it will be in Munich as it reminds me of every time I went to train with the Klitschko brothers in Germany and the flights were always via Munich. Those are some great memories of the time spent with them there."
Said Miami-based Cuban, Yuniel 'The KO Doctor' Dorticos, IBF World Cruiserweight Champion: "To all my fans worldwide, In Europe and especially in Munich, Germany: I am super happy the World Boxing Super Series final will take place in Munich, Germany, and I will see you all on Saturday, September 26th. The KO Doctor is back and ready to prescribe another dose of pain and take the Muhammad Ali Trophy back to Miami."
Kalle Sauerland, Chief Boxing Officer of the WBSS, said: "On 26 September we will not only crown the best cruiserweight on the planet but also send a sign to the world that boxing is back with the first major transatlantic championship bout between the undisputed number one and two in their division.
The final is not only about honour and glory, but cementing a legacy. The winner will become a member of an exclusive 'Ali Trophy Winner Club' that includes Oleksandr Usyk, Callum Smith, Naoya Inoue and Josh Taylor. It doesn't get much bigger in boxing, and we expect Briedis and Dorticos to have an absolute barnstormer!"
The Muhammad Ali Trophy was created by the late world-renowned artist Silvio Gazzaniga who also designed the iconic FIFA World Cup Trophy.
Check out more boxing news on video at the Boxing Channel 
To comment on this story in the Fight Forum CLICK HERE
Avila Perspective, Chap. 106: Return of LA Boxing, Josh Taylor, Charlos and More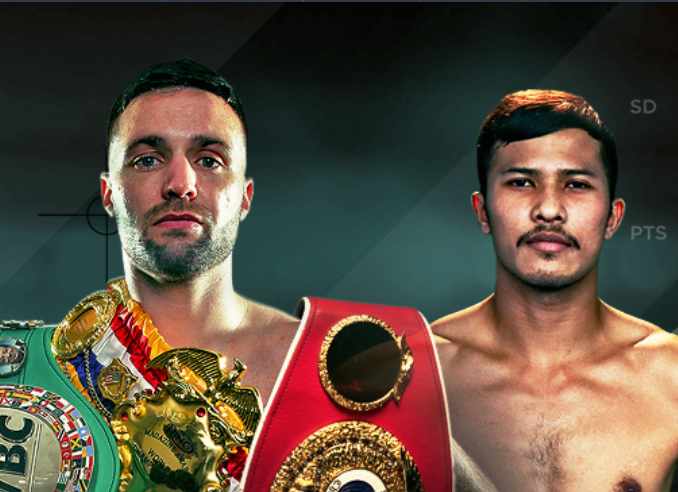 Avila Perspective, Chap. 106: Return of LA Boxing, Josh Taylor, Charlos and More
Let's call this week the Big Build Up.
Back in the 1920s to the 1950s the City of Angels was known as the place where Humphrey Bogart lived and played characters out of Raymond Chandler's novels. Books like the "Big Sleep" and "Lady in a Lake" were made into movies based in Los Angeles.
Well, here we are back where boxing thrives, people or not.
Los Angeles kicks off the big boxing week starting with a televised fight card that features home grown featherweight Vic Pasillas at the Microsoft Theater in the downtown area. Fox Sports 1 will televise the Premier Boxing Championship card on Wednesday, Sept. 23.
Pasillas (15-0,8 KOs) faces Dominican fighter Ranfis Encarnacion (17-0, 13 KOs) in the co-main event at a fan-less event that begins a crowded week of boxing as we near the end of 2020.
"Coming out on top against Encarnación is going to catapult me into some big fights at featherweight. The division is wide open and I know with hard work I can take it over," said Pasillas who is originally from Los Angeles. "This is by far the most important fight of my career. I'm coming with everything I got, because I know this is the turning point that will lead to bigger and better fights. I am ready to bring an exciting fight to the fans and get my hand raised in victory."
Both Pasillas and Encarnacion are undefeated and unknown to most of the boxing world. A win changes everything especially when it's difficult to even stage a boxing card.
Promoters are anxious to get their fighters in the ring by any means necessary.
On Thursday in Biloxi, Mississippi, super lightweight Michael Williams Jr. meets Thomas Miller in the headline attraction of a boxing card that will be streamed by UFC Fight Pass.
On Friday in southern Mexico, Serhii Bohachuk (17-0, 17 KOs) meets Alejandro Davila (21-1-2, 8 KOs) in Merida, Yucatan. No word if it will be streamed. The super welterweight from Ukraine has a 17-fight knockout streak and has become a main attraction in Hollywood, California for 360 Promotions.
"Serhii has become one of the most talked about rising stars in boxing," said Tom Loeffler, promoter of 360 Promotions. "Boxing fans are excited to see if he can continue his knockout streak against Alejandro Davila, the toughest opponent he's faced. He's been training very hard with Manny Robles for this fight and if victorious, we're certain there will be bigger opportunities for him in the near future."
These are all tasty appetizers for the big buffet coming on Saturday.
Breakfast, Lunch and Dinner
Saturday morning, especially if you live in the California area, ESPN+ will showcase the IBF, WBA super lightweight world title fight between champion Josh Taylor (16-0, 12 KOs) and Apinun Khongsong (16-0, 13 KOs) in London. It will be streamed live on Sept. 26, Saturday morning, starting at 11 a.m PST.
This is an important match for Taylor (pictured on the left) who needs a win to nail down a unification clash with Jose Carlos Ramirez the WBC and WBO titlist. If Scotland's Taylor emerges victorious the super lightweight clash will be one of the top fights of the year.
And if that fight happens to take place, then that winner more than likely meets WBO welterweight champion Terence Crawford.
But first things first. Taylor needs to defeat Thailand's Khongsong on Saturday.
"I didn't want a warm-up fight, so getting straight back in there against my mandatory challenger is great, as it's kept me fully focused. I want big fights in my career, so this is an important fight with my belts on the line," said Taylor.
Charlos Pay-per-view
The Charlos brothers asked for it and they got it.
Long have the brothers from Houston, Texas asked for a pay-per-view fight card and it never seemed possible until now. The Charlos will headline a pay-per-view double-header on Saturday via Showtime.
Beginning at 4 p.m PT/ 7 p.m. ET the Showtime pay-per-view card begins with three top notch bouts:
WBO bantamweight titlist John Riel Casimero (29-4) vs Ghana's Duke Micah (24-0, 19 KOs).
WBA super bantamweight titlist Brandon Figueroa (20-0-1, 15 KOs) vs Damien Vazquez (15-1-1, 8 KOs).
WBC middleweight titlist Jermall Charlo (30-0, 22 KOs) v Sergiy Derevyanchenko (13-2, 10 KOs).
Charlo was not impressed with Derevyanchenko's performances against Daniel Jacobs and Gennady Golovkin because both were losses. He expects to dominate.
Derevyanchenko says he's ready for Charlo.
"Golovkin is a very different fighter than Charlo, but Jacobs is similar stylistically, so that's something I'll be used to," said Derevyanchenko. "This training camp has been very similar to camps for my previous fights though. We just brought in different sparring partners for this one. We're using fighters who can show us what Charlo will bring to the ring."
After a 30-minute intermission the second half of the boxing card begins.
Former bantamweight world champion Luis Nery (30-0, 24 KOs) moves up in weight to face Aaron Alameda (25-0, 13 KOs) for the vacant WBC super bantamweight world title. Both fighters are from Mexico.
Former super bantamweight titlists Danny Roman (27-3-1) and Juan Carlos Payano (21-3) meet in a 12-round bout.
In the grand finale WBC super welterweight titlist Jermell Charlo (33-1, 17 KOs) challenges IBF and WBA super welterweight titlist Jeison Rosario (20-1-1, 14 KOs) in a fight for all three belts.
"We lions," said Charlo.
It's a very big week for boxing that begins on Wednesday and ends Saturday.
Check out more boxing news on video at the Boxing Channel 
To comment on this story in the Fight Forum CLICK HERE