Eamonn Magee: Dignity in Troubled Times
An hour before the biggest fight of his career, Eamonn Magee stood outside the MEN Arena in Manchester, England, smoking a cigarette. Inside, more than 20,000 fans were preparing to vent their animosity toward the Belfast man ahead of his bout with hometown hero Ricky Hatton. Always one to show defiance, Magee later exacerbated the hostile crowd's ire by wearing an outfit in the Irish tricolor with sunglasses of the same design.
As he was called to approach the ring for that 2002 fight, Magee (above, in Rich Wade photo, see more on RichWade.com) willingly stood in the aisle for what seemed like an interminably long time. Through a hardened visage defined by a misshapen nose, protruding cheekbones and a lack of front teeth, Magee smiled, absorbing the jeers and baiting the crowd for more. The louder the boos, the more energized Magee became.
Almost 13 years to the day later, Magee again found himself confronted with adversity while standing before a crowd. But this time there was silence. His tricolor attire was absent, replaced by a black suit and red tie. Through puffy eyes Magee stared vacantly into the distance. A tear ran down his cheek.
+  +  +
Fighting in the ring has been the easiest part of Magee's life, with an unwillingness to conform leading to turbulence throughout his 43 years. That appetite for dissent can be traced back to Magee's upbringing in the epicenter of Northern Ireland's sectarian violence.
Born in the Ardoyne, a Catholic enclave surrounded by Protestant strongholds, Magee's family focused on boxing as an escape from the city's conflict. Indeed, Magee's mother told her three sons that boxing was as important as school.
"Growing up in the Ardoyne, you become used to the violence," Magee said in 2004. "It was a normal part of life. You're young and, in a funny way, you enjoyed it."
It appeared that his mother's guidance was justified as Magee's talent for boxing was quickly evident, and in 1992 he seemed ready to represent Ireland at the Olympic Games. He won the Irish title that year, which traditionally guaranteed an Olympic berth. But in an unusual move, the Irish selectors decided not to automatically choose Magee and instead asked him to prove himself worthy by fighting an opponent he had already beaten. Unhappy with the new arrangement, Magee refused to partake in the fight, told the selectors to "stick it up their arses," and promptly quit boxing altogether.
Magee's stubborn nature also seemed to generate hostility from outside the boxing community. A couple of years prior, he was lucky to survive a street fight in which his neck was slashed by a broken glass bottle. Later in 1992 he was abducted by the IRA paramilitary group in what was known as a "punishment attack." Magee's assailants beat him, pinned him to the ground and shot him in the thigh. Occurrences such as this were typically carried out for a reason, and while Magee refused to reveal how he fell afoul of the IRA, he admitted that he "was up to no good."
After several years of idleness on the streets of Belfast, Magee finally returned to boxing and entered the pro ranks at 24. Some early success seemed to convince him that committing to prizefighting was worthwhile, and under the tutelage of John Breen he gained recognition as one of the better 140-pound fighters in Europe. Despite his headstrong demeanor outside the ring, Magee was a thoughtful boxer who used patience and smooth defensive skills to wait for an opening before unleashing hurtful barrages on his opponents.
There were some stumbling blocks early in Magee's career when he lost two bouts by points, decisions that could have gone his way. The defeats took the gloss off his record and dented his progress, resulting in some meager paydays.
"Boxing is the f—— hardest game in the world, and the one with the lowest wages," recalled Magee. "It controls your life, and the lives of your wife and kids, too. They all have to look after you, mood swings and all."
Despite the setbacks, Magee recorded victories over some of the top fighters in Britain and was eventually rewarded with a lucrative 2002 bout against rising superstar Ricky Hatton. In that fight Magee knocked the unbeaten Hatton down in the first round, silencing the shocked crowd.
The bout ultimately went the distance, with the judges declaring Hatton the victor. Yet Magee had defied the odds in rattling Hatton, and the unexpectedly strong showing was all the more impressive given that Magee's preparation was not ideal. "He had been on the booze up until two weeks before the fight," Magee's trainer John Breen said in 2007.
Magee's performance in the high-profile event boosted his name recognition and in 2004 he was in negotiations for a bout with world titlist Sharmba Mitchell. But his ambitions were abruptly halted by a series of incidents triggered by the seemingly innocuous presence of a snowman.
A dispute between Magee's children and those of his neighbors' over the destruction of a snowman attracted the attention of the fathers. Words were exchanged and the dispute quickly escalated, resulted in the neighbors dragging Magee from his car and severely beating the boxer with a baseball bat. The attack left Magee with a broken left leg, fractured left knee and punctured lung.
Magee underwent surgery to have muscle grafted on his shattered leg, and doctors told him to forget about his boxing career; even walking would be a daunting challenge. Yet if there's one thing that Magee doesn't like, it's being told what to do. Remarkably, Magee was back in the ring one year later, recording his 26th professional victory.
Even so, age and restricted mobility caught up with him, and after another win and two defeats, he retired from boxing in 2007 with a 27-6 pro record. Training up-and-coming boxers at Breen's gym seemed like an ideal vehicle for Magee to transition into retirement, but it proved insufficient to rein in his fiery temperament.
The subsequent years saw Magee's wealth dwindle, with gambling a major drain. "Everyone thinks I've made a mint from boxing and I'm rolling in it, but I've lost an awful lot," he said in 2009. In addition, there have been convictions for assault, while his lawyer noted in 2013 that there are days when Magee is paralyzed by anxiety, forcing the ex-fighter to lock himself away from society.
Yet in Magee's seemingly dark world, a shining light began to brighten his outlook last year. His son, Eamonn Jr., became a professional boxer, vowing to repeat Senior's in-ring success. Magee showed a keen interest in his offspring's new career, which indicated early signs of promise via two convincing victories.
Moreover, Eamonn Jr. also showed ambition beyond the ropes as he enrolled in university last September to study for a degree in housing management. During media interviews Eamonn Jr. cited his father as an inspiration, but Magee Sr. seemed just as energized by his son's exploits, and in recent months he was regularly seen in Breen's gym training young boxers with a spring in his step.
+  +  +
In early June,  Magee stood in front of a crowd on the outskirts of Belfast. Instead of fans, he was now surrounded by mourners. Walking alongside his son's mother, Mary, Magee was once again thrust into the public eye. Undoubtedly, leading such a procession was a far more daunting task than anything he had previously experienced.
Several nights prior he received a phone call at three in the morning. The voice on the line asked Magee if he could travel across the city to identify a body. A 22-year old male had been stabbed to death in West Belfast. Eamonn Magee Jr.'s promising life had been cruelly extinguished.
Stepping out of a friend's house to receive a pizza delivery at 2:30 a.m., Magee Jr. was savagely attacked by a 32-year-old man, Orhan Koca, who was lying in wait. Stabbed several times, Magee Jr. died soon after arriving in the hospital. The suspect's petty motive made the crime all the more horrifying; he was reportedly jealous of Magee Jr. striking up a relationship with a former girlfriend of his.
The news stunned the Belfast community, with hundreds attending Magee Jr.'s funeral service. In addition, a large crowd supported Magee Sr. as he attended the court hearing that formally charged Koca with murder. Anger against Koca was also evidenced by an attack on him in jail and vandalism at businesses where he previously worked.
Yet throughout the tumult, Magee Sr. maintained a solemn dignity. Not always keen on doing media interviews, Magee summoned the strength to speak with reporters in the days after the tragedy, despite the emotional strain on his face. Magee's words of grief focused on paying tribute to the young life lost, rather than the events surrounding the crime.
"(Eamonn Jr.) was always full of laughter, always full of fun, he went everywhere with me," said Magee. "When he grew up he done everything for his mother, would have done anything for anybody.
"I don't know how to get my heard around it. What a journey that is, from your house over to the hospital to identify your son. It's a journey that I wouldn't wish on any parent."
+  +  +
In late July, six weeks after his son's death, Magee was back on the Belfast streets. This time he wore a wide smile. He gave a salutary wave to a crowd of several hundred that had turned out for a charity run organized in the memory of his son. The community cheered as Magee walked arm-in-arm with Mary. Dozens of well-wishers rushed over to offer a hug.
Despite the rawness of the tragedy, Magee kept a sanguine demeanor throughout the day, matching the uncharacteristically sunny weather.
"This event has been fantastic and it's given me an opportunity to thank everybody in the whole community for what they've done for my son," said Magee, with the emotion of the occasion creeping into his voice.
Magee may have been a divisive figure in the past, and known for being a hard man due to an inclination for combat. But under the harshest of circumstances that any parent could encounter, Magee showed true toughness in maintaining decorum, and unified a community behind him.
Canelo Conquers BJ Saunders Before a Record Crowd in Texas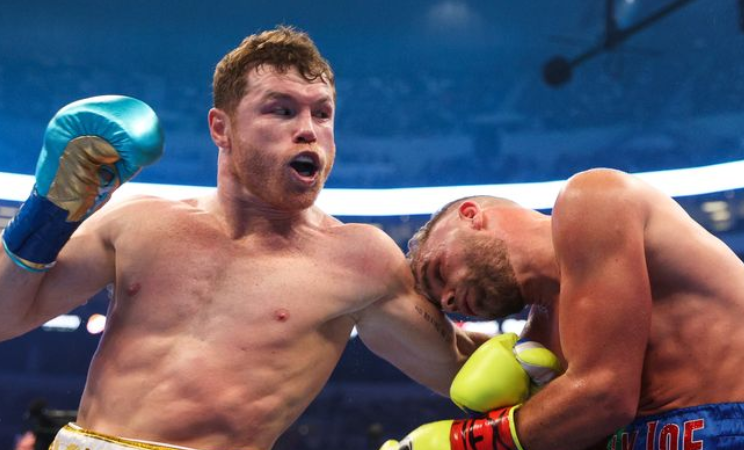 Canelo Conquers BJ Saunders Before a Record Crowd in Texas
Tonight's card at AT&T Stadium attracted an announced crowd of 73,126, smashing the previous record for an indoor fight in the United States (63,352 for Ali-Spinks II) – a feather in the caps of British promoter Eddie Hearn and the fellow who is widely seen as the guy who owns the joint, Dallas Cowboys owner Jerry Jones. And, of course, it was also a feather in the cap of Saul "Canelo" Alvarez who added another world title belt to his collection while reaffirming his status as the sport's top pound-for-pound fighter and demonstrating once again that he is boxing biggest draw. Alvarez upended previously undefeated Billy Joe Saunders whose corner pulled him out after the eighth round.
Alvarez (57-1-2, 38 KOs) entered the contest owning WBC and WBA belts at 168 pounds. Saunders (30-1, 14 KOs) held the WBO belt.
The fight was competitive through the first seven rounds. There were no indelible moments and at the midpoint it appeared that Saunders was settling into a groove. But  Canelo dominated the eighth, a round in which he opened a cut over Saunders' right eye. The eye swelled up immediately and would have reduced Billy Joe to a one-eyed fighter had he insisted on continuing.
After the fight, Canelo said, "It wasn't as difficult as I expected." His next fight is expected to come against Caleb Plant, likely in September.  Plant holds the IBF belt, affording Canelo — who will be a big favorite — the opportunity to grab all four meaningful pieces of the 168-pound hardware.
Co-Feature
In the co-feature, Mexicali's Elwin Soto (19-1, 13 KOs) successfully defended his WBO world light flyweight title with a ninth-round stoppage of former five-time world minimumweight champion Katsunari Takayama (32-9). This was a fan-friendly fight stopped too soon by notoriously erratic referee Laurence Cole, albeit the granite-chinned Takayama ate a lot of hard punches.
Soto came out strong and hurt Takayama twice in the opening round. It looked like a long night for 37-year-old Japanese invader who was making his second start since returning to the ring after a 48-month absence during which he came up short in an Olympic qualifying tournament. But Takayama fought his way back into the fight by being the busier man. In the end, however, youth prevailed and the hard-punching Soto, the younger man by 13 years, had his hand raised.
Also
In a strange pairing – strange because it pitted against a domestic-level Brit against a relatively obscure Frenchman at an American football stadium – Souleymane Cissokho, a Parisian by way of Senegal, won a split decision over Kieran Conway in a 10-round welterweight contest. This was a drab fight that had an unexpected moment of high drama in the ninth round when Conway, the bigger man but not known as a big puncher, put Cissokho on the canvas with an uppercut that landed on the left eye. Cissokho was hurt but made it through the round and was as good as new in the 10th.
A 2016 Olympic bronze medalist, Cissokko (13-0, 8 KOs) kept his undefeated record intact. The judges had it 96-93 and 95-94 for Cissokho and a head-scratching 97-92 for Conway (16-2-1), a Northampton man making his first appearance in a U.S. ring. The bout was originally scheduled for Dec. 12 in London, but Cissokho backed out in favor of a match two months ago in Dallas underneath Estrada-Gonzalez II.
In the opening bout of the pay-per-view, Cuban heavyweight Frank Sanchez, who is part of the Eddy Reynoso stable, won a six-round technical decision over Nagy Aguilera, improving to 18-0. In the sixth round, Sanchez struck Aguilera in the back of the head, a punch deemed accidental. Aguilera fell to his knees, toppled on his side, stumbled as he attempted to rise, and appeared seriously hurt. A doctor was called in and stopped the fight. The crowd acted as if it was a charade and let loose a torrent of boos.
Sanchez, allegedly 28, was on his way to pitching a shutout when the match was halted, but wasn't impressive. Aguilera, a 34-year-old from Newburgh, New York, via the Dominican Republic, has won only six of his last 15 since his signature win, a first-round stoppage of former world-title holder Oleg Maskaev.
More
In the last of the four prelims that were streamed for free, former two-time world amateur champion Marc Castro advanced to 3-0 (3) with a fourth-round stoppage of Mexico's Irving Macias Castillo (9-2). Castro started fast and Macias's face was marked-up before the opening round was over. By the third round, Macias has a big welt over his right eye. The referee terminated the one-sided battle at the 2:04 mark of round four.
Keyshawn Davis scored a six-round unanimous decision over Jose Antonio Meza in a bout contested at 140 pounds. Considered the U.S. fighter with the best chance of medaling in Tokyo if he had remained an amateur, Davis, a 22-year-old southpaw from Norfolk, Virginia, advanced to 3-0. The hard-trying but outclassed Meza, from Durango, Mexico, declined to 6-5.
In a welterweight contest slated for eight, Canelo's Guadalajara homey Christian Alan Gomez improved to 20-2-1 with his 18th knockout, dismissing late sub Xavier Wilson (11-3-1) in the second round. Wilson, from San Antonio, had been campaigning as a lightweight. The official time was 2:19.
Junior welterweight Kelvin Davis, the older brother of Keyshawn Davis, survived a scare to win a unanimous four-round decision over Jan Marsalek, a 33-year-old Czech making his U.S. debut. Davis got careless in the final round and Marsalek (8-3) put him on the deck with a scorching left hook. All three judges were in accord, giving Davis the win by a 38-37 margin.
Check out more boxing news on video at the Boxing Channel
To comment on this story in the Fight Forum CLICK HERE
R.I.P. Miami Boxing Promoter Felix "Tuto" Zabala
Felix "Tuto" Zabala, the patriarch of a Miami-based boxing promotion firm, died on Thursday, May 6, from respiratory failure at age 83 after a long illness. Zabala promoted seven world champions before a 2001 stroke forced him to retire. His son, Felix "Tutito" Zabala Jr, succeeded him and the firm that he founded, All Star Boxing, continues to have a large presence in the sport.
Zabala was born in Cuba. After Fidel Castro came to power, he defected to Jamaica, where he drove a taxi for three months in Kingston and then it was on to San Juan, Puerto Rico and eventually Miami.
Zabala was in his mid-20s when he promoted his first shows in Puerto Rico and he continued to promote fights there after taking up residence in Florida.  As noted in a story in today's Miami Herald, many of his San Juan promotions were fund-raisers for anti-Castro organizations.
Zabala's first champion was Carlos "Teo" Cruz who won the world lightweight title with a 15-round split decision over heavily favored Carlos Ortiz at Santo Domingo, DR, in 1968. Among his other champions were Wilfredo Vazquez Sr who won world titles in three weight classes and Miguel "Happy" Lora. A Columbian, Lora became a big draw in the Miami area where he appeared on five shows for Zabala (and three more for Don King) including the Zabala promotion where he wrested the WBC bantamweight title from Daniel Zaragoza.
Zabala was instrumental in launching Boxeo Telemundo. Founded in 1989, the series is in its thirty-second year and still going strong.
When Zabala suffered his stroke, his son of the same name was the general manager of the Barcelona Dragons of the short-lived NFL Developmental League. "Tutito" returned to Miami to keep the family business afloat. His son, Felix III, Tuto's grandson, now works by his side. All Star recently partnered with Top Rank on the April 24 show in Kissimmee where Emanuel Navarette defended his WBO world featherweight title with a 12th-round stoppage of Christopher Diaz.
"Tutito" learned the business at the knee of his father and was well-equipped to succeed him. In 1989, he became the firm's interim president when Zabala Sr began a 32-month prison stint after pleading guilty to laundering $50,000 that passed through his hands from a drug dealer. The incident spawned a wonderful quote, one mindful of Jimmy Cannon's famous line that boxing is the red light district of sports.
"Sure he did time, but there's a lot of other guys involved in boxing who did a lot worse and haven't been caught yet," said Al Bonanni to Miami Herald writer Steve Wyche. Bonanni, a Miami policeman, ran the Police Athletic League gym and trained many of the boxers that appeared on Zabala's cards.
It was a lapse in judgment for the elder Zabala whose reputation for integrity was confirmed by Angelo Dundee, among many others.
In addition to his son, "Felix "Tuto" Zabala is survived by two daughters and eight grandchildren. His wife Carmen passed away in 2014. We here at TSS send our condolences to his loved ones.
Check out more boxing news on video at the Boxing Channel
To comment on this story in the Fight Forum CLICK HERE
Avila Perspective, Chap. 134: Mexico vs World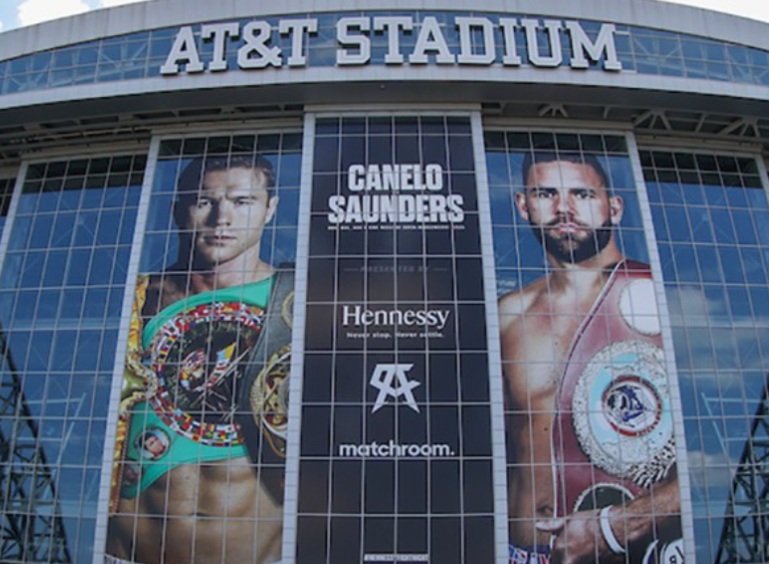 Avila Perspective, Chap. 134: Mexico vs World
A couple of Mexican champions lead the way to the Texas fight card as Saul "Canelo" Alvarez seeks to gather another world title and mini-bomber Elwin "La Pulga" Soto defends his title this weekend.
Canelo (55-1-2, 37 KOs) holds the WBC and WBA super middleweight belts and wants the WBO belt that Billy Joe Saunders (30-0, 14 KOs) holds. They meet Saturday, May 8, at AT&T Stadium in Arlington, Texas. DAZN will stream the Matchroom Boxing card.
It's not an easy fight, especially when you consider Saunders is a speedy southpaw who can easily run for 12 rounds. For those with good memories, another southpaw runner named Erislandy Lara gave a preview of that back in 2014. That fight bored most of the boxing world to tears. Let's hope this one is better.
Fight fans want to see blows exchanged. Few want to see someone scurry around the boxing ring with nary a blow exchanged. It's the primary reason people like brawls or prefer to watch people fight in the stands over spilt beer.
Canelo longs to establish himself as one of the greats in boxing and knows that by unifying the super middleweight division he can stamp his name in the history books. Only one other super middleweight did it. And he was a Brit.
Chasing Calzaghe
Joe Calzaghe was his name and to be more accurate he was Welsh. The "Italian Dragon" fought from 1993 to 2008 and ended his career with a flourish.
Calzaghe's last three fights were against Mikkel Kessler, Bernard Hopkins and Roy Jones Jr. Though he was floored by both Jones and Hopkins in the first round he rallied to win by decisions in the U.S., not in the United Kingdom. Quite a feat.
It's never easy to fight another world champion so when Calzaghe fought Hopkins in Las Vegas back in April 2008, many Americans expected the Philly fighter to be too much for the Welshman. It was a rugged scrap as Hopkins manhandled Calzaghe early in the fight before adjustments were made and the Welshman simply out-hustled the defensive-minded Hopkins.
Calzaghe won by split decision in a razor close fight. He fought one more time against Jones and had a much easier time in defeating the former undisputed light heavyweight titlist. He simply retired with little fanfare from those here in the US, but the Welshman was a tough, tough customer with speed, footwork and a solid chin. One more thing: he was a southpaw.
When Canelo faces Saunders he's fighting someone who somewhat resembles the physical elements of Calzaghe. One thing about Calzaghe, he never ran. He simply stood right in front of his foe and out-punched them.
Should Canelo win, he has a firm date against IBF super middleweight titlist Caleb Plant of Las Vegas in September.
"We have always been open about what our short- and long-term plans have been. I want to unify the 168lb division, and Caleb Plant would be next in line to secure that short term goal if successful against Billy Joe Saunders," said Alvarez.
Mini-bomber from Mexicali
WBO light flyweight titlist Elwin Soto (18-1, 12 KOs) defends against Japan's Katsunari Takayama (32-8, 12 KOs) who is moving up from minimumweight where he was the world titlist.
Soto, 24, hails from Mexicali, the border town east of Tijuana, and has fought on American soil four times. The Mexican champion known as "La Pulga" has a kamikaze style of fighting. He's not keen on looking stylish unless you mean his hair style.
Ironically, the Mexican kamikaze will be fighting Takayama who at 37 years old returns to the wars after spending four years away between 2016 and 2020. He moved up one weight division after winning the vacant WBO minimumweight title in August 2016 and did not fight again until last December.
Takayama has been in the fight game for a while and actually fought Roman "Chocolatito" Gonzalez for the minimumweight world title back in 2009 when the great Nicaraguan fighter campaigned at that weight class. That's quite a few years ago.
Takayama has been fighting 20 years professionally. That's a lot of wear and tear. But against Soto the former minimumweight world champion should not worry about a boxing match, he just has to be wary of those bombs coming his way.
Dignity. Always Dignity.
This is a favorite movie line that my spouse and I like to repeat. It was uttered by dancer/actor Gene Kelly in the motion picture Singing in the Rain.
Premier Boxing Champions presents its second of three boxing cards at the Dignity Health Sports Park on Saturday May 15, when WBC super bantamweight titlist Luis Nery defends against Brandon Figueroa.
Tijuana's Nery has always been recognized as loaded with talent and also with too many tacos. He failed to make weight a few times as a bantamweight and now campaigns at super bantamweight. It's one of the most talented divisions in prizefighting.
"I have a lot of respect for Brandon, but inside the ring, I am going to be the rudest person he's ever met. Respect goes out of the window inside that ring. I am going to do everything to get the win," said Nery.
Figueroa, 24, holds some version of the WBA super bantamweight title. Another fighter on this card, Danny Roman, held the original version that he won back in 2017 and then took the IBF version in 2019. He recently lost both belts, losing a split decision to Murodjon Akhmadaliev in January 2020.
The 122-pounders will be on display and its going to be a crackling affair.
Tickets are available now for the PBC fight card that takes place at Dignity Health Sports Park in Carson, Calif. Those outside of the area can watch on Showtime.
Fights to Watch
Fri. Telemundo 11:30 p.m. George Acosta (11-1) vs Gadwin Rosa (11-1).
Sat. DAZN 5 p.m. Saul Alvarez (55-1-2) vs Billy Joe Saunders (30-0); Elwin Soto (18-1) vs Katsunari Takayama (32-8); Kieron Conway (16-1-1) vs Souleymane Cissokho (12-0).
Check out more boxing news on video at the Boxing Channel
To comment on this story in the Fight Forum CLICK HERE