The 50 Greatest Middleweights of All Time Part One: 50-41
These are deep waters.
In the fathoms below lie sunken warriors, extraordinary boxers that I was sad, angry even, at not being able to include here. The explanation as to why is simple: middleweight is stacked.
When I broke down the 50 Greatest Light-Heavyweights of All Time, I started with 33 names and worked my way back to about 70, from which I divulged my 50. At middleweight I started with 90 names. It is so much deeper than light-heavyweight and heavyweight as to be beyond comparison.
There is no room, for example, for Archie Moore or Ezzard Charles, legendary 175-pound fighters that cut their teeth on the stacked middleweight ranks of their times, taking impressive scalps but nevertheless barely missing out here. There is; no room for Thomas Hearns, who fought that immortal combat with Marvin Hagler in 1985; no room for the 1960s stylist Luis Manuel Rodriguez, for Dave Shade, for champions like George Chip or Paul Pender; and no room for the current golden boy Gennady Golovkin. Sergey Kovalev strolled onto the top 50 list at 175 pounds while smoking a cigar, but it was apparent in the very first hour of research for this one that Golovkin wasn't going to get anywhere near it.
And it's not the relative quality of the fighters that makes it so, but rather the relative quality of the company they keep. Welterweight and lightweight lie ahead but it is possible that middleweight will represent the peaked wave of boxing's depth. We shall see.
For now, I need to get the boring stuff out of the way:
This list is concerned with matches made at middleweight. Some leniency exists for fights that weigh in slightly over the weight limit of 160 pounds and it should be noted that it is the heavier fighter that denotes the class; a 144-pound fighter taking on a 158-pound fighter is engaging in a middleweight match and it will be treated as such for the purposes of this list. Similarly, a fighter weighing 160 pounds matching a fighter who weighs 173 is taking part in a light-heavyweight contest, as was credited for it in the construction of that list.
The middleweight division is ancient. It encompasses almost the entire history of gloved boxing in a form akin to what we recognize today. As such comparing eras and the fighters within them is a difficult, perhaps even an impossible task. Head-to-head comparisons are important, even enticing in making these comparisons but they are the least of criteria here. More weight is attached to achievement in the ring, championship reigns, champions bested, greats mastered and the general level of the quality of opposition bested. That said, I can think of at least two occasions where head-to-head matters decided a spot upon the list – as I said, skill set, ability on film, they are enticing factors and are not ignored.
I promise this will be the longest introduction in the course of the series; I promise that the fighters and not the dull points of order take center stage – but do please note, I need this structure to take these difficult decisions in separating these fighters who are often distinct from one another by the tiniest sliver of gold.
This, is how I have them:
#50 – HUGO KELLY (34-10-21; Newspaper Decisions 5-2-1)
The level of competition met by the unheralded Hugo Kelly is absurd. It may be that no fighter outside of the top 10 tangled consistently at such an elevated level and this must be borne in mind when considering the dozen losses and numerous draws on his professional record.
Born Ugo Micheli in Florence, Italy, Kelly's family arrived upon the wave of humanity that crashed on the shores of the United States in time for his debut to be fought in his adopted home of Chicago in the last year of the old-world's century, 1899. He was 18 years old.
Four years later he met the much more experienced Philadelphia Jack O'Brien at 158 pounds, signaling the beginning of what would be an assault upon the best fighters of as stacked a middleweight division as may ever have been assembled. The result was a disputed draw, the Indianapolis Journal reporting that Kelly perhaps deserved the victory; underwhelming, perhaps, as promulgation, until it is considered that in the next six months O'Brien would knock out Jack "Twin" Sullivan, Kid Carter, before boxing a draw with light-heavyweight contender Charles "Kid" McCoy. O'Brien was on stellar form and that was reflected when he took a decision from Kelly over six as a part of this excellent run. But Kelly kept coming; in 1905 he got the decision many believed he deserved in 1903, behind after six but rallying brilliantly despite O'Brien's persistent fouling to get the win in ten rounds.
With this victory came the poisoned chalice of a middleweight title claim. Nobody really took Kelly too serious as a champion, in much the same way that the likes of the WBA are ignored by fight-fans today. Two draws followed with Tommy Burns, Kelly getting the better of the first, Burns getting the better of the second; more draws followed with Jack "Twin" Sullivan, the great Tommy Ryan and the lethal Billy Papke. Probably deserving of the win in at least one of his two contests with Sullivan, the Ryan match seemed an even draw, Kelly dominating the opening rounds and Ryan fighting back aggressively to salvage a deserved share. The wild, 10-round draw with Papke was described in one newspaper as the "fastest, bloodiest and cleverest fight that was ever witnessed in a Milwaukee ring." Both men visited the canvas, and the decision was "well received."
Although Kelly did not win many in what must have seemed his prime run, he had now gone undefeated against former pound-for-pounder Jack Sullivan, future world heavyweight champion Tommy Burns, future world middleweight champion Billy Papke, future world light-heavyweight champion "Philadelphia" Jack O'Brien and a number of other worthies and wanderers.
But no mere mortal could survive in orbit around the blooming twin suns that were Billy Papke and Stanley Ketchel. Perhaps no fiercer pairing has ever existed in the same division at the same time and Kelly was swallowed up by them in 1908. However, despite suffering two devastating knockout losses, he came again, defeating future middleweight champion Frank Klaus, Tommy Sullivan and boxing another thrilling draw with the homicidal Papke, this time over 25 rounds.
To my mind, he did just enough to scrape the #50 spot ahead of Vince Dundee, who is left marooned at #51, and old foe Jack O'Brien, stuck at #52.
#49 – COCOA KID (176-56-11)
The Cocoa Kid, born Herbert Lewis Hardwick, out of Mayaguez, Puerto Rico, is one of the legendary Murderer's Row of black middleweights who terrorized the division throughout the 1940s. The Kid, more than any of the other men that made up that reluctant cabal of shadowed figures, was drawn into the silent corridors of the back-alleys he was forced to do business in. Rumors of fixes, bribes and coercion stalk him down the years and render his paper-record a curious document, one twisted by a fifth dimension, one we cannot quite see and therefore judge. It is possible, as Springs Toledo has done on this very website, to explore these ideas and see what can be unearthed; that, for the most part is not the way things are to be done here. The single concession given to the mystery surrounding some of Cocoa Kid's shadier dealings is that it is considered very likely that he is better than the numerous losses his record describes. There is certainly plenty of evidence in support of this.
The crux of the matter is Cocoa Kid's dominance of Holman Williams. Williams and his astonishing career will be discussed in detail later – much later – in this series, suffice to say here that he has one of the better resumes in the history of the division and thereby the sport. Cocoa Kid beat him consistently in their shared days in the welterweight Murderer's Row and he continued to dominate him when the two moved up to middleweight. The measure of their series was 3-2-1,and it swung dramatically between styles and fortunes as Williams, a genius by any measure, sought the road that would lead to mastery over his nemesis; his success was limited. Williams clashed repeatedly with every member of the Murderer's Row in their shared primes that helped define those halycon days – only the Kid dominated him.
Supplemental wins over men like Jack Chase and Joe Carter help to stave off those damning losses that condemn him to the lower reaches of the top 50.
#48 – JERMAIN TAYLOR (33-4-1)
Here is a sobering fact: before Jermain Taylor was matched with the godfather of the middleweight division, Bernard Hopkins, he defeated just a single ranked contender, William Joppy, who had dropped a wide decision to the champion a year earlier. Joppy was legitimately ranked, but the inside-line was that he had become damaged goods, an older fight who had suffered serious beatings at the hands of Hopkins, and earlier, Felix Trinidad. The veteran was surprisingly lively however, not that it spared him as Taylor romped home without losing a single minute of a single round. Almost as a unit the boxing media closed ranks around Taylor and insisted that a star has been born. The only problem was the tactical genius that sat atop the division.
Taylor seemed genuinely assured of his chances against Hopkins and he had three aces to back his bullish confidence: size, speed and power. Overcoming all three of these disadvantages is all but impossible, but Hopkins has made a career out of overcoming the impossible and the fight that resulted was a tension-soaked affair that first saw Taylor dominate and then began to ebb steadily towards the old master. At first the Hopkins plan had looked anemic; walk Taylor around the ring and into a right hand. But as the rounds trickled by the champion inched closer while offering Taylor the same virtual threat as a counter and Taylor had been hooked. Hopkins won the ninth through the 12th rounds on most cards.
It was enough to earn him a draw on my card, but Taylor took a split decision via the officials. Spared, I think, by his organized footwork more than any other single attribute, Taylor had edged across the line.
He edged across the line, too, in the rematch, a fight I also scored a draw and a fight where each of the officials saw it 115-113, making Jermain Taylor a two-time victor over Bernard Hopkins. He lines up alongside two other fighters who very nearly made it onto this list by virtue of a pair of victories over a wonderful middleweight — Ceferino Garcia, who twice defeated a green Lloyd Marshall and the teenaged Ezzard Charles, who twice defeated the immortal Charley Burley. Taylor is preferred here not just because he defeated a great incumbent champion, but also because he successfully defended that title on four separate occasions. Deposed by Kelly Pavlik in 2009 for his only loss at the weight, Taylor added to resume taking out ranked contender Sam Soliman to pick up a strap years after he had been written off by many. He has been written off again now behind highly publicized personal and mental health issues.
Whatever the outcome where those issues are concerned, the dual wins he posted over the legendary Bernard Hopkins can never be taken from him, least of all by someone like me, although I have never quite been able to score them in his favor.
#47 – JACK CHASE (82-25-12)
Another reluctant resident of the savage back-alley that was the Murderer's Row, Jack Chase met Archie Moore an astonishing six times, four of them at middleweight and the single visceral, lauded win he produced was among the best of his career. As for Moore, his victory in the series with Chase was the high-water mark for his middleweight career, but Chase had more. He warred onwards to West Coast monster Eddie Booker, and did what Moore couldn't in three efforts, outpointed Booker over the championship distance. Charley Burley had too much firepower for Chase and Holman Williams too much craft, but the wonderful Lloyd Marshall only managed 1-1-1 against him in a savage exchange of punches and strategy. Lesser light Aaron Wade was twice crushed in 10 rounds. Cocoa Kid's surprising defeat of him plants Chase right in the middle of the Murderer's Row pack.
And the middle of that pack is good for a place in the lower reaches of this list.
#46 – MARCEL THIL (113-23-14)
The highest ranked opponent Marcel Thil ever met appears to have been the superb Canadian-born tough Lou Brouillard who made the trip to meet the Frenchman on his own soil not once but three times. In their first meeting, in 1935, Thil's superb, cultured right hand seems to have been deployed with enough variety in order that he was able to take a legitimate 12-round decision from Brouillard but the competition provided was stiff enough that Brouillard was invited back for a shot at Thil's belt. The resulting contest ended bizarrely when Brouillard was disqualified in the fourth for a low blow that may not have happened. Certainly Georges Carpentier, who was apparently ringside, was of the opinion that the disqualification was bogus, describing the offending punch as a "beautiful uppercut to the liver" and at least some of the reported 40,000 in attendance seemed to agree, booing the ruling and even attempting to storm the ring according to The Associated Press.
The inevitable rubber match, fought early the following year, ended even more embarrassingly with Thil writhing on the floor clutching his groin when film, ringside reports and the humiliating exhibition of the fight in French cinemas revealed no low blow.
It seemed an inauspicious ending to world-class competition for a man who fought tooth and nail to get there. Thil turned professional as a boy and was little more than a journeyman winning a small proportion of his first 20 fights, but who clawed his way into the world class until he was named among the plethora of fighters making a claim for the middleweight championship in the wake of the great Mickey Walker's retirement.
Boxing mostly in defense of the lightly regarded IBU title (Thil had a spell as NBA champ also), he nevertheless built a superb resume in his native France, winning the strap from the superb Gorilla Jones who was legitimately disqualified for low blows with Thil in firm control of the fight. Ranked men like Kid Tunero, who he bettered in a three-fight series, Jock McAvoy, Carmelo Candel and Len Harvey were all bested. That said, he was never lineal and at no time did he defeat the man ranked the best middleweight in the world but he learned his trade and the way he went out against Brouillard seems not to have sat in his gut as Thill, for his last contest, set sail for the first time for the USA where he matched the great if green Fred Apostoli, who he out-hustled – only to be pulled with a disastrous cut after 10.
#45 – BOBO OLSON (97-16-2)
Bobo Olsen was blasted out twice by the immortal Sugar Ray Robinson in the mid-1950s and immediately departed for the desert of the light-heavyweight division, finding beating up the much bigger Joey Maxim more to his liking than the tender attentions of Sugar. The mark he left upon the 160-pound division, including a total of four disastrous clashes with Robinson, was a significant one: 71-8, 4-4 record in title fights – with each and every one of those losses in championship fights coming against Robinson.
Already in the course of this rundown we have met fighters who had bad luck in sharing an era with fighters unconquerable, but Olson wins first prize in this regard. The fortitude he showed in picking himself up and dusting himself up after every subsequent detonation of his ambitions by perhaps the single best fighter in history was considerable.
It was after his second loss to Robinson in 1952 that Olson really began to motor. This fight, according to Sugar, was among the single hardest of his career. Olson in fact surrendered the first six rounds in rather tame fashion, but battled back and on without pause until Robinson was being made to fight for every advantage. Olson acknowledges his master's superiority, and then went on a 21-fight winning streak that was only ended by the light-heavyweight champion Archie Moore. In the course of that run Olson fulfilled his dream by lifting the world middleweight title upon the retirement of Robinson by defeating former king Randy Turpin over 15 rounds in October of 1953. The only loss Turpin had posted in the previous five years was against Robinson, who he had also, famously, defeated; after his customary slow start, Olson began slowly to climb into Turpin's space, dropping him in the ninth and10th and very nearly beheading him in the 13th. It was a clear victory for the Hawaiian whose stalking, succinct style propelled by as fine an engine as the middleweight division has seen left Turpin marooned in Olson's fight.
A narrow defeat of the wonderful welterweight champion Kid Gavilan followed, Olson basically was able to out-tough his more cultured opponent despite suffering desperately from the attentions of Gavilan's left hand; he had to climb from the canvas to take the decision against No. 1 contender Rocky Castellani. It was never easy being Bobo. His style was one of grind and pressure, a life of constant danger – worse, after another successful defense against Frenchman Pierre Langlois, Robinson returned and the blinds were closed upon Olson's middleweight career. Sugar was the only man ever to stop him at the weight.
#44 – SUMBU KALAMBAY (57-6-1)
When Sumbu Kalambay dropped a split decision to Ayub Kalule late in 1985 it may have seemed that the Congolese was doomed to the hell of not just a journeyman but a journeyman determined to impersonate Muhammad Ali. All grace of movement and left hand, it can be seen why his adopted countrymen in Italy roared the former heavyweight's second name at Kalambay as he moved – but having lost two in five, surely a downward spiral beckoned.
In reality, of course, Kalambay probably deserved the decision against Kalule, not only dropping him twice but by my count winning no fewer than six rounds. After posting this "loss" in 1985, Kalambay looked something approaching invincible through to 1989 and took some serious bodies on his travels in the second half of that decade.
Rebuilding in his adopted home of Italy against solid if unspectacular opposition it was in Britain he laid down the marker which was to represent the beginning of an impressive run. Herol Graham, ranked among the three best middleweights in the world and an unbeaten 38-0, was seen by many as the living definition of southpaw awkwardness; a defensive specialist par excellence. Kalambay happily crushed him at his own game. He was harder to hit than Graham, drawing the favorite on in a merry dance for the first six rounds before getting down off his toes and beating him straight, too, leaving Graham badly cut and desperately hurt in the final seconds of the 12th.
Kalambay hypnotized fighters into following him with buttery movement and a jab that slid off his unerring mobility like bullets from a gun; the rest of his offense crackled with the possibility of the unexpected. He would toss up distant uppercuts timed perfectly on an opponent made to lead in a tricky spot. When they got used to following him, he turned them on to short rights that belied his supposed lack of power.
His defeat of Graham made him the European champion and the visit to Italy of a second top three middleweight, Iran Barkley, made him a strap-holder. Barkley was on a 13-fight winning streak and only months from his first defeat of Thomas Hearns – at his savage best – when Kalambay unpicked him over 15 in October of 1987. It was not a competitive fight but one in which, despite the small ring and slippery canvas, Kalambay beat Barkley in a fight so one-sided it had the appearance of a spar. By the end of the 10th, Kalambay knew not only where Barkley was but where he was going to be.
What is truly extraordinary is that Kalambay turned in a similar performance against the wonderful Mike McCallum. He made McCallum, 32-0 and in the middle of his prime, look stupid, something nobody else came close to doing. He out-jabbed one of the division's best jabbers, out-moved one of the division's best generals, and out-bodypunched one of the division's great body punchers. It was an absurd massacre that James Toney, the only other man to defeat McCallum at middleweight, didn't come close to replicating.
Kalambay holds a spot in the 50 based principally upon this run but there is something more, specifically that during these years Kalambay looked like a great middleweight, not a good one. It's very possible that there are men ranked above him who wouldn't manage to win three rounds against him. For all that, his run of brilliance was ended brutally by Michael Nunn in a single round in 1989. Robbie Simms and Doug DeWitt had been beaten before the disaster against Nunn, and men like Francesco Dell'Aquila and Steve Collins succumbed after, but in terms of legacy, it is Nunn that holds Kalambay's reigns.
#43 – CHARLES "KID" MCCOY (85-7-10; Newspaper Decisions 5-1-1)
So talented was Charles "Kid" McCoy that he was able to answer the heavyweight call and indeed become a force of significance in that most prosperous of divisions. Veteran readers of this series will recall the anguish with which your writer greeted the departure of light-heavyweights for fistic pastures more lush and McCoy was no less a loss to the middleweight division than the likes of Gene Tunney and Michael Spinks were to the light-heavyweight division. Of course, it is possible that at over 5'11", McCoy was better suited to the bigger division at a time when boxers of great height were rare.
Whatever the truth of the matter, McCoy turned professional in the distant year of 1891 and moved into the middleweight division several years later, signalling his brilliance with a savage battering of Tommy West. West survived some of the most vicious contests in boxing history with "Barbados" Joe Walcott and Tommy Ryan, but was blasted out in two by the rampant McCoy. This result set up a meeting between McCoy and the legendary Ryan, who started a 4-1 favorite but was "beaten unmercifully" before being dispatched in the 15th round.
Like Kelly, McCoy made a claim for the middleweight title at this time, a claim that is not generally held in high regard despite the fact that the next universally recogniz. ed middleweight champion would be Ryan. Ryan had to wait for McCoy to head north before he took that title, however, failing to get the better of McCoy despite being afforded two further attempts to do so.
Clever, quick, with a punch of note at the weight, McCoy fought another 20 contests at or around the poundage, none of them recorded as losses, before announcing his intention to move up to heavyweight; had he remained a middleweight it seems doubtless he would have ranked considerably higher on this list.
#42 – YOUNG CORBETT III (121-12-22)
Young Corbett, born Raffaele Capabianca Giordano in Italy, arrived on American shores while still an infant grew to become one of the premier welterweights of a golden age for the division in that country before being run from the division by a primed Jimmy McLarnin who smashed him out in a single round. Such ignominy had never afflicted the teak-tough southpaw before and never would again; he moved north, in search of bigger game. Corbett's time at 160 pounds was limited, but he made an astonishing impact, an impact he does not receive the proper credit for.
Not a huge puncher, his power has become underrated as he proved in his first meaningful contest at the new weight, against the highly rated Young Terry, who he took out with a single body shot. Standing at around 5'7", he would often give away height and reach to more natural middleweights, a problem, too, encountered by his next opponent, the great Mickey Walker. Walker was fading but was also coming off a victory over the great Maxie Rosenbloom; against Corbett he won only a single round. After earning a decision over the wonderful Dutchman Bep Van Klaveren (who had just defeated Ceferino Garcia) Corbett then dropped one, to the excellent Lou Brouillard and promptly vanished from the ring for a full year. When he returned, it was still as a middleweight and in short order he defeated two future light-heavyweight champions of the world, stopping the rugged Gus Lesnevich in five and then, even better, outpointing the legendary Billy Conn. Conn would improve, but he was already a wonderful fighter and in the previous 20 months he had defeated no fewer than two all-time great fighters in the shape of Teddy Yarosz and Fritzie Zivic. Conn was also the darling of the American press, anointed a future king at the tender age of 19. Corbett, a veteran in the truest sense of the word, smiled and gathered to himself every facet of Conn's relative inexperience, cutting him – some say with a deliberate headbutt – before dropping him with punches in the second. Conn never recovered.
But he did impress with a show of heart and chin undisputed and this, in combination with his status as golden-child of boxing, guaranteed him a rematch, which Conn comfortably won. Still Corbett was not finished but rather matched the man being named the uncrowned champion of the middleweight division, Fred Apostoli. A huge favorite, Apostoli spoke of Corbett, "his idol," as does a man at a great rival's funeral, respectfully but without fear of reprisals. Corbett dug in for one last great performance, winning the fight 5-3-2 on The Associated Press card and gaining the official decision despite the fact that in the 10th he seemed desperately close to collapse, his face a mess of blood and injury. Apostoli avenged himself as Conn had and in forcing Corbett to submit on the canvas he signaled the coming end of what had been a wonderful career. But going 1-1, past prime and outsized, with monsters like Apostoli and Conn speaks for, not against Corbett's legacy; I hope he receives long overdue credit for his work in the middleweight division with his placement here.
#41 – JEFF SMITH (88-12-3; Newspaper Decisions 53-23-1)
Jeff Smith's name litters the top 10 lists of numerous old time historians, not least the eminent Charley Rose. Here's a question I would have loved to have asked Charley had I been spared a few moments with him during his extraordinary life: Why?
He met the great Harry Greb on seven different occasions and ringsiders who managed to find for him in these contests are few and far between. There is no shame, perhaps, in being consistently outfought by Greb, and it is true that Smith gave him some of the hardest fights of his career, but seven failures are what he is generally held to have recorded.
He got a more modest four cracks at the other great middleweight of his era, Mike Gibbons, each of them no-decision bouts with the winner generally held to be the man who most impressed newspapermen ringside; here he posts a more respectable three losses, managing a single newspaper win in July of 1919. It was the middle match in an unprecedented three-fight losing streak that would herald Gibbons' first retirement from the ring.
In matches with the two premier middleweight of his era, he is generally held to have managed just 8-1-1.
Greb and Gibbons were astonishing talents, but nevertheless this is not the form of a top-10 ATG.
It's hard to know what to make, too, of his 1-1 tally with the legendary Les Darcy, especially as each result was a disqualification rendered in bizarre circumstances, each so badly received by the Australian public that "The Bayonne Globetrotter" found he had become unwelcome in the Antipodes and a swift departure for the USA became necessary. Back on home soil he recorded newspaper decision losses to Jack McCarron, Gus Christie and Mike Gibbons, a win over Zulu Kid, and was awarded another DQ victory, this time over George Chip.
Still, Smith did record some excellent results on his travels, not least among them against future light-heavyweight champion Mike McTigue who named Smith the toughest opponent he met. Bob Moha, Jimmy Clabby, Len Rowlands and the Jamaica Kid were among some of the better fighters to fall to him during a storied career that makes him a rival to Hugo Kelly in terms of opposition met – it's just that, like Kelly, for me at least, his failure to beat the best despite multiple chances leave him lying some way distance from the No. 7 spot Charley Goldman awarded him, or No. 10 spot Nat Fleischer reserved for him. Undoubtedly a superb defensive artist, and a difficult opponent for any fighter unlucky enough to share a ring with him, just outside the top 40 is where I feel happiest positioning him, with apologies to old-time wisdom.
More apologies to established thinking will follow in Part Two.
Avila Perspective, Chap. 105: Angry Welterweights and More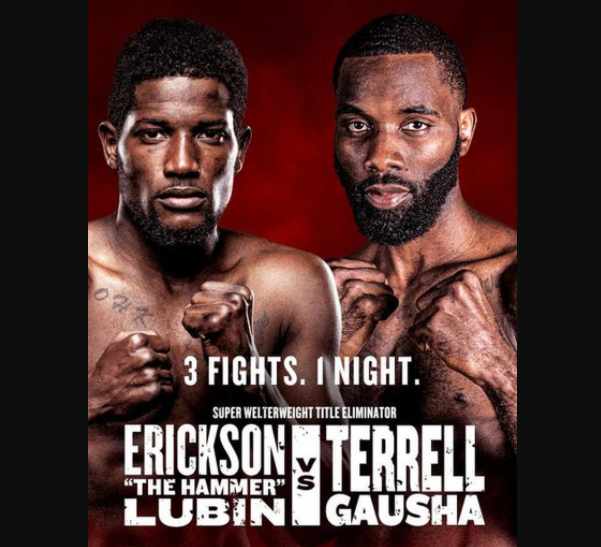 Those welterweights don't play.
One welterweight just got out of jail and wants to take out his angry frustrations in the boxing ring.
"One of us is getting knocked out. If it gets to where I'm behind on points, I'm just going to come forward and try to take him out, even if I end up getting knocked out," said Juan Carlos Abreu. ""If he stands and fights, it's better for me. That's what I want."
Standing in front of Abreu (23-5-1) will be one of the top welterweights in America, Philadelphia's Jaron Ennis (25-0, 23 KOs). This is could be Ennis' first true test against an experienced foe on Saturday Sept. 19, at Mohegan Sun Casino in Uncasville, Conn. Showtime will televise the Premier Boxing Champions card.
Ennis, 23, has been breezing easily since first jumping in the prize ring in April 2016. So far, the competition has been unable to cope with the athleticism he possesses. Will Abreu be the first to pose a problem?
"Whatever he brings, we are going to be ready. I'm going to go out there, do my thing, be smart, have my fun, and get that stoppage at the end of the night," said Ennis, whose last opponent Bakhtiyar Eyubov was eliminated in four rounds in January. "You can't just go in there and go for the knockout. That's how you get tired and lose your cool or even get hit with punches that you shouldn't be getting hit with."
Abreu hopes he loses his cool.
"If he stands and fights, it's better for me. That's what I want. I really want one of us to get knocked out," says Abreu of the Dominican Republic who was purportedly jailed for street fighting.
This welterweight matchup is the precursor to the WBC super welterweight eliminator between Terrell Gausha (21-1-1, 10 KOs) and Erickson Lubin (22-1, 16 KOs).
Gausha and Lubin both have lost once in their pro careers and need a win to get another crack at a world title.
Gausha lost a decision to Erislandy Lara three years ago. Lubin was stopped in one round by Jermell Charlo three years ago. Both realize the nature of the beast.
"I think Gausha has some problems with southpaws, but I'm not focused on that. I'm focused on my game plan and coming out victorious Saturday night," said Lubin, 24, a southpaw called "the Hammer" for a reason.
Gausha is originally from Cleveland, Ohio but trains in Southern California and has fought four elite southpaws in his career. He believes one more is not a problem.
"This will be my fourth southpaw in a row. So, I'm more comfortable and familiar this time around," said Gausha, 33, a former US Olympian who trains with Manny Robles Jr. "The guys before me, they all fought each other. Sugar Ray Leonard, Marvin Hagler, Roberto Duran. They all fought each other. To be the best, you have to beat the best. And you can see that the fights I take, even after a long layoff, they are tough fights."
Top Rank
Also, on Saturday Sept. 19, heavyweights and super lightweights lead a Top Rank card featuring some interesting bouts that will be shown on ESPN+.
Newly acquired Efe Ajagba (13-0,11 KOs) meets Jonnie Rice (13-5-1) in a 10-round heavyweight clash. It's Nigeria's Ajagba's second fight this year. Though still a little raw he shows immense potential and great natural strength.
Rice fights out of Bones Adams' Gym in Las Vegas and has some power. He built up his record on heavyweights in Tijuana boxing rings but has some pop. He's a sizeable heavyweight and good measuring stick for Ajagba.
The main event is a doozy.
Puerto Rico's Jose "The Sniper" Pedraza (27-3, 13 KOs) meets Southern California's Javier Molina (22-2, 9 KOs) in a 10-round super lightweight bout at the MGM Grand Bubble in Las Vegas.
This should be good.
Pedraza, 31, is a former WBO lightweight world titlist who lost in his first defense to Vasyl Lomachenko. Nothing bad about that. He defeated Mexico's Raymundo Beltran for the belt and has shown a penchant for showing up big when you least expect it.
Molina, 30, is a 2008 US Olympian and a member of the fighting Molina family. His brother Oscar was a member of Mexico's 2012 Olympic team. His other brother Carlos fought for the world title against Amir Khan. Though Javier Molina has never shown great power, he can truly fight.  His last win came against Amir Imam this past February.
Pending Lightweight Clash
Speaking of the lightweight division, is anyone else as excited as me about the looming showdown between the remarkable Vasyl Lomachenko and impressive Teofimo Lopez coming in less than a month?
Lomachenko, 32, the Ukrainian stylist known as "Hi Tech," has that incredible footwork and ability to control distance. He's a master of frustrating opponents and imposing his style of darting in and out of danger. But as good as he is, he can't sell tickets. Only hardcore fans appreciate his peerless boxing skills.
Lopez, 23, hails from Brooklyn and has that ex-factor you can't teach. He's pizzazz and panache with a punch. That combination of flair and power excites fans and seemingly makes him a natural gate attraction. But in spite of his electric abilities, he's facing a master boxer. Is he ready?
Top Rank is known for having a team of matchmakers headed by boxing wizard Bruce Trampler. It makes me wonder why they are pitting these two against each other?
The probable answer: neither sells out an arena alone. May the best man win.
A friend of mine from East L.A., who formerly boxed and comes from a boxing family, shared his knowledge and opinion on the matchup. He has an interesting take.
"His footwork is incredible," said George Rodriguez about Lomachenko. "Don't get me wrong, Teofimo is an incredible talent, but Lomachenko has that footwork."
Any way you look at it, the winner of this clash clearly bumps up his own image.
Lomachenko (14-1, 10 KOs) versus Lopez (15-0, 12 KOs) at the MGM Grand Bubble in Las Vegas on October 17. Mark down that date. It will be televised on ESPN.
Check out more boxing news on video at the Boxing Channel 
To comment on this story in the Fight Forum CLICK HERE
Boxing Odds and Ends: The Sept. 26 Horn of Plenty and Other Notes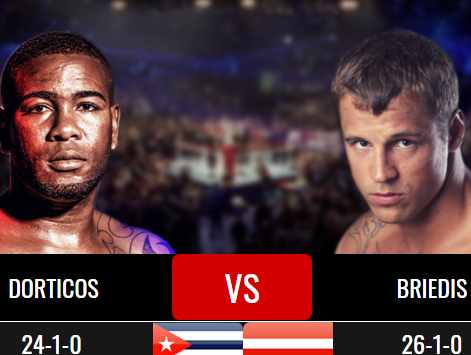 Considering the constraints, the month of September has been a pretty good month for professional boxing. And the month will close with a flourish. Eight world title-holders will be in action on the 26th, the last Saturday of the month.
Five of the belt-holders will appear on the SHOWTIME PPV doubleheader featuring the Charlo twins. The most intriguing fight on that card finds Jermall Charlo risking his belt and his undefeated record against rugged Sergiy Deveryanchenko. At last glance, Jermall was a consensus 17/10 (minus-170) favorite. In baseball, a 17/10 favorite is a heavy favorite. In boxing, not so. A serious handicapper who wouldn't think of laying 17/10 in a baseball game would have no hesitation about laying these odds in a boxing match.
When Deveryanchenko steps into the ring, 51 weeks will have elapsed since his last fight, his bruising tiff with Gennadiy Golovkin. Jermall Charlo hasn't been on the shelf for quite that long, having last fought in December.
A more interesting match on this particular Saturday, at least in the eyes of this reporter, will unfold earlier that day in Munich when the curtain finally comes down on Season 2 of the long-drawn-out World Boxing Super Series. Two titles will be on the line when Mairis Briedis (26-1, 19 KOs) meets Yuniel Dorticos (24-1, 22 KOs).
Briedis' lone defeat came at the hands of Oleksandr Usyk in a very competitive fight. Briedis won five rounds on two of the cards and won six rounds on the other. Dorticos' lone defeat came on enemy turf in Sochi, Russia when he was stopped with eight seconds remaining in a doozy of a fight with Murat Gassiev.
Forget the titles; titles are a dime a dozen. These two guys are plainly the two best cruiserweights on the planet.
"The tickets are flying out the door and we expect to sell out within hours, if not days," said co-promoter Kalle Sauerland at a pre-fight press conference.
That assertion was made way back on January 22 when the fight, originally targeted for late December of last year, was headed to Riga, Latvia, on March 21. That date didn't work, nor did the re-scheduled date of May 16, and ultimately Riga didn't work either.
Whatever tickets were sold, had to be refunded. There will be no fans in attendance when Briedis and Dorticos finally lock horns on Sept. 26 at a TV studio in Munich. The fight will air on DAZN in the U.S.
"Rest makes rust" was an often-heard caution when big gamblers of yesteryear dissected a boxing match. The late, great pricemaker Herb Lambeck reflexively shied away from boxers that had been inactive for a considerable period of time. For him, the Briedis-Dorticos match would likely be a head-scratcher. Both combatants have been inactive since June 15 of last year when they appeared in separate bouts on the same card in Riga, Briedis's hometown. And they aren't getting any younger. Briedis is 34 and Dorticos is 35.
The odds got nicked down somewhat when the site shifted from Riga with fans to Munich without, predictably so as Briedis, the first fighter from Latvia to win a world title, has an avid local following.
Briedis, the superior boxer, is a consensus 9/5 favorite. That seems a shade high as he won't be able to feed off the crowd – there won't be a crowd – and Dorticos, the Cuban KO Doctor, has a better chance of ending the fight with one punch. It wouldn't be shocking if the fight followed a similar tack as the recent fight between Dillian Whyte and Alexander Povetkin.
In case you missed it, Whyte was dominating his Russian adversary when things changed in a flash in the fifth round. Out of nowhere, Povetkin, the underdog, unleashed a picture-perfect uppercut that left Whyte flat on his back, unconscious before he hit the canvas. There have been other smashing one-punch knockouts this year – Ryan Garcia's demolition of Francisco Fonseca comes quickly to mind – and there may be a few more, but it's hard to visualize anyone topping Povetkin in the voting for Knockout of the Year.
By the way, if he wins it, Povetkin, 41, would be the second-oldest boxer to score the Knockout of the Year. George Foreman was 45 when he knocked out Michael Moorer in 1994. The source is The Ring magazine which has been issuing this award since 1989.
And if you happen to know the youngest fighter to score The Ring Knockout of the Year, then you're pretty sharp. No, it's not baby-faced Naoya Inoue, who is older (27) than he looks. The honor goes to the long-forgotten African-American/Filipino southpaw Morris East who was 19 when he knocked out defending WBA 140-pound champion Akinobu Hironaka in 1992.
In a rarity, it didn't take long for Alexander Povetkin and Dillian Whyte to agree on a rematch. They will meet again on Nov. 21. The venue is undecided, but Eddie Hearn is hopeful that he can pot the fight somewhere outside his backyard "fight camp" with fans in attendance. The first lines on the fight show Whyte the favorite in the vicinity of 13/5. Povetkin-Whyte II will be a nice appetizer for the Errol Spence vs. Danny Garcia match that goes off later that day.
In an unrelated development, Fury-Wilder III is purportedly going to Allegiant Stadium, the new home of the Las Vegas Raiders, in late December. Bob Arum anticipates a crowd of 10,000-15,000 with social distancing protocols in place.
Check out more boxing news on video at the Boxing Channel 
To comment on this story in the Fight Forum CLICK HERE
Meekins vs. Kawoya: File It Under Bizarre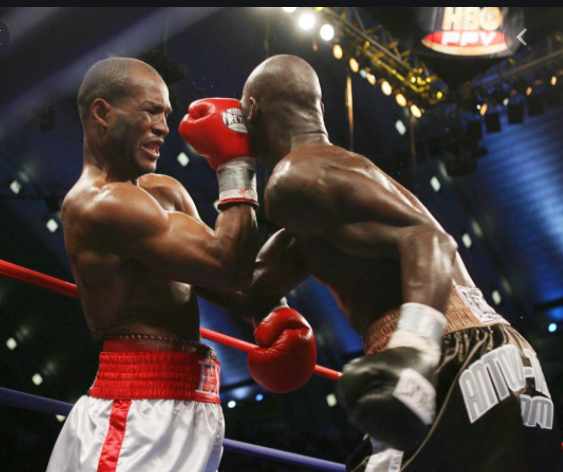 It was August 8, 1988. The location was Resorts International in Atlantic City. The main event featured New Yorker John Wesley Meekins (18-1-2) vs another New Yorker (via Uganda and Denmark) Mohammed Kawoya (11-3).
The rangy and skilled Meekins with a stellar amateur career was a clear favorite over the lesser known Kawoya who had fought only once in the US, losing to Jorge Maysonet on cuts at the Felt Forum. Meekins was expected to move on to a world title fight after dispatching Kawoya.
Meekins enjoyed a successful career between 1984 and 1994, fighting the likes of Davey Montana, Mike Mungin, Harold Brazier, Saoul Mamby, Santos Cardona, Darrin Morris (who won his last 16 fights in a row), and Terence Alli. He would lose to a prime Meldrick Taylor (20-0-1) in 1989 with the IBF World Super Lightweight title at stake.
On June 15, 1990, Meekins beat Santos Cardona over 12 rounds to win the NABF light-welterweight championship, but would lose it to Terence Alli some seven months later. It was downhill after that and he retired in November 1994 with a record of 24-5-2 after being stopped by so-so Darryl Lattimore.
Back to Meekins vs. Kawoya
 This one did not go as expected. After being decked in round 2, Kawoya dropped Meekins in the opening seconds of round 3. An exciting fight with multiple knockdowns and furious exchanges was in progress and the fans loved it.
An aroused Meekins then went after the Ugandan with a vengeance and set up one of the most bizarre endings that few boxing fans have ever heard about, much less witnessed, as he again dropped Kawoya this time with a fast left hook. He then went for the kill. Referee Paul Venti sensed it and moved in—perhaps prematurely– as Meekins unleashed what he hoped would be a fight-ending volley of hard shots.
 As soon as Venti stepped in to stop the fight, Kawoya landed a right that dropped Meekins and had him crawling on the canvas and holding on to the ropes devoid of his senses for at least ten seconds. The punch was thrown at the exact moment that Venti ended matters and Venti didn't realize what had occurred.
 While Kawoya thought he has scored a clean KO and celebrated wildly, the fact was that Venti had ended the fight a fraction of a second before and his decision would stand.
The fans not only enjoyed a great fight, they witnessed something truly memorable—something that had to be seen to be believed; namely, a winner struggling to get up and a loser celebrating what he thought was a knockout.
Kawoya pulled out of the rematch because of a throat infection and Saoul Mamby took his place as a late sub. The Ugandan never fought again, while Meekins never got the title shot that a more impressive effort might have gotten him.
Ted Sares can be reached at tedsares@roadrunner.com or on Facebook and welcomes comments.
Check out more boxing news on video at the Boxing Channel 
To comment on this story in the Fight Forum CLICK HERE